Food formulators no longer have to choose one type of sweetener—nutritive or non-nutritive, natural or artificial—to the exclusion of others for their formulations. Increasingly, product developers are giving up their quest for an alternative sweetener that by itself can solve all the functionality challenges related to a particular formulation. And by doing so, they are freeing themselves to create better-tasting products using sweetener systems that offer improved functionality while helping to address obesity, diabetes, and other heightened health concerns.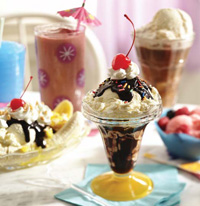 More than ever, sweetener blends are broadening the number of options that are available for food formulators as well as foodservice operators and consumers in their home kitchens. With these different blends come the benefi ts of synergy, defi ned as occurring when the sweetness of a mixture of sweeteners is greater than the sum of their respective, individual sweetness intensities. The discovery of additional sweeteners also increases the number of sweetening combinations possible, resulting in further synergies to either capitalize on or refrain from, depending on the specific application.
When working with sweeteners, formulators must not only consider the right amount of sweetness, texture, flavor, and appearance that the blend contributes to the food or beverage product, but also what potential health benefi ts are provided. For example, components in these blends may help lower the glycemic response, deliver a slow release of energy, or add fiber to the formulation.
Leading the sweetener charge is the soft drink category. A variety of recent extensions or makeovers of traditional products are pushing the demand for new sweetener blends. From Coca-Cola Co., we have seen such products as Sparkling Peach Citrus Fresca, Coca-Cola Zero, and a variety of flavored Cokes, all sweetened with aspartame and acesulfame potassium; as well as a Splenda-sweetened option, Diet Coke, made with a blend of sucralose and acesulfame K. Meanwhile, PepsiCo launched Mountain Dew MDX—an "energy soda" containing ginseng, guarana, taurine, and a common sugar D-ribose involved in metabolism.
The sugar-free sector of the confectionery market is another area where the potential for sweetener blends remains strong. According to Market Trends: Diet Candy, a report from market research publisher Packaged Facts, sales of diet candy more than quadrupled between 2000 and 2004. Diet candy sales reached $495 million, demonstrating an annual compound growth rate of 34.4% that far outpaced its full-calorie counterparts. And for gum lovers, sugarless gum saw a 5.7% increase in sales. A visit to the 2005 All Candy Expo clearly illustrated these statistics as dozens of companies showcased their sugar-free products. Hershey Co., for example, reformulated its entire line of sugar-free candies, along with new additions—Reese's White Peanut Butter Cup Miniatures and Twizzlers Strawberry Twists.
--- PAGE BREAK ---
In nontraditional snack foods, sweetener blends show particular promise. Ranging from snack bars to reformulated items, these products may be made with carbohydrates that provide a slow release of energy or have a low glycemic index. PepsiCo positions its new line of flavored-milk beverages, Quaker Milk Chillers, as an alternative to traditional snacking. These dairy products are made with 2% reduced-fat milk fortified with calcium and vitamins and sweetened with a blend of sucrose, sucralose, and acesulfame K. Such products can help define what healthier snacking means today, with sweetener blends contributing the right sweetness, taste, and texture for them to be successful in the marketplace.
And let's not forget the tabletop sweetener as an opportunity. Equal®, made with aspartame, was launched in 1982 by G.D. Searle. Merisant Co., the current owner of Equal, claims that its products account for more than one-third of the estimated $1.2-billion global tabletop sweetener market. Today, several other tabletop sweeteners are making their debut, including a product extracted from citrus; a blend of brown sugar and sucralose; a mix of erythritol and fruit and vegetable extracts; and a combination of erythritol, tagatose, and maltodextrin, with a trace of sucralose.
These different markets—especially ones for mid-calorie and slow-energy products—suggest the increasing value that sweetener blends, because of their synergistic properties, will have in the future. This month's Ingredients section looks at a variety of these new sweetener blends and the benefi ts they offer.
An 'Ace' in the Mix
The market for high-intensity sweeteners is strong, partly due to increasing consumer demand for sugar-free and reduced-sugar products, according to Graham Hall, President and Chief Operating Offi cer of Nutrinova Inc., Somerset, N.J. (phone 732- 271-7221, www.nutrinova.com).
Hall noted that in 2004, there was an 86% increase in the number of new products launched with Nutrinova's Sunett® acesulfame K compared to 2003. The beverage sector performed particularly well—total new product launches with Sunett more than doubled, demonstrating a 133% increase over the previous year.
Many of these launches were the result of Nutrinova's Sunett Multi-Sweetener Concept, an approach which combines the benefits of acesulfame K with those of other sweeteners, both nutritive and non-nutritive. Today, the practice of combining sweeteners in product formulation is becoming more widespread. "The reduction of calories through the replacement of nutritive sweeteners with non-nutritive sweeteners is a tact that many food and beverage companies have already taken and have found success," said Hall. "For example, sugar-free gums and sodas continue to grow faster than their full-sugar counterparts and the volume of sugar-free chewing gum in the U.S. is greater than that of sugared gum.
--- PAGE BREAK ---
"Both of these well-established sugar-free categories offer the following guidance for other food categories that are entering the reduced-sugar arena: taste is key and blending sweeteners leads to better taste," Hall continued. "The vast majority of the new gum and beverage products being launched contain a blend of non-nutritive sweeteners, either without or with some nutritive sweeteners. It is the advantages that blending provides which make this approach a win-win situation."
Some of these benefits are economic ones related to the price difference between sweeteners and the small amounts of high-intensity sweetener required in a synergistic blend. Others have to due with stability—shelf life extension can result in products where more stable sweeteners are blended with less stable types. 
"However, the real key advantage to blending sweeteners is a more sugar-like taste than any one individual sweetener can provide," said Hall. "Blending a product, such as acesulfame K, which has a fast, upfront sweetness, with one that has more of a delayed onset and lingering sweetness, such as aspartame, sucralose, and neotame, provides a sweetness profile that is more like sugar. Additionally, all non-nutritive sweeteners have off-tastes at higher levels; using blends where each sweetener is used at a lower concentration minimizes these off tastes and maximizes the clean, sweet taste." 
Sweetener blends can be tailored in combination with different carbohydrate sources, such as sucrose and high-fructose corn syrups, to define final product characteristics and deliver successful drink options. At Food Ingredients Europe 2005, for example, Nutrinova presented reduced-calorie elderberry- and cherry-flavored wellness drinks made with different sweetener blends containing acesulfame K. The drink samples highlighted the sugar-like taste profiles that can be achieved by partially or completely replacing sugar with these blends. 
In sensory studies evaluating high-intensity sweeteners in fruit-flavored or sugar-free chewing gums, Nutrinova found that, in most cases, acesulfame K blends provide higher flavor and sweetness scores earlier in the chewing process and a prolonged flavor and sweetness. Chewing gums with 30/70 acesulfame K/aspartame were found to be higher in sweetness and berry flavor than any other blend during a seven-minute chew time. All other blends were higher in flavor than a 100% aspartame-only gum. 
Trends in the areas of "guilt-free indulgence," the development of food products that meet culinary gold standards, and the upgrading of traditional dishes with flavors and ingredients from around the world may all present future opportunities for sweetener blends, as well. Sauces come to mind as one area where sweetener blends may find increasing application.
Sensory tests have shown that sauces sweetened with blends containing acesulfame K are virtually indistinguishable in terms of flavor from varieties with full sugar content. An acesulfame K/sucralose combination in sauces reportedly yields rapid onset and no lingering sweetness that is very similar to sugar. Furthermore, Sunett is stable in the pH range 3–9 and is not changed by pasteurization and sterilization. Its stability in aqueous solutions with pH 3–4 has been successfully tested at 100°C for up to 60 min. This stability, without a reduction in sweetness, is especially critical as sauces need to be suitable for long-term storage. On the other hand, an aspartame/acesulfame K blend offers only limited use in the sauce area as it does not always meet required stability criteria for processing and storage.
Because sweetener blends have to be frequently customized to meet the specific needs of the individual product, Nutrinova has conducted several test series which enabled the company to develop a range of sample formulations that will serve as the foundation for further development work. These can be used as a basis by manufacturers looking to fully or partially replace sugar.
--- PAGE BREAK ---
No-Sugar-Added Ice Creams
One product area that is highlighting sweetener systems and their synergistic benefits is ice creams and frozen desserts. These systems, which can be easily customized to help food manufacturers meet a demand for calorie-reduced frozen desserts, frequently incorporate different sweeteners with other ingredients such as fat mimetics, bulking agents, stabilizers, and emulsifiers to create a specific formulation. Companies that employ such an approach take advantage of their broad ingredient portfolios to help "lick" the traditional challenges of no-sugar-added ice creams, especially in the areas of taste and texture.
For example, Ice Cream Rebalance™ 500, a new ingredient solutions set for low-fat, no-sugar-added ice cream for the U.S. market, was recently launched by Tate & Lyle, Decatur, Ill. (phone 217-423- 4411, www.tateandlyle.com). The system reduces calories by replacing bulk sweeteners with a range of tailored sweetening ingredients, including Splenda sucralose, without compromising sweetness, texture, and the mouthfeel of butterfat. It also adds body without the added sugars. Using the system, a vanilla ice cream can be created that has 59% fewer calories, 76% less sugar, and 89% less fat than a full-fat premium ice cream, while maintaining the creaminess of a full-fat product.
Another recent development is a range of dairy sweetener systems from Cargill, Minneapolis, Minn. (phone 952-742-6000, www.cargill.com). SweetDesign™ provides reduced-sugar frozen desserts with a taste, texture, and sweetness similar to full-fat, full-sugar ice cream. These systems help reduce calories by replacing or reducing sugars, offer low-glycemic-index benefits, and retain the functional performance of sugar.
One prototype using SweetDesign IC 933 is Light Mocha Soft Serve Ice Cream, a reduced-glycemic-index formulation which delivers texture and a clean sweet flavor. At 6% of the formulation, the ingredient system includes maltodextrin, corn syrup, polydextrose, mono- and diglycerides, calcium sulfate, cellulose gel, cellulose gum, carrageenan, and guar gum. Also part of the formulation, at 7.5%, is another sweetener solution from Cargill. Special Fx™ high-fructose corn syrup has 30% higher sweetness than a standard product and consequently can reduce calories without compromising the taste profi le. Both systems work together to help retain the functional performance of sugar in a formulation containing 6% sugar.
Another formulation, Light No Sugar Added Vanilla Soft Serve Ice Cream, uses SweetDesign IC 687—a system which incorporates 2% or less high-intensity sweeteners. At 19.6% of the formulation, the system contains maltodextrin, erythritol, polydextrose, mono- and diglycerides, calcium sulfate, cellulose gel, cellulose gum, carrageenan, guar gum, salt, aspartame, and acesulfame potassium.
The dairy sweetener systems are the first product in the SweetDesign family to be commercialized. They are available initially in North America, with details regarding international markets to be announced in the future.
--- PAGE BREAK ---
'Taming' Sweetener Challenges
The newest high-intensity sweetener, neotame—about 8,000 times sweeter than sugar—may be used at low levels by itself or in combination with nutritive or non-nutritive sweeteners to create special delivery systems for sweetness and flavor enhancement.
Blends made with the non-nutritive sweetener can help enhance a food formulation's overall sweetness and flavor profile. Furthermore, by replacing a portion of nutritive sweeteners or high-intensity sweeteners of the same sweetness equivalent, these blends can lead to cost savings opportunities for food and beverage manufacturers. A line of neotame-based blends is produced by Sweetener Solutions LLC, Savannah, Ga. (phone 866-748-7171, www.sweetenersolutionsllc.com), a strategic partner of the developer of neotame, NutraSweet Co., Chicago, Ill. (phone 800-323-5321, www.nutrasweet.com), and distributed by Univar Food Ingredients, Kirkland, Wash. (phone 425-889-3885, www.univarusa.com).
Several different blends are available—how they are co-processed depends on the particular application each one is being used in. For example, SucraSweet™ HIS 600 is a dry, white, free-flowing blend of neotame, acesulfame K, and crystalline maltitol that is 600 times sweeter than sugar, and may be used in such applications as dairy drinks, dressings and sauces, snack foods, desserts, baked goods, beverages, and confectionery applications. Other dry SucraSweet offerings combine granulated sugar with Neocrystals™, a blend containing 0.25% to 1.0% neotame, co-crystallized with sucrose.
Maltotame™ is a dry, off-white, free-flowing blend of maltodextrins containing 2.5% neotame. The blend enhances the sweetness and flavor of maltodextrins in dietetic products, is 200 times sweeter than sugar, and is an excellent carrier in powdered applications. Maltotame-FIB provides the added benefit of incorporating neotame with a soluble fiber.
Sorbitame™ is a dry, white, free-flowing blend of sorbitol containing 2.5% neotame. It is 200 times sweeter than sugar, enhances the sweetness of polyols, and can replace 25–50% of polyols in dietetic and sugar-free products.
Also available are customer-specific blends of nutritive and/or non-nutritive sweeteners (acesulfame K, aspartame, neotame, saccharin, and cyclamates) for extending sweetening capabilities and flavor profiles.
--- PAGE BREAK ---
Getting to the Root of Sweeteners
Chicory-root-derived inulin and oligofructose, available under the name Beneo™ from Orafti Active Food Ingredients, Malvern, Pa., (phone 610-889-9828, www.orafti.com), are promoted for their health properties in such areas as prebiotic function and reduction of the glycemic response. From a functionality perspective, however, these ingredients can work with other sweeteners to help round out the sweetness profile in reduced-sugar formulations.
For example, with its moderately sweet taste, oligofructose is a natural sugar replacer. When it is blended with high-intensity sweeteners, a synergy is created, which eliminates the artificial aftertaste of the sweeteners. Furthermore, certain fruit flavors are also more pronounced when used in combination with oligofructose. The ingredient is more soluble than sucrose, and does not crystallize, precipitate, or leave a dry or "sandy" feeling in the mouth.
In particular, diabetic formulations can take advantage of Beneo P95, a short-chain inulin that has functionality similar to sugar with one-third of the sweetness of sucrose. The ingredient works well in combination with high-intensity sweeteners, rounding out the sweetness profile to taste more like sugar.
Sensus America LLC, Monmouth Junction, N.J. (phone 646-452-6144, www.sensus.us), also offers a sweet liquid fiber product extracted from chicory root. The ingredient, Frutalose L85, has a synergistic effect with high-intensity sweeteners, reducing their usage level and masking their aftertaste. It can also replace certain polyols on a one-to-one basis.
Adding Slowly Digestible Carbs to the Mix
Not all carbohydrates are equal. In recent years, that phrase has become almost commonplace. One example of its underlying truth is the selection of a carbohydrate that is slowly digestible, resulting in a longer lasting energy supply as well as a low glycemic response.
Now take this concept of slowly digestible carbohydrates and combine that with other ingredient systems that contribute to sweetness and the functionality benefits of sugar, and we have a mix which could lead to some interesting product development down the line, especially in the areas of snacking and weight management. For example, slowly digestible sweeteners might work well with ingredients such as inulin or oligofructose in the creation of wellness beverages or snacks, or in applications that make use of exciting flavors or cooling agents such as teas or juices.
--- PAGE BREAK ---
One such slowly released carbohydrate is Palatinose—an isomaltulose that was launched at the 2005 IFT Annual Meeting + Food Expo® by Palatinit of America, Morris Plains, N.J. (phone 973-539-6644, www.palatinit.com). The ingredient is made from sucrose by enzymatic rearrangement of the alpha-1,2 linkage between glucose and fructose to an alpha-1,6 linkage, still combining the glucose and the fructose molecule. With its slow but complete absorption and hydrolysis, the ingredient provides a constant and extended stream of energy with a very low glycemic response.
Depending on the application, a combination of Palatinose with other carbohydrates or high-intensity sweeteners can result in an improved sweetness, taste, and texture of the fi nal product. Because of its properties, it is suitable for the development of wellness and functional drinks, ranging from instant formulas to ready-to-drink beverages. Sports drinks, in particular, can benefit from this ingredient. Also, new energy and cereal bars, breakfast and dairy drinks, instant tea and coffee specialties, and chocolate products all can be developed and promoted from a wellness position in the marketplace.
Recently, Cargill, Minneapolis, Minn. (phone 952-742-6000, www.cargill.com) introduced Xtend, a new family of natural sweeteners which delivers the full energy of regular sugar but is digested in a slower fashion, resulting in sustained energy release and lower glycemic response. Included in this family are sucromalt and isomaltulose.
Sucromalt, a syrup derived from sucrose and maltose, reportedly provides a satisfying sweet taste, as it is 60–70% as sweet as sugar, is acid and heat stable, and possesses physical properties in food processing that are similar to glucose syrup. It can be readily incorporated into a wide range of formulas, including meal replacement beverages and bars; ice cream, yogurt, and dairy drinks; sports and fi tness drinks; cereals and cereal bars; and jams and jellies. A prototype chocolate mint bar was developed by Cargill to showcase the sweetener, as well as other ingredients including soy protein isolate, modified corn starch, cocoa, and canola oil. 
Isomaltulose, a crystalline powder produced by enzymatic conversion of sucrose, has a bland taste and is half as sweet as sucrose. It has good heat and acid stability, possesses low water absorption, and behaves like sugar in food processing. 
According to Anne Mollerus, Cargill's New Products Project Manager, slowly digestible sweeteners fill a gap between full-calorie sweeteners and reduced-calorie sweeteners such as polyols. These products can replace multiple sweeteners and bulking agents in the formulation, while appealing to consumers who seek to moderate sugar intake without compromising taste.
Both sucromalt and isomaltulose have GRAS approval in the U.S. The sweeteners will be commercially available later in 2006. 
--- PAGE BREAK ---
Squeezing Sweeteners from Citrus
Sweetening ingredients can come from a variety of sources, ranging from cane sugar to chicory root to fruits and vegetables. In recent months, citrus extracts have also been gaining the spotlight as a source or component for some innovative sweetening developments. 
For example, Roxlor LLC, Wilmington, Del. (phone 302-778-4170, www.roxlor.com) recently introduced CitriSweet™, a blend of prebiotic oligofructose, fructose, and a proprietary sweetening system that utilizes natural flavors and citrus extracts. It is reportedly 10 times sweeter than sucrose and is excellent at masking off-notes from such components as soy, whey protein, vitamins, and minerals. It can be used solely for its sweetness or to round out flavors. 
In another development, Flavex LC from Arnhem Group, Cranford, N.J. (phone 908-709-4045, www.arnhemgroup.com) is a citrus extract which is 2,000 times sweeter than sucrose. It can function as a high-intensity, sugar-free sweetener for low-calorie foods and beverages. The product has a synergistic sweetening effect when combined with sugar polyols, aspartame, acesulfame K, and other sweeteners.
The intensity of the product depends on several factors such as pH and the application to which it is added. Its optimum usage level should be determined for each product in the presence of other sweeteners and their synergistic effect. Because of its intense sweetness, it will normally be used at a very low level of 1–5 parts per million. The organoleptic profi le of the product can be described as having a short delay in reaching maximum sweetness perception, and a light, sweet menthol or licorice-like aftertaste.
Potential applications for this sweetener include beverages, such as juice, milk-based products, flavored waters, and alcoholic drinks; confectionery products, including chocolate-based types, fruit spreads, jams, and jellies; savory products; desserts; and other products.
Vitafood Flavors, a division of Arnhem Group, recently introduced Oh! So Sweet, a high-intensity sweetener also derived from a citrus source. The sweetener—available in concentration levels of 100, 200, 300, 400, and 600 times sweeter than sucrose—may be sold as a granular sweetener in bulk form or as a table-top sweetener for retail. The product has a synergistic sweetening effect when combined with other sweeteners.
Adding Tag to the Sweetener Game
Tagatose, a stereoisomer of fructose made from lactose via a biochemical conversion process, is a functional sweetener with the physical bulk and sweetness of regular sugar. Because it is metabolized differently than sugar, it has a low caloric value of 1.5 kcal/g. It also acts like a fiber with prebiotic effects and has a minimal effect on blood glucose levels.
--- PAGE BREAK ---
When used at low levels from 1.0%, Gaio tagatose from Arla Foods Ingredients, Basking Ridge, N.J. (phone 908-604-8551, www.gaio-tagatose.com) allows a 25–30% reduced usage of high-intensity sweeteners, while improving their sweetness profile and lessening their artificial/bitter tastes. Studies have shown that the addition of tagatose in diet beverages will increase sweetness onset of sucralose and reduce the lingering aftertaste of sucralose, acesulfame K, and aspartame, resulting in a more sugar-like sweetness.
Recently, SweetGredients (a joint venture of Arla Foods Ingredients and Nordzucker) entered into a cooperative agreement with Symrise Flavor Div., North America, to develop a new generation of flavors containing tagatose. The sweetener serves as a flavor potentiator, boosting the flavor profile, imparting mouthfeel, and providing a desirable fresh impact.
Sweetener Combination Goes Brown
A new retail product from McNeil Nutritionals, New Brunswick, N.J. (phone 800-777-5363, www.splenda.com) combines brown sugar and sucralose. With half the calories, sugar, and carbohydrates of brown sugar, Splenda Brown Sugar Blend may be used in any recipe calling for the traditional sweetener.
In baked goods, for example, the brown sugar in the blend provides the product with more of the molasses-like flavor, moistness, texture, and browning that is characteristic of baked goods made with brown sugar. Consumers need to use only one-half cup of the blend to replace the sweetness of a full cup of brown sugar.
Distilling the Sweet News
A water-soluble distillate, Sugar Treattarome 9807, imparts an authentic, sweet flavor to a variety of food and beverage systems without adding sugar or calories. Wholly distilled from cane sugar, the clear product is the latest in a range of distillates from Treatt USA, Lakeland, Fla. (phone 863-668-9500, www.treatt.com).
The company uses a short-duration, low-temperature process to ensure that the distillate retains the character of the original, fresh food from which it is named. Because it is entirely water soluble, the sugar-free distillate is particularly suitable for clear beverages, carbonated and alcoholic drinks, diet varieties, and dairy products. It works in synergy with artifi cial sweeteners, where it is effective in masking harsh notes. 
--- PAGE BREAK ---
Polyol Power in Blends
Recently, I saw an item in the newspaper on a new retail sweetener, Z-Sweet, launched by Ventana Health, Inc., San Clemente, Calif. Interestingly, the zero-calorie sweetener—reportedly a blend of erythritol and food extracts found in fruits and vegetables—was created by a former consultant, now turned inventor. 
The news brought to mind again that polyols are very much alive when it comes to food formulating or blending with other sweetening ingredients. From a functional standpoint, polyols offer a clean taste, and in combination with other sweeteners, can provide bulk and improve texture and mouthfeel. Of course, not all polyols are the same—there are differences in terms of sweetness levels, caloric values, amount of cooling effect, and levels of digestive tolerance. Consequently, the suitability of a particular polyol is dependent on the application it is being used in.
For example, erythritol, used in that recently launched sweetener, is the newest polyol, about 70% as sweet as sugar. Compared to other polyols, it has the lowest caloric value and a better digestive tolerance. When used in combination with intense sweeteners, it can improve flavor profile, add body and mouthfeel, and mask bitterness and astringency. 
Maltitol is said to be the closest polyol equivalent to sucrose in molecular weight, solubility, low cooling effect, and functionality. It is about 90% as sweet as sucrose, and may not require addition of high-potency sweeteners. A line of crystalline maltitol products called Maltisweet was recently introduced by SPI Polyols, Inc., New Castle, Del. (phone 302-576-8600, www.spipolyols.com). 
Lactitol, a sugar alcohol derived from milk sugar, is 30–40% as sweet as sucrose with a sugar-like taste that can add or reduce sweetness as needed. With fiber-adding polydextrose (Litesse), lactitol can replace the bulk and functionality of sugar in baked goods. For example, a Reduced-Sugar Choco Chip cookie prototype highlighting the benefi ts of these ingredients was recently developed by Danisco Sweeteners, Ardsley, N.Y. (phone 800-255-6837, www.danisco.com). 
What's the Next Sweetener?
That is certainly a difficult question to answer when considering the number of different sweetener combinations that are possible. One thing is for sure, however. With all the different sweetener blends competing with each other in the marketplace, the future for the sweetener industry looks sweet. 
Moreover, as researchers continue to better understand what makes a substance taste sweet, it becomes possible to further improve sweeteners. For example, the University of Manchester and the University of Maryland School of Medicine have reportedly measured how sugar and some synthetic sweeteners interact with two types of taste receptors on the tongue. They found that while some synthetic sweeteners interact with one receptor, sugar interacts with both. Interestingly, sucralose was also found to interact with both receptors but with a greater intensity. 
By understanding how these molecular mechanisms work, researchers will have a better idea of what makes substances such as sugar taste sweet—knowledge which can then be used to create future sweeteners. These, in turn, can lead to new sweetener combinations and their synergistic benefits. 
--- PAGE BREAK ---
New Blend Offers a Sweet Alternative
A low-glycemic, zero-calorie sweetener blend, Shugr™, reportedly tastes, cooks, and bakes like cane sugar. The non-nutritive alternative, made from erythritol, maltodextrin, tagatose, and a trace amount of sucralose, is manufactured by Los Angeles-based Health Sciences Group, Inc., and distributed as a raw material ingredient by DNP International Co., Inc., Irvine, Calif. (phone 877-550-3600, www.dnpint.com).
The components in the sweetener have specific health and functionality properties that complement each other. For example, erythritol, found naturally in fruits and vegetables, has a clean sweet taste similar to sucrose, functions as a texturizer, does not promote tooth decay, and blends well with other sweeteners. Tagatose, found naturally in some dairy products, has a physical bulk similar to sucrose, is almost as sweet, and provides a prebiotic fi ber that promotes intestinal health. (See this page for more information on tagatose.) Maltodextrin, which comes from corn starch, functions as a bulking and texturizing agent and does not contribute a noticeable sweetness. The trace amount of sucralose adds a high note to the sweet taste offered by the blend. All of the components used in the formulation have Generally Recognized As Safe (GRAS) status.
The resulting blend provides a sweet taste, similar to cane sugar, without any of the aftertastes typically associated with zero-calorie sweeteners. Because of its health benefits, it can be used in applications that are safe for diabetics, low in calories, and tooth friendly.
According to the manufacturer, the sweetener may be used as an alternative to sucralose and other high-intensity sweeteners in foods and beverages. As a tabletop sweetener, it is available in retail outlets including health food and other natural product stores, as well as supermarkets. The company expects a distribution deal with a major premium coffee house chain and a licensing agreement with a notable beverage and confection company in the near future. The formulation is patent pending and its ingredients carry a GRAS designation for food safety.
How starches redefine themselves in a number of innovative ways will be discussed in next month's Ingredients section.
by Donald E. Pszczola,
Senior Associate Editor
[email protected]