Food manufacturers and processors are constantly asking how formulation changes, different suppliers' ingredients, packaging, ambient storage, and transportation affect their products. They wonder how their products compare to competitors' products. They ask What are key drivers of liking in a product? Is a product from a different vendor a match? How consistent is plant output? How does one product differ from a competitor's? Will new packaging extend shelf life? Is the new formulation crispier?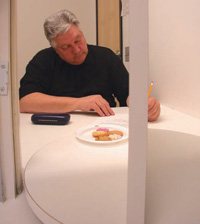 One means to answer these questions is a process called sensory descriptive analysis, according to Betty Sapp ([email protected]), Director of Operations, 21st Sensory, Bartlesville, Okla. (phone 918-333-1011, www.21stsensory.com), a sensory evaluation firm.
"Every product has a unique sensory fingerprint, which is a detailed analytical data set that precisely identifies and measures all of the perceived sensory attributes of a sample or product," she explains. "In learning to evaluate a product, we become intimately familiar with its inherent sensory characteristics that may include aroma, feel, flavor, appearance, and the sound of it. As we discover and identify its unique characteristics, we develop ballots with anchored scales to represent the range of sensory characteristics. Once we are fully acquainted with a client's product, our calibrated trained sensory panelists test it and generate unique sensory data 'fingerprints' of this product."
In one study of 30 different potato-based snacks, the firm identified almost 80 individual sensory characteristics to be measured. Each of the products had a unique profile that separated it from the others in the test set.
Using industry-wide–accepted universal scales, a peeled orange has an orange flavor of about 6 or 7, whereas an undiluted orange drink has a much stronger orange flavor, earning a higher intensity score than the peeled orange. Universal scales allow testers to measure one product's taste, smell, or texture in relation to the intensity attributes of another product.
"For example, we can compare the flavor intensity of a manufacturer's medium Cheddar cheese—a 6 on the universal scale—in relation to the intensity of the fried potato flavor of another manufacturer's potato chip," Sapp says.
--- PAGE BREAK ---
Attributes are scored between 0 and 15, with 0 indicating the absence of a particular attribute and 15 indicating a very intense presence of the attribute. Sapp says that the scale was established after an extensive sensory review of products that demonstrated a certain attribute.
The methods that 21st Sensory uses are based on ASTM Manual 26, Sensory Testing Methods, 2nd Edition, E. Chambers IV, ed., 1996, and ASTM Manual on Descriptive Analysis Testing for Sensory Evaluation, R. Hootman, ed., 1992.
The company develops customized references for clients that are used by trained panelists during each test session and provide benchmarks against which the panelists measure each product attribute. "Every judge uses the same reference standards to calibrate, standardize, and measure product characteristics," Sapp relates.
A number of factors can affect the scope of any descriptive analysis project, she says. These include the number of different products to be tested, number of product attributes to be tested, broadness of testing, complexity of product preparation, number of panelists involved, number of replicates of each sample to be tested, physical factors such as strong tastes or aromas that may affect the testing, and budget.
Ultimate Marketing Tool
"How can sensory analysis not be the ultimate marketing tool?" asserts MaryAnne Drake ([email protected]), Associate Professor of Sensory Analysis and Flavor Chemistry and Director, North Carolina State University Sensory Service Center, Raleigh, N.C. (www.ncsu.edu/sensory).
"Selling depends on a sensory experience," she elaborates. "If the consumer does not like a product, he or she won't buy it, so the item won't be successful."
--- PAGE BREAK ---
Drake's sensory analysis research and the Sensory Service Center's contractual sensory work for manufacturers and processors is primarily focused on dairy products and ingredients, dairy ingredient applications, and how flavor varies with processing and storage.
The center's staff designs and implements analytical sensory tests including difference tests, threshold tests, and descriptive sensory analysis. It also designs and implements consumer panels and focus groups, performs consumer acceptability testing, offers statistical reporting and analysis, and conducts on-site workshops and panel training at clients' facilities.
"We develop defined sensory languages and then apply these languages to enhanced product understanding, links to volatile compounds, which is flavor chemistry, and enhanced consumer understanding," Drake explains.
Drake analyzes and documents flavor availability, variability, stability, and sources of off-flavors to control the formation of flavor.
"We use descriptive analysis, consumer testing, and preference mapping," she mentions. "We also use instrumental flavor analysis techniques, including gas chromatography/olfactometry and gas chromatography/mass spectroscopy to relate sensory properties to the chemical component of foods."
Sensory analysis is an integral part of food processing, Drake says. "Some of it is quantitative, some is qualitative, some is objective, and some is subjective," she points out. "When an appropriate test is applied and is appropriately managed, sensory analysis is a powerful and sensitive tool to optimize consumer acceptance of a food product."
--- PAGE BREAK ---
Avoiding Failure
Sensory analysis is essential for consumers to get the best product and for manufacturers to develop and sell the best product, concurs Tom Dutt ([email protected]), Vice President for Consumer Insights, Peryam & Kroll Research Corp., Chicago, Ill. (phone 800-747-5522, www.pk-research.com), a consumer product testing firm.
"Manufacturers and processors don't want to waste money on products that consumers don't want," Dutt emphasizes. "The cost of failure is so high for products these days. Sensory evaluation helps avoid product failure at launch and facilitates development of an optimal product to move forward with. The costs of research and development and marketing continue to rise dramatically, so you need to make sure consumers will want your product before you launch it."
Gail Civille ([email protected]), President and Founder, Sensory Spectrum Inc., New Providence, N.J. (phone 908-376-7000, www.sensoryspectrum.com), says that her company links consumer understanding and product understanding by applying advanced sensory methodology to address pre- and post-launch concerns.
"For all our clients, our approach is to blend science and creativity to first clarify the project objective, then design the best approach to lead to a solution, fully execute the tools for discovery, distill the data, uncover insights to link consumer and product understanding, and recommend action," Civille elaborates.
"We are all about project management to solve sensory problems, namely, how does your product look, feel, smell, taste, and sound, and how does the consumer respond to those properties," she continues. "In the important concept of linking product understanding with consumer understanding, the key is to figure out what perceivable sensory properties a sophisticated consumer considers a priority."
The key attributes are called drivers, Civille says. These are the properties that make consumers like a product and help them to decide if a product has desirable benefits and "good taste" characteristics. Examples of these characteristics are creamy texture, pleasing taste, or perceived healthfulness.
When key attributes are determined, the next step is to build in the sensory signals so that the consumer will like the product and perceive it to have desirable benefits.
Descriptive analysis involves documenting the sensory attributes of the products with a trained panel. This documentation helps map the products and attributes that can be used to design the most efficient and effective consumer research. Merging the two sets of data—consumer understanding and product understanding—with sophisticated statistical techniques creates a roadmap for understanding the key sensory properties that drive liking, quality, and other consumer benefits. In addition, sensory analysts can uncover new product opportunities and help product developers create products that are likely to be liked by consumers.
--- PAGE BREAK ---
Coloring Outside the Lines
"We design new sensory methods and new ways to understand the consumer," Civille says. "It's important to keep in mind that it's okay to color outside the lines sometimes instead of following classic, well-established methods of sensory analysis. Creative, innovative methods can be legitimate methods that get successful results."
Civille mentions how her company's newly developed technique called the "Perfect Brand," which uses consumer rapid prototyping, helped a client whose sales of a particular product were uncharacteristically down.
"We brought in groups of people that included current users of the product and disenfranchised users, and we commissioned them to help us and the product developers fix the problem," she says.
According to Civille, the consumers learn to define the product changes that are needed to attain the "Perfect Brand." They then tell the product developers what sensory properties need to be enhanced or diminished to make the product "perfect." The product developers make the necessary consumer-driven changes and bring the prototypes back to the group for opinions within 1–2 weeks.
"This rapid prototyping cycle usually needs about 3–5 cycles to make it 'perfect,'" Civille says. "A new improved product was on the store shelves in just a few weeks, and the client reported soon after that consumer research scores were way up."
When starting with a new product idea, Sensory Spectrum uses a "consumer lab" to ideate with consumers and product developers together. The selected ideas are converted into real products that are then tweaked and improved and ultimately tested with independent consumers to validate the success of the ideas and the final real-life products.
There are strategic and creative ways to use consumers in sensory analysis, Civille contends. "Sensory evaluation can be raised to a new level for product development and marketing," she says. "It's great fun to make things happen and have clients be happy with the results. Our focus is on doing all the right testing and statistics to get the clearest data to yield the clearest information."
But consumer product developers and marketers want to go further—to do the right test at the right time with the right people to help the data lead to information that will ultimately lead to insights, she adds. "The ultimate goal for everyone involved in consumer products is to get at the sensory truth at every turn," Civille emphasizes.
by Linda L. Leake,
Contributing Editor,
Food Safety Consultant,
Wilmington, N.C.
[email protected]