Where there's a will, there's a whey...as well as other beneficial dairy ingredients. For example, a new bottled water made with whey protein isolate demonstrates the increasing utility of dairy-derived ingredients in foods and beverages.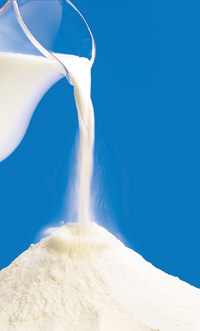 In November 2006, Kellogg Co., Battle Creek, Mich., introduced a line of Special K2O Protein Waters which delivers 5 g of protein/16-oz bottle. The products, which provide 50 calories, are available in three flavors—Strawberry Kiwi, Lemon Twist, and Tropical Blend. Also debuting at the same time are the company's Special K Protein Meal Bars and Special K Protein Snack Bars, also fortified with dairy-derived ingredients. These three new innovations join the Special K portfolio of cereals, cereal bars, snack bites, and waffles.
Another prominent food player, Hershey, Hershey, Pa., had earlier launched new additions to its line of Smartzone energy bars made with whey protein concentrate and isolate. These ingredients can increase protein content to 14-15 g/bar.
Statistics are showing that whey is becoming an increasingly popular ingredient in formulations. In 2006, 2,222 new products using whey ingredients were launched in the United States, according to Mintel International Group's Global New Products Database. This was an increase of 482 over the previous year. From 2003 to 2006, a total of 7,712 whey-containing products were introduced in the U.S., which remains the biggest producer of whey, followed by Europe. Not too bad for an ingredient once viewed as simply a by-product with very limited application.
With research supporting the nutritional benefits of dairy foods, new opportunities are being created for the use of novel dairy-derived ingredients, in particular milk and whey proteins, but also caseinates, lactose, dairy lipids, fatty acids, amino acids, and other components.
These dairy ingredients, improved by new technological advancements, can address a variety of challenges involved in formulation, resulting in a finished food that has better overall quality, flavor, texture, and appearance, as well as enhanced nutritional value. Because of their benefits, these ingredients are finding use in a broader range of applications, some not traditionally associated with dairy ingredients. We've already seen their use in bottled water, but other examples might include novel coatings and inclusions, whole-grain products, reduced-fat processed meats, and weight-management alternatives.
--- PAGE BREAK ---
Recently, Glanbia Nutritionals, Inc., Monroe, Wis. (phone 608-329-2800, www.glanbianutritionals.com), highlighted the use of whey in such prototypes as a vanilla-custard beverage, a strawberry smoothie drink for weight management, an isotonic protein beverage, tropical milk chocolate, and a nutrition bar. The company also featured lactoferrin, a milk protein, in orange-flavored supplement drops, immune strips, and a lemonade mix for use in bottled water.
As whole grains become increasingly popular, whey can play an important role when combined with these ingredients. In whole-grain bakery products, for example, denatured whey proteins can be used to control water management and prevent accelerated staling, as well as address gumminess associated with high levels of fiber.
A vanilla ice cream prototype made with whey was developed by Denmark-based Danisco (phone +45 3266 2000, www.danisco.com). The frozen dessert replaced skimmed milk powder with whey powder, masking the off-notes of salts and minerals to give the product the taste of skim milk without off-tastes.
Formulators can even find a "whey" to make mashed potatoes creamier, according to Grande Custom Ingredients Group, Lomira, Wis. (phone 800-772-3210, www.grandecig.com). Using a combination of two specialty whey proteins, the company formulated a potato dry mix that may be rehydrated with water instead of milk. The product is said to exhibit improved creaminess, mouthfeel, and water binding.
Over the past decade, Dairy Management, Inc. (DMI), Rosemont, Ill, (phone 800-248-8829, www.innovatewithdairy.com), supported numerous research and application projects to give manufacturers insight into how to use dairy to their advantage. Some of these newest breakthroughs will be shared at the 9th Annual Dairy Ingredients Symposium to be held on February 26-28, 2007 in San Francisco, Calif. The event is being co-organized by Cal Poly's Dairy Products Technology Center and DMI as a joint meeting incorporating the 3rd International Spray-Dried Milk Conference.
--- PAGE BREAK ---
The meeting will bring together top experts in the fields of academia, government, and the dairy industry to discuss such topics as the latest developments in technology for the manufacture of concentrated and dried milk and whey-derived products; new approaches to characterization of dairy ingredients; factors affecting the composition and sensory and functional properties of dairy ingredients; interactions of dairy ingredients with other food components and their implications; challenges and opportunities for dairy ingredients; and the global dairy ingredients marketplace and how emerging marketing and economic trends favor dairy ingredients.
This month's Ingredients section will look at how dairy ingredients, especially whey and whey derivatives, play the role of problem-solvers in today's formulations, and some of the reasons why dairy's star continues to rise in product development.
Don't Be Bitter
Although whey protein hydrolysates can provide high protein quality, easy digestibility, and a number of functionality and nutritional benefits, their bitter taste can be self-limiting, according to Hilmar Ingredients, Hilmar, Calif. (phone 209-667-6076, www.hilmaringredients.com). To overcome this problem, the company eliminated bitterness from a whey protein hydrolysate while improving its flavor.
In sensory panel testing, the ingredient reportedly scored high in "overall acceptability" and "flavor," while demonstrating much less "brothiness" and "bitterness" than competing samples. In addition to its significant taste advantages, the whey protein hydrolysate contributes acid and heat stability, mitigation of hardness in extruded bars, and better texture and shelf life.
When used in a prototype, a ready-to-drink iced coffee beverage, the ingredient demonstrated such functionality benefits as heat stability and high solubility. "The formulation is tuned to the nutritional needs of women over age 55," said Gwen Bargetzi, Director of Marketing at Hilmar Ingredients. "The beverage demonstrates the benefits of WPH's high-quality protein and its complementary interaction with vitamins, minerals, and other ingredients."
Another prototype application that can take advantage of the ingredient is an extruded cappuccino-flavored food bar. High-protein bars tend to harden and become brittle—a major concern for food manufacturers. The whey protein hydrolysate can help produce bars with a softer and more pliable texture.
--- PAGE BREAK ---
A division of Hilmar Cheese Co., Hilmar Ingredients was established in 2004 following the acquisition of Proliant Dairy Ingredients. While Hilmar Cheese Co. had manufactured the whey protein concentrate and whey protein hydrolysate marketed by Proliant, the purchase incorporated all aspects of the dairy ingredient business under the Hilmar Ingredients name and manufacturing site.
Hilmar Cheese is currently building a cheese processing facility in Dalhart, Tex. The state-of-the-art facility, scheduled to open in fall 2007, will be able to produce about 500,000 lb/day of American-style cheeses, such as Cheddar, Colby, and Monterey Jack, as well as whey protein concentrate for protein bars and nutritional drinks.
Worth its Salt
A new whey-derived ingredient from Grande Custom Ingredients Group, Lomira, Wis. (phone 920- 269-7188, www.grandecig.com), accentuates different flavor notes when used at various levels. Grande Gusto® reportedly allows food manufacturers to reduce levels of sodium, monosodium glutamate, hydrolyzed vegetable proteins, soy sauce, and other flavor enhancers when developing their products.
The ingredient is effective in a variety of food formulations. For example, it can add savory flavors to meats, soups, and sauces; improve chocolate, caramel, and buttery flavors in baked goods and confections; extend dairy flavors, especially cheese powders in cream sauces; enhance spices and seasonings in dry blends and coatings; provide a umami sensation in MSG-replaced applications; and mask bitter soy and metallic notes in fortified foods.
The liquid product is available in two versions: 1500 (6.25% salt, 0.10% fat, pH 4.5) and 2000 (9.00% salt, 0.10% fat, pH 4.0). Typical usage levels depend on the application and version used. Some examples for 1500 and 2000, respectively, include bakery and confectionery, 1-3% and 0.50-1%; dressings, dips, and spreads, 2-5% and 0.75- 1.50%; sauces and marinades, 3-10% and 0.75-2%; soups and gravies, 2-3% and 0.50-1%; and meat products, 2-20% and 0.50-2%.
Low in salt and fat, it requires no refrigeration or special handling, and has a long shelf life. Because it is derived from milk (whey), it may need to be labeled as "milk solids" rather than "natural flavor" in some applications.
In another development, New Zealand-based Fonterra Cooperative Group unveiled a dairy-based salt replacer at the 2006 Health Ingredients Europe (HIE) expo in Frankfurt. The ingredient, Fonterra Savoury Powder, enhances flavors, allowing formulators to reduce up to a third of the sodium in food products. A usage level of 0.5% is suitable for a number of applications, including dairy, meat products, snack foods, soups, and sauces. It is especially effective at enhancing cheese, meat, and vegetable flavors. Fonterra has patented the ingredient in the European Union and New Zealand, and has applications pending in the U.S. and other countries.
--- PAGE BREAK ---
Permeating the Industry
Whey permeate—also known as "dairy product solids," "de-proteinized whey," "modified whey," "reduced protein whey," or simply "permeate"—is fast becoming a "wanted" ingredient. Because of its numerous benefits, this secondary product of ultrafiltration is finding more applications in the food industry, increasing its value to the food and beverage formulator.
At DMI's 2006 Dairy Innovation Forum, some of these benefits were discussed by Glenn Ward, Senior Scientist at Land O'Lakes, Inc., Arden Hills, Minn. (phone 800-328-9680, www.landolakesingredientsolutions.com), a supplier of whey protein products, deproteinized whey, and cheese ingredients. In products such as pizza dough, muffins, cookies, and cake frostings, whey permeate can replace fat, enhance texture, increase dough yield, and deliver sweet and salty flavors.
Ward noted that the use of this dairy-derived ingredient can help address several functionality and health challenges that today's formulators are faced with. As a sweetener, whey permeate compares favorably with sucrose, corn syrup solids, and other traditional types, while sustaining a sense of satiety for appetite control. Because of its composition, it can also provide salty notes that enhance the taste of foods and may help reduce sodium content. Also, dough that contains the ingredient is said to retain its moisture and texture in reduced-fat, chemically leavened, and frozen baked goods, maintaining a softer crumb and resisting staling.
Based on new research studies, whey permeate may find further utility in the food industry as well. According to researchers from Ireland-based Dublin Institute of Technology, the ingredient shows promise as an alternative to chlorine solutions for preserving fresh-cut vegetables. The new research, published in the journal Innovative Food Science and Emerging Technologies (Vol. 7, pp. 112-123), looked at varying concentrations of whey permeate solutions on iceberg lettuce and carrots, and their effect on color and texture, microbial loads, and nutritional content. The researchers believed that the study successfully demonstrated whey permeate as a viable wash treatment for vegetables, although further investigation is needed.
Whey permeate is produced when sweet whey is processed into whey protein concentrate or whey protein isolate via ultrafiltration. Researcher Karen Smith of the Wisconsin Center for Dairy Research, explained the process: While whey proteins are retained by the filtering membrane, substances of lower molecular weight, such as lactose and minerals, pass through the filter and become the permeate stream. Once moisture is removed from the liquid permeate stream, an off-white, free-flowing powder with a mild dairy flavor remains. After removal of the protein and some lactose and minerals from this powder, the remaining material is known as whey permeate.
According to Smith, the main component of whey permeate is lactose. This lactose content determines the permeate's ability to improve the texture of baked goods, affect their appearance and color, extend sweeteners or shortening, and provide such dairy minerals as calcium and phosphorus. She emphasized, however, that permeate contains only trace amounts of protein and cannot contribute any structural material; consequently, permeate is most successful in low-fat or whole-grain cakes or quick breads, especially those with fiber. She recommended choosing a target amount of permeate and replacing ingredients in proportion.
--- PAGE BREAK ---
Getting to the Meat of It
Whey protein ingredients can be successfully utilized in regular-fat, reduced-fat, and fat-free processed meats, according to research conducted in 2006 by DMI. Researchers evaluated the use of 80% whey protein concentrate (WPC80) in eight different meat products, demonstrating that the ingredient can increase cook yield, reduce purge, and enhance slicing yields.
In a 15%-fat hot dog, for example, WPC80 provided such benefits as increased cook yield, reduced syneresis, improved texture and emulsifying capabilities, and enhanced organoleptic characteristics. The ingredient reportedly lowered formulation costs by 5%, while consumer testing showed high levels of acceptance for the reduced-fat hot dog.
No one type of whey protein can be used for all meat applications, however. It is necessary to match the application requirement with the specified functionality of the whey protein ingredient. There are a number of options available, including whey protein concentrates (34-80% protein), whey protein isolates (more than 90% protein), and specialized whey ingredients. Furthermore, as whey ingredients continue to evolve, new varieties and blends will offer different performance characteristics in terms of viscosity, gelation, and taste. Ingredient suppliers will be able to customize or blend whey ingredients to deliver very specific functionality properties in processed meats and other applications.
Other dairy-based ingredient developments are on the horizon as well. For instance, a textured whey protein has potential as a meat extender and replacer. The ingredient is a mix of 80% whey protein isolate and 20% corn starch. Thermoplastic extrusion creates small meat-like chunks which can help create lower-fat meat products.
Also, researchers are looking at the role of milk minerals as antioxidants. These minerals may be equal to or more effective that rosemary extract, butylated hydroxytoluene (BHT), sodium tripolyphosphate, and sodium nitrate. They can also bind soluble iron in meat, reducing oxidation and warmed-over flavor.
--- PAGE BREAK ---
Crunch this Whey
The 2007 January Ingredients section began the new year with a discussion of toppings and inclusions, and the important role they play in delivering texture, flavor, nutrition, and, of course, visual enhancement. All these properties can help differentiate a processed food or beverage product in the marketplace. As a result, food developers are searching for innovative ingredients that can provide functionality or nutritional benefits in their creation of toppings and inclusions.
One such example, whey protein crisps, can add a crunchy texture to breakfast and nutrition bars, snacks and granola, trail mixes, salads, frozen desserts, yogurt, and other products. The extruded ingredient, a combination of whey protein and corn starch, is available under the name WPCrisps™ from Grande Custom Ingredients Group.
According to Steve Dott, the company's Vice President, the patented ingredient is manufactured at 50% protein, but can contain levels of 40-80% in customized applications. He noted that a wide range of sizes, shapes, and formulations can be created to meet specific customer requirements. In addition, various colors,can be added to increase its visual appeal, especially to a younger audience. Positioned as an alternative to crunchy ingredients derived from soy, corn, or rice sources, the novel whey protein crisp delivers a clean, mild dairy flavor with the nutritional benefits of dairy protein.
Grande Custom Ingredients offers a number of other whey protein products that are finding use as problem solvers in formulating. Earlier, this article looked at a dairy-derived ingredient which may be used to replace sodium and other flavor enhancers. Also available is Grande Bravo®, a functional whey protein which can bind water, improve creaminess, decrease syneresis and purge, and enhance emulsification and stability in a variety of applications.
Anti-Cholesterol Factor Identified
A new dairy-derived antibody to cholesterol, when ingested, binds to cholesterol in the human digestive track and blocks its absorption into the bloodstream. The naturally occurring protein was identified by Origo Biosciences, Inc., Vienna, Va. (phone 703-286-6450, www.origobiosciences.com), a life sciences company focusing on the development of new dairy-derived oral immunotherapeutics.
The discovery of this cholesterol absorption inhibitor may enable a new generation of functional dairy ingredients to be developed, as well as provide another strategy to food and beverage manufacturers interested in developing products with anti-cholesterol properties. Currently, phytosterols are the only cholesterol absorption inhibitor approved for use as a food ingredient.
--- PAGE BREAK ---
Origo measured levels of anti-cholesterol antibodies in dairy sources (whey protein concentrates, colostrums, and fluid milks) from the U.S., Europe, New Zealand, and Australia. In their evaluation, the company found a wide variation in these concentrations.
Anti-cholesterol antibodies were discovered nearly 50 years ago. Numerous studies have since shown that they help facilitate the clearance of harmful forms of cholesterol. Origo recognizes that these antibodies may also be found in certain dairy sources and may be effective in the digestive tract, preventing the absorption of cholesterol.
The company is currently collaborating with a major research university to evaluate the efficacy in a preclinical animal trial. Following the completion of these preliminary studies, the company plans to conduct a human clinical evaluation.
Delivering New Opportunities
Food manufacturers are using encapsulation technologies as a way of achieving product differentiation in the marketplace, as well as enhancing their value by delivering ingredients that promote functionality and healthful benefits. In particular, recent research has looked at nanoencapsulation and the role that dairy ingredients can play in these delivery systems.
The milk protein casein may play a role in the development of nano-based delivery systems. Casein makes up about 80% of the protein content of cow's milk (30-35 g/L) and is found naturally in the form of spherical micelles with diameters ranging from 50 to 500 nanometers. This natural ability of casein to form nano-sized micelles holds potential for encapsulation and delivery of sensitive ingredients, according to researchers from the Israel Institute of Technology in Haifa. The researchers also noted that the stability of these micelles during processing makes them a very attractive nano-encapsulator. In the study, a non-covalent binding of vitamin D to sodium caseinate was achieved, which could lead to new formulation opportunities. For example, nano delivery systems could be incorporated into dairy products without modifying their sensory properties.
The ability of the milk protein alpha-lactalbumin to self-assemble into nanotubes could also offer encapsulation potential. In an article that appeared in Trends in Food Science and Technology (Vol. 17, pp. 196-203), researchers from Holland-based Ultrecht University noted that because of the cavity of alpha-lactalbumin nanotubes, they could serve as an effective vehicle for encapsulated molecules, such as vitamins or minerals.
--- PAGE BREAK ---
Flexing Some Muscle
Emerging research is suggesting that whey-derived bioactive components have the potential to enhance the performance of physically active adults, increase lean muscle tissue, support cardiovascular health and weight management, and improve immune defenses. The findings of such research may point the way to new product opportunities for the food and beverage industry, and give whey protein further muscle as a potential ingredient touted for both its functionality and nutritional benefits.
At the 2006 IFT Annual Meeting, a symposium entitled "Whey Protein: Physiological Effects and Emerging Health Benefits" reviewed the latest research on whey protein and its role in such areas as muscle metabolism after exercise, muscle and body composition in the elderly, body weight and fat in supplemented overweight and obese adults, satiety and food intake regulation, and immune defenses.
Analysis of research related to the relationship between whey protein and muscle building may even lead to new structure/function claims that can be highlighted by the manufacturer. This possibility is further underscored by a research partnership formed between DMI and Fonterra Cooperative Group. By agreeing to fund strategic research into whey protein and body composition, the two companies are laying the framework for substantiating future health claims for marketing whey protein.
As part of the initial agreement, U.S. dairy producer-funded research will focus on the overall adult population and body composition, while Fonterra will study sports nutrition and body composition. The results will be jointly shared.
Recent ingredient developments of suppliers are reflecting this interest between whey and muscle. For example, ProMyogen 4023, a whey protein hydrolysate with enhanced levels of branched-chain amino acids, was introduced by Protient, Inc., St. Paul, Minn. (phone 651-638-2600, www.protient.com). The product is said to have 25% more branched-chain amino acids than traditional whey protein isolates. Branched-chain amino acids have been found to improve protein synthesis and decrease protein catabolism at the muscle level. For this reason, they are frequently formulated into products designed for sports nutrition, muscle maintenance, and physical performance applications. They are also important for treatment and prevention of age-related conditions such as obesity and type 2 diabetes.
California-based NutriBev Science recently launched a sports drink containing PeptoPro, a protein hydrolysate developed by DSM Food Specialties, the Netherlands (phone 0031 15 2793474, www.dsm-foodspecialties.com). The ingredient, a hydrolyzed casein product consisting of small di- and tri-peptides and free amino acids, provides enhanced muscle repair and recovery after exercise. The powder has instant solubility and does not leave a bitter aftertaste.
--- PAGE BREAK ---
A Peptide that Relaxes
A milk protein hydrolysate, Lactium™, contains a bioactive peptide with clinically proven relaxation properties. The ingredient, developed by France-based dairy processor Ingredia, is distributed by Pharmachem Laboratories, Inc., Kearny, N.J. (phone 201-719-7405, www.pharmachemlabs.com).
Because of its special properties, this water-soluble ingredient may regulate stress-related symptoms, such as lack of concentration, sleep troubles, irritability, and weight variations. It can be easily formulated into a variety of systems, including dairy products, confections, beverages, snacks, baked products, and dietary supplements.
According to Pharmachem, the ingredient's relaxation properties are attributed to a casein peptide that contains 10 amino acids. The innovative peptide within a protein hydrolysate is patented and stable in a variety of applications. Products can also be customized using the ingredient.
Providing a Better Balance
Whey proteins are used as emulsifiers in a broad range of applications, including ice creams, beverages, salad dressings, and sports supplements. Because of their potential added value in these products, developers are looking for ways to improve their functionality or nutritional properties.
For example, modification of whey protein concentrates with high proportions of phospholipids could turn standard emulsifiers into ingredients that can better stabilize oil-in-water emulsions as well as produce nutritionally enhanced foods and beverages. Modified whey protein concentrates are produced by Glanbia Nutritionals, Inc., using the company's proprietary membrane filtration process that filters out the low-molecular-weight proteins and retains the high-molecular-weight ones in the concentrate. By selecting the high-molecular-weight proteins, nutritional and functionality characteristics can be enhanced, compared to the performance of traditional whey protein concentrates where all the proteins are retained.
According to Leprino Foods, Denver Col. (phone 303-480-2600, www.leprinofoods.com), its Temp Pro™ and Temp Pro Plus™ whey proteins are stable in high-temperature retort and UHT processes without falling out of solution (up to 12% protein), and are suitable for use in ready-to-drink beverages. Other whey proteins for specific applications include Gel Pro™, which has the capability to stabilize foams and oil/water emulsions as well as supply high gelling functionality for yogurt and HyD Pro, which improves nutrition and extends the shelf life of high-performance nutrition bars.
--- PAGE BREAK ---
Research studies from around the world are also exploring ways to improve the emulsifying capabilities of dairy ingredients. One study, conducted at the United Kingdom-based University of Leeds, found that whey protein isolates and maltodextrin can form complexes that have "exceptional emulsification properties." The researchers noted that the resulting complexes could offer an effective alternative to gum arabic.
In another study, researchers at Germany's University of Hohenheim found that fermentation of skim milk and sweet whey with a mixture of lactic acid bacteria and a Streptococcus strain could reduce the main allergen in cow's milk by as much as 90%. Such a development could open more doors for the use of dairy ingredients as emulsifiers.
Lowering Blood Pressure and Cholesterol
A hydrolyzed whey protein, BioZate 1, can help lower blood pressure and cholesterol, according to a recent University of Minnesota study. The study, which appeared in the November 2006 issue of the Journal of Clinical Hypertension, found that participants taking the protein for six weeks experienced reductions in both systolic and diastolic blood pressure. Researchers also noted that low-density-lipoprotein cholesterol and high-sensitivity C-reactive protein (a marker of general inflammation) were significantly improved.
The hydrolyzed whey protein product contains a large number of whey peptides, which are easily digested and absorbed into the bloodstream. In addition to blood pressure, cholesterol, and C-reactive protein benefits, it contributes protein to the diet, which may increase the body's metabolic rate and nutrient balance. A higher-protein diet may also contribute to body fat losses.
Available to consumers exclusively online (www.BiProUSA.com), BioZate is part of a line of beneficial, natural whey protein products sold by Davisco Foods International, La Seur, Minn. (phone 952-914-0400, www.daviscofoods.com). It reportedly contains no fat, carbohydrates, sugar, and lactose.
A variety of formulation ideas using the ingredient are also available from the company.
--- PAGE BREAK ---
Making Smoothies Smooth
One of the challenges of adding a whey ingredient, such as a protein isolate, to a smoothie is that it can create a gritty mouthfeel. Dairy-Lo, a partially denatured whey protein concentrate from Toronto-based Parmalat Canada (phone 800-563-1515, www.parmalat.ca), can help solve this problem.
The dairy-derived ingredient is said to improve mouthfeel, yielding a smooth and creamier-tasting beverage that eliminates grittiness as well as undesirable flavors associated with some whey ingredients. It also contributes a creamy opacity to a smoothie drink that lends itself to further color development. A shelf-stable powder, the ingredient works well in refrigerated or shelf-stable, prepackaged liquid smoothies or in powder mixes. While providing these functionality benefits, it adds protein to the drink, improving its nutritional value.
In another story demonstrating the utility of dairy ingredients in beverages, Netherlands-based Creamy Creation (phone 31 (0) 485 37 89 00, www.creamy-creation.com), develops beverage concepts that combine dairy ingredients with alcohol or nonalcoholic flavors. Cream liqueurs, tropical fruit cocktails batidas and pina coladas, smoothies, fruit creams, yogurt liqueurs, and new creamy indulgence drinks are just a few examples.
The company, which specializes in state-of-the-art emulsion technology and ingredient systems for emulsified beverages, has more than 20 years of experience in dairy-alcohol combinations. It is a business unit of DMV International, the ingredients group of Campina Melkunie, one of the world's leading dairy companies.
Creamy Creation works closely with its customers to inspire and evaluate new concepts, then it uses its expertise to develop beverages or bulk ingredient systems to meet the customer's specific requirements in terms of taste, texture, color, and compositions. Beverages can be supplied ready processed without the need for additional stabilization. Furthermore, services can be extended to offer ready-to-drink products in a wide range of packaging options, including Tetra Pak, glass bottles, PET bottles, and aseptic beverage cans.
Finding the Right Protein
Milk protein concentrates are being developed with low lactose levels, making them especially suitable for protein-fortified powders that have that specific requirement.
--- PAGE BREAK ---
For example, at a recent trade show, Erie Foods International, Inc., Erie, Ill. (phone 309-659-2233, www.eriefoods.com), highlighted a reduced-lactose milk protein concentrate that offers easy digestibility, excellent solubility and dispersibility, milk flavor, and high calcium content. By combining superior functionality with low lactose levels, the ingredient has potential for such applications as nutritional beverages, infant formulas, protein bars, enteral powders, yogurts, dry mixes, and other products.
The company also featured its caseinate proteins which can assist with water absorption, emulsification, whipping, coating or encapsulation, structure, and viscosity, as well as provide important nutritional value. Sodium caseinate, calcium caseinate, and combinations of the two are available.
Adding Protein to Chocolate
A reduced-sugar chocolate prototype contains milk protein crisps from Kerry Ingredients, Beloit, Wis. (phone 608-751-2169, www.kerryamericas.com). Ultranor™ milk protein crisps, made using ultrafiltration and extrusion processes, are said to provide protein fortification to Milk Crisp Bites without sacrificing indulgence. The formulation is customized for optimal flavor and texture, and the chocolate contains special caramelized notes.
The crisps, ideal for adding protein to chocolate and nutrition or cereal bar applications, are made with milk protein isolates derived from fresh skim milk. In high-protein chocolate and chocolate-coating applications, a protein content in excess of 25% is feasible. Furthermore, the milk protein isolates have a lower viscosity per unit of protein when compared with conventional milk proteins, making it suitable for enrobing applications.
No Way. Yes, Whey!
The December 2006 Ingredients section discussed the rising popularity of cheese, which makes for an interesting bridge to this article. Since whey is a by-product of cheese manufacture, larger quantities of whey are also resulting. The dairy industry—through research and innovation—is putting this whey to better and wider uses as an ingredient with nutritional and functionality capabilities. Once perceived as a by-product with little value except in animal feed, whey is gradually being transformed into "liquid gold."
This transformation reminds me a little of that comedic response, "No way. Yes, way." Many years ago, the success of by-products such as whey would have been perceived as improbable by many in the industry. Today, several factors (beyond the dairy industry's ingenuity) are certainly coming into play for these dairy ingredients to continue that evolving course. For example, improved methods for extraction and purification are being developed, creating value-added ingredients which subsequently open up new opportunities.
--- PAGE BREAK ---
In addition to these methods, researchers continue to identify and characterize novel proteins and fragments of proteins that could provide health benefits. In Australia, biotechnology company HealthLinx, formerly Cryptome Pharmaceuticals (phone 61 3 9639 6349), conducted research to unlock some of these health-promoting components. "To date, most bioactive peptides have been derived from casein and whey," said the company. "The uniqueness of our approach will be to look at other milk proteins, including proteins of low abundance."
And as this Ingredients section has tried to demonstrate, there are now a wider range of potential applications. Previously, an ingredient derived from a dairy source would more likely be applied to a dairy application. But, as we have seen, this is certainly no longer the case. Also, spurred on by nutraceutical interests, a dairy ingredient such as whey which would previously find itself in a sports nutrition drink can now make that small jump to other health-promoting foods.
More and more ingredient companies seem to be realizing this and are acting accordingly so that they might have a greater role in the future. And, in all likelihood, if they are successful in their research, product development, and marketing efforts, they can find themselves "whey ahead" of their competition.
Next month's Ingredients section will look at different developments that are upscaling fruits and vegetables.
---
Udder Alternatives?
In the U.S., when you think about the source of milk and subsequent ingredient derivatives, you immediately think of the cow. But throughout the world, that is not always the case, as poor Elsie frequently loses her job to a variety of other animals, including goats, donkeys, camels, and sometimes even reindeer.
In the Arab world, for example, camel's milk is widely consumed. Rich in vitamins B and C, this milk is said to have 10 times more iron than cow's milk and is lower in fat. Recently, a lower-fat, reduced-sugar ice cream made from camel's milk was launched by Al Ain Dairy in the United Arab Emirates, possibly giving rise to the phrase, "One hump or two." Another new product is a date-flavored milk drink, "Camelicious," from Emirates Industry for Camel Milk & Products. And let's not forget "camelbert," a camel milk cheese introduced in 1992, followed by a camel milk chocolate. Such products are still primarily limited to the Middle East, but as the potential health benefits of camel's milk are increasingly promoted, this milk may find Western markets as well. Before this can happen, however, certain technological challenges would have to be first overcome in production and distribution.
--- PAGE BREAK ---
Although goat's milk (and ingredients derived from it) is consumed worldwide, especially in developing areas, its market remains specialized in the U.S., with artisan products such as goat's cheese having a definite niche. Its recognition here may be increasing with a new ingredient development, goat milk protein concentrate, from Protient Inc., St. Paul, Minn. (phone 651-638-2600, www.protient.com). CaproAmino 5189, an 80% milk protein concentrate made from goat's milk, is said to be easily and rapidly digestible. This is especially important for sports nutrition, weight loss, and other formulas where quality protein is critical and rapid absorption is desired. Its bland flavor profile makes it suitable in formulating.
With the growing emphasis on ingredients good for skin care, donkey milk may play a future role, and that's no hee-haw. Studies have shown that its high levels of protein, phospholipids, and ceramides can have regenerative effects for the skin. The milk is also rich in vitamins A, D, and E, calcium, and phosphorus, making it beneficial for consumption. Also, donkey milk contains less than 1% fat.
Reindeer milk, consumed and used as an ingredient in northern areas of the world, such as Finland, presents certain difficulties. For starters, milking a feisty animal can be problematic, and because milk yields tend to be very low, a lot of reindeer are needed. Also, the milk itself contains 22% fat, which is very high. Advice to Rudolph: keep your Christmas job.
---
Taking Care of Business
The future development of dairy ingredients and their utility in food formulations can be influenced by business developments such as alliances, acquisitions, and, of course, the actual experience of the company. Here are a few recent developments:
• American Casein Co., Burlington, N.J. (phone 609-387-7204, www.americancasein.com), a manufacturer of powdered protein ingredients for the food and nutrition industries, is celebrating its 50th anniversary. Its product line includes spray-dried caseinates, hydrolyzed proteins, milk protein concentrates, milk protein isolates, micellar casein, proteins for emulsification and stabilization, and other components. AMCO is said to have been one of the first two manufacturers in the U.S. to process casein for edible application.
• Ireland-based Glanbia plc, recently acquired a major U.S. nutrition business, California-based Seltzer Companies, Inc. Glanbia, a producer of specialty whey proteins, dairy-derived nutritional ingredients, minerals, and vitamins, provides solutions for products with enhanced health benefits. The acquisition is expected to extend the company's investment in innovation and clinical research and broaden its potential as a key supplier of nutritional premixes and functional customized formulations.
• Netherlands-based DSM Dairy Ingredients has repositioned and re-branded its entire product portfolio to clearly differentiate each product's contribution to its customers' businesses. Distinctions will be made between "dairy improvers" and "dairy enhancers."
---
by Donald E. Pszczola
,
Senior Associate Editor
[email protected]