Diabetes affects 20.8 million children and adults in the United States, or 7% of the population, according to the American Diabetes Association, Alexandria, Va. (phone 800-342-2383, www.diabetes.org). It is a disease in which the body does not produce or properly use insulin, which is needed to convert sugar, starches, and other food into energy. Type 2 diabetes is the most common form and occurs when the body does not produce enough insulin or the cells do not respond to the insulin.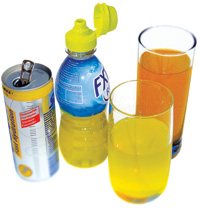 Many foods formulated for diabetics claim to reduce or stabilize blood glucose levels or have a low glycemic index (little effect on the blood sugar level). One example is the Glucerna® line from Abbott Laboratories, Abbott Park, Ill. (phone 877-745-8237, www.glucerna.com). The meal and snack bars and shakes contain slowly digested carbohydrates to help manage blood sugar. Another is a new beverage, Boost® Glucose Control™, from Novartis Medical Nutrition, Fremont, Mich. (phone 800-333-3785, www.novartisnutrition.com), that contains less carbohydrate and more protein to minimize the blood glucose response.
"The most important thing for diabetics is a lifestyle change—eating a healthy diet, regular exercise, and supplements to manage healthy blood glucose levels," says Vijai Pasupuleti, President, SAI International, Geneva, Ill. (phone 630-845-8246). "The future of diabetic products is not touting one single magic ingredient but a combination of ingredients that act independently and/or synergistically to lower blood glucose levels, as well as alleviate diabetic related micro and macrovascular complications.
"The key to successful diabetic foods and beverages is reducing blood glucose levels by lowering glycemic index/load, inhibiting hepatic glucose output, increasing insulin sensitivity and production, slowing down the digestion of carbohydrates, and relieving the oxidative stress to alleviate diabetes-related complications. All of these actions can be successfully achieved with a combination of clinically proven food ingredients, and the challenge is to put them in a food and/or beverage with a great taste to appeal the consumers' palate."
Here is a closer look at some of these ingredients.
Fiber and Resistant Starch
Soluble and insoluble fiber slow down the absorption of glucose, explains Pasupuleti. "This is important as it avoids the glucose spikes, which in turn puts less strain on the pancreas to produce more insulin."
--- PAGE BREAK ---
Fiber from oats, particularly oat beta-glucan, is used as a slowly digested ingredient in foods formulated for diabetics. At the 2006 IFT Food Expo®, GTC Nutrition, Golden, Colo. (phone 303-216-2489, www.gtcnutrition.com), presented information on oat beta-glucan. High-beta–glucan oat bran has a glycemic response about one-fifth that of glucose.
In addition, oat beta-glucan can help preserve healthy blood sugar levels by preventing the glucose concentration from rising sharply after meals. The company offers OatVantage™ oat bran concentrate, an all natural, highly concentrated soluble oat fiber.
Maki et al. (2006) examined the effects of consuming foods containing oat beta-glucan on blood pressure, carbohydrate homeostasis, and biomarkers of oxidative stress, and found that foods containing oat beta-glucan can reduce the insulin and glucose response after a meal. The results of the study, which included 97 men and women, suggested that foods containing oat beta-glucan have beneficial effects on carbohydrate metabolism and blood pressure in the obese test subjects.
Behall et al. (2006) showed that acute consumption of barley beta-glucan in muffins was effective in reducing glucose and insulin responses in men who were mildly insulin-resistant. The highest barley beta-glucan level studied was the most effective in lowering glucose and insulin responses.
Polydextrose can also be used in diabetic and low-glycemic foods because of its minimal effects on blood glucose levels and insulin demand. The Litesse® polydextrose line of ingredients from Danisco Sweeteners, New Century, Kan. (phone 913-764- 8100, www.daniscosweeteners.com, www.litesse.com) elicits low glycemic responses that range from 4 to 7 compared to 100 for glucose. Therefore, it can be used to replace high-glycemic carbohydrates such as some sugars and starches.
Resistant starch resists digestion and absorption in the small intestine and passes through to the large intestine. At last year's IFT Food Expo, National Starch Food Innovation, Bridgewater, N.J. (phone 800- 743-6343, www.foodinnovation.com), illustrated the use of natural resistant starches in foods for individuals seeking to maintain healthy blood sugar levels. The company offers Hi- Maize™ resistant starch, which has been shown to help maintain healthy blood sugar levels. According to the company, 16 published human clinical trials have demonstrated that when resistant starch from high-amylose corn replaces flour or other digestible carbohydrates, it moderates the impact on blood sugar. Other human studies have demonstrated that when resistant starch is added as a supplement to the diet, it moderates the impact on blood insulin and increases insulin sensitivity in healthy individuals.
--- PAGE BREAK ---
A digestion-resistant maltodextrin, Fibersol-2™, offered by ADM-Matsutani, Decatur, Ill. (phone 800-510- 2178, www.admworld.com), is very stable, has low viscosity, is transparent in solution, and adds virtually no flavor to finished products. Examples are beverages, baked goods, cereals, processed meats, dairy and frozen dairy items, soups, dressings, meal replacements, dietary supplements, medical foods, and functional foods.
Slowly Digested Carbohydrates
Slowly digested carbohydrates are not broken down immediately by the body; rather, they gradually release sugar into the bloodstream, preventing a spike in blood sugar. SoLo Gi™ Low Glycemic Nutrition Bars, from Solo-GI Nutrition, Alberta, Canada (phone 866-765-6944, www.solo-gi.com), contain slowly digested carbohydrates from oat, soy, and fruits.
Cargill, Minneapolis, Minn. (phone 888-798-7658, www.cargill.com), in November 2006 received the Health Ingredients Europe 2006 Gold Award for the best innovation in health ingredients for its Xtend™ isomaltulose. This slowly digested sugar results in a low blood glucose and insulin response and has applications in low-glycemic products and sustained-energy products. Sucromalt, another slowly digested sweetener in the Xtend line, is derived from sucrose and maltose.
StarchLite® is a fractionated white bean extract ingredient launched last year by Pharmachem Laboratories Inc., Kearny, N.J. (phone 800- 526-0609, www.starchliteinfo.com). According to the company, clinical studies have shown that the ingredient delays the digestion and absorption of carbohydrates and reduces the glycemic index and caloric impact of starchy foods.
Chromium
Dietary supplementation of chromium has shown promise in the management of type 2 diabetes. At the 2006 IFT Food Expo, InterHealth Nutraceuticals, Benicia, Calif. (phone 707-751- 2800, www.interhealthusa.com), discussed the biology, pharmacology, and safety of niacin-bound chromium. The company offers ChromeMate®, a patented form of biologically active niacin-bound chromium— called chromium nicotinate or polynicotinate—that increases the effectiveness of chromium. According to the company, an oral glucose-tolerance test revealed a significantly improved clearance of blood glucose between 1 and 2 hr of a glucose challenge in obese diabetic mice treated with niacin-bound chromium.
Singer and Geohas (2006) studied 43 subjects with impaired glycemic control despite treatments with oral antihyperglycemic agents and showed that taking chromium picolinate and biotin together improved glucose tolerance in people with poorly controlled diabetes. The subjects were randomized to receive each day 600 μg of chromium as chromium picolinate plus 2 mg of biotin in addition to their prestudy oral antihyperglycemic agent therapy. The combinations used, Diachrome®, a patented combination of Chromax® chromium picolinate and biotin, from Nutrition 21 Inc., Purchase, N.Y. (phone 914-701-4500, www.nutrition21.com).
--- PAGE BREAK ---
Peptides
Work is also being done to develop natural food-grade peptides that would significantly improve the absorption of blood glucose into the cells of the body, according to information provided at last year's IFT Food Expo by DSM Food Specialties, Delft, Netherlands (phone +31-15-279-3474, www.dsm.com). These new bioactive peptides will be particularly suitable as ingredients for use in functional food products and dietary supplements intended to help people manage their blood glucose levels. A 4-year scientific program of nutritional intervention trials involving both healthy people and people with type 2 diabetes is currently being performed.
From Almonds to Green Tea
Recent studies indicate that almonds, cinnamon, and a green tea extract may have beneficial health effects when used in diabetic foods. Jenkins et al. (2006) found that eating almonds may help to prevent blood sugar spikes that occur after consuming carbohydrate-rich foods that commonly raise blood sugar levels. They found that eating almonds with a carbohydrate-rich meal can have a significant impact in blunting the glycemic and insulin responses of the body. They gave healthy men and women four different test meals, each containing 50 g of carbohydrate. The control meal contained white bread; the second, white bread and 60 g of almonds; the third, contained parboiled rice; and the fourth, contained instant mashed potatoes. The parboiled rice and mashed potato meals were balanced with the almond meal for fat, protein, and total energy, with the addition of fat (unsalted butter) and protein (medium Cheddar cheese). Participants ate the test meals on five different occasions and then had their blood drawn to check glucose, insulin, and antioxidant levels. The subjects who ate the almond meal and parboiled rice meal showed significantly lower rises in blood sugar. Furthermore, the blood samples of the subjects who ate almonds showed the least amount of damage from free radicals.
A proprietary cinnamon extract, Cinnulin PF® from Integrity Nutraceuticals, Sarasota, Fla. (phone 941-342-0007, www.integritynut.com), was shown to provide protective antioxidant effects in reducing oxidative stress associated with metabolic syndrome (INI, 2006). The study was designed to determine both the antioxidant and insulin-like activity of the water-based cinnamon extract on people with impaired insulin function. It showed improved blood glucose control and enhanced body composition in the people who consumed the extract.
Khan et al. (2003) demonstrated that people with type 2 diabetes who took 1, 3, or 6 g of cinnamon/day had reduced levels of serum glucose, triglyceride, low-density-lipoprotein cholesterol, and total cholesterol. This suggests that the inclusion of cinnamon in the diet of people with type 2 diabetes will reduce risk factors associated with diabetes and cardiovascular diseases.
Wolfram et al. (2006) showed that a green tea extract, epigallocatechin gallate (EGCG), improved glucose tolerance in diabetic rodents, indicating that dietary supplementation with EGCG could contribute to anti-diabetic nutritional strategies. The research, which used Teavigo EGCG from DSM Nutritional Products, Parsippany, N.J. (phone 800-526-0189, www.dsmnutritionalproducts.com), investigated the antidiabetic effects of EGCG in rodent models of type 2 diabetes mellitus and H4IIE rat hepatoma cells. When administered in a dose-dependent manner, EGCG improved oral glucose tolerance and blood glucose in food-deprived rats. In the hepatoma cells, EGCG down-regulated genes involved in gluconeogenesis and the synthesis of fatty acids, triacylglycerol, and cholesterol.
by Linda Milo Ohr,
Contributing Editor, Denver, Colo.
[email protected]
References
Behall, K.M., Scholfield, D.J., and Hallfrisch, J.G. 2006. Barley beta-glucan reduces plasma glucose and insulin responses compared with resistant starch in men. Nutr. Res. 26: 644-650.
INI. 2006. New study shows cinnamon extract provides antioxidant support for people with impaired fasting blood sugar. Press release. Oct. 17, Integrity Nutraceuticals International, Sarasota, Fla.
Jenkins, D.J.A., Kendall, C.W.C., Josse, A.R., Salvatore, S., Brighenti, F., Augustin, L.S.A., Ellis, P.R., Vidgen, E., and Rao, A.V. 2006. Almonds decrease postprandial glycemia, insulinemia, and oxidative damage in healthy individuals. J. Nutr. 136: 2987-2992.
Khan, A., Safdar, M., Ali Khan, M.M., Khattak, K.N., and Anderson, R.A. 2003. Cinnamon improves glucose and lipids of people with type 2 diabetes. Diabetes Care 12: 3215-3218.
Maki, K.C., Galant, R., Samuel, P., Tesser, J., Witchger, M.S., Ribaya-Mercado, J.D., Blumberg, J.B., Geohas, J. 2006. Effects of consuming foods containing oat beta-glucan on blood pressure, carbohydrate metabolism and biomarkers of oxidative stress in men and women with elevated blood pressure. Eur. J. Clin. Nutr. Published on-line ahead of print, Dec. 6, doi: 10.1038/sj.ejcn.1602562.
Singer, G.M. and Geohas, J. 2006. The effect of chromium picolinate and biotin supplementation on glycaemic control in poorly controlled patients with type-2 diabetes mellitus: A placebo-controlled, double-blinded, randomized trial. Diabetes Technol. Therapeutics. 8: 636-643.
Wolfram, S., Raederstorff, D., Preller, M., Wang, Y., Teixeira, S.R., Riegger, C., and Weber, P. 2006. Epigallocatechin gallate supplementation alleviates diabetes in rodents. J. Nutr. 136: 2512-2518.