Frozen food innovator Robert E. Rich, inventor of the world's first non-dairy whipped topping, died this past year at the age of 92. In 1945, with the war effort consuming every drop of milk, he created a soybean-based alternative, Rich's® Whip Topping, which was stable, easy to use, and could be frozen. And the rest, as they say, is history. The product went on to be used in school foodservice, restaurants, bakeries, and kitchens. As this article is focusing on new innovations in the area of toppings and inclusions, I thought it only appropriate to take a moment to recall his efforts and, in particular, the inspiration behind them.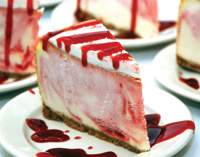 Over the following decades, food toppings and inclusions continue to evolve, addressing a variety of needs in the marketplace. More than ever, they play an important role in food formulating. After all, it is the topping that frequently first catches the consumer's eye and consequently can play a major factor in whether the product gets purchased or is bypassed for some other on the shelf.
In a myriad of forms, such as culinary foams, particulates, sauces, syrups, coatings, nuts and seeds, or any other addition to or in a substrate, today's toppings and inclusions have become increasingly sophisticated. In fact, a particular topping or inclusion can help transform a traditional product, making it more colorful, giving it a different taste profile, adding another level of texture, and in some cases either providing healthful benefits themselves or at least attracting the consumer long enough to purchase a better-for-you selection.
In a subtle way, the topping or inclusion can even change the way we perceive the product. Certain foods—possibly even vegetables—can become more kid friendly. Mainstream or everyday foods, with the addition of flavorful sauces, syrups, or dressings, can provide a culinary sophistication as well as an international inspiration. With the inclusion of certain ingredients, a food can be retooled for the holidays or special occasions. Sweet foods can be given a savory profile or vice versa. New snack foods can be created with multilayered textures. Foods associated with a particular time, such as breakfast, can be consumed at other times of the day. And perhaps, most important, foods that are considered more healthful can get an added boost by the use of innovative toppings and inclusions.
As formulators know, however, toppings and inclusions are not without their functionality challenges, especially as they become more complex or sophisticated. This month's article will look at how a variety of ingredients—gum systems, proteins, emulsifiers, and lipids—are used to help solve these challenges, and as a result allow new toppings and inclusions to surface in today's marketplace.
--- PAGE BREAK ---
Foamation of Distinctive Toppings
Foams can help provide food products with distinctive flavors, textures, and eye appeal. For example, a culinary foam consisting of lemon, lime, and orange juices can add a burst of citrus flavor to a meat or seafood application. Or a foam can impart a frothy texture to a beverage such as coffee or tea. Or it can enhance the appearance of a dessert.
Foams can help provide food products with distinctive flavors, textures, and eye appeal. For example, a culinary foam consisting of lemon, lime, and orange juices can add a burst of citrus flavor to a meat or seafood application. Or a foam can impart a frothy texture to a beverage such as coffee or tea. Or it can enhance the appearance of a dessert.
New gum blends, designed to help food manufacturers create foam toppings in an easy, convenient, and consistent way, are surfacing from TIC Gums, Inc., Belcamp, Md. (phone 800-899-3953, www.ticgums.com). These foam-stabilizing systems are made with a blend of hydrocolloids, with each ingredient providing a specific property.
One system, TIC Pretested® Stabilizer® Culinary Foam, consists of gum arabic, propylene glycol alginate, agar, and xanthan gum. The combination of these ingredients provides the foam with its airy appearance, structure and set, and additional viscosity and suspension characteristics. Typical usage levels range between 1 and 2% of the finished liquid blend. For complete hydration, the company recommends heating to 180°F or higher. This blend was developed for use in specialty dishes where a culinary foam adds flavor, texture, and a distinctive flourish. Potential applications include fondants, marshmallow toppings, whipped cream, meringue, and similar products.
Frostings Go with the Grain
When thinking of potential applications for whole grains, smooth, creamy frostings are probably not the first option that comes to mind. This is because whole grains consist of bran, starchy endosperm, and germ. When these components are heated in the presence of water, they form a pulpy slurry which, when dried, has a grainy or coarse texture. This characteristic limits the use of whole-grain flours in smooth-textured applications to levels lower than those needed to achieve "whole grain serving" claims.
However, a novel, whole-grain frosting may now be possible. Through a patent-pending procedure that separates, processes, and recombines all the components of whole grains, Creative Research Management, Stockton, Calif. (phone 209-938-0900, www.crmcorp.net), has developed a line of whole grain concentrates (30% solids) and powders with special functionality properties.
--- PAGE BREAK ---
Named GrainLife™, the line of ingredients can provide a smooth, milk-like emulsion; liberated proteins that readily form films and foam; a texture that is not chewy or pulpy; and soft, non-abrasive soluble and insoluble fibers. When blended with a fat, these grain-based ingredients can easily produce a frosting with a smooth texture. Furthermore, unlike the flavor notes normally associated with whole grains, they offer a clean, bland taste which will not negatively impact the frosting. And, because of the special process used to make them, they preserve all the nutrients of whole grain.
A frosting is one example of how whole-grain nutrition can be delivered to products not traditionally grain based. Other possible concepts might be ice cream, yogurt, candy bars, juice beverages, and vegan products. Derived from rice, oat, and wheat sources, the ingredient can be easily incorporated into food products at levels equivalent to at least one serving of cooked whole grain.
Fiber Ingredient Delivers 'Krunch'
An ingredient system which resembles crisped rice delivers a crunchy texture and high fiber to a variety of food products, including bars, cereals, confections, snacks, and yogurt. The extruded crisp, named Fiber Krunch™, was introduced at the recent IFT Chicago Section Suppliers Night by Cargill, Wayzata, Minn. (phone 952-742-7575, www.cargill.com).
"Consumers are increasingly aware that they need more fiber, but it can be difficult to find fiber-rich foods that taste good and have an appealing texture," said Jon Wiersum, the company's Snacks and Cereal Category Manager. "In addition, food manufacturers can find it challenging to incorporate higher levels of fiber into products without compromising taste.
With its crunchy texture, neutral color and taste, and 35% dietary fiber, the new crisp makes it easier for food manufacturers to achieve "good" to "excellent" source claims. It is currently available in one size, with additional sizes forthcoming in 2007.
Made with modified food starch and chicory fiber, the ingredient provides 2.6 kcal/g. Its versatility as an inclusion or potential topping was demonstrated at the Chicago Section Suppliers Night, where it was highlighted in trail mix bars and chocolate bars.
--- PAGE BREAK ---
Coming Out of the Bog
In the December Ingredients section, I reported on the 2006 International Harvest Media Event hosted by Ocean Spray Cranberries, Inc., Lakeville-Middleboro, Mass. (phone 508-946-1000, www.oceansprayitg.com). At the special event, I learned about the different ways that cranberries can be used as an ingredient.
As a topping or inclusion, cranberries can help make a particular food more distinctive, adding color, flavor, and texture to it. For example, sweetened dried cranberries (SDC) may be used as a topping for foods such as salads and potatoes, or as an inclusion in chocolate, breads, and turkey stuffing; or as a flavor in icings for doughnuts, cakes and other baked goods.
New SDC developments, including natural-juice and reduced-sugar, high-fiber versions, offer additional benefits when using the cranberry as a topping or inclusion. Also, BerryFusions—a combination of SDC and natural fruit flavors such as blueberry, strawberry, cherry, orange, raspberry, mixed berry, and mango—are suitable as cost-effective inclusions in bagels, cookies, muffins, nutrition bars, and other products. With high processing tolerance, the flavored fruit pieces retain their shape and color throughout manufacture. The newest addition to this line, glycerated apple cinnamon, has application in cereals, trail mixes, and other lower-water activity products.
Cranberries may be used as a sandwich spread or combined with chiles to create a spicy condiment or chutney for meat, poultry, and fish dishes. They can enhance the appearance of dairy products, finding use as a variegate in ice cream, as a topping on yogurt, and even as a flavor in cheese. And their use as a topping or inclusion can help transform traditional foods into distinctive dishes, as demonstrated by some of these innovative recipes: Cranberry Pineapple Cilantro Salsa, Berry Chili Barbecue Sauce, Cranberry Pear Salad Dressing, Crimson Slaw, Curried Cranberry Chicken Salad, Cranberry Honey Glaze, and Cranberry Roasted Garlic Risotto.
The use of cranberries in holiday applications may be especially timely in light of a recent study which suggests that compounds in the berry may help prevent certain flu viruses from attaching to host cells and consequently ward off subsequent flu infections. If so, then manufacturers incorporating cranberries into their toppings and inclusions can benefit from the findings of this research, which can also create new opportunities for formulating.
Whipping Up a Better Dairy Cream
Dairy whipping cream—popular for its rich flavor, creamy texture, and appearance—may be used as a topping for pastries, cakes, beverages, and desserts. However, obtaining the greatest aeration while not over-whipping can be difficult when creating a traditional whipped cream. Furthermore, once the cream is whipped, it is susceptible to melting, drying, cracking, or liquid separation.
--- PAGE BREAK ---
While lower-fat creams present certain advantages such as a higher overrun and cost savings, they are difficult to whip and less stable, and syneresis may be observed after 24 hr.
Because of these challenges, Aqualon, a division of Hercules Inc., Wilmington, Del. (phone 800-345-0447, www.aqualon.com), has developed AeroWhip™ whip-optimized solutions, which use water-soluble cellulose-based ingredients. These solutions are said to allow the formulation of full- and reduced-fat whipping cream with excellent foam properties; improved body and mouthfeel; the creation of well-defined decorative shape; resistance to over-whipping, and superior stability. In addition, very-low-fat whipping creams, of less than 25% fat, may be made with good foam properties and lower formulation costs.
Formulations are also available for the use of these ingredients in soy-based whipped toppings and other nondairy whipped topping bases.
Un-Breakfasting Bagels
The effect that toppings and inclusions can have in transforming traditional products is demonstrated by several prototypes developed by Kerry Ingredients, Beloit, Wis. (phone 800-334-4788, www.kerryamericas.com).
For example, bagels, a popular breakfast food, can be formulated with cheese, tomato, and green pepper "crunchlettes"; a pizza seasoning blend; and high-protein soy powders. The resulting Savory Pizza Bagels provide a variety of colors and textures, complement both sweet and savory flavor profiles, and are a good source of protein. The bagels are suitable for school lunches, snacking, or as an accompaniment with soups.
And for dessert, how about cupcakes sprinkled with brightly colored raspberry and lemon bits. Having a rich lemon flavor, Raspberry-Lemon Cupcakes are made with specialty lipids and soy powder, which provide partial milk and egg reduction.
Improved Cocoa Toppings Surface
Traditional cocoa powders quickly take up moisture from the dessert itself or from condensation in packaging. As a result, these powders become darker or partly dissolve, compromising the presentation of the product.
Through its cocoa processing technology, Barry Callebaut USA, LLC, St. Albans, Vt. (phone 800-556-8845, www.barry-callebaut.com), has been able to create Crystal Cocoa, a cocoa powder with a non-hygroscopic character, making it especially suitable for decorating or topping desserts. Because it does not absorb any moisture, the new product retains its powdery texture and color, even in a moist environment or on a creamy or liquid-based dessert. Potential applications for the powder include tiramisu, ice cream, ice cream cakes, mousses, and other desserts.
--- PAGE BREAK ---
Barry Callebaut is also working with independent research company NIZO to investigate the solubility of cocoa powder. Solubility and the unpredictable rheology of cocoa in water has been a major challenge for product developers. Although cocoa has been around since the Aztecs, the full physico-chemical behavior of cocoa powders in water has never been well studied.
Through a joint effort on a three-year project, the two companies hope to prevent the sedimentation of cocoa powder in water. The project aims to achieve the necessary technological capabilities that would enable the development of new products and innovations in the cocoa business, ranging from more-stable hot chocolate drinks to cocoa sauces.
Meat Toppings that Look Hand-Made
Fully cooked sausage, pork, and beef toppings, Hand-Pinched Style® brand from Burke Corp., Nevada, Iowa (phone 515-382-3575, www.burkecorp.com), give a distinctive, hand-made look to pizzas, pasta dishes, calzones, casseroles, soups, sandwiches, appetizers, and a variety of other foods.
Because the toppings come in a variety of shapes and random sizes, they resemble authentic raw crumbles but do not require any preparation. Available in a variety of flavor profiles, they offer a consistent texture, bite, and aroma.
A recent addition to the line is an extra-large Italian sausage nugget topping. The 1/8-oz nugget, made from pork and seasoned with a hint of garlic and authentic Italian spices, is said to be larger than most chunks and provide that desirable "inconsistent" look associated with hand-made toppings.
Choosing a Cheesier Look
The distinctive look of cheese crumbs may be added to baked goods, dips, dressings, sauces, breadings, potatoes, pasta, pretzels, and other products by a new ingredient from Commercial Creamery, Spokane, Wash. (phone 509-747-4131, www.cheesepowder.com). The size of small breadcrumbs, Crumbettes™ provides a toasted cheese flavor, piece identity, and a crunchy texture. The high-temperature-stable ingredient is available in many varieties, including Cheddar, Parmesan, or Blue.
For larger, shelf-stable cheese pieces, the company offers Chunkettes™ for enhancing the appearance of salad dressings, dips, biscuits, or artisan breads. Available in 1/8-in and ¼-in cubes, the chunky pieces come in such flavors as Blue, Cheddar, Feta, and Mozzarella.
--- PAGE BREAK ---
See also the 2006 December Ingredients section which discussed the versatility of cheese as an ingredient. Many of its applications are related to toppings or inclusions, including cheese toppings for pizza, garnishes for salads or chili, coatings for snacks, fillings for appetizers or baked goods, or sauces for meats or vegetable dishes.
Topping Off with Blue
Pastry chefs and bakers have long used the blueberry as a topping for fancy cakes, pastries, and tarts, notes U.S. Highbush Blueberry Council, Folsom, Calif. (phone 800-824-6395, www.blueberry.org). Its eye-catching color and piece identity, combined with its antioxidant benefits, makes it a popular ingredient in toppings and fillings for a wide range of processed foods, including baked goods, dairy foods, confections, and cereals.
The fact that blueberries are available year-round in many formats—fresh, frozen, and dried; as puree, concentrate, and juice; and from whole fruit to powders—further enhances their possibilities in toppings and fillings, as demonstrated by the following application areas.
Blueberries may be used to enhance the appearance of ice creams and frozen yogurts, providing interesting blue swirls or patterns in the product. In addition, their chunky size can further add to the creamy texture of the product. Cold Stone Creamery, for example, uses blueberries to top off several of their ice cream formulations, including fat-free, no-sugar-added Very Berry Good™, and Berry, Berry, Berry Good™, which combines blueberries with raspberries and strawberries.
In the bakery area, blueberries can help provide product differentiation in the marketplace, the blue color catching the attention of the consumer. Fillings with substantial amounts of blueberry bits and pieces or toppings may be used for croissants, puff pastry, strudel, and doughnuts. They also work well in breads, pancake and waffle mixes, and breakfast bars.
Blueberries provide intense flavor and work well with sweet, salty, and savory snacks. They can serve as sweeteners and flavor carriers, and because they are synergistic in salty and savory flavors, they are a suitable choice for confections which are not necessarily sweet.
And finally, imagine a blueberry-pomegranate topping. Or an apple-blueberry topping. Blueberries can be used to add variety when mixed with another fruit base to create different flavor combinations.
--- PAGE BREAK ---
Planting a Seed
Seeds continue to be a popular way for enhancing appearance of different foods, as well as adding a crunchy texture to the topping. In fact, according to the McCormick® Flavor Forecast 2006, published by McCormick & Co., Inc., Hunt Valley, Md. (phone 410-527-8753, www.mccormick.com), two of the top flavors for 2007 are seeds—caraway and sesame.
Best known for its presence in rye bread, caraway is now gaining attention as a component in Eastern Europe and Scandinavian cuisines. The North African hot sauce, harissa, often contains caraway seeds, along with chile peppers, cumin, garlic, coriander, and olive oil. Roasted caraway seeds are also used in Indian cooking. Caraway complements whole grains, rice and pasta dishes, cheese, apple tarts, sausage, and other products. And with sea salt becoming an increasingly popular, how about adding caraway seeds to the topping, providing a salty and slightly nutty taste.
Although breads, rolls, and bagels are among the most familiar foods associated with sesame, its uses as a topping extend far beyond the realm of baking, and it can be used in both savory and sweet dishes. Black sesame seed, prized for the color it lends to dishes, has earthy characteristics, while regular sesame seed has a nutty, sweet aroma with a milk-like, buttery taste.
Some seeds are particularly associated with health benefits. Sunflower seeds, used in the production of healthful oils, are one good example, according to the National Sunflower Association, Bismarck, N.D. (phone 701-328-5100, www.sunflowernsa.com). A source of heart-healthy unsaturated fats, sunflower seeds can be added to muffins, breads, or desserts; sprinkled onto low-fat yogurts or vegetable dishes; crushed for use in coatings; or used as inclusions for salads.
Egging Toppings Forward
Without the egg and the special properties it imparts, many traditional—as well as emerging—toppings would not exist today. And, as a result, many dishes would lose the advantages that egg-based toppings provide, such as enhanced presentation, creamy texture, and flavor.
In mayonnaise, for example, the egg yolk acts as an emulsifying ingredient to keep the oil and the vinegar from separating. In particular, lecithin and other phospholipids contained in the egg yolk help fat to be dispersed in water or water dispersed in fat. Other applications that rely on the ability of eggs to emulsify include hollandaise and béarnaise sauces and Caesar dressings.
--- PAGE BREAK ---
Another important characteristic is the ability of whipped egg whites to create foam, resulting in lighter and airier products such as meringues. There are several kinds of meringues, each suited to a special use. (The differences are in the ratio of egg white to sugar, the method of mixing, or the method of cooking.) A soft meringue may be used to top pies and puddings, while a hard meringue serves as a confection or a foundation for fillings of fruits or puddings. Italian meringue, made by beating hot sugar syrup into beaten egg whites, may be used to frost cakes or as a topping for desserts.
And let's not forget the marshmallow, a soft confection made from sugar, corn syrup, egg whites, and gelatin. Marshmallows have been used as a topping or inclusion for such products as beverages, gelatin desserts, ice creams, confections, and baked goods. Without the marshmallow, hot cocoa would never have been the same.
Toppings that Stay Stuck
Snack lovers may someday be seeing chips that have toppings with larger particulates, creating dual-textured products. Frito-Lay recently patented a method (see U.S. patent 7,074,446) that successfully adheres large three-dimensional seasoning bits, such as fragments, chunks, or morsels, to a snack food base. The method makes possible the creation a dual-textured food substrate having large seasoning bits.
According to the patent, a first topping consisting of large seasoning bits and a dry adhesive is applied to a cooked chip. The chip is then heated to a temperature such that the dry adhesive undergoes a glass transition and flows down to the food substrate. Then the chip is subjected to changed process conditions, such as cooling. The adhesive hardens and a bond is formed between the chip and the seasoning bits. A second topping with its special texture is then melted onto the chip. The food ingredient properties are optimized to provide a shelf-stable, dual-textured snack product.
Previously, separations between the topping and the chip occurred because of insufficient adhesion. This problem increases with the size and weight of individual particles. The new process, however, helps overcome this challenge while creating innovative dual-textured snack products.
--- PAGE BREAK ---
Beating Fat-Replacement Problems
Fat in whipped toppings may be replaced by a new stabilizer system from Gum Technology Corp., Tucson, Ariz. (phone 520-888-5500, www.gumtech.com). Designed to interact with the milk proteins present in dairy products, Coyote Brand Stabilizer Dairy Fat Replacer is a synergistic blend of cellulose gel (microcrystalline cellulose), konjac, sodium alginate, xanthan gum, and soluble and insoluble fibers.
This new extension is different from the company's previously introduced CKX-Fat Replacer in that it contains sodium alginate, which reacts with the calcium present in milk. This helps introduce air to create a creamy foamy product that is said to have excellent overrun.
"What is unique about this stabilizer is its creaminess," said Joshua Brooks, Gum Technology's Vice President of Sales. Typically, removing fat will give products a very different mouthfeel. However, the components in the blend compensate for the loss of fat by creating a creamy mouthfeel, even when using low-fat or nonfat dry milk.
"The cellulose gel in the blend has the unique property of thickening into a fatty like texture when shear is applied," noted Brooks. "The konjac and xanthan also react synergistically with each other to provide an elastic gel. The sodium alginate reacts with the calcium present in dairy to create rich, smooth foam. All four hydrocolloids combined create a creamy texture that mimics fat in dairy products."
The stabilizer system sets cold, provides good suspension and aeration, and binds moisture to reduce syneresis. It is ideally suited for mousse, whipped cream, custards, and creamy sauces, and can replace up to 10% of the fats or oils.
Whipping Trans Fats
An emulsifier system from Germany-based Cognis (phone +49-7303-13391, www.cognis.com), makes possible the use of non-hydrogenated fats in whipping agents. This system forms the basis of Lamequick CE 7203, a new whipping agent suitable for decorative and filling creams for cakes, mousse-like or frozen desserts, and Italian-style or soft-serve ice creams.
Product tests have shown that the whipping agent delivers good foam volume and firmness throughout the temperature range of 5-25°C. Cake filling and decorating creams made with the whipping agent are said to be firm and stable. They exhibit excellent freeze-thaw stability, and can hold complex shapes. In aerated desserts such as mousses, creams, or tiramisu, the whipping agent significantly enhances foam volume and firmness, and gives a very pleasant mouthfeel.
--- PAGE BREAK ---
Playing with Your Food
Remember when your mother used to say, "Don't play with your food." Well, looking over some of the toppings and inclusions discussed in this article, I couldn't help thinking that her command might no longer have the same kind of relevance.
Today's toppings are actually quite playful or interactive in nature and can easily be applied to foods that adults eat as well, such as culinary foams for coffee or tea, flavors that can be sprayed or splashed on, fruit pieces (ripe for picking) in a salad, crunchy fiber ingredients, and sesame seeds of different colors.
Of course, while we adults are playing with our foods, let's not forget the kids. According to a new study published by a marketing group, Just Kids, Inc., children want to have more fun when eating. The study, based on responses from more than 3,000 six-to twelve-year-olds and mothers of two-to five-year-olds, found a number of points where kids agree on what makes foods and drinks fun to eat.
For example, children enjoy dipping or scooping, and being able to add things to the products themselves such as sprinkles, sauces, or toppings. They also like fillings and frostings, and fun shapes or colors in their food. Recently, Cold Stone Creamery introduced a whole line of ice creams with kid-theme flavors including Delicious Dirt™, chocolate ice cream with Oreo® cookies; Sprinkleberry™, strawberry ice cream with sprinkles; GubbleBum™, bubble gum ice cream with marshmallows; and Beary Beary Blue™, cotton candy ice cream with Gummi Bears.
Besides fun, though, there may be another consideration here, slightly beneath the surface. If fun is the topping, then health may the substrate. In other words, toppings and inclusions may get kids to eat foods that are more nutritious or healthful for them—key considerations in an age of rising obesity. As George Carey, President of Just Kids., noted, "the key to getting kids to eat more nutritious meals is to inject the same levels of taste and fun they experience when consuming less-healthy snacks."
We've already seen some ingredient companies trying to do that. Color Changers from Sensient Colors, Inc., St. Louis, Mo. (phone 314-889-7600, www.sensient-tech.com), exhibit one shade when dry, but then another color when hydrated. Imagine their use, for example, in a low-fat-based icing or frosting or a coating for a healthful snack or confection. Kids can trigger the color change by adding water to a dry mix, adding a dry powder or tablet to a wet product, or eating the product to color the tongue. This makes the product interactive and gives kids control over the appearance of the food they are eating.
Edible Glitter from Watson Foods, West Haven, Conn. (phone 800-388-3481, www.watson-inc.com), can be sprinkled onto to a food product to change its appearance or flavor profile. Take, for instance, a fortified macaroni and cheese dish. A spicier version can be created with Jalapeno glitter or even a fruitier one with Sour Green Apple. Or how about a traditional confection such as a lollipop that has been formulated with glitter of different colors.
--- PAGE BREAK ---
Sizes and shapes can also attract a child's attention, making foods more fun. A wide range of such sprinkles are available from QA Products, Elk Grove Village, Ill. (phone 800-635-7907, www.qaproducts.com); they include Mini Butterflies, Pastel Confetti, Bright Sequins, Autumn Leaves, Shamrock Mix, and Pumpkins and Sprinkles.
And through the help of innovative ingredient developments, we can expect to see other new concepts surface that will address trends in the marketplace as well as offer improvements in functionality.
Next month's Ingredients section will look at how food formulators use dairy-derived ingredients, such as milk and whey proteins, caseinates, lipids, and other components, to solve functionality challenges.
---
Splash It On

A collection of microwavable flavors,
Food Splash
™ provides a way to eliminate calories, carbohydrates, cholesterol, and fats associated with toppings, gravies, dressings, and sauces. The retail product, developed by chef David Burke, can be poured, dipped, or splashed on a variety of foods, including poultry, seafood, beef, salads, pasta dishes, vegetables, dairy, popcorn, and breads.
The new line of flavoring products is an extension of Flavor Sprays, also created by Burke. However, unlike the previous product which was sprayed on, the new addition can be heated and then poured over the food application. "Our new Food Splashes are the only product of its kind on the market today," said Sean Pomper, Director of Operation at Flavor Spray Diet (phone 718-793-7772, www.flavorspraydiet.com). "They are designed to be heated in the microwave, so now you can drizzle warm melted butter over your popcorn and smother your turkey in gravy, all without the unwanted calories."
The user-friendly, FDA-approved flavors are currently available in such toppings as Butter, Jalapeno Butter, Garlic and Oil, and Gravy. The flavors are said to contain no calories, carbohydrates, cholesterol, or fat.
---
How Businesses
Stay on Top
The business unit that manufactures
SensoryEffects™
lipid-based inclusions was recently purchased from Loders Crocklaan USA, Channahon, Ill., by Performance Chemicals & Ingredients Co. (PCI), St. Louis, Mo. The acquired business can be reached at SensoryEffects, 24 N. Clinton St., Defiance, Ohio 43512 (phone 419-784-4320,
www.sensoryeffects.com
).
PCI was formed in 2006 to acquire and manage specialty chemical and food ingredients businesses. The principals of the company have an exclusive alliance with the private investment firm Highlander Partners L.P. "SensoryEffects add a powerful brand and technology along with a professional support team to our expanding food ingredients business," said Charles A. Nicolais, President of PCI.
Available in a variety of nugget and flake sizes, the lipid-based ingredient delivers flavor, aroma, color, texture, and nutrients to baked goods and other food products. Each piece can be concentrated to form a "burst" or formulated with its own "melting profile" and blends easily and evenly in the product. Both sweet and savory profiles are offered.
This acquisition is said to complement an earlier one in which PCI gained the assets of Diehl, Inc., to form Diehl Food Ingredients, Inc., whose product line includes spray-dried creaming agents, whipped topping bases, fat-based powders, and fortified nondairy dry beverage systems.
by Donald E. Pszczola,
Senior Associate Editor
[email protected]