In response to the growing interest in the role of nanotechnology—the study of materials measuring 100 nm or less—in the food industry, an increasing number of conferences have been held around the world. In October 2006, Cientifca and Wageningen Bionanotechnology Centre for Food and Health Innovations and partners Georgia Tech Research Institute, Economic Department Consulate General of the Netherlands in Miami, and the Institute of Food Technologists presented Nano4Food, a conference that provided a business perspective to the use of nanotechnology in the food industry.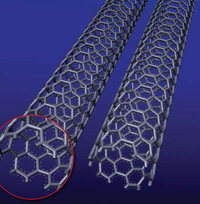 At Nano4Food, which took place in Atlanta, Ga., executives and researchers explained current and potential applications of nanotechnology in the food industry. Attendees learned how the food and beverage industries are using or plan to use nanotechnology. "Food-related nanotechnology research is already underway and could significantly affect our food supply within the next decade," said speaker Pieter Stroeve, Professor of Chemical Engineering at the University of California–Davis.
While the speakers concurred that incorporating nanotechnology in food systems, particularly nutraceuticals and packaging materials, shows great promise to help improve the health and taste of products, improve productivity, or protect products from contamination, they suggested that the food industry proceed with caution when developing and using nanotechnology materials. They want the food industry to test the materials and products that contain the materials to ensure that the products are safe for the consumer. And they want to make sure that the industry immediately communicates to consumers a description of nanotechnology and how it can be used in different food systems to help improve the finished products. "Nanotechnology implementation is accelerating faster than our understanding of potential impact," said Andrew D. Maynard, Chief Science Advisor with the Woodrow Wilson International Center for Scholars, Washington, D.C.
One interesting point made by several of the presenters is that researchers do not know all the effects on the human body that nanosized particles have. Are these particles so small that they will pass through the body without causing any affects? Or are they so small that they can pass through the membranes of organs, building up to toxic levels? These are questions that some asked, including George A. Burdock, Principal, Burdock Group, Vero Beach, Fla. He expressed concern that what he called food nanotoxicology will need to be addressed now as new applications of nanotechnology are developed for the food industry. The use of nanotechnology in foods and beverages may lead to the development of new allergens, increased rates of absorption of nanoparticles, and creation of new toxic sequelae, he argued.
--- PAGE BREAK ---
Keeping Food Safe
One of the areas where nanotechnology shows great promise is food safety and quality. Here, new functional tools and methods that utilize nanotechnology are being developed to detect pathogens, monitor the quality of food and beverages, and enhance ways to keep foods fresher longer.
Currently, the food industry and government agencies charged with overseeing them face many challenges, including ensuring the safety of food, improving the quality and nutritional value of food, monitoring the security of agricultural commodities, and developing novel uses of resources available to the food industry. It is these challenges, according to Hongda Chen, National Program Leader, U.S. Dept. of Agriculture's Cooperative State Research, Education, and Extension Service, Washington, D.C., that can possibly be addressed with nanotechnology. He stated that nano-based sensors that detect pathogens, spoilage, chemical contaminants, or product tampering or that track ingredients or finished products through the processing chain are already under development or have been commercialized.
Moreover, these sensors, based on carbon nanotubes, offer many advantages over the conventional detection methods such as high-performance liquid chromatography, near-infrared spectroscopy, or specific enzymatic methods, which are time consuming and expensive, said Mahadevan Iyer, Research Director for the Georgia Tech Packaging Research Center, Atlanta, Ga. Using nanobiosensors, in contrast, provides rapid and high-throughput detection; is simple, fast, and cost effective; offers reduced power requirements and easier recycling; and does not require exogenous molecules or labels, he added.
Iyers' current research includes the development of a multi-walled carbon nanotube–based biosensor that is capable of detecting 10-15 microorganisms, toxic proteins, and degraded products in food and beverages.
Packaging Innovations
John Floros, Professor and Head of the Dept. of Food Science at Penn State University, University Park, Pa., and IFT President-Elect, said that there is an increase in the number of nanotechnology developments in two types of packaging, active and intelligent. With active packaging, a designated compound actively changes the conditions of the packaged food or beverage to extend shelf life or improve the product's safety or sensory attributes. Intelligent packaging, on the other hand, utilizes a compound or an object that monitors the conditions of the packaged food or beverage to provide information about the quality of the product. Examples of active packaging include oxygen, carbon dioxide, and off-flavor absorbers and flavoring, antioxidants, and antimicrobial releasers. Temperature, gas, spoilage, and location indicators are examples of intelligent packaging.
--- PAGE BREAK ---
Iyer and his colleagues at Georgia Tech are experimenting with integrating micro- and nanocomponents in ultra-thin polymer substrates, and he presented information about how they have incorporated these substrates into electronic and wireless components for radiofrequency identification (RFID) chips. He said that the entire chip, which can fit on your fingertip, contains nanobiosensors that can detect foodborne pathogens or sense the temperature or moisture of the product and an RFID antenna to record the product's history, location, and destination.
Nanosized materials offer useful solutions to improving packaging, particularly the barrier. When incorporated into or on the package, blends of clay and biopolymers or aluminum or silicon oxides or metallized films act as efficient barriers to certain gases like oxygen. Floros pointed out that some of these barriers are only 40–60 nm thick. He also discussed a product, Nanocor's Imperm®, that contains clay and nylon. It is a nanocomposite plastic used in beer and soda bottles as a barrier against oxygen.
Nanosized Delivery Systems
Nanotechnology can be used to ensure effective and efficient delivery of a variety of compounds such as flavors, colors, nutrients, or antimicrobials. Han Boumans, Division Director of Enzyme Product and Applications for TNO Life Sciences, Delft, the Netherlands, illustrated one such delivery system. TNO's BioSwitch encapsulation and delivery system utilizes a charged cross-linked biopolymer. An external stimulus "releases" the active component. An example presented was the use of encapsulated antimicrobials using the BioSwitch technology in packaging. The BioSwitch system is incorporated into a package such as the plastic wrap around fresh meat. If and when microbial levels reach a certain level, amylase is secreted, which partially grades the encapsulated antimicrobials.
Nanotechnology is already being applied to developments in the food industry. As a result, some people are encouraging researchers to investigate all the possible effects that nanosized particles have on the body and the environment. While they do not want to stifle development, they do urge that sufficient tests be conducted and consumers be educated.
Conferences such as Nano4Food present the arguments from all sides and encourage addressing them to ensure that technological development continues.
Karen Nachay, a Member of IFT, is Assistant Editor of Food Technology magazine ([email protected]).
--- PAGE BREAK ---
Developments in Nanotechnology
Although the use of nanotechnology in the food industry is relatively new, some companies are exploring and experimenting with the technology. Several organizations from around the world have introduced products that utilize nanotechnology or received funds to develop products based on nanotechnology.
Researchers at Rensselaer Polytechnic Institute, Troy, N.Y., have created organic gel nanomaterials with potential applications such as encapsulates for food, pharmaceutical, and cosmetic products by adding an enzyme to chemically activate a sugar that forms organic gels using olive oil and six other solvents.
"We are using the building blocks provided by nature to create new nanomaterials that are completely reversible and environmentally benign," said Jonathan Dordick, Howard P. Isermann, Professor of Chemical and Biological Engineering at RPI.
According to the research, a compound that self-assembles into 3-D fibers measuring approximately 50 nm in diameter forms after the enzyme lipase B activates the sugar to form esters of trehalose. Solvent gets packed together in these fibers and can trap upward of 10,000 molecules. The resulting gels that form are useful as delivery systems in foods.
An ink created with light-sensitive nanoparticles shows promise as an indicator of spoiled food. Researchers at the University of Strathclyde, Glasgow, Scotland, used the nanoparticles, which detect oxygen when they are "switched on" with ultraviolet light, to develop the ink. The ink can be used on labels for many foods, including milk, meat, bread, and coffee, and changes color when the package seal is broken, warning consumers that the product may not be fresh or safe.
At the 2006 IFT Annual Meeting + Food Expo®, Blue Pacific Flavors, City of Industry, Calif., announced that it had entered into an exclusive partnership with Micro- Fluidics, which deals with liquid nanoprocessing engineering and equipment. The partnership will focus on jointly creating new food ingredient and finished food solutions using nanoprocessing, food science, and reaction flavor technology called Taste Nanology™.
--- PAGE BREAK ---
It combines taste receptor science with nanoprocess-engineered food ingredients for improved rheological and organoleptic properties. Blue Pacific says that integrating these emerging sciences and the company's proprietary reaction flavor and ingredient technologies will create the next generation of food solutions.
This new technology is being developed for use with functional food formulations. An example is Functional Active Nanology™, which involves active ingredients like antioxidants, polyphenols, minerals, and micronutrients that are concentrated and flavored to block astringency and bitterness by using Blue Pacific's Bitterness Blocking natural flavors to specific taste-receptor sites. According to the company, this technology causes the actives to have less bitterness and astringency in the finished food or beverage product.
Aquanova German Solubilisate Technologies GmbH, Darmstadt, Germany, recently received a European patent for its ambiphilic isoflavone solution, NovaSol ®Iso, which consists of soy isoflavones encapsulated with micelles about 30 nm in diameter. The company explained that ensuring the absorption of isoflavones is a challenge and that this solution aids in their bioavailability. The technology is also used to encapsulate other ingredients, including vitamins, phytoextracts, coenzyme Q10, and fatty acids.
The National Nanotechnology Infrastructure Network (www.nnin.org), a partnership of 13 universities, works to develop outreach programs to teachers and elementary, high school, and undergraduate students to promote nanotechnology and careers in science. Its Research Experience for Undergraduates program provides students with hands-on experience with nanotechnology applications. NNIN also works to educate the public about nanotechnology.
The Nanobiotechnology Research Group at the University of Kent, Canterbury, Kent, UK, in 2006 received a grant of more than €800,000 from the European Commission to help develop novel technologies to improve safety of chilled and frozen foods. The group draws on the expertise of researchers from across many different disciplines to develop nanotechnology-based materials for use in the field of biology.
by Karen Nachay,
a Member of IFT, is Assistant Editor of Food Technology magazine
([email protected]).