The Institute of Food Technologists' Career Guidance Committee knows the exciting opportunities that the field of food science offers, and works to provide teachers with the tools they need to show students the real-life application of science, using food.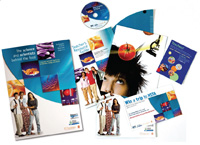 After a decade of providing an outstanding array of invaluable resources, the committee decided to extend beyond the traditional methods of outreach, so it developed a new, clear, and compelling vision for IFT's career guidance program that ultimately added popular media to its strategic outreach plan.
It has been one year since every science and guidance department chair in every high school throughout the United States—more than 36,000 people— received brightly colored, informative multimedia kits on food science as part of an IFT–IFT Foundation– Discovery Education partnership program. To commemorate the event, a special edition of IFT's Journal of Food Science Education has been published online at www.ift.org. The articles in the January 2007 issue illustrate the impact of the program within the high school classroom. They highlight the science and career information generated by IFT's partnership and the extent to which the multimedia kits are being used by science teachers and school counselors.
Partnering with Discovery
On a regular basis, IFT receives information from educational companies seeking partnership opportunities. Discovery Education, a division of Discovery Communications, Inc., a leader in digital media and multimedia-based learning with 14 U.S. television brands (618 million cumulative subscribers) and 6 billion consumer impressions worldwide, was one of these companies. IFT quickly learned that this organization seemed to have the resources and drive to help us reach our career guidance goals. Through Discovery Education's annual public service initiatives, partnerships, and products, it reaches more than 90,000 schools across the U.S. serving 1.5 million teachers and their 35 million students.
In initial discussions about the collaboration, both partners were seeking organizations that could lend credibility to a new issue or program. Following a few capability meetings between IFT and Discovery, the concept received unanimous approval by the IFT Executive Committee with support from various IFT leaders, IFT's Executive Vice President, and key staff.
Discovery Education made a presentation to the IFT Foundation to garner funding support for this program, which would provide free curriculum materials to expand students' science skills in high schools across the country, while simultaneously introducing them to careers in food science.
--- PAGE BREAK ---
Multimedia Kits
With financial support from the IFT Foundation and project management support from IFT members, staff, and the Discovery Education team, two multimedia kits were generated—one for science teachers and the other for school counselors. Each kit consisted of a DVD, food science technical information or career information, and a call to action to visit a newly created Web microsite, www.discoveryschool.com/foodscience.
IFT members Ellen Bradley, Duane Larick, Kristine Lukasik, Katie Nufer, Fatemah Malekian, and Amy Rowley served as an advisory group, overseeing in partnership with IFT staff the style and content of both kits. IFT Executive Committee member John Rupnow provided additional review, and the Career Guidance Committee was consulted on a regular basis.
The science teachers kit included a teacher's guide with six experiments: two on biology (osmosis and food safety), two on chemistry (polyols and titration), and two on physics (packaging and viscosity). To complement the experiments, profiles of IFT members working in areas related to each experiment were featured.
The kit also contained a poster and a DVD with three 10-minute videos on food science history, food safety, and food chemistry. The videos served as the basis for a 60-minute program on "Assignment Discovery," educational programming aired on the Discovery Channel four times last spring.
The school counselors kit included a DVD that was filmed on location at the 2005 IFT Annual Meeting + Food Expo®. The upbeat, informative segments feature IFT members reflecting on their entry into food science, what they like about the field, and, for some, their experience as a student in food science. The counselors kit also contained a two-sided poster presenting information on food science careers, departments, scholarship opportunities, and potential salaries.
By completing a survey on the Web microsite, teachers and counselors were eligible to win a free trip to their respective professional meeting—the National Science Teachers Association (NSTA) meeting or the American School Counselors Association (ASCA) meeting. IFT staff attended these meetings to congratulate the winners and connect with science teachers and school counselors about the Discovery Education partnership program.
--- PAGE BREAK ---
Survey results from kit recipients were overwhelmingly positive, with more than 1,000 surveys submitted—99.8% of the counselors found the materials useful, and 97% of both the science teachers and counselors indicated that they intend to use the materials. The Web microsite received more than 18,000 unique visits in the first six months, and traffic to the IFT Teacher Resources Web page almost tripled during the first six months after the launch compared to before the program was launched. Long-term metrics for success, such as undergraduate enrollment figures, are in place and continue to be monitored.
In addition to the 18,000 high schools that received the informational kits, the 2005–06 chair of each IFT Regional Section, heads of university food science departments, and Food Science Ambassadors (described below) also received complimentary copies of both kits.
IFT's Executive Vice President Barbara Byrd Keenan notes that "This program has energized our membership and has made them proud of IFT and their profession in a special way. Discovery has been a superb partner for IFT, and without the generosity of members contributing to the Foundation, this program would not have happened."
Food Science Ambassadors Program
To support and promote the program, IFT initiated a "Food Science Ambassadors" program. Any IFT member can become a Food Science Ambassador by visiting https://members.ift.org/ IFT/Member/MemberCenter/ DiscoverySignup and completing a brief survey indicating their interest in speaking with or visiting teachers, students, and counselors to discuss the field of food science or to give a demonstration. To date, more than 265 IFT members have signed up for this program.
IFT members, teachers, students, and parents can visit http://members.ift.org/IFT/Education/TeacherResources/ findafoodscientist.htm and enter their Zip code to find a food science ambassador in their locale. The site can also be found by accessing IFT's Web site, www.ift.org, and clicking on "Education" and "Teacher Resources." Roughly one-quarter of Ambassadors have been contacted with a request, and the number is expected to increase as interest in the field of food science increases.
--- PAGE BREAK ---
To promote the experiments and to encourage implementation of the program's components in secondary schools, the Career Guidance Committee presented a one-day teacher training session at the 2006 IFT Annual Meeting + Food Expo in Orlando, Fla. Twenty Orlando-area science teachers spent the morning learning how to teach three experiments in physics, chemistry, and biology. Members of the committee demonstrated the experiments. In addition, 15 Food Science Ambassadors attended the training session to become proficient in demonstrating the experiments and learn how to host a training session in their own geographical area. Survey results indicate that the experience made teachers more comfortable with the experiments and that they were likely to include the new experiments within their curriculum.
During the afternoon, committee members and IFT Student Association chapter presidents led small groups of teachers on tours of the Food Expo floor to learn more about science applications in the food industry.
For roughly a decade, IFT has been represented at the NSTA regional and national conferences by the Career Guidance Committee and more recently by local IFT Regional Section representatives. In anticipation of the launch of the program, IFT distributed postcards at NSTA's 2005 regional meetings to alert the conference attendees about the new multimedia kits. During an interactive presentation for hundreds of science teachers at NSTA's spring 2006 national conference, Duane Larick and John Rupnow represented IFT and discussed the program. Additional complimentary copies of the kit were distributed at NSTA's fall 2006 regional conferences, and IFT continues to present food science information during workshops.
IFT Regional Sections have also been engaged in promoting the field at the local level. For example, the St. Louis Section participated in a recent Food Science Day at the St. Louis Science Center. To spark interest in food science, the section conducted three demonstrations at its booth to educate visitors about food composition. The first demonstration showed the difference in buoyancy of diet vs regular soft drinks due to the difference in density caused by the different sweeteners. The other demonstrations explained the variation in the heights of three cakes baked using different leavening systems and the differences in water content of milk vs apples.
--- PAGE BREAK ---
The section's exhibit also displayed examples of IFT educational materials available to teachers and students. In addition, the Science Center played a DVD from the IFT–IFT Foundation–Discovery Education counselor multimedia kit promoting food science as a career. At a subsequent St. Louis Section meeting, educators from local school districts who received the food science kits were invited to tour a local food plant.
Sections can play a large role in promoting food science at the grassroots level using material provided by IFT.
Help Spread the Word
IFT has made many efforts to increase awareness of the field of food science, and we hope to see these efforts pay off in the future. University food science departments will likely be the first to see the increased interest in the field through greater student enrollment. They continue to request copies of the kits to distribute to area teachers and to use as recruiting tools. The multimedia kits are available for a nominal fee to cover shipping and handling.
Contributors to the IFT Foundation's A Taste for Science campaign help make the program highlighted in this article, as well as many other programs, possible. IFT Past President Margaret Lawson notes, "The IFT partnership with Discovery is one of the most exciting outcomes of this last year. The professionalism that Discovery brought to highlighting the breadth, as well as the importance, of food science as a career for high school students and their teachers is awesome. Many IFT members did not find out about food science until their junior year in college. With the Discovery career packet, we hope to entice the top high school science students into our profession. One of the essential aspects of the IFT–IFT Foundation–Discovery program is the opportunity for our IFT members to volunteer to serve as Food Science Ambassadors to schools within their hometown community; if you have not yet volunteered, please consider this possibility as one of your 2007 New Year's goals."
For additional information or to inquire about ordering copies of the IFT-Discovery multimedia kits, e-mail [email protected].
---
Jennifer Cleveland McEntire, Ph.D., (

[email protected]

) is Research Scientist, Dept. of Science and Technology Projects, and Sarah F. Davis, R.D., (

[email protected]

) is Program Specialist, Dept. of Science and Communications, Institute of Food Technologists, 1025 Connecticut Ave. N.W., Suite 503, Washington, DC 20036-5422. Heather Monroe Lang (

[email protected]

) is Director of Executive Communications, IFT, 525 W. Van Buren St., Suite 1000, Chicago, IL 60607.