Immunity is growing in consumer attention. An increasing number of products are hitting market shelves that claim to reduce the risk of colds and infections, enhance the body's immune defenses, or support a healthy immune system. General Mills Inc., Minneapolis, Minn. (phone 800-446-1898, www.bettycrocker.com), recently introduced Green Giant Immunity Boost Frozen Vegetables, which are naturally rich in antioxidant vitamins A and C to help support a healthy immune system. Kraft Foods, Northfield, Ill. (phone 847-646-2000, www.kraftfoods.com), added On the Go—Immunity Cherry Pomegranate to its line of Crystal Light drink mixes.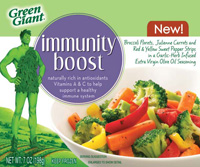 Many immunity-boosting foods contain familiar nutrients such as beta-carotene, vitamins C and E, zinc, and echinacea. But new ingredients are emerging that affect the immune system as well. What follows is a discussion of these.
Probiotics
Probiotics are live microorganisms that colonize the intestinal tract and provide beneficial effects to those who ingest them. Dannon Co., White Plains, N.Y. (phone 877-326-6668, www.dannon.com), offers DanActive™ dairy drink, which contains Lactobacillus casei immunitas to help strengthen the body's defenses. Nestlé S.A., Vevey, Switzerland (phone +41-21-924-2111, www.nestle.com), recently introduced Good Start Natural Cultures infant formula in the United States. It contains Bifidobacterium lactis to help improve the balance of microflora in infants' gastrointestinal tract, thereby supporting a healthy immune system.
According to US Probiotics.org, which is sponsored by the California Dairy Research Foundation and the Dairy & Food Culture Technologies, probiotic cultures have been shown in a variety of test systems to stimulate certain cellular, biochemical, and antibody functions of the immune system. Studies have shown that yogurt or lactic acid bacteria enhance levels of certain immunoreactive cells (e.g., macrophages, lymphocytes) or regulate immune factors (e.g.,cytokines, immunoglobulins, interferon).
Berman et al. (2006) showed that supplementation with probiotics has the potential to improve innate immune function in healthy adults. The pilot study looked at the daily ingestion of a delayed-release, 4-species probiotic supplement, Immunobiotix®, produced by Nutraceutix Inc., Redmond, Wash. (phone 800-548-3222 www.nutraceutix.net). The supplement contains Lactobacillus rhamnosus, Lactobacillus plantarum, Lactobacillus salivarius, and Bifidobacterium bifidum. The results showed that a statistically significant increase in the percentage of phagocytic monocytes and neutrophils occurred during the 8-week treatment period.
In March 2006, Danisco, Madison, Wis. (phone 800-255-6837, www.danisco.com, www.howaru.com), introduced Howaru™ Protect, a patented formulation of probiotic cultures said to reduce cold-associated symptoms. A clinical study on 248 children demonstrated that Howaru Protect helped to significantly reduce the symptoms of fever, cough, and runny nose (Danisco, 2007). The company also offers Howaru Bifido and Howaru Rhamnosus, which are thought to enhance the activity of natural killer cells and the phagocytic activity of peripheral blood mononucleocytes.
--- PAGE BREAK ---
Prebiotics
Prebiotics such as inulin, oligofructose, fructooligosaccharides, polydextrose, and arabinogalactan provide immune protection by promoting the growth of beneficial bacteria and stimulating the immune response.
Puccio et al. (2007) assessed the safety and tolerability of an experimental formula containing 2 × 107 colony-forming units of Bifidobacterium longum BL999 and 4 g/L of a prebiotic mixture containing 90% galactooligosaccharides and 10% fructooligosaccharides. Infants in the experimental group had fewer incidences of constipation and showed a trend toward fewer respiratory tract infections.
In August 2007, GTC Nutrition, Golden, Colo. (phone 303-216-2489, www.gtcnutrition.com), announced the publication of three new studies relating to NutraFlora® short-chain fructooligosaccharides (scFOS®) and immune health. Karakan et al. (2007) showed that nasojejunal enteral nutrition with scFOS supplementation in subjects with severe acute pancreatitis improved hospital stay, duration of nutrition therapy, acute-phase response, and overall complications compared to standard enteral nutrition therapy. Adogony et al. (2007) showed that dietary supplementation with scFOS in bitches resulted in higher colostrum and milk IgM content. And Fukasawa et al. (2007) showed the markers for the physiological effects of scFOS in the small intestine at gene expression level, making it possible to clarify how the prebiotic's immunomodulating effects are expressed in the body.
Waligora-Dupriet et al. (2007) gave a daily dose of Beneo P95 oligofructose produced by Orafti Active Food Ingredients, Malvern, Pa. (phone 610-889-9828, www.orafti.com), to healthy children age 7–19 mo. The researchers examined the ingredient's effect on the subjects' intestinal microflora, intestinal tolerance, and well-being. In the subjects who took the oligofructose, Bifidobacteria level increased slightly; the incidence of flatulence, diarrhea, vomiting, and fever decreased; and the level of potential pathogens decreased—significantly for clostridia but not staphylococci.
Kim et al. (2007) showed that Frutafit® inulin from Sensus America LLC, Monmouth Junction, N.J. (phone 646-452-6140, www.sensus.nl), has a prebiotic effect in formula-fed babies. In addition, Kolida et al. (2007) showed that 5 g of inulin/day had a prebiotic effect in adults without causing side effects.
Litesse® polydextrose from Danisco, Elmsford, N.Y. (phone 913 764 8100, www.litesse.com), is said to enhance immune response, especially in combination with lactitol, where a synergistic effect occurs. Peuranen et al. (2004) studied the effects of 2% polydextrose (PDX), 2% disaccharide lactitol, or 2% PDX+2% lactitol on gut microflora, microbial metabolism, and gut immune responses in rats. The combination of PDX and lactitol had a stronger additive effect in some parameters. The combination altered the microbial community structure, and the secretion of IgA increased even more, almost ten-fold, compared to the control group.
Larch arabinogalactan is a natural, novel polysaccharide offering a number of immune-stimulating properties. Produced by Lonza Inc., Allendale, N.J. (phone 800-955-7426, www.lonza.com), ImmunEnhancer™ stimulates the body's immune defense system and enhances the production of the natural killer cells that destroy invading microorganisms. In addition to increasing circulatory monocytes and activating natural killer cells, ImmunEnhancer has been shown in human clinicals to activate the complement immune system, as indicated by the levels of serum properdin, a marker for the complement immune system and an indicator of enhanced activation.
--- PAGE BREAK ---
Beta-Glucans
A yeast-derived beta 1,3/1,6 glucan, Wellmune WGP® from Biothera, Eagan, Minn. (phone 651-675-0300, www.biotherpharma.com), is a natural immune-enhancing ingredient that received a 2007 IFT Food Expo Innovation Award. It activates key immune cells, including macrophages and neutrophils, to more quickly recognize and eliminate foreign organisms. Lavigne et al. (2006) showed that the patented ingredient enhances the antimicrobial function of neutrophils, the most abundant immune cell in the human body.
Another ingredient, GLPH-1™ from Gourmetceuticals LLC, Big Horn, Wyo. (phone 307-655-5109, www.gourmetceuticals.com), is a polysaccharide extract derived from the cell wall of the botanical yeast Candidus utilis. It functions as an anti-inflammatory agent through multiple mechanisms, including stimulating the immune system's white blood cells that combat illness. This response has been studied in patients with lung ailments and hepatitis B, as well as in people looking to prevent muscle injury.
A pre-sprouted barley beta-glucan powder, Aktivated Barley™ from Platinum Health Products, Long Beach, Calif. (phone 888-747-6733, www.phporder.com), is included in ChocKoala™ Immunity Jr. functional beverages from Sweet Successes Enterprises Inc., San Antonio, Tex. (phone 210-824-2496, www.sweetsuccess.com). The company's patented natural method of pre-sprouting activates the nutrients and enzymes in the inner kernel of the barley pearl, increasing the beta-glucan content. The beta-glucan boosts the immune system by activating macrophages that trap and consume foreign substances in the body.
Conjugated Linoleic Acid
Predominantly associated with weight management, conjugated linoleic acid (CLA) also affects the immune system. According to Cognis Nutrition and Health, LaGrange, Ill. (phone 708-579-6150, www.cognis.com), several animal studies and human intervention trials suggest that CLA may enhance the effect of vaccinations, increase antibody levels, and reduce the symptoms of the common cold, especially cough and sore throat. Animal studies suggest that CLA may enhance the immune system as well as protect against catabolic effects of immune stimulation (Cognis, 2006). Cognis offers Tonalin® CLA, derived from natural safflower oil.
According to Lipid Nutrition, Channahon, Ill. (phone 815-730-5200, www.lipidnutrition.com), its safflower oil-derived CLA, Safflorin™, was shown to enhance immune response by stimulating the antigen-specific antibody production after hepatitis B vaccination. The beneficial effects of the ingredient have been demonstrated at a supplemental dose of 2 g/day.
Mushrooms
At this year's IFT Food Expo®, NutraGenesis, Brattleboro, Vt. (phone 802-257-5345, www.nutragenesisnutrition.com), introduced MycoFusions™, a group of patent-pending, certified organic ingredients that combine the antioxidant nutrition of high-ORAC grains (purple and black corn) with the health-enhancing benefits of medicinal mushrooms. Medicinal mushrooms are grown on darkly pigmented grain substances, resulting in an ingredient that contains high amounts of high-ORAC phytonutrient antioxidants and anthocyanins from the host, as well as powerful polysaccharides and beta-glucans from the mushroom.
Wu et al. (2007) studied the immunological effect of a dietary intake of white button mushrooms. C57BL/6 mice consumed a diet containing 0, 2, or 10% (wt/wt) white button mushroom powder for 10 weeks. Results suggested that increased intake of white button mushrooms may promote innate immunity against tumors and viruses through the enhancement of natural killer cell activity.
by Linda Milo Ohr,
Contributing Editor,
Denver, Colo. 
[email protected]
References
Adogony, V., Respondek, F., Biourge, V., Rudeaux, F., Delaval, J., Bind, J.-L., and Salmon, H. 2007. Effects of dietary scFOS on immunoglobulins in colostrums and milk of bitches. J. Animal Physiol. Animal Nutr. 91: 169-174.
Berman, S.H., Eichelsdoerfer P., Yim, D., Elmer, G.W., and Wenner, C.A. 2006. Daily ingestion of a nutritional probiotic supplement enhances innate immune function in healthy adults. Nutr. Res. 26: 454-459.
Cognis. 2006. Cognis targets cold, flu season with arsenal of immunity-enhancing ingredients backed by science. Press release, Cognis Nutritional Health, La Grange, Ill., Oct. 26.
Danisco. 2006. Danisco reduces flu symptoms with a patented Howaru™ probiotic formulation. Press release, Danisco, Elmsford, N.Y., March 19.
Fukasawa, T., Murashima, K., Matsumoto, I., Hosono, A., Ohara, H., Nojiri, C., Koga, J., Kubota, H., Kanegae, M., Kaminogawa, S., Abe, K., and Kono, T. 2007. Identification of marker genes for intestinal immunomodulating effect of a fructooligosaccharide by DNA microarray analysis. J. Agric. Food Chem. 55: 3174-3179.
Karakan T., Ergun, M., Dogan, I., Cindoruk, M., and Unal, S. 2007. Comparison of early enteral nutrition in severe acute pancreatitis with prebiotic fiber supplementation versus standard enteral solution: A prospective randomized double-blind study. World J. Gastroenterol. 13: 2733-2737.
Kim, S.H., Lee, D.A.H., and Meyer, D. 2007. Supplementation of baby formula with native inulin has a prebiotic effect in formula-fed babies. Asia Pacific J. Clin. Nutr. 16: 172-177.
Kolida, S., Meyer, D., and Gibson, G.R. 2007. A double-blind placebo-controlled study to establish the bifidogenic dose of inulin in healthy humans. Eur. J. Clin. Nutr. Advance online publication, Jan. 31. doi: 10.1038/sj.ejcn.1602636.
Lavigne, L.M., Albina, J.E., and Reichner, J.S. 2006. Beta-glucan is a fungal determinant for adhesion-dependent human neutrophil functions. J. Immunology. 177: 8667-8675.
Peuranen, S., Tiihonen, K., Apajalahti, J., Kettunen, A., Saarinen, M. and Rautonen, N. 2004. Combination of polydextrose and lactitol affects microbial ecosystem and immune responses in rat gastrointestinal tract. Brit. J. Nutr. 91: 905-914.
Puccio, G., Cajozzo, C., Meli, F., Rochat, F., Grathwohl, D., and Steenhout, P. 2007. Clinical evaluation of a new starter formula for infants containing live Bifidobacterium longum BL999 and prebiotics. Nutr. 23: 1-8.
Waligora-Dupriet, A.J., Campeotto, F., Nicolis, I., Bonet, A., Soulaines, P., Dupont, C., and Butel, M.J. 2007. Effect of oligofructose supplementation on gut microflora and well-being in young children attending a day care centre. Inter. J. Food Microbiol. 113: 108-113.
Wu, D., Pae, M., Ren, Z., Guo, Z., Smith, D., and Meydani, S.N. 2007. Dietary supplementation with white button mushroom enhances natural killer cell activity in C57BL/6 mice. J. Nutr. 137: 1472-1477.