Each year, the Institute of Food Technologists honors outstanding individuals, teams, and organizations for contributions to the profession of food science and technology by presenting achievement awards and electing Fellows. At its 2007 Annual Meeting & Food ExpoSM in July, IFT presented achievement awards to 12 individuals and two companies and recognized 17 newly elected Fellows. Following are brief biographies of this year's honorees.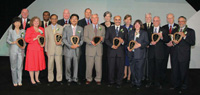 2007 IFT Achievement Awards
Keith R. Cadwallader, Associate Professor, University of Illinois, received the 2007 Stephen S. Chang Award for Lipid or Flavor Science for significant contributions to lipid or flavor science.
In researching food flavor as it relates to the overall quality of food, Cadwallader has identified key flavor compounds in foods and determined the interaction of flavor compounds with food-matrix components.
He has solved a number of method-related barriers and problems relevant to the food industry. His findings have led to the development of new flavors and flavor extracts, as well as provided a better understanding of packaging materials to help control the migration of flavor volatiles. His work on understanding seafood aroma has helped the seafood industry turn seafood processing discards into seafood flavor extracts. And his research on both the desirable and undesirable flavors associated with dairy and soy products has aided the food industry in developing products with superior flavor attributes.
The award is a $3,000 honorarium and a Steuben crystal sculpture from the Stephen S. Chang Endowment Trust Fund supported by the Taiwan Food Industries.
Manjeet S. Chinnan, Professor, University of Georgia, is the recipient of the 2007 Bor S. Luh International Award for outstanding efforts to promote the international exchange of ideas in the field of food technology.
His work with scientists in developing countries has led to his involvement in U.S. Agency for International Development's Collaborative Research Support Program projects. As co-principal investigator of a project in Southeast Asia, he assisted in research efforts in agricultural production and food processing.
--- PAGE BREAK ---
Chinnan has also helped to develop processing technology used in Ghana and Nigeria for black-eyed pea (cowpea) flour. This technology minimizes the amount of time and work women in these countries must spend in preparing cowpea paste, the main ingredient of many foods from the regions.
He helped the Caribbean Agricultural Research and Development Institute design postharvest handling systems for small farms in the Caribbean. He has collaborated with a research institute in Bulgaria and developed an academia–industry partnership.
The award is a $3,000 honorarium and a plaque from the Bor S. Luh Endowment Fund of the IFT Foundation.
William D. Davidson, retired Principal Scientist, General Mills Inc., received the 2007 Calvert L. Willey Distinguished Service Award for meritorious and imaginative service to IFT.
Since 1962, Davidson has served on more than 25 national-level committees, task forces, and juries, including the Annual Meeting Planning Subcommittee, Executive Committee's Strategic Planning Subcommittee, Finance Committee, Awards Committee, Management Committee on Member Experiences, and Committee on Nominations and Elections. Additionally, he has volunteered his time to the Minnesota and Oregon Sections, Refrigerated and Frozen Foods Division, and the Midwest Food Processors Conference Program Committee and has served as chair of several of these. He was president of the IFT Seafood Specialized Technology Group (now called the Aquatic Food Products Division).
Davidson has used his expertise in communications to guide IFT through this rapidly developing field by serving on several communications- related committees such as the Information Systems Committee and Publications Committee. He also served as IFT's representative to the International Food Information Service.
The award is a $3,000 honorarium and a plaque from IFT.
Todd R. Klaenhammer, Distinguished University Professor and William Neal Reynolds Professor, North Carolina State University, received the 2007 Nicholas Appert Award, which recognizes an individual for preeminence in and contributions to the field of food science and technology.
--- PAGE BREAK ---
Throughout his career, Klaenhammer has been an internationally recognized leader in the area of food microbiology. He has pioneered the industrial application of molecular genetics to dairy lactic acid bacteria by designing novel genetic strategies to provide bacteriophage resistance to bacteria used as dairy starter cultures; discovering and characterizing bacteriocins produced by lactic acid bacteria; and employing genetic and functional genomic approaches to investigate probiotic Lactobacillus cultures.
In recognition of his work, Klaenhammer was elected in 2001 to the U.S. National Academy of Sciences and selected in 2006 as a Sigma Xi Distinguished Lecturer, where he speaks on the topic of "Eat Bacteria–Get Cultured: New Horizons in Bioprocessing and Health."
The award is a $5,000 honorarium from IFT and a bronze medal from the Chicago Section of IFT.
Ken Lee, Professor and Food Safety Director, Ohio State University, is the 2007 recipient of the Carl R. Fellers Award for service to the field of food science and technology and for bringing honor to the profession.
Lee is an effective communicator of science, providing service to the food industry and outreach efforts that foster awareness of food science's role in society. He is sought by local and national news media as a food science expert to inform the public about food issues.
As a founding member and past-president of the Food Update Foundation and a former IFT Science Communicator, Lee has often discussed controversial issues facing the discipline. He also received a distinguished service award from the Food and Drug Administration for helping shape federal policies that affect the food industry.
At the university, he led a successful campaign that tripled endowments leading to the construction of a new food science building.
The award is a $3,000 honorarium from the Phi Tau Sigma Honorary Society and a plaque from IFT.
--- PAGE BREAK ---
Tung-Ching Lee, Distinguished Professor, Rutgers, the State University of New Jersey, received the 2007 Babcock-Hart Award for contributions to food technology that improve public health through nutrition or more nutritious food.
Iron deficiency anemia, which causes lethargy and incapacitation in adults and impairs the immune system and cognitive development of children, is the most prevalent nutritional problem in the world.
Lee made two major contributions for combating iron deficiency. He developed technology to produce a novel, simulated, extruded rice product enriched with iron and vitamin A and discovered a novel food approach that with certain preparation/cooking methods and/or combinations of selected vegetables can enhance the bioavailability of iron in plant foods.
Recent clinical trials verified the efficacy of both of Lee's technologies that have resulted in increased iron stores and reduced prevalence of iron deficiency. His discoveries and active involvement with current action programs for implementing these technologies by several international organizations will have major worldwide impact.
The award is a $3,000 honorarium from the International Life Sciences Institute North America and a plaque from IFT.
John B. Luchansky, Research Leader, Microbial Food Safety Research Unit, Eastern Regional Research Center, Agricultural Research Service, U.S. Dept. of Agriculture, received the 2007 Myron Solberg Award for leadership in the establishment, development, and continuation of an industry, government, and academia cooperative organization.
Currently, Luchansky directs a $6.5-million program that develops technologies to eliminate pathogens from foods, exploits genomics/proteomics to detect and characterize pathogens, and develops mathematical models to predict pathogen growth, survival, and death.
He collaborates with researchers at various governmental agencies, nonprofit organizations, food companies, and universities around the world to solve problems of both basic and applied significance to food safety. For example, under his leadership, his colleagues have further expanded the Pathogen Modeling Program, a collection of some 40 models of microbial growth, survival, or inactivation, and have collaborated with the UK–based Institute of Food Research to form ComBase, the largest online database of predictive microbiology information.
The award is a $3,000 honorarium and a plaque from the Myron Solberg Endowment Fund of the IFT Foundation.
--- PAGE BREAK ---
David Julian McClements, Professor, University of Massachusetts, is the recipient of the 2007 Research and Development Award for recent significant research and development contributions to the understanding of food science, food technology, or nutrition.
Professor, University of Massachusetts, is the recipient of the 2007 Research and Development Award for recent significant research and development contributions to the understanding of food science, food technology, or nutrition.
Knowing that there was a lack of natural emulsifiers that could be used to produce food emulsions resistant to the stresses experienced by many food products during their production, storage, or consumption, McClements developed novel interfacial engineering technologies—based on creating nano-laminated interfacial layers around lipid droplets—to improve food emulsion quality. This will enable the food industry to improve the quality and shelf life of existing products and develop novel encapsulation and delivery systems for functional food and nutraceutical ingredients.
He has also shown that multilayer emulsions can be produced using food-grade ingredients and routine unit operations, thereby making their use in the food industry feasible and economically viable.
The award is a $3,000 honorarium and a plaque from IFT.
Susan Kay Hall McWatters, Agricultural Research Scientist, University of Georgia, received the 2007 Elizabeth Fleming Stier Award for pursuit of humanitarian ideals and unselfish dedication resulting in significant contributions to the well-being of the food industry, academia, students, or the general public.
McWatters has applied her knowledge of basic food preparation methods, ingredient functions, and quality measurements of finished foods to many interdisciplinary projects with food engineers, biochemists, microbiologists, and sensory scientists.
Her work has helped to improve the public's quality of life. A team led by McWatters developed a mechanical process to remove the seed coat from dry black-eyed peas for subsequent processing into flour. This simplified food preparation for Nigerian women and provided opportunities for income generation for villagers through the sales of this processed flour.
Additionally, she has shared her research findings with U.S. agricultural commodity groups and food processors to develop new processes and products.
The award is a $3,000 honorarium from the New York Section of IFT and a plaque from IFT.
--- PAGE BREAK ---
Michael W. Pariza, Wisconsin Distinguished Professor of Food Microbiology and Toxicology, University of Wisconsin–Madison, received the 2007 Bernard L. Oser Food Ingredient Safety Award for contributions to the scientific knowledge of food ingredient safety and leadership in establishing principles for food ingredient safety evaluation and regulation.
An internationally recognized expert in evaluating food enzyme safety and microbial enzyme preparations, Pariza developed the principal guidelines for evaluating food enzyme safety that are used by government regulators and food enzyme manufacturers around the world.
He also discovered the anticancer properties of conjugated linoleic acid (CLA) and many of the other known biological activities of CLA, thereby founding the modern field of CLA research. In addition, Pariza discovered the anti-cancer properties of the principal flavor components of fermented soy sauce.
Many of the ingredients and products that resulted from his research have been commercialized for animal and human applications.
The award is a $3,000 honorarium and a plaque from the Bernard L. Oser Endowment Fund of the IFT Foundation.
Jochen Weiss, Assistant Professor, University of Massachusetts, received the 2007 Samuel Cate Prescott Award for outstanding ability in food science research. Recipients of this award must be less than 36 years of age or have received his or her highest degree within the previous 10 years.
Weiss, who earned his Ph.D. degree in 1999, has developed a program in the fields of food biophysics and nanotechnology to better understand the biophysical basis of food microbiology.
Recently, he combined these new insights with novel nanotechnological approaches to improve food safety and food processing and advance the understanding of the relationship between macroscopic and molecular properties in biological materials of plant and animal origin. This approach is leading to advances in understanding the role of interfacial properties and molecular interactions on the growth of foodborne pathogens. His work has resulted in the design of new nanostructured antimicrobial systems with improved activities enabling food manufacturers to develop high-quality, shelf-stable products.
The award is a $3,000 honorarium and a plaque from IFT.
--- PAGE BREAK ---
Ronald Earl Wrolstad, Distinguished Professor, Oregon State University, received the 2007 William V. Cruess Award for excellence in teaching food science and technology.
A seasoned professor, he has taught two of the more-popular courses in the university's Dept. of Food Science and Technology. In Maraschino Cherry FST 102, Wrolstad introduces students to the subjects of food additives, sensory analysis, and process engineering by using examples from the maraschino cherry processing industry in Oregon. In Functional Foods FST 440/540, he invites campus experts to team-teach disciplines related to functional foods. The course concludes with a luncheon that features commercial functional food products.
In recognition of his development of lively, interactive courses and his dedication, Wrolstad's students selected him for inclusion in the 1996 Who's Who Among America's Teachers. He has served as chair of the IFT Education Committee.
The award is a $3,000 honorarium from IFT and a bronze medal from the Northern California Section of IFT.
2007 IFT Fellows
Fellow is a unique professional distinction conferred on individuals with outstanding and extraordinary qualifications and experience for their contributions to the food science and technology field. The nominee must have been an IFT Member for 15 years and a Professional Member at the time of nomination. The 15-year member requirement may be waived by the Fellows Jury for those nominees who have spent all or a portion of their careers outside the United States.
IFT has conferred the Fellow designation on a select number of Professional Members every year since 1970. A complete list of Fellows can be found on the IFT Web site at www.ift.org.
Mary Ellen Camire, Professor, University of Maine, was honored for her contributions to extrusion processing, dietary fiber analysis, dietary supplements, and functional foods and meritorious service to IFT.
Camire's research has shown that extrusion may not appear to cause changes in total fiber, while a significant redistribution of insoluble to soluble forms of fiber may occur. Her use of a colorimetric clinical assay in an in-vitro procedure for estimating the bile acid–binding capacity of extrudates and their potential cholesterol-lowering ability has been adopted by researchers around the world to develop improved processing methods for producing healthful grain and legume products.
--- PAGE BREAK ---
Additionally, she has conducted research on the benefits of blueberries and cranberries for amelioration of diabetes and heart disease. The research is leading to the identification of an efficacious dose of anthocyanins that could be used successfully in formulated products.
Bruce Robert Cords, Vice President of Environment, Food Safety, and Public Health and Vice President of Global Technology Alliances, Ecolab Inc., was honored for the development and application of antimicrobials widely used by the food industry to control pathogens. He was also recognized for his leadership in assisting the Food and Drug Administration in addressing threats of intentional contamination to the nation's food supply.
While managing research and development for Ecolab's Food and Beverage Division, Cords oversaw the introduction of Saniglide™, the first germicidal conveyor lubricant for dairy plants; Matrix™, the first mixed peracid no-rinse sanitizer; and other products.
As a member of several IFT Expert Panels, he evaluated the application of operational risk management to food security; served with a team of experts to conduct Food Defense Awareness Training for various industries; and coauthored the 2006 IFT Expert Report, Antimicrobial Resistance: Implications for the Food System.
Ronald D. Harris, Adjunct Professor, Ohio State University, was recognized for his achievements in industry and academia.
Harris, a chemical engineer with an added MBA, teaches a course in food plant operations and has helped develop and team-teach a course in product development. He uses his skills learned in business school to teach classes on operations and project management and lecture on business ethics and career management.
Before coming to Ohio State University, Harris was Executive Vice President of R&D for Nabisco, where he oversaw and coordinated all research and development activities. At Kraft, he represented the company in discussions of public policy issues with regulatory agencies, legislators, trade associations, professional societies, companies, and universities.
As Director of Research and Development for Clorox, he helped the company move from being a single-brand company with no food products to being a significant player in the consumer food products industry.
Yun-Hwa Peggy Hsieh, Professor, Florida State University, was honored for teaching, outreach, and research in developing novel immunoassays designed to prevent the transmission of prion diseases and other foodborne illnesses.
--- PAGE BREAK ---
Hsieh's research group was the first to demonstrate with a single assay that thermostable biomarker protein-based immunoassays can be used to detect target species in both fresh and heat-processed food and feed products.
A diagnostic company used her technology to develop its monoclonal antibody–based (MAb) immunoassay kits to address meat species adulteration and fish species substitution that occur at the retail level.
She is the first to develop a rapid MAb immunoassay based on the detection of a ruminant-specific and thermostable muscle protein, troponin I (TnI). Several companies used this technology to develop products for the surveillance of prion diseases. To date, Hsieh's ruminant immunoassays are the only commercially available assays that have the needed specificity for ruminant protein.
Guy Henry Johnson, Principal, Johnson Nutrition Solutions LLC, was recognized for his leadership in leveraging synergies between food science and nutrition science for the development of innovative products and educational programs designed to improve public health.
Johnson has conducted research on and helped develop numerous products that provide consumers with great-tasting foods that deliver important nutritional benefits.
He has also worked diligently to ensure that consumers have unfettered access to nutrition information for products through labeling, advertising, and the media. For example, he successfully petitioned the Food and Drug Administration for health claims that provide incentives for the food industry to use technology to nutritionally improve processed foods and to promote inherently healthy products.
In addition, his efforts to help develop and promote the Gerber Dietary Guidelines for Infants contributed to public health by helping parents make sound decisions about infant feeding.
Olusola Lamikanra, Group Manager, World Wide Fruit and Vegetable Research Center, Frito-Lay Inc., was honored for his contributions to fruit and vegetable research. He recently established this center at Frito-Lay and is currently working on health and wellness initiatives for the company.
At the U.S. Dept. of Agriculture, he developed novel technologies to improve the sensory quality and shelf life of fresh-cut fruits. Leading food companies use these technologies, which are based on altering wound signals during the cutting of fruits to prevent or retard degradative actions that affect the sensory quality and shelf life of cut fruit.
--- PAGE BREAK ---
As a professor at Florida A&M University, he led a regional research effort that helped establish interstate shipments of muscadine grapes to a number of northern states, expanding the market window for the grapes, and developed several value-added shelf-stable products from the grapes, some of which were licensed for commercial production.
John Winslow Larkin, Chief of Process Engineering Branch, Food and Drug Administration, was honored for his contributions to the field of thermal processing and for expertise in the validation of new food processing systems.
For more than 20 years, both industry and academia have sought guidance from Larkin. As FDA's primary authority on the validation of processing systems—including thermal processing of shelf-stable foods and pasteurization of milk, juice, eggs, and other food commodities— he has outlined the food safety and regulatory issues related to nontraditional processes. He lends his expertise to issues related to the processing of food products to ensure that foods are safe to consume, and he reviews all petitions related to thermal processing before they are issued.
Additionally, Larkin is the agency's lead technical expert on aseptic processing of multiphase foods and the emerging area of nontraditional processing of food products.
Hubertus L.M. Lelieveld, Senior Technologist, Senior Technologist, Unilever, was recognized for his leadership in multinational and multidisciplinary research and development projects.
Lelieveld began his career with Unilever, where he initiated the use of bioprocessing and developed processes for the microbial production of products like polyunsaturated fatty acids and dairy products. He was the first to develop and build full-scale aseptic continuous multistage mixed-strain bioprocesses for fermented dairy products.
As his career evolved, he collaborated with other researchers to publish guidelines for the safe manufacture of food products. He also developed novel preservation technologies, including fermentative preservation and preservation by electric and magnetic fields, high pressure, and intense light pulses. This resulted in pilot plants that use pulsed electric fields or pressures up to 700 MPa for preservation of foods and beverages.
Last year, he joined a Netherlands industry–government initiative to develop a research and development program entitled Roadmap Microsystem and Nanotechnology in Food and Nutrition.
--- PAGE BREAK ---
Neil H. Mermelstein, Executive Editor of Food Technology, Institute of Food Technologists, was honored for his contributions to food science and technology through leadership in communication.
Mermelstein has been both an IFT member and on the IFT staff for 36 years, and this year he will hold the record for length of service on the IFT staff.
With an M.S. degree in chemical engineering and a minor in technical journalism, plus industrial experience, Mermelstein has used his editorial skills, innovative ideas, and enthusiasm to advance the field of food science and technology through technical communication.
He has used his science and engineering knowledge and his writing and editing skills to communicate developments in food science and technology in clear, understandable language and has helped others improve their writing and communication skills. He has authored and edited numerous articles and has provided dedicated and imaginative service to IFT.
James L. Oblinger, Chancellor, North Carolina State University, was recognized for his leadership, contributions to research and teaching, and the prestige his achievements in university administration have conferred on the food science profession.
Researching the microbiology of red meats and poultry, Oblinger focused on the efficacy of decontamination techniques of microbial foodborne pathogens on meat surfaces. He also received IFT's William V. Cruess Award for outstanding teaching. But his contributions to the food science profession go far beyond those made by his research and teaching activities.
Moving into university leadership positions as Dean, Provost, and Chancellor, Oblinger has catalyzed the creation of business, industry, and university partnerships that have created new markets, met citizen needs, and stimulated economic development. As a former food scientist and the leader of one of the nation's major land-grant universities, Oblinger has brought a new level of recognition to the food science and technology profession.
Jae Won Park, Professor, Oregon State University, was recognized for his achievements and technology transfer leadership in surimi and surimi seafood research and production.
Park has authored or co authored more surimi-related research work during the last two decades than any other seafood researcher. His research on ohmic heating has proven to be an effective method for processing Pacific whiting surimi without adding enzyme inhibitors. It has saved the U.S. surimi seafood industry several millions of dollars.
As the founder and director of the Oregon State University Surimi School, Park has helped industry professionals in developing and developed countries to stabilize and maximize the utilization of fish proteins for their own industries and fisheries and share information about new technologies. More than 2,500 food professionals around the world have been trained at the school, which has been held at locations in the United States, Asia, and Europe.
--- PAGE BREAK ---
Damanna Ramkishan Rao, National Program Leader, U.S. Dept. of Agriculture's Cooperative State Research, Education, and Extension Service, was recognized for his scientific contributions to and leadership of the service's food science–related initiatives.
At CSREES, Rao was responsible for increasing the number of staff with Ph.D. degrees in food science and food safety; increasing funding through CSREES grants for food science research and food defense programs; and initiating the formation of the Obesity Multistate Research/Extension Group. He also represented CSREES in negotiations with high-level staff at USDA, other federal and state agencies, industry, and the private research sector to obtain cooperation in establishing new projects or redirecting existing programs as needed.
While working in academia, Rao and his research team were the first to demonstrate in rat models that probiotics inhibit colon cancer and the first to show the production of antimicrobial compounds by Streptococcus thermophilus.
Gordon Lindsay Robertson, Consultant and Adjunct Professor, University of Queensland, Australia, was honored for his research on the environmental impacts of packaging and his contributions to the field of food packaging, including authoring a definitive textbook on the subject.
His consulting work includes designing plastic barrier materials that have specific mechanical properties and the ability to increase the shelf life of packaged food products. He is also involved in the development of nanocomposite barrier materials, as well as biobased packaging materials. He lends his expertise to a range of multinational companies, industry associations, and government agencies in the areas of food packaging, the environment, and issues/crisis management.
As Vice President for Environmental and External Affairs for Tetra Pak, Robertson drove the implementation of ISO 14001 environmental management systems in 12 factories and developed recycling processes for post-consumer food packaging.
Sudhir K. Sastry, Professor, Ohio State University, was recognized for his research on aseptic processing of particulate foods, ohmic heating, electric field processing, and advances in high-pressure technology.
Sastry developed the first mathematical model for aseptic particulate processing that is based on phase-heat transfer, and this work is the basic framework for current regulation of aseptic particulate processing.
--- PAGE BREAK ---
An expert in ohmic heating technology, he demonstrated how particles could heat faster than the fluid phase even if it had lower conductivity. This led to the development of the first real model of continuous-flow ohmic-heated high-solid food. Today, ohmic heaters designed or built in his laboratory are used in university and industry laboratories worldwide. He recently built a 54-kW ohmic heating pilot facility at Ohio State University, and he is working with NASA to study how ohmic heating technology can be used in space to treat food, water, and waste.
Virginia (Jenny) N. Scott, Vice President of Food Safety Programs, Grocery Manufacturers/ Food Products Association, was honored for her leadership that has enhanced the safety of the global food supply through research, outreach, and collaboration.
An expert in the area of food safety, particularly microbiology, Scott is frequently sought for advice by regulatory agencies. She has been appointed to the National Advisory Committee on Microbiological Criteria for Foods and the U.S. Delegation to the Codex Committee on Food Hygiene.
As one of the primary unnamed authors of FPA's comments on food safety regulations, she has helped to drive public policy.
Scott played a major role in the design and implementation of the National Food Processors Association Research Foundation–funded study of more than 35,000 food samples for the presence and number of Listeria monocytogenes. This study filled in gaps in the Food and Drug Administration/Food Safety and Inspection Service's L. monocytogenes risk assessment.
Denise M. Smith, Professor and Chair of the Dept. of Food Science and Technology, Ohio State University, was honored for being an advocate of the food science profession, productive researcher in protein chemistry, and mentor to students.
--- PAGE BREAK ---
Smith's research is focused on the functional properties of meat and dairy proteins and verification of processing adequacy to enhance food safety. This has led to an improved understanding of meat protein interactions during processing; the utilization of less-expensive meat and non-meat protein sources in processed meat products; and development of immunochemical approaches to verify processing adequacy.
Currently, she collaborates with food engineers to develop and test new engineering models to predict microbial lethality during processing.
Smith has participated in curriculum development to improve student learning. Additionally, she has developed several programs to educate high school students, teachers, and counselors and university students and advisers about career opportunities in the field of food science.
Louise Wicker, Professor, University of Georgia, was recognized for her research on the application of pectic substances, enzymes, and polymer science to physical and rheological properties of beverages and fluid movement in foods.
An expert in the area of pectin enzyme chemistry, Wicker consults colleagues on the topics of processing problems with pectinesterase, pasteurization of juices, and clarification of juice-containing beverages. Her research has generated major changes and process improvements in citrus juice processing.
Wicker developed a process to reduce viscosity while preventing phase separation of pectin-stabilized milks and was one of the first in the United States to make a comprehensive evaluation of pectin as an effective stabilizer in acidified milks. She also studies processing variables involved in creating charge-modified pectins that could be used to enhance flavor release and lower viscosity of protein-fortified beverages.
---
Diversified Technologies Inc., Bedford, Mass., and Genesis Juice Corp., Eugene Ore., are the recipients of the 2007 Food Technology Industrial Achievement Award for bringing pulsed electric field (PEF)–treated juice to the marketplace. The award honors the developers of an outstanding food process or product that represents a significant advancement in the application of food science and technology to food production.
--- PAGE BREAK ---
PEF technology applies very short pulses of high-voltage electricity to liquid foods to kill pathogens via electroporation. For decades, it was not practical because there was no way to generate reliable, cost-effective pulses with sufficient peak power (typically 40 MW). Diversified Technologies created high-voltage, solid-state systems capable of delivering high-power pulses reliably and at a competitive cost. The company worked with Ohio State University researchers to build the world's first solid-state commercial-scale PEF system.
In 2005, Genesis Juice became the first company in the United States to introduce PEF-treated juices. Its juices, introduced in the Portland, Ore., area, are made safe and kept fresh with PEF. They provide consumers with the taste, functional benefits, and nutrients of fresh fruits as well as the convenience and safety of pasteurized products.
The award is a plaque from IFT.
---
Call for Nominations for 2008 chievement Awards & IFT Fellows
The Institute of Food Technologists is seeking nominations for the 2008 Achievement Awards and the 2008 IFT Fellows.
Achievement Awards recognize excellence in a variety of areas, including teaching, public health, lipid or flavor science, food ingredient safety, industrial developments, and others. Deadline for receipt of nominations for the Achievement Awards is December 1, 2007.
IFT Fellow is a unique professional distinction conferred on individuals for contributions in food science and technology, leadership in the profession, and service to IFT. Deadline for receipt of nominations for the IFT Fellows is February 1, 2008.
The Marcel Loncin Research Prize provides research funding for basic chemistry/physics/engineering research applied to food processing and improvement of food quality. It is given only in even-numbered years. Deadline for receipt of nominations for the 2008 Marcel Loncin Research Prize is December 1, 2007.
For instructions and nomination forms, click on "Awards" at www.ift.org or contact Liz Seidlitz at 312-782-8424 or [email protected].
by Karen Nachay, a Member of IFT, is Assistant Editor, Food Technology ([email protected]).