For me, condiments make the meal. This was especially true when I visited fast-food establishments. Over the years, I've developed quite a few strategies for condiment use, each one dependent on where I was dining.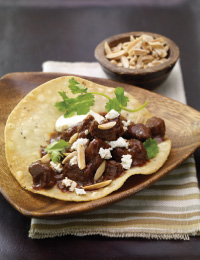 For example, at White Castle, I would put an onion ring on the burger with barbecue sauce and Dijon mustard in the center. At Arby's, I would use plenty of horseradish in place of ketchup on my curly fries. At Subway, if I ordered a toasted sandwich, it was imperative that the onions were toasted as well. Breakfasting at McDonald's, I made sure that I used picante sauce on my hash browns. And, if I should order a baked potato at a steakhouse, I would first try to load it with as many condiments as possible—butter, sour cream, chives, bacon bits, and even cheese—but then after the potato part was eaten, I would add a few drops of steak sauce to the skin, and that ended the whole experience on a divine note.
Condiments are a very personal matter. We all have their own views on what to use or not to use when it comes to these products. And there are no wrong choices. The movie detective Dirty Harry, in particular, was way out of line when he strongly objected to his coworker using ketchup on a hot dog.
Because condiments cover such a broad range, it is probably necessary to come up with some kind of working definition. To put it simply, they are substances that enhance the flavor or texture of food, as well as add some visual excitement. They can be added by the dining individual after the meal is served, added prior to serving by the person who prepared the meal, or used during the cooking of the meal. They have a long history—the earliest ones being salt, pepper, seeds, and herbs. Suffice it to say that today we have a lot more choices than our ancestors did.
And as we become more familiar with different cuisines from around the world, and as different condiments are blended to create new ones, we can expect to see even more kinds of condiments available. In fact, the condiments that will be used 100 years from now would probably surprise us as much as our condiments today would have surprised the early American colonists. A time traveler might indeed ask, "What's that you're putting on your food?"
Condiments are taking some interesting directions. Here's a case in point. Possible condiments a la Thai style were described in the premiere issue of FoodCast™, a customer-focused trends report launched by ConAgra Food Ingredients, Omaha, Neb. (phone 402-595-4000, www.conagrafoodingredients.com). The report, which provides analysis of the latest culinary, health, and product-development trends, highlighted a recent visit by the company's culinary chef Liz Olson to Thailand to learn more about the country's cuisine and the influence it can have on future food formulating. Thai-inspired condiment concepts include the addition of red curry paste and coconut milk to mayonnaise or mustard; the spicing up of coleslaw with chilies, cilantro, lemongrass, and roasted peanuts, while enhancing its dressing with lime juice and fish sauce; and the creation of a sweet-and-spicy glaze for chicken wings that is rich in ginger, tamarind, and chilies.
According to the report, Thais have a preference for dips, sauces, and seasoning paste, much like Americans have for traditional condiments such as mustard or ketchup. The report suggests that as Americans search for alternative condiments, "the door swings open to options with a distinctly Thai accent." Spicy peanut sauces, in particular, could be successful as a condiment in a nation that already has a passion for peanut butter. With the addition of coconut milk, chilies, lime, and palm sugar, Thai-style peanut sauces can bring an exciting flavor to condiments. Or how about a sweet chile dip? Or Thai-style salsas?
--- PAGE BREAK ---
Thailand, of course, is not the only country whose cuisine can have an influence on condiments. As this report suggested, Thailand happened to be the first stop, and was an excellent example of how a certain cuisine might shape the directions of a product category such as condiments. Cuisines from India, the Caribbean, Brazil, and Spain, among many others, can have a profound effect on condiments and the way we perceive them in the future. Imagine ordering a burger with a Caribbean sauce or fries with an Indian seasoning. Or having a variety of dipping sauces available at your meal so that you can experiment with different tastes from around the world.
This article will cover a broad range of condiments—some of them traditional and some of them not so. It will look at some of the directions that these condiments are taking and the factors that are influencing them. Hopefully, it will provide some new and innovative concepts that might provide insight to food formulators interested in creating or upscaling condiments.
Pass the Chocolate, Please
In September 2006, I devoted an entire Ingredients article to the emerging uses of chocolate. Some of these applications can pertain to condiments, suggesting that it is quite possible at the dinner table to pass a shaker of cocoa along with those of salt and pepper to enhance your meal.
The use of chocolate or cocoa as a condiment shouldn't be that surprising. With the increasing interest in Hispanic cuisine, consumers are probably already familiar with mole, a combination of chocolate, chilies, tomatoes, and spices that can be served with meat and poultry. According to the McCormick Flavor Forecast 2008, released by McCormick & Co. Inc., the coupling of cocoa and chile is on the verge of a culinary resurgence due to the growing interest in authentic regional Mexican cuisine. These two ingredients are said to "offer balanced heat and sweetness with depth and slight bitterness in a one-two punch." The report includes a formulation for Braised Mole Beef Tacos, an exciting new twist on tacos. Traditional mole can take several hours to prepare, but this recipe uses a paired-down method to combine its authentic ingredients.
Chocolate flavor has found its way into salad dressings. For example, a prototype application, Fresh Baby Field Greens with Chocolate Balsamic Vinaigrette, was created by Fuchs North America, Owings Mills, Md. (phone 800-365-3229, www.fuchsnorthamerica.com), to demonstrate the crossover potential for chocolate. The balsamic dressing combined strawberry and chocolate flavors for an experience that was tart, bitter, and sweet.
And, of course, let's not forget about chocolate's sweeter side. As a sauce or topping, it can be used to upscale desserts, ranging from fresh fruits to bread puddings.
BBQ Sauciness
There are so many different kinds of barbecue sauce available today that the word barbecue (or "BBQ") by itself calls for further descriptors. Are we talking about a hot and spicy one? A sweet one? A sweet-hot one? Or even a fruity one? The possibilities seem almost endless, and new product launches are only adding to the broad range of flavor profiles offered by these sauces.
--- PAGE BREAK ---
For example, in July 2007, Kraft launched its Bull's Eye Guinness Draught Beer Blend Barbecue Sauce. The rich, smooth blend, which combines the Big Bold Taste brand with real Guinness draught beer, brown sugar, and spices, is suitable for chicken, ribs, and other foods. Other new barbecue sauces from Kraft included Teriyaki Sesame Ginger and a reduced-calorie product, Kraft Light Original.
These new sauces join the company of a wide array of other barbecue sauce products at the supermarket. Some other examples include Heinz Jack Daniels, KC Masterpiece Hickory Brown Sugar, French's Cattlemen's Classic, Honey Open Pit, Sweet Baby Ray's Sweet Vidalia Onion and Honey Chipotle versions, and Charlie Robinson's. And as can be seen, consumers now have the opportunity to use at home the same sauces developed by chefs for their restaurants.
Barbecue sauces are an excellent example of a product that demonstrates different tastes from diverse regions of the United States. Consumer research conducted by Virginia Dare, Brooklyn, N.Y. (phone 718-788-1776, www.virginiadare.com), determined awareness and preference of various traditional regional flavors, foods, and beverages from around the country. One of the areas studied was barbecue and the sauces that were related to this type of cooking. The study found that consumers are interested in regional foods that can provide a feeling of comfort and that there may be opportunities for processors to develop new products appealing to consumers from this platform.
Companies such as Virginia Dare frequently focus on sweet ingredients, such as the use of vanillas, but this expertise can be applied to savory products, as well, especially barbecue sauces. According to the company, some popular and classic flavors used in BBQ sauces are brown sugar, molasses, and maple. Other flavors might include citrus, especially lime, and mango. Even a pomegranate flavor isn't out of the question, as it would certainly complement the taste profile of traditional BBQ sauces. The company adds that BBQ sauces are like icings on cakes.
David Michael & Co., Philadelphia, Pa. (phone 215-632-3100, www.dmflavors.com), used vanilla extract in a Bourbon Bar-B-Que Sauce to enhance natural sweetness, soften an acidic bite, and add to a distinctive flavor profile. The sauce, which was served on meatballs, contained Michaelok® Natural & Artificial Brown Sugar Flavor (0.80%), Premier Process 2x Vanilla Extract (0.80%), DM Choice® Natural Chipotle Flavor WONF (0.18%), DM Choice® Natural Onion & Garlic Flavor WONF (0.18%), and Natural Flavor "Bourbon Type"(0.50%).
With the wide range of barbecue sauces possible, it isn't surprising to see new prototype concepts being developed by spice companies, many of them reflecting regional cuisines. Some examples from Elite Spice Inc., Jessup, Md., (phone 410-796-1900, www.elitespice.com), include Zesty BBQ Meatloaf, Rattlesnake Beef BBQ, Honey BBQ Pork Chops, and Zesty Bourbon BBQ Beans. Williams Ingredients, Lenexa, Kansas (phone 913-888-4343), offers BBQ concepts ranging from a Memphis Mustard BBQ to a Mongolian BBQ. As international cuisines continue to emerge into the mainstream, it will be interesting to see, especially with America's passion for grilling, what kinds of barbecue sauces will pair with these new flavors.
--- PAGE BREAK ---
Mustard Mania
More than 700 million pounds of mustard are consumed worldwide each year, with the U.S. using more of this condiment than any other country in the world. In fact, more than 80% of U.S. households buy mustard each year. As a condiment, mustard adds flavor and color to hot dogs, hamburgers, sandwiches, dipping sauces, and other dishes.
Leading producer of mustard, French's Foods, a division of Reckitt Benckiser Inc., offers a variety of products with distinctive profiles. For example, Classic Yellow®, the most popular of the French's mustards, was introduced in 1904 and is derived from the milder, white mustard seed with the spice turmeric giving the product its bright yellow color. Other mustard products include Spicy Brown, which comes from brown seeds and has a spicier, heartier flavor; Honey Dijon, which combines spicy and sweet; Honey, which serves up a sweet, tangy taste; and Sweet 'n Zesty, made with Classic Yellow and real onions.
The company's ingredients division, French's Flavor Ingredients, Springfield, Mo. (phone 800-437-3624, www.frenchsflavoringredients.com), provides prepared mustards that have applications in barbecue sauces, specialty mustards, salad dressings, meat sauces, and other products. Mustard flavor and color can also be added using dry ingredients.
The established presence of mustards such as Dijon and honey suggest that other innovative flavors are possible as well, especially in light of emerging trends involving international cuisines, special flavor combinations, and crossover ingredients. For example, how about Smoky Maple Mustard? Or a Pineapple Wasabi Mustard? Bell Flavors and Fragrances, Northbrook, Ill. (phone 847-291-8300, www.bellff.com), demonstrated some of the possible flavor directions that mustard can take by developing these two prototypes. The former combines Natural Maple Flavor WONF, Natural Smoky Bacon Type Flavor, and a Natural Flavor Enhancer, while the latter uses a Natural & Artificial Pineapple Flavor with a Natural Wasabi Type Flavor. Both mustards are examples of how flavors can make interesting crossovers, pairing different taste sensations, such as savory-sweet, tart-spicy, sweet-hot, and so on. These mustards can provide traditional applications, such as hot dogs, with a different kind of eating experience, and may help broaden the use of mustard in other products. Mustards can also be paired with other condiments.other products. A classic example of this was mustard-relish. As mentioned earlier, French's Sweet 'n Zesty combines its Classic Yellow with real onions. And from Unilever is Hellmann's Dijonnaise™ Creamy Dijon Mustard made with vinegar, mustard seed, and egg whites.
The use of different condiments together can create blends of flavors not normally associated with that particular application. In a recipe booklet, "Ham for all Seasons," Hormel Foods showed how a number of condiment concepts could liven up ham-based dishes. For example, a mustard sauce—created using sour cream, mayonnaise or salad dressing, dry mustard, and sugar—was served with ham and cheese strudels. Or a glaze for ham was formulated with Dijon mustard, crushed pineapple, and orange marmalade.
In July 2007, Kraft launched Grey Poupon Specialty Mustard in several flavors. These premium mustards included Harvest Course Ground (whole mustard seeds), Savory Honey (made with clover honey for a balance of sweet and savory), and Hearty Spicy Brown (spicy with real bits of yellow onion).
As foods are reformulated or emerge into the mainstream from different cultures, they may require mustards that have different flavors to complement that particular dish. If so, then new mustards may be customized or tailored to meet these international trends, as well.
Ripening Developments for Ketchup
Ketchup has been used in North America for nearly 200 years and is a common condiment in restaurants, fast-food establishments, and households. According to the Oxford Companion to American Food and Drink (2007), the U.S. consumer purchases 10 billion oz of ketchup/yr, averaging out to about three bottles/person. Worldwide, more than 840 million 14-oz bottles alone are sold annually.
--- PAGE BREAK ---
Ketchup wasn't always a thick, sweet, tomato-based condiment. Taken from the Asian word k-tsiap, which refers to a fermented sauce from soybeans, ketchup over the years was made from a variety of foods, including mushrooms, walnuts, oysters, beans, and apples. In the early 1800s, a tomato-based ketchup started becoming popular in the U.S. Leading producers of this condiment are H.J. Heinz Co., which became established in the early 1870s, followed by the Del Monte Corp. (1915), and the Hunt Brothers Packing Co. (1930s).
One possible direction for ketchup is the increasing addition of spicier flavors in response to the popularity of salsas and emerging cuisines, especially Hispanic. The marketplace has already seen, for example, Heinz Hot & Spicy Ketchup Kick'rs made with Tabasco® brand pepper sauce from McIlhenney Co., Avery Island, La. (phone 337-373-6105, www.tabascoingredients.com). Bell Flavors & Fragrances developed prototypes such as Sriracha Ketchup (Natural Sriracha Chili Type Flavor) and Roasted Poblano Ketchup (Natural Pepper Flavor WONF – Poblano Type). Interestingly, a variety of flavored ketchups in smaller bottles or individual packets might be packaged together and marketed, much like spices, as a collection for your "ketchup rack" at home.
Ketchup can also be reformulated with alternative sweeteners. One product, Original Organic Agave Ketchup from Wholemato (www.wholemato.com), combines organic tomatoes, a blend of spices, and agave nectar—a natural sweetener that consists primarily of fructose. This sweetener is suitable for diabetics because it does not adversely impact blood glucose and insulin, as well as for hyperactive children and individuals who have concerns regarding the glycemic levels in their food.
At the Mintel International tasting sessions, held during the 2007 IFT Annual Meeting and Food Expo, a tomato-free ketchup was highlighted. Reminiscent of the origins of ketchup, when the product was made from foods other than tomato, the product, Soma's Nomato from the United Kingdom, contains such ingredients as carrots, concentrated apple, and beetroot juices.
In recent years, many of the innovations related to ketchup have been packaging ones. The upside-down ketchup bottle, caps that don't clog, bottles that fit more easily in the refrigerator, and ongoing research to get more ketchup out of the bottle before it is discarded, are a few examples. Since these developments emphasize convenience, ease of use, and visual attraction, they may help set the stage—or provide the spark—for future ingredient innovations.
In September 2005, Heinz opened its new International Center of Excellence for Ketchup, Condiments & Sauces. The 100,000-sq-ft facility for research hosts more than 100 chefs, food technologists, researchers, and package designers, in addition to experts in nutrition, cuisine, and quality assurance. Expect to see future innovations from facilities such as these.
Salad Days for Condiments
What would salad be without its salad dressing? And today, more than ever, consumers are faced with a broad range of choices. In 2007, Kraft Foods, for example, introduced a number of varieties, including Good Seasons Light Salad Dressing (Light Honey Dijon and Light Greek Vinaigrette); Kraft Asian Toasted Sesame; Kraft Organic Salad Dressings (Balsamic Vinaigrette, Raspberry Vinaigrette, and Organic Zesty Italian); Kraft Light Salad Dressing (Light Asian Toasted Sesame and Light Balsamic Vinaigrette); and Kraft Gourmet Favorites Harvest Ranch with Peppercorn Pasta Salad. And in Canada, Kraft unveiled such dressings as Kraft Signature Mandarin Orange with Sesame and Kraft Signature Calorie-Wise Poppyseed Dressing.
--- PAGE BREAK ---
In particular, varieties of vinaigrettes are increasing as they take advantage of new flavors such as tamarind, black walnut, cranberry, salsa, shallot, and ginger. Recently, the National Honey Board, Longmont, Colo. (phone 303-776-2337, www.honey.com), developed a prototype Honey Balsamic Vinegar that is suitable for salad dressings, sauces, condiments, and relishes. The product, which consists of naturally brewed honey vinegar (55%) and caramelized honey (45%), delivers the deep, mellow flavors typical of traditional balsamic vinegars, but ends with a distinctive sweet-tart finish. In January 2008, a honey products manufacturer, Honey Ridge Farms, Firestone, Colo., unveiled Balsamic Honey Vinegar to specialty food buyers at the Fancy Food Show in San Diego, Calif. The product was based on the prototype originally created by the National Honey Board.
Chocolate and yogurt are two examples of ingredients finding interesting application in salad dressings, and there are many others. When developing salad dressings, flavor is not the only consideration, of course. Texture enhancement, rheology control, and proper stabilization of ingredients are all key requirements. TIC Gums Inc., Belcamp, Md. (phone 410-273-7300, www.ticgums.com), offers a number of hydrocolloid-based solutions, especially the Saladizer line, which can help achieve these properties in salad dressings. Also, a new 12-page brochure from ISP Food Ingredients, Wayne, N.J. (phone 888-472-5446, www.ispcorp.com), discusses how its hydrocolloid-based stabilizer systems, Textureze SD, can provides dressings and sauces with a rich, creamy mouthfeel and appearance, along with superior stability in low- or no-fat applications. The company has also developed a number of salad dressing prototypes, including Yogurt, Strawberry, & Black Pepper Low Fat Dressing and Carrot, Cumin, & Coriander Dressing (10% fat).
It is also interesting to consider if developments in salad dressings may not have some influence on the way salads are prepared or the kinds of ingredients used in the salad. Lettuce has always been a mainstay in salads, but as new flavors for salad dressings are created that reflect international cuisines, it is quite possible that other less-traditional ingredients might be tossed into the salad's composition. Upscale or chic restaurants have long experimented with creating salads of different forms, textures, colors, and tastes.
Adding with Relish
Relish refers to a condiment or highly flavored food item taken with plainer food to add flavor and interest to it. An English example would be a small serving of pickled vegetables taken with plain bread and cheese.
For the sake of clarity, when discussing relish here, I am thinking of a product that consists of cucumbers (pickled), vinegar, water, some spices, a sweetener, and a coloring. Usually it is put on hot dogs or hamburgers, is characterized by different shades of green, and would probably not be eaten alone to get your vegetable requirements. A little later in this article, we will be looking at chutneys, which can consist of fruits or vegetables.
A visit to the grocery store will find different types such as sweet, dill, Chicago-style, and hot dog, although the basic ingredients themselves don't seem to change all that much. And sharing the same shelf—a sign of the flavorful times—products such as sweet roasted pepper strips, pepper rings, and jalapeno slices can be found and are closely associated today with what we would regard as traditional relishes.
Relish has the potential to move in a variety of flavorful directions, well beyond the simple combination of mustard and relish that we currently see on the store shelves. At the 2007 IFT Food Expo, Bell Flavors served Chicago-style hot dogs with some nontraditional relishes. These included Kiwi and Cucumber Relish with Keffir Lime Leaf (Natural & Artificial Oil-Soluble Lime Leaf Type Flavor); Chimichurri Corn Relish (Natural Chimichurri Type Flavor Powder); Mango Raspberry Relish (Natural, Water-Soluble Raspberry Flavor WONF, Natural Chipotle Pepper Flavor WONF Powder, and a Natural Flavor Enhancer); and Roasted Red Bell Pepper Relish with Pomegranate Molasses (Natural Pomegranate Molasses Flavor WONF ).
--- PAGE BREAK ---
At the 2007 IFT Food Expo, Kraft Food Ingredients, Memphis, Tenn. (phone 901-381-6300, www.kraftfoodingredients.com), served up a Corn Bisque to demonstrate its Natural Organic Grill Flavor, and I thought that the application would also make for a very effective relish, especially served on hamburger or other barbecued meat and poultry products.
And, of course, when you think of relish, don't forget the cranberry. On a cold turkey sandwich, cranberry can be used as a very tasty condiment in place of mustard or mayonnaise. And for a spicier condiment, cranberry can be combined with jalapeno.
Yogurt Goes Condo…ment
The 2008 March Ingredients section focused on some of the future directions that yogurt and yogurt products may be taking in the marketplace. As this article noted, yogurt is also a popular ingredient in many international cuisines, and as these dishes enter the mainstream, we'll likely see more of yogurt in dressings, sauces, spreads, and other products. And, not too surprising, many of these products can function as condiments.
Although the mainstream U.S. consumer would probably not yet perceive yogurt as a condiment, there are several reasons why yogurt may become more popular as an emerging condiment. For instance, in a sauce, yogurt's easily recognizable tanginess can enhance the flavor of meat, poultry, and seafood dishes. Yogurt can also add textural benefits to the sauce.
Yogurt is suitable as an alternative to sour cream and cream cheese in dairy dip bases. It has less fat, which can contribute to its healthy connotations. Of course, because of its higher fat content, sour cream has a richer flavor and thicker texture, but it is possible for consumers to partially replace sour cream with yogurt and then add packaged seasonings to create a more flavorful experience. For consumers who prefer dips with a thinner texture, they can use yogurt as a full substitute.
International cuisines, as they enter the mainstream, will demonstrate the compatibility of yogurt with a variety of different flavors and seasonings. India, for example, has used yogurt in a variety of its dishes. Imagine the possibilities for Raita, an Indian yogurt dip typically flavored with cucumber. Yogurt may become popular in Hispanic products, many of which use dairy toppings or sauces.
Yogurt can be used to create a number of sweet or savory sauces. According to the National Pork Board, ham's mild yet smoky taste partners perfectly with a zesty Minted Yogurt Sauce. The sauce consists of plain yogurt, mayonnaise, chopped fresh mint, grated lemon peel, minced garlic, and white pepper. The chilled sauce is served with a cold fully cooked ham and provides a refreshing change of pace.
Yogurt can make for a flavorful base for salad dressings. A Lemon Yogurt Dressing for use on chicken or pasta salads may be formulated with plain yogurt, fresh lemon juice, virgin olive oil, red wine vinegar, Worcestershire sauce, Dijon mustard, and freshly ground pepper.
Other interesting flavor possibilities for yogurt as a condiment might include dill, vanilla, fruit flavors, honey, chocolate, and many others. So keep your eyes open—there may be a new kid appearing in the neighborhood, and where will it reside? In the condo…ment aisle, of course.
--- PAGE BREAK ---
A Condiment with Plenty of Horsepower
When my thoughts turn to Easter, I always think of horseradish. Long before I even knew what condiments were, my family would be using that mixture with holiday fare such as ham, roast beef, and hard-boiled eggs. There were two versions that my mother prepared—one made with eggs and one with beets. You really had to watch out for the one with eggs—it could really knock your socks off.
Today, with the emphasis on such a broad range of spices and their heat levels, as well as emerging cuisines from places like India or Thailand, it sometimes seems that the horseradish of my childhood is being overshadowed a bit by other condiments. Horseradish has a long and rich history. Greek mythology tells us that this root was worth its weight in gold. It has been traditionally used by Jews in Passover Seders. In Great Britain, it is a popular condiment, served with roasted beef and other dishes. And it remains an important ingredient in Eastern European dishes.
While you will not find this condiment in most fast-food establishments, Arby's uses horseradish in its signature "Horsey Sauce." The sauce, which consists of such ingredients as soybean oil, distilled vinegar, egg yolk, horseradish powder, and spices, is provided as a regular condiment, along with packets of the more typical condiments. Recently, this fast-food chain known for its beef sandwiches began a promotional campaign around its Big Kicker Beef. This sandwich not only has kicked up the amount of beef served, but has kicked up the "Horsey" heat level as well.
Hummus, an increasingly popular condiment that will be discussed a little later in this article, can incorporate a wide range of flavors, including horseradish. A variety of horseradish sauces are possible. For instance, a Dilled Horseradish sauce can be created using yogurt, mayonnaise, finely chopped green onion, horseradish sauce, and dried dill weed. And then, of course, there's wasabi, which resembles horseradish in flavor and is often referred to as "Japanese horseradish." The roots are grated into a fine paste, which is pale green in color—a characteristic that probably would have intimidated the Polish cooks in my family.
A Biscuit Condiment?
Traditional biscuit fare has included biscuits and gravy, breakfast biscuit sandwiches, or simply biscuits as a side item. But food technologists and chefs from Southeastern Mills, Rome, Ga. (phone 800-334-4468), are trying to take the ordinary biscuit to new levels, exploring creative concepts that suggest condiment possibilities.
For instance, imagine using prepared biscuit mix to top a pot pie, taco bake, fruit cobbler, or a pineapple upside down cake. Like a condiment, the biscuit mix could provide or enhance flavor of the application. An ingredient such as Country Biscuit Mix or Cheddar-Garlic Biscuit Mix could provide such functionality.
While it is unlikely that biscuit mix will share the same aisle space as a mustard or relish, such innovative concepts demonstrate how new forms can be brought to familiar menu staples. Furthermore, earlier this article discussed how regional flavors can play a role in product development. The use of a biscuit mix, a staple in Southern cuisine, might help inspire its use as a regional condiment in a variety of products.
--- PAGE BREAK ---
Working with Worcestershire
A condiment itself, Worcestershire sauce seems to be finding use in a variety of other condiments and recipes. For example, Heinz 57 Steak Sauce is made with Lea & Perrin's Worcestershire Sauce, a fact promoted on the bottle.
Recently, French's Flavor Ingredients highlighted a prototype application, Glazed BBQ Meatballs, made with Cattlemen's Classic barbecue sauce, Worcestershire sauce, and honey—a combination that created a different kind of flavor experience. According to the company, Worcestershire sauce can be a key component in sauces, marinades, salad dressings, gravies, and barbecue sauces. It can help tenderize cuts of meat, improve color to enhance appeal, and add depth to the application.
Worcestershire sauce works well with a variety of other flavors, seasonings, and condiments, as demonstrated by French's in a number of hamburger recipes. A Mexican burger can be made with Worcestershire sauce, shredded cheddar, cilantro, Mexican seasoning, and salsa. Or an Italian burger can feature Worcestershire sauce, grated Parmesan, garlic, Italian seasoning, and a topping of mozzarella cheese and marinara sauce. Or how about a Bloody Mary burger combining Worcestershire sauce, Frank's® RedHot® cayenne pepper sauce, horseradish, and celery salt.
Chutney Chutzpah?
Fruit toppings—both traditional and exotic varieties—can add flavor, as well as sweetness or tartness to condiments. Imagine jams or jellies made from kiwi, acai, or Jabuticaba (a Brazilian fruit) reaching the U.S. marketplace. These products have already been introduced in other countries, according to Fast Track Fast Trends (January 2008), a monthly report published by David Michael & Co., Philadelphia, Pa. (phone 215-632-3100, www.dmflavors.com).
Or how about some blueberry condiment concepts from U.S. Highbush Blueberry Council, Folsom, Calif. (phone 800-824-6395, www.blueberry.org)? These might include Curried Blueberry Ketchup, Blueberry Lemon Dressing, Blueberry Relish with Onions and Jalapenos, Blueberry Mole, Roasted Duck with Blueberry Sauce, and Blueberry Marinade for barbecuing. Recipes from Ocean Spray Cranberries Inc., Lakeville-Middleboro, Mass. (phone 508-946-1000; www.oceansprayitg.com), are also available, such as Cranberry Pineapple Salsa, Berry Chile Barbecue Sauce, Cranberry Pear Salad Dressing, and Cranberry Honey Glaze.
Expect to see a wider variety of chutneys in the future, as they combine traditional and exotic fruits such as mangos, cherries, acai berries, or apples with a range of different spices. These emerging chutneys will be increasingly influenced by cuisines from the Caribbean or India and Pakistan.
Humming with Hummus
One of the emerging flavors highlighted in the McCormick Flavor Forecast 2008 was heirloom beans. If you recall, I wrote about this ingredient in the 2008 February Ingredients section, which described different ways that food formulators can add color to foods. It got me thinking that heirloom beans, available in a wide range of colors and shapes, could be used to create condiments such as hummus-style dips and spreads.
It shouldn't be too surprising if beans find increasing use in mainstream products. Consumers are already familiar with Mexican dips made from refried beans. Hummus, made from chickpeas (or garbanzos), has evolved beyond its Middle Eastern roots. And like salsa, hummus and other bean-derived products may find a variety of opportunities. They can be used as spreads in sandwiches or wraps, as condiments for hamburgers, as toppings for baked potatoes, as chunky dips for snacks, as an accompaniment to whole-grain products such as bagels, and even as an ingredient in salad dressings. A variety of flavors can be incorporated into these bean-based products. Earlier, we discussed horseradish, and hummus can easily provide this traditional condiment with a new look and can probably do the same for other condiments, as well.
--- PAGE BREAK ---
Sour Cream—Latkes and Beyond
For those individuals who are fond of potato pancakes, sour cream quickly comes to mind as a condiment. Or it may be used as a topping for baked potatoes, either by itself or for the ultimate "loaded" experience, with other ingredients, such as butter, cheese, bacon bits, and chives. And, of course, for snacks such as potato chips or vegetables, it may serve as a base for dips or dressings.
The popularity of international cuisines may also contribute to a growth in sour cream products, either as a condiment or as an ingredient in those applications. Imagine, for example, sour cream paired with jalapeno peppers on a baked potato. Or how about a Cuban-Spiced Heirloom Bean Soup garnished with Mint Crema? This recipe, highlighted by McCormick & Company, Hunt Valley, Md. (phone 410-527-8753, www.mccormick.com), combines sour cream with finely chopped fresh mint, which is then drizzled onto the soup. The soup itself, a trendy twist on black bean soup, is made with aromatic Mexican oregano and heirloom beans in a variety of shapes, colors, and sizes.
A light, acidified sour cream prototype from Cargill, Wayzata, Minn. (phone 952-742-7575, www.cargill.com), provides a creamy texture and taste similar to a full-fat version. The product contains 2.5 g fat/1 tbsp serving (30 g), compared to regular sour cream, which has 5.5 g fat/same serving size. Also, a light sour cream product has 9% nonfat milk solids vs the sour cream prototype product, which has 5% nonfat milk solids. The prototype is formulated with a stabilizer system (Vitex™) that incorporates milk solids replacement and fat mimetic properties.
A Cooling Down Period?
A few years ago, if I was writing about "hot sauces," it probably would have been all about the heat level and how high you could get it. At least that was the perception based on different promotional campaigns focusing on individuals experiencing spontaneous combustion after consuming hot sauces. And while I am sure that there are people out there who still like their hot wings as hot as possible, it is equally true that there has been a lot of formulation work done to temper heat with ingredients that impart sweet, savory, and other taste sensations, ranging from the slight bitterness of chocolate to the citrusy notes of tropical fruits.
Earlier in this article, I mentioned how Tabasco brand pepper sauce was incorporated into Heinz ketchup to give it a little kick. McIlhenny Co., Avery Island, La. (phone 337-373-6105, www.tabascoingredients.com), produces a variety of blends and sauces to meet various heat levels, depending on the customer's needs. One recent prototype application from the company that demonstrated a variety of taste sensations was Tabasco Bread Pudding Ice Cream featuring a custard-flavored ice cream with bread pudding pieces spiced with habanero and the whole concoction topped with a cinnamon and whiskey sweet sauce.
Hot sauces are also appearing from different parts of the world. For example, the Vic Cherikoff line of sauces featuring indigenous ingredients of the Australian outback will be made available in the U.S. by Essentially Oz Marketing, Los Angeles, Calif. (phone 310-545-8680). The sauces are available in three varieties. Kakadu Wild Fire Pepper Sauce provides an earthy, tangy, and fruity taste, and can be poured on a steak prior to serving. Tasmanian Devil Wing Sauce adds zestiness, spiciness, and sweetness to chicken wings, beef, or pork ribs as a finishing sauce or added to nachos to give a hint of Aussie zing. Barrier Reef Lemon, Lime, and Chili Sauce is aromatic, citrusy, and spicy, suitable on seafood, pork, chicken, or vegetables, or as an addition to salad dressing—Aussie style.
--- PAGE BREAK ---
Mayo, May I?
This condiment is an egg-based, oil-in-water emulsion, especially popular on sandwiches or in deli salads or dressings. Of course, I'm talking about mayonnaise. With so many flavors emerging from around the world, it's probably only a matter of time before we start seeing a wider variety of flavored mayonnaises.
How about a Creamy Kung Pao? Flavor technologists at Wixon Inc., St. Francis, Wis. (phone 414-769-3000, www.wixon.com), developed this prototype, a sweet, orange-yellow-colored mayonnaise with red bell pepper bits. Also, at the Research Chefs Association 2008 Annual Conference and Expo, the company unveiled a mayonnaise-based condiment that demonstrated a fusion of flavors from different countries. See sidebar on page 68.
Different varieties of mayonnaise have reached the store shelves. For example, GourMayo™ Caesar Ranch Mayonnaise is available from French's. Then there is the previously mentioned Hellmann's Dijonnaise. Is it a mustard? Or a mayonnaise? You decide.
DSM Food Specialties (phone 610-650-8480, www.dsm-foodspecialties.com), recently launched an enzyme development that may offer mayonnaise and sauce manufacturers a number of functionality benefits. Maxapal A2™, a microbial enzyme produced by fermentation, can modify egg yolks, giving products superior emulsion properties. By converting the lecithin in eggs into lysolecithin, the enzyme helps produce an emulsion with high physical stability. Mayonnaises that use the enzyme are said to have a higher viscosity than those based on untreated egg yolks. In addition, oil-in-water emulsions are heat stable to 70-80° C and can therefore be pasteurized, ensuring higher microbial safety and a longer shelf life.
Savorizing with Soy Sauces
Discovered in China more than 2,500 years ago, soy sauce is one of the world's oldest condiments. Mainstream consumers are probably most familiar with soy sauce as a flavor enhancer that they use when in Asian restaurants. However, this product offers many benefits when used as an ingredient in condiments. For example, in salad dressings, it can add savory flavor, blend spice flavors or help temper vinegar, and add color. In fajitas and Mexican entrees, it can blend spices in the marinade while enhancing meaty taste. Furthermore, as manufacturers look to decrease sodium levels in their foods, soy sauce can function as an alternative, boosting flavor at a lower net sodium level.
Soy sauces are available in a variety of formats. Kikkoman International Inc., San Francisco, Calif. (phone 415-956-7750, www.kikkoman-usa.com), offers an extensive line of naturally brewed products that include powdered versions, reduced-sodium options, preservative-free products, and clear soy sauce. In addition, the company features a line of Asian sauces that may be used to formulate sauces, dressings, and prepared entrees or act as stand-alone condiments. One of these products, Thai Chili Sauce, is a colorful condiment that combines mildly spicy chilies and garlic in a sweet and tangy sauce. Other sauces in the line include Hoisin, Black Bean, and Plum.
--- PAGE BREAK ---
The umami aspects of soy sauce are still to be explored, as well. Koji-Aji, a savory seasoning from Ajinomoto Food Ingredients LLC, Chicago, Ill. (phone 773-714-1436, www.ajiusafood.com), may prove useful in condiments. According to the company, products such as cheesy sauces, meaty-tasting gravies, stewed foods, and soups require hours of stewing and roasting to draw out the desirable flavor and aroma nuances. However, the use of this seasoning can help achieve the well-balanced profile, rich mouthfeel, and mature, long-lasting taste perception associated with these foods.
TIC Gums Inc., Belcamp, Md. (phone 410-273-7300, www.ticgums.com), demonstrated the functionality benefits of its gum systems in a variety of prototype soy-based exotic sauces, including Shanghai Sauce and Thai Peanut Sauce. A cold-water-soluble system, TIC Pretested® Saladizer®702, acts as an acid-stable thickener, stabilizer, and emulsifier. It is effective in both low-fat and full-fat sauces and provides a smooth texture and creamy mouthfeel.
Saying it with Salsa
No condiment article would be complete without the inclusion of salsa. The Spanish word for sauce, salsa is typically chunky in texture, made with ingredients such as chopped tomatoes, onions, and fresh green jalapeno or Serrano peppers. Although usually perceived as being hot and spicy, these colorful condiments are available in a variety of heat levels.
According to the Oxford Companion to American Food and Drink (2007), salsa has become America's most popular commercial condiment. Today, salsas are served not only as a dip for tortilla chips or as a garnish for a number of Mexican dishes, but are used as accompaniments to meats, poultry, and fish; as an ingredient in marinades, salad dressings, and sauces; and as toppings for baked potatoes, pizza, and pastas. Sweeter versions are also being made with fruits, berries, and spices, along with fruit-flavored peppers.
Vegetable Juices Inc., Bedford Park, Ill. (phone 708-924-9500, www.vegetablejuices.com), offers a number of ingredient solutions for use in the production of salsas. These include chile peppers in a variety of formats such as juices and purees, sauces, diced, and in blends, designed to eliminate the need for chopping or dicing by food product manufacturers. The company also recently launched two new products, soft-frozen purees and fire-roasted purees, which offer advantages in salsas, sauces, and marinades.
Thai-style salsas can be created using ingredients from Gilroy Foods and SpiceTec, brands of ConAgra Food Ingredients. For example, GardenFrost® purees provide the basis for a variety of dips, sauces, relishes, and salsas. These purees feature ginger, garlic, and roasted red peppers.
Condiments or Not Condiments
Condiments cover a broad range of products, and this category can even be more expansive depending on how you perceive them. In that sense, you might say that some condiments are in the eye of the beholder.
--- PAGE BREAK ---
Many of the condiments discussed in this article will not be eaten alone. It is highly unlikely that you would eat mustard or mayonnaise by itself. Or swig down a bottle of salad dressing. But that general rule does not apply to all condiments, as we saw with fruit toppings. Take sauerkraut, a good, healthy food frequently found in Eastern European cuisine. But put it on a hot dog and suddenly it joins the ranks of a condiment. Cheese can be eaten by itself, but when grated on a salad or used as a topping for chili, it, too, can be perceived as a condiment.
And then there are products that one country might use as a condiment that would be totally unfamiliar somewhere else. I'm not sure if mainstream U.S. consumers are ready to adopt fish sauce as a liquid version of salt. And I can only wonder what Monkeygland sauce is. Or huli-huli, for that matter.
Then there's the interesting case of salt and pepper. Although these products can probably be found on any kitchen table, there are purists who argue that they are not condiments but seasonings. All I know is that, like the other condiments in this article, both are taking innovative directions. With salt, we have seen sea salt, flavored sea salts, and reduced-sodium options, to name a few. And with pepper, there have been combinations with fruit flavors, different varieties, and a re-emphasis on color, as well as the grinder replacing the shaker. Whether they are or not, they sure act like condiments.
In the end, the question, "Condiment or not condiment?" is probably not that important in the grand scheme of things. After all, as long as condiments do their job—adding new flavor or enhancing existing flavor and possibly creating entirely new culinary experiences—why quibble over semantics?
Next month, it's our special, if belated, Mardi Gras time as the Ingredients Pre-Show celebrates the newest ingredient developments that will be presented at the 2008 IFT Annual Meeting & Food Expo in New Orleans.
---
Chef Provides Perspective on Future Condiments
At the Research Chefs Association 2008 Annual Conference and Expo, Judson McLester, Corporate Chef for Wixon Inc., St. Francis, Wis. (phone 414-769-3000,
www.wixon.com
), prepared a mayonnaise-based condiment that demonstrated a fusion of flavors from different countries.
The condiment, a mandarin orange Chantilly sauce, consists of 50–60% mayonnaise, with a heavy whipped cream folded into the mayonnaise. A modern twist to an old French sauce, the product contains such flavors as pineapple, coconut, mandarin oranges, and a "Floribbean" seasoning made with cinnamon, cumin, chilies, paprika, brown sugar, and oranges. The cold sauce was applied to cooked beef tenderloin, marinated with the Floribbean seasoning and also served cold. McLester's signature dish is prepared with KCLean Salt, Wixon's salt substitute that delivers the properties of regular table salt with half the sodium. The Chantilly Sauce is made with Mag-nifique Mouthfeel, a system that enhances its creaminess and richness.
In an interview with Food Technology, McLester shared his thoughts on some of the directions that future condiments will be taking. According to the chef, expect to see more flavored-type mayonnaise products. Probiotic condiments may be on the shelf someday, as well as a variety of reduced-sodium and low-fat versions. Heat will be combined with cooling ingredients, and you might see, for example, a peach Tabasco sauce. Condiments will take advantage of flavors from all around the world, with a particular emphasis on regional ethnic cuisines.
Food formulators will continue to experiment with basic ingredient foundations, taking them to the next level, noted McLester. For example, a variety of fruit toppings are being developed that are spin-offs from chutneys. There will be more variations on chimichurris, some of them incorporating fruits. And there will be more applications for vinaigrettes, such as dipping sauces and marinades.
"In terms of condiments, we're only at the beginning stages of something that will blossom," said McLester. "It will be an exciting time as condiments will help drive newer, bolder flavors to the marketplace."
---
by Donald E. Pszczola,
Senior Associate Editor 
[email protected]