In the United States, cardiovascular disease is the leading cause of death, especially for those age 65 and older. The American Heart Association (AHA) states that 106.7 million Americans age 20 and older have total blood cholesterol levels of 200 mg/dL and greater, and about 73 million age 20 and older have high blood pressure.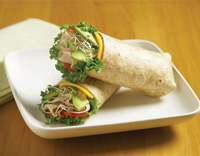 Consumers are becoming more aware of their heart health. According to the International Food Information Council, 53% of the consumers it surveyed mentioned their heart and circulatory conditions as a top health concern (IFIC, 2008). IFIC also found that the number of Americans who are concerned with their cholesterol level has more than doubled since 2000, climbing from 5% in that year to 13% in 2007.
Heart-healthy beverages, baked goods, nutrition bars, and prepared meals contain a growing number of ingredients that affect cholesterol, blood pressure, and overall cardiac health. These include omega-3 fatty acids, phytosterols, dietary fiber, whole grains, soy, niacin, vitamin K-2, and protein. Here is a look at some recent developments regarding these heart-healthy ingredients.
Omega-3 Fatty Acids
Recently published research provides additional evidence that omega-3 fatty acids benefit cardiac health, including lowering blood pressure and affecting arterial elasticity. Ueshima et al. (2007) showed that common types of omega-3 fatty acids found in foods—linolenic acid and long-chain—had a significant impact on lowering blood pressure in people with high blood pressure.
Wang et al. (2007) showed that 3 g of fish oil/day for 8 weeks could improve large arterial elasticity in overweight hypertensive patients. Hall et al. (2008) suggested that an eicosapentaenoic acid (EPA)-enriched high-fat meal can improve postprandial vascular function. The researchers gave 17 healthy men 2 test meals that contained 51 g of fat 1 week apart in random order: 5 g of EPA plus high-oleic sunflower oil (HOS) or HOS only. Four hours after they consumed either of these test meals, they received a second high-fat meal that contained 44 g of fat. The subjects who took the EPA-supplemented meal showed significant improvements in stiffness of the arteries compared with those in the control group.
Plant Sterols
Plant sterols lower cholesterol levels by interfering with cholesterol absorption. Recent product introductions that contain sterols include Active Lifestyle fat-free milk from Kroger Co., Cincinnati, Ohio (phone 513-762-4000, www.thekrogerco.com), and Centrum Cardio® from Wyeth Consumer Healthcare, Richmond, Va. (phone 877-236-8786, www.centrum.com). Both products contain CoroWise™ plant sterols from Cargill Health & Food Technologies, Minneapolis, Minn. (phone 866-456-8872, www.cargillhft.com).
--- PAGE BREAK ---
In October 2007, Cargill introduced CoroWise ES101 plant sterols. The plant sterol powder is easier to use and requires less processing than steryl esters.
Cognis Nutrition & Health, LaGrange, Ill. (phone 708-579-6150, www.cognis.com), in November 2007 launched Vegapure® F 90 ME, a non-GM ingredient that features an active sterol content of more than 85% and has product stability and free-flowing properties. The company promotes Vegapure ingredients to consumers under the Heart Choice™ brand (www.heart-choice.com).
CardioAid™ plant sterols, offered by ADM, Decatur, Ill. (phone 800-637-5843, www.admworld.com), are derived from vegetable oils. There are various forms of the ingredient, including a sterol-sucrose fatty acid ester complex for beverages and other aqueous-based systems.
Soy
Besides lowering cholesterol, research on soy has found other effects believed to reduce heart disease risk, such as reducing blood pressure and improving lipid profiles.
Azadbakht et al. (2007) showed that short-term soy nut consumption improved glycemic control and decreased low density lipoprotein (LDL) cholesterol and serum C-peptide concentrations in postmenopausal women with metabolic syndrome. Welty et al. (2007) also showed that soy nut supplementation lowered blood pressure in hypertensive women.
Cho et al. (2007) showed that peptides in a soy protein hydrolysate made by certain proteases have a hypocholesterolemic effect. The researchers incubated liver cells with hydrolysates of isolated soy protein and found that LDL receptor transcription was strongly stimulated, which may result in an enhanced catabolism or a reduced synthesis of intracellular cholesterol.
Fiber
For a healthy heart, AHA recommends a daily intake of 20–35 g of dietary fiber/day for healthy adults. Americans, however, currently consume an average of 15.6 g of dietary fiber/day. Soluble or viscous fibers modestly reduce LDL cholesterol levels while insoluble fiber may decrease cardiovascular disease (CVD) risk.
Ajani et al. (2004) examined the association between dietary fiber and serum concentration of C-reactive protein (CRP), a possible predictor of cardiovascular events, using data from the National Health and Nutrition Examination Survey 1999–2000. They found that dietary fiber intake was inversely associated with serum CRP concentration. The study also showed that those getting the most fiber in their diets (32 g/day) were half as likely to have dangerously high CRP levels as were those eating the least fiber (5 g/day).
--- PAGE BREAK ---
In February 2008, the Food and Drug Administration issued an interim final rule to amend the existing health claim regarding soluble fiber and reduced risk of heart disease to include barley betafiber as an authorized source of soluble fiber. FDA's revision of the health claim is a result of Cargill's health claim petition, based in large part on its proprietary clinical research with Barlív™ barley betafiber. It is a concentrated β-glucan soluble fiber derived from whole grain barley.
Whole Grains
Dietary patterns that are high in whole-grain products and fiber have been associated with increased diet quality and decreased risk of CVD. AHA recommends that at least half of grain intake come from whole grains.
Katcher et al. (2008) looked at whether including whole-grain foods in a hypocaloric (reduced by 500 kcal/day) diet enhanced weight loss and improved CVD risk factors. The researchers randomly assigned 25 obese males and 25 obese females with metabolic syndrome to receive dietary advice either to avoid whole-grain foods or to obtain all of their grain servings from whole grains for 12 weeks. Dietary fiber and magnesium intakes increased for those subjects who consumed whole grains but did not for those subjects who avoided whole grains and consumed refined grains. The subjects who consumed whole grains had significantly greater decreases in CRP and percentage body fat in the abdominal region than the subjects who consumed refined grains.
Whole-grain flours make it easier for bakers to formulate with whole grains. For example, at the 2007 International Baking Industry Expo, ConAgra Mills, Omaha, Neb. (phone 800-851-9618, www.conagramills.com), showcased Sustagrain®, an identity-preserved, waxy, hull-less barley variety that is high in dietary fiber and lower in starch. It delivers 2–8 times the fiber of other whole grains, including cholesterol-lowering soluble fiber. The company also offers Ultragrain®, a whole-grain flour that retains the fiber, phytonutrients, and other nutritional benefits of 100% whole wheat flour. It is currently found in ConAgra Foods' Kid Cuisine and The Max pizza, Healthy Choice Paninis, and Sara Lee's Soft & Smooth Whole Grain White Bread.
Berries
Antioxidants present in berries, grapes, and other fruits have been linked to lowering blood pressure and cholesterol. Erlund et al. (2008) showed consumption of moderate amounts of berries resulted in favorable changes in platelet function, high density lipoprotein (HDL) cholesterol, and blood pressure. The researchers gave 72 middle-aged, unmedicated subjects with cardiovascular risk factors moderate amounts of berries or control products for 8 weeks. Those in the experimental group consumed 100 g of whole bilberries and 50 g of a lingonberry-rich nectar every other day. In addition, they consumed 100 g of a purée of blackcurrants or strawberries and a juice of raspberry and chokeberry on the other days. The researchers showed that supplementing the diet with berries significantly increased serum HDL cholesterol concentrations and significantly decreased systolic blood pressure.
--- PAGE BREAK ---
A study at University of California–Davis School of Medicine and Medical Center showed that a grape seed extract, MegaNatural®_BP from Polyphenolics, Madera, Calif. (phone 559-661-5556, www.polyphenolics.com), might be beneficial in people with pre-hypertension when used in conjunction with other lifestyle modifications, including diet, exercise, and weight management (Polyphenolics, 2007). The researchers randomly assigned pre-hypertensive subjects to receive either 300 mg of grape seed extract/day for 8 weeks or a placebo. Subjects in the experimental group showed an 8 mm drop in systolic pressure and a 5 mm drop in diastolic pressure vs zero and 2 mm, respectively, for those in the control group.
Vitamin K-2
Natural vitamin K-2, also called menaquinone, is believed to benefit cardiac health by inhibiting arterial calcification. Geleijnse et al. (2004) showed that intake of menaquinone was inversely related to all-cause mortality and severe aortic calcification. The analysis examined 4,807 subjects with dietary data and no history of myocardial infarction at baseline (1990) until January 1, 2000. The relative risk of coronary heart disease mortality was reduced in those with the highest natural vitamin K-2 consumption.
PL Thomas & Co. Inc., Morristown, N.J. (phone 973-984-0900, www.plthomas.com), offers MenaQ7. It provides natural vitamin K-2 as menaquinone-7. In February 2008, the company received independent GRAS designation for MenaQ7 for use as an ingredient in food products.
Niacin
Niacin is said to raise HDL and lower LDL, very low density lipoprotein cholesterol, and triglycerides. According to Lonza Inc., Allendale, N.J. (phone 201-316-9200, www.lonza.com), niacin is superior to other cardiovascular treatments in its ability to elevate levels of HDL cholesterol by as much as 30%–45% and to reduce the level of triglycerides in the blood by 20%–50%. In addition, niacin is the National Cholesterol Education Program's recommended first approach for addressing mixed hyperlipidemiae, a combination of elevated serum cholesterol and triglycerides.
Chromium
Chromium, a trace mineral, was recently shown to have potential in improving functional recovery of the heart after ischemia (InterHealth, 2008). For a 30-day period, rats with type 1 diabetes were fed a regular diet or a diet containing ChromeMate®, a patented form of biologically active niacin-bound chromium (III) from InterHealth Nutraceuticals Inc., Benicia, Calif. (phone 707-751-2800, www.interhealthusa.com). Following the feeding period, the rat hearts were isolated and subject to ischemia (obstruction of blood flow and oxygen to the heart muscle) and 120 minutes of reperfusion (resumed blood flow to the tissue). The research showed that the cardiac functions such as aortic flow were found to be significantly improved in the rats fed ChromeMate. The ingredient also helped to increase vascular function and blood flow, oxygen, and nutrients to the heart.
Whey Protein
Recent clinical studies have shown that a hydrolyzed whey protein may help with hypertension. Pins and Keenan (2006) showed that LDL cholesterol and high-sensitivity CRP were significantly improved by whey protein treatment. They randomly gave 30 prehypertensive or stage 1 hypertensive subjects either 20 g of hydrolyzed whey protein/day or unmodified whey protein for 6 weeks. The subjects in the experimental group had improved LDL cholesterol and CRP levels and lower systolic and diastolic blood pressure.
by Linda Milo Ohr,
Contributing Editor, Denver, Colo. 
[email protected]
References
Ajani, U.A., Ford, E.S., and Mokdad, A.H. 2004. Dietary fiber and C-reactive protein: findings from National Health and Nutrition Examination survey data. J. Nutr. 134: 1181-1185.
Azadbakht, L., Kimiagar, M., Mehrabi, Y., Esmaillzadeh, A., Padyab, M., Hu, F.B., and Willett, W.C. 2007. Soy inclusion in the diet improves features of the metabolic syndrome: a randomized crossover study in postmenopausal women. Am. J. Clin. Nutr. 85: 735-741.
Cho, S.J., Juillerat, M.A., and Lee, C.H. 2007. Cholesterol lowering mechanism of soybean protein hydrolysate. J. Agric. Food Chem. 55: 10599-10604.
Erlund, I., Koli, R., Alfthan, G., Marniemi, J., Puukka, P., Mustonen, P., Mattila, P., and Jula, A. 2008. Favorable effects of berry consumption on platelet function, blood pressure, and HDL cholesterol. Am. J. Clin. Nutr. 87: 323-331.
Geleijnse, J.M., Vermeer, C., Grobbee, D.E., Schurgers, L.J., Knapen, M.H.J., van der Meer, I.M., Hofman, A., and Witteman, J.C.M. 2004. Dietary intake of menaquinone is associated with a reduced risk of coronary heart disease: the Rotterdam study. J. Nutr. 134: 3100-3105.
Hall, W.L., Sanders, K.A., Sanders, T.A.B., and Chowienczyk, P.J. 2008. A high-fat meal enriched with eicosapentaenoic acid reduces postprandial arterial stiffness measured by digital volume pulse analysis in healthy men. J. Nutr. 138: 287-291.
InterHealth. 2008. Research shows InterHealth's ChromeMate® has cardioprotective effects. Press release, InterHealth Nutraceuticals Inc., Benicia, Calif., Jan. 15.
IFIC. 2008. February is a good time to consider matters of the heart: Nutrition matters. Press release, International Food Information Council, Washington, D.C., Jan. 24.
Katcher, H.I., Legro, R.S., Kunselman, A.R., Gillies, P.J., Demers, L.M., Bagshaw, D.M., and Kris-Etherton, P.M. 2008. The effects of a whole grain–enriched hypocaloric diet on cardiovascular disease risk factors in men and women with metabolic syndrome. Am. J. Clin. Nutr. 87: 79-90.
Pins, J.J., and Keenan, J. 2006. Effects of whey peptides on cardiovascular disease risk factors. J. Clin. Hypertension. 8: 775-782.
Polyphenolics. 2007. Second UC–Davis study concludes that a new unique grape seed extract may help lower blood pressure in prehypertensive patients. Press release, Polyphenolics, Madera, Calif., May 25.
Ueshima, H., Stamler, J., Elliott, P., Chan, Q., Brown, I.J., Carnethon, M.R., Daviglus, M.L., He, K., Moag-Stahlberg, A., Rodriguez, B.L., Steffen, L.M., Van Horn, L., Yarnell, J., and Zhou, B. 2007. Food omega-3 fatty acid intake of individuals (total, linolenic acid, long-chain) and their blood pressure. Hypertension. 50: 313-319.
Wang, S., Ma, A.Q., Song, S.W., Quan, Q.H., Zhao, X.F., and Zheng, X.H. 2007. Fish oil supplementation improves large arterial elasticity in overweight hypertensive patients. Euro. J. Clin. Nutr. Advance online publication, Sept. 5. doi: 10.1038/sj.ejcn.1602886.
Welty, F.K., Lee, K.S., Lew, N.S., and Zhou, J.R. 2007. Effect of soy nuts on blood pressure and lipid levels in hypertensive, prehypertensive, and normotensive postmenopausal women. Arch. Intern. Med. 167: 1060-1067.