How much of new food product development today is new product and how much is new packaging? And how much is ho-hum, and how much is convenience? Others may define and count, but at the risk of oversimplification, why not just select a random list from recent Innova Database (www.innovadatabase.com) citations of new food and beverage products?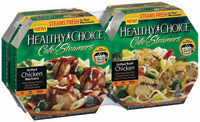 In these choices, I do not refer to new graphics—which appear on almost all new packages—as distinguishing attributes. One of the recurrent theses in the book "Developing New Food Products for a Changing Marketplace," 2nd edition, (CRC Press, 2007) by John Lord of St. Joseph's University and me is that new products warrant new packaging to alert the target consumer of the launch. Most new products are not accompanied by new packaging (except for graphics), but most of the best new entries apply packaging that involves the consumer through new delivery of convenience and/or quality.
What follows is a review of selected new products and packaging in several different categories.
Packaged for Convenience 
• Hellmann's Mayonnaise in "Easy-Out" Bottle. Addressing the longtime problem of removing mayonnaise from the original round glass jars and now the newer rectangular polyester jars, Unilever has engineered a wide-mouth, extrusion blow-molded, non-stick plastic squeeze jar, said to foster easy removal of the contents without scraping, shaking, or banging. The product is unchanged; only the package and its convenience have changed.
• Kraft Salad Dressing. The company's pourable salad dressing products appear in new narrow, tapered polyester bottles that displace the "traditional" fat-bodied pourable salad dressing bottles of the past 40 years or so. Get the message? Salads and salad dressings are part of today's "healthy" diet—leading to narrow waists for adherents, as is implied by narrow-waist bottles. Product—same-old, same-old; package—new and easier to pour.
• Avoclassic Guacamole. Ultra-high-pressure-processed guacamole from Avomex has been in the chilled distribution system for more than eight years, packaged in an oxygen-barrier, multilayer-film pouch, multi-packed in a high-gloss printed paperboard carton. Of course, ultra-high-pressure processing has been predicted to be one of the preservation processes of the future. Avoclassic Guacamole recently appeared in thermoformed oxygen-barrier plastic trays multi-packed in windowed paperboard cartons. The flexible closure may be peeled from the top of the tray to permit easy dipping and scooping for consumers. It is a convenient new package for an adolescent product that has been gaining acceptance.
• Green Giant Frozen Broccoli and Cheese. This traditional product that removes the problem of having to mix vegetables and sauce has appeared in many formats, including boil-in-bag, a convenience that debuted during the 1960s. The 2007–2008 incarnation is sized "Just for One!" in a polypropylene tray with a heat-sealed flexible closure and multi-packed in a paperboard sleeve. Rapid microwave reheating for one serving represents convenience via new packaging—without altering the product itself.
Steamer Packages
• Green Giant Green Beans and Almonds. This product combination has appeared on kitchen tables ever since California almond growers learned they could sliver and ship their products East. Now, after all these years, members of the food industry are taking advantage of a major benefit of microwave oven heating—the ability to generate steam to more-rapidly heat products amenable to this heating medium.
Steam derived from the product moisture as the microwave energy is absorbed is contained in a closed environment to permeate the product, thawing the ice and converting it to hot water to further heat the product—all in less than two minutes, so that the flavor, texture, and nutrient value are best retained. When the steam is not contained, as in conventional microwave re-thermalization, the melt continues to preferentially absorb microwave radiation and convert to steam at the expense of ice, which remains while the steam escapes. Containing the steam allows it to function as a complementary heating medium. The consumer adds the contents of an aluminum-foil lamination pouch, and voilá—traditional green beans and almonds in less than three minutes. Old product; new package engineered for convenience.
• Birds Eye Steamfresh Singles. These 3.25-oz portions of frozen sweet peas, sweet corn, or Brussels sprouts are packaged in heat-resistant, flexible, three-side-seal pouches with lines of weakness to permit very easy splitting of the pouch after a short period of microwave heating. This allows the user to open the package, release excess steam, and dispense the vegetable. Old products; new packages engineered for convenience. Do we have a recurring theme here?
• Healthy Choice Café Steamer Entrées. This new offering is another of the several microwave steamer packages that have premiered in the past year to generate increased interest in frozen prepared foods. Consisting of a base polypropylene bowl that contains a sauce and a polypropylene basket insert that contains a meat such as chicken, beef, or seafood, the entire heat-resistant unit is placed in a microwave oven.
Microwave energy is absorbed first by the frozen components—some of which thaw and quickly convert to steam—contained in the sealed package. In combination with direct microwave energy, the steam permeates the remaining contents and heats the product to eating temperature. The consumer is instructed to empty the contents of the basket into the bowl and mix the two together. Similar in concept to the Steamfresh Singles, this package differs by virtue of its two components, one of which is a liquid that helps to heat the meat component.
Microwave steamer packages and other technologies represent major advances in taking full advantage of the unique properties of microwave radiation by engineering uniform and rapid moist heating that virtually defines preparation convenience.
Microwave Susceptor Packages
• Oscar Mayer Deli Creations Hot Sub Sandwiches. This product allows the consumer to create a customized sandwich from a submarine roll, slices of various types of shaved meats and cheeses, and a sauce. The sandwich is completed by placing the components in a paperboard boat that contains a microwave susceptor on the interior base. The components are each individually packaged and assembled within a windowed, gable-top paperboard carton that stands erect in a refrigerated display cabinet.
The bread component is doubtless specially formulated to retard staling, which accelerates at refrigerated temperatures. When assembled, the sandwich is rapidly heated to cheese-melt temperature by a combination of direct microwave energy and the susceptor rising to a toasting temperature to both refresh the bread and conductively transmit heat to the meat, cheese, and sauce.
The final result with the Steakhouse Cheddar variety pales in comparison with a classic Philly Cheese Steak from one of my favorite eateries, but it is satisfying in its own way, if you ignore the multiplicity of spent package materials that remain after you have eaten.
• Stouffer's Corner Bistro Flatbreads. The product comes in varieties that include Chicken, Bacon, and Spinach; Steak Fajita; and Margherita. The interior base of the paperboard folding carton contains a microwave susceptor to help in the microwave, heating toppings or fillings as well as crisping and browning the flat bread.
Finally, microwave susceptors are being applied more widely to actually toasting bread. Could the "convenience" of the kitchen counter-top toaster give way to microwave toasting?
Beverages
• G & J Greenall Gin and Tonic. A two-piece aluminum can with easy-open top contains 12 oz of "handcrafted tonic water" mixed with Greenall's premium original London dry gin to produce a 20-proof ready-to-drink cocktail. How much more convenient can a drink be? Marketed in paperboard four-packs.
• One Litre Spring Water. Premium spring water from two sources in the United States and Canada, packaged in both one and one-half liter opaque polyester bottles. An inverted polyester cup is an overcap that further functions as a drinking cup for those who eschew gulping from bottles. Distributed through hotels, spas, casinos, and resorts at a (gulp!) retail price of $2.99 per liter.
• Emmi Caffe Latte. These Cappuccino, Macchiato, Choco Latte, and Light coffee beverages from Switzerland are distributed chilled in thermoformed plastic cups with heat-sealed flexible closure and snap-on thermoformed plastic overcap. If this package is convenient for the Starbucks crowd, it will very likely be a hot prospect for grocery retail sales.
• Materne Pom Potes. These juice beverages from France are targeted to children and come in stand-up flexible pouches with screw-cap closures sealed and centered on the top of the pouches. The package appears to be a Japanese Cheer Pack or close relative.
Final Thoughts
Even when a new product's package is not remarkable, it is different in some aspect. For example, traditional pretzel baker Snyder's of Hanover added the word "new" to its pretzel crackers to alert consumers to the introduction. And depending on how you classify Coca-Cola Zero, the newly designed package is still the mainstream 12-oz, two-piece aluminum can with easy-open pull tab.
The trend is overwhelming: new packaging trumps new product for marketing strategy—whether marketing managers recognize it or not. The obvious distinguishing characteristic of each is not some frivolous tchotchke, but rather an easy-to-use feature that renders the consumption experience more convenient for the consumer. Some examples include: quick opening and access to contents; rapid and thorough heating; almost-instant toasting; premixed cocktails; and reclosable kids' beverages. All adhere to definitions of convenience.
But regardless of the packaging, remember the first tenet of our book: The product is No. 1. It must delight the target consumer. The package is just one element, however important, of the delivery system. Both product and package must function in concert to assure success in the marketplace.
by Aaron L. Brody, Ph.D.,
Contributing Editor,
President and CEO, Packaging/Brody, Inc., Duluth, Ga. 
[email protected]