Traditionally, when it came to the great amphitheater of ingredients, fiber pretty much got a back row seat. That's because it was viewed as an inert, indigestible ingredient that primarily passes through the body to help support regularity. And that was about it. Not exactly exciting from either health or functionality perspectives.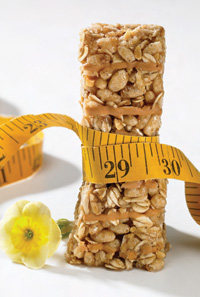 In fact, one speaker at a recent food show noted that in years past, after you analyzed all the components of a food product, attributing various level of value to each one, what you had left was … well, you guessed it. Today, however, the perception of fiber and its role in food formulating has dramatically changed for a number of reasons.
Fiber is no longer lumped together. There are different kinds of fibers, and some of these are not inert but rather are fermented in the colon to help our bodies achieve optimum digestive health. Emerging research has shown how fibers can interact physiologically to provide numerous health benefits that go far beyond supporting regularity. These benefits may include not only digestive health, but weight management, cardiovascular health, and general wellness.
From a functionality perspective, fiber can play a number of roles. It may be used as a tool for improving texture. Or as a bulking agent in reduced-sugar applications. Or to manage moisture in the replacement of fat. Or to add color. And the list goes on, demonstrating fiber's sometimes overlooked technical worth in a formulation. This is especially true in a time when cost savings are viewed as even more critical by a manufacturer. Furthermore, different sources for fiber are increasingly being explored. These sources not only bring more attention to fiber as an ingredient, but can also provide distinct characteristics more suitable for a particular formulation.
Fiber may be incorporated into a broad range of products. For example, qualities such as solubility, stability, and clarity can make this ingredient extremely useful in formulating beverages. Unlike fiber-enriched beverages of the past, today's products do not suffer from a gritty texture or an unappealing flavor, making this product category a good vehicle for delivering fiber to the mainstream. Juices and juice products fortified with fiber are one example of a beverage that consumers, especially children, might find appealing. And the market for fiber continues to grow steadily, with the ingredient finding use in dairy products, cereals, baked goods, pasta, snacks, nutritional supplements, and other products.
Although fiber itself may be invisible in your foods, it is fast becoming one of the most visible ingredients in today's marketplace. Take, for instance, the strategy of General Mills, the manufacturer of Fiber One, a high-fiber cereal. From there, the company went on to include such products as Fiber One Chewy Bars, Fiber One Yogurt, Fiber One Complete Pancake Mix, and Fiber One Toaster Pastries. If you feel like a latter-day Ancient Mariner seeing fiber, fiber, everywhere, you may be correct in your observation. These products, however, are fit for consumption.
--- PAGE BREAK ---
Health claims are also doing their part to call attention to fiber. For example, the Food and Drug Administration recently approved a heart-health label claim for soluble fiber from barley foods. FDA also gave a whole-grain health claim to brown rice, a whole-grain food that offers 2 g of fiber per one half cup of cooked rice. In general, manufacturers are finding that incorporating fiber into their products is a good way to make them healthier and subsequently more appealing to today's health-conscious consumers.
In 2007, consumers ranked fiber number five among the top 10 functional foods. Which is good news for fiber suppliers. However, the majority of Americans still fall far short of the recommended daily intake of fiber in the diet. Bad news, and yet there are factors that may change that. When taking into consideration the obesity epidemic, fiber can provide an effective tool in weight management. Also, fiber-enriched foods that have a desirable taste, texture, and appearance, as well as being available in a broad range of categories, can provide further enticement to the consumer. And finally, if it was possible for fiber to evolve and get a new, more exciting and functional image, then it should be equally possible to bridge gaps between nutritional deficiencies.
This article will look at the number of ways that fiber developments can provide benefits to a formulation.
When Fiber Meets Texture
Imagine, perhaps, a fiber-enriched snack that has a novel "crinchy" texture—a cross between crispy and crunchy.
It's possible as fiber-containing foods (and beverages) have come a long way since those "dark" days when these products were coarser, denser, and generally less palatable compared with refined processed foods. Today, formulations are being developed that combine fiber enrichment—and its potential health benefits—with a sense of indulgence, imparted especially by texture and mouthfeel.
One can see that at the Texture Center for Excellence, recently launched by National Starch Food Innovation, Bridgewater, N.J. (phone 800-797-4992, www.foodinnovation.com). This new facility is designed to better understand the science and art of texture, translating that knowledge to product development and meeting the needs of its customers. The company uses its portfolio of starch-based ingredients and derivatives to create formulations with distinctive textures. One prototype, for example, is a tempura product that uses Nutriose® soluble fiber as a texturant to replace 50% of the flour.
A new brochure from National Starch provides an overview of fermentable soluble fiber, its consumer perceptions, emerging research regarding its potential health benefits, and its functionality, especially in the areas of texture and mouthfeel. The 8-p publication, "Fiber 2.0: Invisible in Your Food, Easy on Your Digestive System," focuses, in particular, on Nutriose, a family of soluble dietary fibers made by Roquette Freres and distributed in the United States by National Starch.
According to the brochure, advances in clinical and nutritional research have shown that fiber's impact reaches beyond simply laxation and regulatory to other aspects of colonic function and digestive health. In fact, most fermentable fibers, including Nutriose, are metabolized in the colon to help bodies achieve optimum digestive health. These fibers are said to act as fermentation substrates for various anaerobic bacteria in the colon, and consequently have a prebiotic, biochemical effect.
Extracted from wheat or maize, Nutriose has a fiber content of 85% and offers 2.1 kcal/g. As a white, free-flowing, instantly dispersible powder, the prebiotic fiber can be readily incorporated into both high- and low-moisture foods, has a neutral taste, and is process and shelf stable. It is also low in hygroscopicity and viscosity, exhibits heat and acid stability, and is easy to use. In solution, it is clear and colorless without any viscosifying impact. A starch derivative, it can be labeled a dextrin, soluble fiber, or soluble dietary fiber.
Because of its functionality benefits, the ingredient may be used at different levels in beverages, dairy products, baked goods, soups, sauces and other products. It performs well in reduced-sugar and reduced-fat recipes, restoring desired mouthfeel and texture. Representatives from National Starch have a broad range of starting formulations that demonstrate how this soluble fiber can be used by food and beverage manufacturers.
--- PAGE BREAK ---
Nutriose especially complements the company's Hi-maize® insoluble fiber, a source of resistant starch derived from high-amylose corn. At 2008 SupplySide West, a prototype Better-For-You Brownie was formulated with Hi-maize 260 and Nutriose FB06, resulting in a product with 15% reduced calories, 30% reduced fat, and 5 g of dietary fiber/ serving. Also highlighted at the show was a Whole-Grain Lemon-Blueberry Muffin, made with Hi-maize Whole-Grain Corn Flour, which has a fiber content of 30–33%. The muffin provides 3 g of fiber and 14 g of whole grains per serving.
Both Nutriose and Hi-maize address the need to add fiber to foods and beverages without compromising their taste. And, of course, ingredients such as these can play an important role in adding fiber to indulgent or gourmet foods, a range of beverages, and other products highlighting new texturizing solutions.
New Fiber Web Site Launched
A new Web site from Tate & Lyle, Decatur, Ill. (phone 217-423-4411, www.tateandlyle.com), provides food and beverage processors with the latest information on the company's range of Promitor™ dietary fibers, including soluble corn fiber and resistant starch. The site includes technical information on both products, ready-made prototypes using the ingredients, and videos from the company's scientists and health professionals on the health benefits that the ingredients offer.
Promitor Soluble Corn Fiber is a water-soluble, clear-tasting prebiotic fiber that can be used as a partial or complete replacement for sweeteners. It functions like corn syrup in most systems, and at 2 kcal/g, it can be used to reduce calories while maintaining texture and body. Because of its high solubility and clarity, as well as its acid stability, it is particularly suitable for beverages. It can also be used in cottage cheese, yogurt, ice cream, dressings and sauces, bars, cereals, and baked goods. It has a high dietary fiber (minimum 70% on a dry-solids basis) content. It is stable throughout processing and fiber content in a food was reportedly not lost regardless of the heat treatment.
Promitor Resistant Starch "resists" digestion and acts as a dietary fiber. It can help manufacturers add more fiber to baked goods and snacks, including cereal, crackers, cookies, bread, and pasta, without impacting taste or texture. It can be used in extruded or sheared products with less loss of fiber than other similar products. Additionally, it has very low water-holding properties even after heating. Because of its reduced-oil pickup, it enables 15–25% reduction in fat absorption during frying while maintaining a light and crispy texture. It has a high dietary fiber content (minimum of 58% on a dry-solids basis), and provides prebiotic benefits.
At 2008 Supply Side West, the company featured a Cherry Pistachio Cereal Bar made with 5 g of Promitor Dietary Fiber, along with water prototypes using soluble corn fiber to provide 3 g of fiber per serving.
Barley Stalks New Opportunities
FDA recently approved a heart-health label claim for soluble fiber from barley foods, creating new opportunities for barley-derived ingredients. Here are just a few examples of barley-derived ingredients that can provide both health and functionality benefits in a formulation.
--- PAGE BREAK ---
Fiber levels in food and beverage products can be enhanced by a whole-grain barley ingredient from ConAgra Mills, Omaha, Neb. (phone 800-851-9618, www.conagramills.com). The product, called Sustagrain, is a waxy, hulless barley variety with dietary fiber making up more than 50% of its carbohydrates (and 40% of that in the form of cholesterol-lowering soluble fiber).
Because of its macronutrient composition, the product reportedly offers two to seven times the fiber of other cereal grains. The high-fiber, low-starch ingredient boosts fiber, but not bulk, and in addition to its nutritional benefits, offers the formulator flexibility and functionality.
Available as a fine flour or in a flaked form, it may be used in breads, baked goods, cereals, energy bars, soups, pastas, tortillas, smoothies, and nutraceutical products.
Functional beverages are a convenient way for manufacturers to deliver soluble fiber for heart health and prebiotic fiber for digestive health. To demonstrate this, Cargill, Wayzata, Minn. (phone 952-742-7575, www.cargill.com), developed a prototype raspberry-flavored juice beverage formulated with its Barliv™ barley betafiber, an ingredient that may help promote healthy cholesterol levels without adding unwanted taste.
Extracted from whole-grain barley, the concentrated beta-glucan soluble fiber has a high purity (more than 70%) and a low viscosity, making it suitable for a variety of beverage applications, such as juices, meal replacements, dairy- and soy-based drinks, bottled waters, tea, coffee, and energy drinks, as well as cereals, snacks, and other products. In the juice formulation, only 0.45% barley betafiber is needed to deliver 0.75 g beta-glucan per 8-oz serving. In addition to fiber fortification, it can be used to impart creamy mouthfeel, improve body, add viscosity, and suspend solids.
A soluble fiber developed in New Zealand has caught the attention of Denmark-based Danisco A/S (phone +45 32 66 20 00; www.danisco.com). The ingredients company recently acquired an equity stake in GraceLinc Ltd., a subsidiary of New Zealand government-owned Crop and Food Research, which produces and markets a naturally extracted barley beta-glucan called Glucagel™.
As a soluble dietary fiber, the ingredient has potential health benefits, particularly for cardiovascular health, digestive health, and glucose and weight management. The cardiovascular health benefits of cereal beta-glucans are attributable to their widely studied cholesterol-lowering properties. In addition, beta-glucans are low glycemic and suitable for diabetics.
According to Fabienne Saadane-Oakes, President of Danisco Bio Actives, the extract is available in a gel form with a neutral taste. It has a high purity (75%) and allows for easy formulation in a variety of foods and beverages without affecting their taste or aroma. Potential applications include baked goods, nutrition bars, beverages, dairy products, and dietary supplements. She noted that food manufacturers in Europe and Asia have shown strong interest in the ingredient, with products containing it on the market in Europe.
"When key milestones—relating to completion of human intervention studies and process development—are met, Danisco plans to move to full ownership of the start-up company," she said at a press conference held during 2008 SupplySide West.
--- PAGE BREAK ---
Broadening Polydextrose's Approval
Earlier, this article mentioned how Danisco has added a beta-glucan ingredient derived from barley to its fiber portfolio. This portfolio has long been known for its Litesse polydextrose, a 1 kcal/g specialty carbohydrate that can be used as a soluble dietary fiber, as well as a premium bulking ingredient in sugar and fat replacement.
This family of Litesse ingredients offers a variety of physiological and functional benefits. It functions as a prebiotic for improved gut health; improves flavor, texture, and mouthfeel in reduced-sugar and reduced-fat applications; has a satiety effect that can assist in weight management; and is low-glycemic for individuals seeking to control their blood sugar levels. Furthermore, its clean flavor allows for full perception of flavors.
As of August 21, 2007, FDA extended its approval of the ingredient for use as a bulking agent, formulation aid, humectant, and texturizer in all foods with the exception of meat, poultry, baby foods, and infant formula. This approval allows for numerous new possibilities for low-calorie, fiber-enriched, reduced-sugar, and low-glycemic formulations. These might include yogurt, cereal, cookies, crackers, bread, cake, chocolate, candy, ice cream, soft drinks, juice, smoothies, flavored water, sauces, dressings, cheese, snack chips, and many others.
For example, the ingredient can be used to formulate reduced-sugar (calorie), prebiotic, fiber-enriched yogurt products and beverages. In these applications, it can be added to yogurt before or after fermentation, or as part of the fruit preparation where it can replace the bulk of the sugar. Available in liquid and powder forms, the ingredient remains stable during the processing and shelf life of the dairy products. It can be used with high-intensity sweeteners to replace sugar and reduce calories, while improving the mouthfeel and texture of low-fat, reduced-sugar yogurt. As a prebiotic, Litesse offers digestive health benefits and is well tolerated up to 90 g/day with no adverse gastrointestinal effects.
A number of prototypes demonstrating Litesse's health and functionality benefits were featured at HIE Paris 2008. These included a Fiber Vitamin Drink; a Vanilla Crème Dessert; Prebiotic Fiber Cereal; and Super Juice Cool & Fruity, a reduced-calorie hard candy that delivers warming and cooling sensations.
Making Cellulose Fiber Soluble
Cellulose is one of many plant-derived sources of dietary fiber, but it is not naturally water soluble, making it difficult to incorporate into a formulation without impacting taste and texture. Although derived from cellulose, Fortefiber™ Soluble Fiber from the Dow Chemical Co., Midland, Mich. (phone 800-488-5430, www.fortefiber.com), has a modified composition to provide complete solubility.
The ingredient, which received an IFT Food Expo Innovation Award in 2007, is available in a variety of grades and can be customized to address specific texture needs or formulations. Potential applications for the soluble fiber include energy bars, cookies, biscuits, candy, nutritional shakes, and supplements. It is non-allergenic and non-fermentable, with clinical trials showing that it can help maintain normal blood glucose, cholesterol, and insulin levels. When used at typical product formulation levels, it does not impart an undesirable taste or texture.
To enable formulators to accurately measure the fiber content of products containing the ingredient on nutrition labels, Dow researchers developed an analytical method, which was recently validated by AOAC International.
--- PAGE BREAK ---
Using Maltodextrin to Provide Fiber
A number of prototypes from ADM, Decatur, Ill. (phone 217-451-5200, www.admworld.com), highlight the benefits of dietary fiber. These prototypes, which include Peaches & Cream Women's Meal Replacement Beverage, Vanilla Chai Soymilk, and Cranberry-Apple Crisp Bar, are considered good sources of fiber.
Two of these products, the meal replacement beverage and the bar, feature a soluble dietary fiber, Fibersol-2™. This ingredient, developed by Matsutani America, Inc., Itasca, Ill. (phone 630-250-8720, www.matsutaniamerica.com), is a digestion-resistant maltodextrin consisting of more than 90% water-soluble dietary fiber. A clear, transparent solution, it provides no inherent or added flavor, has high solubility and rapid dispersion, is very low in viscosity, and exhibits high stability in acid, heat/retort, and freeze/thaw conditions. It helps manage water mobility in foods, improves body and texture in foods, and can help bring out the flavor of foods.
The soymilk formulation features an organic whole bean powder for its fiber benefits.
Chewing on Fiber
Oat bran concentrate from GTC Nutrition, Golden, Colo. (phone 303-216- 2489, www.gtcnutrition.com), is a natural source of beta-glucan soluble fiber. The ingredient, OatVantage™, was recently incorporated into a prototype caramel chew at 19.55%, an inclusion level that allows for health claim opportunities with a 13 g serving or two chews.
The versatile ingredient is stable at temperature conditions applied to a typical candy product. It has a neutral flavor profile and does not impart off-notes. To deliver the desired mouthfeel and chewy consistency, the sugars are heated to 110oC before it is incorporated. The ingredient, which is 54% soluble fiber and does not contain insoluble fiber, shows improved solubility compared with other oat bran concentrates that contain insoluble fiber.
GTC Nutrition also offers another fiber solution for use in chews. A prebiotic fiber, NutraFlora short-chain fructooligosaccharide, was formulated in a chocolate chew to enhance calcium absorption, reinforce immune system function, and promote digestive function and regularity. Working with the fiber ingredient was Aquamin™, a soluble source of calcium.
Citrus Fiber Has Special Water-Binding Properties
A citrus fiber from Fiberstar Inc. Wilmar, Minn. (phone 715-273-3194, www.fiberstar.net), has the ability to manage moisture and replace fat, while maintaining or improving taste, texture, and cost. The ingredient, Citri-Fi®, is derived from citrus pulp, and may be used in such products as meat and poultry, baked goods, frozen desserts, and dressings and sauces.
A citrus fiber from Fiberstar Inc. Wilmar, Minn. (phone 715-273-3194, ), has the ability to manage moisture and replace fat, while maintaining or improving taste, texture, and cost. The ingredient, ®, is derived from citrus pulp, and may be used in such products as meat and poultry, baked goods, frozen desserts, and dressings and sauces.
Unlike other fibers, Citri-Fi is said to have a large internal surface area which exposes many hydrogen bonding sites that tightly bind water without releasing it over time or during various treatment conditions. According to the company, this ingredient, because of its amorphous fiber structure, has strong water-binding properties that resemble those of hydrocolloids.
Up to 50% of the animal fat in meat and poultry products can be replaced by the fiber ingredient and water. Its high water-holding capacity (up to 13 times its weight in water) makes the ingredient ideal for increasing yield in injected products. In bakery products, up to 50% of the oil and shortening can be replaced with the ingredient and water.
Citri-Fi should not be used at high levels (greater than 1.5%) to attain fiber claims.
--- PAGE BREAK ---
A Root to Fiber
Inulin, a naturally occurring fructan extracted from chicory root, is recognized as a prebiotic fiber supporting the natural, healthful bacteria in the lower gastrointestinal tract. In addition to its nutritional value, it can provide important functionality benefits, such as flavor and texture improvement, body and mouthfeel enhancement, flavor masking, bulking, and fat replacement.
Inulin, a naturally occurring fructan extracted from chicory root, is recognized as a prebiotic fiber supporting the natural, healthful bacteria in the lower gastrointestinal tract. In addition to its nutritional value, it can provide important functionality benefits, such as flavor and texture improvement, body and mouthfeel enhancement, flavor masking, bulking, and fat replacement.
A juice smoothie prototype from Cargill demonstrated the health and functionality benefits of inulin. Highlighted at 2008 SupplySide West, the beverage features probiotic cultures, Oliggo-Fiber® inulin, and flavors such as natural ginger, natural ginger root, and natural apricot.
Inulin and oligofructose from Belgium-based Beneo-Orafti (phone +32 16 801 301, www.Beneo-Orafti.com), are being used in Europe to add prebiotics to nontraditional applications such as fish or turkey. Frutafit inulin from Sensus America, Monmouth Junction, N.J. (phone 646-452-6140, www.sensus.us) functions as a prebiotic fiber that provides a number of functionality benefits. Recently, the company introduced Frutalose L92, a sweet liquid chicory fiber that contains 92% dietary fiber and 45% the sweetness of sugar.
On-the-Go Fiber
A number of prototypes developed by Kerry Ingredients & Flavors, Beloit, Wis. (phone 608-363-1200, www.kerry.com), demonstrate convenient ways to increase fiber intake. For example, 180 Cluster is a crunchy "poppable" treat that contains beta-glucan soluble fiber to meet the need for cholesterol-reducing alternatives. An excellent source of dietary fiber, the extruded, bite-size snack or cereal inclusion is a combination of beta-glucan crisps, toasted oats, natural flavors, and soybean-derived Solnuts. The consistently sized product exhibits minimal breakage.
A number of prototypes developed by Kerry Ingredients & Flavors, Beloit, Wis. (phone 608-363-1200, ), demonstrate convenient ways to increase fiber intake. For example, is a crunchy "poppable" treat that contains beta-glucan soluble fiber to meet the need for cholesterol-reducing alternatives. An excellent source of dietary fiber, the extruded, bite-size snack or cereal inclusion is a combination of beta-glucan crisps, toasted oats, natural flavors, and soybean-derived . The consistently sized product exhibits minimal breakage.
A second protype, Fiber Slim Bar, is an excellent source of prebiotic fiber to promote digestive health and satiety benefits. With 9 g of fiber per serving, the product serves as an on-the-go breakfast or mid-day snack that can help the individual feel full longer while enhancing digestive health. A combination of butter-toffee-flavored Solnuts, crisp rice, toasted oats, caramel, and caramel flavored coating, it provides an indulgent taste while delivering fiber in a convenient format. It also maintains its chewy/crunchy texture over time, without the typical hardening associated with high-fiber items.
Also formulated for on-the-go consumers is a lower-calorie fitness water infused with protein, a soluble fiber, and blend of acai and blueberry fruit flavors. The prototype, SuperFruit Protein Fitness H20, features a natural, organic prebiotic soluble fiber called EmulGold™.
--- PAGE BREAK ---
In the Chips
Soluble prebiotic fiber from Lonza, Allendale, N.J. (phone 800-365-8324, www.lonza.com), is composed of larch arabinogalactan. Produced by steam-heating of larch wood chips and evaporation of the extract, FiberAid®, has high solubility in water and is stable at a wide temperature and pH range.
The ingredient can be easily formulated into food and beverage systems. It retains moisture in baked goods and offers improved dough-handling characteristics. It is effective in lowering water activity in sweetener compositions, and provides film-forming properties for extended shelf life. Available as a dry, free-flowing powder, it provides minimal mouthfeel and off-taste.
Feeling Full with Fiber
A natural dietary fiber formula, available from AHD International, Atlanta, Ga. (phone 404-233-4022, www.ahdintl.com), provides support for weight management, regularity, glycemic control, and lipid metabolism. Derived from the konjac root, LuraLean delivers a condensed, soluble fiber with a higher molecular weight and viscosity than other fibers. It also has the ability to keep its viscosity while passing through the stomach and intestines, where other fibers fall apart.
The ingredient, which has GRAS status, is available in a grade suitable for use in all types of baked goods. This grade can withstand high temperatures without breaking down or losing efficacy and can be used in such applications as nutrition bars, breads, cookies, and crackers. "Because LuraLean expands to 200 times its original size only after it reaches the stomach, just a small amount is required to deliver high fiber content," said John Alkire, President of AHD. "It may be used to create a broad range of high-fiber foods, without the end product being overly dense or lacking in taste."
AHD also offers various grades of the ingredient for use in dietary supplements, functional foods, and low- and high-viscosity beverages. One grade, for example, is designed for use in water-based beverage applications, including fiber waters and performance drinks. Once inside the stomach, this grade expands to more than 10 times its original size to help individuals feel full.
Raisin' the Levels of Fiber
Raisins contain fiber, natural sugars, and other nutrients that offer food formulators a broad range of opportunities, noted the California Raisin Marketing Board, Fresno, Calif. (phone 559-248-0287, www.calraisins.org). Their availability in a variety of formats increases their versatility as well as marketing potential.
For example, raisin paste's natural sugars and fiber help retain moisture in baked goods, thereby providing humectancy to slow staling and maintain product freshness for longer periods of time. Raisin paste also serves as a binder in whole-grain and fruit snack bars. It can also be used as a substitute for a portion of the fat in formulations.
As an inclusion, raisins can add fiber to breads, granola bars, and other snacks.
Consider the Source
As demonstrated by the developments in this article, fiber is becoming an increasing visible ingredient. Many clinical studies have shown its potential health benefits as well as functionality value.
Another factor, however, that may help contribute to its visibility is the number of emerging sources of fiber. Once, we may have associated oats with fiber, but today fiber can be derived from sugarcane, apples, peas, potato, fenugreek, chia seeds, wood chips, and so many others. At 2008 Health Ingredients Europe, a new fiber ingredient was introduced that was derived from okara, a by-product of soy milk production.
--- PAGE BREAK ---
The continuing exploration of these different sources draws attention to fiber as a whole. And while it's true that in some formulations fiber products can be interchanged with each other (after all, fiber is arguably fiber), it is also true that different fibers can add different color qualities or different textural qualities, which can have a positive or negative influence, depending on how it is used.
From a formulator's view, some of these different sources could indeed make a difference when considering costs, health, and functionality. Some may even shape fiber's impact in the marketplace. In any case, I think it's safe to say that the days when fiber took a back seat are long gone.
Next month's Ingredients section will look at the expanding uses for dairy ingredients.
---
'Innovation Now' with Fiber
At the 2008 Chicago Section IFT Suppliers' Night, an ingredients forum was held under the theme "Innovation Now." Several of these nine presentations spotlighted fiber, suggesting again how timely (or hot) this ingredient has become in today's formulating.
Here are summaries of some of these fiber presentations:
• J. Rettenmaier USA LP, Schoolcraft, Mich. (phone 269-679-2340, www.jrusa.com), spoke on the application of insoluble dietary fiber in bakery products and other food products. The presentation, given by Bill Michel, Senior Account Manager, and Ryan Boldt, Sales Administrator, addressed how different insoluble fibers can be used to improve end-product qualities, provide better nutritional profiles, and create value.
The company offers more that 200 different products to help developers meet the needs of the end consumer or customer. Some of these insoluble fibers include apple, bamboo, cottonseed, oat, orange, pea, wheat, sugarcane, potato, powdered cellulose, microcrystalline cellulose, and cellulose gels. The use of a particular fiber can frequently depend on the application and the kind of functionality desired.
For example, one type of fiber, such as sugarcane, might give a whiter color which might be desirable in certain bakery applications while others might provide a darker shade. Also, sugarcane fiber's spherical shape can give better mouthfeel than other fibers in applications such as beverages, bakery products, and snacks, and its smaller particles can minimize the impact on dough extensibility. And, by the way, this fiber is derived from the sugar refining process but imparts no sweetness.
A chocolate chip cookie made with a sugarcane fiber was available for sampling. The ingredient provided not only fiber enrichment, but important functionality benefits. The water-hydrated fiber reduced fat by 50%, resulting in a product with fewer calories. It increased moisture content, leading to better texture, structural enhancement, and breakage control. Furthermore, the water absorption capacity of the insoluble fiber adds to an increase in shelf life, as well. These functionality benefits can help achieve cost savings and profitability.
In the cookie formulation, 15 g of fiber was used, increasing total dietary fiber content from 0.2 g/cookie to 0.5g/cookie. This increase of fiber can also provide labeling benefits with a product being credited as a good source of fiber. Formulations for this chocolate chip cookie are available, as well as a variety of others, including banana nut bread, sugar cookies, cereals, pastas, and other products.
--- PAGE BREAK ---
When asked what the attendees thought about the sample cookie, one person responded that the cookie was too moist. I couldn't help thinking that when dealing with fiber in a formulation, that observation shouldn't provide too much of a concern. I mean, I wouldn't lose too much sleep over it. And with that, I sampled a second cookie.
• National Starch Food Innovation discussed how a combination of Nutriose® soluble fiber and Hi-maize® resistant starch can provide both functionality and health benefits in white bread. According to Lorraine L. Niba, Business Development Manager, white bread consumption is down by almost 50% in the past five years. Even though bakery is the primary category where consumers seek out fiber, white bread typically contains less than 1 g of dietary fiber. Incorporating these two fiber ingredients can change that and possibly reinvigorate a stagnating category.
Hi-maize, a natural resistant starch obtained from high-amylose corn, can be used as an insoluble fiber in many different foods. Nutriose, derived from corn, can function as prebiotic, soluble fiber. (See page 62 in this article for more information about the benefits of these two ingredients.) White bread made with these ingredients contains 5 g of fiber per serving, qualifying for "an excellent source of fiber" claim. The combination of ingredients also makes possible a prebiotic structure-function label claim.
From a functionality perspective, these ingredients add benefits with no change in bread taste, texture, or quality. They do not impact dough quality, making formulation easy. Bread samples were available at the booth as well as a hot cider drink formulated with fiber.
• TIC Gums, Belcamp, Md. (phone 410-273-7300, www.ticgums.com), launched its new FASTir technology which enables food manufacturers to incorporate difficult to use hydrocolloids such as xanthan gum with much greater ease. Matt Patrick, Vice President of Research and Development, described how gums prepared by this technology can disperse and subsequently hydrate with only minimal agitation.
According to Patrick, these gum products disperse at a low-shear mixing condition without lumping, therefore achieving at least 80% viscosity within 3-5 min. In his presentation, he showed videos that demonstrated how these powdered ingredients can disperse readily in water using only spoon mixing or show shear. In addition to their shortened dispersion time, they have been able to cut down on problematic dusting.
Using gums produced by this technology can add texture and soluble dietary fiber to a variety of food applications, such as syrups, juices, gravies, and instant fiber drink mixes, and gravies.
by Donald E. Pszczola,
Senior Associate Editor
[email protected]