There are many different languages - Spanish, Japanese, Hindi, Polish, Arabic, and English, just to name a few. But in the world of food formulating, one of the most important languages is that of color.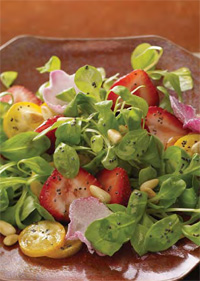 As a language, color can help communicate, creating a connection between the food product and the consumer. For example, it can be used as a certain code or indicator of potential health benefits found in foods or ingredients with that inherent color. Moreover, selected hues can evoke certain memories; elicit seasonal connections; underscore flavors, aromas, and textures in a particular food or beverage; enhance or upscale a product's appearance; help differentiate a product in the marketplace; and much, much more.
Of course, one might say that this language has its own dialects and idioms, and when developing a food, it is necessary to understand and be able to translate the different associations that these colors bring if they are to be successfully applied, especially in addressing emerging trends. A wrong translation of the color language, after all, could mean a failure in the marketplace. Remember, for example, a certain clear cola that flopped.
Over the years, much has been written about color psychology and how different colors can affect moods. Like the fashion of the 1960s, though, the associations that color brings to foods do not necessarily remain constant. While Dracula may still wear black, and red may be the color of love, times do change when developing new foods and the colors that they incorporate. Today, partly because of culinary influences from around the world, black is an emerging color in mainstream foods. Blue, once perceived negatively in food development, has become very popular because of its ability to appeal to children and for its health value. Green has become a global metaphor for the world's survival, and the color is frequently associated with popular ingredients such as green tea. Even the cranberry, once promoted for its vibrant red color, has gone white in certain applications. And then there are newly approved pearlescent pigments, which are giving colors a new luster or shimmer. Yes, the language of color is a complex one, but learning its nuances can bring forth many treasures.
This article will look at the different ways that food formulators can apply colors to foods and how these ingredient developments can subsequently affect the perception and value of the product application in the marketplace. Because natural colors and certified colors are among the developments that will be discussed, let's make a quick distinction between the two before going on. The U.S. Food and Drug Administration defines two types of color additives - certified and exempt from certification. The certified colors - for example, FD&C Red #40, Yellow #5, and Blue #1 - require on-site certification for the purity of each batch. Certified color additives (dyes and lakes) are commonly known as "artificial" or "synthetic" colors. However, colors such as annatto extract, turmeric, elderberry, and caramel color are Generally Recognized As Safe (GRAS) and therefore do not require certification. Keep in mind that there is no definition for the word "natural" by FDA, and the food industry considers the exempt colors to be "natural colors" in the colloquial sense.
--- PAGE BREAK ---
Although natural colors have seen improvements over the years, they can vary in terms of light, heat, and pH stability, and other characteristics ranging from their source to the kind of hue they produce. In fact, at the 2007 SupplySide West International Trade Show & Conference, colorMaker, a partner with D.D. Williamson, presented a seminar that examined the functional attributes of natural colorants. The presentation compared and contrasted the qualities of anthocyanins, carotenoids, betalains, and others - some or all of which are sensitive to light, heat, and pH, or interact with other ingredients such as ascorbic acid. To make the right selection for a particular application, it is essential for the food formulator to understand these differences and to take into consideration current regulatory status and label declarations. Organic certification and the issues it presents are becoming increasingly important as well.
In addition to natural and synthetic color developments, this article will look at technologies ranging from pearlescent pigments to digital food imaging as options for adding color to food applications. We will also be looking at an array of ingredients - traditional and emerging ones - that can be used to provide color.
Although we will be describing new developments as they pertain to specific colors, it should be emphasized that no color works in a vacuum. As new flavors emerge from around the world, colors and color combinations will accompany them. And as new ingredients are chosen for their functionality and health attributes, compatible colors will be selected to underscore these attributes. Because of the wide array of coloring options available, different combinations of color (natural, synthetic, natural and synthetic, natural/synthetic and pearlescent pigments, natural/synthetic and new technologies, ingredient combinations that impart different colors, inclusions and toppings, and so on) can be created. Understanding the developments available within each color parameter can help make the formulation of future foods and beverages more exciting and more valuable from functionality and health perspectives.
Let's now span the spectrum in colorful ways.
Conjuring Black Magic
The term "black magic" may have some darker overtones, especially at a witches' Sabbath. But food manufacturers, like the good wizards they are, may find that black ingredients provide just the right kind of magic. In fact, ingredients that impart a black color to the application are fast becoming red-hot, and I don't mean that in any devilish sense either.
--- PAGE BREAK ---
At a local Thai restaurant where I have lunch, black sesame seed is served on white rice, creating a simple, but very distinctive, presentation. I'm told that these seeds, if eaten separately from other ingredients, have earthy characteristics; when sprinkled on rice, however, these seeds lose that taste and are primarily used for their visual qualities. The dish I'm referring to, by the way, is appropriately called Black Sesame Seed, and it is served with chicken or beef, pineapple, chilies, carrots, onions, and spices - all lending their own distinctive colors to the dish.
An ingredient in Asian and Middle Eastern cuisines, black sesame seed has been regarded by U.S. chefs as something of a culinary secret, but that may be changing soon as its popularity grows and more opportunities are created for it in the mainstream. This seed can lend its black color to a number of applications, including stir-fries, sushi, meat and poultry products, salads, cereals, snack bars, ice cream, rice, vegetables, cookies, crème brulee, and many other sweet and savory products.
Recently, Kellogg's launched in South Korea a Black Sesame Seed Cereal, made with black sesame seed, brown rice, and five grains. Such a product (or at least a variation of it) could easily find its way into the U.S. market, with its emphasis on such trends as healthier breakfasts, the benefits of whole grains, and creative toppings. (See the January 2008 Ingredients article on emerging breakfasts, and judge for yourself.) There are other interesting examples as well. In Asia, Haagen-Daz is offering an ice cream made with black sesame seeds. And, here in the U.S., dark chocolate meets black sesame seeds in a new gourmet health snack, Bissinger's Naturals Chocolate-Covered Black Sesame Crunch.
As demonstrated by our white rice example, black sesame seed is particularly striking against a white (or at least a much lighter) background, and may even help spur additional "yin-yang" food developments. While black and white combinations have long been a tradition in clothing fashion, such a pairing has never really caught on in the foods we eat. There are a few notable exceptions, of course. Take, for example, the cult favorite, Oreo cookies. This sandwich cookie effectively creates an eye-catching black and white contrast. The Calypso bean is a medium-size, round dried bean that is part white and part black - perfect for some traditional dishes as well as cuisines emerging from different regions of the world. Black sesame seed can even be combined with its "white" counterpart to create a further contrast in food formulation.
And when thinking about black seeds, let's not forget poppy seed. According to the McCormick Flavor Forecast 2008, released by McCormick & Co., Hunt Valley, Md. (phone 410-527-8753, www.mccormick.com), poppy seed, paired with rose, is among the top flavors to watch for this year. Poppy seeds are used in Middle Eastern sweets, Indian curries, Japanese spice blends, and North Indian dishes. They are available in two forms - a slightly larger, bluish-black seed and a white variety. Poppy seeds' crunchy texture and pleasantly nutty taste complements the sweet, floral flavor and aroma of rose. A prototype Rose Poppy Seed Vinaigrette (shown in photo on page 63) may be used on salads garnished with crystallized rose petals.
--- PAGE BREAK ---
Recently, McCormick introduced a retail product, McCormick Black Food Color, which reportedly can provide a bold new look. The color can be used to create original and festive treats such as a spooky black cat cake for Halloween or soccer ball cookies. According to the company, it is very difficult to achieve the perfect black by blending various food colorings, but this new product solves that problem by providing just the right black shade. The product consists of water, FD&C Red #40, FD&C Blue #1, FD&C Yellow #5, phosphoric acid, and sodium benzoate.
Smoke flavors also are suitable for adding a dark color to food applications. For example, Zesti Deli Black Smoke from Mastertaste, Inc., Teterboro, N.J. (phone 201-373-1111, www.mastertaste.com), can help blacken microwavable bacon, burgers, hot dogs, and other applications. It imparts a dark black color while providing a refined smoke flavor.
A whole-grain flour, Organic Briess Cocoa Replacer, has the color and flavor characteristics, particle size, and nutritional profile of black cocoa. Produced from 100% pure, specially roasted barley, the natural ingredient was developed by Briess Malt & Ingredients Co., Chilton, Wis. (phone 920-849-7711, www.briess.com), as a 1:1 replacement for black cocoa in chocolate sandwich- and wafer-style cookies, breakfast pastries, chocolate-flavored cereals, extruded products, and other foods. With its intense black color, the organic flour functions as a natural, whole-grain colorant, allowing food manufacturers to achieve a variety of label claims, including organic, whole-grain, low-fat, and natural.
With sales of licorice rising, the black-colored candy is available in a variety of flavors, shapes, and forms. Licorice may be used as an ingredient in a variety of nonconfectionery dishes as well. Imagine licorice combined with food items ranging from pound cake to short ribs to poultry.
Oregano and heirloom beans is another ingredient combination that was featured in the McCormick Flavor Forecast 2008. I have to admit that I don't know beans about these beans, but they do have cool - and rather appropriate - names for this section: Black Valentine, Nightfall, and Calypso (which I mentioned earlier). Hundreds of dried varieties are available in eye-catching colors and shapes, including black. The robust intensity of oregano can be paired with the nutty, earthy flavor and creamy mouthfeel of these beans in such applications as soups, salads, appetizers, seafood products, and many others.
And, of course, the word "black" appears in many other food and ingredient items. Black rice, black mushrooms, blackberries, black lentils, black vinegar, black pepper, and black soybean are just a few examples that may help formulators add a touch of black magic to their products.
In Asia, black-colored foods, such as fruits and vegetables, have long been associated with potential health benefits. This is because they contain more anthocyanins' antioxidants that may offer protection against heart disease and cancer, as well as anti-inflammatory properties.
Chefs have long recognized the striking advantages that black, as a colorant, can bring to foods. With all of these potential benefits, this may indeed be the right time - the witching hour, if you will - for food processors to more fully explore this color, and by doing so, "fade to black."
--- PAGE BREAK ---
Going Green
As this article has suggested, color can be associated with certain images as well as used to evoke certain moods. At the 2007 IFT Annual Meeting & Food Expo, this lesson was skillfully demonstrated by Blue Pacific Flavors, City of Industry, Calif. (phone 626-934-0099, www.bluepacificflavors.com), through its use of the color "green."
In recent years, green has become a global metaphor for the environment as well as for our planet's survival. Helping to inaugurate this theme of "turning green," the flavor supplier showcased a number of green-colored prototype applications made with flavors and technologies from the company. These finished food concepts included Green Guava Smoothies, Green Tea Frozen Yogurt, and Soybean Okara Cookies.
The concepts themselves further explore the directions that the color green can take. For example, the yogurt application combines green tea with a green coloring. If you have a "green" ingredient you wish to promote, especially its potential health benefits, what better way to do this than by highlighting it in a green-colored application, whether that application is traditionally green or not?
Guava fruits vary in color, but can be greenish-white, yellow, or red. When developing a guava smoothie, green would be a perfect color to underscore the use of the fruit or fruit flavoring as well as its freshness and the potential health benefits associated with guava. And green is a fun and novel color for use in soybean-based cookies.
M&M's recently launched a new color: Central Park Green. The new green, - rendered in multiple shades of green to represent the mottled leaves on Central Park's 26,000 trees, - will be available only at Times Square-located M&M's World New York candy shop.
Realizing the potential value of green as a color, food manufacturers continue to look for non-leaching green colorants for edible substrates. Possible approaches might include high-molecular-weight green colorants or color blends approaching the color properties of FD&C Green #3; stabilized blends of dyes, pigments, and colors providing green hues; covalent bonding or other fixation solutions for Green #3 or other green colorants to large molecules, particles, or inert edible substrates such as corn starch; a moisture-penetrable substrate that will entrap Green #3 for long periods without leaching; FDA qualification of natural green dyes; and technologies for the encapsulation or fixing of green colorant on starch particles (final particles must remain highly permeable to moisture).
Researchers are also looking at different sources for natural green food coloring. For example, scientists in Portugal are experimenting with algal biomass as a novel source of green coloring, with tests in cookies indicating excellent stability. According to the researchers from the National Institute for Industrial Engineering and Technology in Lisbon, the addition of Chlorella vulgaris biomass as a natural ingredient resulted in cookies with an attractive and innovative appearance. In general, color parameters remained very stable over the three-month storage time.
Germany-based Wild Flavors also offers a brilliant green coloring extracted from stinging nettle and spinach. The extract is obtained using a special process and is said to be heat- and light-stable for most applications.
--- PAGE BREAK ---
Traditionally, when I think of green, pistachio pudding comes to mind. And, of course, leafy vegetables. We have to continue to find innovative ways to incorporate these vegetables into our diet, and perhaps the use of the color green can make this possible. How about vegetable-enriched breads? Or breakfast salads that combine eggs with lettuce, green peppers, or chilies? Or a lasagna dish that includes a vegetable such as broccoli?
With the developments discussed above, it's quite possible that we will see more green-colored products in the marketplace as food manufacturers and food formulators increasingly go green.
Red Hot?
This past holiday season, Cadbury Schweppes Americas Beverages introduced a limited-edition product, Pomegranate 7UP. This new version of that traditional carbonated beverage adds a natural pomegranate flavor to the lemon-lime taste. I mention the beverage here because of its color, which happens to be deep burgundy.
This was not the first time that 7UP came out with a different-colored version. If you recall, Cherry 7UP has a light pink color, reminiscent of pink champagne, which I thought was very appropriate for that particular beverage. The pulp of pomegranate can be the color of deep red wine, which probably explains the color chosen for the beverage, bringing associations of the fruit, health, and possibly even royalty connotations.
Pomegranate 7UP made its debut as a holiday product. Other seasonal items, such as cranberry-flavored ginger ale or cranberry-flavored lemon-lime drinks, have used distinctive shades of red to provide accents for the holidays. Red isn't just a seasonal color, however. Its different shades can be associated with seasonings, chili peppers, fruits and vegetables, meat products, condiments, bakery fillings, and so on. The following ingredient developments demonstrate some of the innovative ways that this color can be used.
A cold-water-dispersible powder, Tomat-O-Red 10%, derives its red color from lycopene extracted from tomatoes. The free-flowing dry powder rapidly dissolves in cold water to effectively release the bound color in a vibrant and application-stable form. It was developed by LycoRed, a nutritional ingredient company with regional offices in the U.S., Europe, and Israel, and is distributed in North America by P.L. Thomas & Co., Inc., Morristown, N.J. (phone 973-984-900, www.plthomas.com).
With ingredients such as these, LycoRed is exploring strategies that combine the development of natural food colorants with effective fortification technologies. According to the company, highly concentrated Tomat-O-Red 10% contains 100,000 ppm lycopene, while only 5 ppm lycopene is required to provide a red coloring. Increasing or decreasing the loading will impact the intensity of the color. The formulation can provide different shades of red for use in dairy foods, processed meats or meat analogs, baked goods, confections, and beverages.
--- PAGE BREAK ---
According to health and nutrition experts, foods rich in certain colors can provide a cue for eating healthfully. Long before people started putting healthy messages on food packaging, nature, you might say, was busy color-coding foods. Red fruits, vegetables, and other plant foods contain anthocyanins, which provide their distinctive red color and have been linked to such health benefits as potential protection against heart disease. With February 2008 being American Heart Month, the Cherry Marketing Institute, Lansing, Mich. (www.choosecherries.com), is promoting the benefits of tart cherries. To cultivate recognition among food industry professionals that red is a cue for healthy eating, CMI unveiled its mantra, "Eat Red. Choose Cherries." Cherries' versatility and year-round availability suit many applications for all sectors of the food industry, while making it simple for consumers to eat red as part of their daily diet. Cherries are offered in a variety of forms, including dried, frozen, juice, and juice concentrate.
Want to liven up the presentation of your food application? Try a brilliantly red-colored carrot developed by Wm. Bolthouse Farms, Inc., Bakersfield, Calif. (phone 661-366-7305, www.bolthouse.com). The frozen carrot, Nutri-Red, has the same taste and texture as typical orange carrots, but contributes high levels of lycopene, similar to those found in tomatoes. And like regular orange carrots, it is an excellent source of vitamin A.
This grower and processor of fresh and frozen carrots, carrot juices, and carrot-based food ingredients recently took an interesting new direction, which can also have an influence on color. A new frozen acai is made from premium acai berries harvested in the Amazon rain forests of Brazil by Bolthouse Do Brasil, a subsidiary of Bolthouse Farms, Inc. The frozen acai is a deep purple with an exotic flavor described as a blend of fruits and chocolate. Available from the Bakersfield facility, it may be used in blended fruit juices, smoothies, yogurt, sorbet, dairy-based desserts, and other products. And, of course, with its deep purple color, it has some innovative coloring possibilities.
Anthocyanin-based natural red colorants include grape juice, elderberry juice, purple carrot juice, red cabbage juice, purple sweet potato juice, and red radish juice. Betalains are a group of molecules responsible for the hue of red beet juice. Several of these natural colorants are part of an expanding product line from D.D. Williamson Colors, LLC, Louisville, Ky. (phone 502-895-2438, www.ddwilliamson.com), and colorMaker, Anaheim, Calif. (phone 714-572-0444, www.colormaker.com).
A natural colorant, Exberry™ Shade Flamingo Red, is said to deliver a consistent true red color over a very broad range of pH levels. Made from fruits and vegetables by GNT, Tarrytown, N.Y. (phone 877-468-8727), the colorant is suitable for use in low-acid dairy products such as yogurt, ice cream, smoothies, and soy-based foods. It does not affect the flavor of the application, and it is very stable to heat and light, contributing to its excellent shelf-life stability.
A number of natural red colorant solutions have been developed by Biocolor USA, Inc., Mission Viejo, Calif. (phone 847-441-7877, www.biocolor.com), and can be applied to fruit-flavored teas, paprika powders, meat products, and cocktail cherries. The company's in-house research has allowed the creation of color formulas that are capable of providing technical and cost-effective solutions covering the pH, color, and solubility range.
Launched at FIE 2007, a range of cultures, Texel™ NatuRed, can give packaged, cooked, and emulsified meat products the same color, flavor, and shelf life as those cured with nitrite salts. The cultures were developed by Denmark-based Danisco (phone +33 0 1 56 60 47 26, www.danisco.com).
--- PAGE BREAK ---
Researchers from around the world are looking for different natural sources that can produce shades of red. For example, German scientists from Hohenheim University are studying pitaya fruits as a source of red coloring and their potential as an alternative to red beets. Freeze-dried extracts from hibiscus can provide a brilliant red color that, when formulated into a beverage, can be stabilized by maltodextrin and trehalose, reported researchers from Taiwan-based Chulalongkorn University. And a new study from the University of Food Technologies in Bulgaria found that antioxidant compounds from rose petals can protect the color of strawberry extracts during processing; the researchers looked at the effect of using polyphenolic co-pigments extracted from rose petals on the color of strawberry pigments in a beverage that underwent heat treatment.
With developments such as these, food manufacturers may indeed become very bullish about seeing red in the marketplace.
Conditions for a Whiteout
We have already looked at different ways that food formulators are using black to enhance the appearance of food products. Let's not overlook, however, the emerging opportunities for "white" ingredients. Consider white cranberry, white tea, white sorghum, and white chocolate; just to name a few that may help set the stage for a future whiteout in food formulation.
Of course, a discussion of white can be a bit confusing. We might be referring to the shades created by titanium dioxide. Or we might be referring to a clear liquid. Or to ingredients that may have the word "white" in their names but are not really white. And then there are ingredients that are associated with a white color, such as salt, sugar, and milk, to name a few. In any case, this section will valiantly look at some of the different ways that food formulators are exploring - and applying - the concept of white, including some of the diverse examples mentioned above.
Perhaps one of the best examples today of the influence of white is in the area of flours. Now you might wonder what is so unusual about that. But we're talking here about whole-grain flours, which traditionally have a darker appearance. These new flours are developed to proximate the appearance of refined versions while providing the nutrition of whole grains. A variety of ingredient companies offer these types of flours, including ConAgra Food Ingredients (Ultragrain™), Omaha, Neb. (phone 800-851-9618, www.conagrafoodingredients.com); ADM (Kansas Diamond™), Decatur, Ill. (phone 800-637-5843, www.admworld.com); and Cargill (WheatSelect), Wayzata, Minn. (phone 952-742-7575, www.cargill.com). By having the flour color associated with its refined counterpart, such developments may help increase or broaden the use of whole grains, while underscoring the importance of perception.
Titanium dioxide, which can be used to provide a number of white shades to food products, is playing an important role in the formation of pearlescent pigments (see sidebar on page 64). These pigments - approved by the FDA - may help create exciting appearances that will differentiate products in the marketplace and may even reshape some of the traditional ways that we perceive color.
In recent years, white cranberries have achieved success as an ingredient, according to Ocean Spray Cranberries Ingredients Group, Lakeville-Middleboro, Mass. (phone 508-946-1000, www.oceansprayitg.com). This berry, picked before cold temperatures bring out its well-known red color, provides a clear juice and a milder, less-tart flavor than its crimson counterpart. The white berry has created new applications, including white cranberry juice, bottled waters, kid drinks, and alcoholic formulations.
--- PAGE BREAK ---
Keep in mind, however, that developing a clear liquid product doesn't always work. Remember Crystal Pepsi? Despite its cool name, the appearance of that product was just not compatible with the traditional way we perceive a cola drink. There may have been other reasons for its lack of success, but in my opinion, replacing a caramel-colored product with a clear liquid did not present any added benefits. A white cranberry juice, on the other hand, can appeal to both children and adults, offer nutritional benefits, and, if a kid spills it accidentally, doesn't create too much of a mess on the carpet or family dog. And a mother can always argue that at least the family is drinking healthy juice and getting some servings of fruits in the process.
Now imagine, for example, a "white" brownie, a product made with vanilla rather than chocolate. Or a white sauce such as Wild Mushroom Vanilla Cream Sauce that can enhance the appearance of a poultry dish. As these prototypes from David Michael & Co., Philadelphia, Pa. (phone 215-632-3100, www.dmflavors.com), suggest, the color white can play an important part in the development of new dishes, ranging from sweet to savory.
As was already noted in the black section of this article, white and black can create some interesting yin-yang food developments as well. Their pairing can also shape new marketing strategies. For example, at the 2007 IFT Annual Meeting & Food Expo, Briess Malt & Ingredients Co., Chilton, Wis. (phone 920-849-7711, www.briess.com), highlighted two of its ingredient launches (Organic Briess™ Black Cocoa Replacer and Gluten-Free BriesSweet White Sorghum Syrup) under the clever banner "Natural Solutions in Black & White."
The color white can prove especially helpful in reinventing food applications, making better-for you products more desirable, adding excitement to traditional applications, and opening up new markets.
Don't Worry, Be Blue
The 1960s television show, Star Trek, predicted a number of future technologies: wireless telephones, laser surgery, digital cameras, deep-space probes, and even cloning. And then there's Romulan ale, which was perhaps my favorite of all these different wonders. This potent beverage came in a wonderful shade of blue. As a kid, I couldn't help wondering what Romulan popcorn looked like. Or Romulan mashed potatoes. Or Romulan ice cream. If it had blue in it, it had to be cool from a six-year-old's perspective.
Blue has not always been a popular color in food formulations. (At one time, it probably conjured up images of food spoilage - something that appeared on your bread if you didn't store it properly.) The writers of Star Trek probably chose that color for the Romulan beverage because it was so uncommon, out of the blue, if you will. But then, if I was writing an Ingredients article 40 years ago, I would not have been writing about black-colored ingredients or whole-grain flours that were white. Those would have been pretty uncommon products as well.
--- PAGE BREAK ---
Over the years, the perception of blue has changed - with or without the Romulans' help. According to the U.S Highbush Blueberry Council, Folsom, Calif. (phone 800-824-6395, www.blueberry.org), the search for blue is taking place among food manufacturers and product designers, who have been involved in focus groups and test marketing of the color blue. Their research has shown that children, in particular, react favorably to blue food. This has led to the development and introduction into the marketplace of a variety of foods - from cookies to soda - that are not blue by nature. Blue is seen as a way to add fun and interest to ice creams, cookies, toppings, and even French fries.
Products in the marketplace include blueberry ice cream, sweetened blue toppings in squeeze tubes, catsup, beverages, ice pops, and the color blue added to M&Ms. But the craze for blue didn't stop with the kids segment. Scientific research suggests that blueberries and other dark-colored berries contain anthocyanins, which may have a role in preventing heart disease.
When talking about blue-colored ingredients, one has to begin with the blueberry, which can be used whole, diced, fresh, dried, freeze-dried, as puree concentrate, or in juice form. Some of the more eye-catching examples of blueberry use include an ice cream cone with blueberry bits, blueberry salsas and sauces paired with nontraditional seasonings such as tarragon and cider vinegar, blueberry barbecue sauce, a pancake mix with dried blueberries, and, from Japan, a candy with a blueberry twist, Blueberry Wagashi.
Blueberries can play an important role in toppings, which is the first thing we see on a food and frequently is the key purchase factor. Blueberries may be used to enhance the appearance of frozen desserts, providing interesting blue swirls or patterns in the product. In addition, their chunky mass can add to the creamy texture of the product. Bakery fillings and toppings may be used for croissants, puff pastry, strudel, and doughnuts. They also work well in breads, pancake and waffle mixes, and breakfast bars. In the January 2008 Ingredients article, we discussed the emerging directions that breakfast foods are taking, and blueberries, especially as a color, can provide a revitalizing or reshaping force within this exciting and still-evolving food category. The photo on this page shows an oatmeal breakfast cake made with blueberries.
And blueberry, combined with the colors of other fruits, can help create new, better-for-you formulations, especially in the snack or dessert area. How about blueberries and white cranberries? Or blueberries and pomegranate? Formulations such as syrups, puddings and other dairy desserts, and beverages may take advantage of the distinctive colors that these fruits can provide.
A natural blue colorant that is suitable for use in sugar-coated confectionery applications was recently developed by Wild Flavors, Inc., Erlanger, Ky. (phone 859-342-3600, www.wildflavors. com). According to the company, the new product gives a brilliant color, intense enough to provide a high level of coverage on a thin sugar layer.
--- PAGE BREAK ---
With the blue addition, Wild's natural color line encompasses a complete range of choices. The Colors from Nature™ line is produced from natural fruit and vegetable extracts and uses cutting-edge technologies in separation, extraction, isolation, and concentration.
A dust-free form of FD&C Blue #1 was recently introduced by Sensient Colors, Inc., St. Louis, Mo. (phone 800-325-8110, www.sensient-tech.com). The product, Dustmaster Blue 1, combines dependable color performance with superior dust control. It is produced by a proprietary method of manufacturing and drying that effectively removes all of the fine particles that cause dust. After floating briefly on the surface, it wets and dissolves quickly, without the need for excessive agitation or long dissolution times.
Sensient also offers other innovative developments that could prove useful when formulating foods with blue colors. For example, a synthetic color product line offers significant advantages over standard synthetic lake colors. The SensiSpers liquid product line consists of propylene glycol-based emulsions of synthetic dyes. This system provides better color efficiency and brighter shades compared to lake colors. An additional benefit for the dye emulsions is the improved acid stability in relation to lakes. This makes these colors a suitable choice to minimize color migration in layered food products. The color system may be used in a wide range of fat-based or fat-containing food products. It offers more-stable, brighter, and more-efficient color solutions for compound coatings, layered desserts, yogurt, ice cream variegates, bakery icings, and many others.
Now imagine a picture of a giraffe against a blue sky on the surface of your cookie or wafer. Or a palm tree on the edge of a blue sea. Or a volcano erupting blue-red lava. Through the use of SensijetB. digital food imaging from Sensient, all of these images and more are possible, helping to differentiate a product in the marketplace. Decorative images, text, and seasonal and sports themes can all be imprinted on the food, and there would be plenty of opportunities for the color blue.
As can be seen, there is nothing sad about being blue, especially when it pertains to food formulating.
Browning Poetry
Any discussion of brown colors will include caramel, of course. One of the most common natural colorings, caramel is made by the controlled heating of food-grade carbohydrates, and it may be used in such applications as ice cream, bakery products, cereals, beverages, and sauces. Caramel color is a color additive exempt from certification. FDA regulations state that if the food or beverage contains caramel color, then it must be labeled as such. Most companies comply by simply listing "caramel color" on the ingredients statement.
--- PAGE BREAK ---
Caramel, which has excellent heat, light, and pH stability, can produce warm brown hues and other shades, depending on dosage. When mixed with other colors, brown works to dim the brilliance of the hue. Caramel colors are available in such forms as water- or oil-soluble liquids or in powdered forms.
A variety of organic caramel products are being introduced. A line of such colors is available from D.D. Williamson and may be listed as "organic caramel color" on the ingredients statement. At the 2007 IFT Annual Meeting & Food Expo, Sethness Products Co., Lincolnwood, Ill. (phone 847-329-2080, www.sethness.com), launched an organic powdered caramel color, OC234, which can improve the visual appearance of organic baked goods, cereals, dry blends, meat rubs, and seasonings. The specialty dry powder is designed as an alternative to organic liquid versions. Sethness also offers two certified organic liquid caramel colors.
New ways to add brown are also being explored. For example, a gluten-free syrup from Briess Malt & Ingredients Co., Chilton, Wis. (phone 920-849-7711, www.briess.com), promotes browning in cereals, snack foods, and baked goods. BriesSweet White Sorghum Syrup, originally developed by the company for the production of gluten-free beer, is characterized by the same reducing sugars and amino acids as malt extract, which promotes browning. Because the syrup functions as a 1:1 malt extract substitute, a gluten-free corn flake that closely resembles the look and flavor of its gluten-containing counterpart can now be produced and marketed. The syrup is available in two dextrose equivalents: 45 DE High Maltose and 60 DE.
A brilliant brown color can be imparted to beverages by Exberry™ Shade Rustic Brown from GNT USA, Tarrytown, N.Y. (phone 914-524-0600, www.gnt.usa.com). The color is said to be excellent in iced tea, cola, root beer, and cream soda, as well as working well in flavored syrups, inclusions, popcorn coatings, and pastry desserts. The color does not affect the flavor profile of the finished product, and it complements caramel, fudge, and chocolate flavors. For savory products, it enhances soy sauce flavors, barbecue sauces, or marinades. The color is manufactured from fruits and vegetables without the use of caramelization. With excellent heat stability, it maintains its color hue and strength throughout the shelf life of the finished product.
The Sunny Side of Life
Carotenoids are a group of pigments that are extracted from various edible vegetable sources. Natural carotene offers yellow to yellow-orange shades and has excellent light, heat, and pH stability. Potential applications include ice cream, soups, beverages, confections, margarine, dairy products, sauces, functional foods, and more. Because mixed carotenoids are perceived as offering health benefits, they are becoming increasingly popular as a color for a range of applications.
--- PAGE BREAK ---
Lutein, a carotenoid pigment extracted from marigold flowers, provides a range of yellow colors for use in cheese, cakes, sauces, sugar confectionery, beverages, functional foods, and other products. Turmeric, extracted from a spice, has a bright yellow to greenish-yellow hue, and is very tolerant to heat and pH extremes. Prolonged exposure to sunlight can cause the product to fade, but light stability can be increased in some cases by specific treatment. Annatto, extracted from seeds, can produce colors ranging from light yellow to dark orange for use in products such as cheese, margarine, salad dressings, cereal, ice cream, snacks, icings, and fruit preparations.
New beta-carotene powders and emulsions are available from Taiwan-based Allied Biotech Corp. (phone 45 3262 1234, www.altratene.com). Altratene 10% WSC is a high-potency beta-carotene powder that imparts yellow-orange colors to a large variety of food products. Altratene 5% WSC improves the properties of 1% beta-carotene powders. A new generation of emulsions, Altratene 2% and 3%, provides a range of yellow color shades; the emulsions are specifically targeted at beverage manufacturers who seek to eliminate concerns about "ringing" issues.
Net Turmeric from Wild Flavors, Inc., Erlanger, Ky. (phone 859-342-3600, www.wildflavors.com), demonstrates advances in both light and heat stability and improves the longevity of the yellow color in candy, cereal, yogurt, seasonings, and ice cream. The product is part of a new line of natural colors, NetColors, created by nanotechnology, which makes possible their use in applications that otherwise would have been problematic.
A variety of other possibilities are available. Carrot extract from Kalsec, Inc., Kalamazoo, Mich. (phone 269-349-9711, www.kalsec.com), provides a cream to golden-yellow hue. The natural color has good light and pH stability, making it suitable for a number of food and beverage applications. Natural colors, developed under the name ColorFruit by Chr. Hansen, Inc., Milwaukee, Wis. (phone 414-607-5783, www.chr-hansen.com), are based on natural carotene and anthocyanins, and have excellent stability. Natracol fruit and vegetable extract range from Roha USA, St. Louis, Mo. (phone 314-289-8300, www.rohadyechem.com), offers a variety of coloring options, including yellow (turmeric and safflower) and orange (carrots and paprika). Biocolor USA offers Carotene Plus, an annatto-turmeric oil-soluble solution that may be used as a cost-effective alternative to natural or synthetic beta-carotene. The ingredient can effectively color margarine, preventing the formation of streaks.
Colors of the Rainbow
This article has looked at a number of colors, their emerging developments, and how they relate to food. To evoke certain moods or associations, these colors, of course, are used in different combinations with one another, creating a wide range of exciting possibilities for the formulator. For example, the effect that color combinations can have in toppings to transform traditional products is demonstrated by several prototypes from Kerry Ingredients, Beloit, Wis. (phone 800-334-4788, www.kerryamericas.com). Take bagels, sprinkle them with bits of color associated with pizza, and you have a new savory snack. Or for a sweet dessert, how about cupcakes sprinkled with brightly colored raspberry and lemon bits?
--- PAGE BREAK ---
Spectra-Flecks from Sensient Colors, Inc., St. Louis, Mo. (phone 800-325-8110, www.sensient-tech.com), is an exciting way to deliver different color bursts to such foods as ice cream, bakery products, snacks, and seasonal items. The flecks of color, which use a gum-based edible film technology, are available in a wide range of colors (natural, flavored, and soluble with lake pigments), including blue, green, black, red, purple, clear, yellow, pink, gold, orange, fuchsia, and silver. These colors, especially when used in different combinations, create a confetti-like appearance. Imagine using these flecks of color against a white icing background and the effect may be further emphasized.
Colored Confectioners Sugars from Domino Specialty Ingredients, Baltimore, Md. (phone 410-783-9730, www.dominofoods.com), can be applied as a topping to accentuate confections. These uniform crystals are available in a variety of colors, such as blues, oranges, violets, greens, and rainbow.
SensoryEffects from Loders Croklaan USA are specialized lipid-based inclusions that can deliver color to a variety of applications. Recently, this business unit was acquired by Performance Chemicals & Ingredients (PCI), St. Louis, Mo. PCI was formed in 2006 to acquire and manage chemical and food ingredient businesses, and with the purchase, new opportunities for these lipid-based delivery systems may be created, especially in the areas of color and health.
The possibilities for color combinations are endless. For the food formulator looking to enhance existing products or create new ones, the end of this rainbow can mean only one thing. A pot of gold.
Next month's Ingredients section will look at the exciting category of yogurt and how ingredient developments are helping to enhance the image of this healthy food.
---
Mining the Potential of Metallic Colors
Imagine chunks of chocolate with the glitter of gold. Or gumballs that have the shimmer of silver. Or lollipops that contain a metallic burst of different colors. Products such as these are now possible since the FDA added titanium dioxide-coated mica-based pearlescent pigments to the list of food-approved color additives.
--- PAGE BREAK ---
These pigments, which provide a pearlescent or metallic effect, can be used to color cereals, confections, frostings, gelatin desserts, hard or soft candies, nutritional supplement tablets, gelatin capsules, and chewing gum. According to Colorcon, West Point, Pa. (phone 215-699-7733, www.colorcon.com), which supplies PearliCoat Pearlescent Pigment Systems in five brilliant colors, these pigments are applied topically to or included in the mass of the product. Since the effect is dependent upon light refraction and substrate surface characteristics, it is important to understand proper application techniques and considerations such as sugar crystallization and polishing. The pigments have been successfully incorporated into aqueous- and solvent-based film-coating systems, and can be used in other carriers. They exhibit good shelf stability and are available in liquid or dry concentrate form.
The use of these pigments offers a novel way to differentiate food products in the marketplace. Sensient Colors, Inc., St. Louis, Mo. (phone 800-325-8110, www.sensient-tech.com), introduced its line of dry SensiPearl™ Pearlescent Pigments, which can achieve luster effects, color shifts, and iridescent shimmers. A thin layer of titanium dioxide plated on mica creates the pearlescent effect. Light penetrates the layers of the pigment and certain waves are absorbed and others are scattered and reflected back to the eye. This mechanism of scattering light waves creates the unusual visual appearance. By modifying the thickness of the layers on the pigment particles, ranges of shades, including silver, red, green, and blue can be created.
Pan-coated confections are one of the most interesting applications for the SensiPearl pigments. To provide a cost-efficient and convenient way to apply the pigments, Sensient developed its One-Step Spectracoat Pearl Dispersions. This dispersion is applied as the last step of the coating process. In a single step, it provides a mechanism to evenly distribute the pigment over the product surface, while containing additives that will shine the product to a high gloss.
Watson, Inc., West Haven, Conn. (phone 203-932-3000, www.watson-inc.com), incorporated pearlescent pigments into its line of Edible Glitter™ products. The color and particle size of the flakes can be optimized to give the desired visual impact for the intended application.
EMD Chemicals, Inc., Hawthorne, N.Y. (phone 888-444-7662, www.candurin.us), an affiliate of Germany-based Merck KGaA, offers its line of Candurin® Pearl Effect Colors. These eight "special effect" pigments impart a pearlescent hue to a variety of food applications, especially pigmented sugar and shellac coating systems. These pigments can be mixed with FD&C colors to impart a wide range of new color impressions to foods.
International Foodcraft Corp., Linden, N.J. (phone 908-862-8810, www.intlfoodcraft.com), provides ColorGlo™ Special Effects Colors. These titaniumdioxide and mica-based powders and concentrates create effects from a subtle glow to a shiny sparkle. The permitted usage level of the pigment is up to 1.25% by weight of the finished product.
As these developments demonstrate, the world is suddenly full of glitter, and new opportunities are being created in products ranging from cupcake icings to functional foods.
---
by Donald E. Pszczola,
Senior Associate Editor 
[email protected]