Do I detect something in the air? Mmmm, very distinctive. That smell, I believe, is chrysanthemum, a new extract that can add a floral aroma and flavor to a tea drink. And this scent—whiffing by me right now—is the essence of rose combined with vanilla for use in ice cream formulations. And then this one…well, it passed by me in the breeze, but I'm sure it will be back again. After all, these winds of change—and the ingredient developments they bring—are growing stronger by the minute. All signs suggest a very favorable forecast.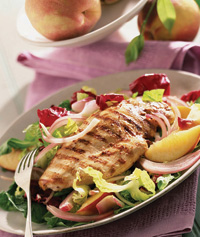 Anything, of course, is possible. We might next smell a new-generation fruit flavor that captures true-to-nature flavors and aromas. Or an aromatic black pepper that is infused with a smoked flavor. Or exotic tea flavors that capture the qualities of their aromatic originals. And here's a mint scent … it could be one of those new chewing gums made with magnolia bark, an alternative ingredient which can kill germs that cause bad breath.
With all these different aromas in the air, it can only mean that it's time again for another annual installment of emerging ingredients—those novel, cutting-edge developments that can shape parameters for future product formulating. As discussed in past roundups, they can help us to rethink what roles ingredients play in functionality, potential health value, convenience, and the overall formulation of foods in general.
As usual, our developments come from a wide range of ingredient categories. Some indeed are aromatic, while others offer different benefits. For example, film systems can provide innovative ways for applying spices, glazes, and other flavors to an application. Or, pepper flavors can release distinctive flavors without the heat. Or, a new bactericidal solution is effective against pathogens on the surface of meats. And there are many others, including a process which extracts cholesterol from milk, a new soybean oil that takes stability to the next level, and new developments in whole grains.
Interestingly, the origins of some emerging ingredient developments can be traced to the far past, and are only being rediscovered today. Perhaps we should call these "re-emerging" emerging ingredients. Coconut water, which has long been known about in equatorial countries, is finding its way into the mainstream because of its health and culinary benefits. Chia seed, an energy food known to the Aztecs, is evolving past its associations with the "pop culture" Chia pet in the 1980s to its use as a healthy whole-grain ingredient in a variety of formulations. And there's a wide range of culinary ingredients which have their roots in ancient cuisines from around the world. Culinary chefs frequently play a major role in advancing these developments.
With that said, let's see if we can't "sniff out" the value of the following developments:
--- PAGE BREAK ---
Sweet Smell of Success
Rose. Chrysanthemum. Hibiscus. No longer confined to a garden, these floral scents can play a role in food product development. Take, for example, this distinctive extract from Frutarom USA, Inc., North Bergen, N.J. (phone 201-861-9500, www.frutarom.com). In this case, mum's the word. Chrysanthemum, that is.
The chrysanthemum extract can add a twist in hot and cold tea-type drinks, especially when blended with other herbal ingredients. "It is also totally compatible with chamomile varieties, which are experiencing a strong comeback as a soothing aid to digestion," said Michael Conti, the company's Vice President of Natural Products.
Derived from the yellow chrysanthemum flower through a proprietary process, the natural flavor extract is said to offer floral notes and hints of refreshing celery characteristics. It is dark brown in appearance with a usage range of 0.20% to 1.00%.
Nielsen-Massey Vanillas, Waukegan, Ill. (phone 847-578-1550, www.nielsenmassey.com), recently extended its product line with floral flavors. Rose Water captures the essence of fresh rose blossoms through steam distillation. Delicate essential oils from the petals are extracted, creating a floral flavor which pairs well with vanilla, cream, chocolate, rice, and mild cheeses including Brie and cream cheese. The extract enhances a variety of recipes, and may be used in Eastern, Indian, and Greek dishes such as baklava and rice pudding, and French pastry glazes and creams. It can flavor beverages, cookies, and other products; be served as a beverage in sweetened hot water; or used in lassi, a traditional Indian yogurt drink. It can also be used to make rose syrup which can enhance a glaze for roasted meats, poultry, and other savory dishes. Available from the company is a recipe, Vanilla Rose Apple Crisp, which uses this sweet scented water.
A second addition, Orange Blossom Water, is a distillate of the Seville bitter orange from Spain and the Middle East. Traditionally added to Persian, Arabic, Indian, and Turkish dishes, the ingredient delivers the sweet perfume of the orange grove. Complementing such flavors as vanilla, almond, cream, and lemon, it is well suited for use in custard, puddings, ice cream, cakes, cookies, candies, and vinaigrette dressings. It can also benefit savory dishes such as curries, lamb, chicken, or rice. Nielsen-Massey offers an Orange Blossom Fruit Salad recipe, which demonstrates how this aromatic water can add an exotic touch to fresh greens.
At its recent Flavorology event, Bell Flavors & Fragrances, Northbrook, Ill. (phone 847-291-8300, www.bellff.com), highlighted the use of Natural Hibiscus Mango Flavor WONF in a chocolate fondant. The flavor was used at a level of 0.8% and provided the chocolate with a pleasant floral scent. It also showed the potential of combining floral and fruit flavors in confectionery applications.
According to the McCormick Flavor Forecast 2008, released by McCormick & Co., Hunt Valley, Md. (phone 410-527-8753, www.mccormick.com), the pairing of rose with poppy seed is among the top flavors to watch out for this year. Rose comes in many forms, including water, syrup, and petals, available dried, fresh, candied, or crystallized. Rose is just one of many floral developments recently highlighted by different ingredient companies.
--- PAGE BREAK ---
Developing a Pipeline for Next-Generation Fruit Flavors
Recently, Blue Pacific Flavors, City of Industry, Calif. (phone 626-934-0099, www.bluepacificflavors.com), formed a strategic collaboration with New Zealand-based Hort Research that could further new developments in the area of fruit-based flavors and ingredients.
"This agreement will help us develop a pipeline for the next generation of fruit flavors and natural fruit-based ingredients," said Donald Wilkes, President and CEO of Blue Pacific Flavors. The company has previously developed a number of multi-technology ingredient platforms using its True Fruit or Sun-Ripened™ natural and organic fruit flavor systems. Now it plans to take the next step in developing sophisticated flavors and fragrances.
Through its collaboration, Blue Pacific hopes to improve its flavor delivery and production of natural aroma chemical compounds to achieve a true-to-fruit taste experience and optimum consumer acceptability. "The future of flavor will be based on molecular taste innovations which we call Taste Nanology™," observed Wilkes. "The research we gain from our relationship with HortResearch will help us better understand how the matrixes between aroma and taste are delivered by Mother Nature. We will be on the forefront of these converging sciences."
HortResearch, a leading science company in fruit research, has developed a number of new fruit cultivars as well as an extensive fruit compound database—a valuable resource for creating innovative fruit-derived products with novel flavors and health functionality. Utilizing knowledge in phytochemicals, food chemistry, nutrigenomics, and molecular biology, the company is delivering scientific breakthroughs to meet emerging markets.
Both parties feel that their alliance will help to bridge the gap between research and commercialization of fruit-based options. Furthermore, helping to fuel this interest in new fruit-based flavors and ingredients has been the growth of the "Superfruit" trend and continued consumer interest in fruit-derived antioxidants. Also, formulators are combining more exotic fruits with traditional ones, creating new flavor opportunities that could further generate a drive for new fruit-based developments.
Some examples of emerging fruit flavors that the companies will focus on in the near future include mangosteen and the youngberry.
Not the Same Old Grind
Black pepper has been long known for its sharp, penetrating aroma and characteristic flavor—qualities that made this ingredient essential for enhancing a wide range of dishes. In its culinary evolution, black pepper may be taking a major step forward.
--- PAGE BREAK ---
Recently, McCormick & Co. introduced two new retail products that present exciting varieties of black pepper. The first product, McCormick Smokehouse Ground Black Pepper, infuses black pepper with an applewood smoke flavor to create alluring aromas and a wood-smoked taste. Potential applications that can be given a novel twist might include hamburgers, ribs, pork, and chicken. A second seasoning combines Worcestershire sauce with black pepper. The product, McCormick Worcestershire Ground Black Pepper Blend, can pump up the flavor of steak, stew, or spice rub with the bold addition of Worcestershire.
Of course, as we have already seen in this article, black pepper is only one of several aromatic ingredients that reflect emerging developments. And that's nothing to sneeze about.
What's Shaking with Salt?
Having just discussed an emerging black pepper development, it's only fair to see what's shaking with salt. Sea salt, that is. In recent months, sea salt has become very popular. Consumers are increasingly choosing food products with this ingredient. According to the Innova New Product Database, more than 800 new products containing sea salt were introduced in 2007—a 16% increase from 2006.
To help food processors meet this growing demand for sea salt, Cargill, Minneapolis, Minn. (phone 952-742-6000, www.cargill.com), introduced Sea Salt Grinder , a special cut of natural sea salt for use in gourmet seasoning blends and salt mills.
According to Carlos Rodriguez, Cargill's Marketing Manager, the product's crystals are the largest size available from the company. Their dimension, the size of a peppercorn, allows the product to mix thoroughly with other seasoning ingredients and provide maximum flavor. The size also allows the pure white crystals to be clearly and visibly integrated within the seasoning mix, rather than settling on the bottom or being invisible to the eye. The ingredient, a 99.8% pure, tightly screened cut of natural sea salt, contains no anticaking or free-flowing additives or conditioners, and meets the requirements of the Food Chemical Codex.
Taking the Heat Out of the Equation
Formulating with peppers alone can sometimes be a challenge because their heat levels can make it difficult to experience their true flavors. A solution to this problem may be a new line of Zero Degree™ Pepper Flavors from Kalsec, Inc., Kalamazoo, Mich. (phone 269-349-9711, www.kalsec.com), which is said to release all the distinctive flavors of habanero, jalapeno, acho, and chipotle without the influence of heat.
The pepper notes were first identified through trained sensory panels, and these analyses were then used to replicate the nuances of different pepper varieties. The resulting flavors can help create new opportunities for products with bold pepper profiles without the heat. While initial product development has shown that these zero-heat flavors work best in salsas, dips, sauces, soups, and prepared meals, further development in additional applications is currently underway that will include baked goods and snacks.
--- PAGE BREAK ---
Your Pet Grain?
According to Datamonitor's Productscan Online, more than 500 new food and beverage products were introduced worldwide in 2007 featuring ancient grains such as quinoa, spelt, kamut, and amaranth. This represents a doubling of the new products featuring these grains in 2005 and a nearly five-fold increase over the products that used these grains in 2004.
The popularity of whole grains is opening up doors for more novel, flavorful, and lesser known types of grains. The newest example of this is chia—the name derived from the Aztec word, "chian," meaning oily. The oil from chia seeds is one of the richest sources of omega-3 fatty acids. It is also high in vitamins, minerals, fiber, and easy-to-digest protein. Known as the "running food," the Chia seed was used as a high-energy endurance food as far back as the ancient Aztec times.
Benexia™ Chia Seed from Canada-based Proprietary Nutritionals, Inc. (phone 519-647-2071; www.pnibrands.com), can enhance the nutritional profile of a variety of foods without compromising taste. It incorporates easily into baked goods, snacks, bars, and drink mixes. Recipes have demonstrated that chia seeds can be blended into smoothies, granola, oatmeal, and yogurt. Sprouted Chia Seed Powder may be used as a flour substitute for bread, muffin, cookies, and pie recipes. Chia seed can also be sprinkled onto soup, salad, and rice dishes.
Proprietary Nutritionals, Inc. offers the product in a variety of forms, including bulk seed, sprouted seed, milled seed, flour, and oil. Technical sheets are available describing the characteristics of each of these forms.
According to Datamonitor, the seed is starting to show up in new product launches such as Chia Razz Pure Fruit and Nut Bar from Nature's Path Foods and Chia Goodness Cranberry Ginger Breakfast Cereal from Ruth's Hemp Foods. With the growing interest in ancient grains, expect to see other new product launches using chia seed.
And yes, chia is the same seed used for the popular Chia Pet® animal figurines that were launched in the 1980s. Since then we have seen in the market Chia Homer, Chia Shrek, Chia Garfield, and even a Chia Albert Einstein. With its rediscovery as a healthy grain, "Ch-ch-ch-chia!" has a healthy ring to it, one which can find advantage in a variety of food applications.
Films Provide a Picture of Flavor
Traditionally film systems have been used to protect the surface of apples, coat battered frozen foods, line ice cream cones, and layer certain drugs. But as a wide range of spices, herbs, and flavors become available from around the world, food formulators are looking for simple, easy to use systems for their application or transfer, and emerging film systems may be an answer.
Film systems from CMS, Avon, Ohio (phone 440-937-3900, www.cmsflavorseal.com), provide innovative ways for uniformly applying spices, glazes, and other flavors to an application. Eye-catching grill marks can also be added by the systems. Depending on the customer need, these systems can be customized to deliver proprietary spice or flavor blends.
The film systems, marketed under the name, Flavor Wraps™, are available in three versions.
--- PAGE BREAK ---
Dissolvable flavor sheets come in brown sugar glaze, rosemary rub, lemon pepper, Ragin' Cajun, honey bourbon, jalapeno cheddar, BBQ, sweet chili garlic, spicy Szechuan, and proprietary blends. They may be used to enhance such applications as spiral-sliced bone-in ham, marinated pork, turkey loin, barbecue ribs, chicken wings, boneless ham, turkey, or roast beef. The flavor sheets are easily applied on the line, and dissolve quickly after being vacuum sealed.
Cooking spice transfer sheets, offered in dissolvable and non-dissolvable types, include paprika blend, caramel, pepper, Cajun, lemon pepper, and proprietary blends. Ready to use with no mixing, blending, or dispensing equipment required, they make it easy to uniformly add spices to boneless deli ham, roast beef, or turkey. An "all natural" grill mark is also available to give meats a grilled look without the extra labor and equipment.
Non-cooking spice transfer sheets are non-dissolvable. Users apply the moisture-activated film and then remove the polyester backing. Consistent, uniform spice coverage is achieved every time with no extra cooking. Flavors include pepper, sea salt, Cajun, Thai, and proprietary blends. The sheets are suitable for pepper bacon, pepper ham, turkey, roast beef, Cajun chicken, or Santa Fe turkey.
Bactericidal Solution Treats Surface of Meats and Poultry
Pathogens can be eliminated from the surface of meats by a new bactericidal solution from Purac America, Inc., Lincolnshire, Ill. (phone 847-634-6330, www.purac.com). Recently approved by the USDA as a processing aid for fresh meat and poultry, Protect-M is a lauric arginate surface treatment based on Mirenat.
The surface treatment is said to be effective against pathogens such as Salmonella, E. coli, and Listeria, by acting on the cytoplasmic membrane of the microorganisms and disrupting their metabolic processes. It is suitable for both fresh and cooked meat and poultry products with no negative effect on flavor or other sensory characteristics.
According to the company, Protect-M can be used up to 0.2% (200 ppm of lauric arginate). When used in fresh meats, it is considered to be a processing aid and does not need to be labeled. In cooked meats, it should be labeled as lauric arginate.
Extract Helps Kill Bad Breath Germs
Recently, at the 2008 All Candy Expo, the Wm. Wrigley Jr. Co., Chicago, Ill., announced that its Eclipse line of breath-freshening gums and mints will be made with an alternative ingredient that can help kill germs that cause bad breath. The gums and mints are reported to be the first in the U.S. to contain magnolia bark extract, a natural ingredient proven to have germ-killing benefits.
--- PAGE BREAK ---
According to Wrigley scientist Michael Greenberg, the most common way to treat bad breath has been to mask it with flavor found in chewing gum and mints, or to kill the bacteria that cause bad breath with antimicrobial agents found in many mouthwashes or toothpastes.
"The antimicrobial agents found in many mouthwashes and toothpastes could never be used in gum and mints because of poor taste, possible tooth staining, and over-the-counter drug classification," said Greenberg. "Wrigley's research pertaining to magnolia bark extract, which was published in the Journal of Agricultural and Food Chemistry last November, demonstrated that the extract helps kill the bacteria that cause bad bread, and also Streptococcus mutans, the bacteria involved in tooth decay."
Unlike agents found in mouthwash, magnolia bark extract can be fully incorporated into food-based mints and chewing gum, added Greenberg. The extract is isolated from the stem bark of Magnolia officinalis and is used in traditional Chinese medicines.
Eclipse gum with magnolia bark extract, available this summer in stores, will come in Spearmint, Winterfrost®, Polar Ice®, Peppermint, and new Fresh & Cool flavors.
Coconut Water: Finding the Mainstream?
Well-known as a thirst-quencher in steamy equatorial countries, coconut water has been quickly gaining favor for a number of health and culinary reasons. Not to be confused with coconut milk, the thin clear liquid is the endosperm of green coconuts.
Because coconut water offers high amounts of electrolytes such as potassium and magnesium, it has been described as a natural isotonic sports drink. Rich in essential nutrients such as proteins, amino acids, sugars, vitamins, and minerals, it may play a role in supporting healthy cell growth and metabolism. Furthermore, coconut water solids can function as a prebiotic, supporting beneficial bacteria in the gut.
A freeze-dried form of coconut water, Cococin™, is available from Sabinsa Corp., Piscataway, N.J. (phone 732-777-1111, www.sabinsa.com). The ingredient, which blends easily with dry products and readily dissolves in water, delivers valuable nutrients for enhancing food and beverage formulations.
The McCormick Flavor Forecast 2008 highlighted the pairing of coriander and coconut water as one of the emerging flavor trends to watch out for. The minty, citrus flavor of coriander balances the bright, slightly sweet taste of coconut water. Together, they can enhance the flavor of a variety of dishes, such as a sorbet or beverage, a tropical ceviche, a chilled soup, or Asian-inspired entrees.
--- PAGE BREAK ---
Process Reduces Cholesterol in Milk
Cholesterol reduction in milk products can be achieved by Benelact®, a proprietary process from Alliance Enterprises, Racine, Wis. (phone 262-898-7493; www.benelact.com). The process is said to extract cholesterol from milk without altering its taste, texture, or properties.
According to the company, which introduced the process in 2007, cholesterol can be reduced by 90% in skim milk and by 35% in whole milk. The resulting product can be consumed directly or used as an ingredient in other dairy-based food products. A Benelact Research & Development Center in Racine, Wis., was recently opened to provide services to customers interested in developing cholesterol-reduced products.
In this process, which involves mechanical mixing and separating, cholesterol is "grabbed" and separated from the milk. Because temperatures and other factors are controlled throughout the process, proteins, calcium, and vitamins are left undisturbed. Customized products can be created, including fluid and powder formats with a wide range of fat content; dairy products such as cheese, ice cream, butter, and yogurt; and ingredients for use in soups, chocolates, beverages, and a variety of consumer packaged products.
New Soybean Oil Goes 'the extra mile' for Stability
A new soybean oil from Asoyia, Iowa City, Iowa (phone 319-339-4645, www.asoyia.com), provides an optimal level of stability, neutral taste, and heart-healthy benefits. Asoyia Mid Oleic Ultra Low Linolenic Soybean Oil (Asoyia-MO) is the next generation of Asoyia's Ultra Low Lin Soybean Oil (Asoyia-ULL), which the company introduced to the market in 2004.
According to Terri Volpe, technical advisor for the company, while Asoyia-ULL is a readily available solution for tough formulations requiring a high degree of stability and zero trans fats per serving, Asoyia-MO takes it to the next level. "It goes the extra mile for stability," she explained. "It's good for the type of product with higher moisture content, or where there are ingredients that may cause the oil to have a tendency to oxidize. Using mid oleic will give them better shelf life with cleaner flavors for longer periods of time."
The new oil is suitable for creating texture in products. It has performed favorably in cookies, crackers, and muffins, and as a spray oil coating for crackers and extruded snacks. Similar to Asoyia-ULL, the MO has excellent spray-drying characteristics and has proven excellent performance in coffee whiteners and spray-dried powdered cheese and spicy coatings for snacks.
While there are other mid-oleic low-lin oils available, some have flavors, aromas, or other characteristics that are often imparted to the food. Soybean oils have long been preferred due to their neutral taste, but go rancid quickly if not hydrogenated. Asoyia-MO is distinctive in that it retains its neutral flavor much longer as a result of its stability.
--- PAGE BREAK ---
Flavors of a New Generation?
Specific demongraphic groups are being targeted by Agilex Flavors & Fragrances, Rancho Santa Margarita, Calif. (phone 949-635-1084; www.agilexfandf.com), to determine what kinds of flavors they prefer in different kinds of foods and beverages. The company's flavor focus program, Flavor Focus Collections, is designed to give customers guidance on which flavors consumers prefer.
"We've done the leg work and laboratory work to find out what flavors are preferred for groups we've targeted based on ethnicity, gender, and age," said Tom Damiano, President of the Agilex Flavors Div. "With our Flavor Focus Collections, we're set to share that knowledge and scientific expertise with our customers who will then be able to market their products more effectively than ever."
According to Damiano, Agilex will target the energy drink market before branching out to other drink segments, such as vitamin-fortified waters and ready-to-drink teas. "We can help our customers solidify their base of loyal customers, then capture a whole new segment of the market by adding flavors that will attract other demographic groups to their energy drink and eventually to other products," he said.
Uncovering What's Next
There's an old saying, "Too many cooks spoil the broth." Actually, that may not be as true anymore, judging by a recent event and the kind of influence it could have on future emerging ingredients and trends.
Last May, in Barcelona, Spain, a leading flavor and fragrance expert Givaudan, Cincinnati, Ohio (phone 513-948-8000, www.givaudan.com), held its second Global Chef's Council. Focusing on culinary flavor innovation, the gathering of chefs met to share insights from the world of fine dining as well as uncover "what's next" on the menu of international gastronomic trends.
The council, a rotating panel of chefs representing different parts of the world, was formed by Givaudan to work side-by-side with the company's extensive team of chefs, flavorists, and food scientists to explore and advance culinary thinking. Together, they will develop their ideas for FlavourVision™, the company's future-forward trends platform. Chefs came to this event from all around the world, including New York, Singapore, Brazil, Peru, and Spain.
This event can be of significance for a number of reasons. Many ingredient developments in the industry frequently have their origins in the culinary realm. And although chefs are usually perceived as being independent and artistic in temperament, events such as these suggest that collaborations between chefs from around the world are not only possible but desirable as they provide different viewpoints and a broader resource for information. Furthermore, these collaborations, in turn, can then form interactive groups with food scientists to address or even shape emerging trends—an important driving force for future development of ingredients and technologies.
In recent months, there have been other events suggesting the possible influence that chefs can have on emerging trends. At a recent media event, International Flavors & Fragrances, New York, demonstrated how a global tea portfolio could be used in a wide range of applications. These flavors, which were said to capture the delicacy, nuance, and sophistication of the aromatic originals, included White Peony, Long Jing, Gyokuro, Ooloong Tie Guan Yin, Darjeeling, Jasmine Green, and Chysanthemum. Chefs were on hand to use these flavors in such formulations as White Tea Water, Chrysanthemum Champagne, Oolong Pomegranate Yogurt Smoothie, Jasmine Green Tea Ice Cream with Black Tea Mate Ginger Cookie, Long Jin Chocolate Truffle, White Peony Tea Latte, and Tea Soaked Roast Duck Salad with Green Tea Vinaigrette.
--- PAGE BREAK ---
Bell Flavors held a Flavorology event. which, with the cooperation of chefs, looked at a number of emerging trends. These included the fusing of sweet and savory flavors; trend-setting African, Southeast Asian, and Middle Eastern flavor profiles; fresh-cut chef selection herbs; and tomorrow's "superfruit" flavors. Teams of chefs were given the opportunity to compete with each other to see what kinds of innovative dishes they could create.
So what's next? You may not have to wait until next year's Emerging Ingredients article. Just look inside that bubbling kettle and you may find out for yourself.
Next month's Ingredients section provides post-show coverage of the IFT Annual Meeting & Food Expo.SM
---
How Dairy Research Has Evolved
The California Dairy Research Foundation recently celebrated its 20th anniversary in promoting innovation through dairy research and development, as well as education. CDRF Executive Director Joe O'Donnell shared with Food Technology his views on how dairy research has evolved, some of the past and present trends addressed by CDRF, and emerging trends that may shape future directions of the dairy industry.
According to O'Donnell, who joined CDRF as its first executive director in 1990, twenty years ago the work focused on specific nutritional components of milk such as calcium or protein quality. The approach taken by nutritional research in general was to observe a beneficial effect and then try to understand the mechanism of action. Some examples included studying the role of calcium and the maintenance of proper blood pressure or the role of calcium in preventing osteoporosis.
Today, this research takes a more systemic look at milk, observed O'Donnell. This area really opened up over the last few years when the genetic, analytical, and computer tools to unlock the secrets of milk became available. "With this approach, the dairy industry can promote milk as a nutritional delivery system, as it has always done, but now with a greater confidence in understanding just how this system operates," he noted. "This represents a major change in what the global dairy industry can do to promote its products based on nutrition. It will also guide the development of dairy products intended for specific applications, such as weight management, proper immune functioning, bone health, and proper intestinal function."
Today, the human genome and the bovine genome are mapped, and the industry is using these tools to better understand the system by which milk delivers nutrition. The CDRF facilitated the creation of the International Milk Genomics Consortium (www.imgconsortium.org), a group dedicated to the global development of new products based on the nutritional advantages of milk. In October 2008, the IMGC will present the 5th International Symposium on Milk Genomics and Human Health at which leading scientists will meet to share data and collaborate.
While nutrition research is critical, this does not negate the ongoing need for the industry to create and market a steady stream of new products meeting the taste and function needs of existing and new consumers. "Product research over the past 20 years has focused on improving processing for efficiency and novel product development, including emerging applications that make use of the functional properties of milk components," said O'Donnell. "And, of course, attention to flavor will always be at the root of any new product developed."
The research efforts today will allow the development of products that fit well in various ethnic cultures and are attentive to the nutritional needs of different groups of consumers, noted O'Donnell. For example, dairy is playing a starring role in the probiotic revolution, appearing in a wide range of products, including yogurt, cheese, smoothies, and cottage cheese. Through research, we understand that saturated fat in moderation is a good thing (and trans fats are not so good). We also know that dairy plays a key role in weight management, immunity, gut health, and many other aspects of dairy health, sparking the development of new products that are attractive, tasteful, and functional to consumers.
by Donald E. Pszczola,
Senior Associate Editor
[email protected]