Food packaging professionals faced a dilemma this spring: The mighty Interpack 2008 descended upon Dusseldorf in Germany to shower participants and hangers-on with the mightiest rain of packaging innovation to date in this millennium, and it was impossible to absorb all of the packaging knowledge that the event incorporated. Thousands of suppliers from six continents assembled to display and communicate every conceivable product, service, and idea they have had in the past three or more years to more than 175,000 interested, fascinated, probing, and searching professionals. In three dimensions, the universe of packaging bared its collective soul.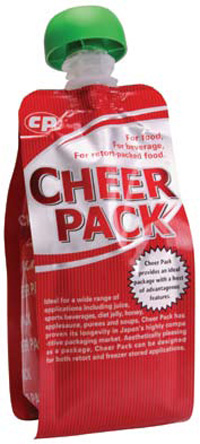 This document is not a commercial for Interpack—for by the time you are reading this, the event will be history. And whether you attended Interpack or not, some impressive packaging sessions await at the IFT Annual Meeting & Food Expo in New Orleans, La., Saturday, June 28–Tuesday, July 1.
Two concurrent food packaging poster sessions are scheduled for Monday morning, June 30, and two oral sessions—one general and one on sustainable packaging—are sequentially scheduled for Monday afternoon, with the presentation of IFT Food Packaging Div.'s prestigious Riester-Davis Award following the sustainability symposium.
Active Packaging
Antimicrobial films incorporating natural antimicrobials and oxygen-reducing films are popular themes. These entries often feature simultaneous development of edible package materials and thus attempt to achieve two major research objectives.
In Session 053, poster presentations on "Storage Stability and Antibacterial Activity Against E. Coli 0157:H7 of the Plant Antimicrobial Carvacrol in Edible Apple Films Made by Two Different Casting Methods" and "Bactericidal Effect, Storage Stability, and Physical Properties of Edible, Carvacrol-Added Tomato Films Prepared by Two Different Casting Methods" will feature the work of Wen-Xian Du, Carl Olsen, and colleagues from the U.S. Dept. of Agriculture Western Utilization Research Laboratories.
Despite the titles, several different plant essential oils—carvacrol, cinnamaldehyde, basil, or oregano plant essential oils—were added to tomato, apple, or basil purees fabricated into films. Vapor phase exposure in a closed system was more effective than direct contact.
Also included in Session 053 is a presentation titled "Incorporation of Glucose Oxidase and Nisin as Antimicrobials into Whey Protein-based Edible Films." The research was done by Edith Ponce-Alquicira of Universidad Metropolitana in Mexico City and her collaborators. It demonstrated that both glucose oxidase and nisin in cast film exhibited antimicrobial properties against several bacterial species.
"Effect of Cinnamaldehyde-Coated OPP/PE Film on Sprout Packaging," another presentation in Session 053, is one of the few dealing with commercial-type packaging structures. In this project by Korea University's Gayani Gamage and collaborators, oriented polypropylene/polyethylene (OPP/PE) film with a natural antimicrobial was tested against E.coli, Salmonella, B. cereus, and Listeria in radish sprout pouches. Significant count reductions were noted after 3 days at 10˚C.
--- PAGE BREAK ---
Ji Young Park and Jai Neung Kim from two Korean universities will present a paper in Session 053 titled "Antimicrobial Activity of Mustard Oil Coated Paper for Food Packaging and Flavor Masking Effect of Peppermint Essential Oil." Allyl isothiocyanate (AIT) is an active antimicrobial component of mustard oil, characterized by a pungent odor. Peppermint oil was tested as an antimicrobial as well as an agent to mask the pungency of the AIT. The antimicrobial effectiveness of AIT against E. coli, L. plantarum, Rhizopus stolonifer, and P. roquefortii was demonstrated by coatings applied to the surfaces of paperboard. The researchers reported that the peppermint oil appeared to show "mild flavor compared to mustard oil," suggesting a possible route to overcoming the sensory challenge of AIT as an antimicrobial.
"Development of Nano-silver Antimicrobial Film" is a paper by researchers from Taiwan's FuJen Catholic University also slated for presentation in Session 053. The object of that study was to entrap silver nanoparticles on surface-modified, low-density polyethylene film (LDPE). Measurements of the surfaces indicated that the particles were uniformly distributed, and microbiological testing indicated a 2-log reduction against selected bacteria, mold, and yeast in suspension.
Tony Zin at Eastern Utilization Research Laboratories of the U. S. Dept. of Agriculture and his collaborators have a paper in Session 053, as well. It is titled "Effects of Antimicrobial Packaging Film and Irradiation on Inactivation of Listeria monocytogenes on Ready-to-Eat Turkey Meat." Pectin films containing nisin were contacted with inoculated turkey meat with and without ionizing radiation treatment. Significant count reductions were observed, with even better results in combination with the radiation.
Imbedded by its lonesome in the Sunday afternoon (June 29) New Products and Technologies Ingredients Session 026 is "Active Oxygen Barrier Enhancement" by IFT Food Packaging Div.'s Riester-Davis Award winner Tom Powers of Multisorb Technologies. FreshBlend™ is a resin-bonded oxygen-scavenging system that may be incorporated into monolayer or multilayer molded, sheet, or film applications.
Another active oxygen-scavenging report, "Oxygen-Absorbing Packaging Material to Prolong the Shelf Life of Oxygen-Sensitive Meals Ready to Eat (MRE), can be found in poster session 2 (session 054). Prepared by Texas A & M's Carmen Gomes and colleagues, the presentation focuses on a study in which iron-based oxygen scavenger ABSO2RB™, activated by moisture, was incorporated into a lamination enveloping hot-pack cheese spread, characterized as a moist, high-fat product.
--- PAGE BREAK ---
A related paper by University of Georgia's Jinru Chen and me, "Control of Pathogenic and Spoilage Microorganisms on Ready-to-Eat Meats Using Sustained Antimicrobial Packaging," is scheduled for delivery in Monday morning's Food Microbiology Div. Session 052. We incorporated countervention systems, including oxygen-scavenging, carbon dioxide generators, and AIT into multiphase plastic in contact with Listeria-inoculated cooked ham slices stored under refrigeration. At three weeks, 2–4 log reductions in pathogens and 1–2 log reductions in spoilage counts were noted.
Food Packaging Div. Session 114 on Monday afternoon will be led by University of Florida's Bruce Welt and Frito Lay's Jung Han and will feature a presentation on AIT by Ana Cristina Vega Lugo from University of Guelph. In this study, nanofibers were electrospun from soy protein isolate and polylactide (PLA), incorporating the antimicrobial AIT for controlled release. At low relative humidities, AIT release was negligible, but as the relative humidity increased, dramatic increases were observed.
Nanotechnologies
Among the most publicized of all potential packaging technologies is nanocomposite material—which is often combined with edible and biodegradable packaging concepts.
In a paper titled "Improving Mechanical and Barrier Properties of Biodegradable Zein Films by Using Nanoclays," Jaraput Luecha from the University of Illinois and fellow authors consider ways in which incorporation of nano materials enhance mechanical and barrier properties in plastic package materials. The paper will be presented in Session 053.
In conjunction with researchers at the U. S. Dept. of Agriculture and University of California–Davis, Brazil's Marcia de Moura and collaborators addressed the topic, "Barrier and Mechanical Properties of Hydroypropyl Methyl Cellulose Edible Films Containing Chitosan Nanoparticles," which also will be featured in Session 053. In that study, chitosan, also cited as an antimicrobial, enhanced oxygen and water vapor barrier and mechanical properties such as tensile strength. And in a presentation in Session054, Ohio State University's Ahmad Allafi will discuss "Effect of Nanoparticle Percent Loading and Food Processing Types on the Barrier and Mechanical Properties of Nylon 6/Nanocomposite Materials."
Edible Films
Food Packaging Div. sessions include poster presentations solely on edible films, such as one by France's Elmira Tehrany titled "Edible Packaging Based on Hydroxypropylmethyl Cellulose (HPMC)" in which the HPMC coated on paper increased the oxygen-barrier property by about 90% (session 053).
Another paper to be presented in this session was written by University of California–Davis researchers Daniel Rauch, K.L. McCarthy, and John Krochta, Chair Emeritus of the Food Packaging Div. The paper, "Extruder Operation Effect on Whey Protein Film Tensile and Color Properties," showed that rather than solution cast these edible films, it is much more efficient to extrude them through a twin-screw extruder.
Sustainability
A Food Packaging Div. symposium (session 122) on Monday afternoon titled "Assessing the Sustainability of Packages Designed for Food" will be chaired by Barbara Blakistone of the National Fisheries Institute and consultant Sara Risch. Speakers will include Matt Realff of Georgia Tech on "Life Cycle Inventory to Address Package Sustainability" and Clemson University's Kay Cooksey on "Sustainable Package Metrics Tools." The objective of the session is to explain the common metrics currently employed to understand sustainability.
--- PAGE BREAK ---
Also scheduled for Monday afternoon is a Marketing and Management Div. workshop (session 110), "Environmental and Sustainability Product Labeling," chaired by Green Seal's Cheryl Baldwin, who will discuss means to "meaningfully message sustainability and environmental aspects of a product." Terms such as recyclability, post-consumer product waste, light weighting, natural, local, carbon status, and organic will receive careful attention.
Seal Integrity
In Monday afternoon's Food Packaging Div. Session 114, Chipping Campden's Emma Hanby will discuss "The Integrity of Seals of Packaged Foods." Hanby's research compared different seal test integrity technologies and also several different seal bar configurations. Seal performance was evaluated employing burst-test, dye-penetration, and vacuum-under-water methods. One interesting result of the research:Filled trays were much more likely to burst than empty trays.
Carbon Monoxide in Red Meat Packaging
The Muscle Foods Div.'s Tuesday afternoon (July 1) panel discussion will address one of the controversial topics of contemporary fresh food packaging, "The Use of Carbon Monoxide in Modified Atmosphere Packaging of Meat Products: The Science-Based Facts" (session 199). Session chairs are M. S. Brewer of the University of Illinois and Utah State's Daren Cornforth, who also will speak. Scott Eilert of Cargill will discuss the evolution of carbon monoxide for modified atmosphere packaging. The purpose of this meeting is to debate the safety of fresh red meat, whose color is preserved by the gas, with the stated perspective that industry and academia both believe that the practice is an effective food distribution tool.
On Tuesday morning, S. Suman of the University of Kentucky will offer a paper titled "Influence of Modified Atmosphere Packaging Systems on Internal Color of Beef Longissimus limborum Steaks" (session 134). Among the color-retention systems evaluated in the study were vacuum, high oxygen, and carbon monoxide, with the carbon monoxide system better than the others at retaining the internal pink, cooked color.
Package Labeling
Also on Monday afternoon, the Nutrition Div. will host Session 102, "Package-Front Nutrition Information: Approaches and Issues," chaired by consultant Marilyn Schorin, the Grocery Manufacturers Association's Robert Earl, and Shelley Goldberg of the International Food Information Council. The stated purpose of the session, sponsored by Cognis Nutrition & Health, is to discuss the positives and negatives of offering consumers more and more-visible nutrition information. Speakers include Lisa Sutherland of Dartmouth Medical School on initiatives by the Hannaford supermarket chain, Josephine Wills from the European Food Information Council on what nutrition information consumers appear to want on their packages, and GMA's Regina Hildwine on symbols as communicators. On the same topic, but in Marketing and Management Div. Session 086 Monday morning, St. Joseph University's Nancy Childs will present on the topic, "Comparing Nutrition Icons on Ready-to-Eat Cereal Packaging—Awareness, Helpfulness, and Clarity." This presentation also deals with front-of-package information communication.
Self-Heating Packaging
Buried in the Tuesday afternoon Product Development Div. Session 178 is a presentation titled "Selfheating Egg (SHEgg) for Military Field Feeding" and based on a study by Michelle Richardson of the U.S. Army Natick Soldier RD&E Center and her collaborator. In the study, dehydrated egg in a barrier laminated pouch was hydrated with integrally packaged water at time of consumption and cooked in the flameless ration heater for less than 12 minutes to produce a fresh, hot scrambled egg.
How to Navigate the Food Packaging Maze
Diversity in food packaging innovation and development is evident from the sampling of titles and topics previewed here. Scattered throughout the poster and oral sessions—and on the exhibition floor—are literally dozens of food packaging concepts, developments, and implementations that might prove valuable to packaging professionals. One might anticipate even more discussion of packaging topics and examples of innovative packaging technologies in the future, which is great for the evolution of food packaging, but a tantalizing challenge for the professional.
--- PAGE BREAK ---
Exhibits
• Packaging systems for retort, aseptic, and chilled product applications are offered. The Tetra Recart package is available in 6.7-oz, 13.2-oz, and 16.9-oz sizes and is suitable for retort-processed products, including soups, beans, tomato products, pasta sauces, vegetables, and fruits. Tetra Rex for chilled products features 30 mm fitments and screw caps and is available in a size range of 4–160 oz. Tetra Gemina aseptic packaging is offered in 16-oz, 24-oz, and 32-oz sizes, with potential applications that include milk, cream, juice, and soy milk. The package boasts a slim silhouette and easy pouring, thanks to its Stream Cap feature. Tetra Pak Inc., www.tetrapakusa.com, Booth 1717
• Aseptic bag-in-box packaging system, Arena Aseptic Air-Evac, increases the amount of high viscosity fluids that can be extracted from bag-in-box packages. Aseptic, metalized film liners are available with a variety of barrier films to meet specific customer needs. They are designed to work with existing top-fill fitments and the Arena 330 (A330) Shipper Intermediate Bulk Container (IBC) Liquid Shipping System. The liners also are compatible with the broad range of specialty pumping systems from Arena. The aseptic bags are available in the top-discharge Starfish and bottom-discharge Blowfish liquid liner styles. Additionally, the company will offer a new accessories guide for its A330 at its booth at the Food Expo. The guide will be available in print or mini-CD form. A. R. Arena Products Inc., www.arenaproducts.com, Booth 3501
• Multi-layer laminate pouch, Cheer Pack, features a built-in, easy-flow straw with a reclosable, tamper-evident, screw-on top. An outer layer of polyester is used for high-resolution graphics printing, a layer of aluminum foil for excellent barrier properties, another layer of polyester for shock- and pressure-resistance, and a final, internal layer of polyethylene for direct food contact. Cheer Pack size options range from 2–32 oz, and styles include side-gusset, stand-up, and pillow. Cheertainer for bag-in-box applications comes in standard sizes that include 5 L, 10 L, and 20 L, and in multiple film choices that include standard barrier and high barrier. CDF Corporation/Cheer Pack North America LLC, www.cdf1.com, Booth 5111
• Semi-bulk packaging for liquid and solid products, SpaceKraft, is continuously wound from 6–10 plies of corrugated material. SpaceKraft intermediate bulk containers can be stacked up to 4 high for liquids and 6 high for solids, depending on the application. SpaceKraft bins are ergonomically friendly and fully recyclable. Weyerhaeuser, www.spacekraft.com, Booth 4509
• All-steel bin for lease has an efficient 1,400 L/370 gal/50 cu ft capacity; more than 1.3 million metal boxes are available for shipping around the globe. The bin is suitable for juice concentrates, purees, and processing fruit. The company also supplies a variety of bags for both aseptic and non-aseptic applications. Goodpack USA, www.goodpack.com, Booth 1355
• Modified atmosphere packaging low oxygen, MAPLOX, maintains the flavor and color of packaged meats during distribution, ensuring that when individual packages are removed from the master bag at retail, the meat is an appealing red color. The packaging program, which provides packers with a low-cost option for case-ready packaging, includes primary package materials and specifications, master bag specification, vacuum/gas flush composition and functional requirement, FreshPax CR sizing and handling methods, and APA-500 FreshPax dispenser. The dispenser offers an easy, one-hand operation for inserting oxygen scavengers into the master bag. An oxygen monitoring system within the unwind chamber of the APA-500 senses oxygen levels and adjusts inert gas flow, assuring that the scavengers maintain their maximum capacity during the manufacturing process. Multisorb Technologies, www.multisorb.com, Booth 1203
• Pouches including die-cut shaped pouches, spouted pouches, and stand-up pouches are offered. The company provides broad process and packaging capabilities, which may be employed for turnkey or co-packing projects. Hot-fill or ambient-fill is available; the company can fill liquids and solids at a rate of up to 100 pouches/min. PouchTec Industries LLC, www.pouchtec.com, Booth 1251
• Portion-control products that include private label and branded offerings in categories such as condiments, jams and jellies, sauces, toppings, and dressings are available. The company has a library of more than 2,500 formulas and an extensive array of packaging options. Traypac condiments, for example, feature an easy-peel top and may be easily dropped into a serving station and disposed of when empty. Portion Pac, www.portionpac.com, Booth 5217
by Aaron L. Brody, Ph.D.,
Contributing Editor, President and CEO,
Packaging/Brody, Inc., Duluth, Ga.  
[email protected]