A few months ago, the Ingredients section (October 2008) focused on the different directions that flavors were taking in beverage applications. But that's only part of the story. This month, we're going to take a look at how flavors traditionally associated with beverages—e.g., coffee, tea, alcohol, root beer, fruit, and floral varieties—are splashing over their boundaries into food products.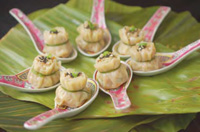 This "spilling over," of course, is creating some interesting food formulations. You might find a root-beer-flavored sauce for ribs. Or a green tea–flavored cookie. Or a whiskey-flavored frozen dessert. Or a coffee-flavored rub for meat products. To name a few. And as such examples demonstrate, beverage flavors can help instill novelty, excitement, or just plain fun in existing or emerging food products. And there's nothing wrong with that, especially during rough economic times.
Chocolate—a well-loved food—seems to be providing a good vehicle for delivering many of these flavors. To help celebrate the opening of its chocolate academy in Chicago this past September, Barry Callebaut USA Inc., Chicago, Ill. (phone 312-496-7300, www.barry-callebaut.com), offered its guests a wide range of chocolate creations that provided what I thought to be an excellent snapshot of many of these beverage flavors. Examples included ganaches made with port wine or coffee, a truffle with Earl Grey tea infused in the caramel, a ganache filling scented with orange flower water, and a citrus-spiked biscuit.
And while we're still in the confectionery arena, let's not forget the gourmet jelly bean, Jelly Bellies—a true pioneer when it comes to delivering not only beverage flavors but branded beverage flavors. Swig down such varieties as A&W Cream Soda, A&W Root Beer, Orange Crush, Grape Crush, Dr. Pepper, and 7-Up.
Java-flavored foods are part of a percolating trend, as well, judging by the coffee "breakout" in the marketplace. Mars Snackfood U.S. raised the bar on America's coffee flavor craze by introducing Twix® Java made with real espresso beans and coffee-flavored caramel, while Dannon offers a coffee-flavored version of its yogurt. And as you may recall, Starbucks recently formed a partnership with Hershey to develop some creative confections. Some examples include Milk Chocolate Caffe Mocha Truffle, Dark Chocolate Espresso Truffle, and Milk Chocolate Covered Coffee Beans. With the economy the way it is, some consumers may have to turn away from fancy coffees, and it's nice to know that they may have other ways of getting that "coffee fix."
Tea drinkers may be interested in tea flavors finding use as ingredients in such items as marinades, glazes, salad dressings, pastries, and candy bars. Factors fueling the spillover of green tea into foods are the emergence of an innovative culinary scene, increases in the Asian-American population, and trends inspired by a desire for Asian flavors. Ezaki Glico USA Corp. offers Pocky biscuit sticks that are green tea cream coated. Las Vegas-based World Tea News provides a number of recipes using different types of tea. These include Wild Salmon, Madras Curry Vegetable Braise, Tea-Infused Marble Eggs, Chocolate Chai Pudding, and Pumpkin Tea Bread.
The use of "superfruit" flavors in foods is being fueled by their exotic tastes, antioxidant profiles, and an interest in different flavors from around the world. Superfruits can also be paired with more traditional fruits in food formulating.
Alcohol is also finding use in a variety of applications—both sweet and savory. Based on wines and premium liqueurs, flavors such as cabernet, champagne, chardonnay, and branded products can be incorporated in artisan chocolates, spreads, salad dressings, sweet toppings, and desserts.
--- PAGE BREAK ---
Consider for a moment one of America's favorite pastimes: grilling. Some barbecue sauces, especially homemade recipes, use bourbon, whiskey, or other alcoholic ingredients to add flavor. So it shouldn't be too surprising that, in recent years, several barbecue sauces made with alcohol have been launched in the marketplace. Among these products are Anheuser-Busch's line of savory sauces made with Budweiser beer and Jack Daniel's grilling sauces flavored with the branded whiskey.
From alcohol-based barbecue sauces, flavor innovations are now moving into the snack aisle, where products such as potato chips are being made with beer and other kinds of alcohol. For example, Portland, Oregon-based Beer Chips introduced in 2008 its thick-cut, kettle-style potato chip flavored with real beer. The product, called Beer Chips, is said to impart a pleasant, but subtle, taste of beer, and no, it's not soggy. Thick-cut potato chips are coated with dehydrated beer ingredients (malted barley, corn syrup, hops, and yeast), as well as salt, cane syrup, and honey. The company also offers Chip Shots (golfers must love this product)—margarita-flavored potato chips with tequila flavor and lime—and Hot Potatoes—spicy Bloody Mary–flavored chips.
Also making its debut this past year was Intoxi-Tators Cocktail-Inspired Potato Chips in three flavors: Especially Spicy Bloody Mary, Muy Mucho Margarita, and Designated Driver (the company's plain chip). The manufacturer, Intoxi-Tators, is based in West Palm Beach, Fla., and is said to be working on additional flavors.
Now that we have seen some of the products in the marketplace, let's look at a few prototypes that demonstrate these flavors for non-beverages, exploring some of the factors that are influencing their use in foods, the benefits they offer, and some of the new opportunities that they are creating. And be prepared to put the glasses away and get out the plates. As this article will soon show, beverage flavors are no longer just for beverages.
Martini Chip, Hold the Olive
Why are flavor innovations coming from the beverage category? I put that question to Kim Holman, Marketing Director for Wixon Inc., Saint Francis, Wis. (phone 800-841-5304, www.wixon.com). "We call the beverage category an innovation playground," she answered. "You normally see innovation first in beverages; then it will infiltrate itself into other categories. A formulator will often see how successful a particular flavor is in the beverage category, and then, based on these results, explore the use of the flavor in other food products."
Novelty is one factor that is driving these flavors, as formulators use them in fun and distinctive ways, noted Holman. "Consumers are more willing to try these flavors in other food categories, especially if they are already comfortable with them in beverages."
--- PAGE BREAK ---
One example of this novelty is the previously mentioned use of alcoholic flavors in snack foods. In 2008, several food companies launched potato chips topically seasoned with such flavors. Wixonis currently working on developing a line of martini flavor profiles for snack chips, creating what could be called a "martini chip." Flavor profiles might include appletini, dirty martini, and chocolatini.
"These flavors are designed to be fun and appealing," said Holman, "and consumers need that, especially in a bad economy." She added that the company is applying its expertise in salt alternatives so that a chip can be created that not only has these novel flavors but can be positioned as better for you.
Wixon's Protein Applications and Seasonings Laboratory recently introduced a line of new marinades to complement and enrich pork and poultry products. One of these was a Whiskey Marinade, which provided a smoky grill flavor with a hint of whiskey for that backyard barbecue flavor.
Other flavors consumers are comfortable with that are spreading from beverages to foods are coffee, tea, and fruits, especially those known as superfruits, said Holman. Coffee flavors, for instance, can be used not only in ice creams, but in baked goods such as cookies and biscuits, sauces, and marinades or rubs. Wixon offers Intensely Chocolate Coffee as one of its new flavors for baking mixes.
The emerging emphasis on "mood foods" can also provide an impetus for the spreading of beverage flavors into other categories, observed Holman. Studies are increasingly looking at how certain foods can have a relationship with one's emotional mood. Floral flavors such as lavender can have a relaxing influence and are quickly moving from use in bath products to beverages and mood foods. Wixon is currently developing a line of mood flavors, including energy, relaxed, happy, or angry. Hopefully, these flavors will set the right mood for flavor developments that follow.
Uses for Tea Brewing
When you think of tea, the first image that probably comes to mind is that of a beverage. That association, however, may be changing today as tea finds increasing popularity as an ingredient in non-beverage items such as marinades, glazes, salad dressings, dairy products, pastries, and candy bars, as well as in cosmetic and beauty products.
To demonstrate this "spilling over," International Flavors & Fragrances Inc., New York, N.Y. (phone 212-765-5500, www.iff.com), developed several food prototypes using its portfolio of exotic tea flavors. Some of these applications included Oolong Pomegranate Yogurt Smoothie, Crispy Confit Filled Dumplings with Ponzu Tea Dipping Sauce, Tea-Soaked Roast Duck Salad with Green Tea Vinaigrette, Jasmine Green Tea Ice Cream with Black Tea Mate Ginger Cookie, and Long Jin Chocolate Truffle.
According to Marie Wright, IFF's Global Manager of Flavor Creation, several factors are helping to fuel tea's emergence as an ingredient in a range of food categories. The perception of tea as a trendy beverage may influence this crossover into the realm of other food products, especially in the formulating of novel or contemporary foods. Furthermore, because tea is a rich source of antioxidants and flavanoids, it may particularly find use as a functional ingredient to promote wellness. And with the growing interest in mood foods, the time may be right to explore tea's potential calming effect in foods.
--- PAGE BREAK ---
Working directly with tea growers, IFF recently expanded its existing tea collection with a wide range of flavors that capture the delicacy, nuance, and sophistication of the aromatic originals. The portfolio included such names as White Peony, Long Jin, Gyokuro, Oolong Tie GuanYin, Darjeeling, Jasmine Green, and Chrysanthemum. The October 2008 Ingredients section discussed how these varietals, combined with the appropriate tea type (white, green, oolong, black, and floral), can be used in beverages. But, as shown by the prototype applications here, they may be used in a wide range of non-beverages, as well.
The different types of tea can create a number of new formulation opportunities—some of them familiar, others perhaps not so. For example, while American consumers are probably most familiar with black or green tea, the other types can also create new and novel taste experiences in food products. Consider the pairing of pomegranate with oolong. Or a white tea with a floral flavor.
"We can reveal the global tastes of tea one sip at a time," said Wright about the collection. Well, one bite at a time may be equally true.
Virginia Dare, Brooklyn, N.Y. (phone 718-788-1776, www.virginiadare.com), has also been busy experimenting with its tea extracts in a variety of food applications, such as green tea shortbread cookies and biscotti, tea-flavored confections and truffles, and green tea latte candies and mints.
The company offers a full line of tea extracts and concentrates, including black, green, white, and oolong teas, in liquid and dry forms. Green and black teas are also available in clear and colorless forms for products where color contribution is not desired. They are produced in concentrations ranging from 100-fold to 5,000-fold.
A natural source of antioxidants, the highly concentrated tea extracts can be combined with other flavor extracts, such as superfruit flavors (açai, pomegranate, yumberry, goji berry, and others), which have perceived health attributes, as well. This pairing can be especially effective when creating better-for-you food formulations.
Aiya America Inc., Torrance, Calif. (phone 310-212-1395,www.aiya-america.com), recently developed new formulations for its Matcha green tea ingredient. One blend is specially prepared for premium green tea ice cream and green tea gelato. The other blend is specifically tailored for smoothies or lattes containing green tea flavoring.
As these different prototypes demonstrate, tea time is no longer confined to a beverage where the greatest choice is to serve it hot or iced. Rather, tea as an ingredient can extend to any hour of the day, finding use in a broad range of applications.
Floating New Ideas for Root Beer
A classic American soda, root beer may be moving beyond its traditional frosty mug associations. According to the McCormick Flavor Forecast 2009, released by McCormick & Co., Hunt Valley, Md. (phone 410-527-8753, www.mccormick.com), chefs are rediscovering the complexity of the creamy vanilla, wintergreen, and black licorice notes in root beer as a cooking ingredient in savory and sweet applications.
--- PAGE BREAK ---
"An iconic soda shop classic such as root beer is now being enjoyed as a cooking ingredient, paired with toasted sesame seed," said Kevan Vetter, Executive Chef at McCormick. Toasted sesame seeds, which bring out aroma, deeper flavor, golden color, and textural crunch, are a suitable match for the full-bodied, microbrewed root beers that are experiencing a contemporary renaissance.
Together, these ingredients can provide a sweet, nutty combination for use in meats, sauces, glazes, and dessert items. Prototype dishes can be created—or reinterpreted—such as Sesame Root Beer Braised Short Ribs and Sweet Potatoes. In this formulation, root beer is used as a braising liquid with toasted sesame seeds adding the finishing touch—a bold nuttiness and crunch. The layered flavors of root beer also offer a novel take on barbecue sauce or a root vegetable puree finished with toasted sesame seed.
On the sweetener side, the pair of ingredients can be used in a sesame-coated chocolate bon bon filled with root beer ganache. Or for a flavorful twist on a classic dessert, prepare a yellow cake mix using root beer instead of water. Add toasted sesame seed and drizzle with a simple root beer reduction glaze.
Recipes for the Sesame Root Beer Braised Short Ribs and Sweet Potatoes, as well as the Toasted Sesame Root Beer Cake, are available from McCormick. Nutrition information per serving is also provided.
The pairing of root beer and toasted sesame seed is one of 10 emerging flavor duos described in the report. The forecast—the result of McCormick teaming up with today's most innovative and cutting-edge chefs, cookbook authors, and television food personalities—takes an in-depth look at flavor combinations poised to transform and inspire America's menus.
Spirited Applications
A vanilla ice cream treat with a whiskey flavor? This prototype was demonstrated at the 2008 IFT Food Expo® by David Michael& Co., Philadelphia, Pa. (phone  215-632-3100, www.dmflavors.com), and you might say that it was a case of bourbon meeting bourbon.
The product, Double Boubon and Cola, featured Bourbon vanilla ice cream extract swirled with a Bourbon whiskey- and cola-flavored  water ice. The sweet treat was not alcoholic, however, as it contained Natural & Artificial Bourbon Flavor—one of the company's alcohol-free Adults Only® flavors.
A couple of months later, David Michael again highlighted alcohol-free flavors at its 2008 Innovation Roadshow. Gel candies were created that contained flavors of some new and interesting cocktails. The candies were designed for anyone who wants the taste of a cocktail plus a little jolt (they also contain caffeine from a natural guarana extract).
One candy blended the flavor of pastis (an anise-flavored liqueur and aperitif from France) with that of a pina colada (a sweet, rum-based drink popular in PuertoRico). The pastis takes the place of the rum in the appropriately  called Pastis Pina Colada. The formulation consists of licorice extract, natural anise flavor WONF, natural pineapple flavor WONF, and natural coconut flavor WONF.
The other candy provides the flavor of Rose Wine Cocktail, a new European drink that blends rose wine with grapefruit liqueur. The acidulous taste of both the grapefruit and rose wine flavors are said to blend well together.
--- PAGE BREAK ---
A 'Percolating' Trend?
Ice cream was probably one of the earliest applications for coffee flavor in a non-beverage application. (I remember as a kid always confusing it with vanilla ice cream and then having a big surprise when I tasted it.) However, formulations today are far more sophisticated, as demonstrated by a 2009 feature flavor from David Michael & Co.
The prototype ice cream product is inspired by an indulgent French dessert, Opera Cake, which is made up of three thin layers of almond cake, each soaked in a potent coffee syrup; a layer of espresso-flavored buttercream; one layer of bittersweet chocolate ganache; and a topping of chocolate glaze. Opera Cake Chocolate Ice Cream has a hint of coffee flavor (provided by natural & artificial coffee flavor), pieces of vanilla pound cake and chocolate cake, and swirls of chocolate mousse ribbon.
Well, hopefully I've set the mood for the use of coffee as an ingredient in non-beverage applications. Let's now look at a few timely developments related to java.
In December 2008, X Café, Princeton, Mass. (phone 978- 464-8010, www.x-cafe.com), a manufacturer of shelf-stable coffee extracts, was acquired by Kerry Ingredients & Flavours, Beloit,Wis. (phone 608-363-1200, www.kerryamericas.com), a supplier of ingredients, flavors, and integrated solutions for the global food and beverage industry. The acquisition is expected to strengthen Kerry's technology capabilities while solidifying X-Café's services in both global foodservice and ingredient sectors.
Coffee extracts from X Café have been available for ingredient use, especially since the company began packaging its products in 1,000-liter totes for that specific application. These shelf-stable products included Colombian Medium Roast and Dark, available in caffeinated and non-caffeinated versions; Double Dark, which is very popular for ingredient use because of its bold and hearty flavor; and other flavors, including proprietary blends.
With the acquisition, we can probably expect to see an increasing number of innovative concepts using coffee as an ingredient.
Autocrat Coffee & Extracts, Lincoln, R.I. (phone 401-333-3300, www.autocrat.com), offers regular and organic coffee extracts for use in ice cream, yogurt, candy, snack bars, alcohol products, and beverages. To meet the demand for coffee extracts, especially its growing use as an ingredient, the company purchased a multi-million dollar, custom state-of-the-art extraction system, which substantially increases volume capacity.
On the company Web site are several recipes using coffee as an ingredient. These include Coffee Syrup Cake, Rio Bread Pudding, Coffee Spice Cake, Coffee Cream Caramel Custard, Mocha Pudding, Coffee Gelatin, Coffee Buns, and Coffee Boiled Frosting. In some of these recipes, coffee syrup may be used to replace other ingredients. For example, Gingerbread Special uses a prepared gingerbread mix, substituting ¼ cup of coffee syrup for ¼ cup of liquid. The application is then baked and garnished with whipped cream flavored with coffee syrup.
--- PAGE BREAK ---
For Culinary Sake
In its recently released Flavor Forecast 2009, McCormick & Co. included sake, a fermented rice wine, as one of tomorrow's flavors, pairing it with peppercorns. A centuries-old Japanese beverage, sake is gaining popularity on the cocktail scene and as a wine for cooking. "The medley of flavors found in different styles of this fermented rice wine—ranging from fruity sweet and acidic to dry and slightly bitter—hints at its flexibility as an ingredient," the report observes. Peppercorn mélange can partner with sake to add pungent, hot flavors and softer cedar-like undertones.
My mom made never made chicken noodle soup with sake,but such a formulation is possible. Peppercorn Melange Chicken and Udon Noodles in Lemon Grass–Sake Broth, which brings together sake and peppercorns, may be an example of the next wave of Asian fusion cuisine. Another popular American dish, steak, can be reinvigorated by marinating it in a blend of sake, miso, peppercorn mélange, and sesame oil. The steak can be served with a Sake Peppercorn Dipping Sauce, accented with honey and slices of green onion. Recipes for both dishes are available from McCormick.
Juicing Up Foods
Blueberries are finding use in a variety of beverages, ranging from antioxidant-rich blueberry juices to nouveau classic cocktails. But, according to the U.S. Highbush Blueberry Council, San Francisco, Calif (phone 800-824-6395, www.blueberry.org), because blueberries are homey and familiar, they can give a boost to the acceptability of new and innovative food product concepts, as well.
Blueberry juice may be used in a variety of formulations, including sauces, marinades, gelatin, vinaigrettes, and sauces. Consider, for example, roast loin of pork, roast lamb, or even grilled chicken complemented by rubs, sauces, and stuffings spiced with blueberry juice. In confectionery products, such as chewing gum, blueberry juice can provide a liquid filling. And in dairy products, ranging from ice creams to yogurt, blueberries can make for a colorful variegate or inclusion.
Advantages to formulating with blueberries include the fact that they are synergistic with many ingredients, such as spices and herbs. And consumers equate blueberries with antioxidant potential, readily accepting them as an ingredient in almost any product.
Expect to see more products combine traditional juices such as blueberry with those of exotic juices, particularly those associated with superfruits. A new confectionery demo kit from Denmark-based Danisco (phone 45 3266 2000, www.danisco.com), highlights juice inclusions combining exotic types (açai, goji, pomegranate, and yumberry) with more familiar ones (blueberry, cranberry, and raspberry). The kit (appropriately called Set the Juices Loose!) features a variety of candy formats ranging from gummies and chewy candies to hard candy.
A fusion flavor, Tommango from GSB Flavor Creators, Kennesaw, Ga. (phone 770-424-1888, www.gsbflavorcreators.com), made its debut in a beverage application, but since has moved on into other food products. The flavor, a blend of tomato and mango, can be used to put a twist on marinades or dips.
Bell Flavors & Fragrances,Northbrook, Ill. (phone 847-291-8300, www.bellff.com), applied superfruit flavors to gummy candies. These flavors, developed with real fruit juice from the named fruit, include Pomegranate, Açai Berry, Mangosteen, and Berry. Consumer demand for antioxidants has manufacturers looking for the next way to offer these fruits. A variety of food products can provide such opportunities.
The use of superfruit flavors in food can also be fueled by their exotic tastes and a growing interest in different flavors from around the world. Bell demonstrated a number of trend-setting African, Southeast Asian, and Middle Eastern flavor profiles. Although flavors representing these trends were featured in beverages, they could easily splash over into foods. Examples might include Pepperdew from South Africa, Mediterranean Chermoula from Morocco, and Pomegranate Horchata from Mexico.
--- PAGE BREAK ---
Energizing Private Label
Many mainstream food retailers have added a new tier with an exclusive store brand of premium goods. And with the present economy, one can easily argue that there are growing opportunities for private label products, partly because of costs and partly because of the high quality and diversity that they can offer.
Interestingly, the advantages that beverage flavors offer foods can help fuel new opportunities for private label products. FONA International Inc., Geneva, Ill. (phone 800-308-3662, www.fona.com), provided a few examples of flavors that are associated with beverages, but can provide a premium quality to a variety of food products.
Jasmine, long associated with tea, may be used as an accent flavor in savory dishes and sweet snacks, where it is synonymous with exotic and upscale. Juniper berries, a key ingredient in gin, may be featured in artisan cheeses, meats, meat rubs, and gourmet sweets. Bergamot orange, a predominant flavor in Earl Grey tea, has found increasing use in cookies, chocolates, and desserts. Hazelnut, a popular coffee flavor, can add indulgence to bakery products, ice creams, and desserts. And wine and liqueur flavors can be highlighted in artisan chocolates, spreads, salad dressings, sweet toppings, and desserts.
Not Just for Beverages Anymore
If there's one point to be made about flavors traditionally associated with beverages, it's that they are not just for beverages anymore. Interestingly, one factor that may be having some influence on their breakout into other foods could be the present economy.
If there's one point to be made about flavors traditionally associated with beverages, it's that they are not just for beverages anymore. Interestingly, one factor that may be having some influence on their breakout into other foods could be the present economy.
The current slowing economy seems to be taking precedence as ingredient companies re-evaluate trends and explain the value of their ingredients. Beverage flavors for use in foods could potentially offer a variety of benefits in such a climate.
Consumers are familiar with these flavors in beverages, and this familiarity could make crossovers into foods much easier. Consumers might be more willing to try foods made with flavors—such as coffee or alcohol—that give them a certain comfort. And at the same time, these flavors in foods are also novel and fun—traits that could be very important during harder times. After a long day, how about relaxing with a champagne truffle? Or a potato chip flavored like a martini? And from a health perspective, some of these flavors, such as superfruits or tea, may offer potential health benefits, as well.
As discussed in the sidebar (see page 58), today's economy might mean a number of things for the consumer—smaller portion sizes, cheaper cuts of meat, fewer restaurant visits, and more dining at home. If so, then formulators may have a renewed interest in developing products that can recreate the restaurant or "white tablecloth" experience while taking those factors into consideration.
This can be done in a number of ways. Bolder or more novel flavors may be used to add excitement to the meal. Imagine, for example, a rub made with coffee, a marinade with green tea, a glaze containing superfruits, or an alcohol-based barbecue sauce. These flavors may be paired with other ingredients such as spices, seeds, peppercorns, chocolate, traditional fruits, and an assortment of culinary ingredients from around the world. Foods may also be prepared using ethnic styles nd international traditions.
Perhaps most important, beverage flavors can help meet consumers' demand for innovative and premium products, despite the economy blues.
The expression "right on the bean" may take on a new meaning as next month's Ingredients section looks at the value of a number of beans, including legumes, heirloom beans, soy, vanilla, and cocoa. So become a pod person and tune in.
--- PAGE BREAK ---
New Center Highlights Protein and Culinary Trends
Today's slowing economy is having its influence. For the consumer, that might mean a number of things—smaller portion sizes, cheaper cuts of meat, alternative proteins, bolder flavors to add excitement, and a greater interest in ethnic cooking traditions.
"However, even within the current economy, consumers' demand for innovative and premium products is expected to remain strong," said Emmanuel Laroche, Vice President, Marketing and Consumer Science Dept., Symrise Flavor & Nutrition Div., North America, Teterboro, N.J. (phone 800-422-1559, www.symrise.com). "In this economic landscape, consumers are seeking new dining alternatives and at-home experimentation with foods they once perceived as restaurant-available only."
He noted, for example, that flavor companies can create light rubs for red meat that combine coffee with bold spices such as jalapeno or star anise. (See the rest of this month's Ingredients section for a discussion on how flavors traditionally associated with beverages are finding use in a broad range of food products.) Or exotic marinades can be developed that deliver authentic flavor profiles and help transform traditional dishes.
Laroche provided his thoughts on protein and culinary trends during the grand opening of Symrise's new Technical and Culinary Center for Protein Foods in Teterboro, N.J., on December 11, 2008. Attending the event were members of the press and representatives from select meat industry associations.
The new facility, which occupies more than 2,000 sq ft, is said to replicate to a considerable degree the processing and packaging conditions found in many customers' production facilities. It is equipped for a variety of protein-based products, with test batches ranging from 10 lb to more than 100 lb.
At the center, prototypes that incorporate the newest technologies, while staying within the boundaries of economic acceptance, are developed, explained Thomas Barry, Symrise's Vice President, Savory Business. "Our technical and culinary functions come together to showcase new product creations, positioning them as realistic opportunities that are created in the kitchen and then taken to the processing floor of our customers," he said.
Some of these "realistic opportunities" were presented during a luncheon prepared by culinary professionals at Symrise. The concepts on the menu were designed to demonstrate a number of protein solutions created at the center.
One of these prototypes was Asian Noodles with Tofu and Ahi Tuna. The dish demonstrated that tofu does not have to be masked anymore to taste like meat, but rather can be combined with spices and herbs suited to it, to create an Asian-inspired formulation. The tofu in the dish was smoked using wood chips and green tea leaves and served in a soy-ginger-citrus ponzu broth with noodles, seared tuna, a variety of Asian vegetables, and noodles.
Other dishes on the menu included Krab, a crab-free crab cake made with textured wheat protein, wheat protein isolate, and natural crab flavor; chicken thigh with natural sweet butter flavor and a salt enhancer, served in a moo-shoo lettuce wrapper, and topped with wasabi mayo, thai chili, and sesame ginger sauces; striploins using flavor systems to improve the tenderness, juiciness, and overall flavor profile of lower-quality beef cuts; and Mini French Bread Pepperoni Pizza made with beef and pork and flavored with a liquid pepperoni seasoning.
As these prototypes demonstrate, the facility is currently focused on applications that address nutritional, technical, and taste issues pertaining to meat and other proteins. Technical and culinary issues as they relate to specific market conditions are addressed.
"The center marks the evolution of the supplier's role from one that offers just flavors to one that is fully capable of excelling as a partner with protein-based food companies," said Barry. "Key to this transition is Symrise's grasp of the relationship between flavors and nutrition, exemplified by our willingness to work with protein sources from vegetables as well as traditional animal sources."
---
by Donald E. Pszczola,
Senior Associate Editor 
[email protected]