When an unexpected chemical contaminant is detected in a food commodity, ingredient, or finished product, its human health impact must be quickly assessed. Timely decision making about the risk of the contaminant and appropriate action(s), such as whether to implement a food product recall, can be complicated by a number of factors. If the state of the science on the chemical is emerging, risk assessment data are insufficient, data are conflicting, there is toxicological uncertainty, or there are regulatory constraints, then confusion can arise in interpreting scientific and public policy.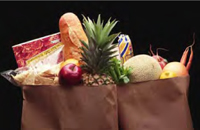 The Institute of Food Technologists convened a group of experts (see sidebar) to examine the complexities that challenge timely decision making about chemical substances when available scientific information is limited, and define and develop a workable tool to guide food safety managers in effectively and knowledgeably evaluating available scientific evidence to make timely decisions. The outcome of the panel's deliberations is presented in the Expert Report, "Making Decisions about the Risks of Chemicals in Foods with Limited Scientific Information" (IFT, 2009), which was funded by the IFT Foundation. This synopsis summarizes and includes some excerpts of key focal points of the report.
The Expert Report has three main sections. The first section details the U.S. legal framework that provides the foundation for U.S. food safety policy, describes international considerations (e.g., Codex standards) that impact foods in international commerce, and addresses European Union law and standards. The second section briefly addresses structure activity relationships, surrogate compounds and metabolites, predictions based on physical/chemical data, toxicological evaluation, use of animal studies, statistical considerations, and other aspects of risk assessment. The third section of the report addresses why a new approach is needed to conduct a risk-based evaluation of the potential exposure, hazard, and toxicity of low levels of unwanted chemical substances in foods and how information on risk can be used to make appropriately conservative and balanced decisions. The third section of the report also calls attention to the importance of evaluating benefits of the food(s) in which the component is found as well as risks.
Legal Framework and Other Considerations
Because the report focuses on food safety decision making about chemical substances, it excludes aspects of the U.S. Dept. of Agriculture's regulatory authority for meat and poultry. The legal framework for rDNA biotechnology-derived foods, addressed in an earlier IFT Expert Report (IFT, 2000), is also excluded. Key U.S. federal statutes pertaining to making decisions about chemical substances in foods are the Food, Drug and Cosmetic Act and its food additive, color additive, and drug amendments; Dietary Supplement Health and Education Act; Federal Insecticide, Fungicide, and Rodenticide Act; Food Quality Protection Act; and FDA Modernization Act. The Codex Alimentarius Commission and the work of its expert advisory committees, European Union laws and standards, and precautionary principle are highlights of the international framework. Codex texts are recognized by the United Nations, Sanitary and Phytosanitary Measures Agreement of the Uruguay Round of the General Agreement on Tariffs and Trade, and revised Technical Barriers to Trade Agreement as the international benchmark, and directly affect food safety and harmonization of international food trade (FAOWHO, 2006). European laws have been recently harmonized and often influence other countries and discussions on global standards. The precautionary principle, recently implemented as a basic component of European food law, is a provisional risk management tool that developed in response to "incomplete science." The report notes that now that the precautionary principle is subject to a regulation and abundant case law, which settle the main basics, it is not the threatening concept it once was.
--- PAGE BREAK ---
Risk Analysis
Risk analysis (risk assessment, risk management, and risk communication) is being increasingly applied around the world. As described by FAOWHO (2009), a systematic evaluation of available, limited data on a potential chemical hazard for risk assessment generally involves identifying and evaluating chemical structure and properties, structural alerts that may predict biological activities, possible metabolic pathways, structurally related substances for which more data may be available, and toxicological studies. More detailed investigations for hazard identification and characterization can follow such an initial critical evaluation. These may include use of qualitative or quantitative structure-activity relationship (SAR) analyses via mathematical models and databases to incorporate physical properties (e.g., solubility) and chemical properties (e.g., presence of functional groups) to predict biologic activity and potency. Additional scientific information may be derived from chemically similar surrogate compounds and metabolites, which could be an applicable approach in evaluating chemicals (e.g., processing agents or impurities) that may enter the food supply in minor amounts or in early screening of potentially unsafe ingredients.
With the increasingly exquisite sensitivity of analytical techniques, the Expert Report points out, food safety professionals have needed a new approach to managing "low-level detections" of chemicals. Although professional opinion is divided, it is generally accepted among toxicologists that for non-carcinogens and non-genotoxic carcinogens, there is a threshold dose below which adverse effects do not occur. Prudence requires that a threshold dose not be expressed for genotoxic chemicals, but there is broad agreement reflected in regulation that there is a level, generally taken to be a lifetime risk of less than one in a million (10-6), below which the risk is so low that it may be safely disregarded. Scientific evidence supports that exposure to chemical substances occurring in foods at levels below 0.5 ppb in the total diet (food and beverage), equivalent to a total dietary exposure of 1.5 μg/day (Munro et al., 1996), poses insignificant risk. This concept of specifying human exposure thresholds relies on knowledge of the range of toxicological risks for structurally related substances and toxicological potency of relevant classes of chemicals for which good toxicity data exist (Munro et al., 1999).
Threshold of Toxicological Concern and Toxicological Priority Grid
Some sophisticated decision-tree models developed to address risks from very low level chemical exposures describe the "Threshold of Toxicological Concern" (TTC) concept, which is "a principle which refers to the possibility of establishing a human exposure threshold value for all chemicals, below which there is no appreciable risk to human health" (Kroes and Kozianowski, 2002). The TTC approach, the Expert Report states, provides an acceptable high probability of health protection as well as practicality. Conservative in nature, the TTC can be used as an efficient screening and prioritizing tool in decision making, particularly when data are incomplete. A TTC evaluation, for example, may lead to a decision that further work and risk mitigation steps are necessary in some instances or further work is not necessary and a decision about risk can be made in others. The TTC approach has been applied by regulatory agencies and other organizations to indirect additives, flavors, pharmaceuticals, and personal and household products and has been proposed for application to any low-level detection of a chemical in foods with some exceptions (e.g., heavy metals and highly potent carcinogens) (Barlow, 2005; Felter et al., 2009).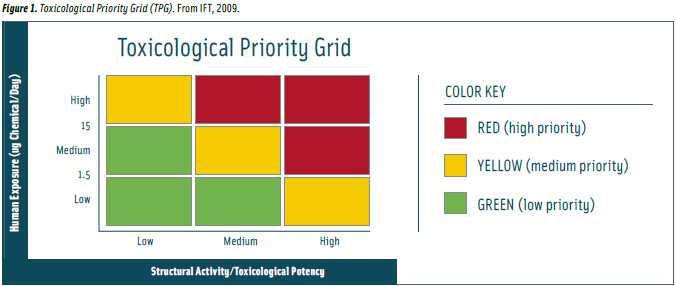 The IFT Expert Report panelists support the TTC concept for managing detection of low levels of chemicals in foods, determining appropriate risk mitigation actions when human exposure and toxicity data are incomplete. To facilitate its use as a quick screening tool, the panel illustrated the concept in a Toxicological Priority Grid (Figure 1) that is based on toxicological potency, thresholds of toxicological concern, and potential consumer exposures.
The panel described the grid's three priority rankings as follows:
• Green. "The green squares equate to a low priority (little or no safety issue) corresponding to either a low or medium exposure to a substance with a low-to-medium order of structural activity and acute toxicity. Typically, one would defer to the toxicity profile when available and to the structure-activity relationships in situations for which only minimal toxicological data are available. Situations occurring within the green squares allow a recommendation of a low-priority concern and little follow-up work is indicated."
--- PAGE BREAK ---
• Yellow. "The yellow squares equate to medium priorities rising from high/low, medium/medium, or low/high exposure/toxicity combinations. Typically, one would defer to the toxicity profile when available and to the SARs in instances of only minimal toxicological data. Because the exposure level and/or toxicity profile is higher in this situation, it is critical that the decision maker have confidence in making sound recommendations to those involved in risk management. Situations involving the yellow squares will often constitute the most difficult decisions that a food safety professional will have to make based on limited analytical and toxicological data. Medium-priority concerns indicate the need for additional information to allow a risk assessment to be conducted. Typically, information about potential exposure and toxicological effects will be needed in order to determine the scope of the issue and source. Toxicological analysis would assure a full and complete understanding of the existing data set that is available. Consideration of the source of the exposure as per ingredients, commodities, and food products is essential."
• Red. "The red squares indicate high priorities due to combinations of high or medium exposures with high or medium toxicity. Typically, for high-priority issues, only interim risk-management decisions can be made until traditional, full-scale information is developed on toxicity and exposure. Because the exposure level and/or toxicity profile is higher in this situation, it is critical that the decision maker has complete confidence in making recommendations to senior officials. Situations within the red squares will often constitute the most clear-cut decisions that a food safety professional will have to make based on limited analytical and toxicological data. High-priority concerns receive the highest level of immediate attention and risk management response. As in the green and yellow situations, one should consider the source of the exposure as per ingredient, commodities, and whole foods (i.e., finished products)."
According to the panel, the assumptions that must be assured in using this TTC approach to rapidly address potential chemical safety issues include:
• The approach is to be used by experienced scientific and risk management professionals.
• The primary concern is for acute toxicants; sub-chronic and chronic toxicants are less of an immediate concern.
• Exposure will be limited in duration and is supported by real and authentic analytical data.
• Heavy metals are typically excluded because they were not part of the databases explored when originally establishing the TTC. Steroids and compounds from high-potency carcinogen classes (e.g., dioxin and dioxin-like, aflatoxin-like, and N-nitroso compounds) are also excluded.
• The safety standards imposed by the applicable laws must play a role in the decision-making process.
• 1.5 μg/day or below is a low-dose exposure, whereas 1.5–15 μg/day represents a medium-dose exposure. A case could be made for the use of a 10X factor above the 1.5 μg/day, which would yield a maximum threshold of 15 μg/day as the upper limit of the medium-exposure range. However, a more conservative approach is more prudent, and anything above 4.5 μg/day (three times the low-dose exposure of 1.5 μg/day) should be considered a high-dose exposure.
• Toxicological data are available for the chemical under review, even if these data are only limited in scope.
--- PAGE BREAK ---
Assessing Benefits As Well As Risks
Assessment of risk of food ingredients and contaminants has historically been conducted independently of assessment of possible health benefits of foods containing the substances, with advances in qualitative and quantitative assessment of benefits lagging behind risk assessments. Groundbreaking benefit-risk analysis activity is under way in Europe (http://www.brafo.org/brafo), however, which the IFT Expert Panel Report notes is important to follow. Examples of the importance of the whole food perspective addressed in the report are adverse effects of methylmercury and nutritional benefits of seafood consumption, and polycyclic heterocyclic amine mutagens and animal carcinogens produced by the Maillard browning reaction (MBR) in heated foods and the beneficial antioxidants, antimutagens, and anticarcinogens in MBR products. The report indicates that although regulatory and health authorities assessing food safety are obliged to focus great attention on the occurrence and potential risk of suspected toxicants and carcinogens in foods, they should be encouraged to systematically investigate the health benefits of whole foods, such as those of heated foods and beverages.
Importance of the Food Matrix
The overall effect of single or multiple dietary compounds in various physical states on the bioavailability and disposition of nutrients and non-nutrients in digestion and metabolism is a complex, critical topic that has not been adequately addressed. Food microstructure, composition, bioavailability of dietary chemicals, food processing impact on nutrients and non-nutrients, and variables intrinsic to individuals are important considerations. Given this complexity, the report states, it is difficult to extrapolate to the general population observations on the role of the food matrix in altering how dietary chemicals are handled in the body. The paradoxical role of soy isoflavones in breast cancer is presented as an illustration of the effects of food matrix components and interaction with other variables to influence bioavailability and impact on health and disease.
by Rosetta L. Newsome, Ph.D., is Director, Science and Communications, Institute of Food Technologists ([email protected]).
---
IFT Expert Panel On Making Decision About The Risks Of Chemicals In Foods With Limited Scientific Information
Wayne R. Bidlack, Ph.D. (Chair), Professor, Department of Human Nutrition & Food Science, California State Polytechnic University, Pomona
Diane Birt, Ph.D., Distinguished Professor, Department of Food Science & Human Nutrition; Director, Center for Research on Botanical Dietary Supplements; Interim Director, Nutrition & Wellness Research Center; College of Agriculture & Life Sciences; College of Human Sciences, Iowa State University, Ames
Joseph Borzelleca, Ph.D., Professor Emeritus, Pharmacology & Toxicology, Virginia Commonwealth University School of Medicine, and President, Toxicology & Pharmacology Inc., Richmond, Va.
Roger Clemens, Ph.D., US C School of Pharmacy, Adjunct Professor, Pharmacology and Pharmaceutical Sciences; Associate Director, Regulatory Science, Los Angeles, Calif.
Nicole Coutrelis, Partner, Coutrelis & Associates, Paris, France
James R. Coughlin, Ph.D., President, Coughlin & Associates, Laguna Niguel, Calif.
George E. Dunaif, Ph.D., D.A.B.T., Vice President, Global Food Safety, Global Research & Development, Campbell Soup Company, Camden, N.J.
Andrew Ebert, Ph.D., President, ETM Inc., Atlanta, Ga.
--- PAGE BREAK ---
Richard Hall, Ph.D., Past President, IFT, and Past President, International Union of Food Science and Technology, Towson, Md. 
James T. Heimbach, Ph.D., F.A.C.N., President, JHeimbach LLC, Port Royal, Va.
William Helferich, Ph.D., Professor of Nutrition, Food Science & Human Nutrition, University of Illinois, Urbana
Bernadene Magnuson, Ph.D., Senior Scientific & Regulatory Consultant, Cantox Health Sciences International, Mississauga, Ontario, Canada
Diane B. McColl, Esq., Principal, Hyman, Phelps, and McNamara, P.C., Washington, D.C.
Robert S. McQuate, Ph.D., CEO & Co-Founder, GRAS Associates LLC, Bend, Ore.
Ian Munro, Ph.D., F.A.T.S., FRCPath, Executive Vice President and Senior Science Consultant, Cantox Health Sciences International, Mississauga, Ontario, Canada
Barbara Petersen, Ph.D., Practice Director and Principal Scientist, Food and Chemicals Practice, Exponent Inc., Washington, D.C.
Ashley Roberts, Ph.D., Vice President, Food & Nutrition, Cantox Health Sciences International, Mississauga, Ontario, Canada
Joseph Scimeca, Ph.D., Director, Global Regulatory Affairs, Corporate Food Safety & Regulatory Affairs, Cargill, Minneapolis, Minn.
Martin Slayne, Ph.D., Director, International Food Safety & Nutrition, PepsiCo International, Plano, Texas
Thomas Trautman, Ph.D., Fellow, Toxicology & Regulatory Affairs, General Mills Inc., Minneapolis, Minn.
The contributions of the expert panelists represent their individual scientific perspective and not necessarily that of their employers.
---
HOW TO LEARN MORE
The complete Expert Report, published in the July issue of IFT's Comprehensive Reviews in Food Science and Food Safety, is accessible at http://www3.interscience.wiley.com/cgi-bin/fulltext/122445570/PDFSTART. Also, watch for forthcoming IFT educational opportunities on this subject.