For most of us, eating is a pleasurable pursuit, but it's time to put even more fun and adventure into food. As the economy and anxiety about the future continue to cause consumers at all income levels to cut back on dining out, they'll be looking for additional excitement in the foods they eat at home.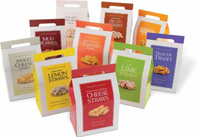 In 2008, 77% of consumers with incomes of less than $35,000 ate out less often, as did 64% of those with incomes of $35,000–$54,000, 57% of those with incomes of $55,000–$100,000, and 47% of those with incomes of more than $100,000 (IRI, 2008a).
In the first four months of 2009, one-third (32%) of restaurant operators reported decreased traffic vs the same period last year (Technomic, 2009a). Moreover, three-quarters (74%) of consumers plan to go to coffee shops less often in 2009, and 71% say they will visit bars/clubs and upscale restaurants less frequently. In addition, 63% plan to make more meals at home (Technomic, 2009b).
And they'll be looking to experiment with more new cuisines and flavors, too. More than one-third (37%) of consumers went to restaurants in 2008 specifically to try a new cuisine, and 29% did so to try a new flavor (Mintel, 2009). America's 40+ million young adults, whose budgetary constraints are forcing them to cook and eat more at home—and who have recently entered the workforce, becoming consumers in their own right—will drive this new in-home-gourmet culinary movement. Those ages 18–24 are the most likley to visit a restaurant to try a new cuisine or flavor, according to Mintel.
Moreover, there appears to be a growing sense of boredom settling into the food world, especially when it comes to fast-food restaurants. One in five consumers has cut back on fast-food visits because the menu no longer appeals to them (Technomic (2008a).
But it's not just about restaurants. Americans are cooking for fun—on average 3.1 hours a week (GfK, 2008). They're watching cooking shows like soap operas, reading recipes like novels, and latching onto the newest celebrity chefs. And with 70% of employees saying the recession has increased stress levels at work, and 27% experiencing sleeplessness due to anxiety, they need a little reward and relief (Hochwarter, 2009; NSF, 2008).
Information Resources Inc.'s "Top 10 Food/Beverage Pacesetters" list of the most successful new products for the year ending (YE) 12/08 confirms the power of the "Pleasure Principle." A lower-calorie, fortified version of America's leading sports drink, Gatorade G-2, topped the list with $159.1 million in year one sales (IRI, 2009a).
Dunkin' Donuts Coffee, No. 2 on the list, took in a whopping $112 million in year one sales by bringing the highly successful restaurant brand into the home. Likewise, with home-delivery sales projected to be flat in 2009 and pizza still an all-American palate pleaser, DiGiorno Ultimate Frozen Pizza ranked No. 6 (Technomic, 2009a).
Signaling a move away from drinking at bars/taverns and a 27% jump in home entertaining last year, Smirnoff's Ice Flavors and Tyson's Any'tizers also made the Pacesetters list (Booze & Co., 2008). And what could be a more fun flavor experience than No. 10 on the list, Frito-Lay's Doritos Collisions salty snacks, which mix two distinctly flavored chips in the same pack?
--- PAGE BREAK ---
Treat Thy Self
Despite a tough economy, consumers have demonstrated their willingness to splurge on indulgent treats, beverages that ensure enjoyable "me time," and snack foods that provide a unique, emotional, flavorful, and fun experience.
Despite a tough economy, consumers have demonstrated their willingness to splurge on indulgent treats, beverages that ensure enjoyable "me time," and snack foods that provide a unique, emotional, flavorful, and fun experience.
Ice cream/sherbet and chocolate candy are tied as the top treat categories for which consumers are willing to pay a premium, with55% of consumers willing to do so. These categories are followed by cookies, for which 37% are willing to pay a premium, frozen novelties at 31%, and coffee at 28% (IRI, 2009b). Bite-sized fine desserts, fancy cookies, and upscale "stix," e.g., Mississippi Cheese Straw Factory's Lemon, Fire-Roasted Tomato, and Cinnamon Pecan Straws, remain strong premium trends.
Indulgent treats were among the biggest sales gainers in gourmet and specialty stores in 2008. The $1.4 billion gourmet chips, pretzels, and individual snacks category grew 4.5% in 2008.Other premium categories showing growth include frozen desserts at $1.3 billion, up 4.3%; coffee/cocoa at $1 billion, up 3.3%; cookies and snack bars at $0.9 billion, up 2.7%; and candy and individual snacks at $0.8 billion, also up 2.7% (Tanner, 2009).
Globally, premium chocolate sales jumped 18% in 2008, driven by organics, fair trade, the health benefits associated with dark chocolate, and gourmet flavor combinations (Just-food.com, 2008). Caramel, raspberry, strawberry, cherry, peanut butter, banana, pecan espresso, almond, cinnamon, coconut, macadamia, mint, hazelnut, and walnut were cited as the most complementary flavors to chocolate by U.S. restaurant chefs/operators (Datassential, 2009a).
Slightly less than one-third (31%) of chocolate-buying consumers prefer mainstream over premium chocolate; 20% say cacao percentage labeling is important; and only 16% prefer organic chocolate (Mintel, 2008a). Hershey Bliss and Nestlé Heaven are recently launched products targeted to premium chocolate purchasers.
Although dollar volume across the majority of top snacking categories fell in 2008, yogurt and snack nuts outperformed the snack segment as a whole; salty snacks, crackers, and nonchocolate candy turned in an average performance, while frozen novelties, chocolate candy, ice cream/sherbet, pastry/doughnuts, and cookies fell, according to IRI (Wyatt, 2009). Although economic conditions caused Americans to snack less often last year, snacking frequency has rebounded and the indulgent segment has regained momentum in 2009, according to a state-of-the-industry address delivered at the Snaxpo trade show this spring (Wyatt, 2009).
Indulgence continues to be a strong snacking opportunity, with 47% of consumers snacking on what tastes good rather than what is healthy. Indulgent snacks accounted for 66% of the snack market in 2008 (Wyatt, 2009). Flavor remains an important criteria for 79%, and easy to eat important for 61%. Other priorities are portability, important to 50%; satisfies hunger 41%; and healthful 40% (Technomic, 2008b).
Bringing the restaurant experience home is among the hot new trends in the indulgent-snack arena. Half of consumers report they'll skip desserts at restaurants if the economy doesn't improve (Technomic, 2009b). Restaurant-quality frozen yogurt drinks and smoothies at home offer enormous and virtually untapped product potential. Edy's offers a Loaded Chocolate Fudge Brownie Ice Cream. Purity's new Frozen Yogurt Smoothie varieties include Strawberry Freeze, Island Delight, and Hawaiian Surf.
--- PAGE BREAK ---
Combination snack products such as Town House's Flipsides Pretzel Crackers are also creating excitement. Java Cookies from Coffaro's Baking Co. in Cappuccino and Espresso varieties boast "coffee in a cookie." Sweet's dark chocolate wine sticks come in Champagne, Cabernet, and Port, and are made with real wine. Byrd Cookie Co. introduced Cupcake Cookies in Birthday Cake Cupcake and other flavors.
Unique sensory experiences such as Dentyne Blast represent another important direction, as do extreme and unique flavors. Kettle Foods' Kettle Brand Chips now range from Cheddar Beer to Island Jerk.
Better-for-you remains the fastest-growing segment of the snack category. The healthier snack segment grew 3.9% in dollar sales and 0.5% in dollar volume in 2008 vs indulgent snacks, which were up 3.2% in dollar sales and down 2.6% in dollar volume (Wyatt, 2009). Kernel popcorn dollar volume was up 15% in 2008, non-sweet popcorn up 13%, sugarless gum up 11%, frozen yogurt/tofu up 9%, multigrain snacks up 7%, pretzels up 6%, light frozen novelties up 4%, and rice cakes/popcorn up 4% (Wyatt, 2009).
The most-sought-after snack attributes include no trans fat sought by 62%, low-fat 61%, low-sugar 56%, low-calorie 55%, low-cholesterol 54%, low-sodium 52%, whole-grain 52%, and vitamins/minerals 50% (Wyatt, 2009). More important, 49% are looking for health benefits beyond basic nutrition. Those ages 18–24 are the most frequent healthy snackers (Mintel, 2008b). Older consumers are the most likely to eat dessert.
Smaller, snack-sized versions of favorite indulgent treats and "minis" are another popular trend, e.g., Nestlé DrumStick Lil' Drums snack-size sundae cones. One in five snackers is looking to increase their consumption of natural/organic alternatives (Wyatt, 2009). Fruit flavors are fast emerging in the cookie segment, with products such as Salem Baking Co.'s Moravian Meyer Lemon and Tangerine Orange flavored cookies. And 100-calorie portion packs continue to gain momentum, with sales up 62% for Y/E 11/29/08, driven by portion-controlled packages of candy, dried fruit, and nuts (Nielsen, 2008).
Brown bagging is another fast-growing area for snack marketers. More than one-quarter (27%) of consumers are expected to "brown bag" more often in 2009 (Technomic, 2009b). And half (50%) of consumers who work outside the home are now bringing snacks from home (Sargento, 2009).
Perhaps most importantly, drinks dominate the top 10 list of the fastest-growing snack foods in the United States. In descending order, the list includes specialty coffee, hamburgers, bottled water, breakfast sandwiches, iced tea, breaded chicken sandwiches, brewed coffee, hot tea, cakes, and shakes/malts/floats (NPD, 2008). Clearly, products such as Wolfgang Puck's estate-grown coffee, which brings premium coffee taste into the home, will find a welcome market.
Lastly, even pets are getting into the party mode. Nestlé (Purina) launched Friskies' Party Mix for cats in a Beachside Crunch variety; Wild West Crunch is coming soon.
The Comfort Zone
Comfort foods have always made us feel good, but it's time to dress them up with more-authentic regional recipes, preparations, and flavors. In 2009, chili topped the list of comfort foods to appear most frequently on restaurant menus, followed by fried chicken, ribs, grilled cheese, macaroni and cheese, catfish, waffles, meatloaf, chicken fried steak, and pot roast (Datassential, 2009b).
Comfort foods have always made us feel good, but it's time to dress them up with more-authentic regional recipes, preparations, and flavors. In 2009, chili topped the list of comfort foods to appear most frequently on restaurant menus, followed by fried chicken, ribs, grilled cheese, macaroni and cheese, catfish, waffles, meatloaf, chicken fried steak, and pot roast (Datassential, 2009b).
--- PAGE BREAK ---
Terms such as New York-style, Southwestern, Southern-style, Cajun-style, Boston-style, and Santa Fe-style were the most frequently used American descriptors on restaurant menus (Mintel, 2008c). Fiery Hawaiian, Memphis BBQ Chicken, and Cali Chicken Bacon Ranch are part of Domino's American Legend pizza line.
Likewise, clever marketers are transferring favorite comfort-food flavors to other foods. California Pizza Kitchen offers a Cheeseburger Pizza. In the UK, Pringles come in Szechuan Barbecue and other meal-like flavors.
Where are the toppings, condiments, and breads to help us make trendy restaurant burgers at home? Burgers on ciabatta were the biggest gainers in restaurants over the past three years, followed by Kobe/Wagyu beef, chipotle, applewood bacon, brioche, Angus, "hand-prepared," bleu cheese, carmelized ingredients, Gorgonzola, steak, ranch, and jalapeno (Datassential, 2008).
It's time to kick it up a notch. Sara Lee Corp. added Miller High Life Beer Brats and Hot & Spicy Italian-Style Smoked Sausage to its Hillshire Farm line. Hormel introduced fresh heat-and-serve Balsamic Rosemary Pork Roast.
What happened to comforting claims, like homemade and hand-cut? Traditional recipes are recapturing tremendous appeal. Pillsbury touts its Pillsbury Traditional Chocolate Fudge Brownie Batter. Braswell's Select Spiced Apple Preserves are sold in fine collectable glassware. Even the Bistro is back. Bringing back story-laden "ancient" or "heritage" ingredients, e.g., grains such as quinoa or spelt, is a very fun and low-risk idea.
Foods that allow the family to share, such as Stefano Foods' Rip-and-Dip family-sized sandwiches and stuffed pizza with dip, create interactive family fun. Whether at home or away from home, little foods to share—like Icelandic's new Seafood Sliders mini breaded fish squares—will have high appeal. With nearly half (49%) of consumers planning to order fewer appetizers at restaurants in 2009, catching the mini-portion wave will be a big idea (Technomic, 2009b).
For many, cooking with the family may be seen as a low-cost form of entertainment and unique treats. Betty Crocker now makes easy-to-use Decorating Cupcake Icing; a Peppermint Brownie mix is available from Lollipop Tree.
Cooking Enthusiasts
Cooking is a top interest or hobby for 54% of adults, ranking just behind movies, the Internet, music, reading, and travel (GfK, 2008). Mintel (2008d) classifies 53% of American adults as "casual cooking enthusiasts" who have an interest in cooking but still lack the skills of professional chefs or very savvy amateurs; 16% are "serious cooking enthusiasts." The majority of serious cooking enthusiasts are women between the ages of 34 and 54, but interest in gourmet food and cooking is rising steadily among those ages 18–34.
Interest in experimentation, expressing affection to family/friends by preparing food for them, and health are all primary drivers of cooking enthusiasm for both of these groups. American, Italian, Mexican, barbecue, and healthy dishes are among the most popular cuisines for U.S. cooking enthusiasts (Mintel, 2008d).
--- PAGE BREAK ---
Basic scratch ingredients with an upscale twist represent a new mass market opportunity for cooking enthusiasts, especially those who do most of their shopping in traditional supermarkets. Flavored butters, exotic salts, unique forms of rice, and simple preserves infused with wine or herbs will have strong appeal. Unique oils, such as pine-flavored Smoked Olive Oil Arbequina from Spain, cave-aged cheese, or Zucceroo's Colored Dry Honey can be used as unique and flavorful ingredient alternatives.
Experian has identified another group that is not necessarily made up of cooking enthusiasts, but whose members enjoy ethnic flavors, spices, gourmet foods, and food as art, as well as fresh, natural, and organic ingredients (Packaged Facts, 2009). About 14% of Americans—or 31 million consumers—are classified as "foodies" who believe that excellent food offers sensuous pleasures that make life worth living. Foodies put a premium on finding and enjoying new types of food and on preserving the culture surrounding food.
Foodies differ from mainstream shoppers in their preference for more-intense, ethnic flavors and products with gourmet or specialty flair. For example, foodies index much higher than average consumers for lamb; on a scale on which 100 is average, they index at 139, which means they are 39% more likely than the general population to enjoy lamb. For veal, foodies index at 128, Brie/Camembert 187, Gouda 170, feta 158, hazelnuts 207, and macadamia nuts 152.
Young adults ages 18–24, followed by those ages 25–34, were the most likely to buy specialty foods in 2008; 59% of gourmet foods were purchased for everyday meals at home (Tanner, 2008). Those ages 18–24 are the most likely to use specialty foods to treat themselves, followed by those ages 25–34. Those ages 18–24 were the top purchasers of gourmet cold beverages; they were purchased by 74% of this age group, cheese by 60%, chocolate 60%, meats 55%, frozen foods 47%, cookies 47%, pasta 45%, barbecue sauce 43%, and tea 43% (Tanner, 2008).
With 28% of consumers expected to eat out less frequently at fast-food restaurants in 2009 (a net loss of 11% over 2008), and 29% dining less frequently at full-service restaurants (a net loss of 14%), these groups will drive demand for chef-inspired recipes/food kits, restaurant-style foods/flavoring ingredients, and restaurant/chef-branded products for home use (Technomic, 2009a).
While T.G.I. Friday's, Claim Jumper, and California Pizza Kitchen have been longtime restaurant-crossover players, Tony Roma's, Steak 'n Shake, Jamba Juice, and Starbucks are following suit. Starbucks' new ice cream line, with flavors like Caramel Macchiato and Mocha Frappuccino, is made from rBGH-free milk/cream.
Oscar Mayer's new, restaurant-inspired, microwaveable Deli Creations Focaccia Sandwiches will "turn your desk into a four-star 'Desktaurant,'" according to the company. Hormel's new Chi-Chi's Fiesta Plate lunches come in Creamy Chipotle Chicken and other flavors.
Party Time
With nearly half (47%) of consumers having people over at least once a month, it's not surprising that there's an explosive demand for foods and beverages that help make entertaining at home easier, fancier, and more fun (Sloan, 2009a).
The last time the typical American entertained at home, 63% served snacks, 59% watched a movie, 54% celebrated a specific occasion, 52% had alcoholic beverages, 48% enjoyed a casual meal or buffet, and 46% had a sit-down meal (GfK, 2008). Young adults, who have the greatest interest in gourmet and ethnic foods, are the most likely to entertain (Mintel, 2008e).
--- PAGE BREAK ---
Four in 10 consumers (40%) report buying specialty foods for a special occasion at home such as a dinner party, birthday, or holiday; 19% keep gourmet foods on hand for unexpected guests (Tanner, 2008). About one-third (30%) of shoppers visit the butcher counter for special occasions celebrated at home (FMI, 2009).
With 43% of consumers saying that they don't know how to cook well—and an even higher percentage of Gen Yers (54%) acknowledging that deficit—fancier foods that are partially prepared or that have fool-proof, convenient preparation, such as those that are pre-marinated or contain a pop-up timer, will have high appeal (GfK, 2008). Hormel's new Fresh Pantry meats come in delicious pre-marinated flavors, e.g., Peppered Bacon Pork Medallions, and are packaged in a no-touch, no-prep roasting pan.
Cocktail parties—many featuring a themed specialty cocktail—are back in vogue. Nearly two-thirds (62%) of those ages 25–44 serve alcohol when entertaining. Micro-distilled/artisan liquor tops the list of hot alcohol and cocktail trends for 2009 (NRA, 2008).
Sales of premium rums, tequilas, and American and Canadian whiskeys continued to grow through 2009 (DSC-US, 2009). Those younger than age 40 are the most likely to enjoy imported and micro-brewed beers as well as flavored alcoholic beverages and rum, tequila, and vodka drinks (Sloan, 2009b). Mixology and the trend to culinary cocktails using herbs, fruits, and vegetables will also attract the attention of these younger consumers.
Older, wealthier adults (ages 50+) gravitate to premium quality and classic hot gourmet appetizers, including natural, boldly flavored cheeses, baked high-end appetizers such as puff pastry, and assorted meats such as smoked sausages and salamis. Consumers are most likely to serve appetizers they've eaten in restaurants or at catered events when entertaining at home (GfK, 2008).
Another new area of opportunity involves more party-sized portions for potlucks and informal get-togethers. Nearly one-third (31%) of consumers say they do potlucks, where everyone brings a dish to make home entertaining easier, and 27% serve take-out or easily prepared foods such as microwaveable products (GfK, 2008).
Special events ranging from church gatherings to book clubs are also moving back into the home, and consumers are looking for an easier way to prepare refreshments. Not surprisingly, one-third (33%) of adults have ordered full meals/platters for meetings, parties, and social events at least once a month (Technomic, 2008c).
Children's birthday parties are returning home, too. But where are the baking kits for special-occasion cakes, children's party platters, or party-sized kids' meals?
Sense-sational Foods 
With a 78% downturn in foreign vacations anticipated for 2009, U.S. consumers will be relying on more "armchair" culinary travel for fun. Mexican food, regional Italian, Spanish, Japanese, Greek, Thai, Indian, tapas, Vietnamese, and Moroccan, top the list of restaurant foods consumers would like to prepare at home (Hartman, 2008). And although they may not be as willing to prepare these types of foods, 25% of adults really enjoy Middle Eastern, 21% French, and 16% German cuisine (GfK, 2008).
With a 78% downturn in foreign vacations anticipated for 2009, U.S. consumers will be relying on more "armchair" culinary travel for fun. Mexican food, regional Italian, Spanish, Japanese, Greek, Thai, Indian, tapas, Vietnamese, and Moroccan, top the list of restaurant foods consumers would like to prepare at home (Hartman, 2008). And although they may not be as willing to prepare these types of foods, 25% of adults Middle Eastern, 21% French, and 16% German cuisine (GfK, 2008).
--- PAGE BREAK ---
To appeal to such adventure-loving consumers, tap into the cuisines of specific regions of familiar European areas known for great food, e.g., Sicily, the Basque region of Spain, or the Mediterranean beach towns of Southern France. Regional Italian favorite, The Olive Garden, was a big sales gainer in the full-service restaurant category last year, up 10%, P. F. Chang's China Bistro was up 9%, and Chipotle Mexican Grill up 21%—despite the down economy (Technomic, 2009a). Pizza Hut's Tuscani Pasta dinners delivered half a billion dollars in new sales last year (Caldwell, 2009).
Flavor-driven products gained momentum in 2008 (IRI, 2009a). Among IRI Pacesetters, 83% carried a new or unique variety claim, up 24% from the last five-year average. Among the Pacesetters, 69% boasted a new or unique recipe, up 23%; 51% a new flavor combination, up 15%; and 27% an improved taste claim, up 20%. Earth & Vine Provisions offers a new Mango Orange Chipotle Marmalade. SaltWorks' Fusion Salt line includes Spanish Rosemary, Thai Ginger, and Espresso Brava varieties. Exotic fruit flavors, including lychee and dragonfruit, continue to move center stage, as do tart flavors such as blackberry and black currant.
Consumers are enjoying the new trend of participating in the selection of new flavors for products. Kettle brand potato chips invites consumers to enter the "Create-a-Chip Challenge"  and offers build-your-own flavor kits for its chips. In the UK, Mars re-launched its Revels brand and gave consumers the chance to vote out their least-favorite flavor. Pepsi's Walkers invited consumers to invent a new flavor for its crisps and included big prize money and an offer of 1% of future sales of the winning flavor.
Colors can be fun, too. Baskin-Robbins' new pastel-colored, soft-serve ice cream in grape, watermelon, and berry comes with Magic Sprinkles that offer "amazing color-changing fun." Squire Boone Village's LolliStraws are edible candy straws that can sweeten and add flavor to drinks and also add color. Dandy Farms makes hollow celery, which functions like a straw, for use in Blood Marys.
Scents and aromas are gaining in popularity. Pringles Light Aromas line contains familiar, appealing meal aromas, such as Spicy Thai "with a touch of coconut oil" and Red Pepper "with a touch of olive extract."
Texture, especially crispness and crunch, are other fast-emerging, highly desirable product parameters. Marie Callender's offers Pasta Al Dente Rigatoni Marinara Classico. Danone's Vitalinea yogurt, available in Europe, now includes nuts.
Fruit and vegetable hybrids are another fun and untapped direction. A popular broccoli and Chinese kale hybrid in the UK called Bimi was bred by Mimi Agro-Processing, using normal horticultural breeding techniques, and is not genetically modified. In the U.S., Broccolini met with tremendous success. Caramoomel's Veggie Caviar Vegetable Spread represents another unique repositioning for vegetables.
The food novelty continues to gain strength. Available in Japan, Van Houten Chocolate's Primegateau Cocoa comes in the form of crispy cookies with chocolate on one side that can be dissolved in hot water to make a cup of hot cocoa or eaten as a cookie (Innova, 2009). Glico's Squeeze soft-tablet chewing gum contains 19% lemon juice and is fresh and juicy. In China, Nestlé's Kit Kat chocolate bar features a sweet potato coating and cream between the wafers.
Technology is making for more fun, interactive packaging. The VIZcap and the Cedevita cap can house ingredients that are dispensed into a beverage when the cap is turned. Taza to Go from Spain-based Valor Chocolates is a premium, ready-to-go chocolate drink that can be warmed in the microwave. Trakinas, a cookie brand in Brazil, made its packaging more fun by transforming it into Jogo da Velha (tic-tac-toe). The board and the game instructions are included, and the cookies become game pieces (Innova, 2009).
Lastly, limited-time offers and seasonal products are always fun. Half of restaurant menus are using new products, and 12% are featuring more limited-time offers to add excitement and drive traffic and sales (Technomic, 2009a). Nabisco Oreo Banana Split Crème cookies and Tropicana Pure Premium Red Citrus, a limited edition red citrus juice, have been big successes.
A. Elizabeth Sloan, a Professional Member of IFT and Contributing Editor of Food Technology, is President, Sloan Trends Inc., 2958 Sunset Hills, Suite 202, Escondido, CA 92025 ([email protected]).