Nutrition labeling of packaged foods became mandatory in the United States in 1994 and in Canada in 2005. The Food and Drug Administration, the U.S. Dept. of Agriculture, and Canada's Food Inspection Agency require presentation of a Nutrition Facts panel on the label of foods and beverages. This article will provide a brief discussion of the regulations and software available for preparation of the Nutrition Facts panel.

Government Regulations & Databases
According to the Food and Drug Administration, it is best for a food manufacturer to determine the values for nutrition labeling by conducting laboratory analyses on its products, but a manufacturer can use average values calculated from ingredient composition databases as long as it is confident that the values are accurate and accurately represent the characteristics of the product. The agency's 1998 "FDA Nutrition Labeling Manual: A Guide for Developing and Using Databases" (www.cfsan.fda.gov/~dms/nutrguid.html) and its 2008 "Food Labeling Guide" (www.cfsan.fda.gov/~dms/2lg-toc.html) provide guidance to industry regarding the use of databases for nutrition labeling.
Additional guidance is available in USDA's "A Guide to Federal Food Labeling Requirements for Meat and Poultry Products" (www.fsis.usda.gov/PDF/Labeling_Requirements_Guide.pdf) and Canadian Food Inspection Agency's "Guide to Food Labelling and Advertising" (www.inspection.gc.ca/english/fssa/labeti/guide/toce.shtml).
Both the U.S. and Canadian governments maintain databases of foods and food ingredients. 
• USDA National Nutrient Database. The "USDA National Nutrient Database for Standard Reference" provides nutrition information for 7,412 different foods. The database (www.ars.usda.gov/nutrientdata) is updated each September by USDA's Nutrient Data Laboratory and can be searched online or downloaded to a personal computer or personal digital assistant. The laboratory provides software for searching the database via PC or PDA.
• Canadian Nutrient File. Health Canada's food composition database (www.hc-sc.gc.ca/fn-an/nutrition/fiche-nutri-data/cnf_downloads-telechargement_fcen-eng.php) reports the nutrient values of foods commonly consumed in Canada. The data can be searched online or downloaded to a personal computer.
Commercial Software
Many independent laboratories provide nutrient analyses of companies' products and prepare Nutrition Facts labels for them. In addition, a number of companies have developed and offered for sale software packages that can be used to prepare the Nutrition Facts labels as well as provide additional functionality.
Many independent laboratories provide nutrient analyses of companies' products and prepare Nutrition Facts labels for them. In addition, a number of companies have developed and offered for sale software packages that can be used to prepare the Nutrition Facts labels as well as provide additional functionality.
The following is a brief discussion of the software, listed in alphabetical order, as provided by representatives of the software companies in response to questions I proposed to them. Note that the responses have been edited to avoid undue repetition, since many, if not all, of the companies provide similar capabilities.
• ChefTec. Culinary Software Services Inc. (www.culinarysoftware.com) offers ChefTec Software ™ designed for use by chefs and foodservice operations. The software can store, scale, and size an unlimited number of recipes, provide nutrient values for up to 5,000 of the most commonly used ingredients, calculate nutrient values for recipes and menu items, and print Nutrition Facts labels. The software also provides other functions such as recipe costing, inventory control, and purchasing.
--- PAGE BREAK ---
• EZ Form. Prime Label Consultants Inc. (www.primelabel.com) offers EZ Form® Nutrition and Labeling Compliance Software. According to Fred Mosher ([email protected]), Director, Software Development, as long as valid information about the product is provided, the software will print camera-ready Nutrition Facts labels that meet U.S. and Canadian requirements in all the formats—columnar, tabular, linear, dual-declaration columnar, aggregate columnar, and others.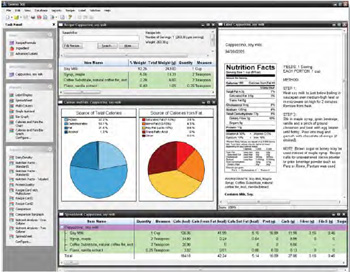 The software will determine an overall nutrient profile for a product based on the nutrient profile of the individual ingredients in the product's formulation, or use an overall nutrient profile from a laboratory analysis that is entered for a product, Mosher said. The source of a nutrient profile for an ingredient can be the USDA's National Nutrient Database or the Canadian Nutrient File, both of which are integrated into the software, or the nutrient profile can be taken from supplier specification sheets and entered into the software.
A serving-size wizard asks questions about a product and then determines the appropriate serving size. A Nutrient Content Claims screen shows the claims for which a product qualifies, as well as those for which the product is not qualified, with an explanation of where a claim falls short of requirements, allowing R&D to quickly see if formula modifications might easily qualify the product for an additional claim. The software also includes a Child Nutrition Labeling wizard and many other features.
The software is used by large and small food and beverage companies and analytical laboratories, Mosher said, but primarily by USDA-regulated food manufacturing plants. In addition to selling the software, he added, the company also uses it in-house to produce Nutrition Facts panels for companies that send in a product formulation or a laboratory analysis. Quarterly updates are available to keep the software abreast of changes in the regulations.
• Genesis R&D. ESHA Research (www.esharesearch.com) has been supplying nutrition labeling software since the regulations were first proposed. The company's Genesis R&D software includes a database of more than 37,000 foods and food items, and users can add an unlimited number of new foods and modify existing foods. It provides U.S. Nutrition Facts labels, labels in all the standard formats plus child, supplement, bilingual English–Spanish, and aggregate and dual declarations for the U.S. and Canada.
According to Scott Hadsall ([email protected]), Software Sales, Esha's software is used by 87 of the Fortune 100 food and beverage companies, as well as laboratories, educational facilities, restaurants, consultants, and any-size company needing the ability to do accurate analysis internally. The company does not do any analytical testing, he said, but gathers data from more than 1,200 reputable sources, including manufacturers, laboratories, research facilities, and publications. All data are mathematically checked for accuracy before being added to the database.
Hadsall said that the company constantly receives feedback from its customers and gets updates from government agencies to enhance software to keep its customers in compliance with regulations while keeping the software easy to use. The software is updated at least biannually.
Esha has exhibited at IFT's Food Expo every year since 1992 and will be at Booth 1219 at this year's Food Expo in Anaheim, June 6–10.
• NutraCoster. FoodSoftware (www.foodsoftware.com) offers the nutraCoster software. Dan Gimpel ([email protected]), President, said that the ingredient data are derived from the USDA National Nutrient Database and there is no limit to the number of items the user can add to the software database. A supplemental database contains an additional 2,500 branded ingredients from more than 200 manufacturers. The user enters recipes into the software, and the software calculates the nutrient value for the product based on the ingredients plus modifications that the user may provide due to processing.
--- PAGE BREAK ---
Gimpel said that the company's major customers are mostly small food producers—bakeries, snack, candy, and meat product manufacturers— who are looking to do what they must do to comply with the labeling requirements as easily and inexpensively as possible. The basic software is much less expensive than competitors', he said.
The software is also available from SweetWare (www.sweetware.com). David Dunetz ([email protected]), President, said that the software performs both nutrition analysis and product costing of recipes and can account for nutrient changes due to processing, such as water loss during baking, fat gain during frying, etc. He added that the next major push in labeling requirements will be nutrition disclosures for restaurants (see sidebar on p. 136).
• Nutritionist Pro. Axxya Systems (www.axxya.com) offers Nutritionist Pro™ software that creates Nutrition Facts labels based on U.S. guidelines. According to Shazia Nathoo ([email protected]), Registered Dietitian at Axxya, the software is based on the USDA database and data compiled from manufacturers, has been on the market for more than two decades, and contains values for more than 34,000 foods and ingredients. It has been used by many large and small companies, including analytical laboratories and restaurant chains, and many registered dietitian consultants rely on it for the services they provide to food manufacturers, she said.
Nathoo added that the company offers both the software and custom nutrition services for food manufacturing companies and restaurants. The company's registered dietitians and nutrition experts also work directly with customers in analyzing their formulas and recipes.
Nathoo said that the company's software is very reasonably priced and the company is offering discounted bundled services to smaller companies that need assistance in creating the labels with its software.
• ProductVision. Advanced Software Designs (www.asdsoftware.com) offers ProductVision software that provides finished Nutrition Facts labels in all formats, including vertical, horizontal, simplified, infant, toddler, supplement, multilingual, dual-declaration (e.g., cereal/milk, mix/prepared), Canadian labels, and European Union labels. Ted Pliakos ([email protected]), Vice President of Sales, said that it is used by many large and medium-sized food and beverage companies. It has all the U.S. and Canadian rounding rules built in, and use of logic rules for the display of allergens is standard, as is the display of saturated and trans fat on one line on the Canadian label, he said.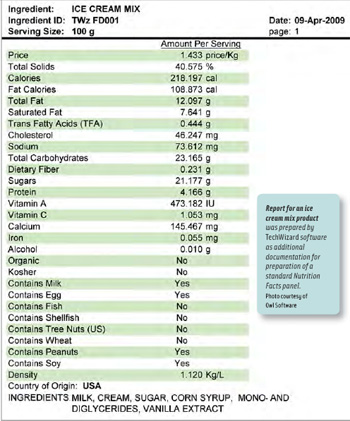 Any combination of data—nutrient analyses, published databases, and calculations based on formulation information—can be used for calculations. However, the software is much more than just nutrition labeling software, Pliakos said. It is a complete integrated package designed to tackle the challenging product development and regulatory compliance needs of a food and beverage manufacturer. It includes functionality for formula (recipe) management, costing, resource specification management, work flow (approval routing), guidelines, and restrictions management, Nutrition Facts panel, and ingredient declaration generation.
Pliakos said that challenges that lie ahead are mainly in the EU, including Guideline Daily Amount (GDA) nutrition labeling, with new graphics on the front and back of packages, that will feature consumer-friendly, easily understandable nutrition information, and harmonization between various governments and major retailers regarding how to calculate and display GDA values. Some harmonization of values, namely, dietary fiber and energy, has already occurred, he said.
• TechWizard. Owl Software (www.owlsoft.com) offers TechWizard™ software that provides all the U.S. Nutrition Facts label formats, as well as specific reports tailored to the user's requirements. Companies need a variety of reports available to them, not just a Nutrition Facts panel, Lance G. Phillips ([email protected]), President, said. Such a report can include basic nutrient, allergen, kosher, organic, and country-of-origin information. Any properties in any order can be included, such as amino acids, an expanded nutrient list, or organoleptic properties such as relative sweetness.
The software can also create an ingredient based on formula information, Phillips said. This can be very useful for creating new ingredients based on ingredients already in the database. The company's ingredient information is based on published databases and information that the users obtain from their suppliers. Phillips feels strongly that the ingredient information should be the responsibility of the users, since they are also responsible for the results. A good relationship between the ingredient supplier and the software user means less chance of mistakes.
--- PAGE BREAK ---
Some companies try to provide very large databases of ingredient information, Phillips said. It has been his experience that these databases can be of limited value, especially for ingredients that are manufactured from other ingredients. The composition and specifications of these types of ingredients can change quickly, so the best source for this information is the supplier. The software is designed to make it very easy to enter specification-sheet information from a supplier.
The company's personnel are food scientists, Phillips said, and the software is made to do many things besides just create a Nutrition Facts label. Most nutrition labeling programs have the user enter a recipe and evaluate its composition and ingredient listing. Many times this is not what product developers or food formulators require, he said. They need a much more robust program where they can enter a compositional requirement such as less fat, less salt, more flavor, etc., and create a recipe that will provide these attributes while minimizing cost.
One area of interest, he added, is helping companies use our software to create new formulations with fewer allergens present. This is easy to accomplish using our software, he said. You simply list the allergens you wish to exclude, and if any of the recipe candidate ingredients contain that allergen they are discarded from further evaluation.
The company works with companies in most sectors of the food industry, he said, and also provides its software free of charge for teaching purposes to food science and nutrition departments around the world.
---
Conference Addresses Nutrient Databases
The National Nutrient Databank Conference is held annually to foster communication among nutrient database generators and users in the food industry, government, and academia, as well as other interested parties. The 33rd conference, "Innovations in Food Composition and Nutrition Research: A Global Perspective," was held in New Orleans, La., in April 2009 (www.nal.usda.gov/fnic/foodcomp/conf/33NNDC_ProgramAgenda.pdf), and the next conference will be held in Grand Forks, N.D., on July 12–14, 2010. For more information, visit www.nal.usda.gov/fnic/foodcomp/conf/ or contact conference chair Lisa Jahns at [email protected].
The National Nutrient Databank Conference has also issued an international directory of software, food composition databases, and reference databases that are sources of the food composition values. The 2008 directory is available from the Web site or at (www.healthcare.uiowa.edu/gcrc/nndc/2008InternationalNutrientDBDirectory.pdf).
---
Nutrition Labeling for Foodservice
FDA provided guidance for industry regarding nutrition labeling of foods sold in foodservice establishments in its 2008 "A Labeling Guide for Restaurants and Other Retail Establishments Selling Away-From-Home Foods" (www.cfsan.fda.gov/~dms/labrguid.html). The agency said that it is not requiring full nutrition labeling for restaurant foods, nor is it requiring that nutrition information be presented in the Nutrition Facts format. It is providing flexibilities in how restaurants determine the nutrient content of a food (e.g., using database analysis or other reliable sources of nutrient information) and in how they present the information to consumers (e.g., in various formats and by reasonable means, such as in a flier or notebook).
In March 2009, lawmakers in the U.S. House and Senate—Senators Tom Carper and Lisa Murkowski and Representatives Jim Matheson and Fred Upton—introduced the Labeling Education and Nutrition (LEAN) Act, which would require restaurants and grocery stores that serve prepared foods at 20 or more locations to provide to consumers calorie information for each menu item. Under the bill, calories would have to be printed directly onto the menu, menu board, or in one of the approved alternative ways, such as a menu insert or a sign next to the menu board. If enacted, the act would not only require a uniform national nutritional standard but also provide for a single set of guidelines in how nutrition information is calculated.
Neil H. Mermelstein, a Fellow of IFT, is Editor Emeritus of Food Technology
[email protected]