Back in the early and mid 1990s, during what was frequently termed "the fat replacement craze," fat was generally portrayed in a negative light. At that time, at least three misconceptions remained largely unaddressed, and although food formulators learned a great deal from the experience, from time to time it's still necessary to review these misconceptions and put them into their proper context when discussing ingredients and product development.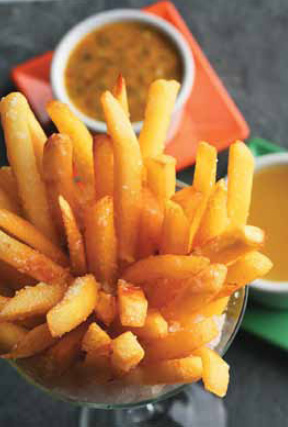 During that period, a myriad number of fat replacers, many of them carbohydrate-based, were developed. Their sheer number suggested that fats are dispensable in the diet. That was one of the misconceptions. In reality, fats perform many vital roles in the human body. Fat provides energy, functions as a building block, and helps absorb essential vitamins. Furthermore, some fatty acids are essential in the diet because the body cannot make them. And, of course, from a functionality perspective, fats can act as a flavor carrier, provide food lubricity and texture, help improve food appearance, and play a critical role in frying.
A second misconception was that all fats are the same, and little was done to differentiate the different kinds and the benefits they offered. This point is very important because when formulating, the kind of fat or oil used depends on the application and the functionality properties needed for that application. For instance, are we talking about stability oils, functional fats, trans-fat-free shortenings, or low-fat salad dressings? Each ingredient is driven by a particular need. Furthermore, the sophisticated blending of different oils or fat fractions—and the increased functionality benefits this approach offers—adds a new dimension to the perception of fats and oils as an ingredient category.
A third misconception is that fats, as a group, present (and perhaps equally important do not lessen) major health risks. I've already alluded to the nutritional and functionality benefits that fats can provide. However, more and more studies are focusing on the ability of fats to reduce the risk of certain health problems. For example, in recent years, we've seen how omega-3s have been linked to heart or brain health. Other studies have indicated that when people with type 2 diabetes ate diets rich in monounsaturated fats, their blood glucose and blood insulin remained stable. Studies have also shown that replacing fats, even saturated fats, with carbohydrates can be disadvantageous to individuals with type 2 diabetes. And other studies are putting saturated fat in an even more favorable light, suggesting that consumption of saturated fat in moderation can reduce the risk of stroke. These ongoing studies may have a major impact, helping to influence the development of different dietary strategies to effectively deal with health challenges such as the obesity epidemic or the rising diabetes problem.
Over the past couple of decades, these misconceptions have gradually been addressed or rethought. (Functionality actually played a major part in the process as many of the initial products that used fat replacement systems were lacking in taste or texture, and their failure in the marketplace only underscored the importance of fat as an ingredient.) Our perception of fat continues to evolve, however, undergoing not one but many different kinds of trans-formations.
This, of course, brings us to today and where we are in our understanding of the role lipids play in food formulating and their addressing of health issues.
--- PAGE BREAK ---
At nine calories per gram, fats certainly can be complicated, generating a great deal of thinking and rethinking about them. And there's not always agreement either about which ones provide which benefits, especially in terms of health and risk management. Using that reality as a springboard, this article will look at a number of recent developments regarding fats and oils and the benefits they provide.
In particular, as you might guess, more and more food manufacturers are finding ways to remove trans fats (those produced by partial hydrogenation) from their products in the marketplace. This reformulation over the past few years is at least partly in response to the Food and Drug Administration's mandate that by January 2006 all food product labels must include the content of trans fats. Most recent, Unilever unveiled plans to remove all partially hydrogenated oils from its soft-spread blends. Such moves as these indicate that industrially produced trans fats may soon share a place with those big reptiles of the past, becoming a "dinofat" in the evolution of food ingredients. This scenario is being shaped in particular by new developments in fats and oils that are successfully matching the functionality benefits of trans fats in products ranging from French fries to bakery goods to snacks.
As this article will discuss, researchers are also reappraising saturated fats and whether they really deserve their bad image. The 6th Global Oils & Fats Forum, presented by the American Palm Oil Council, will provide a perspective on this issue and a variety of others related to fats and oils on October 5–6, 2009, in New Orleans. Under the title, "Future of Oils and Fats: Assessing Sustainability, Technology, and Bioenergy," the forum is intended to give attendees a worldwide perspective on oils and fats, its trends and opportunities as well as updates on new developments, technical applications, and formulations. One of the five sessions specifically addresses such topics as "What Are the Diet Fat Issues These Days," "Is it the Fat-to-Protein Ratio That Matters Most in Obesity/Diabetes," "Dietary Saturated Fats in a Healthy Lifestyle," and "The Dietary Saturated Fat Hypothesis—Fact or Fiction."
In coming years, expect to see food manufacturers turn to a variety of options when using fats and oils in their products. Trait-enhanced oils and their improved functionality, nutrition, and taste; different sources of fats and oil, some traditional, some not so; new forms for omega-3 fatty acids; and sophisticated blends of lipids are just a few examples. And as changes in rethinking continue to occur, there will be many exciting opportunities created for the formulator, as suggested by the following developments.
Soybean Oil Provides High Oleic Content
A high-oleic soybean oil—newly developed by Pioneer Hi-Bred, a DuPont business, Des Moines, Iowa (phone 515-334-6884, www.2dupont.com)—provides the stability and performance of partially hydrogenated oil but with no trans fat and less saturated fats. The nutritionally enhanced product, named Plenish™, contains 80% oleic acid, which is reportedly the highest content in soybeans under commercial development.
Because the high levels of oleic acid significantly increase the stability of the oil when used in frying and food processing applications, the need for partial hydrogenation is eliminated, explained DuPont Scientist Susan Knowlton. Oxidative stability testing has demonstrated that high-oleic soybean oils are two to three times more stable than regular soybean oil and at least as stable as commonly used partially hydrogenated oil.
According to Knowlton, the new oil displays higher stability under heat and pressure, and extended high-temperature use for frying applications. Research has shown that high-oleic oils can replace regular canola, soy, and partially hydrogenated canola and soy oils in edible applications where increased stability is required.
--- PAGE BREAK ---
In addition to its functionality, the oil offers an improved nutritional profile that health-conscious consumers will find appealing. For example, compared to commodity soy oil, it is three times higher in monounsaturated fats, has more than 20% less saturated fatty acids (including 40% less palmitic acid), and has a linolenic content of 3% vs that of 7% found in commodity soy oil). It also has 75% less saturated fat than palm oil.
The functionality and nutritional benefits of this oil allows it to be used in a broader range of food applications than other available soybean oil products, and product application testing continues to open up new uses for high-oleic oils. The oil should prove especially important for snack food applications, including those that undergo high heat during processing, because of its superior resistance to flavor breakdown. High-oleic vegetable oil has been tested successfully in snack food preparation for frying or spraying to enhance mouthfeel and palatability. As a pan-release oil, it forms a barrier in pans that allows for clean release of the cooked product without flavor contribution. The increased oxidative stability of high-oleic oil results in lower polymerization and less buildup on equipment. Products such as breads, cakes, muffins, and pizza can also benefit from this oil.
And because of its flexibility, the oil can be used alone or in combination with other oils to optimize cost, functionality, and taste.
The product was developed by Pioneer researchers by changing the oil composition of crop plants through breeding. Using biotechnology tools, the researchers successfully increased the proportion of oleic acid vs linoleic and linolenic in oilseeds. The Plenish high-oleic soybean oil trait will be launched in the industry leading line-up of Pioneer® brand soybean varieties. These varieties are on track for 2010 introductions in the United States, pending regulatory approval and ongoing field testing.
In May 2009, the Canadian government granted regulatory approval to Plenish. The Food and Drug Administration completed its review of the high-oleic soybeans earlier this year, and the U.S. Dept. of Agriculture is currently reviewing it. Regulatory submissions for the trait are planned or have been completed in key soybean importing countries around the world.
Knowlton presented information about the high-oleic oil, described as part of the next generation of healthy soybean ingredients, at a press conference held during the 2009 IFT Annual Meeting and Food Expo. The session was hosted by Qualisoy, St. Louis, Mo. (phone 314-579-1583, www.qualisoy.com), a collaborative effort among the soybean industry which promotes currently available trait-enhanced soybean oils as well as those in the research pipeline.
What Canola Can Do
Canola oil is made by crushing the seeds of canola plants, which are grown in the United States, Canada, and other parts of the world. On October 6, 2006, FDA authorized a qualified health claim for canola oil on its ability to reduce the risk of coronary heart disease because of its unsaturated fat content. Canola oil reportedly has the lowest amount of saturated fat (7%) of all commonly used vegetable oils. It predominantly contains monounsaturated fat (omega-9 fatty acid) and is a good source of alpha linolenic acid (omega-3 fatty acid).
--- PAGE BREAK ---
According to Dow AgroSciences, since the market introduction of its omega-9 canola and sunflower oils in 2006, nearly a half billion pounds of trans and saturated fats have been replaced in the North American diet. The company claims that over the past three years, more than 340 million pounds of trans fat and 130 million pounds of saturated fats have been eliminated by these oils. "And because there has been so much demand for omega-9 oils, we have plans to ramp-up annual oil production to 2.5 billion pounds by 2012," said David Dzisiak, Commercial Leader Oils Business Unit for Dow AgroSciences.
In 2008, market research firm Techomic Inc. surveyed the U.S. foodservice sector and found that canola oil saw the biggest net gain of restaurant cooking-oil conversions, followed by soybean oil and oil blends. The survey also revealed that canola oil was one of the top three options being considered by restaurants that may be making a change in oil. The most common uses of canola oil reported were deep-frying, all-purpose, baking, and sautéing/pan frying.
The most recent canola development came from Cargill, Minneapolis, Minn. (phone 952-742-6000, www.cargil.com), which announced in June 2009 that it will launch a high-stability canola oil containing 4.0–4.5% saturated fat (25% less than conventional canola oil). The new product, Clear Valley® low-saturate canola oil, reportedly offers the lowest amount of saturated fat of any vegetable oil currently in the marketplace.
The technology used to produce this oil "will enable Cargill to expand our offerings into the 'next generation' of low-saturate oils," said Jenny Verner, President of Cargill Specialty Canola Oils. The new oil extends the company's high-oleic product platform and is expected to deliver similar functionality, mouthfeel, and fry and shelf-life stability as its current high-oleic oils. It may allow food manufacturers to differentiate their brand with nutrient content claims such as "low in saturated fat," "reduced saturated fat," or "saturated fat free."
As was reported in the July 2008 Ingredients section, the low-saturate canola oil is produced from Cargill's Victory™ hybrid seeds specifically designed by the company for maximum yield and performance, helping to advance healthier oils with high stability and function. After its initial introduction in North America, the new product will be offered to other areas of the world. It will be available for customer testing in early 2010.
In 2008, Cargill opened its specialty canola research and production center in Aberdeen, Saskatchewan, which will allow the company to centralize its hybrid breeding program in the heart of the commercial production region, while giving growers and customers a state-of-the-art facility for furthering knowledge in canola production. According to Verner, the center "will allow us to help our customers develop new products and formulations to improve functionality, and deliver nutritional value for their products using a proven identity preservation system that results in an assured supply of product."
Media Workshop Spotlights Cottonseed Oil
Cottonseed oil, as a cooking oil option by the food industry, was explored for its functionality benefits, nutritional value, and cost efficiency at a recent media workshop. National Cottonseed Products Association (NCPA), Cordova, Tenn. (phone 901-682-0800, www.cottonseed.com) , hosted the one-day event, "Fats and Oils 101," held on March 26, 2008, at Texas Woman's University (TWU), Houston, Tex.
--- PAGE BREAK ---
"While companies are looking to short-term compromises, such as serving smaller portions or substituting flank steak for filet mignon, one thing that shouldn't be compromised is the quality of cooking oil," said Ben Morgan, Executive Vice President of NCPA in his opening remarks. "Premium- quality cottonseed oil offers a built-in stability and resistance to flavor reversion that pays off in less oil turnover and longer shelf life. And cottonseed oil can be extremely cost effective when you factor in extended shelf- and fry-life, saving time and money in the long run."
Over the past three years, the food industry has focused on removing trans fats, created when oils are partially hydrogenated for more stability and performance. "In their quest to remove these harmful trans fats, however, some restaurants and manufacturers are now discovering that their oil replacement is lacking the performance and flavor they desire," noted Monoj K. Gupta, Consultant for MG Edible Oil Consulting International. Under extended frying circumstances, many oils will break down, negatively impacting the food's finished flavor.
"Cottonseed oil's inherent stability makes it one of the few oils that can promise both zero trans fats and nearly zero flavor reversion," claimed Gupta. "Cottonseed oil is well known for its desirable neutral flavor even after the oil begins to break down."
According to Gupta, the increased fry life offered by cottonseed oil can easily counter the initial higher price of the oil. "In restaurant frying, cottonseed oil may last 10 to 15% longer, offering some financial benefit to the restaurant owner. Cottonseed oil's stability also pays off in extended shelf life for packaged foods such as potato chips. It is shelf-stable at the end of the code date so chips will maintain their good flavor."
Clay King, Professor and Director of Food Product Development, TWU, and John Radcliff, Professor at TWU, gave presentations discussing edible oil properties, trans fat, fatty acid profiles, and nutrition. A brief history of cottonseed oil and the emergence of other vegetable oils in the U.S. were also covered.
Cottonseed oil, described as America's original vegetable oil, has a 2:1 ratio of polyunsaturated to saturated fatty acids. Its fatty acid profile generally consists of about 70% unsaturated fatty acids—18% monounsaturated (oleic acid) and 52% polyunsaturated (linoleic)—and about 26% saturated fatty acids (primarily palmitic and some stearic). It is also a good source of the essential fatty acids and has relatively high levels of tocopherols (vitamin E).
From a functionality perspective, cottonseed oil enhances the natural taste of foods and has long been considered the "gold standard" oil in potato chip production for its ability to enhance the flavor of potatoes. Its neutral taste makes it suitable for frying seafood and oriental foods, such as stir-fry. Historically popular in Japan and Korea, it is increasingly being rediscovered as an ideal ethnic cooking oil in the U.S. Because of its stability, it may be used in all categories of edible fats and oils—liquid oils (cooking and salad), shortenings, margarines and spreads, and specialty products.
Radcliff also reported on a recent study which suggests that cottonseed oil consumption significantly increases vitamin E intake without affecting fat content. This study will serve as a pilot for a larger study to be completed later this year.
--- PAGE BREAK ---
Attendees were taken to the test kitchen at Houston's Sur La Table where a variety of foods, including French fries, sautéed mushrooms, egg rolls, muffins, and donuts were freshly prepared in a range of edible oils so that comparisons could be made between cottonseed and the other commonly used oils.
According to NCPA, cottonseed oil is available in commercial quantities to satisfy the current demand for trans fat alternatives. Annual U.S. production has averaged about 877 million pounds, or about 117 million gallons, over the past five years. Typically, one-third of the supply goes into snack food production. Because of its high demand among foodservice operators and snack food processors, the oil is not typically available at the retail level; however, it is available to consumers in some niche markets.
Flaxseed Oil Receives GRAS Status
A flaxseed oil containing 70% alpha linolenic acid (omega-3) has been granted Generally Recognized As Safe Status by FDA. The product—HiOmega® from Polar Foods Inc., Fisher Branch, Manitoba, Canada (phone 204-372-6081, www.polarfoods.com)—reportedly offers 20–30% more omega-3 than other flaxseed oils while preserving the balance with other essential fatty acids such as linoleic and oleic acids.
Achieving GRAS status opens the door to the U.S. food industry for the high-linolenic flax oil, according to Polar Foods Inc. The company intends for it to be used as a replacement for edible oils in various food categories, such as confections, baked goods, beverages, dairy products, and spreads.
Studies have shown that the consumption of omega-3 in the form of alpha linolenic acid from flaxseed oil has significant cardiovascular health benefits including reducing the risk of sudden cardiac death. Additional health benefits include anti-cancer effects; protection of bone, kidney, and liver health; and maintenance of healthy DHA levels. Because of these benefits, food manufacturers may consider using the oil to make certain structure function claims, notes the company.
The oil is cold pressed, all natural, and a non-GMO vegetable source of the essential omega-3 fatty acid. It has a beneficial balance of omega-6: omega-3 (1:7) and a lower level of saturated fat than omega-3 fish oils.
Shortenings Undergo Trans-formations
Shortenings are being developed that can provide formulators with trans-fat-free options while retaining the original flavor and functionality properties expected of shortenings that contained trans fats.
For example, advancements in shortening systems were demonstrated by Bunge Oils, St. Louis, Mo. (phone 800-828-088, www.bungenorthamerica.com), at the 2009 IFT Food Expo. Two of these developments provide solutions for the reduction of trans fats in the manufacture of French fries and donuts, earning the company a 2008 IFT Food Expo Innovation Award.
Nutra Blanche/Nutra Clear Frying System Solution and Donut Fry NT are said to utilize a proprietary hydrogenation technology which—through a conditioned nickel catalyst—selectively prevents the formation of trans fats. According to the company, trans fats can be reduced by more than 85% in shortening systems for par-fried potatoes and fried donuts. The procedure also has functionality benefits. It can increase the plasticity of soybean oil, minimizing clumping of French fries and oiling out during storage, and improve sugar adhesion in fried donuts.
Products made with this technology are not impacted in terms of their quality. Nutra Blanch/Nutra Clear Frying System allows French fries to retain a golden color and have a clean, not waxy mouthfeel. Donut Fry NT, developed specifically for frying donuts, provides excellent flavor profile and good eating and keeping quality. Although the latter ingredient contains palm oil, partially hydrogenated soybean oil, and partially hydrogenated cottonseed oil, it offers zero grams of trans fat per serving because of the technology it utilizes.
--- PAGE BREAK ---
At this year's IFT Food Expo, Bunge also featured what it called "Simplified Solutions" in the form of hybrid shortening options which balance nutritional and functional ingredient performance needs.
At the 2009 IFT Food Expo, ADM, Decatur, Ill. (phone 217-451-5200, www.adm.com), highlighted a number of prototypes that demonstrated trans-fat-free solutions. For example, a Triple Chocolate Brownie prototype contained NovaLipid Cake Shortening (made of enzymatically interesterified soybean oil and distilled monoglycerides) with palm kernel oil in the chocolate fudge icing.
The company's NovaLipid line, developed by an enzymatic interesterification process, can help food formulators reduce trans fats in formulations without sacrificing taste. Products in this line include naturally stable oils and fats, trait-enhanced oils and shortenings, and custom blends. These ingredients are said to provide the same functionality and stability as other oils in the company's portfolio, and can be incorporated into applications with limited processing changes. And, as was discussed in the Post Show coverage (see the 2009 August issue of Food Technology), this prototype was one of several that reflected a healthier indulgence. ADM offers fats and oils derived from such sources as soy, canola, palm, sunflower, and corn.
A new technology for diglycerides, developed by Caravan Ingredients, Lenexa, Kan. (phone 800-669-4092, www.caravaningredients.com), reportedly has exciting applications for zero-trans shortenings. The Trancendim™ product line performs well in shortenings for bakery applications, including cakes, cookies, donuts, Danish, icing, frying, puff pastries, and laminated products.
According to information supplied by the company, use of Trancendim 110 and Trancendim 130 offers a variety of ways to make zero-trans products with significant reductions in saturated fat, while maintaining taste, mouthfeel, or flavor release. Data is available comparing the nutritional composition of a variety of oils, including those made with 10% Trancendim.
In a related story, Caravan will be launching a line of better-for-you products, Invisible Goodness™, which provide a variety of benefits including zero grams trans fat and reduced saturated fats. Initial products in this line are a muffin mix, bread base, and a bagel base.
A line of trans-free shortenings developed by Loders Croklaan, Channahon, Ill. (phone 815-730-5393, www.croklaan.com), offers several lamination versions for various baking usages such as puff pastries, pies, croissants, and danishes. Roll-Rite trans-free lamination shortenings, part of the SansTrans line, are said to deliver the texture, taste, and processability expected of traditional shortenings. It was developed to maintain the integrity of each layer of lamination in the dough, and provides a product that is smooth and consistent.
And a new brochure, "Soy Solutions to Trans Fat-Free Baking," is available from The Soyfoods Council, Des Moines,Iowa (phone 515-669- 3664, www.thesoyfoodscouncil.com), which explains how a recent scientific study shows that soy-based interesterified trans-free shortenings may be used to replace hydrogenated vegetable oil in bakery products without compromising quality attributes. The study, conducted by researchers at Iowa State University, compared five different soy-based shortenings and oil substitutes in a variety of commercial baked goods, including yellow cake, muffins, icings, bread rolls, and biscuits. It found that that the interesterified shortenings performed up to gold standards when replacing hydrogenated vegetable shortenings.
--- PAGE BREAK ---
Trying Triglycerides
Earlier I noted that not all fats are the same. Over the years, Stepan Co. was very successful in promoting the distinctiveness of its "specialty nutritional lipids," as the company termed them. This ingredient family included Neobee® Medium-Chain Triglycerides, which are metabolized in a very special way. Unlike typical long-chain fats that travel through the body's lymphatic system, the MCTs are transported directly to the liver where they are preferentially burned for energy. Consequently, although they are completely saturated, they have little effect on cholesterol levels under normal circumstances and they provide fewer calories per gram than long-chain fats.
Commercialized over 50 years ago, what is particularly interesting about these ingredients is the different ways they have adapted during the evolution of fats and oils and the subsequent perceptions of fat related to health. For example, back when fats were being vilified in the 1990s, they presented a readily absorbed, low-calorie source of fat which could fit in well as an option for formulators looking for alternatives to traditional fats. When the nutraceutical phenomenon began to rise shortly later, MCTs were appealing because they could be readily used in foods designed to have nutritional benefits. In the early 2000s, when formulators were searching for alternatives to trans fats, MCTs provided a potential answer because they contained no trans fats. And now with researchers looking at the value of saturated fats, MCTs may again play a role because of the unique way they are metabolized, making them, in a sense, a healthier saturated fat.
Of course, their functionality benefits also contributed to their success. These low-viscosity liquids offer excellent oxidative stability and desirable organoleptic properties.
Fishing for New Forms of Fish Oils
How about splitting fish oils? A range of fatty acids, Crystalpure™ from United Kingdom-based Equateq (phone +44 0 1851 707780, www.equateq.com), are concentrated, making possible the delivery of a higher loading of omega-3 polyunsaturated fatty acids into food and nutraceutical applications. The method used to produce this ingredient involves selecting low temperatures to turn saturates and monounsaturates into crystals, allowing the physical separation of the polyunsaturated stream.  
By splitting fish oils, the company claims that it can deliver a concentrated stream of more than 50% omega-3 triglyceride, with specific enrichments of such fatty acids as EPA or DHA. The process can be used on any omega oil feedstock, including marine, botanical, or algal.
"Using low temperatures and gentle processing conditions is very sympathetic to long-chain fatty acids, which are usually prone to instability and oxidation," said Adam Kelliher, the company's CEO. "So we are essentially extracting the most desirable part of an omega oil, which we believe will maximize the possible health benefits." Once deodorized, the Crystalpure oils are palatable, odorless, and very stable. Furthermore, they can be converted into other presentations, such as powders and emulsions.
Ocean Nutrition Canada, Dartmouth, Nova Scotia (phone 902-480-3210, www.ocean-nutrition.com), is said to be working on developing powdered omega-3 salts, an alternative to traditional fish oil. In an article published in the Journal of Functional Foods, researchers at ONC stated that they developed a solid, powdered form of omega-3fish oil concentrate by forming calcium- and magnesium-fatty-acid salts. These salts were produced using a concentrated fish oil ethyl ester that contained in excess of 60% omega-3 fatty acids. The bioavailability of these salts is said to be equal to traditional liquid fish oil. Other advantages might include increased stability, the inclusion of vitamins and minerals, and cost effectiveness.
--- PAGE BREAK ---
Rethinking Dairy Fats?
Milkfat consists of 60% saturated fat. High intakes of saturated fat—and consequently intake of dairy products—have traditionally been associated with cardiovascular diseases. However, as the role and impact of fats continue to be rethought, researchers are reappraising the impact of dairy foods and milkfat on cardiovascular diseases and beginning to place dairy fat into the context of overall human health. In their findings, these researchers note that the contribution of dairy products "in meeting human dietary requirements for energy, high-quality protein and several key minerals and vitamins are well documented, although the nutritional importance of dairy fats is often less well understood."
A recent symposium, "Scientific Update on Dairy Fats and Cardiovascular Disease," found that emerging research indicates that "milk-derived fat may offer significant health benefits compared to some common sources of dietary fats." The event, organized by the International Dairy Federation, was hosted by the University of Reading in the United Kingdom, and its proceedings published in the December 2008 issue of the Journal of the American College of Nutrition Supplement. The resulting articles based on these proceedings were further summarized by the Dairy Nutrition Digest (March 2009), a scientific newsletter by the European Dairy Association, and some of the following information is based on these summaries.
More than 50 internationally recognized experts in dietary fats and human health reportedly reviewed the available scientific evidence which highlighted the fact that although dairy products contribute to the saturated fatty acid composition of the diet, there is no clear scientific evidence that consumption of these products can increase risk of cardiovascular disease. Moreover, the perception that a food containing saturated fat cannot offer a health benefit needs to be addressed.
Increased consumption of saturated fat is considered a risk factor of cardiovascular disease. However, when analyzing scientific data for individual saturated fatty acids, science shows that only certain saturated fats seem to be related to increased cardiovascular disease risk. For example, shorter-chain fatty acids in dairy fat appear not to be linked with cardiovascular disease risk. In terms of the longer-chain, myristic acid is about 10% of dairy fat and palmitic acid is about 25% of dairy fat. As regards to the effect of trans fatty acids naturally occurring in milk and dairy products, amounts eaten with dairy products at levels normally found in the diet do not increase LDL-cholesterol and have no impact on cardiovascular disease risk factors.
Effects of dairy foods on blood lipids also vary between different dairy food groups. Different food groups have different compositions. Several studies show that milk intake is not linked with cardiovascular disease or stroke, and some studies even suggest a protective effect of milk consumption via a reduction in LDL-cholesterol. It also appears that consumption of cheese has no link to cardiovascular disease risk. Cheese does not raise LDL-cholesterol, despite a relatively high amount of saturated fat in some cheeses, which might be due to lipid or protein constituents of cheese produced during fermentation or changes made on vitamin K2 during fermentation.
High intake of dairy products could also reduce several risk factors of cardiovascular disease, including high blood pressure, inflammation, type 2 diabetes, and the metabolic syndrome.
At the 2009 IFT Annual Meeting and Food Expo, Dairy Management Inc., Rosemont, Ill. (phone 847-627- 3252, www.innovatewithdairy.com), presented a symposium, "Unique Aspects of Dairy Fat in Health," which focused on specific potential benefits of milkfat components. Compared to other dietary fats, milkfat contains many beneficial components. Speakers addressed the potential health benefits of milkfat globular membrane on inflammation and colon cancer; the potential benefits of vaccenic acid, which is the primary trans fat found in dairy, on metabolic syndrome; and studies demonstrating an inverse relation between dairy products and cardiovascular disease.
Putting milkfat into context is especially important today not only for the obvious health reasons, but because of the functionality value it provides in a range of food formulations. Milkfat contributes organoleptically, functionally, and nutritionally to the overall food product, adding a high level of palatability, flavor, and satiety. Milkfat provides structure (spreads, cakes, and pastries), emulsification (sauces and soups), color (sauces and bakery products), anti-blooming properties (chocolate and cookies), body or viscosity (sauces), aeration (icings and cakes), and texture (tenderness and flakiness in bakery products). In addition, butter and other milkfat ingredients have a special flavor that is prized in many cuisines.
Furthermore, fractionating milkfat can produce ingredients with very specific melting points. These fractions have been shown to improve milkfat functionality in pastry and bakery fats, cocoa butter extenders, confectionery fats, and cold-spreadable butter.
--- PAGE BREAK ---
Are Saturated Fats the Bad Guy?
At the 100th AOCS Annual Meeting & Expo on May 3–6, 2009, a Hot Topic Symposium, "Saturated Fats and Health: Facts and Feelings," reexamined common perceptions of saturated fats and the links between them and cardiovascular disease and other health issues.
While saturated fats from plants and animals have been an important ingredient in many Western and non-Western diets, in recent years they have gained a bad image, especially in relation to cardiovascular health. According to the program's overview, the dogma that "saturated fat is bad" is not based on unequivocal evidence, however.
It is true that some long-chain saturated fatty acids have been shown to raise LDL-cholesterol in specific dietary intervention studies, and LDL-cholesterol is a risk marker for cardiovascular disease. It is also clear now that the predictive power of the LDL cholesterol level for CVD risk is limited (although its predictive power can be enhanced by including LDL particle size, oxidation state, triglyceride levels, HDL cholesterol levels, and inflammatory markers) and studies have shown that some of the risk markers for cardiovascular disease were actually improved by consumption of saturated fat.
According to presentations at the symposium, recent studies show that saturated fat consumption is a dietary habit that has only a limited impact on CVD risk reduction compared to consumption of seafood, whole grains, fruits, and vegetables, as well as consumption of industrial zero-trans fats. In addition, restricting saturated fat intake by replacing it with carbohydrates appears to have a negative impact on lipid profiles.
Furthermore, speakers emphasized that addressing saturated fatty acids as one group often is too simplistic. In the human body, each saturated fatty acid has its own specific functions depending on its chain length. It is also important to realize that people are eating complex foods, not just individual fatty acids.
In Food Technology (February 2009) a feature article, "Rethinking Dietary Saturated Fat," noted that the link between dietary fat and human disease is not conclusive, which could mean new opportunities for food formulators, especially in the area of low-carbohydrate foods. The author, Eric C. Westman, Associate Professor of Medicine and Director of the Lifestyle Medicine Clinic at Duke University School of Medicine, described his article as a follow-up to a discussion initiated at a session held during the 2008 IFT Annual Meeting and Food Expo. This session, "A New Paradigm of Saturated Fats," reviewed fat research and discussed whether current thinking on saturated fats needs to be modified.
More recently, a Food, Medicine, & Health column in the August 2009 issue of Food Technology continued the ongoing discussion about saturated fats. The column noted, for example, that some studies suggest that low-saturated-fat intake may increase the risk of stroke. Ultimately, it may be an individual's underlying genetic profile that leads to more desirable dietary responses relative to lower risk of cardiovascular heart disease and stroke. Taking into consideration both personal dietary habits and individual genes can perhaps lessen the health risk.
Time for Your Next Oil Change?
Any discussion today regarding dietary fats is definitely ongoing. In truth, there are many different opinions about which fats should be used, which ones are the most beneficial, and which ones present reductions in health risks. Even trans fats aren't without debate. While food manufacturers are taking out industrially produced trans fats, it still seems unclear whether naturally occurring trans fats—those, for example, found in meat and dairy products—present the same risks. But then, as representatives from these industries have noted, their levels are low and no studies have connected them with health problems such as cardiovascular disease. Further studies will probably have to be done in this area.
--- PAGE BREAK ---
Yes, at nine calories per gram, fats can be complicated. But as I noted in the introduction to this article, fats certainly have nutritional benefits. They certainly are indispensable, as we learned from the fat replacement craze. They are certainly not all the same. And they may even have the potential to reduce the risk of certain health problems, including obesity and diabetes, and help us to rethink our dietary practices.
As a rule, any changes in thinking—or even rethinking—can be risky. But in the case of fats, I think it's certainly worth it in terms of their potential benefits as well as the new opportunities that they can create in food formulating and the products that will subsequently appear in the marketplace.  
Next month's Ingredients section will go back in time—and in the process perhaps look to the future—as we rediscover several "ingredients of antiquity" and their impact on today's formulating.
---
In the Soy Pipeline
What's up ahead for soybean oil? Some possible answers to this question can be learned from Monsanto Co., St. Louis, Mo. (phone 314-694-2039, www.monsanto.com), a leading agriculture company using advancements in breeding and biotechnology to enhance the quality and composition of soybeans, which will open new marketing opportunities for soybean oil.
Advanced soybean breeding efforts enable the development of foods that can deliver such benefits as improved nutrition, taste, and choice. These quality improvements are the end result of producing seeds with enhanced performance traits that can help reduce the cost of production and make them more affordable for food manufacturing.
The first product in Monsanto's Vistive line, low-linolenic soybeans, was launched in 2005. Developed using traditional breeding to be lower in alpha- linolenic acid than traditional soybeans, it allowed oils to be produced that were stable enough to reduce or eliminate the need for partial hydrogenation. Consequently, these soybeans provided a solution to trans fatty acids in a variety of foods, helping food manufacturers to comply with a new FDA regulation which required them by January 2006 to label products with their trans fatty acid content in the Nutrition Facts panel.(In Europe, Vistive high oleic, low linolenic rapeseed is available from Monsanto as a trans-fat-free frying oil, tailored for European taste preferences.)
The Vistive low-linolenic trait was the first of many under development by Monsanto. The following are several examples of products currently in the pipeline.
According to the company, the next Vistive offering is likely to be a high-stearate oil that will provide a healthier solution for food products that require solid fat for functionality. High-stearate soybeans will enable food companies to produce margarine, spreads, dips, and all-purpose shortenings without trans fat. Cookies, pastries, and other baked goods can especially benefit by oils from these soybeans. Oils with increased stearic acid can reportedly enhance the texture in certain food applications, while allowing food manufacturers to avoid using partially hydrogenated oils that contain trans fat. This development could be in the marketplace before the end of this decade.
Other Vistive products in development include soybeans with traits that can produce oils that are mid oleic, low saturate, and combinations of these two with low-linolenic acid. Mid-oleic oils increase oxidative stability, improve flavor, and extend shelf life. Low-saturate oils provide a heart-healthy combination of lower saturated fats, less trans fats, and improved stability. Combinations of these traits are designed to lower linolenic acid and saturated fat content, while boosting oleic content for an oil profile similar to olive oil with processing and economic advantages. Studies demonstrated that more than 90% reduction in saturated fat and trans fat in a 3.5-oz serving of French fries could be achieved with reduced saturate and increased-oleic soybean oil.
Soybeans representing a land-based supply of essential omega-3 fatty acids are being developed using biotechnology. The oils derived from these omega-3 soybeans would contain 20% stearidonic acid, which enriches long-chain omega-3 levels in red blood cells, providing the heart-healthy benefits commonly associated with fish oil. The product, which is said to be similar to conventional soybean oil in taste, shelf life, and oil stability, may be used as an ingredient in yogurt, granola bars, spreads, and a variety of other applications, and would provide an alternative option for delivering this fatty acid.
A comprehensive study coordinated by the United Soybean Board may also have a shaping influence on the directions that soybean oil may take. The study, Soy 2020, will examine current trends and identify economic, political, and competitive factors that will shape the next 15 years of soy production. By looking at what the future holds for the soybean industry in the year 2020, the study hopes to find ways that the industry can meet the needs of customers overseas as well as other market segments such as animal agriculture, biodiesel, and food manufacturing.