Visit with hundreds of exhibitors who will showcase ingredients for foods, beverages, dietary supplements, and cosmeceuticals, as well as attend informative seminars covering the latest industry news and trends at the 12th annual SupplySide East trade show and conference on April 26–28, at the Meadowlands Exposition Center, Secaucus, N.J.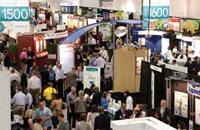 At the trade show you will be able to meet with exhibitors offering a wide range of ingredients such as vitamins, herbs, sweeteners, amino acids, fats and oils, starches, antioxidants, and many more. Additionally, exhibitors will showcase products and services for packaging, manufacturing, and laboratory. The trade show portion of the event will be held on April 27 from noon to 5:30 p.m. and on April 28 from noon to 4:30 p.m.
The educational programming includes three days of more than 30 sessions organized into several tracks: two nutrition tracks, food and beverage track, and cosmeceutical track. The nutrition tracks will examine opportunities in the dietary supplement market, particularly the regulations and market data related to these products. Featured in the food and beverage track are seminars explaining the health benefits of several popular ingredients. The cosmeceutical track will present information about formulating food products that when consumed provide beauty benefits. It will also cover the use of food ingredients in topical applications. More specifically, some of the topics of the tracks include stability and safety of dietary supplements, sports nutrition, heart-healthy ingredients, fish oils, tea, environmental claims, chocolate, industry and consumer trends, global consumer health, flavors, private label, foods for your skin, incorporating consumers into the development process, and others.
Experts in the fields of food product development, nutrition, law, medicine, and trends analysis will discuss the hottest trends, regulatory issues, challenges faced in developing products for these markets, and new ingredient applications. The speakers at the event include Jeffrey A. Stassi, Program Manager for Dietary Supplements, Covance Laboratories; Zoë Gardner, Research Fellow, University of Massachusetts; Judy Blatman, Senior Vice President, Communications, Council for Responsible Nutrition; Steven M. Mister, President and Chief Executive Officer, Council for Responsible Nutrition; Amy Caplette, Quality Assurance Supervisor Group Leader, Amway Global Nutrilite Products; H. Scott Rosenbush, Business Manager–Botanicals, PL Thomas & Co.; Michael McGuffin, President, American Hotel Products Association; Marc Ullman, Partner, Ullman, Shapiro & Ullman LLP; Anthony L. Young, Partner, Kleinfeld, Kaplan, and Becker; Carl Reynolds, Senior Advisor–Dietary Supplement Programs Division, Center for Food Safety and Applied Nutrition; and Adam Ismail, Executive Director, Global Organization for EPA and DHA Omega-3s (GOED).
Also scheduled to appear are Mark Blumenthal, Founder and Executive Director, American Botanical Council; Justin J. Prochnow, Counsel, Greenberg Traurig LLP; Steven French, Managing Partner, Natural Marketing Institute; Paul M. Coates, Director, Office of Dietary Supplements, National Institutes of Health; Daniel Best, President, Best Vantage® Inc.; Debra L. Miller, Director of Nutrition, Hershey Co.; Judith R. Lindsey, Vice President and General Manager, Product Dynamics; Steve Walton, General Manager, HealthFocus International; John Wilson, Marketing Coordinator, Allen Flavors Inc.; Gregory Prang, Senior Ethnographic Analyst, Hartman Group; Jeanette Jacknin, Dermatologist, Dr. Jacknin's Skincare LLC; Karen Young, Chief Executive Officer, Young Group; Georges P. Bergen, Scientific and Regulatory Consultant, Cantox U.S. Inc.; Lynn Dornblaser, Director, CPG Trend Insight, Mintel International Group; and Julie A. Dykstra, Counsel, Barnes & Thornburg LLP.
In addition to the education programming, the event will feature VendorWorks Presentations, exhibitor-sponsored sessions featuring information about ingredient- and service-specific science, applications, formulation, and marketing.
If you are responsible for dietary supplement GMP compliance, the GMP training workshops will provide real-world training in the processes and procedures to ensure compliance. The first course, Documentation Management for GMP Compliance, will detail the development and management of documentation integral to 21 CFR 111, including Standard Operating Procedures, batch production records, master manufacturing records, and more. This course is scheduled for April 26, 8 a.m. to 5 p.m. The second course, FDA GMP Inspection Readiness, will present information about the FDA inspection process, including steps to take before, during, and after the inspection. This course is scheduled for April 27, 8 a.m. to noon. Separate registration is required for the courses.
For more detailed information about events and programming at the upcoming SupplySide East, visit www.supplysideshow.com/2010/east.
---
Exhibit Hall Hours
Noon–5:30 p.m., Tuesday, April 27
Noon–4:30 p.m., Wednesday, April 28