Got permission? In life, regardless of your age, there are a lot of situations where you may require permission to do something. A hall pass, a doctor's note excusing you from an activity, authorization to leave early from work, or an extension on your taxes are just a few familiar examples. And, especially as the focus on health becomes stronger, that need for permission—some may call it exoneration—may even extend to our eating habits as consumers look to find products that will indulge their tastes without an accompanying sense of guilt from compromising personal health standards.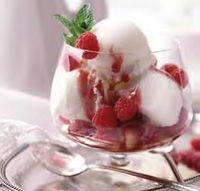 For that reason, formulators are developing products that grant a sort of "permissible indulgence." A paradox? Perhaps. But these products try to do what at one time would not have been considered possible—combine, in the same formulation, the diametrically opposed attributes of "indulgence" and "health."
Of course, creating new formulations that meet rising consumer demand for products that have both these attributes is never simple. Dairy, in particular, has traditionally been perceived as a challenge in bridging the gap between health and indulgence. Consider past examples of low-fat cheese with rubbery texture or low-calorie ice creams that lacked a rich mouthfeel or taste. Even yogurt, which possessed that marketing halo, needed to find ways to add value to reach a broader market.
Some might ask how feasible is this approach within the constraints of this economy, dubbed "hard times" by a few analysts. Well, we all know about the impact that the current economy has had on the development of new products. But, interestingly, this environment may actually provide a stimulus for the "healthy indulgence" approach as consumers seek to find foods that reward or make themselves feel better. Savvy formulators, aware of this need, are developing products that may help lift these blues while using ingredients in cost-effective ways. Some of these ingredients are dairy based and some are not.
Dairy ingredient advancements that can help the formulator, especially in today's marketplace, will be discussed at the 12th annual Dairy Ingredients Symposium, March 2-3, 2010, in San Francisco. The event will be hosted by California Polytechnic State University's Dairy Products Technology Center and organized in cooperation with Dairy Management Inc. Experts from food manufacturing, research, academia, and government will present information on dairy ingredient science, consumer trends, global market opportunities, new applications, and industry forecasts. And it wouldn't be that surprising if the term "permissible indulgence" comes up a few times during the event.
This month's Ingredients section will look at different ways that dairy products can be created that are both indulgent and healthful. (I picked dairy as a specific category not only because of its special challenges but also for its exciting developments—e.g., the creation of reduced-fat cheeses and new fractionation methods—which, of course, can have far-reaching consequences on the concept of "permissible indulgence.")
So how about this for a New Year's resolution? Let's create more products that are naughty but nice. In that spirit, here are 10 innovative ways that can help dairy formulators combine indulgence with health in a challenging economy. And since we're in the year 2010, you might say we're going 10 for '10 while doing this.
--- PAGE BREAK ---
1 Flavors and Permissible Indulgence 
In time for the holidays last year, the Dannon Company came out with two new varieties of its Light & Fit yogurt—Apple Pie Flavor and Toasted Coconut Vanilla Flavor. Although seasonal and available for a limited time only, they demonstrated how well a product with a healthy image (80 calories with no fat) can take advantage of indulgent flavors to give a tasty boost for the festive holidays.
And these products are only the latest examples of bakery-type flavors in dairy products. According to Mintel's Global New Products Database, flavors such as apple pie, cheesecake, gingerbread, carrot cake, cookies & cream, and biscotti have become increasingly popular in the dairy category, with launches in Europe and North America especially. This trend may also spread to other formulations containing dairy ingredients, as shown by Hilmar Ingredients, Hilmar, Calif. (phone 209-667-6076, www.hilmaringredients.com), which developed a prototype Birthday Cake Crispy Protein Bar (made with a Yellow Cake Batter Flavor) to highlight the functionality and nutritional benefits of its whey protein ingredients.
At its 2009 Innovation Roadshow, David Michael & Co., Philadelphia, Pa. (phone 215-632-3100, www.dmflavors.com), showcased several ways that flavors can be used in dairy formulating. For example, the company took an existing product concept—a single-serve flavoring sachet used typically in water bottles—and optimized it for dairy applications. At home or in school cafeterias, the sachets can be used to flavor a glass of milk (whole, skim, lactose-free, soy, and so on). Not too surprising, when considering the above information, Bakery Shoppe Flavors—yellow cake type, blueberry muffin flavor, carrot cake type, lemon meringue type, brownie flavor, and cheesecake flavor—were chosen to provide a dessert-like indulgence to nutritional dairy products. Bakery flavors complement dairy applications well, providing a sense of comfort and familiarity. The concept can also be customized to meet a number of fortification needs and sweetened with sugar alternatives such as stevia.
David Michael also featured a flavor based on Chongos Zamoranos, a Mexican dessert similar to a sweet cheese pudding or curdled milk. (It is made by curdling whole milk with sugar and cinnamon, resulting in clumped cream in sweet syrup.) While this concept may be unfamiliar to non-Mexicans, the flavor can be easily translated to the American mainstream, and is suitable for use in ice cream, frozen novelties, pudding, flavored milk, yogurt, and other dairy applications. Another international concept, this one with Thai associations, is Vanilla-Spice Red Curry Coconut Milk Flavored Ice Cream, utilizing flavor systems that pair vanilla flavor with spices such as ginger, cumin, lemongrass, garlic, and capsicum for a novel savory twist on sweet dairy desserts.
Flavors are particularly important in ice creams where fat or calorie content has been reduced. Dairy Management Inc., Rosemont, Ill. (phone 847-627-3252; www.innovatewithdairy.com), developed a prototype English toffee reduced-fat ice cream that contains probiotics and 27% less fat than regular toffee ice cream, giving consumers an indulgent treat with digestive health benefits. Product application concepts from DairyChem Inc., Fishers, Ind. (phone 317-849-8400, www.dairychem.com), include a reduced-fat ice cream made with Natural Cream Flavor at a 0.15% usage level. And from David Michael, exciting flavors such as Bananas Foster Type, Crème Brulee Type, and Lucuma (a Peruvian fruit) may have potential in the creation of lower-calorie ice creams.
Cheese flavor systems, DairyBoost from Sensient Flavors, Indianapolis, Ind. (phone 800-445-0073, www.sensient-tech.com), allow for substantial reduction of cheese and cheese powders in formulations (50-100%), providing fewer calories and lower total and saturated fat and cholersterol per serving. According to the company, the flavors were developed following extensive research to identify the essential dairy components of cheese and the special characteristics of cheese varieties. As a result, these flavors help enhance authentic dairy attributes such as mouthfeel and functionality in cheese replacement. The systems are flexible, allowing for multiple variations of cheese flavors to be offered. These can include Cheddar, Parmesan, Smoked Gouda, Gorgonzola, and other distinctive cheese profiles. Applications such as soups, sauces, baked goods, and entrees or side dishes can benefit from these flavor systems. For example, a Chicken Tortilla Cheese Soup featured DairyBoost Anejo and Oaxaca Cheese Flavors along with a Natural Flavor Blend Enhancer.
Edlong Dairy Flavors, Elk Grove Village, Ill. (phone 847-631-6700; www.edlong.com) can offer formulators a portfolio of flavors that simulate dairy profiles, making them especially suitable for creating products that are both indulgent and healthful. These flavors—part of the kosher pareve Vision™ line which can include cheese, butter, milk and cream, cultured, and sweet dairy—can reduce reliance on fluctuating dairy commodities, capture global flavors, and provide batch-to-batch standardization. The company also recently introduced new flavors such as cream cheese Danish, smoked applewood cheddar, and graham cracker pie crust.
--- PAGE BREAK ---
2 Toppings and Permissible Indulgence
Toppings have become a popular means for bridging indulgence and health in dairy products. When making use of toppings, there are different strategies that formulators can follow. One way, of course, is to reduce the levels of fat or sugar in the product itself but keep the indulgent add-ins—such as candy or cookie bits—of the original formula. For this idea to work, however, the formulator has to use the appropriate ingredients to replace fat or sugar without compromising the taste or texture of the product. If successful, the add-ins can bring further associations of indulgence to a product that has been reformulated to be more healthful. Conversely, some manufacturers choose not to reformulate a high-indulgence product but rather add a topping or coating that has been fortified with nutrients such as fiber, vitamins or minerals, or perhaps utilize a sauce where the fat or sugar content has been reduced.
Toppings can help enhance the value of a product such as yogurt. "Many manufacturers are unaware that toppings can actually add more nutrition to their yogurt products," said Michelle Ludtke, Senior Food Technologist for Grande Custom Ingredients Group, Lomira, Wis. (phone 920-269-7188, www.grandecig.com). Textured whey protein crisps (WPCrisp™)—available in protein levels ranging from 30 to 70%—can be used in crunchy yogurt toppings. In addition to delivering high protein levels, they can help add texture, color, shapes, and flavor to the formulation. Formulators can also combine whey proteins with other proteins such as soy for use in toppings or inclusions. For example, The Solae Co., St. Louis, Mo. (phone 314-659-3193, www.solae.com), offers a variety of soy-based ingredients, including soy nuggets in a range of product densities, sizes, and protein levels. These ingredients can help provide a crunchy texture that might be suitable for dairy applications such as yogurt or ice creams.
Ingredients such as yogurt can be combined with whey crisps to create indulgent but healthy formulations. For example, Hilmar Ingredients developed a prototype Strawberry Yogurt Bark, made with a protein-fortified yogurt confectionery coating, whey crisps 70%, infused strawberries, strawberry powder, and a vitamin/mineral premix. More information about yogurt as an ingredient will be discussed later in this article.
And, of course, there's always room for thinking outside of the box. How about a bruschetta topping for ice cream? The term "bruschetta" usually brings to mind a diced tomato and basil spread on grilled bread. David Michael expanded on this concept when it developed an indulgent vanilla fig almond topping (called "Fig"-gedy-Do-Da) which can be easily adapted into an ice cream novelty or as a twist to a traditional ice cream sundae. Such a concept could prove particularly interesting as a topping for a reduced-fat ice cream.
Toppings such as sauces and coatings can prove to be a cost-effective way to add indulgence or health attributes to a formulation without necessarily reformulating the product for which the topping is used. This can be a major benefit, especially in today's economic climate.
3 Sugar Replacement and Permissible Indulgence
One of the challenges for a product developer is to reduce the sugar content of a product, such as ice cream, without creating a discernable difference in sweetness profile, texture, or mouthfeel, while offering additional health benefits. If successful, the formulation is both healthful and sweet—a pairing that at one time might have been difficult to swallow (or more precisely in the case of ice cream, a problem difficult to lick). But today different strategies are available that will result in products that will appeal to consumers, delivering both on the indulgence factor while possibly doing their part in addressing issues such as weight management.
A special enzyme-culture combination launched by Netherlands-based DSM Food Specialties (phone 31 (0) 15 279 26 85, www.dsm-foodspecialties.com) at the 2009 Food Ingredients Europe may be used to create a natural and sweet-tasting yogurt that does not require additional sweeteners. The combination—a pure lactase enzyme (Maxilact® LX5000) and a culture (Delvo-Yog Flow Velvet Cy-346)—makes it easy for yogurt manufacturers to enhance the sweetness of their products without the addition of sugar while delivering indulgent taste, texture, and mouthfeel.
--- PAGE BREAK ---
The synergistic benefits of the enzyme and culture in one innovative solution were identified by DSM through extensive testing. The company produced a range of stirred yogurts with different enzyme/culture combinations to identity the blend that provided the optimum level of sweetness, creaminess, and viscosity. These options were then evaluated by an independent sensory panel. The combination selected was shown to work synergistically, enhancing the natural sweetness of the yogurt samples while delivering a product with a clean, mild taste. It was also shown to improve the yogurt's creamy mouthfeel, increase its viscosity, and boost smoothness and sheen.
Maxilact is a purified lactase preparation, isolated from a specific strain of the dairy yeast Kluyveromyces lactis. This lactose-splitting enzyme efficiently converts lactose into glucose and galactose, yielding a lactose-free milk product. The enzyme can be used in lactose-free milk, as well as yogurt, cream, and fresh cheese. Delvo-Yog Cy-346 is a yogurt culture consisting of Streptococcus thermophilus and Lactobacillus delbruecki ssp bulgaricus, plus probiotic strains in various combinations. It can be used to create smooth, thick, creamy stirred and drinking yogurts.
In 2009, Tate & Lyle, Decatur, Ill. (phone 800-348-7414; www.tateandlyle.com), identified healthy indulgence as one of the major food and beverage trends. The reduction of calories without compromising taste or texture was a particularly fertile area, and the company offers a number of solutions from its portfolio. For example, its Promitor line of soluble corn fibers can be incorporated into dairy desserts for a reduction of sugar and calories while providing fiber value. Or Sta-Lite polydextrose may be used as a soluble fiber and a partial replacement for sugar. Custom blends can be created with sweeteners such as Krystar® crystalline fructose or Splenda® sucralose. At the Worldwide Food Expo, Tate & Lyle demonstrated the use of its ingredients in such prototypes as a Sweetener Optimized Yogurt and a Pumpkin-Flavored Cordial, as well as a Fruit and Snacks Dip that featured 25% less sugar.
The Belgium-based Beneo-Group (phone +32 16 801 301; www.beneo-group.com), offers a number of ingredient solutions that can address challenges in the development of lower-calorie ice creams, resulting in products that are high in indulgence and health benefits. The group consists of Beneo-Orafti, Beneo-Palatinit, and Beneo-Remy.
The sugar replacer Isomalt from Beneo-Palatinit, when used in ice creams, enables claims such as "no sugar added" or "reduced calorie" to be made. The only polyol derived from sugar beet, the white crystalline raw material replaces sugar in a 1:1 mass ratio and is used where not only the sweetness but also the texture and mouthfeel of sugar is required. Minimal changes need to be made to existing ice cream recipes as isomalt is very similar to sugar. Formulations using isomalt are available from the company, including no-added-sugar ice cream and no-sugar-added sorbet.
With the development of Orafti® HIS (Highly Soluble Inulin), Beneo-Orafti has created a controlled composition of short-chain inulin molecules that is suitable for use in ice cream production. This natural chicory-derived ingredient combines the fat-replacing benefits of inulin with the sensorial properties of oligofructose. It can be used to improve the body and mouthfeel of low-fat products, delivering roundness and creaminess while offering a better-balanced flavor.
By combining Orafti HIS and Beneo-Remy's Remyline AX-DR rice starch (a native, waxy, unmodified rice starch that provides an excellent water-binding capacity, a very fast thickening speed, and a creamy mouthfeel), food formulators can reduce fat by 50%, total sugars by 30%, and calories by 30% in ice cream without using intense sweeteners. In addition to these significant health benefits, the sensorial properties of ice cream are maintained.
Beneo-Group products can be also combined to create a "no added sugar" alternative for ice cream that significantly reduces the aftertaste traditionally associated with high-intensity sweeteners. A combination of isomalt, oligofructose (Beneo-Orafti's Orafti P95), and high-intensity sweeteners creates a synergy that reduces this aftertaste to produce a balanced rounded flavor.
--- PAGE BREAK ---
Replacing the sugar of an ice cream with Orafti HIS and isomalt will result in a lower glycemic response. With a glycemic index of virtually zero, Orafti HIS breaks down slowly in the digestive system, causing slow and steady rises rather than sudden spikes in blood sugar and insulin levels.
Erythritol, marketed under the name Zerose by Cargill Inc., Wayzata, Minn. (phone 877-650-7080, www.cargill.com), is also a suitable ingredient for creating indulgent reduced-calorie dairy products. The lowmolecular-weight polyol, manufactured using a fermentation process, can provide enhanced bulk and body, excellent heat and acid stability, a sugar-like taste in combination with intense sweeteners, and an optimal freezing point depression. It has a clean and sweet taste profile similar to sucrose, and its sugar-equivalent mouthfeel and taste-masking properties offset unpleasant off notes associated with high-intensity sweeteners.
Zerose can create cost-effective reduced-calorie stirred-fruit yogurts by combining with sucrose or glucose/fructose syrup in the fruit preparation. This form of calorie reduction ensures a product that still maintains sweetness and mouthfeel while avoiding the grittiness that can occur when high levels of nonfat milk solids are added to offset the lack of viscosity in sugar-free yogurt mass. When combined with maltitol (Cargill's Maltidex™), it may be used to formulate an indulgent, creamy-tasting dairy dessert with no added sugar and a 30% calorie reduction. Erythritol can also be used as the sole sweetener for flavored yogurts, such as vanilla-type yogurts.
Stevia extracts, combined with customized flavor solutions, are suited for such dairy products as yogurt, ice creams, and beverages. The 2010 January Ingredients section in its coverage of taste modulation looked at several stevia-based solutions and their role in a variety of applications including dairy.
4 Texture and Permissible Indulgence 
Texture is a key factor in dairy formulating, especially in those products where fat or sugar has been reduced. Ingredients such as starches, gums, and other stabilizing systems can help build back texture in a reformulated product, transform the texture of new or existing products so that they stand out in the marketplace, or enhance positive textural attributes while reducing negative ones.
A comprehensive new approach, Dial-In™ Texture Technology from National Starch Food Innovation, Bridgewater, N.J. (phone 908-685-5000, www.foodinnovation.com), enables dairy manufacturers to target the precise texture they desire in their product, "in a fraction of the time it takes for typical texture explorations." This data-driven modeling approach to texture understanding and formulation makes possible the rapid optimization of a texture system by selecting or "dialing-in" the appropriate level and intensity of the individual textural attributes desired.
Using this approach, the company has developed new texture systems that can deliver mouth-coating, creaminess, viscosity, and opacity in dairy-based foods, while functioning as a fat mimetic in reduced-fat formulations. These systems, marketed under the name Precisa™ Cream, can replace up to 30% of dairy fat (cream) in cream-based soups and sauces; create a thick, rich indulgent texture in reduced-fat dairy products; and minimize syneresis and improve shelf life. Precisa Cream 20 is designed for extremely demanding process conditions, including high temperatures (greater than 190°F), high shear, and low pH. Precisa Cream 50 is applicable for mild to moderate process conditions, including temperatures of 150°F to 190°F, moderate shear, and low pH.
A new starch from Tate & Lyle can reportedly reduce fat content in dairy products by up to 30% while maintaining mouthfeel and texture. The starch, named Cremiz, was launched at the 2009 Food Ingredients Europe as part of the company's Optimize™ platform.
--- PAGE BREAK ---
According to Clotilde Feuillade, Product Manager for Texturants at Tate & Lyle, the starch can provide low-fat foods with the creamy mouthfeel of traditional dairy foods. Several prototype low-fat cream desserts and yogurts have been formulated using this starch and additional recipes are currently under development.
A new gum blend for dairy dressings improves particulate suspension and imparts a creamy texture to emulsions containing dairy ingredients such as milk, cheese, buttermilk, or cream. The product, Saladizer® Dairy Stabilizer, was developed by TIC Gums Inc., White Marsh, Md. (phone 410-273-7300, www.ticgums.com), to work in the most challenging formulations, especially bleu cheese varieties.
The new gum system is the latest addition to the company's portfolio of ingredients that are designed to overcome specific functionality challenges. Many of them, by solving these problems in a cost-effective manner, bring back a level of indulgence to products promoted as more healthful. Some examples of these systems include Dairyblend YG HF (inulin, gum acacia, pectin, and locust bean gum), which provides a very smooth drinkable yogurt with added soluble dietary fiber; Dairyblend SC NoFat-4 (modified food starch, cellulose gel, carrageenan, guar, and other ingredients), which allows the removal of fat in cultured dairy products without compromising mouthfeel, body, or viscosity; and Dairyblend IC EZ Creamy (a blend of emulsifiers and hydrocolloids), which provides a smooth creamy texture to reduced-fat ice cream applications.
A stabilizer system from Cargill can help overcome a variety of functionality challenges in dairy formulating. For example, a high-protein-enriched yogurt can be created with a Vitex system (modified food starch, pectin, locust bean gum, and carrageenan) that maintains the rich velvety texture of traditional yogurts without use of gelatin or process modifications.
New stabilizing systems that combine hydrocolloids with special milk protein fractions are being developed by Germany-based Hydrosol Produktionsges mbH & Co. KG (phone +49 (0) 41 02/202-003, www.hydrosol.de). These systems, which reportedly offer alternatives to modified starches, may be used to improve the texture of such dairy products as yogurt, quark, cream cheese preparations, and sour cream.
Take yogurt, for example. "In our new functional systems from the Stabisol J series, we combine dietary fibers with hydrocolloids like pectin and carob gum with special milk protein fractions," explained Thies J. Meier, Hydrosol's Head of Applications Technology. "The dietary fibers provide the necessary texture and help to bind water. The milk proteins give the product its full, creamy mouthfeel and also bind water. Hydrocolloids protect the milk protein and round off the texture." He added that the composition of these functional systems depend to a great extent on the fat content of the fermented products. A yogurt with 3.5% fat needs less proteins and fibers to create a pleasant texture than a low-fat yogurt. Stabilizing systems need to be created individually to suit the particular fat content.
Combination of whey proteins and hydrocolloids in food formulation seems to be a particularly hot area now. In fact, in 2008, the California Dairy Research Foundation presented its William C. Haines Dairy Science Award to Harjinder Singh, Co-Director of the Riddet Institute at New Zealand's Massey University for his work on the functionality of milk proteins and hydrocolloids in food systems. His research, which formed a solid basis for the development of new dairy products with improved nutrition, functionality, and shelf-life, suggests possible opportunities for creating dairy-based products that bridge indulgence with health.
--- PAGE BREAK ---
5 Dairy Proteins and Permissible Indulgence 
The versatility of whey proteins can provide formulators with a variety of ways to create products that are both indulgent and better for you. Among their benefits, they can activate viscosity building, enhance mouthfeel, improve flavor and texture, and add nutritional value. In ice cream, for example, whey proteins can bind water to help reduce ice crystal growth and improve eating quality and mouthfeel. In an Alfredo sauce, they may function as a full replacement for heavy cream without altering its sensorial properties.
OptiSol 1000, a whey protein concentrate recently launched by Glanbia Nutritionals Inc., Monroe, Wis. (phone 608-329-2800, www.glanbianutritionals.com), may be used as a fat replacer in dairy products. The dairy-based ingredient offers a clean taste and possesses properties for water binding, gelation, and emulsification. In Greek-style yogurts, for example, it can enhance product texture, improving creaminess and thickness. It can also improve the textural profile and eating experience of other products such as baked goods, dairy sauces, soups, dressings, and beverages. The company has also developed a wide range of chilled beverage prototypes that demonstrate how dairy proteins can help overcome functionality challenges while providing nutritional benefits.
A portfolio of whey protein ingredients is available from DMV International, Onalaska,Wis. (phone 608-779-7676, www.dmv-international.com). The company recently launched two new additions at 2009 FI Europe that provide dairy products with structure and improved mouthfeel. Textrion Progel 800 is a high gelling whey protein concentrate that provides viscosity and texture to yogurt and other dairy desserts. Hiprotal 60MP, a modified whey protein concentrate, functions as a fat substitute in yogurt, milk-based drinks, and processed cheese.
Whey proteins developed by Grande Custom Ingredients Group can be used to replace up to 25% of the milk solids in an ice cream. The product line, Grande Bravo, improves texture, smoothness and creaminess while slowing the formation of ice crystals. It can also replace fat in a cheese sauce while providing an important mouthfeel attribute.
Advances in milk protein fractionation technology are also creating new opportunities in formulating. A symposium sponsored by Dairy Management Inc., Rosemont, Ill. (phone 847-627-3252, www.innovatewithdairy.com) at the 2009 American Dairy Science Association Annual Meeting showcased this latest research. Milk is a rich source of nutrients that can be fractionated into a wide range of components and used as ingredients to boost protein value in foods and beverages as well provide added functionality value. And, of course, over the years, DMI has showcased a number of prototypes where proteins were used in formulations that combined indulgence with healthfulness. Some recent examples included a yogurt-dipped peach snack bar with whey protein, a fruit-flavored whey protein-enhanced frozen smoothie, a children's pudding snack with added milk protein, and a mango-flavored green tea with whey protein.
6 Low-Fat Cheese and Permissible Indulgence 
Think of a macaroni and cheese entrée made with reduced-fat pepper jack cheese, a prototype demonstrated by Dairy Management Inc. (DMI) at the 2009 IFT Food Expo, and you get a pretty good idea how low-fat cheese, if its functionality challenges are overcome, can play a particularly important role in creating products that can grant consumers a special permission to indulge without feeling guilty.
Cheese, of course, is a versatile ingredient, providing appealing flavor, texture, nutrition, and functionality to many foods. The use of low-fat cheeses can add further benefit by allowing for low-fat or reduced-fat claims. However, traditionally, these cheeses can present serious challenges in the area of flavor and texture.
--- PAGE BREAK ---
In the past months, there has been an increasing focus on developing low-fat cheeses that do not compromise the taste, texture, or functionality of full-fat versions. Incorporated into this approach frequently is the reduction of sodium as well, and the addition of such functional ingredients as omega-3 fatty acids. Here are a few recent signs of this particular development.
DMI created a team of cheese research experts from California Polytechnic State University, North Carolina State University, South Dakota State University, Utah State University, and the University of Wisconsin to find innovative ways to create low-fat cheese with high quality. Their efforts will enable manufacturers to keep the cheese in their formulations while cutting the overall fat content of their products. Researchers are currently working on developing both natural and process low-fat cheeses, including low-fat cheddar cheese and low-fat mozzarella for pizza.
A Reduced-Fat, Reduced-Sodium Process American Cheese has been developed by Land O'Lakes Inc., Arden Hills, Minn. (phone 800-328-9680; www.landolake-ingredients.com), which may be used in prepared foods, soups, dressings, sauces, and snacks. According to the company, it can function as a direct 1:1 replacement for the standard process American cheese with nearly identical performance characteristics. The ingredient, which is said to contain 50% less fat and 35% less sodium, is made with high-quality Cheddar cheese and provides authentic cheese taste, smooth mouthfeel, and consistent performance including excellent melt characteristics. It can be easily cubed or shredded, and customized for specific flavor profile and color, melt characteristics, and cheese variety.
One of the key findings of the DMI initiative mentioned above is that fat reduction does appear to affect cheese microbiology. Researcher Jeff. R. Broadbent, Professor of Food Science, Dept. of Nutrition and Food Sciences at Utah State University, noted, "Because flavor is produced by bacterial metabolism and enzymes during ripening, our finding underscores the need to develop specialized cultures that are able to produce desirable flavors in a low-fat system." Research on low-fat cheese's microbial ecology is ongoing.
Ingredient companies are currently working on developing ripening cultures that can raise the standard of quality for low-fat cheeses. For example, Netherlands-based CSK Food Enrichment BV (phone +31 (0) 58 284 42 42, www.cskfood.com), offers Health Plus™ cultures which reportedly can provide a balanced and more intense cheese flavor, no bitter off flavor, more smooth and less rubbery texture, and reduced ripening time.
Hopefully, these signs reflect that rapid progress will be made in the development of lower-fat cheese products that deliver the taste that consumers demand. If successful, these products can go a long way in bridging the attributes of health and indulgence in food formulating.
7 Yogurt Powders and Permissible Indulgence
Yogurt powders are becoming increasingly popular ingredients as they can add a special dairy flavor while imparting a nutrition connotation to a variety of food applications, according to literature from DMI. "Although there is a standard of identity for yogurt, currently there is no standard of identity for yogurt powder in the U.S. Traditionally, yogurt power has been manufactured by adding cultures to nonfat milk, allowing the product to reach a specified pH, and then drying the product."
Yogurt powders may be used to flavor beverages, confections, and dips. They are frequently used in the manufacture of a confectionery coating for pretzels, dried fruit, cereal, and other snack items; or they can be applied topically as a coating for cereals and snacks; or in place of fresh yogurt for beverages and dips. The pH of rehydrated yogurt powders is typically in the range of 4.7 to 5.1. The titratable acidity of yogurt powders is typically in the range of 5.8% to 7.4%. (Titratable acidity measures the lactic acid developed as a result of the metabolic breakdown of lactose).
Yogurt powders generally exhibit good solubility. As with most dairy powders, a period of rehydration is suggested for heated beverage applications. Yogurt powders may provide improved solubility in high-acid beverages as compared with nonfat dry milk. They can produce significant overrun when whipped, but do not produce stable foams. The amount of overrun will vary significantly from product to product, with a range of 0% to 300%, depending on the product. Foaming may be a desirable or undesirable attribute, depending on the application, and select yogurt powders exhibit little or no foaming capacity.
DMI has showcased a number of prototypes highlighting the functionality of yogurt powders. These include a yogurt-dipped peach snack bar and a chipotle ranch dressing with a natural yogurt base.
--- PAGE BREAK ---
8 Cultures and Permissible Indulgence
A new soft-serve frozen yogurt that combines a sweet creaminess with beneficial probiotics has been developed by YoCream International Inc., with technical support from Denmark-based Danisco (phone +45 3266 2000; www.danisco.com). High Culture™ Frozen Yogurt is enhanced with L. acidophilus NCFM (Danisco's Howaru® Dophilus) at a high viable cell count throughout its shelf life, promoting improved digestion and improved microbial balance. The new product, recently launched in the U.S., reportedly meets the National Yogurt Association's culture requirements for refrigerated cup yogurt so consumers are able to enjoy their daily cultures in frozen yogurt, too.
Cheese-ripening cultures from Chr. Hansen Inc., Milwaukee, Wis. (phone 414-607-5700, www.chr-hansen.com), are offered for use in the production of low-fat cheese. The Flavor Control™ CR-500 ripening blends are designed to improve the taste and texture of low-fat Cheddar cheese and other cheese varieties. The blends are said to give the same sensory qualities as the full-fat varieties as well as a firm and sliceable texture.
9 Portion Size and Permissible Indulgence
I suppose this part of the article could probably be called "small indulgences." That's because smaller portion sizes translates to a form of permissible indulgence. You can still eat the good stuff, only less, and by doing so, you treat your body in a more healthful fashion as well. Furthermore, these items provide convenience, lending themselves to on-the-go eating.
DMI developed several prototypes that follow this approach. For example, a mini-cheesecake served in a dark chocolate cup gives permission to indulge in a product lower in fat and calories, but containing beneficial nutrients such as protein and calcium. Or a chocolate truffle is made with a calcium-rich center. Or a hand-held streudel is filled with brie and smoked chicken.
The yogurt cup was probably one of the earlier examples of a product served in a "healthful" portion size. Individual-sized pizzas probably would be another example. Today, we might see in the marketplace a growing number of products in smaller portion sizes. For example, Sara Lee introduced Cookies and Cream Cheesecake Bites in 2009. In grocery stores, you can find pies and cakes packaged in slices rather than whole. And it would be a good guess, especially based on the economy, that there will be others.
Of course, there may be at least one "thorn" in this approach. The smaller-portion-sized product would have to be satisfying enough so that only one product would be eaten at a time and not several. That problem could be solved by a wise use of ingredients, especially those that provide a rich flavor or quick satiety. Indulgent sauces and fillings might also come in handy for these kinds of products.
10 Stealth Health and Permissible Indulgence
To make products more healthful, formulators sometimes use the "stealth health" approach—adjusting the formulation to make it better for you without anyone noticing the difference between the original and the reformulated product. They do this by creating a product that maintains a desirable taste, texture, appearance, and functionality properties. If successful, no difference will be detected between the original formulation and the one that has been modified, with the likely consequence that a better-for-you product will not be rejected in the marketplace.
The May 2010 Ingredients section will try to grapple with this approach, especially as it relates to developing products for children. But, for now, suffice it to say that several of the developments discussed in this article can also play a role in stealth health. Consider these for a moment: finding ways to reduce sugar or fat in the formulation without impacting organoleptic properties; using flavors or topping to enhance the appeal of the formulation; creating textures that are associated with indulgence; and taking advantage of the nutritional benefits of dairy proteins while overcoming functionality challenges. These examples are just a few of the ways that formulators can implement this approach.
--- PAGE BREAK ---
A Silver Lining?
Hopefully you'll find some of the ways discussed here can help take the concept of "permissible indulgence" to new (and guilt-free) levels. And perhaps, equally important, accomplish this in a challenging economy.
In fact, as already suggested, this concept may actually get a boost from the current economy. This is because many of the highlighted ingredients are also being positioned as cost-effective solutions, providing alternatives to more expensive ingredients. In addition, several of these solutions do not seem to necessitate dramatic reformulation of a product or major adjustments in the manufacturing process—important considerations in today's economic climate.
If so, then such ingredient developments should be especially appealing now, helping dairy manufacturers not only to manage their costs—which can be a difficult task in this climate—but allowing them increased opportunities to formulate products that bridge indulgence considerations with those of health. And if successful, these products can bring together what once were considered two very disparate approaches to food formulating.
From a consumer's perspective, when times are more difficult, they turn to food as a way of rewarding themselves or making themselves feel better. With the economy providing a stimulus for this kind of behavior, it would be a much wiser solution if consumers chose products that were indulgent but also more healthful for them. The developments discussed in this article make that kind of scenario much more possible.
So, you see, there may be a silver lining to every dark cloud after all. It may allow us to get naughty but nice, all at once.
---
Tour Provides 'First Hand' Glimpse of Dairy Formulating
"A Day's Worth of Dairy" was the theme of a media event held by Fonterra Ingredients at its Chicago Technical Center this month. The research and development facility, which also serves as the company's North American corporate headquarters, opened in June 2008 and is based in Rosemont, Ill. (phone 847-928-1600; www.fonterra.com).
Food editors were given the opportunity to get a first-hand look at how Fonterra works to develop customized dairy ingredient solutions for use in foods and beverages. The company, a major supplier of dairy ingredients, is a fully owned subsidiary of the New Zealand-based dairy exporter, Fonterra Co-operative Group.
As explained by Martin Bates, President and CEO of Fonterra Ingredients North America, in his opening remarks, the facility will make it much more effective to commercialize scientific innovations from New Zealand and Australia, and tailor these specifically to the needs of customers operating within the U.S. and Canadian markets. "And our customers here can provide us valuable feedback on our products as they're being developed, especially in the fast-growing health and nutrition sphere," he added.
Blake Anderson, Director of Value-Added Ingredients, followed with a presentation on the functionality and nutritional benefits of the company's range of protein ingredients. "Fonterra has invested years of research and development to produce a range of highly functional proteins tailored to the changing needs of today's consumers and manufacturers," he noted. "Through careful engineering, Fonterra creates solutions from milk and whey proteins that are clean-tasting, deliver a satisfying texture, and enable improved first-day freshness." Furthermore, these ingredients provide nutritional quality on every accepted method of measurement.
--- PAGE BREAK ---
At the center, the food editors were able to tour the wet/dry dairy laboratories where they were able to make to make cheese, bars, and beverages using the company's ingredients, as well as learn more about the functionality and nutritional benefits of these ingredients. They also sampled dairy ingredients applied in the product categories of functional beverages, snack foods, cultured products, cheese products, and others.
The company focused in particular on two of its ingredient innovations. Its new PowerProtein™ line is specifically made for use in bars and snack foods. According to Josh Hosking, Senior Business Development & Marketing Manager, "the challenge in developing high-protein snacks is that they can be poor tasting, hard, and chewy. But PowerProtein combines the nutritional advantages of high-quality dairy protein with leading functionality, texture, and flavor, making it suitable for use in products such as high-protein sports bars, nutrition bars, granola/cereal bars, and indulgent bars." The second ingredient showcased was ClearProtein™ Whey Isolate, specifically designed for clear, clean-tasting beverages, such as satiety waters.
During the event, Food Technology was able to interview Hosking as well as Rachel Marshall, Technical Manager, to get their thoughts on how dairy ingredients can combine healthfulness with indulgence.
"Traditionally indulgent foods have been composed of high levels of carbohydrates, especially sugar, and fat, with little protein or other nutrient density," said Hosking. "To make such products more 'heathful,' changes need to be made, while maintaining the desirable textures and flavors consumers crave in their indulgence. The trick is to 'sneak in' the healthful components either without the consumer detecting a difference, or in a format that consumers find appealing."
"When consumers think indulgence, they are seeking a number of attributes, predominantly related to flavor and texture (whether it be gooey, such as caramel, or soft and light such as in nougat," emphasized Marshall. When consumers indulge in 'treat food,' it must be an enjoyable sensory experience, with no compromise."
Both referred back to the PowerProtein ingredients, which are flexible and can be used in multiple bar components, making them ideal for indulgent applications. Their use opens up a new world of protein fortification opportunities, delivering more healthful indulgent textures without detrimental impact on flavor. For example, incorporating PowerProtein 515 whey protein concentrate into nougat boosts the nutrient density of the nougat while maintaining a soft, light texture. Caramels are common in indulgent bars, and offer an increased opportunity for protein fortification. This must be achieved, however, without making the caramel taste unpleasant and without delivering a gritty texture. The PowerProtein range can boost the caramel protein level while maintaining an indulgent taste and smooth texture. Or if a crunchy texture is desired, PowerProtein 600 Dairy Protein Crisps are an excellent means of delivering crunch with an added protein boost.
The application of dairy for permissible indulgence is not limited to bars, noted Hosking and Marshall. Dairy protein fortification is successfully finding its way into baked goods such as cookies and brownies, and into a wide range of delicious beverage formats. Dairy protein provides a wide range of appealing options for consumers who are seeking to include protein in their diet at regular intervals throughout the day.
Next month's Ingredients section will be saying "I do" to a number of creative ingredient marriages, ranging from whiskey and chocolate to Thai basil and watermelon. These flavorful ingredient pairings will help differentiate products in the marketplace.
by Donald E. Pszczola,
Senior Associate Editor 
[email protected]