Are you interested in culinary trends or how you can upgrade your products to approach the gold standard of restaurant-quality cuisine? Then head to the 2010 RCA Annual Conference & Culinology Expo on March 17–20 at the Hyatt Regency Phoenix in Phoenix, Ariz. Attended by research chefs, food scientists, and other food professionals, the 4-day program features workshops, Student Culinology competition, professional development seminars, RCA Annual Business Meeting, general and breakout sessions, Culinology Expo, and RCA regional breakfasts.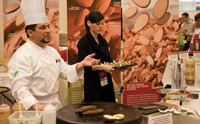 On Wednesday, March 17, three presenters—Jason Behrends, Assistant Professor, Mississippi State Univ.; John Marcy, Professor, Univ. of Arkansas; and Allison Rittman, Chef/Owner, Culinary Culture—will conduct a 4-hr workshop on The Science and Wonder of Color – Chemical Reactions that Affect the Color of Food. Attendees will learn about vegetable and meat pigments and how they can be affected and manipulated by chemical reactions.
On Thursday, March 18, several sessions will explore RCA certification, new beef cuts, menu development, consumer trends, functional foods, and chocolate. In the session on Roaming Around the Round: New Beef Cuts, New Possibilities, attendees will discover how to maximize profits utilizing lean affordable beef cuts in new product development, with a focus on the nuances of cooking these muscles as compared to other cuts.
The Mind Mapping the Way to New Menu Item Development session will explore how mind mapping can be used to focus and organize ideas, improve problem solving, and provide structure to group discussions. Food industry leaders will share their use of mind mapping for basic product development, identifying needs and opportunities at a chain restaurant and developing recipes to marry the restaurant requirements with the new product attributes. In the session on Doubling Down on Health and Wellness: The Promise of Functional Foods, panelists will discuss how bioactive compounds function, how to formulate with them, and what claims can be made. Chocolate enthusiasts should attend the session on Those Magical Cacao Beans: A Brief History and Tasting of Single Origin Chocolates. Attendees will learn the history, growing regions, terroir, flavor nuances, uses in sweet and savory products, and organic and fair trade issues as well as taste chocolates from different origins and processors.
On Friday morning, March 19, Clare M. Hasler, Executive Director, Robert Mondavi Institute for Wine and Food Science, University of California-Davis, will deliver the keynote address. Breakout sessions will follow on such topics as food product ideation, formulating with fiber, and fatty acids. Also on Friday morning, a general session will explore chilies.
On Friday afternoon, the Culinology Expo will feature nearly 200 booths showcasing ingredients, new products, and culinary treats. Expo and poster presentations will also take place on the show floor. After the expo, a student member reception will allow students and professionals to share tactics for organizing Culinology Clubs, raising money, and increasing awareness of culinology among peers.
Saturday morning kicks off with a general session on Sustainability Consortium: A Scientific Foundation for Driving Innovation, followed by breakout sessions on high-pressure processing, trigeminal sensations, and plant-based diets. The session on Fresher Under Pressure: High Pressure Processing will explain how high pressure processing works and its quality and sensory benefits over other processing methods and showcase some novel food applications.
On Saturday afternoon, a general session will define regional cuisine, followed by breakout sessions on nanotechnology, Korean cuisine, and HACCP. In the session on Understanding Korean Cuisine: An Answer for Healthier Food Choices, attendees will learn the basic ingredients and cooking methods of Korean food and how it can fit into healthy menu concepts.
For more details and registration information, visit www.culinology.org.