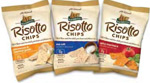 Snacking on Risotto
Head down any salty snack food aisle and you will be bombarded by flavors from nacho cheese and spicy chili to sour cream & onion and ranch. Now comes a new flavor—risotto—from New York Style, Westchester, Ill. The snack food maker of Bagel Crisps recently rolled out Risotto Chips in 5-oz bags. Made with whole-grain brown rice, Arborio rice flour, whole-grain corn flour, and sesame seeds, the all-natural and gluten-free chips provide 11 g of whole grains per 28-g serving. Varieties in the line include Spicy Marinara, Parmesan & Roasted Garlic, and Sea Salt. "With the launch of Risotto Chips, New York Style is bringing the authentic flavor of Arborio rice to a rice chip" said Cindy Nagle, Director of Marketing. "When snackers open a bag of New York Style's Risotto Chips, they will experience gourmet aromas and flavors in a light and crunchy chip."

Coke Debuts Bio-based PET Bottle Around the Globe
Coca-Cola Co., Atlanta, Ga., has announced the global launch of its PlantBottle packaging—a bio-based PET bottle that is 100% recyclable. The new bottles—made partially from plants—feature a smaller carbon footprint than bottles made with traditional PET. PlantBottle packaging is currently made through a process that turns sugar cane and molasses, a byproduct of sugar production, into a key component for PET plastic. Ultimately, Coke's goal is to use non-food, plant-based waste, such as wood chips or wheat stalks, to produce recyclable PET plastic bottles.
While the bio-based component can account for up to 30% of the resulting PET plastic in PlantBottle packaging, the percentage varies for bottles that also contain recycled PET. For example, Denmark uses recycled content in its PlantBottle packaging. The combined plant-based and recycled content makes up 65% of the material, with 50% coming from recycled material and 15% from plant-based material. For the PlantBottle packaging in the United States and Canada, up to 30% of the content in the PET plastic comes from plants.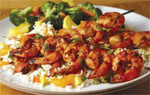 Counting Calories on the Menu
While many consumers like to eat out to reward themselves, some diners still want to know how many calories they're eating. Applebee's Services, Lenexa, Kan., makes it easier to stick to dietary regimens with the launch of five menu items under 550 calories. The new offerings include Grilled Shrimp and Island Rice, Asian Crunch Salad, Grilled Dijon Chicken and Portobellos, Asiago Peppercorn Steak, and Spicy Shrimp Diavolo. According to market researcher NPD Crest, 60% of Americans are watching calories when they eat out. NPD also reports that one in four Americans say restaurants don't meet their needs for better-for-you food options. A recent survey of casual dining users posed the question: What would you do if you were president of Applebee's? One in four said they'd put lower-calorie options on the menu. "We know our guests want choices, including lower-calorie entrees, but they still want meals full of flavor," said Mike Archer, President. "We've created a menu that doesn't compromise. It has all of the taste with none of the trade-offs."