The "highway of formulation," the road that leads to new or reformulated products in the marketplace, can sometimes be a difficult one to navigate. There are quite a few potholes in the pavement—probably brought on by the recent economy—and it's a wise idea to avoid these if you can. Then there are the slippery conditions brought on by trying to develop a product that tastes good but is better-for-you as well. And, of course, you have to deal with the traffic—competitors who, like you, are trying to get someplace in the marketplace.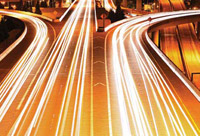 This road has many different lanes—depending on your speed (certain developers seem to be going 110 miles per hour while others are much more conservative), what kinds of products you're developing, and your overall marketing strategies. One lane, in particular—the emerging lane—will take us directly to cutting-edge developments that can help shape parameters for future product formulating. These ingredients offer benefits in functionality, health, convenience, and overall formulation.
Taking the emerging lane gives us a good road-map of the kinds of challenges that formulators are faced with and the potential solutions that can help them address these challenges. Some examples of these emerging ingredient developments that we will see, if we take this particular lane, include gluten alternatives, next-generation sweeteners, improved fats and oils, new ways to deliver or take advantage of umami, evolving weight-management strategies, food safety solutions, and several others.
Travelers who take this lane might also be interested in visiting IFT's newly designed website. There, you'll find an Emerging Technologies & Ingredients Innovations topical area that includes links to various IFT resources, IFT course information related to ingredient and technology development, and a place where you can engage in conversation with your colleagues.
With that, I see an 'emerge' sign ahead. Let's put on our turn signal, check our mirrors, and change lanes for hopefully what will be a very exciting ride—one that will lead to innovative solutions to major challenges of the 21st century. And, by taking such a route, get us to start rethinking the roles that ingredients can play in solving today's challenges.
Emerging Gluten Alternatives
Gluten, a protein, plays a very important functionality role, affecting the texture and appearance of the finished food product. It is gluten that gives baked goods made with wheat their characteristic elasticity, strength, and crumb structure. One might say that it is the "glue" that holds things together. However, because of an increasing number of individuals with celiac disease or with intolerance to gluten, a demand continues to grow for gluten-free products that do not compromise on taste, texture, or other sensory attributes. To respond to this challenge, a number of gluten replacers are emerging.
For example, a natural cassava flour, developed by American Key Food Products, Closter, N.J. (phone 201-767-8022, www.americankeyfood.com), may be used as a substitute for wheat flour, enabling the production of gluten-free baked goods with virtually the same taste, texture, crumb, and baking characteristics as those made with wheat. Marketed under the brand King Lion, this premium flour is derived from the roots of the cassava plant, commonly used to make tapioca starches, granules, and pearls. It is said to exhibit excellent moisture retention characteristics, reducing in some cases the amount of flour needed vs. wheat flour. The cassava flour may be used to create gluten-free cakes, cookies, muffins, and pancakes, and a new version is being developed for specific use in breads.
--- PAGE BREAK ---
A plant-based cellulose ingredient functions as a gluten replacement solution, according to its manufacturer, Switzerland-based Dow Wolff Cellulosics (phone 0041 44 728 23 55, www.dowwolffcellulosics.com). The recently launched ingredient, Methocel™ gluten replacer, is said to enable consistent dough handling, ensuring moistness, preventing the collapse of food during the baking process, and controlling crumb structure and volume. At the 2010 IFT Food Expo, Chef Charlie Baggs will use the ingredient in the preparation of a number of food products, followed by tasting sessions. The use of the ingredient to replace gluten in all-oat and all-barley breads is also being currently studied by researchers at the USDA-ARS Western Regional Research Center in Albany, Calif. In preliminary experiments, all-oat and all-barley breads were made using the ingredient as a substitute for gluten present in wheat but lacking in other grains. The studies found that the ingredient can provide the functionality of gluten, as well as offer a possible cholesterol-lowering effect. The scientists hope that new interest in tasty, all-oat or all-barley breads might be sparked by the laboratory experiments.
An ingredients system for gluten-free baking and coatings have been developed by Penford Food Ingredients Co., Centennial, Colo. (phone 800-652-4732, www.penx.com). The system, marketed under the name PenTechGF™, allows manufacturers, processors, and foodservice companies to develop lines that have all the wellness attributes of gluten-free combined with the visual, mouthfeel, and flavor of wheat-based items marketed to the general public.
According to Penford, on the bakery side, the system may be used to create gluten-free breads, rolls, muffins, pizza crust, pie crust, cookies, cakes, and other products. The use of the proper starch can give dough the much-needed elasticity, the right amount of chewiness, and a consistent crumb grain. The system allows for volume to give bread height; textures that aren't too gummy or dry; crumb grain for muffins that is open and slightly course, similar to that of wheat-based muffins; resilient body for pastries to prevent crumbling; light and fluffy textures for cake; and neutral flavor for pizza dough or pie crusts that will not interfere with other ingredients.
PenTechGF gluten-free coating systems for fried and oven-fried products, such as batter coated and fried meats, vegetables, chicken, and seafood, give crispy, crunchy outer textures. Potato- and corn-based derivatives are used that retain moisture and help create a crispy coating while aiding in the retention of heat within the food. A newly developed corn starch is the key ingredient in a gluten-free fish batter mix—it sticks better, providing a pleasing bite with no gummy interface. Its neutral flavor also allows for creative custom spice and flavor combinations.
Two new gluten-free specialty flour products from National Starch Food Innovation, Bridgewater, N.J. (phone 908-885-5000, www.foodinnovation.com), are said to closely mimic the texture and eating qualities of gluten-containing baked goods. Homecraft™ Create GF 10 can replace wheat flour in muffins, cakes, pancakes, bread, waffles, pizza, and related products. Homecraft Create GF 20 can replace wheat flour in cookies, biscuits, brownies, fried batters, tortillas, pies, and related products. Both flours provide texture profiles that are comparable to wheat-flour containing products and have the desirable nutritional profiles of the native (nonwheat) flour ingredients. The new flours are the result of the company's proprietary physical treatment processes involving controlled temperature, mechanical shear, and moisture. Two types of gluten-free cookies—a crispy sugar and a chewy chocolate chip—showcased the benefits of these flours at the 2010 IFT Food Expo.
A multigrain flour developed by ConAgra Mills, Omaha, Neb. (phone 402-595-5153, www.conagramills.com), delivers wholegrain nutrition, functionality, and mainstream taste and texture in gluten-free formulations. The product, Eagle Mills® Gluten Free All-Purpose Multigrain Flour, is a proprietary blend of ConAgra Mills Ancient Grains (amaranth, millet, quinoa, sorghum, and teff) and tapioca flour. It is optimized to work across a range of applications including pan bread, tortillas, muffins, snacks, coatings, and extruded cereals.
Gluten-free purple corn concentrate from Suntava, an ingredient technology company based in Afton, Minn. (phone 651-998-0723, www.suntava.com), can be used to formulate Chicha Morada, a tasty, healthy drink developed about 5,000 years ago by the people of Peru. (This nonalcoholic, spiced beverage was produced by boiling purple corn with pineapple, quince, green apple, cinnamon, cloves, and a splash of lime juice.) In helping to cultivate this new—and yet very old taste—Suntava has harnessed the health properties of purple corn varieties found throughout the world. The concentrate from the purple corn concentrate is rich in antioxidants, vitamins, and minerals. Also available from the company is a gluten-free purple corn flour that may be used to produce crunchy, good-tasting snacks, cereals, and crispy pieces. Recently, the company formed an alliance with Zumbro River Brand Inc., a contract processor, to manufacture extruded food products using the proprietary purple corn.
--- PAGE BREAK ---
Emerging Sweeteners
With all the attention that has gone to stevia over the past months, we should not overlook the fact that many other sweetener developments are emerging—from all around the world. This, of course, means a variety of new combinations, possibly involving both nutritive and non-nutritive sweeteners, including, of course, those that may blend with stevia. Take, for instance, Steviacane, which will be discussed in this section.
Because of all these emerging sweetener developments, it is safe to assume that one can expect to see a variety of new products being developed that will lessen sugar levels by combining sugar with these other options. This seems to me a viable and potentially promising approach when considering the rise of diabetes in children and the need to reformulate products without compromising that need for sweetness.
Here are just a few examples of sweetener developments that are emerging:
• A sugar with a glycemic index of 50 is manufactured by New Zealand-based Chelsea Sugar Refinery (www.chelsea.co.nz). Marketed under the name LoGiCane™, it is produced by spraying a molasses extract onto raw cane sugar (the molasses increases sugar's resistance to digestion).
The product reportedly has the same sweetness, texture, and overall functionality as ordinary sugar with the added benefit of a lower GI rating independently tested and certified by the Glycemic Index Foundation in Australia. It is golden in color similar to raw sugar and contains no chemical additives. As a substitute for regular sugar, it can be used in baking, cooking, and sprinkling on cereal.
Foods made with the ingredient have a smaller impact on blood glucose—they will keep energy levels more balanced and help the consumer feel satisfied for longer between meals. Brown sugar has a glycemic index of 60 while regular white sugar has a GI index of 65.
• A patent for developing a sweetener from oats was recently filed by PepsiCo's Quaker Oats division. The method described by the patent involves hydrolyzing oats (whole oats, oat flour, rolled oats, partially milled oats, and oatmeal) with an enzyme to obtain a modified flour which is then dried to produce the sweetener composition. The product, which may be used as an alternative to sucrose and sucrose substitutes, reportedly provides a sufficiently sweet taste to such formulations as oatmeal and other ready-to-eat cereals, beverages, and puddings. The use of the oat-derived sweetener also allows for the masking of off flavors.
• According to a recently filed patent, Cargill, Wayzata, Minn. (phone 952-742-4330, www.cargill.com), is exploring the development of a natural sweetener consisting of specific stereoisomers of monatin, a naturally occurring substance found in a plant grown in South Africa. The company claims that the monatin-based sweetener has no bitter, metallic, acidic, or astringent aftertaste unlike other intense sweeteners; is more stable than aspartame; is sweeter than sucralose; and does not have the licorice aftertaste sometimes associated with stevia-based sweeteners. Cargill also manufactures Truvia, a sweeter based on rebaudioside A, a component of stevia.
--- PAGE BREAK ---
• A zero-calorie fruit concentrate sweetener, developed under the name Fruit-Sweetness by New Zealand-based Bio Vittoria (phone 952-742-9246, www.fruitsweetness.com), recently received GRAS status from FDA. The product, derived from the monk fruit or luo han guo (a type of sweet melon), is said to be 300 times sweeter than sugar and offers a clean sweet taste. It blends well with other sweeteners in food and beverage applications such as cereals, snacks, desserts, confections, dairy formulations, flavored milks, and coffee drinks. According to the company, one-fourth of a gram of the concentrate can replace 10 teaspoons of sugar while providing less than one calorie.
• A new sugar option, Steviacane, has the same sweetness as sugar but with fewer calories and less added sugar. The sweetener, developed by Natural Sweet Ventures (a joint venture between PureCircle USA Inc. and Imperial Sugar), is produced through a special, proprietary compound crystallization process that binds pure cane sugar and Reb A stevia together. By doing so, it achieves a more consistent, uniform dispersion of sweetness and an improved sweetness profile over a simple blend of sugar and stevia. Naturally sweet Steviacane combines the benefits of the high intensity sweetness of stevia with the taste and bulking characteristics of cane sugar. Additionally, it has a lower glycemic load than sugar so it fits well into the diets of individuals with diabetes.
Steviacane can be used in any food or beverage application that currently uses sugar or high fructose corn syrup and it is similar to sugar in terms of temperature stability, bake-stability, and pH stability. Steviacane is available in two convenient formats that allow manufacturers flexibility in formulation. Crystallized Steviacane is designed for syrups, spray-ons, dairy, baking, and confectionery applications, while liquid Steviacane is suitable for the beverage industry. Steviacane is also available in a variety of calorie-reduction levels so that manufacturers can easily formulate to their target calorie reduction and nutrition objectives. For more information about this sweetener, contact PureCircle USA, Oak Brook, Ill. (phone 630-361-0374, www.purecircle.com).
• And here is a different kind of way for a consumer to apply sweetness to a formulation. Splenda® Mist™ No Calorie Sweetener from McNeil Nutritionals LLC, Fort Washington, Pa. (phone 215-273-7000, www.splenda.com), is available as a spray that can be spritzed onto fruit, cereals, yogurt products, beverages, and other products. With the press of a button, the consumer can get the exact amount of sweetness desired.
Emerging Food Safety Solutions
Issues involving food safety are always in the global spotlight, regardless of the economy. Here are a couple of developments that may help food formulators address challenges—whether they be the formation of acrylamide or the inhibiting of the growth of microorganisms such as E. coli.
A yeast-based solution from Functional Technologies Corp., Vancouver, British Columbia (phone 604-648-2200, www.functionaltechcorp.com), can reduce the formation of acrylamide in processed foods. Acrylamide—a carcinogen formed when starchy foods are baked, fried, or toasted—has become a subject of concern for global food safety regulators and food manufacturers, and they are looking for ways to mitigate its presence.
The Canada-based company claims that its solution, for which it has developed, tested, and filed patent applications, may be applicable not just in bread and other baked goods, but also in many other different food markets, including potato chips, French fries, and baby food. Given the scale of the related opportunities, it will be partnering with companies in the yeast and food processing/manufacturing industries to accelerate its proprietary strain product development and commercialization. Because of the potential of the large volumes of yeast required for numerous applications, the company believes that there is sufficient scope to work with multiple partners.
Functional Technologies Corp. develops and commercializes proprietary technologies that enhance the natural properties of yeast and algae. Scientists are applying novel techniques to these micro-celled organisms to resolve significant health and quality problems, and generate new opportunities in the global food, beverage, and healthcare industries.
--- PAGE BREAK ---
A solution for acrylamide mitigation recently earned Netherlands-based DSM Food Specialties (phone 31 15 279 3474, www.dsm-foodspecialties.com) the 2010 Frost & Sullivan award for Product Differentiation Excellence. An enzyme preparation, PreventASe, reportedly mitigates the formation of acrylamide in bread, biscuits, and extruded snacks by as much as 90%. The enzyme basically converts one of the precursors of acrylamide, asparagine, into another naturally occurring amino acid, aspartate. As a result, asparagine is not available anymore for the chemical reaction that forms acrylamide when carbohydrate-containing foods, such as bread, biscuits, crackers, processed potato products, and cereals, are heated.
Synergistic interactions between natural preservatives can maximize functionality while reducing cost in use, noted The Netherlands-based NIZO Food Research (phone +31 318 659 511, www.nizo.com). In particular, recent work by the company has focused on the synergistic interactions between antimicrobial peptides and natural extracts, as these classes of ingredients display different modes of action.
For example, the natural protein lactoferrin, known to exhibit antimicrobial activity against microorganisms, when combined with an extract of the essential oil thyme oil (thymol), almost completely inhibited growth of E. coli because of the synergistic effect of these two natural compounds. The synergistic interaction between the different classes of natural antimicrobial compounds increases their efficiency and thereby reduces the cost in use.
Emerging Weight Management Strategies
Weight loss—as well as weight gain—pretty much depends on the ratio of calories in vs calories out. This ratio, sort of like a seesaw, should be kept at a balance for consumers to achieve optimal weight and the health benefits that go along with it. Unfortunately, these days, this seesaw is moving much more toward weight gain and obesity, whether because of eating too many fatty foods, too much sugar, too many carbohydrates in general, or just too much period.
Pharmachem Laboratories, Kearny, N.J. (phone 201-246-1000, pharmachemlabs.com), recently launched a three-phase ingredient system (the "power of three" as the company calls this platform) that address different ways of gaining weight. "The three phases of weight control give the manufacturer the option of introducing the entire system or offering them separately as Phase 1 Hunger Controller™, Phase 2 Carb Controller™, or Phase 3 Sugar Controller™," said Mitch Skop, Senior Director of Product Development for the company.
As described by Skop, Phase 1 Hunger Controller is a family of flavored beverage powders containing Olibra™, a novel fat emulsion clinically shown to promote appetite control and satiety. Phase 2 Carb Controller is a propriety extract of the white bean clinically shown to reduce the digestion of starches. Phase 3 Sugar Controller is a powdered formula shown to be effective in supporting healthy blood sugar levels.
In the face of our current obesity epidemic, researchers are approaching this problem from different perspectives. For example, a 2009 article in the Journal of Agriculture and Food Chemistry (57 (21): 9888-9894), reviewed the possibility of using aroma as a trigger for inducing or increasing satiation. Although the extent of retronasal aroma release appears to be subject-specific, food product properties can be tailored in such a way that these can lead to higher quality and quantity of retronasal aroma stimulation. This, in turn, provokes enhanced feelings of satiation and ultimately may contribute to a decrease in food intake.
--- PAGE BREAK ---
According to the article, when you eat, certain molecules break free from the food as you chew, working their way up to your nasal cavity and to your olfactory sensors. From there, they've been shown to stimulate certain areas of the brain connected with satiety, or the feeling of fullness. The problem is that the feeling is based on perception—and that varies from person to person. However, researchers based in the Netherlands found that in tests where subjects were free to eat as much as they wanted, subjects who experienced a higher extent of retronasal aroma release freely chose to consume less food. These findings suggest that if food could be engineered—using ingredients to increase aftertaste, by making certain aromas linger, or even by packaging food such that it is consumed in smaller bites—it could prolong the sensation of retronasal aroma release, making the consumer feel fuller faster.
Researchers are also investigating air bubbles as a way of reducing sugar content as well as salt. In a study published in the Journal of Food Science, the effect on taste due to the addition of air bubbles to a water-based gel was investigated. It is an important challenge for the food industry to be able to produce food products that are reduced in sugar or salt content but display good taste. The use of air bubbles may provide a way of doing so. The study found that a reduction of sucrose or sodium chloride by the same weight percentage as the volume fraction of the air bubbles in the samples gave equal taste perception compared to the other samples. Although the air bubbles were found to change the texture and appearance of the samples, the study demonstrated that the inclusion of air bubbles offers scope for the reduction of sucrose or sodium chloride in food products.
Emerging Fats and Oils
A microwave popcorn made with canola oil was recently launched by Weaver Popcorn Co., Noblesville, Ind. The company reformulated its product, Pop Weaver®, to contain a canola oil blend consisting of polyunsaturated and monounsaturated fats as well as omega-3, omega-6, and omega-9 fatty acids. All three flavors in the line—Light Butter, Butter, and Extra Butter—incorporate the canola oil blend and are said to have an enhanced rich, buttery taste. The Extra Butter version offers 260 calories, 2 g saturated fat, and 0 g trans fat per bag while the Light Butter and Butter have 210 and 230 calories, respectively. According to the company, this product is the first microwave popcorn to be made with canola oil.
Technology Crops International, Winston-Salem, N.C. (phone 866-870-5909, www.techcrops.com), in partnership with Advanta, has introduced Nutrisun™ sunflower oil—a high-stearic, high-oleic "solid oil" which contains zero trans fats. The oil may be used as an alternative to saturated oils such as coconut and palm and as a replacement for fully or partially hydrogenated fats. It can be used in frying oils, bakery products, margarines, ice creams, chocolates, and other applications that require the use of stable fats. Developed using conventional hybrid plant breeding methods, Nutrisun contains high levels of both oleic and stearic acids. The intellectual property rights for the oil are owned by Advanta, and the sunflower crop is grown, processed, and delivered by Technology Crops International. Commercial supplies of the oil will be available on a limited basis in the U.S. this year, and the company expects broad availability in 2012.
New soybean varieties are being developed that will help deliver oils that offer improved functionality benefits to food formulators as well as potential health benefits to consumers.
For example, DuPont, Wilmington, Del. (phone 302-774-1006, www2.dupont.com ), recently received USDA regulatory approval for its Plenish™ high-oleic soybeans. These soybeans contain more than 75% oleic acid content, which significantly increases the stability of the oil made from these beans and provides greater flexibility in food applications. High-oleic soybean oil also has 20% less saturated fat than commodity oil and has 0 g trans fat. Pioneer, a DuPont business, will launch the soybean trait and the soybeans will be grown under contract for ongoing field and oil testing in the U.S. and Canada in 2010 and 2011. Full commercialization of the trait is anticipated in 2012, upon global regulatory approvals and ongoing field testing.
--- PAGE BREAK ---
From Monsanto, St. Louis, Mo. (phone 314-694-2039, www.monsanto.com), will come Vistive® Gold low-saturate, high oleic, low-linolenic soybeans that provide food companies and restaurants a highly stable oil said to have the lowest saturated fat content of any soybean oil. Stearidonic acid-enriched soybeans, the result of a collaboration between Monsanto and Solae, are being developed that provide omega-3s while maintaining flavor and shelf life. Oils from these soybeans may be used in such formulations as yogurt, granola bars, and spreads.
There may also be other emerging developments based on the soybean. Soy Labs, LLC, Fairfield, Calif. (phone 707-421-8123, www.soylabs.com), joined with Missouri state and federal representatives to break ground on the Missouri Plant Science Center in Mexico, Missouri. The facility will serve as a biotechnology hub for companies, such as Soy Labs, to perform cutting-edge research and perfect manufacturing processes for ingredients and finished products that are the future of nutraceuticals, functional foods, and plant biotechnology industries. The center—which offers office space, wet and dry research laboratories, and manufacturing equipment to process soybeans and other plant-based material—will allow companies with commercially viable, plant-sourced products to prove their concepts and develop novel manufacturing methods to bring the products to market. The center is made possible by a collaborative effort between the University of Missouri, Soy Labs, and several state and federal government agencies.
Emerging Fruit and Vegetable Developments
Fruit or vegetable juice concentrates can be made with new advanced concentrate technology from Vegetable Juices Inc., Bedford Park, Ill. (phone 888-775-9752, www.vegetablejuices.com). These concentrates are said to increase fruit and vegetable servings in juices and provide the full vegetable RDA for both children and adults. The technology retains a greater percentage of the vitamins and minerals found naturally in fruits; provides vibrant, clean flavor and aroma; and preserves volatile top notes and antioxidant content.
"Imagine the ultimate in consumer convenience, a fresh, tasty beverage that not only supplies an entire day's requirement for fruit and vegetable servings for better health, but also tastes great," said Dave Perkowski, the company's vice president of marketing and customer support. "And we take the difficulty out of processing the most popular juice blends for you." The company offers a variety of individual juice flavors as well as the capability to blend several different vegetables together to make customized blends.
Sweet potato juice concentrate, celery, and cucumber range among the most popular now, noted Perkowski. Also, in the experimental stage are such flavors as purple carrot, yellow tomato, and cantaloupe.
In addition to these juice concentrates, fruits and vegetables are being developed in a variety of innovative formats. For example, dried apple pieces enrobed with whole grains, dried fruit, nuts, and natural flavors, are available from Tree Top, Selah, Wash. (phone 509-697-7251, www.treetop.com). These pieces, Fruit Sensations® Muesli Crisps, are suitable for adding color, crunch, and flavor to granola bars, dried fruit snacks, yogurt, salad, and ready-to-eat and hot cereals, or they can be eaten on their own. Layered with ingredients typically found in muesli-style cereals, these crisps are shelf stable.
Innovative new pairings—strawberry and balsamic, pineapple and soy, and peach and bourbon—may be incorporated into beverages, processed food products, and restaurant entrees. These pairings, developed by Dole Packaged Foods Co., LLC, Westlake Village, Calif. (phone 818-874-4800, www.dolefoodservice.com), demonstrate some of the intriguing directions that flavor profiles can take.
Sweetened dried cranberries infused with green tea were highlighted by Decas Cranberry Products Inc., Carver, Mass. (phone 508-866-8506, www.decascranberry.com) at the 2010 IFT Food Expo.
--- PAGE BREAK ---
Emerging Umami Developments
"Umami in a tube?" May be another sign that interest in umami as the fifth primary taste is growing in the marketplace. This product, which recently appeared in grocery stores in the United Kingdom, is a umami-flavored paste marketed under the name Taste No. 5. It consists of such ingredients as pulped anchovy and porcini mushrooms.
Chefs from around the world have long been familiar with the benefits of umami, the taste quality associated with several amino acids, especially the amino acid L-glutamate. However, it was only fairly recently (in 2000 to be exact) that researchers at the University of Miami discovered the tongue had taste receptors dedicated to sensing glutamate, which signals the presence of proteins in food that the body needs. In 2009, the Monell Center, using a combination of sensory, genetic, and in vitro approaches, confirmed that the T1Ri-TiR3 taste receptor plays a role in human umami (amino acid) taste. The findings, published in the American Journal of Clinical Nutrition, show that variations in the genes that code for this receptor correspond to individual variation in sensitivity to and perceived intensity of umami taste.
A study published in the Journal of Food Science showed that adding soy sauce to certain foods may enhance the perception of saltiness, enabling food manufacturers to cut the salt content without sacrificing taste. Results of the study indicated that it was possible to achieve a sodium reduction of 50% in salad dressing, 17% in soup, and 29% in stir-fried pork without leading to significant losses in either overall taste intensity or product pleasantness.
In recent months, several ingredient companies have launched developments that promote umami. A new range of flavor ingredients from Switzerland-based Givaudan (phone +41 22 780 0111, www.givaudan.com) focused on umami, providing manufacturers with a source of flavor enhancement. Germany-based Symise (+49 (0) 5531/90-0, www.syrmise.com), has reportedly developed a highly concentrated umami flavor which may be used as a replacer for monosodium glutamate in Europe. At the 2010 IFT Food Expo, Wixon Inc., St. Francis, Wis. (phone 414-769-3000, www.wixon.com), used its Wix-Fresh™ Umami technology to create such prototypes as Thai Slider with Coconut Coleslaw and Aji Amarillo Annatto Marinated Chicken served on grilled flatbread. Also at the show, Nikken Foods USA Inc., St. Louis, Mo. (phone 314-881-5858, www.nikkenfoods.com), showcased umami taste demonstrations using Anchovy Extract Powder in a cream-based salad dressing, as well as a new Mushroom Extract Powder, a reduced-salt product that presents a more intense mushroom flavor for use in soups, sauces, and dressings. And from Kikkoman Sales USA, San Francisco, Calif. (phone 415-229-3650, www.kikkomanusa.com), comes seasoned soy sauces—Ponzu Citrus Seasoned Dressing and Lime Ponzu Citrus Seasoned Dressing—which offer umami-enhancing, low-sodium benefits to virtually any savory dish.
Ending on a Fresh Note
You may be perusing this article while drinking a cup of coffee. If you are, then you may be stimulated by the fact that coffee is also the subject of several emerging developments.
For example, scientists at the Nestle Research Center in Lausanne, Switzerland, conducted a comprehensive exploration into the nutritional metabolism that occurs after the drinking of a cup of coffee. The study revealed that bioactives from coffee have a long-lasting release in the blood, even up to 12–14 hours after consumption. Antioxidants, primarily polyphenols, are found in coffee and are of particular interest because of their health-promoting potential. However, previous to this research, their bioavailablity in humans had not been thoroughly studied.
In a follow-up study, Nestle researchers explored the effects of milk on coffee polyphenol uptake. Healthy adult subjects were given either instant coffee, instant coffee plus 10% whole milk, or a premix of instant coffee, sugar, and nondairy creamer. Blood samples were then collected 12 hours after coffee consumption. Polyphenolic equivalents in the blood plasma (caffeic, ferulic, and isoferulic acids) were quantified and their bioavailability after consumption of the different coffee types was determined. Results showed that the addition of whole milk to coffee did not affect the bioavailability of polyphenols, while the addition of nondairy creamer delayed the appearance of polyphenol equivalents in the blood, but did not influence the total amount delivered. In conclusion, the availability of polyphenols after coffee consumption was the same for all three coffee types.
Studies in Europe are also suggesting that regular coffee drinking may reduce levels of inflammatory markers linked to diabetes.
--- PAGE BREAK ---
A fresh take on coffee is being brought to the U.S. marketplace. Several varieties of Bean & Body Coffee are rolling out at Whole Foods Market. These products include Coffee Anti-Ox (a blend of organic coffee and pomegranate, acai, and blueberries); Coffee MarTEAni (a blend of organic coffee and organic green tea with exotic spices); Coffee Rescue (a blend of organic coffee and ashwagandha root); and Coffee Energy (a rainforest blend of organic coffee and yerba mate).
And at the 2010 IFT Food Expo, Symrise demonstrated a prototype Java 'n Fruit, a low-sugar, refreshing fruit fusion beverage blending fruit juice, ginseng, and coffee using the company's SymLife Sweet Technology.
Nestle (Thai) Ltd. recently launched Nescafe® Protect ProSlim, a new coffee mix designed for health and weight loss. The mix contains a white kidney bean extract which was described earlier in this article.
As you can probably guess, these coffee developments are a perfect conclusion to a variety of emerging ingredient developments that are currently brewing in response to health and functionality challenges.
---
IngredienTalk:
Does 'Clean Labeling' Play Dirty?
In my second blog, I gave my views on what has been termed 'clean labeling.' The following is that blog as it appeared. If you have any responses—and you're an IFT member—please visit www.ift.org, type in your name and password, click on the IFT Community button, and go to the blog section. Looking forward to talking with you.
Back in the May 1993 issue of Food Technology, I wrote a one-page ingredients column on what at that time was an emerging trend—'clean labeling' (or as it was then called, 'friendly labeling'). Basically, it was argued that these labels were designed not to confuse consumers about the contents of the food or, for that matter, to scare them off from those ingredients that had extra syllables. To put it simply, included on these labels were ingredients that were used as a substitute for those that consumers were trying to avoid for one reason or another. So it was argued.
When I wrote that column (I was in my sixth year at IFT), I merely saw myself as a messenger reporting on an emerging trend. At that time, it wasn't really my intention to positively or negatively evaluate this particular approach. I was consequently surprised to find myself berated by a food science professor. If I remember correctly, the professor argued that 'clean labeling' was nothing more than a marketing ploy—one that was suggesting that certain chemicals in foods (those with more than two syllables) were not healthy and possibly could even be unsafe. As such, this trend had no place in Food Technology (and I got the idea that he held me personally responsible for delivering the message to the magazine).
Interestingly, some 17 years after the killing of the messenger, the term 'clean labeling' is not only still around, but it seems to have gained more steam than ever. From my perspective these days, I have to admit that I'm still not sure what the term really means. Since there is clean labeling, am I to assume that there is also such a thing as 'dirty labeling?' And what then is dirty labeling? And just exactly how dirty is dirty labeling? It seems to me, at least, that the supporters of clean labeling are the ones slinging the mud at those pesky chemicals or chemical-sounding names.
And then there is that matter of proof. How unhealthy are these chemicals really? If you replace one chemical with another, are you making a difference in terms of health? I guess the most truthful answer is that it depends on which chemical you're talking about. And, of course, the other thing to consider is that if you keep certain chemicals in your formulation but give them simpler, more attractive names, isn't that a bit disingenuous as well?
In an age of obesity and rising diabetes (much more so than 20 years ago when I first wrote that column about clean labeling), is this approach getting us closer to a healthier society? If it is, then I say let's get the rope—let's lump together all these undesirable ingredients into one group, making up a list of dirty labeling ingredients that we can proudly put up in any post office.
But if it isn't getting us closer to that healthier society, then I think we should reconsider some of the concerns a certain 'messenger-killing' professor raised a long time ago. In my case, I would feel better if a little more time would be spent on getting me that multigrain hamburger bun that I mentioned in my first blog.
Anyway, what are your views regarding clean labeling? Is clean labeling a marketing ploy? Have positions regarding this approach changed over the years? And if my position on clean labeling should be criticized, are there any food science professors out there willing to break me out of the slammer?
In the meantime, during visiting hours, let's IngredienTalk.
---
Next month's Ingredients section will look at a variety of extenders and replacers, and how these ingredients present cost-effective opportunities in food formulation. 
by Donald E. Pszczola,
Senior Associate Editor
[email protected]

Members Only: Read more about emerging ingredient developments online at www.ift.org. Type the keyword into our search box at the upper left side of our home page.