They say that in matters of the heart, opposites frequently attract. That may also hold true when it comes to the pairing up of different flavors in food formulating.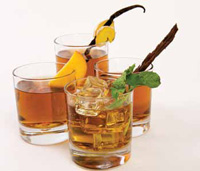 Consider some of these couples who are currently engaged in courtship. Whiskey and chocolate. Chocolate and bacon. Bacon and fruit flavors. Fruit flavors and chili peppers. And chili peppers and peanut butter. Still other increasingly popular relationships involve vanilla, tea, floral flavors, spices, mint, and sweet potato, to name just a few. And when it comes to formulating, there's always room for more on this particular wedding register.
Why exactly do flavor opposites attract?
Well, there may be several reasons. For example, a sweet-salty or a hot-sweet combination can help add an exciting dimension to a food formulation. A combination that provides different taste sensations may work at a synergistic level, perhaps achieving a umami effect or enhancing one sensation while blocking another. Furthermore, flavors that at first seem very different from each other may actually have flavor notes that are complementary. In any case, if successful, these flavor or ingredient combinations can be used to differentiate a product in the marketplace, offering the product developer flavor, functionality, and nutritional benefits from their union.
Flavor marriages, with a little planning ahead (call it planned ingredienthood), can result in successful offspring. Products can be created that provide a twist to a familiar comfort food such as mashed potatoes or macaroni and cheese. In a beverage, an exotic fruit flavor can pair up with a more traditional one to tempt consumers to try something new without giving up that sense of familiarity.
And, of course, new opportunities are created when a flavor duo such as fruit and floral flavors move from one established category (tea, for instance) to others ranging from confections to savory sauces.
When looking at these marriages and their potential, one quickly realizes that no ingredient is an island, but should be measured and understood in terms of the different kinds of relationships it helps foster with other components in the food system. Many of the ingredients or flavors involved in these unions frequently appear on top 10 lists compiled by suppliers, culinary experts, market researchers, media facilities, and other groups that predict emerging developments. Their appearance on these kinds of lists is very interesting as it seems to suggest that one of the reasons that these ingredients are emerging in the first place is because of their versatility or—more precisely—their compatibility with other ingredients.
If so, the more fruitful these marriages are, the more value these ingredients will have on an individual basis and the more likely they will appear on future lists of emerging ingredients. And that—to use the right parlance—means "they are good catches," having the potential to create new and more exciting opportunities in the area of food and beverage formulating.
This article will focus on a number of these flavorful ingredient pairings, what benefits they bring to the formulation, and how they can hopefully produce long-lasting unions in the marketplace.
And remember to bring your rice to the ceremony.
--- PAGE BREAK ---
Alcohol Attractions
Whiskey and other "brown spirits" may be making a comeback this year, according to The Nielsen Co., a global information and media company. Whiskey growth rates have been rising steadily, with U.S. sales growth for whiskey and brown spirits outperforming the growth rate of the overall spirits category in 2008.
This resurgence is credited to increased consumer knowledge and product mixability.
With its complex nature, bourbon whiskey is often associated with notes of vanilla, oak, citrus, toffee, and caramel, noted David Michael & Co. Inc., Philadelphia, Pa. (phone 215-632-3100, www.dmflavors.com), and it can pair well with cola, mint, citrus, coffee, and other flavors. At its 2009 Innovation Roadshow, the company featured a selection of flavored 80 proof bourbon whiskeys in familiar and complementary flavors—chocolate, peach, ginger, and mint julep. Additional flavor ideas include mango, cherry, vanilla, dark chocolate mint, blackberry, and savory/salty flavors to complement whiskey's natural nuances. Flavored bourbon whiskey can be used for a number of drinks, whether alone or in cocktails. Furthermore, these flavor combinations can be utilized in whiskey-based sauces and marinades.
Almonds and ale was one of the emerging flavor combinations cited in the McCormick Flavor Forecast 2010, released by McCormick & Co., Hunt Valley, Md. (phone 410-527-9753, www.mccormick.com). "The bittersweet character of both almonds and ale are a rich hearty match for one another, and the versatility of these ingredients inspires an endless array of possibilities," observed the report. "Almonds are a sturdy partner for the breadth of different ales, which are gaining a new appreciation as a cooking ingredient. Ales, which include porters, stouts, and specialty beers, add robust hoppy flavors. The twosome can find use in cocktails, salads, meat entrees, and desserts." How about an almond-ale milkshake or a marinade for pork or chicken that uses this combination? Other prototype concepts can include Ale-Almond Roasted Apples (apples roasted in ale and brown sugar) as a dessert with ice cream or as a side dish to roast pork; Almond-Ale Spritzer, a cocktail made with almond extract, pale ale, seltzer water, cilantro, and lemon juice; and Sloppy Joe Sliders, a meat sandwich with almonds and ale added to ground beef, onions, tomatoes, apricots, garlic, and ginger.
Cocktails can also take on a new life in a sweet and salty snack. For example, David Michael's line of nonalcoholic flavors (Adults Only®) can take potato chips well beyond the traditional barbecue stage. Some examples of these "Tipsy Chips" can include Blood Orange Jalapeno Margarita Chips, Pepper Sangria Chips, and Bleu Cheese Dirty Gintini. These cocktail flavors can partner with flavors such as lime, chili, taco, pizza, chipotle, salsa, buffalo wing, honey mustard, and peppercorn to create a variety of flavor sensations based on current beverage and bar trends. Not only are they suitable for any designated driver, but they can be made with salt replacers to create a potentially more-healthful chip.
Flavor sensations, such as heat, cooling, and sweetness can work well with flavors that duplicate the taste of alcohol. For example, Bell Flavors & Fragrances, Northbrook, Ill. (phone 847-291-8300, www.bellff.com), paired an Irish Crème Flavor with different flavor sensations in a creamer. In one formulation, the flavor was combined with a Sweetness Enhancer Flavor to produce a creamer that delivered sweetness without sugar. In another formulation, the flavor was used with Flavor Sensate to produce a warming flavor in the creamer. In an alcoholic cooler, the company combined Yumberry Type Flavor with a Flavor Sensate that functioned as a liquor booster.
--- PAGE BREAK ---
Vanilla Valentines
Like chocolate, vanilla also gets around. Recently, vanilla partnered with a floral flavor in the beverage market. The hibiscus-vanilla-flavored water is part of the Premium Essence Water line from Hint and may offer a distinctive scent of things to come for vanilla.
Rick Brownell, Vice President of Vanilla Products at Virginia Dare, Brooklyn, N.Y. (phone 718-788-1776, www.virginiadare.com), discussed with Food Technology the number of directions—both savory and sweet—that natural vanilla is taking in today's food formulating and the subsequent number of relationships it has formed along the way with other ingredients and flavors.
One of the major trends in food and beverage development is a return to retro flavors. "No flavor is more reminiscent of the 'good old days' than vanilla, which has been a staple in every home kitchen for generations," remarked Brownell.
"Interestingly, the recession has had an impact on vanilla consumption as many working women who have lost their jobs are cooking more at home than before. Sales of vanilla extract at the retail level have risen substantially as evidence of this change."
According to Brownell, some of the specific foods and flavors associated with the retro trend include sweet potato, meat loaf, mashed potatoes, chocolate, coffee, and cola drinks. "Vanilla is a staple in many of these retro foods and innovative chefs are finding new applications for it—like the sweet potato. In fact, the use of vanilla in savory applications is definitely on the rise, not necessarily as a recognizable flavor but as a mild, creamy background note." Some examples of savory dishes that might make use of vanilla this way include lobster, chicken, scallops, meatballs, or meat loaf.
"In mashed potatoes, for example, vanilla can add a mild creaminess while enhancing other flavors, in a matter similar to salt," Brownell noted. "In a relatively bland product such as mashed potatoes, vanilla can be especially useful in boosting flavor." In a sweet potato formulation, vanilla can add a mild creamy sweet background, while in chocolate it can be used to add creaminess while suppressing bitterness.
"Moving in the other direction from retro, exotic foods and beverages also continue to be high-growth areas," said Brownell. "Food and beverage marketers know that pairing an exotic ingredient with a familiar one, such as vanilla, increases the likelihood that consumers will try it." More specifically, the interest in 'super' fruit and vegetables bridges the trends of health and wellness with a desire for something exotic, he added. However, many of these foods tend to be somewhat bitter or tart and vanilla is extremely good at smoothing these notes, much in the way it can smooth out the notes in chocolate or coffee.
At its 2009 Innovation Roadshow, David Michael demonstrated how vanilla can be partnered with spices associated with Asian cuisines to create savory desserts. Vanilla Chinese Five Spice Rice Pudding features vanilla with fennel, clove, cinnamon, peppercorns, star anise, and ginger. Vanilla Thai Red Curry Coconut Milk Flavored Ice Cream partners vanilla with ginger, cumin, lemongrass, garlic, and capsicum. The spice flavors used in each prototype have been incorporated into one flavor system, along with the vanilla, which can provide added convenience for the food formulator. At past events, the company showed how the addition of vanilla can help round out the flavor of savory products such as chili or barbecue sauce, but in these savory desserts vanilla acts as a signature flavor or—if you will—the dominant partner.
David Michael also developed a vanilla fig almond topping which may be used on a baked cookie (sort of like a dessert bruschetta). It can be adapted into an ice cream novelty—a twist on an ice cream sundae—or used with dessert nachos, dessert quesadilla, and dessert ravioli.
A new breakfast mix from Wixon Inc., St. Francis, Wis. (phone 414-769-3000, www.wixon.com), blendsvanilla with carrot, nutmeg, cinnamon, clove, currant, and coconut. Carrot Cake Waffle & Pancake Mix, when combined with eggs and milk, creates an indulgent morning meal with a flavor profile that mimics that of the namesake dessert.
From these different examples, both savory and sweet, it seems pretty clear that vanilla must have received a lot of valentines this past holiday, and new romances are yet to come as this year develops.
--- PAGE BREAK ---
Chocolate Couplings
By this time, whiskey and chocolate are probably already on their honeymoon. But don't fret—chocolate is definitely a polygamous ingredient and there are still many other relationships possible. Chocolate's continuing popularity is evident in a new report from Mintel which found that even the current economy could not stall worldwide chocolate sales.
According to the company's Global New Products Database, manufacturers launched nearly the same number of chocolate products in 2009 as they did in the previous year. And in Latin America, Asia, Middle East, and Africa, manufacturers actually released more new products in 2009. In terms of sales, Americans purchased 2.6% more chocolate than in 2008, while the British drove their chocolate market up 5.9% in 2009. Even in countries not known for their chocolate consumption (e.g., China and the Ukraine), sales are on the rise and expected to grow through 2013, noted a global food and drink analyst at Mintel.
This news seems to bode well for the future of chocolate couplings, which can represent a wide array of types. Some of these pairings are traditional while others aren't. One of the more unusual ones—dare I say kinky—is the combining of chocolate with bacon. In its 2010 Top Ten Flavors by Category, Bell Flavors & Fragrances concluded that chocolate with bacon will be one of the top sweet flavors for the confectionery, bakery, and dairy markets. (This list, by the way, is tabulated using three methods—tracking samples that have been requested over a 12-month period; trend scouting performed by the company's marketing and research and development departments from four continents; and compiling flavor trends that come from external resources and suppliers, including media, analyst groups, and other credible sources.)
I have to confess that this particular pairing aroused my curiosity so I did a little surfing on the web to find out more about it. Bacon with chocolate, on the one hand, can literally mean strips of bacon covered in chocolate. (This product may have originated at county fairs and other such festivals, and is gradually finding its way into the mainstream.) It can also mean applewood smoked bacon bits added to milk chocolate to create an exotic chocolate bar. One example of this type of product was Vosges Mo's Bacon Bar. The same manufacturer (vosgeschocolate.com) also developed a Bacon Chocolate Chip Pancake Mix as well as a Bacon Caramel Toffee.
After you get over your initial reaction to this combination, it probably isn't too surprising that these two flavors eventually converged, much like chocolate and peanut butter once did on the streets of pure decadence. Bacon, by itself, was ranked number one as a savory flavor for 2010 by Bell Flavors & Fragrances. The Food Channel editorial staff included bacon in its top 10 trends overall for 2000-2009 as well as one of the decade's top flavors. (One prototype formulation from David Michael showcased savory bacon flavor infused into a sweet fruit snack, giving an idea of some of the new directions that bacon may soon be taking.) Chocolate, by itself, didn't fare badly either—milk chocolate was ranked high as a sweet flavor for 2010 by Bell Flavors & Fragrances, and the Food Channel positioned dark chocolate as one of the decade's top flavors and top 10 trends overall.
So because of their popularity, it was only a matter of time—or perhaps destiny—that these two flavors should find each other. Although peanuts (or peanut butter) may have a new competitor for its affections, it shouldn't feel too dejected as its alliances with chocolate are still popular, not only in traditional confections but in health bars as well. Most recently, San Francisco-based Amazing Grass launched its Chocolate Peanut Butter Protein Bar, made with antioxidant-rich fruits and vegetables, organic peanuts, and whey protein, all under the cover of chocolate.
At its 2009 Innovation Roadshow, David Michael featured Froggy Chocolate Sparkling Water which combines chocolate and green tea flavors for an indulgent, but light and fresh taste. The pairing can also work well in other beverages such as energy drinks, soda, and cocktail mixes; ice cream or yogurt; and gelatin. In addition, the company showed a Dark Chocolate Yumberry Pie Pop, a bite-sized snack with a luscious filling.
Over recent years, chocolate has increasingly partnered with a variety of spices and seasonings, and is no longer reserved just for mole sauces or novelty fringe items such as jalapeno chocolate. Bell Flavors & Fragrances, for example, developed prototype chocolates made with such flavors as yellow curry or yuzu ginger.
According to the California Almond Board, Modesto, Calif. (phone 209-549-8262, www.almondsarein.com), almonds continue to be the number one or number two ingredient nut in new chocolate products in every region of the world. Overall, the confectionery category led new nut product launches across all regions in 2009, except North America where nut and almond introductions in the snacking category proved dominant. Almonds and chocolates are pairing up in other product categories as well. At the 2009 IFT Food Expo, ABC showcased a prototype Dreamy Almond Drinking Chokolat, described as a delicate demitasse of warm drinking chocolate infused with California almond butter and spice and topped with handmade almond marshmallows.
And this part of the article wouldn't be complete if I didn't at least mention the countless partnerships that chocolate has with fruit ingredients, ranging from traditional types such as cranberries or blueberries to the more exotic versions. Chocolate is also proving to be an excellent vehicle for blending traditional and nontraditional fruits.
As you can see, chocolate definitely plays the field.
--- PAGE BREAK ---
Flirting with Fruit
Marriage prospects for fruits are always good because of their compatibility with savory, salty, hot, and sweet ingredients, as well as their availability in a variety of formats. Lately though, fruits have been gaining somewhat of a reputation for walking on the wild side, finding companions that were not always conventional or expected.
Let's start with watermelon and its new partner, Thai Basil. According to the McCormick Flavor Forecast 2010, Thai basil and watermelon certainly make for an interesting couple, providing a colorful study in contrasts. Identified by its purplish stems, the herb has a sweet anise aroma and minty flavor notes, while ripe watermelon offers a sweet juiciness and is available year-round in red, orange, yellow, or white-fleshed varieties. The fusion of the herb's licorice-like edge provides a suitable match for watermelon, as demonstrated in such formulations as Watermelon Salad with Thai Basil and Feta, Thai Basil and Watermelon Slushie, and Grilled Watermelon and Shrimp Skewers (with Thai Basil marinade).
Apples, known for their traditional use in cider or pie, are now partnering with the likes of chili peppers and other savory types. For example, a prototype Green Summer Salsa from Knouse Foods Co-op Inc., Peach Glen, Pa. (phone 717-677-8181, www.knousefoodservice.com), combines apples with these ingredients for a hot-sweet experience.
Blueberry combos are showing up in everything from ketchups, mustards, and seafood sauces to honey-based drizzles and Asian sauces, notes the U.S. Highbush Blueberry Council, Folsom, Calif. (phone 650-824-6395, www.blueberry.org). For a new flavor sensation with Latin flair, blueberries can be incorporated into traditional mole, adding bright notes that complement mole ingredients such as tomatoes, chiles, oregano, cloves, and chocolate. The resulting product, Blueberry Mole Sauce, works well with chicken, beef, or pork mole dishes. Blueberries and hibiscus can provide a dynamic duo in teas and nouveau beverages. Foods such as clafoutis, pancakes, and waffles can bring blueberries together with herb-steeped syrups and the crunch of roasted nuts, making breakfast more like a dessert. Roasted ginger and blueberries can offer sweet, acidic, spicy, and warm notes that add a little adventure to a food with comfort or homey connotations. While blueberries can add sweetness to cumin-spiked, chile-pepper-based sauces, salsas, and dressings, they can also be paired with grainy mustards for a fruity and pungent combo that is suitable for designer condiments.
And as has been discussed in previous articles, traditional fruit flavors can be combined with exotic or lesser-known versions from around the world to give a twist on a familiar flavor, enticing customers to try something a little new without giving up that sense of familiarity or comfort. Take, for example, cupuacu, an antioxidant-rich Amazonia fruit that Mintel has identified as one of the key flavor trends for 2010. Musselman recently launched a lime- and cupuacu-flavored apple sauce showcasing the compatibility of this emerging fruit.
GSB Flavor Creators, Kennesaw, Ga. (phone 770-424-1886, www.gsb-flavorcreators.com), developed a number of fruit flavor combinations which the company promotes using a dance or "shuffle" motif. These "hot numbers" include Tango (mango and persimmon), Swing (Starfruit and Wildberry), and Waltz (watermelon and nectarine).
Sensient Flavors, a unit of Sensient Technologies, Indianapolis, Ind. (phone 317-243-3521, www.sensient-tech.com), compiled a list of top 10 beverage flavor profile predictions for 2010, many of which have potential for working with other fruit flavors. For example, the baobab fruit, native to Africa, offers a tart lemony profile. The company developed a prototype 100% juice beverage, Baobab Kiwi Pineapple, which is very high in vitamin C. Other flavors on the list included mora berry (this berry from Colombia offers a sweet and tart flavor similar to that of raspberry and blackberry); kumquat (this China-originating fruit has tastes ranging from sweet to sour to salty); and umbu (a Brazilian berry which has a sweetly aromatic flavor). One can easily imagine the potential relationships that these exotic fruits can have with more traditional fruits. How about a mora berry-blueberry juice, for instance? Or a kumquat with lime perhaps? It has certainly become a small world with any number of relationships now possible.
--- PAGE BREAK ---
Hot Stuff
Chile-fired sauces are among the 10 major influences driving menu trends for 2010, according to Flavor & the Menu, a publication that keeps a close eye on menu development, restaurant growth, and dining patterns throughout the year. With input from a team of restaurant industry experts, the publication predicts that the American palate is ready for what it describes as "a worldview of chiles" and that chefs are branching out with usage, layering several types and infusing heat in a variety of additional ways.
That, of course, would make the chile family pretty hot stuff right now when it comes to potential marriage prospects with other ingredients, as demonstrated by several flavor houses and ingredient companies in recent months. For example, Wixon launched a line of marinade flavors for pork and poultry that included Blackberry Chipotle and Citrus Chipotle. These flavor fusions help accentuate the finished product with sweet and smoky flavors along with a hint of heat to kick up the taste, noted Jerry Moehn, Senior Meat Technologist for the company's Protein Applications and Seasonings Laboratory. Bell Flavors & Fragrances developed a blend of watermelon flavor and chile flavor for use in hard candy, as well as a blend of Madras yellow curry-type flavor and chile flavor suitable for chocolate. In the third annual Ultimate Cranberry Recipe Contest held by Ocean Spray, Lakeville-Middleboro, Mass. (phone 508-946-7185, www.oceanspray.com), a winning foodservice entry proved to be Cranberry Wontons with Cranberry Jalapeno Jelly Dipping Sauce. And as noted earlier, Knouse Foods created a prototype Green Summer Salsa that delivers a sweet heat with its combination of apples and chili peppers.
David Michael developed some interesting ways to deliver heat as well, as these appetizers demonstrate. A chipotle-flavored peanut butter can be used in a par-fried plantain popper served with tamarind flavored jelly. Savory lollipops can combine a tamarind flavor with a hot pepper flavor, helping to update a treat that is no longer just for kids. Other flavor combinations for savory lollipops included green apple-caramelized onion and cherry-cinnamon. The flavor combinations featured in these savory lollipops may also be used in a number of confections, such as chewing gum, gummies, and other boiled sweets, as well as in sauces, sorbet, and carbonated soft drinks.
The flavor of peppadew, a sweet and spicy South African pepper, made Bell Flavors' top ten list for beverage flavors emerging in 2010. (This year, it ranked third,going up a couple of notches from 2009.) Although its combination of sweetness and spiciness makes it suitable for savory dishes, the company feels that it can be targeted for sweet applications ranging from beverages to confections. The company has developed a number of prototypes for pepperdew including a tequila cooler, a chocolate confection, and a hummus dish.
Trysts with Tea
The October 2009 Ingredients section discussed how "ingredients of antiquity" are currently being rediscovered. This is certainly true for tea as it takes a number of exciting directions not only as a beverage but as an ingredient in a variety of food formulations including confections, frozen desserts, baked goods, sauces, and nutritional products. And, of course, in this evolution, there are a number of partnerships possible.
Anton Angelich, Virginia Dare's Group Vice President of Marketing, described how combinations of fruit and floral flavors are pairing up with different varieties of tea including black, green, oolong, and white, as well as rooibos. Some of these examples include Nectarine & Rose, Lemon & Lavender, Apple & Honeysuckle, Raspbery & Hibiscus, Strawberry & Elderflower, and Pomegranate & Orange Blossom. "What makes these floral pairings so appealing to consumers is the added aromatics that come from opening a bottle of ready-to-drink tea, or from steeping a floral-tea leaf blend," said Angelich. "Floral notes also connote freshness, beauty, and the aspirational concepts of cosmeceuticals," he added.
--- PAGE BREAK ---
Fruits—both exotic and traditional—also pair well with tea. These might include mangosteen, blackberry, acai, pomegranate, elderberry, black currant, yumberry, and blueberry. Frequently, exotic types are being paired with more familiar ones to give a tea a certain flavor twist.
Angelich emphasized that pairing fruit flavors with the right tea type is very important. "More subtle flavors such as mangosteen and yumberry work well with more delicate tea notes such as those of white tea," he said. "Stronger fruit flavors such as blueberry and black currant work well with black teas. Virginia Dare consumer research often indicates consumer preferences for more complex fruit blends such as acai-berry to deliver the best-tasting products.
Consumed hot, cold, and ready-to-drink, tea is the second most consumed beverage in the world, after water. In more recent times, however, tea is also finding increasing use in nontraditional applications. For instance, David Michael & Co. developed prototype tea-flavored cream cordials similar to coffee-based versions. These 34-proof cordials included such flavor combinations as Red Tea & Fig, Oolong Tea & Orange Blossom, and Green Tea & Vanilla Lime. Tea-flavored cream cordials can be made available in a wide range of flavor blends. Similarly, these tea combinations can be used in other distilled spirits, as well as cocktail mixes, ready-to-drink teas and bag teas, sauces and marinades, salad dressings, baked goods, confections, frozen dairy, and many others.
According to David Michael, while black tea remains a popular classic, green tea has shown the most growth and has won over consumers. White and red teas continue to emerge, while oolong (marketed as blue tea) is poised to be the next big trend.
More and more flavor companies are expanding their tea portfolios to take advantage of tea's versatility with other flavors and ingredients. International Flavors and Fragrances, New York, N.Y. (phone 212-765-5500, www.iff.com), developed a new range of tea flavors that include White Peony, Long Jing, Jasmine Green, Chrysanthemum, and many others. Bell Flavors developed prototype concepts that range from Strawberry Hibiscus to Yuzu Honey Hot Tea.
Floral Arrangements
This article previously discussed the aromatic relationships that floral flavors have with tea as a beverage or as an ingredient. However, these flavors are also forming attachments that go beyond tea, becoming a popular partner in a variety of other applications as well. (Sorry, tea, I hope you don't think floral flavors are fickle for doing this.)
The growing popularity of floral flavors is reflected in Mintel's flavor predictions for 2010—two of these six predictions are hibiscus and rose water. With studies showing that drinking hibiscus tea can lower blood pressure, hibiscus is expected to become a common ingredient in the beverage marketplace. As mentioned earlier, a water product was recently launched flavored with vanilla and hibiscus. Rose water, which was primarily used as a fragrance, is becoming a common flavor in ethnic foods. It may also help add a refreshing twist to traditional recipes, such as a brownie, where it can provide a subtle rose water flavor.
Bell Flavors and Fragrances offers a portfolio of floral flavors that include jasmine, rose, orange flower, peach blossom, violet, linden flower, lavender, elderflower, angelica, apple blossom, chamomile, lily, and hibiscus. With these flavors, the company developed such prototypes as Orange Blossom in Milk Chocolate, Rosewater Sweet Shots, Lavender Flavored Marshmallows, a Hibiscus-Raspberry Dressing, a Blackberry-Lavender Beauty Beverage, and a Rose-Flavored Rice Dish, to name a few.
David Michael showcased a Japanese-inspired flavor, cherry blossom, in a white chocolate truffle. According to the company, the flavor of cherry blossom is said to deliver a fragrant floral top note, along with dark berry, crisp citrus, and cooling eucalyptus. Other Japanese confectionery concepts might include a rose-flavored chewing gum.
As can be seen, the use of floral flavors, in combination with other ingredients, is definitely blossoming, making possible a wide variety of floral arrangements for your next wedding of flavors—sweet or savory.
--- PAGE BREAK ---
You Got Bacon in My Chocolate?
This article has made me feel sort of like a matchmaker. (I hope I'm not becoming the next Miss Lonelyhearts of ingredients.) It was kind of fun, though, to look at an ingredient that is making a top 10 list and then explore the different kinds of partnerships that can be formed with that particular ingredient.
This article has included several of these top ten examples, but by no means is complete. Take, for instance, sweet potatoes, which appeared on Mintel's flavor predictions for 2010. Sweet potatoes made the list probably because they are one of the most diversely prepared vegetables—they can be candied, fried, baked, or boiled. Furthermore, from a nutrition standpoint, they are rich in dietary fiber, beta carotene, and vitamins C and B-6. When combined with coconut milk, brown sugar, and hazelnuts as a topping, these ingredients can create Coconut-Infused Sweet Potatoes with Crunchy Hazelnut Streusel, a recipe offered by the Hazelnut Council. North Carolina Sweet Potato Commission offers a range of other formulations including sweet potato salsa, sweet potato chutney, and sweet potato and Belgian endive salad.
Coconut water is another hot trend and has appeared on a variety of emerging lists. Because of its gentle flavor, it can be easily blended with a variety of juices to create exciting products. Also, it can form advantageous relationships with floral aromas and flavors such as vanilla. And there are other ingredients growing in popularity, ranging from cucumber to mint.
But how successful will these marriages be? Will they fulfill the predictions of that skeptical wedding observer, who, shaking his head, remarked, "It'll never last." I guess only time will tell. Any marriage can have its risks and the reality for some of these unions may very well be divorce court. But, on the other hand, keep in mind that there have been unions that have lasted a very long time. Chocolate and peanut butter would be one good example. Remember those clever commercials back in the seventies and eighties for Reese's Peanut Butter Cups? You know the one with two people, one eating peanut butter and the other chocolate, colliding into each other.
Perhaps someday there may even be a commercial with the exclamation, "You got bacon in my chocolate."
After all, love is crazy.
---
Spicing Up Your Relationship
One of Mintel's flavor predictions for 2010 was cardamom, known to be intensely aromatic with a strong, distinctive taste. This Indian spice is moving well beyond ethnic cuisine, as demonstrated by
Cosmic Chocolate
, which recently launched a dark chocolate bar flavored with cardamom and oranges.
Hopefully, this sultry example might help set the mood for spicing up your formulating needs. And what better way to do that than to look at several emerging pairings of spices with other flavors that were identified in the McCormick Flavor Forecast 2010, released by McCormick & Co., Hunt Valley, Md. (phone 410-527-8753, www.mccormick.com). The report, which marks its tenth anniversary, is compiled by the company and some of the leading chefs and culinary authorities in the United States and Europe. And as you will soon see, this report—or should I say "wedding registry"—lists some of the most eligible couples that are merging (or emerging) to help inspire future formulating.
This article has already looked at two of the flavor pairings—watermelon and Thai basil as well as almonds and ale. But here are a few more included in the report that should provide your formulation with the necessary sizzle.
Roasted ginger and rhubarb is a complex combo, providing exciting layers of spicy and sour. Together, they can shake up traditional barbecue sauces or chunky chutneys for roasted meats, and their tangy punch (or 'pop of tartness') helps accent grilled fish preparations (Hot & Sour Tilapia with Gingered Rhubarb Sauce) and undated desserts (Roasted Ginger and Rhubarb Upside Down Cake). Roasting ginger rounds out its flavor and magnifies its warmth. Rhubarb's pucker is best appreciated when harmonizing with sweeter ingredients.
--- PAGE BREAK ---
The flavor of caraway—reminiscent of New York-style deli favorites such as pastrami, rye bread, and sauerkraut—can tame the aggressiveness of bitter greens that are a signature of Southern cooking. Caraway, an ancient spice imparting an earthy and robust taste with hints of fennel, can add dimension to bitter greens, a diverse category that includes kale, Swiss chard, chicory, escarole, arugula, dandelion, mustard greens, and many others. Potential formulations might include Caraway Corn Risotto with Bitter Greens, Grilled Bitter Greens with Caraway & Peach, and Arugula-Caraway Pesto Salad.
A familiar American spice mixture, Pumpkin Pie Spice (cinnamon, nutmeg, ginger, and allspice) can be paired with coconut milk to create a comfortably exotic eating experience. The duo, both having tropical origins, can be used in a range of soups, sauces, marinades, and sweets. For dessert, they can offer a new take on mousse, cheesecake, or bread pudding. Possible formulations include Caribbean Chicken with Mango Coconut Sauce, Coconut Tres Leches Cake, and Mix-and-Match Spiced Mousse Minis.
Roasted cumin and chickpeas provide a warm and earthy Mediterranean duet. Both ingredients trace their origins to the Middle East, although they are woven into the fabric of cuisines throughout Europe, Asia, Africa, and Latin America. When cumin is toasted, its fuller, nuttier character complements the buttery texture of a chickpea—a legume that is becoming increasingly popular in meat-free menus. The duo, associated with Indian curries and hummus, is finding its way into a broad range of other dishes, including Roasted Cumin and Chickpea Cassoulet, Shepherd's Pie with Cumin & Smashed Chickpeas, Warm Chickpea Salad with Roasted Cumin Vinaigrette, and Cumin-Spiked Lentil and Chickpea Soup. Even All-American pork and beans can be reinvented by this duo.
Turmeric, best known for its leading role in yellow curry powder and Indian cuisines, can team up with vine-ripened tomatoes to accent their subtle sweetness and add a mildly bitter, earthy note. The pair can be used to create a turmeric-spiced grilled chicken topped with Indian-style tomato salad. Or in the development of a turmeric-tomato sauce, which can add a vibrant layer on flatbreads. Or for putting a flavorful twist on the traditional BLT (bacon, lettuce, tomato) sandwich, try turmeric mayonnaise.
Chives and fish sauce can provide a savory fusion of French and Asian cuisines. The mild, oniony bite of chives adds a fresh green dimension and color to the salty complexity of fish sauce (an amber liquid that is a flavorful combination of fish, water, and salt). The pairing may be used for noodle bowls, marinades or dipping sauces for meat skewers, or red-wine vinaigrette. Potential recipes include a Thai-Style "Bolognese" (a spicy stir fry sauce for pasta), Asian Vegetables and Noodles with Peanut Sauce, and Deconstructed Spring Roll Salad (an appetizer with marinated pork chops).
The intensely aromatic coupling of bay leaves and preserved lemon is an alluring blend of bitter and salty tart. Bay leaves are found in many Mediterranean dishes, while lemons (preserved in salt and their own juices) are highly valued in North African and Middle Eastern cuisine. The duo is well suited for a variety of applications including braised tagine or roast chicken, seafood, pasta and grains, and in desserts such as lemon gelato or rice pudding.
The lively zip of Creole mustard can wake up a range of shellfish, such as shrimp, crayfish, crabs, oysters, and clams. With its distinctive tang, the mustard not only helps accent the briny sweetness of fresh shellfish, but it may be used to kick up salad dressings, batter for fried seafood, and fried-green tomatoes.
Next month's Ingredients section looks at how a number of meat formulation challenges can be addressed using sodium alternatives, fat replacement systems, antioxidants, herbs and spices, restructured meats, and other ingredient solutions.
by Donald E. Pszczola
Senior Associate Editor
[email protected]