In the past 20 years, store brands—otherwise known as private labels—have come a long way in the United States. When store brands were in their infancy in the 1980s, product quality was inconsistent and packaging was either generic looking or designed to mimic the leaders in a given product category. It's a much different story today.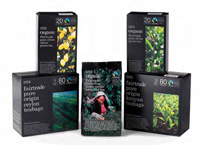 Over the past several years, retailers have invested in quality improvement, product and packaging development, and marketing their store brands, making them one of the few bright spots in the current retail landscape. At The Nielsen Co., we measure what consumers watch and what consumers buy and our research shows that store brands represented 21.8% of unit volume in 2009 while only comprising 10% of items in stores (Figure 1). In contrast, economy national brands made up 21.3% of sales, while taking up 29.7% of items in stores. Consumers, who might have thought twice about including store brands on their shopping list years ago, now regularly purchase store brands, seeing them as a good value for certain grocery and household goods. The recent surge in store brand sales has a number of retailers wondering what's next. What will the future hold for store brands in the U.S.?
The Future Is … Europe
To see the future of U.S. grocery store brands, we need look no further than Europe. Thanks to massive consolidation among retailers and early investment in store brands, some European retailers already report over 40% of store sales coming from store brands, according to Europanel.
Consolidation has enabled companies to invest in product innovation, consumer research, and marketing, all of which has contributed to strong store brand growth. In comparison, the retail universe in the U.S. is much more fragmented, and the most successful retailers tend to have 20–30% of sales coming from store brands, highlighting a significant opportunity for growth. Examining what European retailers have done and are doing to drive growth can provide clues to what could be in store for the American market.
Investing in Packaging
Product and package innovation is clearly one of the next frontiers for store brands. One of the most obvious signs that store brands are competing on a new level is that they are now regularly winning European design awards for their packaging. Retailers are recognizing that their store brands are an important physical extension of their overall brands in consumers' hearts and minds, and that consumer research and packaging improvements can pay off in increased sales. In Sweden, for example, ICA Sweden relaunched its organic range in March 2008, creating a complete line of organic products with updated packaging, and a fresh and modern look and feel. That year, the company won the Swedish Design Award for best packaging and the sales of ICA organic products increased more than 50% year over year.
Gone are the days when retailers attempted to copy the packaging of the leading national brands with the hopes of capitalizing on national brand recognition. Today, store brands are developing well-designed line packaging that differentiates their unique brands and delivers their own fully developed brand promises. That focus extends beyond creative concepts and into innovations around the packaging itself and the ways products are delivered to consumers. These days, packaging innovation is just as likely to come from a retailer as it is a consumer packaged goods company. In the U.S., Texas-based grocery retailer HEB started the trend of packaging tuna in flexible pouches after recognizing an unmet consumer need. That innovation was quickly adopted by the national brands and today, consumers have a choice of tuna packaging. Likewise, Plum, a European grocery manufacturer, developed a baby food package in a squeezable tube.
In addition to design and delivery, European retailers are leveraging package innovation to achieve cost savings as well. Grocery retailers are examining every single element of their product packaging and how consumers interact with it in the store. They're rethinking how they distribute their products, the formulation, label design, and even down to the bottle cap. For example, Asda, a UK-based grocery chain, recently reduced the size of their dishwashing liquid bottle. The result was a more "eco-friendly" design and a cost savings of 5 pence per bottle. In a similar vein, Asda researched alternatives for toilet paper packaging and discovered that packing rolls side-by-side instead of on top of each other enabled them to pack 25% more product on the shelves, reduce costs by 7 pence per pack, and increase sales by 5%. While these two examples are household goods, similar strategies can be applied to food packaging.
--- PAGE BREAK ---
Value(s) Marketing
Another area where European grocery retailers are leading the way is in the area of values marketing. While the focus on traditional values of price, promotion, pack size, and performance is still dominant, European retailers are increasingly aligning their store brands with the values of their customers. European consumers are demanding a greater emphasis on company ethics, sustainability, and transparency regarding the origin of products. As a result, more European store brands highlight organics, local sources, fair-trade, sustainable practices, and/or ethics in their packaging and promotions. In the U.S., Walmart is offering more organic options and is much more in tune with the carbon footprint of each store, hoping that their consumers give them credit for their efforts to reduce their energy usage. We expect to see other American retailers follow suit and continue to expand upon the values marketing trend.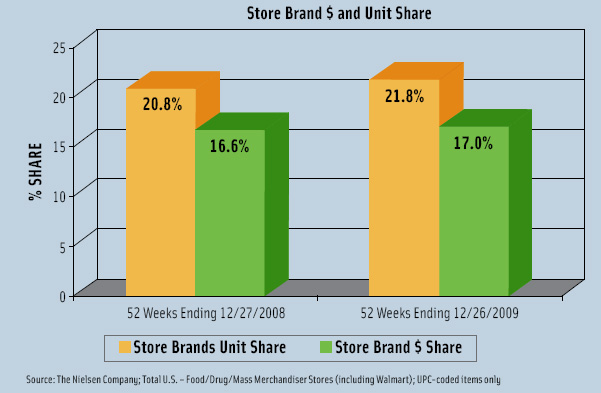 Another value important to European consumers is heritage—both in the history of the banner (store name) and the local region or nationality. Longstanding companies understand their banner equity and what they stand for in the mind of the consumer. In the U.S., the Meijer chain works hard to maintain its heritage and connection with consumers. Fred Meijer, who developed the chain into the super-center powerhouse it is today, still sits on the board. Meijer's mid-tier store brand products carry the phrase "quality assured by Fred Meijer" on their labels. The quality of Meijer Gold store brand products are assured by Hank and Doug Meijer, and that approval still carries weight with Meijer customers.
Assortment: Less is More
There's a general misconception in the retail grocery industry that increasing the breadth of assortment will automatically drive sales. However, numerous studies have shown that having a bigger and bigger assortment doesn't necessarily drive sales. In fact, it can have the opposite effect, overwhelming consumers instead of encouraging them to buy.
After years of increasing the variety of products offered to customers, retailers are finally beginning to understand that sometimes, less really is more. In 2006 and 2007, retailers added more products than they delisted or removed from the shelf, but for the first time in years, retailers delisted more products than they added to their shelves in 2008. Retailers delisted 9.1% of their products in 2008, while adding only 8.2% of new products (Figure 2). Retailers don't necessarily need a bigger selection to succeed; they need to have the right selection. To arrive at the right mix, they are relying more upon consumer research to determine how product changes could affect sales moving forward.
One new trend is that retailers are looking beyond sales to determine the incrementality of adding and/or delisting products. Aisle by aisle, department by department, European and U.S. retailers are looking at which categories occupy too much real estate or space and which categories have too little space. Rather than reducing selection by a given percent across the board in all categories, more and more retailers are using sophisticated tools (including Nielsen solutions) that can model incrementality and illustrate the expected incremental sales increases driven by adding a particular item or expanding categories. Conversely, it can also guide retailers on where to cut assortment without impacting sales. Using consumer panel metrics and competitive store sales, it's possible to determine when adding more options isn't expected to translate into increased sales, enabling retailers to get closer to the "ideal" product mix with greater confidence.
Handheld yogurt pouches and children-oriented yogurt are good examples of a new product that expanded the category. These new products initially drove sales because of innovation that filled a unique consumer need. But after creating the category, the more brands a store offered did not necessarily translate into continued new sales.
The end result is that, in general, retailers are getting more sophisticated and more disciplined in selecting which products to offer to consumers. Sophisticated retailers recognize the difference between a new product that expands a category and one that adds costs to the category. Which flavors or forms are truly unique? Which are not considered unique, but simply a trade-off with other similar product offerings? In the future, we may see more retailers asking for proof of category growth before agreeing to add a new product to their shelves.
--- PAGE BREAK ---
The Marketing Support Link
By relying more on sophisticated metrics, retailers have been able to see that store brands behave differently, depending on their role and degree of manufacturer marketing support for the category. For example, Nielsen research shows that store brands or private label products do not do as well in highly marketed categories where manufacturers traditionally spend large amounts of money on advertising and brand promotion, such as carbonated beverages. Retailers recognize that for a new product to succeed, they need to generate consumer awareness around it. In categories with a lot of competing advertising, it is more challenging for store brands to make inroads in consumer awareness. In low-marketed categories, manufacturers are spending 40% less than average on marketing, making it easier for store brands to stake claim to consumers' hearts and minds. As a result, store brands typically do the best and provide the greatest return on investment when there is little or no brand marketing in a given category.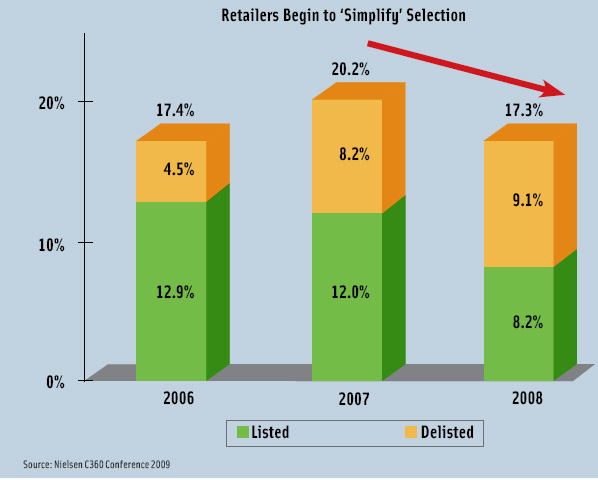 Just as retailers are growing more sophisticated, today's consumers are more educated, making retailers work harder at product differentiation. Consumers are reading ingredients carefully and they know that 100% aspirin is 100% aspirin, regardless of the brand name attached to it. Unless there is some other differentiation of the product, many consumers are no longer willing to spend the extra money for a name brand especially in low-marketed categories. In categories where they've tried the store brand and feel it's equal to the leading name brand, consumers recognize the value in store brands and state they are not going back to the higher-priced national brands unless the national brand gives them a compelling new reason to do so. National brands are finding it more and more challenging to come up with a valid reason.
A Fanatical Focus on Quality
To remain competitive, retailers growing their store brand must make sure that the quality of their products is equal or better than name brand competitors. If their store brands are not delivering on quality, the consumer may choose it based on price for a time, but the retailer will lose the consumer once his or her economic situation improves. More retailers are investing in market research to accurately determine which of their products are fulfilling their brand promise and which products are falling short.
One such retailer is Wegmans, which has conducted extensive consumer research with over 10,000 consumers. The retailer actively promotes its Wegmans brand products that beat the name brands in blind taste tests. Perhaps more importantly, Wegmans and many other retailers are using consumer research to identify poor-performing products and are reformulating them based on consumer feedback. Similarly, Walmart conducted research on several thousand of its Great Value items and are reformulating those that failed to measure up.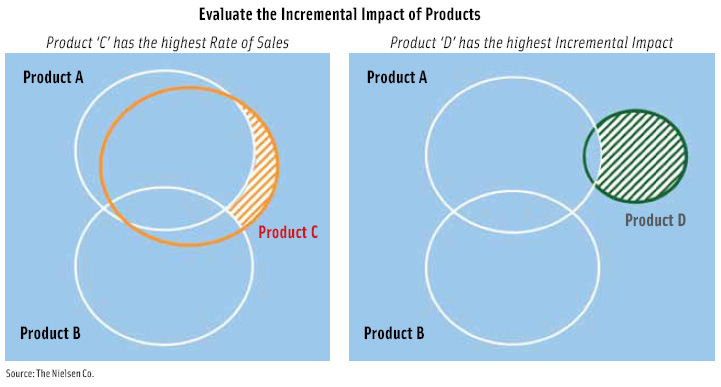 Store Brand Dominant Formats Growing
As more retailers experience success with their store brands, we wouldn't be surprised to see store-brand dominant formats growing. While Kroger and Supervalu have been in this category for a while, we are now seeing a number of traditional food retailers, such as Walmart, Publix, Food Lion, and A&P experimenting with a more limited assortment format with expanded store brand assortments. However, these store brands are not as dominant as you would see in an Aldi or Sav-A-Lot.
Moving Toward a Three-Tier Model
In Europe, like the U.S., store brands tend to be divided into a three-tiered model of good, better, and premium categories. The good category represents the value tier, better represents the name-brand equivalent, and the premium category is reserved for unique, high-quality products.
Most large U.S. retailers have three tiers, along with specialty lines, but British grocery retailer Tesco is testing a fourth discount tier, which falls in between the value tier and the national brand equivalent. It's a risky move for Tesco, in that it could move consumers to trade downward, but it could also move them up as well, depending on how consumers respond. It will be interesting to see how this experiment plays out.
We see retailers adding new lines of store brands, including health and beauty lines, baby lines, and healthy kids' foods lines. While growth in assortment is expanding most in the premium/specialty tiers, the greatest sales growth is at the value and middle tiers. While the economy has hampered growth of the premium tier, this tier allows retailers to create items that don't exist anywhere else, increasing their brand's differentiation and appeal and driving store loyalty.
An Exciting Future for Store Brands
In summary, we are currently in the midst of an exciting period of potential growth for store brands. Due to the struggling economy, more consumers have tried store brands in recent years than ever before, and most have been pleasantly surprised by what they've found. In many cases, they've found high quality at a good price. As European grocery chains have proven, there is still considerable room for growth in the American store brand category. The challenge for U.S. retailers is to capitalize on their improved brand recognition and to make sure that they keep their newfound customers happy as the economy improves.
Sophisticated retailers are utilizing every tool available to them, including customer research, product concept testing, branding, packaging, new formats, and the use of metrics to determine the optimal selection to drive sales (Figure 3). The retailers that come out on top will be those that take the best of what European grocery retailers have accomplished and pair it with a laser focus and commitment to innovation appropriate for the American market.
by Lisa Rider is Vice President, Product Leadership, The Nielsen Co., Schaumburg, IL, ([email protected])