The world market for pasta is projected to reach 17.9 million tons by the year 2015, according to a new report from market researcher Global Industry Analysts Inc. A comprehensive review of pasta consumption, innovations, and product introductions, "Pasta: A Global Strategic Business Report," finds that the United States and Europe dominate the world pasta market, accounting for 60% of consumption. Per capita consumption of pasta varies among different regions worldwide. While Japan consumes approximately 1.8 kilograms of pasta per year, Italy (not too surprisingly) can consume as high as 28.6 kilograms of pasta each year. America's per capita consumption reached 8.9 kilograms per year in 2008.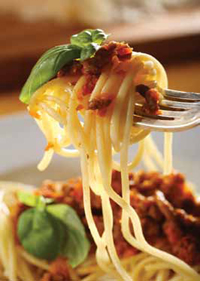 In a study published in Supermarket News, Americans bought nearly $1.6 billion worth of pasta in supermarkets during a recent 12-month period, placing it among the top 50 items in the grocery aisle by dollar sales. There are a number of reasons for pasta's popularity, including its easy preparation, taste, versatility, comforting qualities, and—at least in my opinion—its filling nature and prices that fit more readily in people's budgets, especially in a tougher economy.
However, not all pastas are equal, and in recent years an increasing share of sales are coming from the "healthy" pasta category—pastas made with more whole grains or added nutrients such as calcium, fiber, or omega-3 fatty acids—rather than from traditional white pastas made with a refined wheat flour called semolina. One might say that today's food formulators are using their noodle to create better-for-you pastas that make wiser use of carbs without sacrificing traditional texture, taste, or functionality.
Of course, this is not always an easy task. While whole-grain or multigrain pastas offer better nutritional value than refined products, at the same time challenges associated with achieving the right taste or texture need to be overcome for the product to be acceptable. Compared to 100% whole-grain pastas, versions made with blends of whole and refined grains may be less coarse and heavy; offer a smooth, less gummy texture; and have an appealing flavor. Furthermore, if these pastas contain at least 51% whole wheat (or another whole-grain flour), they can take advantage of a whole-grain label.
Fortunately, there has been much progress in overcoming these formulating challenges. For those skeptics, consider that only a few years ago, it would have been very difficult to find better-for-you pastas in grocery stores, but today this is not the case, as more food manufacturers have pondered the pasta possibilities and are launching more healthful products into the marketplace.
For example, Caesar's Pasta Products, Blackwood, N.J., offers a line of gluten-free, microwavable pasta meals made with rice flours. Wegmans Food Markets, Rochester, N.Y., developed Wegmans Super Pasta, a product that contains an entire serving of whole grains; extra protein and fiber; and such nutrients as calcium, vitamin D, and ALA omega-3s. In the package, the pasta is a light brown color, but as it cooks, it turns to a lighter shade—close to that of traditional white pastas. In both taste and appearance, it resembles traditional white pasta, the company claims. Furthermore, according to Christine Coffey, the company's Product Development and Education Specialist, "It holds its shape and texture nicely, even with a bit of overcooking." And Jovial Foods, Franklin, Conn., a company formed earlier this year, launched a whole-grain pasta made from einkorn wheat, one of the earliest cultivated forms of wheat. The ancient grain, reportedly high in thiamin, is a good source of protein, dietary fiber, and a number of B vitamins. In addition, einkorn has an oxygen radical absorbance capacity twice that of durum and it has a higher content of tocotrienols than other species of wheat.
This article will look at some of the different ways that pastas are being reformulated. The use of ingredients such as whole grains, resistant starches, fibers, omega-3s, flaxseed, legumes, and other healthier options can make into reality pasta products that can aid in weight management, support healthy blood sugar levels, and be part of a diet for those individuals with gluten sensitivities. While much work still needs to be done, the formulation of these products has certainly come a long way.
--- PAGE BREAK ---
Whole Grains and Pasta
It may have just gotten easier for formulators to incorporate the benefits of whole grains into new pasta products and applications while overcoming the functionality challenges typically associated with the replacement of traditional refined pasta flours.
A new line of pastas for food manufacturers is based on Ultragrain®, a whole-wheat flour that combines the nutrition and fiber of whole grain with the taste, texture, and appearance of white flour. The next-generation product, Ultragrain Pasta, is offered by ConAgra Mills, Omaha, Neb. (phone 402-240-5153, www.conagramills.com) and J.M. Swank, a national food ingredient distributor.
Five varieties of pasta are available. Penne, macaroni, rotini, and spaghetti contains 51% Ultragrain while a 51% whole nine-grain orzo is made with Ultragrain, Sustragrain (an ultra-high fiber whole grain made from a patented barley), amaranth, quinoa, teff, sorghum, millet, and other whole grains. These pastas—which are said to have a mild flavor, smooth texture, lighter color, and no brown specks—qualify for wholegrain label claims and are suitable for frozen, canned, and shelf-stable applications.
"With Ultragrain Pasta, there is tremendous opportunity to make whole-grain pastas and pasta applications mainstream, providing the look, flavor, and texture consumers prefer," noted Mike Veal, ConAgra's Vice President of Marketing.
From foodservice to food manufacturing, increased whole grain content and higher fiber are now possible in any consumer-friendly pasta application, added Bob Jansen, Senior Director of Ingredient Marketing for J.M. Swank. "Our ability to create custom shapes beyond the initial products, such as bow tie and lasagna, only adds to the line's versatility."
ConAgra developed a number of prototypes to showcase the benefits of its new pasta. These included Mediterranean Pasta Salad with Whole 9-Grain Orzo, Braised Short Rib Ragu over Ultragrain Penne, Wisconsin Cheddar Mac and Cheese featuring Ultragrain Macaroni, 9-Grain Macaroni made with Ultragrain, Sustagrain, and Ancient Grains, and other popular pasta dishes.
A recently introduced product, Eagle Mills Gluten-Free All-Purpose Multigrain Flour Blend from ConAgra, can also create potential opportunities for pasta formulating. The gluten-free ingredient combines the whole-grain flours of sorghum, amaranth, quinoa, millet, and teff with brown rice flour, corn flour, corn starch, tapioca flour, and rice flour. Each serving delivers 15 g of whole grains, 6 g of fiber, and healthful vitamins, minerals, and antioxidants. The blend can be used to achieve optimal texture, flavor, appearance, and functionality in the development of a gluten-free pasta dough.
At the 2010 IBIE show, a number of whole grain developments were showcased that have potential in pasta applications. Here are a few:
A whole-grain multi-flour blend from Dakota Specialty Milling, Fargo, N.D. (phone 800-426-7045, www.DakotaSpecialtyMilling.com), consists of white wheat, triticale, oats, rye, barley, millet, buckwheat, and brown rice). The ingredient, Multigrain Blend 100, is suitable for incorporating into pasta, delivering taste, smooth texture, and nutrition. It is also available in organic grains.
--- PAGE BREAK ---
The growth of the gluten-free market has led to a renewed interest in sorghum, a cereal grain grown throughout the world, according to the United Sorghum Checkoff Program, Lubbock, Texas (phone 806-687-8727, www.sorghumcheckoff.com), established in 2008. Sorghum's ability to serve as a substitute for wheat is driving new interest in sorghum food uses, including pasta. White, food-grade sorghums can be milled directly into whole-grain flour and its neutral, sometimes sweet flavor and light color make it easily adaptable to a variety of dishes. Because sorghum flour does not contain gluten, formulators often incorporate a binder such as xanthan gum or cornstarch to add "stretch." Many national restaurant chains now feature gluten-free menu items, including Olive Garden, Carrabba's Italian Grill, and Romano's Macaroni Grill.
From its diverse portfolio of ingredients, ADM, Decatur, Ill. (phone 217-424-5200, www.adm.com), offers several solutions that are suitable for pasta applications. For example, to improve value, formulators can use regular wheat grades and vital wheat gluten in place of extruded durum wheat semolina in pastas. Kansas Diamond white whole-wheat flour can help create products with the health benefits of whole wheat flour and the consumer appeal of white flour. And recently ADM launched a line of sorghum flours which may find use in pasta applications. The company also makes available a line of beans powders that will be described later in this article.
And for use in whole-grain or gluten-free pastas where functional qualities such as dough elasticity may be compromised, the Beneo Group, Morris Plains, N.J. (phone 973-539-6644, www.beneo.com), recently introduced a vital wheat gluten solution. The ingredient, BeneoPro VWG, offers technological properties such as improved dough strength, viscoelasticity, water absorption, and shelf life.
Fibers and Pasta
In an interview with Food Technology, the specific benefits of inulin in pasta were addressed by Mar Nieto, Senior Principal Scientist for TIC Gums Inc., White Marsh, Md. (phone 410-273-7300, www.ticgums.com). Inulin is a neutral, linear gum composed of fructose linked units with a terminal glucose. The common grade of inulin has an average degree of polymerization (DP) of approximately 7, which makes it a very small polysaccharide compared to other gums.
"Being linear and non-ionic, it has shown very good compatibility with many food systems as a fiber ingredient, including pasta," said Nieto. "Fortification of various foods with inulin fiber has been very successful because inulin does not adversely thicken foods, is compatible with protein, and is one gum that has been clinically studied exhaustively for its prebiotic effects."
Nieto continued, "Functional fiber doses in pasta higher than 3 g per serving can easily be achieved with inulin without adverse effect on flavor, texture, or integrity of the structure of cooked pasta. Other low-viscosity gums, particularly the branched gums such as gum Arabic and larch, are incompatible with the gluten in flour and can either fully or partially destroy the gluten and pasta structure. On the other hand, the gluten-compatible, linear and non-ionic gums such as guar and methylcellulose thicken a lot and cannot be used at a functional dose as a fiber ingredient, making inulin the suitable fiber choice for fortification of pasta."
For pasta formulating, the company offers such ingredients as TIC Pretested Inulin LV-10, TICorganic Inulin LV-10, and a functional blend of inulin and Gum Arabic Nutriloid 7000.
Dow Wolff Cellulosics, (phone +49 5161 44 2317, www.dowwolffcellulosics.com), a business unit of The Dow Chemical Co., Midland, Mich., has developed a gluten replacer derived from cellulose that can be used to enhance pasta products. The fiber ingredient, Methocel Gluten Replacement, reportedly eliminates many technical problems associated with gluten removal and allows food manufacturers to develop products without sacrificing look, taste, and texture.
A line of dietary fiber ingredients, Vitacel®, is available from J. Rettenmaier USA, Schoolcraft, Mich. (phone 269-679-2340, www.jrusa.com). In pasta products, these ingredients are suitable for fiber enrichment, and can provide a number of functionality properties including stabilization of pasta fillings and production process optimization. The dietary fiber concentrates are derived from such sources as wheat, oat, potato, pea, apple, and sugarcane. The ingredients offer excellent sensory characteristics, are neutral in taste, and provide water-binding properties.
--- PAGE BREAK ---
Oat fiber offered by Grain Millers, Eugene, Ore. (phone 541-687-2155, www.grainmillers.com), can provide pasta applications with increased process flexibility and improved labeling claims. Oat Fiber BCS30, available in organic and conventional forms, may be used as an economic substitute for many other fibers, and can be custom designed to meet the customer's specific application. The ingredient reportedly provides a number of benefits, including texturizing properties and high-fiber binding, and is an excellent source of soluble and insoluble fibers.
At the 2010 IFT Food Expo, Gum Technology Corp., Tucson, Ariz. (phone 520-888-5500, www.gumtech.com), showcased a pasta prototype, Unholy Cheeseburger Ravioli. The product, featuring the flavors of a cheeseburger, demonstrated the effective use of gums from the company's Coyote Brand line.
A water-soluble dietary fiber formula clinically proven to promote weight loss, maintain healthy cholesterol levels, and support regularity is available in a grade developed specifically for use in all types of frozen foods including pasta meals. The ingredient, LuraLean from AHD International, Atlanta, Ga. (phone 404-233-4022, www.adhintl.com), reportedly maintains its efficacy completely when flash frozen, and offers a way to add fiber content without compromising taste or texture. The extremely fine mesh powder delivers a smooth mouthfeel in addition to being freeze-, pH-, salt- and sugar-stable.
Resistant Starch and Pasta
As its name suggests, resistant starch resists digestion and passes to the large intestine. Functioning as a dietary fiber, it can be used in the formulation of pasta to provide a number of healthful benefits without compromising the taste and functionality attributes of traditional pasta products.
A resistant starch from high-amylose corn, the Hi-maize brand was developed by National Starch Food Innovation, Bridgewater, N.J. (phone 908-685-5555, www.foodinnovation.com). The natural white cornstarch powder, which has 55–60% insoluble fiber, can be easily incorporated into pasta products. According to Rhonda Witwer, the company's Senior Business Development Manager of Nutrition, it can replace up to 20% of the semolina flour in pasta. Most formulations require little adjustment except for the addition of water and vital wheat gluten.
Clinical studies have shown that the dietary consumption of Hi-maize resistant starch does not cause high spikes in blood sugar levels, but rather actively helps to maintain healthy blood sugar levels by increasing insulin sensitivity. And as a fiber, resistant starch can help contribute to satiety by taking longer to break down in the stomach, giving a longer sensation of fullness. A study from the University of Toronto recently found that the Hi-maize brand of wholegrain corn flour and resistant starch may help increase satiety and lead to reduced food intake. Terry Finocchiaro, Director of Nutrition Research and Development at National Starch, noted, "The wholegrain corn flour containing high levels of resistant starch enhanced satiety more robustly than we had expected or could have predicted based upon the resistant starch content alone. It appears that the non-starch components of Hi-maize whole-grain corn flour enhance the benefits of resistant starch to produce even stronger satiety benefits."
Pasta products using resistant starch are appearing in the marketplace. For example, the Essential Glycemic Health pasta line from Racconto contains High-maize resistant starch which, according to claims on the package, can help maintain healthy weight, healthy blood sugar levels, and energy balance. The pastas, available in three varieties (penne rigate, rotini, and rigatoni), are reportedly rich in whole grains (48 g of whole grain per serving), provide an excellent source of fiber (11 g of dietary fiber per serving vs 2 g of fiber in standard white pasta or 5 g in whole-wheat pasta), and offer only 170 calories per serving.
Researchers at National Starch's Texture Center of Excellence found that the new pasta line tastes much more like white semolina pasta than whole-grain pastas on the market. "When compared with two leading brands in the whole grain pasta market, the Essential Health brand pasta exhibited a much better flavor profile without the 'woody,' earthy flavor notes typically found in these types of pasta," said Janet Carver, Senior Leader for the company's Culinology team. Agnes Jones, Principal Culinologist for the team, added, "We found that texture, cook times, and cooking tolerance were the closest we've seen to regular, commercially made semolina pasta."
Another recent launch that uses Hi-maize is Wegman's Super Pasta, which was mention briefly in the introduction to this article. One of the new pasta's most important nutritional advantages is extra fiber, noted Jane Andrews, Wegman's Nutrition and Product Labeling Manager. "Super Pasta has fiber from whole grains, as well as some resistant starch, a kind of fiber that comes from corn. Both types slow down the rate of digestion, so you feel fuller longer, and the rise in blood sugar is more gradual and sustained. That's good for everybody, but especially for people with diabetes."
--- PAGE BREAK ---
Other resistant starches are available for potential use in pasta products, as well. A resistant wheat starch (Fibersym®RW) from MGP Ingredients, Atchison, Kansas (phone 866-547-2122. www.mgpingredients.com), can boost fiber content in pastas. It delivers 85% total dietary fiber, and provides a smooth texture, neutral flavor, and white color. A potato-based resistant starch (PenFibe™ RS) offered by Penford Food Ingredients, Centennial, Colo. (phone 303-649-1900, www.penfordfoods.com), can deliver a good source of fiber in pasta without affecting its taste, texture, or color.
Micronized Bran Blend and Pasta
A blend of wheat bran and full-fat germ has been micronized so fine that it is indiscernible from flour, according to its developer, Watson Inc., West Haven, Conn. (phone 203-932-8266, www.watson-inc.com). The product, Perfect Grain™, can partially replace flour in the production of better-for-you pastas.
The new product reportedly has an average particle size of about 1.5 microns, which is well below the size that can be detected by the teeth or tongue. Produced by specialized equipment that grinds the bran blend into near colloidal particle dimensions, the resulting product has low water retention and virtually no organoleptic perception of bran particles. The company claims that by replacing part of the flour with the ingredient, a product such as pasta can be transformed into a whole-grain food.
The ingredient, which works well with a variety of flours, is said to be versatile and flexible, allowing the formulation of wholegrain foods which otherwise would have been difficult challenges. Whole-grain pasta would be one potential area for this micronized blend.
Pulses and Pasta
Regular consumption of foods containing pulses can help to lower blood cholesterol, manage blood sugar levels, and assist with weight management. Pasta presents a growing opportunity for the use of this type of ingredient.
Using precooked pulse flours in pasta manufacturing is an innovative way to formulate new products and to incorporate pulses into the diet of consumers. Flours, including lentil, green pea, and black bean, are available from InfraReady Products, Saskatoon, Canada (phone 306-242-4950, www.infrareadyproducts.com).
Whole pulses are exposed to infrared energy and then milled into flour, which reduces the cooking time and processing requirements while retaining the nutritional properties of the raw product. The precooked flours are said to increase the digestibility of the pulses in the pasta compared to using raw pulse flours. The low-fat flours contain high levels of protein, fiber, calcium, magnesium, iron, and folate.
Precooked pulse flour pasta is made using a blend of 30% precooked pulse flour and 70% wheat flour. Pulse pasta has a mild flavor, a rich color, and a firm texture. The product retains its texture during cooking, making it an ideal ingredient for canned pasta, frozen or prepared entrees, and soups.
The combining of pulses with other better-for-you ingredients is allowing food manufacturers to help transform the traditional perception of pasta. For example, Grain Millers, Eugene, Ore. (phone 800-443-8972, www.grainmillers.com), a processor of oats, wheat, barley, rye, corn, flax, and multigrain blends, is reportedly working with its customers to develop a pasta made with milled flaxseed and chickpea.
--- PAGE BREAK ---
Pasta manufacturers such as Barilla are using pulse flours in some of their products. For example, its Barilla® Plus® pasta line incorporates pulse flours as well as flaxseed, giving it twice the fiber of regular pasta and 17 g of protein per serving. This pasta line is part of a "better for you" pasta category that, according to Nielson data, has grabbed a 14.5% dollar share of dry pasta sales since 2005.
In addition to whole pulse flours, fractions of pulses such as pea protein, starch isolates, and fiber concentrates can create new opportunities for improving the nutritional profile of food products such as pasta, noted the Northern Pulse Growers Association, Bismarck, N.D. (phone 701-222-0128, www.northernpulse.com). Pea proteins, for example, are highly soluble with excellent water-holding capacity, and can give structure to gluten-free products. They may also have potential as an egg replacer.
New to its line of fibers (oat, soy, and barley), Pea Fiber 300 from Sun Opta Ingredients Group, Chelmsford, Mass. (phone 781-276-5141, www.sunopta.com/ingredients), can be incorporated into pasta foods. It has a bland flavor, light color, and smooth texture, making it a suitable ingredient for fiber fortification, and contains up to 90% dietary fiber.
According to Patricia DeMark, Edible Bean Scientist for ADM, Decatur, Ill. (phone 217-424-5200, www.adm.com), pasta made with the company's line of Vegefull™ cooked bean powders "may rival any traditional pasta, with fewer calories, great taste, and added nutrition and functionality." The ingredient from ADM consists of whole prepared beans that are cooked, dried, and ground into a whole-food powder that extrudes consistently over many applications, including pasta and gluten-free pasta.
"Whole cooked beans are vegetables that deliver complex carbohydrates, and naturally contain more amylase than what is present in typical cereal grains. Additionally, several bean classes are listed among the USDA's top food sources for dietary fiber: navy, red, pinto, and black beans," said DeMark. "Comparatively, enriched semolina flour contains 4% fiber while cooked navy bean powder contains more than 20% plant-based fiber. Developing pasta with 8 g of natural fiber per serving (32% of the daily value) is achievable with VegeFull."
Beans are also commonly consumed as a food source of vegetable protein and micronutrients such as potassium, magnesium, folic acid, and choline. Combining all of these nutritional components—complex carbohydrates, fiber, protein, vitamins, and minerals—nets a decrease of 10 calories per serving of pasta (56 g), compared to pasta made solely of enriched semolina flour, noted DeMark. And using Vegefull bean ingredients can be done without detriment to the taste, texture, and visual appearance of these products while shortening the cook time.
"Producing pasta with VegeFull cooked bean powder has great potential for food manufacturers that want to target consumers looking for nutritious products or those who want or need to avoid wheat," she emphasized.
Flaxseed and Pasta
Flaxseed, an oilseed, is a nutritionally dense ingredient, providing many nutrients consumers are seeking in their food intake, such as fiber, antioxidants, and omega-3 fatty acids. One area that can take advantage of flaxseed is pasta, as is made evident by a number of products appearing in the marketplace.
For example, Effingham, Ill.-based Hodgson Mill Inc. features a gluten-free brown rice pasta made with milled flaxseed. An alternative to traditional white pasta, this line of product includes such varieties as penne, linguini, spaghetti, angel hair, and elbow. Other products made with milled flaxseed include organic whole-wheat pastas such as spaghetti, fettuccine, penne, and lasagna.
--- PAGE BREAK ---
Flaxseed products, under the brand name MeadowPure™ from Pizzey's Milling USA Inc., Gurnee, Ill. (phone 847-244-7133, www.pizzeys.com), has high soluble fiber, which provides structure, helps balance moisture, softens textures, and delays staling in storage. Golden flaxseed can also give the pasta a rich golden color. Adding 1.3 g flaxseed per serving can qualify the product for a nutrient content claim as an excellent source of ALA omega-3.
Glanbia Nutritionals, Monroe, Wis. (phone 608-329-2800, www.glanbianutritionals.com), offers OptiSol® 5000, a highly functional ingredient with strong hydrocolloid properties that can be used to replace fats, gums, and gluten in products such as pasta while improving flavor, texture, and shelf stability. The ingredient improves nutritional content with omega-3s, fibers, and lignans from natural flax.
Recently, Grain Processing Corp., Muscatine, Iowa (phone 563-264-4265, www.grainprocessing.com), formed a strategic alliance with ENRECO Inc., a leading manufacturer of stabilized ground flaxseed ingredients and custom grain blends. This collaboration allows GPC to become the exclusive U.S. marketer of ENRECO's Sterling Choice® brand of flaxseed ingredients to the food industry, and such a development holds potential for the pasta sector. Adding flaxseed to pasta will significantly improve product nutritional profiles and ingredient label appeal. Furthermore, GPC's wide range of starches, when combined with the addition of flaxseed, can provide a number of functionality benefits to pasta, such as overcoming traditional challenges associated with gluten-free versions.
Fruits and Pasta 
Hey, it worked for pierogi, an ethnic dough-based dish, so why not pasta? The incorporation of different kinds of fruit into pasta can help create a sweet-savory formulation with increased nutritional properties, as well as a colorful appearance. Let's look at two examples.
Blueberries are known for their color, functionality, and antioxidant benefits. In the creation of gluten-free pastas, blueberries can pair well with oats, amaranth, buckwheat, chia, millet, sorghum, quinoa, and other such grains, according to the U.S. Highbush Blueberry Council, Folsom, Calif. (phone 650-824-6395, www.blueberry.org). And because blueberries are a popular ingredient, they can add a comforting or homey sort of presence to these formulations.
Furthermore, blueberries can be crushed into a basic pasta dough to add its distinctive sweet flavor and color. The blueberry pasta can be complemented by other side dishes such as corn, roasted red peppers, or a blueberry dressing. Classic recipes ranging from Macaroni Maruzze with Blueberries to Umbrian Gnocchi with Duck and Blueberries may provide stimulus for new antioxidant-rich pasta concepts that utilize this berry.
Raisins are frequently associated with breads, but this fruit, known for its antioxidants, potassium, and dietary fiber, can find its way into a variety of creative pasta recipes. Some of these recipes can be found on the website of the California Raisin Marketing Board, Fresno, Calif. (phone 559-248-0287, www.calraisins.org). These might include Butternut Squash-Raisin Ravioli with Brown Butter-Citrus Vinaigrette, California Raisin Pasta, and California Raisin, Caramelized Onion, Blue Cheese Orzo Pasta. Shown in the photo is a Tex-Mex Pasta made with raisins.
And you thought tomato was the first thing that comes to mind when thinking about pasta? These fruits may just widen your pasta horizons.
Omega-3s and Pasta
A line of new pasta sauces are made with a microalgae-derived DHA (docosahexaenoic acid) from Martek Biosciences Corp., Columbia, Md. (phone 410-740-0081, www.martek.com). According to the company, this is the first pasta sauce containing life's DHA that will be available to U.S. consumers.
--- PAGE BREAK ---
The pasta sauces— marketed under the label Francesco Rinaldi ToBe Healthy—incorporate the long-chain omega-3 fatty acid. The product, manufactured by LiDestri Foods, is offered in four varieties—Tomato & Basil, Garden Vegetable, Garlic & Onion, and Spicy Marinara.
Studies have shown that DHA omega-3 serves as a primary building block for the brain and the eyes, and supports brain, eye, and cardiovascular health throughout life. Prior to its application in pasta sauces, Life's DHA was found in numerous foods, beverages, infant formula, and supplements.
Cheese and Pasta
Cheeses that are low in fat or low in sodium may provide important options in the formulating of pasta products. For example, Sargento Food Ingredients, Plymouth, Wis. (phone 800-558-5802, www.sargentofoodingredients.com), offers a better-for-you cheese line that includes reduced-fat and reduced-sodium versions. The reduced-sodium cheeses have 25% less sodium than traditional versions, but they are made without using sodium replacers or flavor-masking ingredients. Reduced-fat cheeses have the taste and melting characteristics of their regular counterparts but with 33% less fat.
A prototype developed by USDEC/Dairy Management Inc., Rosemont, Ill. (phone 717-794-1050, www.InnovateWithDairy.com), illustrates the potential directions that a future pasta can take. The prototype, Pepper Jack Mac & Cheese, is made with a combination of 50% reduced-fat pepper jack cheese, pepper jack cheese, and white pasteurized prepared cheese product with jalapenos. The product is described as traditionally comforting with a flavorful twist, and could be suitable for consumers who are seeking in-home meal solutions such as quick-prep foods and healthier frozen entrees.
Cost Savings and Pasta
To help reduce pasta costs, Advanced Food Systems, Somerset, N.J. (phone 800-787-3067, www.afsnj.com), developed an ingredient system, Actobind® PCI, that functions as a semolina replacer.
When added to an existing pasta formula, the hydrocolloid texture and flavor system reportedly improves the cooked yield by as much as 15%, while maintaining the traditional cooked texture. This allows a reduction in the amount of semolina needed and consequently a significant savings to the manufacturer.
According to the company, the system may be used in fresh or frozen pasta. It improves freeze/thaw stability, maintaining firmness and better texture with less retrogradation compared to pasta made from 100% semonlina, even after a series of freeze/thaw cycles.
Pasta Progress
As you can see, pasta has already come a long way in its development as a more nutritious food—one that can even aid in addressing such health concerns as weight management, diabetes, and gluten sensitivities. And the better-for-you pasta products currently in the marketplace are probably only the first layer of the lasagna, as you might say. There are still many other layers left to explore.
New semolina replacers, for example, are being evaluated. For example, researchers from Italy have reported in the Journal of Cereal Science that pasta made from amaranth, quinoa, and oat can have the same rheological properties of semolina pasta with the use of such additives as whey protein and pregelatinized starch.
--- PAGE BREAK ---
A study published in the Journal of Food Science showed that whole yellow pea flour can be used as an ingredient to produce low-glycemic foods, which may help those with diabetes. Imagine its potential in a pasta application.
Some people may question whether certain ingredients belong in a pasta formulation. Is a pasta made with pea flour or flaxseed or fruit still a pasta? Well, I guess it depends. If the final product tastes like pasta, if its taste and texture has not been compromised, then I say let's try it. Or if the nutrient added to the pasta really does make the product more healthy and better for you—and is not just some example of a marketing ploy—then again I say let's give it a shot. If researchers from Italy can work on reformulating their pasta, that effort alone should send a message to the rest of the world.
Call it pasta progress. Or using your noodle. Whichever you prefer.
With diabetes a growing epidemic, food formulators are looking for ways to develop foods and beverages that can be consumed by individuals who have that condition. Next month's Ingredients section will look at some of the different ingredients that can help support healthy blood sugar levels without compromising the taste, texture, or functionality properties of the formulation.
---
IngredienTalk:
What does the word 'natural' really mean? And what benefits do natural ingredients offer in a food formulation? In my eighteenth blog, I try to give the frequently used word some perspective, especially in relation to the much maligned word 'artificial.' If you care to add your own footnote to this discussion—and you're an IFT member—visit www.ift.org, type in your name and password, click on the IFT Community button, and go to the blog section. Your thoughts are welcome…naturally!
Natural*
When Roger Maris of the New York Yankees broke Babe Ruth's single-season home run record in 1961, his achievement would go down in the record books with an explanation (the movie based on the event referred to it as an asterisk). That basically meant that the record (accomplished because the baseball season had more games than in Ruth's time) was tainted by circumstances which needed to be explained in a footnote indicated by the asterisk.
Over the years, I have come to feel that when the word 'natural' appears in food literature (or labels), it, too, should be followed by an asterisk, suggesting that further explanation is required as to what that really means and the actual benefits that the consumer can derive from it.
When I first started working at IFT, I met a fellow editor at a press conference. While I was brand new to my job, he had been working for a competing magazine for a number of years and he was about to retire. We got to talking and he mentioned that he still didn't know what the word 'natural' meant, and in his retirement he hoped to write a book about the subject.
I remember thinking on that occasion, gee, after all these years in the business and he still doesn't know what the word 'natural' means. But then I started thinking, I'm not really sure I know what the word 'natural' means either. I quickly consoled myself with the excuse that I was still a beginner, I had a lot of time to find out what the word means. Well, the years passed—24 of them to be exact—and I'm still not sure what the word means. It has certainly been used a lot and it certainly has been promoted as an advantage, especially over the word 'artificial,' which in recent times seems to be increasingly maligned. Anyway, it would help me if every time I come across the word 'natural,' it would be followed by an explanation as to what that specifically means in the context that it is being used and the advantages that it brings to the consumer.
--- PAGE BREAK ---
When I first met that veteran editor (I wonder if he ever wrote his book), the discussions we had seemed to be more of an academic one. But today, that academic discussion seems to take on a greater relevance, especially in an age where obesity and diabetes are becoming epidemic on a global scale. Just because an ingredient is natural, doesn't give it license to be over-consumed. The image of an obese person defending natural (or decrying artificial) seems somewhat incongruous and certainly quite problematic. In the case of people who have diabetes or who are interested in weight management, the reality is that some artificial ingredients may have to be selected over natural ones. The asterisk that follows the word 'natural' should explain these circumstances.
Not too surprisingly, as the word 'natural' gained more and more prominence in the language of formulating, the word 'artificial' gained more and more negative connotations. Should the asterisk have a disclaimer that artificial isn't necessarily bad, and please don't draw any hasty conclusions just because we're using natural. Of course it's up to food professionals to at least put 'artificial' into some kind of perspective. Unfortunately, there are always growing pressures to jump on the 'natural' bandwagon, and I suspect that more than a few professionals have already done so.
As this happened, as natural gained more prominence, a certain attitude began to take shape: Let's keep science out of food as much as possible because of the dangerous chemicals it is spawning. Maybe I'm a dinosaur, but I still find this attitude troubling. Consider the following trend presented by Innova Market Insights at the IFT Food Expo. "The quest for getting back to basics with food is on top of consumers' minds, with the use of simple, wholesome ingredients with minimal processing a key area of interest. New data shows that the marketing of new products as 'like grandma made' and using 'from the cupboard' ingredients is taking off alongside rising interest in 'home made' and 'homestyle,' while momentum in 'natural' and 'preservative-free' marketing is continuing to gather pace." The picture that is painted is a very attractive one, but beneath the surface it also seems to suggest a distrust of science and the potential of science to solve some of the very real problems in our society. The asterisk might add a line something like "just because we are using the word 'natural' does not mean that we are encouraging in any shape or form a return to primitive times."
I'm afraid some people might see this blog post as a criticism of 'natural,' but it isn't meant to be. I just don't feel like giving 'natural' a full carte blanche or blank check, if you will, on every occasion. Perhaps I'm concerned about those occasions when 'natural' becomes more of a marketing ploy rather than offering legitimate benefits. Perhaps I feel that the perception that natural is good and artificial is bad is too simple-minded and may even distract us from those issues that really need addressing in the food arena before it's too late. Or perhaps I feel that we need to take each ingredient—natural or artificial—case by case. If there is concern that the use of a particular ingredient is leading to a health problem, then you find alternatives to lessen the use of that ingredient in your formulation.
More than anything, I think we need to look at the words 'natural' and 'artificial,' have a better understanding of what they mean, and what directions they are taking us in the development of future food products. That, by itself, may be a very difficult task but I think it is a very necessary one, especially in the light of today's health problems.
While consumers may embrace simplicity, the issues we face today are anything but simple.*
This final asterisk means: Let's IngredienTalk.
---
www.ift.org
Members Only:
Read more about Pasta online at
www.ift.org.
Type the keyword into our search box at the upper right side of our home page.
Donald E. Pszczola, 
Senior Editor 
[email protected]