Food safety is undoubtedly the most important concern of the food industry, and several companies have introduced or plan to introduce new instruments for testing for foodborne pathogens. Here are three examples.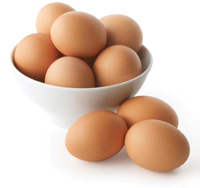 System Based on PCR
Life Technologies Corp. of Carlsbad, Calif. (www.lifetechnologies.com), earlier this year announced that it had launched the first real-time polymerase chain reaction (PCR) detection system to test for Salmonella Enteritidis in poultry eggs. The U.S. Food and Drug Administration (FDA) has said that the company's Applied Biosystems TaqMan® Salmonella Enteritidis Detection Kit is equivalent in accuracy, precision, and sensitivity to the standard methods described in the agency's Bacteriological Analytical Manual.
The test determines whether eggs contain S. Enteritidis in less than 27 hr, compared to the 10-day turnaround time using conventional methods. The faster testing procedure was developed in response to the federal egg safety program, which became effective July 2010, requiring all large-scale egg producers in the United States to test for the microorganism to ensure the safety of products before they reach supermarket shelves.
Life Technologies developed the test in collaboration with Shelley Rankin, Associate Professor of Microbiology at the University of Pennsylvania's School of Veterinary Medicine. The company designed the assays and protocols, and Rankin's lab validated the protocol and performance. The test can provide results 10 times faster than traditional methods, according to Nir Nimrodi, General Manager of the company's Animal & Food Safety Business. The test was developed and validated for egg matrix in fall 2010 and for the poultry environment in January 2011. The company also has other tests approved by AOAC International and/or the AFNOR standardization and certification organization that are also recognized by FDA for other Salmonella species, Listeria monocytogenes, and E. coli O157:H7.
The test consists of a one-step overnight enrichment in simple media followed by automated, high-throughput DNA extraction and magnetic separation via the company's Applied Biosystems MagMaxTM Express-96 Magnetic Particle Processor and PCR analysis via the company's 7500 Fast Real-Time PCR System. The test does not give quantitative results, Nimrodi said, but relative quantification can be achieved by comparing with DNA at different concentrations. The assay is fully developed and will be offered in lyophilized format later this year.
Challenges ahead for this system, he said, include adoption and acceptance by the industry as it looks to convert from time-consuming and expensive culture methods to a fast and sensitive pathogen testing system that costs less and is simple so it can be adopted easily. However, the benefit of a PCR-based test is that it is simple to use and enables egg producers, for example, to easily conform to new federal regulatory guidelines.
--- PAGE BREAK ---
System Based on Oxygen Consumption
To meet the food industry's desire for quicker and simpler methods to determine bacterial levels in foods, Mocon Inc. of Minneapolis, Minn. (www.mocon.com), in cooperation with Ireland-based Luxcel Biosciences Ltd. (www.luxcel.com), in late 2010 introduced its GreenLight™ 900 Series instruments. These instruments address the disadvantages of the standard aerobic plate count method, which is considered labor-intensive and slow, typically requiring 48 hr for a definitive result. The instruments provide results within 8 hr. The instruments are available in two models. The 960 model is designed for larger labs that require higher throughput while the 910 model (shown on p. 78) is designed for use in smaller labs and processing areas.
As bacteria in the test sample multiply and respire, they consume oxygen. The instruments use an oxygen-sensitive probe developed by Luxcel Biosciences. Changes in oxygen concentration are indicated by changes in fluorescence, which is measured by a fluorescence plate reader. The change in oxygen concentration is used to calculate the sample's bacterial load. The GreenLight technology has been accepted by AOAC International as a Performance Tested Method.
As explained by engineering project manager Tim Ascheman and food safety product manager Mark Theno, the sample preparation is the same as for the standard agar plate method and similar assays. The food sample is mixed with a diluent such as buffered peptone water and homogenized using the Stomacher machine. With the 960, the oxygen-sensitive probe is pipetted into wells on a microtiter plate along with the homogenized food sample liquid. The plate is then sealed with mineral oil and placed on a fluorescence plate reader. With the 910, the prepared food sample is pipetted into a single APCheck™ vial that already contains the oxygen-sensitive probe.
The advantage of the GreenLight system, Ascheman and Theno said, is that no further dilution or plate reading is required after the homogenizing process and that for the 910 the homogenized sample can be dispensed directly into the vial. With both instruments, the change in oxygen concentration is monitored, and the results are automatically generated as number of colony-forming units per gram or milliliter. Samples that exceed a specific cfu/g or mL value can be red-flagged automatically for a pass/fail result. It takes approximately 5 hr to measure a bacterial level of 6 log10 cfu/g and 8 hr to measure a level of 5 log10 cfu/g. The 910 provides a sensitivity of 2 log10 cfu/g with a 2-mL vial and 1 log10 cfu/g with a 15-mL vial. The 960 provides a sensitivity of 3 log10 cfu/g.
The 960 uses a standard fluorescence plate reader format that can test a 96-well plate and handle up to 96 tests per shift. The 910 combines a fluorescence and internal bar code reader with an incubation control system and software. This system provides an easy-to-use yet fault-tolerant system for the food safety market, Ascherman and Theno said. Challenges ahead for this system, they added, are to develop identification tests for specific bacteria and continually improve user-friendly features.
System Based on Light Emission
Beacon Food Safety LLC of Greenwood Village, Colo. (www.beaconfoodsafety.com), plans to introduce a disposable device (about the size of a USB flash drive) that can perform up to 100 different diagnostic tests on a drop of sample with results available in about 30 min, without the need for time-consuming sample preparation.
--- PAGE BREAK ---
The user places a drop of sample into the cartridge and plugs it into a computer or PDA. If a pathogen biomarker is detected in the sample, a red light indicates that the sample is contaminated. Company president Steve Stroud said that the technology is far more sensitive than what's been available previously for tests of its kind.
The company's BrightSpot™ technology combines an extraordinarily sensitive light sensor with luminescent (light-emitting) protein Gaussia luciferase, which comes from a deep-sea cope-pod. It produces a bright blue light estimated to be up to 10,000 times brighter than firefly luciferase, which is widely used in biological testing. The unique architecture of the system, Stroud said, allows it to test samples without the need for time-consuming sample preparation. The test platform has been in development for three years, he added, with the last year primarily focused on targeting the specific pathogens and adulterants chosen for product release. The product will be made available the third or fourth quarter of this year.
The test platform, he said, is based on an ultra-sensitive chip containing 112 individually addressable optical detectors. The combination of a 40x more sensitive detector and 1,000x brighter signal are the heart of the technology. These enable a single-use, disposable, multiplexed molecular testing system that requires neither a traditional high-cost instrumentation nor a chemist to perform the test procedure. Molecular detection is used for most bacterial and viral pathogens, he said, protein methods (antigen/antibody) for determination of pathogenic Escherichia coli serotypes, and a combination of protein and molecular detection for small molecules of adulterants.
The company has developed sample kits that are parallel to what is used today in the market—swab, bag, etc. Sample preparation using the swab kit takes 3 min, and the total procedure from sampling to results takes less than 30 min. Stroud said that the first product is a single device to test for S. Enteritidis, Listeria monocytogenes, Campylobacter freundii, and pathogenic E. coli, the four most important bacterial pathogens in terms of reduction of morbidity due to bacterial contamination of food. The company is adding the Salmonella, Listeria, and Campylobacter families as surrogate indicators of contamination.
Stroud said that the company has compared the system to other test methods for the most important food pathogens and third-party testing and comparisons will be conducted and published prior to product release. Submission to AOAC for consideration as a Performance Tested Method will take place before product release, after finalization of the target pathogens.
He added that the technology is proven and can be demonstrated and that the company's focus at this time is the completion of the finished-product packaging design. If there were a challenge, it would be in regard to the need for capital necessary to carry the product to market.
Neil H. Mermelstein, a Fellow of IFT, is Editor Emeritus of Food Technology 
[email protected]