SupplySide East will bring together thousands of executives from the food, supplement, and cosmetic industries with hundreds of exhibitors showcasing the latest ingredients for foods and beverages as well as the newest dietary supplements and cosmeceuticals on May 3–4, 2011, at the Meadowlands Exposition Center, Secaucus, N.J. There are also more than 30 educational sessions to attend, featuring world-renowned experts covering a wide range of health and wellness, ingredient, regulatory, and trend topics of interest to product developers and marketers.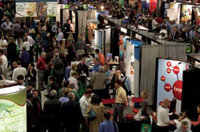 On the trade show floor this year exhibitors will showcase ingredients such as vitamins, minerals, herbs, fruits and vegetables, fats and oils, starches, antioxidants, amino acids, sweeteners, marine extracts, probiotics and prebiotics, and more. Additionally, exhibitors will highlight products and services for packaging, manufacturing, and laboratory.
The educational programming is organized into four tracks: two nutrition tracks, one food and beverage track, and one cosmeceutical track. Experts in the fields of food product development, nutrition, law, medicine, and trends analysis will discuss the hottest trends, regulatory issues, targeted health information, and ingredient developments. The following topics will be covered in the nutrition tracks: "Dietary Supplements: Case Studies in Claims Substantiation;" "National Institute of Standards and Technology Tools for the Analysis of Dietary Supplements and Foods;" "Compliance with the Food Safety Modernization Act for Dietary Supplement Manufacturers and Suppliers;" "Quality Control, GMP, and Adulteration Issues in the Global Botanical Market;" "How to 'Train' Your Member of Congress;" "You Say You Want a Revolution: What the Tea Party Means for You and Your Business;" "Sorting Out Identity GMP Requirements: Which Tools and Technologies Are Scientifically Valid?;" "Ingredient Regulations in Japan, China, and South Korea: Opportunities and Challenges;" "The Impact of International Regulations on the North American Dietary Supplement Industry;" "EPA/DHA Omega-3 for Health, Prevention, and Management of Chronic Disorders: Update 2011;" "Methods Validation and Analytical Lab Update;" "Voluntary Stability Testing Guideline for the Dietary Supplement Industry;" "Optimizing Efficiencies of Clinical Efficacy Studies;" "Connecting for Business Success: Mobile Marketing, Social Media, and the Online Imperative;" "The Top five Success Secrets for Dietary Supplement Clinical Trials;" "Cardiovascular Market Opportunities;" "An FDA Insider's View of the Dietary Supplements Industry from the Other Side of the Fence;" "Tainted Products and Supply Chain Obligations;" and "FDA Update on GMP Inspections and DSHEA."
The food and beverage track includes these sessions: "Capitalizing on Evolving Consumer, Product, and Ingredient Trends in Functional Foods and Drinks;" "Doubling Down on Health and Wellness;" "NAFFS Flavor Delivery Update;" "Overview of the Food Safety Modernization Act;" "Energy Drinks Under fire—Misunderstood or on Target?;" and "Consumer Trends on America's Health Issues: Emerging Opportunities for Novel Ingredients." The following sessions are part of the cosmeceutical track: "Natural Personal Care Products: The Next five Years—Challenges and Opportunities;" "Delivery Systems for Active Ingredients;" "Product Development and Market Success in the Hyper-Competitive Cosmeceutical Industry;" "Trend Watch 2011™;" "Natural Peptides for High Performance Skin Care;" and "It's Not Easy Being Green: Developing Natural and Organic Cosmeceuticals in Today's Competitive Marketplace."
In addition to the exhibits and educational programming, SupplySide East will feature VendorWorks Presentations, exhibitor-sponsored sessions that discuss ingredient- and service-specific science, applications, formulations, and marketing. The sessions include "VitaCholine™: Essential for Every Body;" "Collative, For Real Beauty From Within;" and "High Absorption Ginseng as an Ingredient."
The GMP training workshops held at SupplySide East provide real-world, hands-on training in the processes and procedures to ensure compliance. The first course, "21 CFR 111—Dietary Supplement GMP Overview," provides an in-depth review of the guidelines and provides case studies involving the review of recent warning letters initiated to dietary supplement companies for noncompliance to 21 CFR 111 GMPs. The two-day course is scheduled for May 2, 8 a.m. to 5 p.m., and May 3, 8 a.m. to noon. The second course, "GMP Vendor Qualification & Auditor Training," will offer guidance on how to define specifications/requirements for all of the goods or services being purchased and how to show that the requirements are being consistently fulfilled. The two-day course is scheduled for May 2, 8 a.m. to 5 p.m., and May 3, 8 a.m. to noon.
For more detailed information about events and programming at the upcoming SupplySide East, visit www.supplysideshow.com, or call 800-454-5760.
---
Exhibit Hall Hours
10:30 a.m. to 4 p.m., Tuesday, May 3
10:30 a.m. to 3:30 p.m., Wednesday, May 4