No, the title of this article does not refer to any kind of follow-up to that classic hit song of the late sixties. Rather, it suggests that certain ingredient developments, highlighted at the 2011 IFT Annual Meeting & Food Expo, are experiencing what probably could be described as a rebirth of sorts.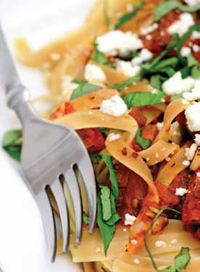 These rebirths can take on different forms. For example, that might mean the development of next-generation versions of a particular ingredient. Or expanded applications can give an ingredient a new life, such as the use of a savory component in a sweet formulation or a sweet component in a savory one. Or a marketplace, stimulated by changing needs in the areas of functionality or health, can provide ingredients with new opportunities. Or the use of new communication approaches or training tools can promote the value of an ingredient in ways that previously were not done. Or, in some cases, company acquisitions, name changes, and other internal developments within a company can help expand a portfolio and provide an ingredient with a new energy and direction.
What are some of these ingredients being reborn?
Let's start with sodium alternatives. Over the past few years, food manufacturers have sought ways to reduce sodium without compromising flavor. Many of these solutions, such as the use of potassium chloride blends, have been traditional ones. In recent years, sea salt has also been utilized for reducing the amount of salt used in a formula. But there are also solutions being developed that are going beyond the usual options. These might include dairy-based flavor enhancers, soy sauces without soy flavor, new combinations of spices and savory components, technological innovations that change the particle size of salt, umami flavor systems, and others that have potential to break (or shake) new ground.
Stevia would be another good example, as demonstrated by a major sugar company (yes, I said sugar) now promoting this ingredient; the development of new flavor enhancer systems designed to work with stevia and other sweeteners; the emergence of a novel approach that balances sweetness and mouthfeel with components that include stevia; and the showcasing of a diversity of prototypes that blend stevia with other sweeteners.
With trans fat objectives primarily met, more food manufacturers are now turning to the next step: Ways to reduce saturated fat. Not surprisingly, a number of better-for-you oils were launched at the show. One company introduced an oil product that reportedly qualifies for a saturated fat free claim.
--- PAGE BREAK ---
Specialty flours seem to be available for every occasion. Coconut flour may be used in gluten-free formulating. A new flour solution was developed that can mitigate microbiological risks associated with raw flour. Flours can provide the taste and texture of refined flour but with multigrain benefits. Flours can be used to reduce fat in bakery products such as brownies without compromising their taste. And one emerging flour, sorghum, can be used in products ranging from gluten-free crisps to better-for-you savory pot pies.
Cucumbers usually bring to mind associations of a salad or a sandwich topping. However, cucumber flavor, which may have been the hottest flavor at this year's show, has a fresh, green note which can be incorporated into sweet and savory applications. My guess is that even if you're not a big cucumber fan, you might like this distinctive but not overpowering flavor which seems to complement so many other flavors and ingredients in a formulation. Cucumber Dill Ranch Dressing, Cucumber-Lemon Yogurt Drink, Cucumber Vanilla Cardamom Ice Pop, Stuffed Cucumber with Parmesan Pepper Flavor, Savory Creole Crab Cupcakes, Cucumber Smoothies, Tzatiki Sauce, and Cucumber Water were just some of the formulations that took advantage of this cucumber craze.
At one time, yogurt was primarily served as…well, yogurt. Today, however, yogurt is becoming increasingly popular as an ingredient—its taste, texture, functionality, and nutritional value giving it a second life in all sorts of formulations. A yogurt-infused waffle with yogurt sauce, as a topping for Sweet and Savory Butternut Squash Soup, a Cucumber-Lemon Yogurt Drink, a Yogurt Smoothie for Cognitive Health, and Tzatziki Sauce were just a few tasty samples of its effectiveness as an ingredient.
Coconuts are also getting a new lease on life, moving beyond your traditional dessert island and into the mainstream. Coconuts can provide a source of ingredients other than coconut milk (and more recently, coconut water). These might include new sweeteners, flours, and oils. Coconuts also seem to be capturing the imagination of formulators, as demonstrated by the prototypes highlighted at the show. These included Vietnamese Almond Clusters with coconut flakes, a Moroccan-Flavored Snack Mix containing coconut, Coconut-Lime Mojito Gum, Antioxidant Coconut Water Beverage, and a Green Tea Coconut Water Spa Spritzer.
The importance of texture in product development is gaining renewed attention by formulators. One exhibitor launched a line of six videos that focused on egg product functionality, including the aspects of texture. Another six videos are in the works and will look at how egg products contribute to mouthfeel and texture. A new approach enables beverage manufacturers to deliver better-tasting, reduced-calorie products by balancing sweetness and mouthfeel. A pioneer in texture, a starch company uses technology to translate consumer insights into robust, carefully controlled formulations. A gum supplier introduced a lexicon that it developed to revolutionize the language of texture. And a company is utilizing its micro pellet technology to help drive growth of crisps, a new snack category that combines enhanced texture with low-fat properties.
Perhaps, too, it is fitting (and exciting) for these kinds of ingredient developments to be introduced in a city which itself is being reborn. Interestingly, as we will see in the following pages, some of these ingredient developments were used in formulations inspired by New Orleans cuisines, giving an even more poignant meaning to the words "reborn on the bayou."
A 'Wild Time' in the Big Easy
Applying advanced trend research, insight, and ideation, Wild Flavors Inc., Erlanger, Ky. (phone 859-342-3744, www.wildflavors.com), showcased a variety of new concepts that demonstrated ingredients and process technology solutions from its extensive portfolio. Some examples used in these prototypes included taste modifiers, new flavors, natural colors offering improved functionality benefits, and health-promoting products.
With a different flavor featured each day of the show, Frozen Ice Pops demonstrated how a fun children's treat can be upscaled to meet the tastes of an adult audience. Spotlighting new flavors and colors, the frozen concoction included such versions as Cucumber Vanilla Cardamom (Natural Cucumber Vanilla Cardamom Flavor, Naturally Derived Blue Color, and Turmeric Color); Ginger-Plum Green Tea (Natural Ginger-Plum Green Tea Flavor, Natural Purple Carrot Color, Naturally Derived Blue Color, and a traditional Chinese Medicine Immunity Blend of licorice root extract, momordica fruit extract, and lingzhi extract); and Green Apple-Jalapeno (Natural Green Apple Jalapeno Flavor, Naturally Derived Blue Color, and Turmeric Color). The immunity blend featured in the frozen ice pop was also demonstrated in a western beverage format with a special apricot-orangegoji flavor, Traditional Chinese Medicine Drink for Immunity.
--- PAGE BREAK ---
Meat marinades for pork, chicken, and steak were made with Farmstand Favorites™ —flavor systems that combine herbs, fruits, and vegetables. Creating flavors reminiscent of the country farm stand, prototypes included Peppery Peach Pork, Honeyed Pear & Thyme Chicken, and Blackberry BBQ Flank Steak. Other flavor systems included Nectarine Salsa, Dark Cherry & Cola, Harvest Cider & Molasses, Autumn Apple Rosemary, and Buttermilk & Spring Onion.
With functional milks growing in popularity, Heart Healthy Milk was formulated with plant sterol esters that are structurally similar to cholesterol. The formulation featured a classic New Orleans beignet flavor (Natural Beignet Pastry Type Flavor) and was sweetened with Stevia Reb-A 80 with the company's taste modification technology.
Bringing an ethnic trend to the snack aisle, Moroccan Snack Mix consisted of a Moroccan Style Flavor System added to almonds, garbanzo beans, coconuts, sesame seeds, pistachios, pine nuts, and dates. A second snack application, New Orleans Kettle Corn with Sea SaltTrim, offered 40% sodium reduction compared to traditional seasonings. Spicy Creole Tomato Seasoning on traditional kettle corn created a new spicier twist on the classic treat, with Sea SaltTrim incorporated into the seasoning.
Retrospective of cocktail parties from the 50s and 60s, this version of the classic cocktail was paired with a trio of appetizers from a different era—Beer Cheese Ball on a Ritz®Cracker, Swedish Meatballs, and Stuffed Cucumber with Parmesan Pepper Flavor System.
A fun energy drink, "Cool Energy" Juice Spritzer for Kids, had a natural rainbow sherbet type flavor with a naturally derived green color (Natural Blue and Beta Carotene). The 20% juice (made from pear, mango puree, orange, and pineapple) was sweetened with sucrose, dextrose, acesulfame K, and sucralose, as well as fortified with health-promoting ingredients such as choline and potassium.
A ready-to-drink coffee beverage—Praline Latte—featured Natural Praline Type Flavor, Natural Espresso Type Flavor, and Brazilian Coffee Extract. The new flavor, praline, complemented the natural creamy coffee notes.
A natural, zero-calorie enhanced water had a naturally-derived blue color and a berry flavor (Natural Cool Jazz Berry Flavor WONF). Sweetened with Stevia Reb A-80 with taste modification technology, the formulation was fortified with a milk peptide (Immunel™) that supports immune health and has no impact on taste, color, and texture. The milk peptide was also highlighted in sweet chews.
Guava Jalapeno Margarita provided a spicy, fruity combination suitable to complement a Mexican meal or as beverage for a night out. It featured Natural Guava Jalapeno Margarita Type Flavor and Beverage Cloud.
--- PAGE BREAK ---
Other highlighted prototypes included Yogurt Smoothie for Cognitive Health (Natural Blueberry Vanilla Flavor WONF, Purple Carrot Juice & Grape Concentrate Colors, choline, phosphatidylserine, and B-Vitamins); Anjou Pear Green Tea Coconut Water Spa Spritzer (Natural Anjou Pear Green Tea Flavor, Beta Carotene Emulsion for Color, Stevia Reb-A 60 with taste modification technology, 20% coconut water, and vitamins A, C, E, and B); Antioxidant Coconut Water Beverage (Natural Goji Mixed Berry Flavor WONF, Natural Red Color, 20% coconut water, polyphenols, and vitamins); Mixed Berry Fruit & Veggie Juice with Tegricel™, an ingredient made from milk peptides and bioactives that helps maintain a healthy gut and creates an environment for optimum digestive function; and Coconut Lime Mojito Gum.
Sugar Supplier Adds Stevia to Portfolio
With the wide range of sweetener systems being developed today, sugar and other nutritive and nonnutritive sweeteners should no longer be considered strange bedfellows, especially in a time of rising obesity and diabetes problems. The most recent example of this—and perhaps one of the most exciting because of the impact that it can have on the creation of future sweetener blends—was announced at the IFT Food Expo.
A collaborative agreement between Domino Specialty Ingredients, West Palm Beach, Fla. (phone 561-248-1852, www.dominospecialtyingredients.com), and Wild Flavors GmbH and Sunwin International Nutraceuticals focuses on bringing better-for-you sweeteners to the marketplace. These sweeteners are made from all-natural products such as cane sugar, rice, malt, and stevia, in addition to sweetening systems that can include both natural and artificial sweeteners with sophisticated flavor modifiers.
"With our strength and breadth in natural sweeteners, we are very excited about the opportunity to create new blends and offer the healthy benefits of stevia to consumers," said Brian F. O'Malley, President and Chief Executive Officer for Domino Sugar. He added that this partnership demonstrates the company's commitment to meeting customer demands for new and innovative natural sweetener solutions.
Together, the sweet triumvirate expects to provide a range of cost-effective ingredient solutions that can help reduce calories or sugar amounts without compromising the taste and functionality benefits of sugar. For example, stevia might be blended with sugar, malt, or molasses.
At its booth, Domino Sugar highlighted a number of dried stevia extracts (Stevia RA) yielding different purity levels of the glycoside Rebaudioside A (60%, 80%, 95%, and 98%). To further illustrate the benefits of its new partnership, the company also featured a natural zero-calorie enhanced water made with a stevia extract, Stevia Reb A-80. Interestingly, this same formulation was highlighted at the Wild booth previously mentioned. How many times do you see competitive companies working together to do that at a food show? "Sweeeet!" is the observation that immediately comes to mind.
Domino Sugar and its affiliates produce and market sugar and other sweeteners using extensive technical, engineering, and manufacturing knowledge. In addition to a comprehensive assortment of refined cane sugar products, Domino Sugar offers brown rice syrup, evaporated cane juice, fondants, honey, invert sugar, malt, molasses, as well as flavor and texture modifiers. The company has business relationships with many consumer goods manufacturers, retailers, foodservice operators, and distributors.
--- PAGE BREAK ---
Protein Made Clear
Functional soy proteins, whole-grain sorghum flour, nutritious bean powders, and indulgent cocoa powders were just a few examples from its ingredient portfolio that Archer Daniels Midland Company, Decatur, Ill. (phone 217-451-2450, www.adm.com), highlighted in several food and beverage prototypes, demonstrating how they can meet the functionality and nutritional needs of the food customer.
The newest addition to this extensive portfolio is an isolated soy protein, Clarisoy™ 100, which enables protein fortification in transparent, low pH beverage systems. For beverage systems with a pH of less than 4.0, the ingredient is 100% soluble and transparent, making possible the achieving of an FDA "good" or "excellent" source of protein rating in sports nutrition beverages, citrus-based or fruit-flavored drinks, fruit-juice blends, lemonades, powdered beverage mixes, and fortified waters. At the IFT Food Expo, the vegetable-based protein was featured in two beverage prototypes, Orange Mango Cooler and Lime Sport Recovery Beverage—both prototypes having 6 g of protein. Recently, ADM entered into a license agreement with Burcon NutraScience Corp. for the worldwide production, distribution, and sale of Burcon's Clarisoy soy protein.
A savory creation, Multi-grain Cajun Pot Pie, provided the nutritional benefits of multigrains. It was formulated with sorghum flour, Kansas Diamond white whole-wheat flour, Prolite ® wheat gluten, VegeFull™ edible bean powder, soy protein concentrates, and other ADM ingredients.
Whole Wheat Cinnamon Beignet—a sweet pastry treat—highlighted Kansas Diamond white whole wheat flour, vegetable shortening, frying oil, and a honey powder (soluble corn fiber, honey, and purified steviol glycosides) called Sweet 'n' Neat Hon-E-Shine.
Baked Chocolate Raspberry Nutrition Bar delivered taste and nutrition, provided by a combination of ADM ingredients, including CardioAid™ plant sterols, NovaSoy soy isoflavones, Kansas Diamond white whole-wheat flour, Prolite wheat gluten, cocoa, and soybean oils.
Gluten-free Crisp (made with whole grain sorghum flour, xanthan gum, and soybean oils) was served with a savory Navy Bean Hummus featuring Vegefull edible bean powder, vegetable shortening, and CardioAid plant sterols.
And to celebrate the 100th anniversary of deZaan™, ADM offered truffles (dark chocolate, white chocolate, and milk chocolate) made with indulgent, pure Belgian chocolate.
New Salt-Reduction Systems
Two new products from Ajinomoto Food Ingredients, Chicago, Ill. (phone 773-714-1436, www.ajiusafood.com), were designed to reduce sodium without compromising taste.
Attendees were able to compare full-sodium and 25% reduced-sodium frankfurters and deli ham incorporating Salt Answer™, a system that reportedly provides all the characteristics of sodium for both dry and liquid applications. This system, developed specifically to address the issues of sodium flavor reduction when salt levels are decreased, works synergistically with lower levels of salt or salt blends to reestablish a desirable salt flavor. This system was also featured in a 25% reduced-sodium marina sauce.
--- PAGE BREAK ---
Additionally, low-sodium systems made with Ajimate™ kokumi and umami flavor system were highlighted in miso soup, umami-rich chicken broths, and steak. In the creation of the miso soup, the company's chef Jill Houk demonstrated the traditional Japanese process of making Dashi, a cooking stock. Made from kombu and bonito, Dashi delivers a umami taste.
Other prototypes demonstrated the benefits of ingredients from the company's portfolio. Calorie-reduced beverages—Passion Grapefruit Isotonic, Mixed Berry Water, and Coffee Energy Drink—were sweetened with the company's aspartame. The sweetener was also used in sugar-free cookies and mint confections. A savory application, almonds were flavored with San-J Tamari. Steaks were bonded with Activa® GS— an enzyme preparation with the ability to cross-link proteins. These restructured steaks were served with au jus, containing Super YE, a yeast extract based seasoning, and Salt Answer. Scallops were also bonded with Activa GS. An advanced sports nutrition drink, Amino Vital, delivers amino acids for improved performance.
Looking at Fiber in New Ways
ADM/Matsutani LLC, Itasca, Ill. (phone 217-451-4377, www.fibersol2.com), celebrated the five-year anniversary of its joint venture supporting the worldwide sales and marketing of the food ingredient Fibersol®-2 a low-viscosity dietary soluble fiber. Made from corn starch, this digestion-resistant maltodextrin may be used to maintain intestinal regularity and help retain healthy serum triglycerides. Data also suggests that unlike maltodextrin or glucose, the ingredient does not cause an appreciable increase in blood glucose levels following consumption, and consequently would be useful in foods formulated to create minimal increases in post-meal blood glucose levels.
Fibersol-2 has found application in a variety of food and beverage applications, including beverages, dairy products, baked goods, and snack formulations, as well as dietary supplements. (At the IFT Food Expo, it was highlighted in a salsa-flavored snack cracker to increase the overall fiber content of the finished product.) In addition to its soluble dietary fiber, formulation benefits of the ingredient include high solubility; rapid dispersion; clear, transparent solution; no inherent or added flavors; improvement of flavor and performance of high-intensity sweeteners; low sweetness; superior freeze thaw stability; very low viscosity; low hygroscopicity; and the ability to bind water.
Matsutani Chemical Industry Co.Ltd. used its advanced starch technologies to invent the ingredient in 1989, creating what it claims to be the world's first soluble dietary fiber derived from starch. The ingredient has been exclusively produced at ADM's Clinton, Iowa facility since 1999, and ADM will continue to produce it for both Matsutani Chemical and the joint venture. The joint venture combines strong scientific expertise with vast production facilities and transportation network.
Hiroshi Ichihara, President of Matsutani America, noted that "it will be exciting to watch the future of this joint venture unfold." Several developments highlighted at the IFT Food Expo suggest some of the innovative directions that the joint venture is taking, including the development of ingredients that look at fiber in new ways.
--- PAGE BREAK ---
For example, Fibersol-LQ corn syrup, a soluble corn fiber, has been specially designed for applications where added sweetness and humectancy are beneficial, as well as for the ease of handling of a liquid product. The ingredient contains 75% soluble dietary fiber on a dry solids basis. It was featured in a hurricane-flavored frozen novelty in which it delivered 10 g of dietary fiber per 74-g serving; provided a mild sweetness; and helped reduce overall sugar and calories. Fibersol-2 AG is a digestion resistant maltodextrin specially designed for applications in which rapid dispersion and quick dissolution are key. An agglomerated form of digestion resistant maltodextrin, it is suitable in specialized applications, including an acai blueberry electrolyte beverage mix where it added 5 g of dietary fiber per 7.58 g serving. Newest development was Sweet 'n' Neat® Hon-E-Shine, which is composed of Fibersol-2 soluble corn fiber, honey, and purified steviol glycosides. It may be used in applications where replacing liquid honey and sugar to reduce calories and the addition of fiber are beneficial.
Finding New Uses for Dairy
Through its salt-enhancing characteristics, permeate may become a cost-effective method for sodium reduction compared with other salt replacers which may alter processing parameters and cause off-flavors. The use of permeate for sodium reduction was demonstrated in several prototype formulations by the U.S. Dairy Export Council, Arlington, Va. (phone 703-528-3049, www.innovatewithdairy.com).
Labeled as dairy product solids, permeate is a coproduct resulting from the production of whey protein concentrate, whey protein isolate, ultrafiltered milk, milk protein concentrate, or milk protein isolate. Sweet whey and milk are the most common starting materials for permeate production in the U.S. Delactosed permeate is a byproduct created by removing lactose from permeate. It contains less lactose and slightly more salts than permeate. Also, delactosed permeate has a higher concentration of many minerals, including calcium, potassium, and magnesium.
As shown by the prototypes, permeate's salt-enhancing characteristics make it suitable for replacing salt in many applications while maintaining a good flavor. For example, in Sweet and Savory Butternut Squash, the addition of permeate reduced sodium by 32% compared to similar soups. In Cheesy Crunchers, a crunchy, cheesy cracker that may be used as a topping for soups or salads or as a standalone cheese snack, the use of permeate and reduced-sodium cheddar cheese allowed for 55% less sodium than a similar cheese snack. In Bread Pudding for the Ages, a made-over sweet potato bread pudding, permeate allowed for reduced sodium and sugar content, providing a perceived sweet and salty flavor, as well as an improved surface browning. And in Cucumber Lemon Yogurt Drink, a smooth and savory yogurt-type beverage that takes its flavor cues from the Eastern Mediterranean, permeate delivered a salty perception with good solubility and versatility.
In addition to permeate, prototypes demonstrated the functionality and nutritional value of other dairy ingredients. Products that contain yogurt continue to grow in popularity. Yogurt provided creaminess to the Cucumber Lemon Yogurt Drink, as well as contributed the nutritional value of protein, calcium, and probiotics. In the Sweet and Savory Butternut Squash Soup, a dollop of plain yogurt could be served as a topping, adding visual appeal, texture, and taste. In Bread Pudding for the Ages, the use of yogurt can meet consumer flavor expectations. And in Strawberry Sunrise Waffle, a protein-packed breakfast item, yogurt was put to double use. This yogurt-infused waffle was served with a yogurt sauce made with strawberries.
--- PAGE BREAK ---
Low-fat dairy ingredients also found use. Satisfying Pasta Salad—a chilled, high-protein pasta salad—incorporated low-fat cottage cheese which boosted nutritional value while adding a delicious taste. In these two formulations, Strawberry Sunrise Waffle and Bread Pudding for the Ages, nonfat dry milk helped build body and texture. And in Cucumber Lemon Yogurt Drink, nonfat dry milk delivered a clean, mild, slightly sweet dairy flavor and nutritional value, while reduced-fat milk enhanced viscosity and contributed protein and calcium.
The use of whey protein ingredients continues to offer benefits in formulating. Cheesy Crunchers used whey crisps to provide a crunchy texture and a source of high-quality protein, and Whey Protein Concentrate 60 to boost protein content and help prevent moisture loss. The use of Whey Protein Concentrate 80 in Satisfying Pasta Salad boosted protein content, was easily digested and absorbed by the body, and contained all the essential amino acids required by the body for good health. Whey Protein Concentrate 80 was also highlighted in the Strawberry Sunrise Waffle. Bread Pudding for the Ages used whey protein crisps to provide a crunchy texture and milk protein concentrate for adding protein and calcium while building body and texture to the formulation.
Reinventing Snacks
With the 'crisp' segment of the snack industry rapidly growing, J.R. Short, Kankakee, Ill. (phone 815-263-5344, www.shortmill.com), is utilizing its proprietary micro pellet extrusion technology to help drive growth of this new snack category.
After pressure popping, the result is a crisp rather than a chip or a rice cake. Best known for its application to potatoes, the micro pellet extrusion technique brings the advantages of enhanced texture and low-fat content to grain-based products such as corn and rice, explained Terry Gieseke, Director of Sales and Marketing for J.R. Short. The company has also extended the micro pellet "crisp" category to include whole grains and multigrain combinations. For example, at this year's IFT Food Expo, the company introduced two legume-based crisps, chickpea and black bean, providing a tasty way to deliver the high fiber and protein content of beans. The black bean crisp—made with black bean, rice, and sodium chloride and pressured popped with "Santa Ana" seasoning—delivers three grams of fiber and three grams of protein. The chickpea crisp—made with chickpea, rice, and sodium chloride and pressure popped with light salt and Mediterranean flavors—provides three grams of protein per serving. Both formulations offer lower fat than typical potato chips. Other crisps highlighted included potato and sweet potato.
Also introduced was a new low expansion tortilla pellet with a crinkle shape. Formulated with 100% whole grain, it delivers the texture consumers expect from traditional, higher fat content tortilla chips while providing a whole new look. Fiber content can be boosted for potential "good source of fiber" claims. These tortilla pellets are also available in a medium-range expansion that can be air popped and are very low in fat. Highlighted was a Tortilla Ripple Wedge, made with whole ground corn, tortilla corn flour, high lime masa flour, and sodium chloride. Vegetables such as black bean, red bean, or sweet potato can be incorporated into the formulation. For companies looking to penetrate the crisp category, the tortilla pellet formulation can be produced as a micro pellet for pressure puffing. Finished snacks can be marketed as a standalone product or as part of a snack mix.
--- PAGE BREAK ---
Additionally, J.R. Short has developed a selection of pellets that help snack manufacturers in the creation of healthier alternatives now demanded by schools. Veggie Crinkle Fries—made with dehydrated potato ingredients, rice flour, and real dehydrated vegetables—are offered in three varieties: plain, spinach, and tomato. Options can use other vegetables as well.
They can be fried with light salt and air popped with cool ranch seasoning. Formulations can deliver calcium at the 30% Required Daily Allowance level, and a high-spinach blend can boost Vitamin A content up to 45% RDA. Other vitamins and minerals can be blended into the base and complement the calcium.
Smoothies for Tomorrow?
Things are running along 'smoothie,' judging by this media event, Smoothies 101, held by Virginia Dare, Brooklyn, N.Y. (phone 718-788-1776, www.virginiadare.com). At the event's opening, the company gave a presentation designed to review and understand consumer perceptions and expectations of smoothie beverages. The term "smoothie" has many different definitions—the most common being a thick, creamy beverage composed of both fruit and dairy ingredients. Although often dairy/fruit in composition, smoothies are not limited to this combination, and in the broadest sense, they can refer to thick, non-dairy chilled beverages. Smoothies are often defined by thickness in texture, and by consumer involvement in preparation.
Virginia Dare's Marketing Department recently conducted an on-line survey to better understand what defines a smoothie to consumers. Consumers were asked what comprises a smoothie, who in their household consumes smoothies, when are they consumed, what ingredients are used, and how they are prepared. The survey included 56 respondents aged 18-45—58.9% of which were females.
Consumer benefits derived from smoothies included healthy dairy nutrition, variety from usual beverages, creaminess, energy boost, thick texture, on the go portable food, satisfying/hunger filling, refreshment, healthy fruit nutrition, and cold beverage satisfaction. Nearly 30% of the respondents consumed smoothies several times a month.
The most commonly used ingredients in a smoothie were ice, fresh strawberries, fresh bananas, milk, frozen fruit, fresh blueberries, yogurt, fresh mangos, ice cream, fresh pineapple, fresh peaches, sugar, fresh oranges, honey, vanilla, sherbet/sorbet, fresh apples, and soy milk. The three most favored flavors by consumers included strawberry banana, strawberry, and mango.
Virginia Dare conducted a flavor guidance survey with in-franchise smoothie consumers. Given an extensive list of potential flavor choices for smoothies, consumers were able to identify flavors they have not tried but would be most interested in trying. These included Apple Caramel, Blueberry Cobbler, Pomegranate, Cran Raspberry, Strawberry Kiwi, Guava, Black Cherry, Almond, Wild Blueberry, Cantaloupe Green Tea, Maple, Nectarine Green Tea, Oatmeal Raisin, Horchata, and Black Currant.
--- PAGE BREAK ---
Selected consumer-tested smoothie prototypes (and reasons for selection) included Nectarine Green Tea (healthy perception of green tea combined with juiciness and refreshment from nectarine); Wild Blueberry (a more natural perception of blueberry); Berry Pomegranate (pomegranate has a highly recognized consumer health perception); Plum Rooibos (plum has Asian connotations and high refreshment value while rooibos is perceived as a healthy herbal tea); Caramel Apple (popular youth confectionery flavor); Harvest Cider (cider connotes natural, upcoming flavor); Cactus Pear Berry (Hispanic connection with possible mainstream crossover); Banana Orange Carrot (orange, a universally accepted flavor, with carrot appearing in many start-up health beverages); Black Currant (up and coming flavor); Green Peach (African and European trendy flavor); Green Tea Melon (healthy perception of green tea combined with the juiciness and appealing aroma of melon); and Berry Horchata (Hispanic connection with berry helping to increase taste acceptance in mainstream crossover).
At the Virginia Dare event, the media, broken down by teams, was asked to create their own smoothie concoctions. The formulations developed included Pirate's Dare: A Taste of the Tropics (pineapple juice, pomegranate juice, mint, honey, vanilla, ice, rum, and sugar); Honey, You're as Cool as a Cucumber (watermelon, mint, lime juice, cucumber, honey, yogurt, ice, blueberries, and vanilla); Mango Lime Pie (yogurt, mango, banana, key lime juice, vanilla, almond milk, honey, and cinnamon); and We 'R' Nuts (banana, peanut butter, honey, vanilla, coconut water, yogurt, and cinnamon).
At its booth, Virginia Dare highlighted two smoothie prototypes—Mango Apricot Elderflower Smoothie and Watermelon Raspberry Smoothie. Other prototypes featured included Blood Orange Blueberry Jasmine Rooibos, Tangerine Lemon Lavender Rooibos, Raspberry Vanilla Black Tea, Pomegranate Fuji Apple Rose Water Black Tea, Black Currant Raspberry Beverage, Pear Honey Vanilla Beverage, Elderberry Strawberry Beverage, Guava Peach Honeysuckle Beverage, Vanilla Guanabana Ice Pop, and Veggie and Fruit Ice Pop.
New Oil Qualifies for 'Saturated Fat Free' Claim
Omega-9 sunflower oil, unveiled by Dow AgroSciences, Indianapolis, Ind. (phone 317-337-4142, www.omega-9oils.com), is described as the first saturated fat-free oil product. The oil also has zero trans fats and is high in heart-healthy monounsaturated fats.
With this oil, food companies may significantly reduce or eliminate saturated fat from new front-of-pack labels, which will begin to appear on retail shelves within the next two years. "Omega-9 Sunflower Oil provides a very powerful ingredient advantage for food manufacturers, potentially allowing them to eliminate saturated fat from food products by making the switch," said David Dzisiak, Commercial Leader Grains & Oils for Dow AgroSciences.
The all-natural sunflower oil is derived from Nexera™ seeds which were developed by the company through traditional plant breeding. And because the oil has a very high level of stability, many formulators will not require antioxidants or partial hydrogenation to achieve the desired shelf life.
--- PAGE BREAK ---
The oil, said to be the first to qualify for a saturated fat free claim, has potential applications in salad dressings, spreads, mayonnaise, and retail bottled oils. A consumer sensory study found that adults rates Omega-9 Sunflower Oil at parity to canola and soybean oil on overall liking, taste, and aroma when these oils were used to stir-fry green beans.
High-Oleic Soybean Oil Meets the Demands of All-Day Dining
In its All-Day Café Menu, Pioneer Hi-Bred, a DuPont business, Johnston, Iowa (phone 515-727-7414, www.plenish.com), highlighted the many uses of its Plenish™ high-oleic soybean oil. The oil is derived from soybeans which have been deregulated by the USDA and are grown under contract for ongoing field and oil testing in 2011. Commercialization is anticipated in 2012, upon full regulatory approval and field testing.
As demonstrated by the extensive menu of foods prepared at IFT Food Expo, the high-oleic soybean oil can meet the demands of all-day dining, with benefits from kitchen to table. Versatile and functional, the oil has zero grams of trans fat, 20% less saturated fat than commodity soybean oil, 75% oleic content (the highest of any soybean under commercial development), and a linolenic content of less than three percent for improved flavor and stability. The oil provides a number of benefits, including higher heat stability for frying, increased fry life, improved flavor, increased shelf life for manufactured products, decreased equipment maintenance, and blending opportunities. It can be used for deep-frying, sautéing, grilling, baking, sauces, and dressings.
At its booth, the company demonstrated how the oil can work to meet menu needs from start to finish.
For breakfast, the oil provided a highly functional frying oil, whether in the fryer, skillet, or griddle. Products on this portion of the menu included two eggs fried in the oil (served with bacon or sausage); cakestyle doughnuts deep-fried in the oil; a basket of baked goods (blueberry or bran muffins, banana bread, and popovers with the oil providing a spray release); and pancakes hot off the griddle.
The next part of the menu covered appetizers made with the frying oil. These included breaded cheese sticks, vegetable egg rolls, deep-fried tofu, and deep-fried empanadas filled with savory meat or chicken. Side dishes included classic French or waffle fries, sweet potato fries, and crispy onion rings dipped in beer batter and fried to an appetizing light golden brown. The oil was used for deep frying, was able to reach high temperatures without breaking down, and provided a clean flavor and crisp texture, with fewer oil changes and less buildup on the equipment.
Next on the menu were salads, including Greek, Asian Chicken, and Signature Taco. Because the neutral profile of the oil does not compete with the other flavors, it can be utilized in a variety of dressing and sauce needs.
The oil provided a costeffective trans-fat solution for highlighted sandwiches and burgers, such as The Works Burger (with grilled onions, sautéed bell peppers, on a lightly grilled bun); Classic Croque Monsieur (grilled cheese and ham sandwich dipped in egg batter and fried), and Beer Batter Perch Sandwich (featuring two fillets fried to a golden brown).
--- PAGE BREAK ---
Entrees on the menu included crispy fried chicken breasts, country-fried steak, pasta primavera (with seasoned vegetables sautéed with the oil), and grilled seafood fillet of the day (lightly brushed with the oil). Because of the nutritional value of the oil, a number of kid-friendly foods were also showcased, including chicken fingers (crispy fried in the oil); duo of breaded shrimp served with cocktail sauce, broccoli cuts, and applesauce; and mini-burger with curly fries.
And for dessert, the oil provided the needed stability for baking or frying. Products on the "Sweet Endings" portion of the menu included Crispy Sweet Beignets (deep fried in oil, dusted with powdered sugar, and served with cinnamon ice cream); Chocolate Churros (crispy fried dough sticks), and Dessert Doughnut Mini-Bites.
Extensive Menu Reflects New Teamwork
The combined resources of Corn Products and National Starch, Bridgewater, N.J. (phone 908-658- 5555. www.foodinnovation.com), provided an expanded portfolio of ingredients and expertise in the development of a wide range of food and beverage prototypes. These prototypes—dairy, confectionery, bakery, sweet & savory, and beverages—addressed important trends in today's formulating.
A new starch-based optimized texture system, Precisa® Cream 10, reduces or replaces milk-fat in dairy products while enhancing creaminess. A fat-free yogurt prototype, made with the ingredient and Nutraflora prebiotic fiber, maintained a rich, creamy texture while delivering an improved nutritional profile. The texture system was developed with the use of Dial-In™ Texture Technology, which translates consumer insights and data into robust, predictable formulations. "Our patent-pending technology creates functionality that allows Precisa Cream 10 to impart the key textural attributes (mouth-coating, oral viscosity, soft gel structure) associated with the creaminess that consumers desire in a dairy product," said Suzanne Mutz-Darwell, Senior Market Development Manager of Texture. "It can cut costs for dairy processors by replacing more expensive ingredients, and it labels simply as 'modified food starch,' which is a familiar ingredient to most yogurt consumers." The ingredient is compatible with current processes, can withstand the high temperature and shear profiles typically associated with HTST/UHT processes, and maintains product quality throughout its shelf life via stability and syneresis control. Several other dairy prototypes were presented. Greek-style yogurt, made with new Novation Indulge 3340 for labeling benefits, has an extra-thick texture. A fat-free yogurt sweetened with Enliten Reb A stevia provided all the indulgence but half the sugar. A reduced-sugar chocolate milk drink containing Enliten Reb A stevia offered a delicious, clean, chocolate dairy taste.
At the confectionery counter, an indulgent chocolate with reduced sugar content was formulated with Enliten Reb A stevia. Sugar-free spearmint-flavored mint, made with Erysta co-processed directly compressible erythritol, has a smooth mouthfeel and texture without the sugar. Fruity gummies, with Etenia potato starch delivering ultra-high clarity and very high elasticity in full or partial gelatin replacement, provided the same chew and texture as traditional formulations. A lemon-lime flavored chew was fortified with Nu-Mega omega-3 DHA that supports cognitive function, heart health, and visual clarity.
--- PAGE BREAK ---
At the bakery counter, attendees were able to compare traditional full-fat brownies with lower-cost, reduced-fat versions made with Homecraft® Create 765 specialty flour. For the gluten-free market, two prototypes were featured—a cranberry almond breakfast bar, made with Expandex® modified starch and fortified with Purimune GOS, and a cranberry oatmeal cookie, which is moist and chewy because of Homecraft Create GF20 flour and has 5 g of fiber per two-cookie serving from Hi-maize® resistant starch.
In the sweet & savory area, goat cheese grits with wild mushroom Madeira cream sauce was served. The cream sauce was made with Novation Prima functional native starch that delivers the freeze/thaw performance of modified starch along with labeling benefits. Also prepared was a zesty chicken andouille gumbo thickened with Novation 8600 waxy rice functional native starch, noted for its freeze/thaw capabilities. And a prototype cucumber dill ranch dressing owed its eating qualities to Precisa™ Cling 201 texture system, which cuts oils and cost but not textural appeal.
And to wash everything down, a fortified, citrus-flavored vitamin water, Vitality Shot, was kept crystal clear because of a Q-Naturale® emulsion system. The beverage was sweetened with Enliten Reb A and fortified with a calcified mineral source (Aquamin) and soluble fiber (Nutriose). Also available were sweet tea and raspberry powdered beverages sweetened with Enliten stevia and fortified with Aquamin, NutraFlora prebiotic fiber, and Purimune® high-purity GOS.
New Safety Solution Joins Portfolio of Flours
The world of food safety is changing, and depending on your application, flour can be a risk factor. With more high-profile incidents and changing consumer behaviors, products previously considered safe are more vulnerable. Flour, for example, is at risk of exposure to naturally occurring microbiological threats, including E. coli and Salmonella. USDA data indicate that pathogens are present in the flour supply.
While most flour-based products undergo a validated kill step at the point of production, such as baking or cooking, many products rely on the consumer to perform that step. But recent research from ConAgra Mills, Omaha, Neb. (phone 402-240-5153, www.conagramills.com), shows that an alarming percentage of consumers often disregard packaging instructions—eating raw cookie dough, unbaked pizza and other products without fully cooking them as directed. That can put their health—and the manufacturer's reputation—at stake.
A new flour solution from ConAgra Mills can help mitigate microbiological risks associated with raw flour, preventing a costly food safety incident that can affect the customer's brand, reputation, and bottom line. The state-of-theart integrated production and distribution process, the SafeGuard Treatment and Delivery System, provides safe-to-consume functional flour with up to a 5-log validated pathogen reduction that can be customized based on specific product requirements. An all-natural pathogen treatment allows the flour to maintain its absorption, starch quality, gluten vitality, and enzyme activity.
--- PAGE BREAK ---
According to the company, all of its flour products and specialty grains can be processed and delivered as part of its SafeGuard process. These flours offer reduced food safety risk without compromising crucial properties, including flavor, texture, appearance, and performance. Tests have shown, for example, that breads made with the new flour solution maintain full gluten functionality compared to breads made with the same flour before treatment. SafeGuard flour can find particular application in such products as refrigerated cookie, pastry, and biscuit dough; frozen pizzas, frozen pies and appetizers; cake, brownie, and other bakery mixes; instant gravy and sauce mixes, soup mixes and bases; no-bake dough inclusions; and other products. At the IFT Expo, the company demonstrated its flour solution in Molten Lava Cake, Homemade Chocolate Chip Cookies, and in a comparison between bread made with the same flour before and after treatment.
In addition to its new flour solution, ConAgra highlighted a number of other ingredients from its portfolio, including Ultragrain whole wheat flour which has the fiber and nutrition of whole grain and the taste, texture, and appeal of refined flour; Sustagrain® flour and flakes, which has three times the fiber of oats and a balance of soluble and insoluble fibers; and Ultragrain 51% whole grain pastas that offer the mild flavor, light color, speck-free appearance, al dente bite, and superior holding power of refined flour pastas with the healthy benefits of whole grains. These ingredients were demonstrated in a variety of prototypes. For example, Cajun Beef Muffuletta Slider featured 25% Ultragrain Whole Wheat Flour in the slider bun; Sustagrain flakes in beef slider; and Cajun Seasoning Blend from SpiceTec Flavors & Seasonings. Each slider provided 3 g whole grain/1 g fiber per slider. Braised Duck Ragu was made with 51% Ultragrain whole wheat penne, providing 28 g whole wheat/4g fiber per 55 g dry pasta. Creole Quesadilla consisted of 62% Ultragrain Whole Wheat Flour Tortilla and SpiceTec's Creole Seasoning Blend, providing 36 g whole grain/4g fiber per quesadilla. Energy Bars featured Sustagrain flakes that provide 10 g whole grain/3 g fiber per 40-g bar. Sustagrain flakes were also highlighted in Multigrain Apple Cinnamon Hot Cereal and Maple Toffee Hot Cereal.
Tapping into a Low-Sodium Approach
Strategies for reducing sodium were highlighted by Spicetec Flavors & Seasonings, a business unit of ConAgra Foods Inc., Omaha, Neb. (phone 800-921-7502, www.spicetec.com). The company's low-sodium approach taps into a number of ingredients from the company's portfolio, including mineral salts, flavor maskers, bitter blockers, nucleotides, yeast extracts, hydrolyzed proteins, spices, flavors, and new sodium innovations.
Among these innovations was Micron Salt, ultra small crystals made by micro-pulverizing salt to a patentpending particle size. The product has three times the surface area per volume than traditional salt, and its smaller particle size can deliver salty flavor at a lower salt application rate. Even at 20% less sodium, salted potato chips made using Micron Salt had no significant difference in consumer preference relative to its full-salt counterpart and it had equal visual appeal. The product is suitable in oil slurries, snacks, and other topical applications where its fine texture and low density keep it well dispersed.
--- PAGE BREAK ---
A number of savory and sodium-reduced prototypes were featured at IFT Food Expo. These included a comparison between a full-salt Alfredo sauce and one with 30% reduced sodium; Garden Vegetable Potato Chips featuring 20% reduced sodium and a garden vegetable seasoning blend; Cajun Seafood Biscuits and Gravy made with Cajun Seasoning Blend and Natural Cajun Flavor; Savory Creole Crab Cupcakes with Spicy Creole Seasoning Blend, Gazpacho Seasoning Blend, Natural & Artificial Cucumber Type Flavor, Mirepoix Flavor Roasted Type, Natural & Artificial Worcestershire Sauce Flavor, and Natural Tomato Type Flavor; Bayou BBQ Served with Seasoned Baked Beans (a mixture of pork, alligator, and turkey with New Orleans BBQ Seasoning Blend, Natural Butter Flavor, Lemon Juice Flavor, and Louisiana Remoulade Seasoning Blend); and Margarita with Hurricane Rimmer featuring Hurricane Seasoning Blend, Natural Tropical Passion Flavor Type, Natural Pomegranate Type Flavor, Natural Lime Flavor, and Artificial Rum Flavor.
In 2010, Spicetec Flavors & Seasonings announced the launch of its new name and branding. This follows the completion of ConAgra Foods' sale of the dehydrated and vegetable product operations of Gilroy Foods & Flavors to Olam International. (See Karen Nachay's post-show article for coverage of Olam International.)
Cracking New Ideas with Walnuts
California walnuts are a versatile ingredient that can add nutritional value, taste, and crunch to a number of food products, including confections, baked goods, dairy products, and others. To demonstrate these benefits, California Walnut Board, Folsom, Calif. (phone 916-932-7070, www.walnuts.org), made available a number of products for sampling. These products included Fruit and Walnut Cream Brioche Pastry, Mediterranean Red Bean and Walnut Spread, Gluten-Free Walnut Cake, Walnut Pear and Blue Cheese Dressing, Dark Chocolate Dipped and Cocoa Powder Dusted Walnuts, Walnut Butter Sandwich Confection, and an assortment of Seasoned Walnuts (Mexican-Style Mole, Mushroom & Cheese Blend, Basil Pesto, Carolina BBQ, and Hawaiian 7 Spice).
These product formulations were among those highlighted in California Walnut Formulations 2011, a brochure designed to inspire food professionals regarding the potential of the walnut in product development. This literature, also available at the booth, contained recipes and resources. Additional formulations contained in the brochure included Honey Walnut Mustard, Burned Caramel Walnut Tart Filling, and Walnut and Fig Brie in Croute.
One ounce of walnuts reportedly contains plant-based omega-3 fatty acids (2.5 g), protein (4 g), and fiber (2 g), as well as being a good source of magnesium and phosphorous. Walnuts are naturally cholesterol and sodium free, and contain numerous antioxidants.
Getting an Egg-ucation
Want to learn how to utilize egg products to create gels in refrigerated desserts? Or how eggs can help manage crystal formation in ice cream or other frozen foods? Or just want to learn more about the functionality and nutritional benefits of eggs in a specific formulation?
--- PAGE BREAK ---
Well, you can get crackin' by viewing a new website, www.functionalegg.org, which the American Egg Board, Park Ridge, Ill. (phone 847-296-7043, www.aeb.org), introduced at a press conference. The online educational resource, created by AEB for research and development professionals, contains newly produced videos on egg functionality. These science-based application videos are designed to answer questions and provide free educational information for viewers about the special and multiple functional properties of egg products.
Each video focuses on a single attribute of egg product functionality. The initial half dozen addresses the following topics: (1) Aeration in baked goods: using eggs to create foams; (2) adding volume to baked goods; (3) building baked goods: using eggs to provide structure to cakes, muffins, and quick breads; (4) egg yolk emulsions produce smooth and creamy textures; (5) refrigerated desserts: how eggs stabilize and control richness in custards, flans, and puddings; and (6) using egg products to manage crystallization in confections and frozen foods.
The primary narrator in these videos is Shelly McKee, Associate Professor in the Department of Poultry Science at Auburn University, Auburn, Ala. "I was quite excited to work with the American Egg Board on this project," said McKee. "A visual presentation of this caliber is like watching a technical paper come to life, with all the practical application information a formulator could wish in a condensed form."
The videos can be used for Continuing Education credits for individuals involved in R&D and marketing. Credits are earned by visiting the website, viewing an 8-10 min video and then correctly answering multiple-choice questionsat the end of the video. A personal record log helps viewers to keep track of their progress through the series. The videos can also serve as a training tool for egg product suppliers.
The videos also provide extra features such as a FAQ section and a conversion table for the various egg products available—liquid, solid (dried powders), or in-shell.
According to Elisa Maloberti, Director of Egg Product Marketing at AEB, "six additional videos will be produced during the second half of the year on topics such as how egg products contribute mouthfeel and texture and how they assist with the development of gluten-free products."
In addition to providing more than 20 functionality properties, egg products serve as a high-quality protein source for use in several food and beverage categories, ranging from breakfast foods to better-for-you snacks to gluten-free pasta products.
What's the best thing about these videos? Well, you can get an egg-ucation for free. And that's no yolk in today's expensive times.
--- PAGE BREAK ---
Balancing Sweetness and Mouthfeel in Reduced-Calorie Beverages
A new approach, developed by Cargill, Wayzata, Minn. (phone 952-742-9246, www.cargill.com), enables beverage manufacturers to deliver better-tasting, reduced-calorie products. With this approach (which integrates patent-pending technologies, application capabilities, and ingredients such as texturizers, sweeteners, and flavors from the company's diverse portfolio), reduced-calorie solutions, TasteWise™, are created to provide the right balance between desired sweetness and enhanced mouthfeel.
The secret to delivering a superior taste experience to consumers is in optimizing the balance between texture, sweetness, and mouthfeel, explained Andy del Rosal, Team Leader of Cargill's North American beverage application scientists. When producing reduced-calorie beverages, manufacturers typically lower sugar content. To compensate for losing sweetness, it is common to add zeroor mid-caloric high-intensity sweeteners and taste-modifying flavors. Although this effectively addresses the loss of sweetness, the resulting beverage is likely to deliver a thinner mouthfeel and a different taste profile.
Using its new approach, Cargill claims to remedy this problem, as the company explained in a presentation given at a Special Events Pavilion. This presentation reported on the preliminary results of the company's multi-year research and development program designed to better understand how beverage ingredients interact to affect taste, sweetness, and mouthfeel to ultimately drive overall consumer liking. The company then described its new approach for optimizing taste in reduced-calorie beverages such as a zero-calorie lemon-lime soda.
According to del Rosal, the approach uses "tribology" (the science and technology of interacting surfaces in relative motion) to more accurately mimic and measure what goes on inside the outh when a beverage is consumed. The company emphasized that it is a pioneer in the use of tribology in the food and beverage industry, and through its use can predict and shape mouthfeel with an accuracy previously unknown in the industry.
"With this new approach, Cargill not only provides the ingredients to achieve desired sweetness and enhanced mouthfeel, but the science and expertise to achieve the right balance," said del Rosal. "This is the culmination of years of scientific research to help our customers develop reduced-calorie beverages that also taste great." Sensory and consumer testing of Cargill's measurement and ingredient technology, conducted at North Carolina State University's Sensory Science Center, validates the connection between key mouthfeel sensations and consumer liking.
The new approach also helps customers to save time and reduce costs. TasteWise reduced-calorie solutions help speed product development through the utilization of its special prediction capabilities and new ingredient components. These components may include new texturizing blends that make possible the use of less sweeteners or other ingredients to achieve the same mouthfeel; the use of sweetener developments such as stevia-based, zero-calorie sweetener Truvia; and the use of taste enhancing and masking flavors. At Cargill's booth, attendees were able to take the TasteWise challenge to see if they can tell which lemon-lime soda is zero-calorie.
--- PAGE BREAK ---
Monk Fruit Extract Comes to the Bayou
The launching of Purefruit™ monk fruit extract, by Tate & Lyle, Decatur, Ill. (phone 217-421-2331, www.tateandlyle.com), was celebrated at a food- and drink-tasting event hosted by New Orleans Chef John Besh. At the company's booth, Besh showcased several bayouinspired, reduced-sugar recipes—Mango Cream Pie, Bourbon Basil Lemonade, and Spicy Smoothie—that he prepared using the natural fruit-based, calorie-free sweetener solution.
Spicy Smoothie, for example, offered 25% reduced sugar and calories compared to a regular smoothie. The strawberry-banana smoothie was spiced with fresh ginger, giving it an extra kick while the monk fruit extract helped it to maintain the desired sweetness. The Bourbon Basil Lemonade has one-third less sugar than full-sugar versions, and was made with lemonade, real bourbon, and a twist of fresh basil. No-Sugar-Added Mango Cream Pie was a bite-sized tartlet reminiscent of mango cream pie, with a 30% sugar reduction compared to full-sugar versions.
All three formulations demonstrated the benefits of monk fruit extract when reducing sugar. Tate & Lyle recently entered into a five-year strategic partnership agreement with New Zealand-based BioVittoria, a producer and processor of monk fruit. According to the agreement, Tate & Lyle received exclusive global marketing and distribution rights for BioVittoria's monk fruit extract, which will be sold in the United States under the Purefruit brand name. Using proprietary, natural methods, the Tate & Lyle research team further refined and improved the taste of its Purefruit products for a variety of commercial applications, although BioVittoria continued management of the monk fruit extract supply line, including seedling cultivation, the grower network, and natural processing.
Monk fruit, also known as luo han guo, is native to Southeast Asia, where it has a long history. Its pulp is steeped in hot water to release a natural, calorie-free sweetening ingredient that is approximately 200 times sweeter than sugar. Monk fruit extract received a letter in January 2010 stating that the FDA had no questions after receipt of BioVittoria's GRAS notification. The extract made from monk fruit can help reduce sugar and calories in a variety of formulations, including beverages, dairy products, cereals, confections, and bakery products.
"In addition to its great taste, the ingredient enables a 'sweetened with fruit extract' label claim, which our research shows is extremely appealing to consumers," noted Karl Kramer, President, Innovation & Commercial Development for Tate & Lyle. He also noted that the agreement with BioVittoria has expanded Tate & Lyle's broad portfolio of wellness ingredients and helped to advance the company's strategy of extending its leadership position as a global provider of specialty food ingredient solutions.
The booth also highlighted a variety of other Bayou-inspired prototypes made with ingredients from the company's portfolio. These included Key Lime Cheesecake Parfait, using a combination of stabilizer systems and modified food starches and blended with Krystar™ crystalline fructose to deliver a creamy, silky texture; fiber-rich, sugar-reduced Banana Bread, featuring a blend of Promitor™ Soluble Corn Fiber 85, Purefruit, and Krystar crystalline fructose; and Guava Tea Lemonade sweetened with Splenda® Sucralose.
--- PAGE BREAK ---
Looking for Cool Blues?
Mini-bar prototypes demonstrated the flavor, functionality, and nutritional value of blueberries. U.S. Highbush Blueberry Council, Folsom, Calif. (phone 650-824-6395, www.blueberry.org), introduced this "2-Bite Bar Concept" for on-the-run occasions and stand-up eating.
Chock full of real blueberries, these bite-sized bars are bursting with blueberry flavor. Blueberries keep bars moist, add mouth-watering flavor, and provide real fruit benefits and product authenticity. They can brighten gluten-free formulations, harmonize with ancient grains, work well in products ranging from savory to sweet, and help fortify products with antioxidants. And blueberries are available year-round in many convenient forms, including whole, fresh, or dried; as puree, concentrate, or juice; and freeze dried or osmotically preserved.
The versatile formats of blueberries lend themselves to many innovative blueberry concepts. Imagine, for example, Blueberry Boomer Bars. Or Blueberry Beauty Bars. Or Jelly Roll Blues Blueberry Bars. And, of course, let's not forget Blueberry Mini Bars or as they might more appropriately be called, Bitty Bites.
Revolutionizing the Language of Texture
The true importance of texture is frequently overlooked in the early stages of food product development, noted Matt Patrick, Vice President of Research and Development for TIC Gums Inc., White Plains, Md. (phone 410-273-7300, www.ticgums.com). And this can have an effect on your final product, as the wrong texture can deliver a bad consumer experience regardless of the product's flavor and appearance. Furthermore, food developers can generate significant innovation and product variety by focusing on the fundamental attributes associated with texture.
"All of this makes the food industry ready for a new language that describes and makes texture a quantifiable part of the food design process," emphasized Patrick. TIC Gums has been actively developing a comprehensive lexicon for describing texture and evaluating benchmarks for achieving texture in a product. And at this year's IFT Food Expo, the company introduced this lexicon of words devoted to the description of texture for solid, liquid, and semi-solid foods. A tool, this lexicon of well-defined terms will aid food scientists and developers, providing them with a better way to express the textural qualities desired in food products early in the development process. Included in the lexicon is a texture-mapping process and more than 30 already complete texture attributes maps.
The use of such a systematic approach can provide a number of benefits, explained Patrick. It can help customers do many things better. For example, because desired textural characteristics are defined along with the product concept and flavor goals earlier in the development process, development time can be reduced. The use of the lexicon can help reduce the guess work about choosing the right texture; better texture conveyed earlier in the development process can improve the way flavor is delivered and perceived; and manipulating texture can help differentiate products in the marketplace, making their development more affordable than other possibilities while elevating texture to a level where maximum benefits are noticed by consumers.
--- PAGE BREAK ---
At the company's booth, various demonstrations allowed attendees to make use of this lexicon—as well as their senses—to discuss texture and their textural needs in product development. These demonstrations included three gels made with different gum systems for manipulation; three teas made with different gum systems with similar viscosities and solids; and three sauces also made with different gum systems with similar viscosities and solids. Attendees were able to participate in these demonstrations, sampling prototypes and becoming involved in texture discussions.
"Without a common language, an efficient way to develop or design food products was more challenging than needed," observed Patrick. "While flavor is well understood and described, texture was much less so. With more specific ways to communicate common understanding of desired experiences, better food products can be delivered more efficiently than before."
Using Asian Sauces in Mainstream Applications
When you think of soy sauce, Asian applications usually come to mind but this is no longer so, as demonstrated by this variety of mainstream products. These sample formulations featuring naturally-reduced sodium and enhanced flavor solutions were made with ingredients from the portfolio of Kikkoman Sales USA Inc., San Francisco, Calif. (phone 415-229-3605, www.kikkomanusa.com).
For example, a reduced-sodium bagel incorporated NFE Natural Flavor Enhancer which can reduce the sodium of baked goods by half. Developed with the company's proprietary fermentation technology, it provides natural flavor enhancement without a distinctive soy sauce flavor or color. Available in liquid and powdered forms, the savory booster has a neutral taste, light color, and strong umami characteristics. It can bring out the inherent 'deliciousness' of any cuisine, across a broad range of product categories, claimed Joe Leslie, the company's National Industrial Sales & Marketing Manager.
The reduced-sodium bagel was served with cream cheeses flavored with authentic Kikkoman Asian sauces, including Sriacha Hot Chili Sauce, Plum Sauce, Thai Style Chili Sauce, and Sweet Soy Glaze. Designed to maintain bold flavor throughout the production process, the sauces demonstrated an easy way to add Asian flavor (from Japanese to Thai to Chinese) in unexpected ways. Other products in this line include Ponzu Citrus Seasoned Dressing and Sauce (in lemon and lime flavors), Oyster Sauce, Black Bean Sauce, Hoisin Sauce, Katsu Sauce, Koterri Mirin, and more.
Attendees were also able to sample a minestrone soup—one version made with NFE added to it and one version without—to see how natural flavor enhancement helps the taste of reduced sodium foods.
Also featured was beef jerky made with Kikkoman Sodium PTN (Premium Total Nitrogen) Soy Sauce, which contains 45% less sodium than regular soy sauce, making it the lowest-sodium Kikkoman soy sauce available. A tamari-style soy sauce, the product features a high-impact soy sauce flavor, with the added benefitof reduced sodium. During manufacturing, the company uses a proprietary process to reduce sodium, resulting in a soy sauce with 15% stronger flavor and no dilution. The higher amino acid content offers increased flavor enhancement properties. According to Leslie, this new soy sauce creates and maintains a desirable flavor balance, even in formulations with sodium reduction up to 50%. The flavor will stay strong, even through the harshest production and cooking environments. In addition to containing this ingredient, the beef jerky prototype was flavored with Sriracha Hot Chili Sauce.
--- PAGE BREAK ---
Exploring Salt Taste Solutions
At its 'Salt Inspiration Station', Morton Salt, a K+S Group Company, Chicago, Ill. (phone 312-807-2000, www.mortonsalt.com), highlighted an integrated approach to sodium reduction as well as the latest additions to its salt portfolio. "We call our booth the 'Salt Inspiration Station' because we intend to get attendees' creative juices flowing as they explore salt taste solutions to meet their product development challenges, no matter what their formulation, sensory, cost, and nutritional needs may be," said Lind Kragt, Technical Services Manager for Morton Salt.
"As a company, we've been coming up with sodium-reduction solutions for more than 40 years," noted Kragt. "As formulations, consumer concerns, and nutritional guidelines change, we keep renewing our efforts." Among the sodium-reduction technologies the company showcased was potassium chloride, the industry standard for salt substitutes. High-purity potassium chloride, KaliSel, is now available for sale to the U.S. and Canada, with functions including salt replacer, taste enhancer, processing agent, stabilizer, gelling agent, or preservative. It can be used to replace up to 33% of the sodium chloride in many processed foods without affecting consumer taste acceptance and is a good source of dietary potassium. Potential application categories include meats, soups, sauces, snacks, dairy products, prepared meats, bread and baked goods, side dishes, and other products.
In addition to KaliSel and Morton® Potassium Chloride, other sodium reduction products included Morton Lite Salt® Mixture (a 50:50 blend of salt and potassium chloride) and a variety of salt particle sizes and bulk densities.
The company also highlighted its Star Flake® dendritic salt, Culinox® 999® high-purity salt, sea salts in various screen sizes, and a spectrum of salt particles specifically designed to function across product categories and manufacturing needs. Updated technical data sheets; a revised salt matrix brochure spelling out how to match the right salt (and their functionality benefits) to the correct application; and different case studies were offered to help the food formulator.
New Dairy Flavors Have Parve Certification
New butter and cream flavors from Butter Buds Food Ingredients, Racine, Wis. (phone 262-598-9900, www.bbuds.com), can be certified as Parve. The flavors, Non-Dairy Butter and Non-Dairy Cream, are made with the ompany's proprietary enzyme technology, providing high-quality flavor and dairy richness to a number of foods, such as baked goods, confections, sauces, meat and poultry products, gravies, dry mixes, and cheese products.
The new flavors mark the latest addition to the company's growing line of products with Parve certification, including Butter Buds Bacon™, Olive Oil Buds®, CocoaButter Buds®, and Dried Beer Extract™.
New Opportunities for Almonds
Almond demonstrations were conducted by Research Chef John Czukor for the Almond Board of California (ABC), Modesto, Calif. (phone 209- 549-8262, www.almondboard.com). By combining cilantro, almond butter, and the complementing spices and flavors of Thailand and Vietnam, the chef developed two almond creations that he paired with a corresponding ale for a special tasting experience.
--- PAGE BREAK ---
Thai Almond Clusters (whole almonds bound together will almond butter, candied Thai bird chilies, and cilantro) was paired with Singha®Thai Beer. Thai bird chilies produce a heat that can be soothed and balanced by the light crispness of the right beer. This pairing brings together the indigenous ingredients of Thailand with a classic Thai beer, creating an earthy connection which naturally blends.
Vietnamese Almond Clusters (wok-roasted whole blanched almonds with coconut flakes, coriander seed, star anise, flaked palm sugar, espresso bean powder, and almond butter) was paired with Kingfisher® Premium Lager. The depth and warmth of this lager, brewed with malted barley and hops, complements the clusters' nutty aromatics, roasted almonds, toasted coriander, and coffee flavors.
Attendees were able to sample these two pairings at an Almonds + Ale Flavor Pairing Reception held at ABC's booth. According to ABC, this year's reception was inspired by McCormick Flavors' identification of cilantro and nut butters as an emerging 2011 flavor trend, describing the duo as "feel-good, fresh comfort … with a taste that's simultaneously sweet and savory, hearty and herbaceous." ABC was then motivated to combine the popularity of last year's Almonds & Ale tasting with this year's forecasted flavor trends, turning to Chef Csukor to bring the forecast to life with two almond creations balanced with selected brews.
At this year's IFT Food Expo, the chef also created several almond recipe concepts within the breakfast and cereal categories. For example, Farro + Almond Breakfast Cereal is a hot breakfast application that combines the chew and bite of faro with the complexity of smoked, salted almonds and dried fruit. A vegetarian preparation designed to mimic the classic smoky sweet flavors of a hearty breakfast without bacon or other meat, this dish is a fulfilling and tasty way to start the day. Almond Cereal Stix is an extruded almond cereal that incorporates three different almond forms that stay crackly-crisp in a bowl of milk or mixed with yogurt and sweet dried berries. Almond Raisin Nature Bar, developed for health-oriented men, combines almonds, raisins, honey, oats, vanilla, peppercorns, and fennel seeds. Other formulations developed by the chef included Chocolate-Dipped Caramel Almond Bites and Black Forest Almond Chocolate Granola Bar.
Also available were several quantitative studies to help provide a better understanding of consumers' attitudes, awareness, and consumption habits in the breakfast and cereal categories.
Milking the Coconut for New Ingredients
A range of ingredients from coconut trees were showcased by Carrageenan Company, Santa Ana, Calif. (phone 714-751-1521, www.carrageenan.com), as part of its alliance with Island Organic Ingredients. For example, a natural sweetener, CocoNat Sugar™, is made from the sap of coconut blooms of organically farmed coconut trees. The sap goes through a two-step process—cooking and granulation, with no further processing involved after the cooking stage. The sweetener is naturally rich in vitamins and minerals, and has a low glycemic index of 35.
--- PAGE BREAK ---
CocoNat Flour™ is made of fresh white coconut kernel or meat that is steam dried, defatted, and ground into flour. A suitable replacement for wheat flour in baked goods, it is gluten free and hypoallergenic, and has fewer digestible carbohydrates than other flours and some vegetables.
CocoNat Virgin Oil™ is made from the kernel of selected mature coconuts, and extracted through a natural cold process. It is rich in medium-chain fatty acids, especially lauric acid which provides antiviral, antibacterial, and antifungal properties.
New Flavor Modifier for Use with Stevia
Natural flavor modifier, launched under the name NSF-02 by PureCircle USA, Oak Brook, Ill. (phone 630-361-0374, www.purecircle.com), is designed specifically to work in combination with the company's high-purity stevia sweeteners, Reb A and SG 95, as well as sugar or high fructose corn syrup. The flavor enhancer, which utilizes a technology that is patented by PureCircle, reportedly enhances flavor, sweetness, and taste of foods and beverages.
The combination of sugar or HFCS with NSF-02 and PureCircle's high-purity stevia sweeteners delivers a range of better-tasting, low-cost, natural product formulations, with reduced calories, noted Jason Hecker, the company's Vice President of Global Marketing. As a result, the company expects positive impacts on sales of Reb A and SG95, while generating revenue from NSF-02 on its own.
According to Hecker, a 30% sugar reduction in a beverage application can be achieved using the flavor modifier. A muffin with a 50% reduction in sugar has also been developing using the flavor modifier.
PureCircle received clearance from regulators in the U.S. and a number of other countries and has now begun to market this new technology globally. NSF-02 is the first of several new natural flavor systems in the company's pipeline to be marketed as the new PureCircle Flavors™ product line, claimed Hecker.
Emulsifying Excellence
A new line of emulsifier and stabilizer blends for ice cream were unveiled under the name Extrulce by Palsgaard Inc., Morris Plains, N.J. (phone 973-998-7951, www.palsgaard.com). Traditionally, blends such as these would contain three to five additives, each with a special functionality that, if removed, would influence the quality of the ice cream. However, this range of functional blends has been developed to reduce the number of additives to one or two while providing the functionality properties of blends with as many as five additives.
For example, the latest addition, Extrulce 304, consists of a combination of mono- and diglycerides and vegetable fiber that ensures a creamy, full-bodied ice cream with excellent stand-up properties, heat shock stability, and slow melting. This functional blend joins Extrulce 303, which contains two additives, mono- and diglycerides and guar gum, for providing improved whipping properties, texture, standup properties, melting resistance, and the prevention of ice crystal growth during storage.
--- PAGE BREAK ---
This new range for ice cream was introduced in Europe in 2010, and is now being introduced in the U.S.
On the baking side, Palsgaard ushered in a new-generation activated powdered cake emulsifier, SA 6600. Containing one emulsifier and one food carrier, this ingredient is allergen free and provides increased production capabilities, lower dosages, and less product waste. Utilizing the ingredient in a formulation can mean easier product development and product adjustments while creating better-for-you cakes, claimed the company.
Creating a Better-for-You French Fry
A zero-trans solution for potato par frying was introduced by Caravan Ingredients, Lenexa, Kansas (phone 800-669-4092, www.caravaningredients.com). The result of a breakthrough high-diglyceride technology, Trancendim™ 130 enhances the nutritional profile of the product while maintaining a desirable flavor profile.
When used in potato frying, the high-diglyceride oil produces a product with zero grams of trans fat, decreased saturated fatty acids, and the necessary structure to prevent freezer clumping and crumbling. Additionally, the oil has no impact on finished product sensory attributes, so the consumer is able to get a better-for-you product without compromising on the taste, claimed the company.
The zero trans solution for potato par frying is the latest addition in the Trancendim product line which performs well in a variety of applications, including cakes, cookies, donuts, Danish, icing, frying, puff pastries, popcorn, and laminated products.
A Rice for Every Need
A wide range of instant rice products is available from Riviana Foods Inc., Houston, Tex. (phone 713-529-3251, www.rivianaIndustrial.com). These rices (white, brown, wild, or blends) are designed to shorten preparation time and reduce utility and labor.
The company's line of brown and white IQF rices offer convenience—customers simply add the rice to a frozen entrée or blend with other frozen ingredients. Also featured are crisp rice products, which are specially processed to hold up under hot syrups or chocolates. From tiny pieces to whole-grain crisp rice, confectionery or snack needs can be specifically met.
Highlighted at the IFT Food Expo were products that included 3-, 5-, 7-, and 10-minute instant rices; instant brown rice; quick-cooking wild rice; parbroiled rice; and an extensive line of rice flours.
Whether for a side dish, dinner kit, innovative formulation, or a vegan burger, the company claims that it has a rice for every need.
--- PAGE BREAK ---
Company Changes Name
At the IFT Food Expo, Premium Ingredients International, Carol Stream, Ill. (phone 630-868-0300, www.premiumingredients.com), launched its new name, Prinova. The name change, which was effective July 1, 2011, reflects a new global identity.
In the past 10 years, the company has added extensively to its product portfolio, with ranges including natural sweeteners, botanical extracts, proteins, and recently, animal nutrition, feed flavors, and palatability compounds. In addition to expanded supplier ingredient agreements, the company enhanced its presence in Western Europe.
The company is the exclusive distributor for PureCircle Reb A 97 and SG95 (steviol glycoside 95). SG95 is a new, natural stevia-derived proprietary blend from PureCircle that is nearly half the cost of other natural sweeteners. It is FDA approved for food and beverages, and can replace up to 50% of sugar without noticeable detection.
The company is also the exclusive U.S. distributor for Teawolf® allnatural, highly concentrated extracts and distillates. The core product line includes tea, vanilla, cocoa, coffee, hibiscus, chamomile, passionfruit, and lavender, as well as many other botanical extracts.
Swamped with Innovation
As bayous are teeming with different forms of life, this year's show was illed with ingredient innovations… so many, in fact, that it would be difficult to reel them all into one boat. (See the following articles written by Karen Nachay and Linda Ohr for more post-show coverage of ingredients.)
So many developments included in this article deserve at least another mention. For example, the future of fiber is still unfolding with new developments, including a combination of soluble corn fiber, honey, and purified steviol glycosides. Soy continues to expand its functionality—one interesting example, an isolated soy protein that is completely transparent enables fortification of clear beverages. Sweet potatoes are finding use in a number of formulations such as biscuits, pudding, extruded snacks, and French fries. And, of course, combinations of ingredients—whether they be the pairing of sweet or savory components, the combining of sugar with an alternative sweetener such as stevia, or the blending of traditional fruits with exotic versions—are helping to fuel the rebirth of many flavors and ingredients.
These rebirths suggest the evolutionary nature of ingredients, and the myriad ways they adapt to meet the needs of the formulators as well as to address the changing marketplace.
Reborn on the Bayou. Definitely a hit song for the food industry.
--- PAGE BREAK ---
---
Sampling the Expo
A 'Chi-Nawlins' sandwich?
Using its Flavorology™ approach, Bell Flavors & Fragrances, Northbrook, Ill. (phone 847-291-8300, www.bellff.com), fused a classic New Orleans Po'Boy with Chicago-style Italian beef, garlic and oregano flavors, a French baguette, and Cajun Feta Spread made with a Creole seasoning blend and a feta cheese type flavor concentrate. Also served were slushies—available in tangelo and yumberry flavors—and a Chocolate Souffle Brownie with an amaretto-flavored chocolate drizzle on top and a Bananas Foster-flavored chocolate drizzle on the inside. The prototypes demonstrated some of the products in the company's portfolio that includedflavors in liquid, powder, spray dry, and paste forms, as well as capabilities in flavor enhancement, masking, salt reduction, and flavor replacement or extension.
Mediterranean Mezze
Greek Style Chicken Kabobs utilized a new line of clean label meat flavors called Ultra-Clean™, part of the Robust® Ultima portfolio from Innova, a Griffith Laboratories Company, Lombard, Ill. (phone 630-928-4800, www.innovaflavors.com). The flavor line was designed to deliver the flavor characteristics produced by classic culinary cooking techniques using only clean-label ingredients. The Greek-inspired finger food, made from dark meat chicken, was seasoned with natural rotisserie chicken and garlic herb flavors. It was served with three sauces—Tzatziki Sauce (a creamy Greek-style yogurt made with garlic and cucumber flavors, fresh lemon, and extra virgin olive oil); Chorizo Tomato Dipping Sauce (a full-bodied tomato sauce accentuated with chorizo and dark meat chicken flavors); and Olive & Tomato Tapenade Spread (a chunky spread made with green olives, tomato, and black olive flavor accented with fresh lemon, onion, and garlic). The Chorizo Tomato Dipping Sauce also incorporated Ultima Ultra-Clean line of flavors while the other sauces featured flavors from the SavorNotes™ line.
Sipping on new beverage ideas
A number of natural flavor distillates, part of the Treattarome™ line from Treatt USA, Lakeland, Fla. (phone 863-668-9500, www.treatt.com), were showcased in several beverage prototypes. These included Hibiscus-Raspberry Green Tea, Watermelon Margarita, Citron Presse (sort of like a fancy lemonade), and Tropi-Berry (a blend of mango, passion fruit, and cassis). A wide range of other distillates are available from the company, including honey, ginger, mango, spearmint, cucumber, and habanero pepper. Clear and entirely water soluble, these products are suitable for applications including beverages, alcoholic drinks, juices, and dairy formulations.
Voodoo magic
A little voodoo was practiced by Edlong Dairy Flavors, Elk Grove Village, Ill. (phone 847-631-6700, www.edlong.com), in the creation of better-for-you foods that taste as good as they are good for you. Formulations such as Voodoo Sweet Potato Biscuit with Saintly Sausage Gravy, NOLA Granola (with fresh local fruit and sweet vanilla cream), and Bourbon Street Bananas Foster Smoothie, are made with the company's diverse dairy flavor line designed to address a range of challenges—from masking off notes to enhancing creamy mouthfeel in low-fat and non-dairy applications.
--- PAGE BREAK ---
A meaty beverage
Chicken broth in a beverage? A savory formulation, Spicy Chicken Tomato Beverage, combines chicken broth powder with tomato juice and a low-sodium V8 juice. Other ingredients in the beverage included Worcestershire sauce, lime juice, hot sauce, and autolyzed yeast. The beverage, which was served chilled, demonstrated how savory flavor notes can be added to product formulations using natural meat- and poultry-based food ingredients. Using its savory ingredients, the company also rethought the concept of pho (a brothy noodle soup that is a Vietnamese specialty), serving up a turkey pho.
New Orleans provides inspiration for dairy proteins
Inspired by New Orleans cuisine, Bananas Foster Layered Nougat Caramel Bar, was made with dairy protein ingredients from Fonterra USA Inc., Rosemont, Ill. (phone 847-928-1869, www.fonterra.com). This decadent nutrition bar consisted of a light-textured banana-flavored nougat on top of Oringer's high protein caramel, delivering 10 g of dairy protein in a 40 g bar. With the protein fortification of gooey caramel and light fluffy nougat, every bite became a tasty, better-for-you adventure. Other formulations demonstrating the company's protein ingredients included a high-protein, peach-flavored yogurt smoothie; a protein-fortified 'Hurricane," a fruit cocktail also inspired by New Orleans; and organic cheddar cheese. All of these formulations demonstrated the functionality and nutritional benefits of such ingredients as whey protein concentrate, whey protein isolate, milk protein, and cheese ingredients.
Make my pretzel Egyptian
Imagine a pretzel coated with a flavor from a certain urban area of the world. Or a cupcake frosting that captures such an experience. A cosmopolitan flavors collection, Urban Chic, provides the flavor experiences of Paris, Cairo, Moscow, Shanghai, New Dellhi, Cape Town, New York, Tokyo, and Sydney. Each distinctive flavor in this collection, developed by Jean Niel Inc., Odessa, Fla. (phone 404-536-0076, www.nielaromes.com), was inspired by the culture, the environment, the differences, and the way of living of people from these 10 cities.
Whiffs of caramel corn in the air
If you followed those whiffs of caramel corn, you would find the source of them to be Carmi Flavor & Fragrance Co. Inc., Commerce, Calif. (phone 323-888-9240, www.carmiflavor.com). The company features an extensive portfolio of flavors for beverages, baked goods, ice cream, marinades, and other products.
New flavor enhancer product launched
Creole- and Cajun-flavored formulations reflecting the local cuisines of New Orleans were made with yeast extracts from Brazil-headquartered Biorigin Ingredients Ltd. (phone +55 14-32699270, www.biorigin.net). In addition to enhancing the taste of these foods, the ingredients helped reduce sodium levels in the finished product. Also, an autolyzed yeast product, Biotaste Meat, was launched. This new addition to the Biotaste line (which includes yeast extracts to enhance the flavors of chicken, beef, and toasted products) provides a mild meat taste and toasted notes to a variety of applications.
--- PAGE BREAK ---
Sauces spotlight America's 'BBQ Capitals'
A line of barbecue sauces, Cattlemen's® Master's Reserve™, was featured by French's Flavor Ingredients, Springfield, Mo. (phone 417-837-1865, www.frenchsflavoringredients.com), in several formulations. These sauces provided authentic regional flavors from America's 'BBQ Capitals,' including styles of Memphis, Carolina, Kansas City, Texas, St. Louis, Louisiana, Mississippi, and Kentucky. Chef Brian Young, the company's Director of Culinology, created several new taste sensations using these and other sauces from the portfolio. These included Mini Pork Sliders with Cattlemen's Master Reserve Carolina Tangy Gold Barbecue Sauce, Cayenne-Flavored Buffalo Spring Rolls with Frank's® RedHot® Cayenne Pepper Sauce, and Juicy Mini Bratwurst Sliders served with three tangy French's® Mustard dipping sauces.
Donald E. Pszczola is Senior Editor, Food Technology magazine ([email protected]).