There's no reduction in the sodium reduction trend, as many exhibitors at the 2011 IFT Food Expo featured ingredients for use in reduced-sodium products. This was not the only trend addressed by exhibitors. Others included naturally derived ingredients, sugar reduction, ethnic flavorings, cost reduction, non-meat alternatives, and more. Exhibitors promoted the functional benefits of these ingredients, with many of them showcasing their ingredients in prototypes. This article recaps some of the ingredient developments presented at the IFT Food Expo.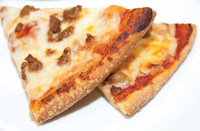 Helping Formulators Overcome Challenges
Cargill Inc., Minneapolis, Minn. (phone 952-742-9246, www.cargill.com), highlighted the functionality of several of its ingredients, both new and well-established ones, in various prototypes to show how these ingredients can solve different formulation challenges. For instance, sodium reduction can be a challenge; sodium plays many functional roles in applications and reducing it can adversely affect the texture, taste and other qualities of the finished product.
Cargill introduced FlakeSelect™ Sodium Reduction System, which uses a patent-pending compacting process to combine salt and other ingredients. Pressure is applied to the ingredients to produce clustered thin flakes that have low bulk density, high solubility, and large surface area. FlakeSelect comes in four varieties: FlakeSelect KCl, FlakeSelect KCl/Salt, FlakeSelect KCl/Sea Salt, and FlakeSelect Sea Salt. Each of these varieties is available in four cut sizes: extra coarse, coarse, fine flake, and flour. All of the FlakeSelect ingredients can be used to reduce sodium and maintain taste and appearance in salty snacks, bakery products, sauces, and seasoning blends for meat. The company demonstrated this ingredient in Reduced-sodium Sausage Pizza, which had a 35% reduction of sodium and also featured reduced-sodium marinara sauce, pizza crust, sausage crumbles, and mozzarella cheese.
Cargill showcased another new ingredient, Clear Valley® 80 High Oleic Canola Oil, in Berries & White Chocolate Granola Bar and in Churro-Flavored Snack Bar. The oil is said to have high oxidative stability, low level of saturated fat and zero grams of trans fat per 14 g serving, bland flavor, and an extended storage and shelf life of 270 days from the manufacture date.
According to Cargill, Clear Valley® 80 High Oleic Canola Oil has the highest level of oleic acid of all canola oils and the highest level of oxidative stability of all high-oleic oils, including sunflower, soybean, safflower, and others. The company formulated these prototypes with this ingredient to address formulator challenges of reducing saturated fat and removing trans fat from a snack product without compromising taste and texture as well as using a canola oil that does not develop and impart grassy and other off flavors to the finished product.
--- PAGE BREAK ---
Cajun-Style Creamy Vegetable Soup contained PolarTex™ Modified Food Starch, Natural Dairy Flavors, and Premier™ Fine Prepared Flour Salt. The starch ingredient provided instant viscosity to enhance texture and replaced the cream in the soup, helping to reduce some of the fat content. Natural Dairy Flavors added dairy richness that was lost with the elimination of the cream. In addition to enhancing the flavor of this particular prototype, the salt can be used as flavoring and fermentation control in self-rising flour. The soup contained 3 g of fat and 450 mg of sodium/8-oz serving.
Cargill Dry MD™ Maltodextrin gave viscosity and body to Vanilla Energy Gel. Whole Grain Corn Muffin was formulated with CitriTex™ GSG71 to reduce fat and Clear Valley Omega-3 Oil to add the benefits of omega-3 fatty acids without affecting taste, mouthfeel, or shelf life.
Cargill's GrainWise® Wheat Aleurone preserved the soft texture, high volume, mild taste, and light color of Savory Crisp Cluster Snack.
To increase fiber, reduce fat, and maintain acceptable texture in Ice Cream Bar with Fiber, the company used Oliggo-Fiber® Inulin. The ingredient reportedly has excellent solubility in water, generates little or no viscosity, has neutral flavor, reduces sweetener aftertaste, is heat stable, and functions as a plasticizer in high-protein bars.
Showing Developers the 'Whey'
As part of its "Healthy Beverages—Taking Concept Beverages to Nutritious Reality" campaign, Hilmar Ingredients, Hilmar, Calif. (phone 209-667-6076, www.hilmaringredients.com), featured its whey protein ingredients in beverage proptypes. Chai Spice Protein Shake was formulated with Hilmar™ 8350 whey protein hydrolysate and Hilmar 8200 whey protein concentrate. Hilmar 8350 has a neutral taste and reduced bitterness and it contains pre-digested proteins, short peptides, and free amino acids. Hilmar 8200, an 80% whey protein concentrate, is heat stable during pasteurization and UHT processing. It is suited for use in ready-to-drink beverages.
Hilmar 9420 whey protein isolate can reduce astringency in low-pH applications, is heat-stable during pasteurization, and provides optimized flavor in juices and other acid beverages. Hilmar formulated Raspberry Clear Hi-Protein Sports Drink with the ingredient.
Soups that Satisfy
Soups can provide a variety of nutrients but one in particular is often quite high: sodium. Sodium has functional benefits, though, and removing too much of it affects flavor among other things. Savoury Systems International Inc., Branchburg, N.J. (phone 908-526-2524, www.savourysystems.com), showcased a range of ingredients that can be used as salt replacers and flavor enhancers.
--- PAGE BREAK ---
Roasted Pumpkin Spice Soup featured LS Brown Note #0854 yeast extract flavor and YE LS HP Enhancer #1070 yeast extract and enhancer, an ingredient that is said to round out mouthfeel and improve flavor profiles. Low-sodium Chicken Orzo Soup highlighted a salt replacer, SavourSalt Salt Replacer for Poultry #0885. The ingredient does not contain potassium chloride. The company reports that the amino acids in this yeast extract help to increase savory notes and round out other flavors. Two of the company's yeast extract flavors, Chicken Type Flavor #0804 (light poultry type, full flavored) and Beef Type Flavor #0850 (full-bodied beef flavor with roasted notes) were featured in Mimetic Chicken Broth Shot and Mimetic Beef Broth Shot, respectively. The company's Natural Ham Enhancer #0865 gave a ham and bacon flavor with additional smoky character to Carrot and Ginger Soup.
Ingredients Hold Functional Promise
The tortillas in Quesadillas Featuring High-fiber Tortillas provided the health benefits of 100% whole grain and fiber and had improved flexibility and an increased shelf life thanks to TruBran® F75M corn bran and Instant Pure-Cote® B792 food starchmodified from Grain Processing Corp., Muscatine, Iowa (phone 563-264-4265, www.grainprocessing.com). In addition to increasing the fiber content, TruBran F75M imparts a golden-brown color. Instant Pure-Cote B792 helps prevent tortillas from becoming soggy when filled and enhances film formation.
The TruBran ingredient also appeared in Cajun-flavored Snack Crackers. In this prototype, the ingredient lent a neutral taste that did not affect the savory seasoning flavor, had low moisture absorption that requires little formula adjustments, did not affect the mixing, sheeting, or baking of the cracker dough, and added fiber. The crackers were served with Creamy Ranch Dill Dip formulated with Inscosity® B656 modified food starch and Maltrin QD® M585 maltodextrin. Inscosity adds instant hydration in cold or hot water, imparts sheen and gloss, and offers moisture stability and mouthfeel in the absence of thermal processing. Maltrin is a carrier that helps disperse other ingredients like spices and salt, and it is soluble at high usage levels.
After sampling the savory selections, attendees were treated to Gluten-free Chocolate Cake with Whipped Topping and Non-fat Chocolate-Cherry Syrup. The cake featured Pure-Dent® B700 corn starch, a clean-flavor bulking agent that leaves little or no powdery mouthfeel, and Inscosity B656, which increases batter viscosity and moisture retention, improves cell structure and product volume, and provides freeze stability. The whipped topping was made from a dry mix formulated with Inscosity B656, which stabilizes viscosity and foam, controls syneresis, increases refrigerator storage time, and disperses in hot or cold water, and Maltrin QD M100, which increases foam stability, controls moisture migration, and provides a creamy mouthfeel. The syrup was formulated with Pure-Gel® B990 modified food starch, which provides stabilized viscosity during storage, imparts gloss and sheen, and is easily hydrated in high-solids environments, and Maltrin M040 maltodextrin, which builds solids and viscosity in low-fat and non-fat applications and provides mouthfeel similar to higher-fat products.
--- PAGE BREAK ---
Finally, to wash it all down,  Effervescent Pomegranate Beverage featured a beverage tablet made with  Maltrin QD M550 and Maltrin QD M580 maltodextrins. These ingredients are good binders, disintegrate quickly in water to form clear solutions, and have a neutral flavor allowing them to be used as fillers.
Cocoa Extender Offers Cost Advantage
Cookies baked right at the David Michael booth featured Cocoa-Mate® cocoa extender, which can replace up to 30% of the cocoa powder used in ice cream, yogurt, beverages, puddings, toppings, and baked goods such as cookies and brownies. Cocoa-Mate can replace both dutched cocoa and natural cocoa. The company also offers Natural and Artificial Cocoa-Mate. The cookies offered at the booth were formulated with Cocoa-Mate Natural Flavor Powder for Dutched Cocoa #33657 at 0.16% and Supervan® #10349 (an ounce for ounce replacement for vanillin) at 0.07%.
David Michael, Philadelphia, Pa. (phone 215-632-3100, www.dmflavors.com), also featured prototypes that highlighted the current trend of coconut water. The company used coconut water as a base for a frozen treat—coconut water ice—and fruit flavors to create tropical-inspired treats. Maqui Berry Flavored Coconut Water Ice was formulated with the exotic Natural Maqui Berry Flavor WONF #33558 at 0.28%, Michtex® Stabilizer #894 at 0.30%, and Natural Red Extract #3430R at 0.20%. Island Punch Flavored Coconut Water Ice contained Natural & Artificial Flavor "Island Punch Type" #34810 at 0.30%, Natural Rum Flavor WONF #34811 at 0.20%, Michtex #894 at 0.30%, and Natural Red Extract #3497R at 0.10%.
Focus on Enzyme Functions
Biocatalysts Ltd., Cardiff, Wales, UK (phone +014-4384-3712, www.biocatalysts.com), offered a range of enzymes for various applications. Its microbial pregastric esterases (PGEs) for use in enzyme-modified cheese are said to match the specific flavors generated by their animal-derived counterparts. These are an alternative to animal-derived PGEs, which are responsible for the digestion of fat and for making hard Italian cheeses such as provolone, parmesan, and romano. The ingredients in the portfolio include Flavorpro™ C, Flavorpro K, and Flavorpro L. Other enzymes for dairy applications include Lipomod™ 691P, a mixed fungal lipase that produces a creamy flavor; Lipomod 768MDP, a mixed fungal esterase that produces a free fatty acid profile; and Lipomod 801MDP, which produces free fatty acid flavors with some brothy and sulphur notes.
An enzyme, Tannase 759P, can aid the clarification of tea and improve the flavor of tea extracts. The enzyme hydrolyzes the tannins in the tea to produce a clear beverage. Additionally, the ingredient is useful in the production of gallic acid and propylgallate, stabilization of wine, clarification of beer and fruit juices, and production of coffee and flavored soft drinks.
--- PAGE BREAK ---
Flavorpro 766MDP is used in the hydrolysis of wheat gluten, and can be used with the company's Flavorpro 373P glutaminase ingredient to produce a wheat gluten hydrolysate with a savory flavor. These wheat gluten hydrolysates can be used to add flavor to soup mixes, stock cubes, canned or frozen meat products, and seasoning mixes for snack foods.
Yogurt Powder Enhances Texture
Grande Custom Ingredients Group, Lomira, Wis. (phone 920-269-7188, www.grandecig.com), introduced two ingredients in 2011. Grande® Yogurt Powder is a Grade A yogurt powder with authentic yogurt flavor and creamy textural properties. It has high viscosity and water-binding capabilities and can be used to formulate coatings, instant yogurt dips and dressings, yogurt smoothie mixes, and more without the use of starches and gums. Grande Ultra® WPI, a patented 90% protein whey protein isolate, is said to have a neutral flavor and offer clarity for a wide range of pH values, making it useful in sports, protein, and fruit drinks.
In addition to these new ingredients, the company provided information about its other whey protein ingredients. The portfolio of Grande Bravo® Functional Whey Proteins offers ingredients to help formulators achieve desired textural properties in sauces, soups, dressings, meat, bakery products, and frozen desserts. The functional properties of these ingredients are that they are easily hydrated, have clean flavor, have high viscosity and waterbinding capabilities, and are heat-, acid-, and freeze-thaw–stable. They reportedly can enhance texture and mouthfeel, reduce fat and calories, reduce cost, improve product yields, extend shelf life, and reduce use of stabilizers and emulsifiers. Grande WPCrisp® adds crunchy texture to applications; can replace soy, corn, or rice crisps; and can be seasoned, coated, or mixed with other ingredients or used as inclusions in bars and other products.
Process Maintains Oil's Nutrients
A canola oil from Viterra Inc., Kansas City, Mo. (phone 816-994-7619, www.viterra.com), is produced through a double expeller-pressed process that maintains the natural nutritional value of the oil. It is a highly stable oil for use as a cooking oil and use in snack foods, dressings, sauces, mayonnaise, and food manufacturing. The oil reportedly has a neutral flavor and has zero trans fat.
Shortenings Win Award
Two ingredients that can reduce saturated fat content and calories in bakery and snack foods from Loders Croklaan North America, Channahon, Ill. (phone 815-730-5200, http://northamerica.croklaan.com), won the 2011 IFT Food Expo Innovation Award.
An all-purpose shortening, SansTrans™ VLS30 can provide up to a 30% reduction in saturated fat. SansTrans VLS40 is an emulsified shortening that can reduce saturated fat up to 15%. The company reported that the ingredients offer cost savings as well.
--- PAGE BREAK ---
Antimicrobial Functions as Flavor Enhancer
Purac America Inc., Lincolnshire, Ill. (phone 847-634-6330, www.purac.com), demonstrated the versatility of its PuraQ® Verdad RV70 ingredient in 30% Sodium Reduced Alfredo Sauce. An antimicrobial, the ingredient can also boost flavor and enhance the salty perception in some applications, making it useful in sodium-reduced products. It is a ferment derived from organic acids and is labeled as cultured sugar. At the booth, attendees were able to compare a control sample of alfredo sauce with a sauce formulated with 1.0% of the ingredient.
Emerald Increases Capacity
Emerald Performance Materials, Cuyahoga Falls, Ohio (phone 330-916-6700, www.emeraldmaterials.com), announced that it increased the production of its Hilton Davis® Lake Colorants at its facility in Cincinnati, Ohio, to respond to increased demand for these ingredients. The Hilton Davis ingredient line includes FD&C dyes and lakes.
Green Tea Extract Improves Oil
Kemin Food Technologies, Des Moines, Iowa (phone 515-559-5296, www.kemin.com/foods), emphasized two of its new ingredients. GT-FORT™, a green tea-based, water-soluble liquid extract, can be used in place of synthetic antioxidants and tocopherols used in frying oils. The ingredient is oil-dispersible and is said to slow the breakdown of frying oil to reduce oxidative rancidity. The company conducted tests of the ingredient in palm oil used to fry instant noodles and French fries, and it reported that the ingredient was as effective as synthetic alternatives and did not affect the flavor of the finished products.
The other ingredient that Kemin showcased, SHIELD® FL, is a liquid antimicrobial for use in deli salads. This blend of sodium propionate and sorbic acid reduces yeast, mold, and aerobic bacteria counts. The ingredient can be used in bakery and tortilla products, dressings, and sauces in addition to deli salads.
Shortenings Can Reduce Fat
As part of its "Simplicity, Sustainability, and Reliability" business strategy, Bunge North America, St. Louis, Mo. (phone 800-828-0800, www.bungenorthamerica.com), developed two shortenings under its UltraBlends Designer Solutions line. Saturate Sparing 172 all-purpose shortening and Saturate Sparing 358 emulsified shortening have zero grams of trans fat per serving and more than 34% reduction of saturated fats compared to traditional functional shortening. The emulsified shortening is formulated for use in cakes and icings. The company reported that both ingredients are expected to be commercialized later in 2011. These and other ingredients in the UltraBlends line were featured in New Orleans favorites like beignets, hushpuppies with Louisana aioli, crawfish po'boys, fried alligator, jalapeno-cheddar corn bread, and jambalaya fritters.
--- PAGE BREAK ---
Sunflower Seeds Offer Option to Peanut Butter
An alternative to peanut butter, SunButter® Sunflower Seed Spread, from Red River Commodities, Fargo, N.D. (phone 701-282-2600, www.redriv.com), is made from U.S. grown sunflower seeds produced by specific hybrids of sunflowers. The ingredient is processed in a peanut- and tree nut-free facility. Several varieties are available: Natural No-Stir Creamy, Creamy, Organic Unsweetened, Natural, Natural Crunch, and Natural Omega-3.
New Shortenings Lower in Saturated Fat
Richardson Oilseed Ltd., Winnipeg, Manitoba, Canada (phone 204-934-5287, www.canolaharvest.com), introduced two margarine ingredients made from canola oil that are lower in saturated fat compared to high palm content alternatives. Bake-It Sweet is a non-hydrogenated, all-purpose baking margarine for cookies, cakes, icing, crumble-style pie shells, and toppings. Roll-It is a non-hydrogenated, roll-in margarine for croissants and Danish pastries.
The company highlighted some of its other recently launched ingredients. Ice-It is a non-hydrogenated, trans fat-compliant icing shortening with 25% less saturated fat compared to high palm content ingredients. The ingredient requires less mixing time than high-saturated fat palm ingredients and can be used over a range of temperatures. Applications for use include butter ice cream and ready-to-use icings, cakes, fillings, and rosette decorations. Pop-It canola popping oil and Top-It canola popcorn topping can replace oils that are high in saturated fat.
Cutting Sodium with Sea Salt
ICL Performance Products LP, St. Louis, Mo. (phone 800-244-6169. www.icl-perfproductslp.com), introduced Salona™ Natural Sea Salt and featured the ingredient in Sea Salt Topped Chocolate Caramels. The ingredient, available in fine, medium, and coarse granulations, can be used as a partial replacement for sodium chloride or as a replacement for potassium chloride, and offers a 25–50% replacement of sodium chloride, according to the company. It also contains other mineral salts, allowing it to be used for magnesium and potassium fortification.
Potato Flour Claims Many Benefits
Roasted Potato Flour lent a savory, toasted flavor to Potato Soup offered by Briess Malt & Ingredients Co., Chilton, Wis. (phone 800-657-0806, www.briess.com). The roasted pure potato flour can replace up to 10% of standard potato flour in existing formulations or as a new ingredient in existing or new formulations. It works as a thickener and binder in soups, gravies, and sauces and as a flavor and color enhancer in potato snacks, baked goods, prepared foods, dry blends, seasoning mixes, coatings, batters, meatballs, and meat mixtures. It increases expansion while improving flavor and color in extruded snacks. Briess offered the following techniques when using the ingredient: dissolve the ingredient in cold water; adjust for moisture when using the ingredient to replace standard potato flour since the ingredient has 8% less moisture; and use in combination with Briess Sprouted-Roasted Wheat ingredients to enhance savory flavor.
--- PAGE BREAK ---
Briess showcased a line of CocoaPlus™ cocoa replacer ingredients in brownies. These whole-grain specialty flour ingredients include CocoaPlus N100 to replace natural (non-alkalized) cocoa, CocoaPlus D100 to replace very dark (highly alkalized) cocoa, CocoaPlus D250 to replace black cocoa, Cocoa Plus D500 to replace black cocoa in darkest applications, CocoaPlus M100 to lighten color and add red hues, CocoaPlus M250 to deepen color and add red hues, CocoaPlus M500 to develop a richer, fuller cocoa flavor, and CocoaPlus M750 to develop a deep cocoa flavor. Some of the benefits that the company lists are reduced ingredient costs, minimum or no label changes needed for many baked goods, no artificial flavors, colors, preservatives, or additives, and low fat, trans fat free, and caffeine free. The ingredients help retain moisture in baked goods. CocoaPlus N100 produces a less dense, more cake-like product and the D series produce a more fudgey, dense product when used in brownie, cake, and other similar applications. The label declaration for the D100 ingredient is "malted wheat" and the label declaration for the others is malt (malted barley). They can replace from 5% up to 50% of cocoa depending on the application.
Themes Focus on Ingredient Features
To highlight its sodium-reduction ingredients, flavorings, flavor bases, yeast extracts, and other ingredients, Sensient Technologies Corp., Milwaukee, Wis. (phone 800-558-9892, www.sensient.com), formulated a number of prototypes and showcased them under four themes: Delicious Sensient Bio-Ingredients, Indulgent Sensient Dairy Systems, Delightful Sensient Flavors, and Appetizing Sensient Dehydrated Flavors.
The Delicious category featured two prototypes. Hearty Authentic Italian Pizza Sauce 50% Sodium Reduction with SensaSalt™ Vegetable at 0.40% and Creamy Three Cheese Alfredo Sauce 50% Sodium Reduction with SensaSalt Dairy/Cultured Cheese at 0.60%, Potato Vegetable Roux Flavor, Dehydrated Garlic Powder 598R, and Dehydrated Onion Powder 5550.
Dairy-based indulgent treats included three flavored yogurts and two ice creams. Baklava Frozen Greek Yogurt was flavored with Honey Base WONF and Baklava Variegate WONF. Citrus Splash Yogurt featured Citrus Splash Base at 20% in low-fat yogurt using Natural Flavor and Smoothenol®. Vanilla Cupcake Yogurt was formulated using Vanilla Cupcake SlurriChip™ Base at 15% in low-fat yogurt using WONF flavors and Sensient Food Colors Natural Red Prills and Artificial Blue Prills. Bananas Foster Ice Cream featured Grilled Banana Rum Base WONF, Pound Cake Variegate WONF, and Spiced Brown Sugar Crystals WONF.Lemongrass Ginger Ice Cream was flavored with Lemongrass-Ginger Base with Natural Flavor, Ginger Variegate with Extract, and Pineapple Base Fruit Feed.
Prototypes in the Delightful category were Orange Spice Cookie, Salted Caramel Pecan Chocolate Truffle, East African Spiced Beef Tips Over Couscous, South American Chicken Salad on Cucumber Slice, Orange Pink Pepper Juice, and Sicilian Lemon Iced Tea. With some of these prototypes, Sensient focused on a number of ethnic-inspired flavors such as Natural Aji Panca Chili Pepper Flavor in the chicken salad and Natural Berbere Flavor Blend with Sensient Natural Origins™ in the beef tips. The four prototypes in the Appetizing category focused solely on the company's dehydrated vegetable, chili, and herb ingredients. The prototypes were Sweet and Spicy Chili-Cardamom Almonds, Lemon Dressed Garlic & Chili Ancient Grain Salad, Chili Roasted Pine Nuts, and Rustic Tomato and Red Pepper Peperonata.
--- PAGE BREAK ---
Rhodia Uses New Solvent for Production
Rhodia-Aroma Performance, Cranbury, N.J. (phone 609-860-3020, www.rhodia.com), has switched to using a food-grade bio-ethanol solvent in the production of its Rhovanil® Extra Pure vanillin and Rhodiarome® Extra Pure ethyl vanillin. It recently converted its facilities in Baton Rouge, La., and Saint-Fons, France, so that the solvent can be used. The company also highlighted its vanillin and ethyl vanillin ingredients. Rhoiarome Extra Pure ethyl vanillin has the strength of about three times that of vanillin. Three grades are sold under the Rhovanil Extra Pure brand: Rhovanil Extra Pure, Rhovanil Extra Pure Fine Mesh, and Rhovanil Extra Pure Free Flow. Rhovanil Natural is derived from the fermentation of natural ferulic acid.
Gums Provide Range of Benefits 
Gums that reversibly gel at elevated temperatures are said to reduce oil uptake in fried foods. Ashland Aqualon Functional Ingredients, Wilmington, Del. (phone 302-594-5000, www.ashland.com), explained how its Benecel™ MC (methylcellulose) and Benecel HPMC (hydroxypropylmethylcellulose) have additional functionalities. The ingredients are said to improve moisture retention, reduce oil absorption, reduce boil out, add structure to gluten-free applications, provide creamy texture at room temperature, and offer thaw stabilization in frostings, icings, and breads. In dairy applications, the ingredients provide ice crystal control, improve mouthfeel, increase filling viscosity, heat stability, and adhesion to foods during heat treatment, and improve hot consistency and synergy with modified starch. Additionally, the ingredients reportedly improve cling in sauces and batters and improve the texture of meat alternatives.
Resource Aids Product Developers
Univar Food Ingredients, Redmond, Wash. (phone 425-889-3400, www.univar.com), introduced the 2011 edition of Less Is More, its interactive resource to help product developers formulate products with less sugar, salt, and fat. In the browser-like interface, users click to access information about the latest ingredient developments such as technical documents, trend guides, and starting formulations. Univar collaborates with leading ingredient suppliers to produce the formulation tool.
Ingredients Improve Gelling Capacity
Collagen-based ingredients aided gelling, provided texture, and even added temperature stability to several prototypes presented by Gelita, Sergeant Bluff, Iowa (phone 712-943-5516, www.gelita.com). Gelita® RTE Jelly is a gelatin ingredient for use in dry mixes for the preparation of shelf-stable gelled desserts. It can offer flavor release, texture, and stability at higher temperatures without a loss in quality. Gelita RTE-Drink gives a gel-like structure to beverages and allows the beverage to flow freely when sipped or squeezed from the packaging. Beverages made with the ingredient are stable at ambient temperature but can be consumed at refrigeration temperature. Gelita RTE-Ice gives texture, quick gelling, and stability at room temperature to ice cream coatings and frozen ice pops. It reportedly prevents the coatings from melting even after completely thawing.
--- PAGE BREAK ---
Gum Blends Offer Multiple Benefits
The Coyote Brand® GumPlete™ line of gum and starch blends from Gum Technology Corp., Tucson, Ariz. (phone 520-888- 5500, www.gumtech.com), is said to reduce overall hydrocolloid usage levels, minimize syneresis, and create a neutral flavor release with an improved mouthfeel. GumPlete SXG-SC-204, a blend of agglomerated modified starch, xanthan, and guar gum, helps to stabilize the emulsion and create creamy texture in sauces. GumPlete SCP-DY-207, a blend of modified starch, cellulose gum, and pectin, gives texture and creamy mouthfeel to yogurts. GumPlete STG-FD-202, a combination of modified starch, tara gum, and guar gum, controls ice crystal growth and melting properties in ice creams. GumPlete SC-BD-206, a blend of modified starch and carrageenan, adds mouthfeel, provides suspension, and prevents separation in dairy- and protein-based beverages. GumPlete SXG-GF-205, a combination of modified tapioca starch, xanthan, and guar gum, mimics the texture of gluten and provides suspension in gluten-free muffins. GumPlete ST-FF-203, a blend of starch and tara gum, binds moisture in fruit fillings.
Exploring the Versatility of Rice
Specialty Ingredients, Columbia, Mo. (phone 314-919-5045, www.habibarkady.com), presented information about its range of non-GMO rice sweeteners, including rice syrup solids, rice maltodextrins, soluble rice fiber, brown rice syrups, clarified rice syrups, rice sorbitol, rice maltitol, and high-fructose rice syrup.
Reduce Sodium with Yeast Extracts
Representatives from Bio Springer, Montreal, Quebec, Canada (phone 866-464-1158, www.biospringer.com), discussed its line of yeast extracts for use in soups, sauces, seasonings, snacks, meat products, and culture media for fermentation. Yeast extracts are popular in sodium-reduction applications and increase saltiness perception.
Ingredients Improve Texture 
Specialty wheat proteins and starches are used to add or enhance texture in a variety of foods, as illustrated by MGP Ingredients Inc., Atchison, Kan. (phone 866-547-2122, www.mgpingredients.com).
Reduced Sodium Sweet & Sour Sauce featured Midsol™ specialty cook-up wheat starch, which provides a smooth texture and can hold up to high temperatures and acid. Chicken Nuggets highlighted Wheatex® textured wheat protein, which functions as a meat extender and can improve the taste, texture, and appearance of meat.
--- PAGE BREAK ---
A 'Smart' Solution to Sodium Reduction 
The Scoular Co., Minneapolis, Minn. (612-851-3737, www.scoular.com), provided information about Smart Salt, a blend of sodium, potassium, and magnesium, that can reportedly allow for sodium reductions levels of 30–60%.
Lose the Salt, Keep the Flavor 
Ogawa & Co., Ltd., Tokyo, Japan (phone +81-3-3270-1547, www.ogawa.net), profiled ingredients to help improve or enhance that taste of reduced-sodium and reduced-sugar products. Salt Replacer NKS, a blend of salt, potassium chloride, and natural flavors, is said to reduce salt by 50% with no metallic aftertaste from the potassium chloride. Salt Replacer NS, a blend of salt and natural flavors, can reduce salt by 30%. The natural flavors contained in this ingredient help to boost the salty taste. The company's Natural Stevia Optimizer is said to improve the sweet taste of the finished product and reduce the aftertaste of stevia. It is labeled as "natural flavor" and is available in liquid and powder forms.
Prickly Pear Adds Color, Flavor 
S&P Marketing Inc., Maple Grove, Minn. (phone 763-559-0436, www.snpmarketing.com), supplies tropical fruit ingredients, and one of the fruits it showcased was the prickly pear. In addition to reported health benefits such as high fiber, high antioxidants, and a source of magnesium and taurine, the fruit has skin and flesh that is deep pink to magenta in color. The company offers prickly pear purees, juices, concentrates, powders, fivers, oils, and essences for use in smoothies, beer, gelato, syrups, fruit juices, and more.
Olam Forms New Business Unit 
Olam International and Olam Americas Inc., Summit, N.J. (phone 908-988-1938, www.olamonline.com), announced that it has merged its spices, vegetable ingredients, and industrial tomato portfolios into one business unit, Olam Spices & Vegetable Ingredients. The business unit will continue to supply spices, dehydrated vegetables, specialty vegetables, and industrial tomato paste and diced tomatoes. It will operate from Olam's new West Coast headquarters in Fresno, Calif.
---
Sampling the Expo

Sweet beverages
Sweet tea and lemonade beverages formulated with Erylite® stevia provided attendees with refreshment without added calories. Jungbunzlauer Inc., Newton Centre, Mass. (phone 617-969-0900, www.jungbunzlauer.com), also featured its sub4salt® ingredient in Cajun Roasted Corn Bisque, which was formulated with 28% less sodium.
--- PAGE BREAK ---
Enhancing NOLA favorites  
Tabasco Brands® Industrial Ingredients/McIllhenny Co., Avery Island, La. (phone 337-373-6105, www.tabascoingredients.com), served several New Orleans favorites jazzed up with a kick of Tabasco ingredients. Tchoupitoulas Mac & Cheese combined crawfish and sausage with Tabasco Brand Processor's Blend. Tabasco is "King" Cake was a traditional king cake with Tabasco Brand Pepper Paste in the filling. To wash it all down, Fire & Ice Tabasco Community Coffee included Tabasco sauce and was topped with whipped cream infused with Tabasco Brand Dry Red Flavoring.
Meatballs with improved texture
Z Trim Ingredients, Mundelein, Ill. (phone 847-549-6002, www.ztrim.com), highlighted the textural functionality of Z Trim® powdered cellulose in Apple Chicken Meatball with Creole Sauce and Cajun Beef Meatball with Guajillo Ancho Red Sauce. Derived from either oat hull or corn bran, the ingredient has easy dispersability and flavor neutrality and gives finished products a smooth mouthfeel. The company also emphasized the cost reduction benefits of using Z Trim to replace soybean oil or dairy solids. For example, the ingredient can be blended with skim milk to replace 30% of cream cheese in a cheesecake formulation. The typical usage levels for Z Trim range from 0.5% to 2%.
Flavoring hummus
Hummus is a dip or spread made from ground cooked chick peas, tahini or sesame paste, lemon juice, garlic, and salt. Additional ingredients can be included like roasted red peppers or sun-dried tomatoes. Gold Coast Ingredients, Commerce, Calif. (phone 323-724-8935, www.goldcoastinc.com), featured its Olive Tapenade #322473 flavor in Olive Tapenade Hummus and Pecan Praline #341410 flavor in Pecan Praline Hummus.
Colorful treats to brighten your day
Colorings add visual appeal to otherwise bland-looking foods. D.D. Williamson, Louisville, Ky. (phone 502-895-2438, www.ddwilliamson.com), and colorMaker Inc., Anaheim, Calif. (phone 714-472-0444, www.colormaker.com), featured a rainbow of colorings in a variety of prototypes. Some of their newest ingredients, including acid-proof, class one caramel color; acid-proof, caramelized sugar flavor (natural); and certified organic annatto extracts, were formulated in Chocoberry Juice Drink; red sports drink; process cheese in red, yellow, orange, and purple varieties; Mini Fruit Tarts; and taffy and other confections.
--- PAGE BREAK ---
Something fishy here?  
Fortifying foods with marine-sourced omega-3 fatty acids can be a challenge due to the "fishy" aftertaste that they can impart. Solae, St. Louis, Mo. (phone 314-659-3694, www.solae.com), and Monsanto Co., St. Louis, Mo. (phone 314- 694-2039, www.monsanto.com), collaborated to develop Soymega™. Derived from soybeans, the ingredient is said to have a cleaner flavor and be more stable than fish and algal oils. The companies demonstrated the effectiveness of the ingredient in a blueberry muffin. Soymega can fortify baked goods, soups, sauces, beverages, snack bars, dressings, margarines, and shortenings.
Popcorn colored naturally  
Popcorn and confections flavored and colored with naturally derived ingredients from Kalsec Inc., Kalamazoo, Mich. (phone 269-349-9711, www.kalsec.com), illustrated the versatility of these types of ingredients. Popcorn varieties included Bloody Mary (Aquaresin® Bloody Mary Spice, NS flavor and Durabrite® Oleoresin Paprika color), Bananas Foster (Bananas Foster Spice flavor), and Coconut Curry (Aquaresin Curry Spice, NS flavor and Durabrite Oleoresin Carrot color). Hard candy confections included Aztec Spice (Aztec Spice flavor and Durabrite Antho Red 4-1), Yuzu (Yuzu flavor and Durabrite Oleoresin Carrot, W/D color), Orange Sage (Orange Sage flavor and Durabrite Aquaresin Paprika, NS color), and Blackberry Mojito (Blackberry Mojito flavor and Vegetone® Red, W/DNTP color).
Snacks, beverages highlight flavorings
Chips, cheese, beverages, and sorbet were some of the prototypes offered by Symrise, Teterboro, N.J. (phone 201-288-3200, www.symrise.com), to showcase the company's flavorings and its Taste for Life® product development tool. These included Asiago Black Pepper Seasoned Kettle Potato Chips (Natural Asiago Flavor, Natural Black Pepper Flavor WONF, and Natural Savory Enhancer), Manchego & Ancho Chili Process Cheese (Natural Manchego Type Cheese Flavor and Ancho Chili Seasoning), Chili Lime Ginger Ale (Natural Ginger Ale Type Flavor, Natural Flavor Chili Pepper Type, and Natural Lime Flavor), Cinnamon Apple Ready-to-Drink Tea (Natural Cinnamon Flavor WONF and Natural Apple Pie Type Flavor), Clementine Lime Sports Drink (Natural Clementine Flavor and Natural Lime Flavor), Guava Sorbet (Natural Guava Flavor WONF and SymLife® Sweet Natural Flavor Sweet Enhancer), and Guava-flavored Hard Boiled Candy (N&A Flavor Guava Type).
Karen Nachay, a member of IFT, is Associate Editor of Food Technology magazine ([email protected]).