Many attendees to the 2011 IFT Annual Meeting & Food Expo® came in search of answers or opportunities related to product and process development. Some of those folks may have found the solutions they were seeking at the keynote session, where incoming IFT President Roger Clemens and President-Elect John Ruff presented four companies with the 2011 IFT Food Expo Innovation Awards. The winners are DuPont Teijin Films, Ecolab, Loders Croklaan North America, and Summit Resource Group. 
"Now in its fifth year, the Food Expo Innovation Awards are a showcase for the ongoing ingenuity in our profession and, in some cases, the results of collaborative work among, industry, academia, and government," said Ruff. 
A panel of nine jurors from industry and academia with broad expertise in research & product development, processing & packaging technology, and food safety selected the four companies and their innovations from 53 qualified entries. Only companies exhibiting at the 2011 IFT Food Expo in New Orleans were eligible, and their entries must have been commercially available since January 1, 2010. Judging criteria included degree of innovation, technical advancement, benefits to food manufacturers and consumers, and scientific merit.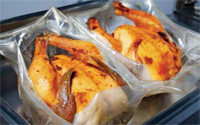 DuPont Teijin Films (www.dupontteijinfilms.com) garnered the 2011 IFT Food Expo Innovation Award for its Mylar® Cook Ovenable Pouch, which offers an innovative "no-touch" cooking solution for frozen or refrigerated raw proteins. The patented rollstock thermoforming film can be cooked in conventional, convection, or microwave ovens at temperatures up to 425° F. The packaging reduces cooking time by up to 30%, saving energy use in home, restaurant, or institutional kitchens. The thin polyester film is puncture resistant to bones and optional barrier properties can extend shelf life. It features a heatactivated venting mechanism to allow steam release. 
"Cooking without having to touch meat is always a plus," stated a juror. Another juror remarked, "Practical product is beneficial to both manufacturers and consumers through lower cost of production/preparation. Reduced handling can be beneficial to consumers. Ability to withstand high temperatures is innovative and has scientific merit."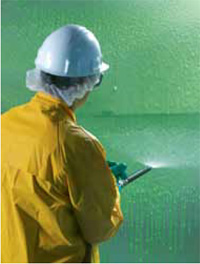 Ecolab (www.ecolab.com) won the award for its Zero Trans Fat Oil Cleaning Program, which interacts with the zero-trans-fat oil soils by breaking down the polymerized soil residues and then emulsifying the oil. The technology works at ambient temperature, reducing energy costs associated with heating hot water. It also is designed to cling to vertical surfaces and stay wet on these surfaces long enough to clean hard-to-reach areas, such as catwalks, fryer hood vents, walls, and ceilings. 
A food processor using the novel cleaning program reduced its cleaning time per mixer from eight hours to one hour, saving a total cleaning time of 35 hr/week. This time savings translated to both labor savings and additional plant production time. 
--- PAGE BREAK ---
"Residual fat left on the equipment can be a potential health risk if the fat film or residue is not removed from equipment," noted a juror. "A newly developed product that can ensure equipment cleanliness is always a need for the food industry." 
Loders Croklaan North America (http://northamerica.croklaan.com) was honored for its SansTrans VLS30 and VLS40 shortenings, which can reduce saturated fat content and calories in bakery and snack foods. Both shortenings contain a fat-sparing emulsifier package that allows a reduction in use of up to 15% fat in applications that currently use an all-purpose shortening. Saturated fat is reduced up to 30% and fat content plus calories from fat is reduced by 15%. The products' modest fat reduction does not alter the taste and texture of finished products, which are not impacted by cost. Reformulation is minimal.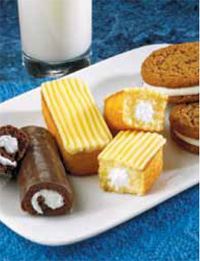 "Reducing trans fat with neutral or decreased cost is novel," observed a juror. "Converting products to trans fat-free is usuallya very significant cost increase."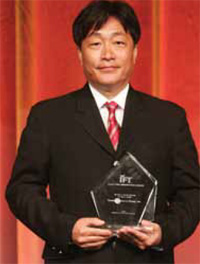 Summit Resource Group (www.summit-resource.com) captured the 2011 IFT Food Expo Innovation Award for its NC-518 Calcium for Bone Health. The ingredient is produced through a patented manufacturing technology to enhance the availability of trace minerals and zinc in the calcium. The patented laser micronization process electrostatically enhances the zinc delivery system, thus allowing the calcium to absorb in the bloodstream and support bone health. Human clinical studies have demonstrated increased bone density of 2% during the four-month study trial. 
"Calcium absorption is a concern for consumers today," declared a juror. "This product enhances the ability to be able to take calcium from a different source with the possibility of improved absorption." 
For more details on Summit's products, please view a short video at http://live.ift.org/trend_tours. 
Bob Swientek is Editor in Chief, Food Technology ([email protected]).