A variety of timely packaging topics—some of them controversial—were addressed in sessions within the 2011 IFT Annual Meeting's Food Processing & Packaging track.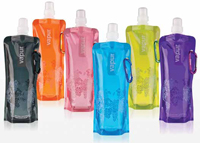 And yes, Virginia, there was a panel discussion on the constantly debated bisphenol A, more familiarly called BPA, but this gathering did no more to settle the multiple associated issues than all the past discussions—both subtle and screamed. So again, wait until next year.
A symposium on "Latest Developments in Polymeric Film Packaging for Fresh Fruit and Vegetable Products" featured Clemson University's Kay Cooksey (who was this year's Aaron L. Brody Distinguished Lecturer at Michigan State University's School of Packaging) extending our knowledge about modified atmosphere packaging of fresh and fresh-cut produce. Her presentation coupled biopolymers, microperforation, coatings, and the ever popular active packaging with mathematical modeling to optimize material and structural selection.
In a presentation within the same symposium, Hong Zhuang of the U.S. Dept. of Agriculture discussed antimicrobial packaging for fresh-cut fruits, a highly complex topic. In addition, poster sessions provided much more information on antimicrobial-laced food package structures and their functionalities.
Poster Sessions
Poster sessions delivered a full day's worth of information on important packaging issues. Topics addressed included: antimicrobial properties of wine grapes; antimicrobial chitosan/gallic acid films; electrospinning chitosan fibers; effects of plasticizers on chitosan properties; enhancing silver salt antimicrobial functionalities by synergies with high cysteine protein and lactalbumin; and allyl isothiocyanate (AIT) in polyethylene films.
--- PAGE BREAK ---
Other noteworthy poster session topics were as follows: controlled release packaging including antimicrobials such as the pungent AIT; nanotechnology in food packaging; simulated thermal sterilization protocols; nanocomposite and films coated with silicon and aluminum oxide components; and biodegradable plastic package materials reinforced with nanocomposites—polyhydroxyalkanoate (PHA), biopolymer biodegradable packaging material, kafirin from sorghum, and hydroxypropyl methylcellulose.
Highlights From the Exhibit Floor
Food packaging, which is primarily primary packaging, had only a limited presence on the IFT Food Expo® floor, but what was present was powerful enough to warrant careful attention and to suggest that many packaging suppliers have not taken sufficient advantage of the opportunities to share their innovations at the expo.
Two award winners merit special attention. DuPont Teijin Films earned a 2011 IFT Food Expo Innovation Award for its Mylar Cook Ovenable Pouch. This thermoformable polyester film has been engineered to reduce cook time for frozen or refrigerated raw proteins by up to 30%. Microthermics (www.microthermics.com) earned the 2011 IFT Industrial Achievement Award for its pilot aseptic processing systems capable of both direct steam vacuum injection and indirect heating (DIP and DIP/W).
Here's a look at some of the other notable packaging offerings from Food Expo exhibitors.
Aseptic Packaging
One standout in the universe of pilot aseptic processing and packaging systems is Netherlands' OMVE (www.omve.com), whose equipment can process up to 200 L/hr using cold plasma to sterilize package structures prior to filling.
Like raindrops falling on our heads, Ampac's booth at the Food Expo was awash with novelty in terms of flexible package structures, most of which appeared to be preformed pouches of one or another sort. One example is the 2.5-oz stand-up flexible retort pouch that opens into a bowl-like form and features a zipper reclosure—ideal for baby foods.
--- PAGE BREAK ---
Ampac (www.ampaconline.com) also offers a shaped stand-up barrier retort pouch with a polypropylene screw cap reclosure fitment that is retortable; it is being used for a Nestlé product. EZ Zip is a bottomfill stand-up flexible pouch that consumers must first open to access both product contents and an inner reclosure zipper. A stand-up flexible shaker pouch is side- or bottomfilled and opened at the bottom to shake out contents using a built-in handle at the top to hold and shake.
Ampac partnered with Vapur Inc. on the Vapur® Anti-Bottle™, a stand-up flexible pouch that is intended to replace injection blow molded polyester bottles (only 35% of which enter the recycling system, the company reports). This pouch has a big screw-cap closure fitment for drinking, dispensing, and refilling after being washed in the dishwasher and possibly silver salts in the film to function as an antimicrobial, plus a carabiner to act as a carrying device.
Noted for its pioneering developments in flexible packaging of roasted and ground coffee and its marketing of packaging systems including valves and machines, Fres-co (www.fresco.com) has moved into aseptic and related packaging for liquids. Fres-co's aseptic vertical form/fill/seal FSU1000 machine has been in the market for several years, apparently targeting large (up to 10 L) pouches.
The company's new FSU800 machine—evidently based on the original aseptic unit—is touted as a high acid aseptic, hot fill, vertical form/fill/seal machine. Apparently targeting foodservice applications such as bag-in-box apple juice and toppings, this system is also aimed at extended shelf life (ESL) chilled distribution multi-viscosity liquid foods and beverages with or without particulates.
The equipment is rated at 30 cycles/min with capacities up to 10 L—flat, shaped, or stand-up flexible pouch and the ability to add dispenser fitments. Sterilization is by peracetic acid plus ultraviolet radiation. Interestingly, the system is also claimed to be applicable for preparing retortable pouches. What a refreshing concept— identifying a long-sought economic need for clean high acid ESL packaging for the foodservice industry and offering a sound solution.
Active Packaging Innovation 
A major supplier of active packaging, Multisorb (www.multisorb.com) effectively introduced Polyfresh® oxygen scavenging film for the flexible packaging market. Essentially an oxygen absorbing powder built into film for lidding, pouch, and bag making, the material functions to enhance the oxygen removal of packaging equipment plus provide the barrier properties of oxygen barrier films in structures.
--- PAGE BREAK ---
By incorporating it into the entire package material, the film can match the properties of inserted sachets. The new active PLUS passive packaging system saves costs over adding equipment to insert sachets. Among the applications targeted are trays and stand-up flexible pouches for processed meat products such as sausage, pepperoni, and bacon bits—applications in which oxygen is removed and replaced by vacuum or inert gas. ESL fruit cups that are aseptically packaged or hot filled may have the new package product substituted as lower-cost transparent lidding material to reduce headspace oxygen to <0.5% and extend shelf life to as much as 18 mo. Some fresh pasta employs oxygen scavenging sachets, but the moisture-activated Polyfresh in the lidding film can achieve up to 90 days ESL and thus extend distribution reach for marketers, again saving cost over insertion of sachets or of ultraviolet radiation equipment to activate other types of scavengers.
Vacuum and reduced oxygen packages of processed meats and cheeses and their derivative lunch kits may apply the oxygen scavenging films in tray lidding to maintain reduced oxygen and extend quality retention time. Although Multisorb is a major supplier of oxygen scavenging sachets, the company envisions the future to be one in which these devices are replaced by active packaging incorporated directly into the package structure.
Major food packaging contractor Ameriqual (www.ameriqual.com) announced its expansion into two advanced food preservation technologies: ultra high pressure pasteurization and microwave assisted thermal sterilization, which were also displayed by the U.S. Army Natick Soldier Research, Development & Engineering Center and about which we plan to report in this column in an upcoming issue. And so we may expect to see and feel the impact of both long-awaited innovations in the foreseeable future.
Tertiary Packaging
Noting the many suppliers of bulk ingredients to the food industries and the food companies that ship bulk foods to their customers, several suppliers of bulk and semi-bulk distribution packaging were present to display their latest offerings. This market may be classified into reusable, collapsible plastic, corrugated fiberboard, and metal frames, all of which contain one or more internal plastic bags to function as primary packaging.
Arena Products (www.arenaproducts.com) displayed 330-gal capacity reusable collapsible plastic containers for bulk liquid contents. Graco Saniforce™ sanitary transfer pumps are capable of moving a broad range of fluids of different viscosity such as fruit juice, pizza sauce, caramel, and peanut butter.
Engineered to replace wooden bins, Buckhorn's (www.buckhorninc.com) reusable collapsible polypropylene intermediate bulk containers (IBCs) may be lined with 315-gal aseptic Scholle film bags to contain products such as tomato paste.
--- PAGE BREAK ---
Goodpack USA (www.goodpack.com) operates a global network of IBCs fabricated from galvanized steel to contain up to 300 lb each. They do not sell, but rather lease, these pallet-size collapsible or non-collapsible stackable containers. Internal to the tertiary packaging are polyethylene film liners and an intriguing new concept, 55-gal capacity drum replacements. These bags are fabricated from woven polypropylene for multi-packing into the steel IBCs.
International Paper (www.internationalpaper.com) is a major producer of SpaceKraft corrugated fiberboard liquid bulk containers utilizing internal polyethylene bag liners in sizes from 275 gal to 330 gal. The company also showed 55-gal octagonal lined corrugated drums to replace steel and plastic. The Kraft paperboard exteriors may be 7, 8, or 9 ply. Although some shippers elect to reuse the containers, most appear to place them in paperboard recycling systems. 
Wood pallets are inexpensive and breakable, and they splinter. They also consume about 40% of all U.S. hardwoods, and they contain all sorts of hazardous volatile chemicals that can contaminate foods. In addition, they are heavy (and so require extra fuel to transport) and fill landfills (reportedly 1.4% of total solid waste), and they have created an industry known as pallet repair. To any professional who has ever traversed a food warehouse, broken wood pallets and their detritus are ubiquitous.
Wood pallets are inexpensive—unless you calculate the total systems costs, assert the folks at Intelligent Global Pooling Systems (iGPS) (www.igps.com). Their high density polyethylene plastic pallets are 35% lighter than wood, exceed Grocery Manufacturers Association standards, and offer four-side entry. In addition, each individual pallet has its own unique embedded radio frequency identification (RFID) number so that pallets can be integral to a global pooling network and thus reportedly save up to $1.60 per pallet shipment. The initial cost is much higher than a wood pallet— and so the eternal question is this: Who is running distribution—the pallet purchasing accountants or the distribution systems measurers?
Clearly, many of the items showcased at this year's Food Expo displayed singular innovation and vision of the future—a clear indication that food packaging is alive and vibrant.
Aaron L. Brody, Ph.D., Contributing Editor to Food Technology magazine, and President and CEO, Packaging/Brody Inc., Duluth, Ga., and Adjunct Professor, University of Georgia ([email protected]).