[DOWNLOAD THE ARTICLE PDF TO SEE ALL IMAGES THAT ACCOMPANY THIS ARTICLE]
New Orleans is a city with many nicknames, probably the best known of which is the Big Easy, a reference to the easy, relaxed pace of life said to characterize the city. The pace wasn't exactly relaxed (action-packed would be a better descriptor) when the 2011 IFT Annual Meeting & Food Expo® took over the New Orleans Morial Convention Center June 11–14, but many aspects of the event did proceed more easily and smoothly than ever.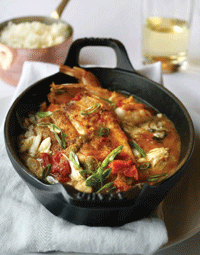 Navigating the Food Expo floor and the scientific program got simpler, for example, thanks to the rollout of IFT's much-downloaded mobile phone application and the debut of the IFT Knowledge Center, a brand new resource area in the convention center. A bright yellow "What's New!" logo made it easier to identify new products and services on display at the Food Expo. And it was easy to be inspired, intrigued, and impressed by speakers like award-winning science journalist Michael Specter, food safety and public health expert Patrick Wall, and U.S. Surgeon General Regina Benjamin.
IFT's 71st Annual Meeting and Food Expo brought more than 15,000 registrants to the Big Easy; 92% of them traveled 400 miles or more to attend the event. The show floor was a hub of activity, with 987 companies in 1,918 booths sharing the latest in food science and technology innovation.
IFT Celebrates Success
On Saturday evening, IFT Executive Vice President Barbara Byrd Keenan used another metaphor for the city of New Orleans, describing it as a "cultural gumbo"—a destination in which "a spicy mix of ingredients … complement each other without losing their individual flavors."
Executive Vice President Keenan shared the metaphor in the course of welcoming attendees to the annual Awards Celebration, which feted IFT's Achievement Award recipients and 16 newly elected Fellows. These prestigious awards honor IFT members for their significant contributions in service, teaching, and research, and scientific advancement. (For information on all of the Achievement Award winners and Fellows, visit http://www.ift.org/community/fellows.aspx.)
Keenan next introduced IFT President Robert Gravani, who thanked his family and colleagues for their support before sharing some of the past year's highlights. The list of IFT achievements Gravani cited include the following: active volunteer participation in workgroup activities; a well attended Food Safety Legislation Forum in Washington, D.C.; repositioning of the IFT Foundation, Feeding Tomorrow; and the first ever new product development competition held during the Wellness Conference.
Gravani then welcomed IFT President-Elect Roger Clemens to the stage. In his address that evening, Clemens called on food scientists to help built a better, more nutritious food supply—for consumers in the United States and throughout the world.
--- PAGE BREAK ---
"Our mission to supply safe, abundant nutritional food should compel us to develop ideas and strategies to reconcile the U.S. food supply with the Dietary Guidelines for Americans," said Clemens. "There are many products that we can develop using whole grains, less sugar, and seasonings other than salt, while assuring a safe and nutritious food supply."
Clemens brought his remarks to a close with words of thanks and tribute to the members of IFT. "Your membership and volunteerism ensure the strength and relevancy of this organization," he said. "Our collective expertise makes us the premier authority in food science and technology. Our knowledge makes us the best individuals to ensure that our food resources are capable of meeting current and future Dietary Guidelines, and that we continue to provide a safe and abundant food supply worldwide."
Malcolm Bourne, Emeritus Professor of Food Science, Cornell University, was honored as the recipient of IFT's highest honor, The Nicholas Appert Award. Bourne is noted for his influence on the importance of texture as a food-quality attribute as well as the development of improved methods for measuring texture—work that has had an impact on the industry for more than 45 years.
Two student members were recognized as recipients of the IFT Student Association (IFTSA) Excellence in Leadership Awards, acknowledgement of their exemplary leadership of student activities at the chapter, regional, and national levels. In [image 5 in the pdf] Helen Melito of North Carolina State University, the 2011 graduate student winner, poses with IFT President Gravani. Emily Del Bel of Oregon State University is the 2011 undergraduate student award winner.
MicroThermics Inc. is the 2011 recipient of the Food Technology Industrial Achievement Award, which recognizes the developers of an outstanding process or product that advances food production. MicroThermics was honored for its laboratory-scale process simulator system, which significantly reduces the time to market and the developing, manufacturing, and processing costs of new products. In [image 7 in the pdf] David Miles (left), Vice President, and John Miles, President, pose with the award.
Also during the Awards Celebration, Gravani welcomed IFTSA President Andrea Bouma to the stage and paid tribute to her dedication and hard work, thanking her for her "leadership, enthusiasm, and commitment over the past year."
Gravani also recognized IFT Immediate Past President Marianne Gillette, who was unable to be in New Orleans because of a family commitment. "Under Marianne's leadership, we focused on science, new technology, and branding, the important work of our talented membership, and our remarkable IFT community," Gravani said. Immediately following the Awards Celebration it was time to let the good times roll as IFT members congregated to congratulate the evening's honorees, socialize, and enjoy New Orleans-style refreshments and music at the annual Networking Reception.
--- PAGE BREAK ---
An Enlightening Exchange
The Keynote Session on Sunday morning is always the perfect forum for updating members on IFT activities and for serving up a thought-provoking discussion of relevant issues, and this year was no exception. IFT President Gravani got the morning off to an upbeat start, warmly greeting Keynote Session attendees and introducing an IFT year-in-review video presentation.
IFT President-Elect Clemens and President-Elect II John Ruff presented the 2011 IFT Food Expo Innovation Awards, which honor exhibiting companies for outstanding innovation in products, ingredients, technologies, instrumentation, equipment, and services commercially introduced since Jan. 1, 2010.
Clemens also announced that Elena Conis is the recipient of the IFT Media Award for Excellence in Consumer Journalism, an honor bestowed in recognition of her outstanding articles on food science and technology-related topics in the Los Angeles Times.
Executive Vice President Keenan presented Kenneth M. Quinn, head of the World Food Prize Foundation, with an award acknowledging the 25th anniversary of the prize, which is often described as the Nobel Prize for Food and Agriculture.
Martha Rhodes Roberts, Chair of Feeding Tomorrow, the Foundation of the Institute of Food Technologists, delivered a report on the activities of Feeding Tomorrow. "Thanks to the generosity of individual, institutional, and corporate donors, Feeding Tomorrow has funded more than $10 million in programs to support global food science efforts … and new generations working on these critical needs to feed tomorrow," said Roberts.
Roberts welcomed Todd Abraham, Senior Vice President of Nutrition and Research at Kraft Foods, and extended thanks to Kraft for its support of the Evan Turek Memorial Scholarship and Kraft Foods Internship.
Roberts then recognized IFT Past President Al Clausi, pictured with her in [image 16 in the pdf] , whom she described as "one of our most generous individual donors in the 26 years since the inception of Feeding Tomorrow." Also acknowledged for "being an extraordinary donor over the last 26 years" was another IFT Past President, Bob Smith, who was unable to be on hand in New Orleans. The final portion of the Keynote Session was dedicated to remarks by Keynote Session headliner Michael Specter, an awardwinning science journalist, who discussed an emerging but unfortunate trend among many consumers to reject well-substantiated science in favor of rumors and hearsay. Following Specter's remarks, the journalist took part in a provocative panel discussion with Martin Cole, Chief of CSIRO Food and Nutritional Sciences, and Mary K. Wagner, Senior Vice President, Global R&D/Quality, Starbucks Coffee Company. Linda Eatherton, Partner, Director Global Food & Nutrition, Ketchum, moderated the discussion. The theme for the Keynote Panel presentation was "Delivering Science: Changing the Image of Food Science in the Marketplace."
--- PAGE BREAK ---
Serving Up Scientific Insights
More than 1,200 poster presentations and about 110 education sessions comprised the 2011 Annual Meeting Scientific Program, providing insights into new research and its applications, shedding light on new products and technologies, and fostering the exchange of information. Attendees gave the program high marks; more than two-thirds (68%) rated it as excellent or very good, and 72% said they found the quality of the science included within the session presentations to be very high.
Attendees reported that the new Knowledge Center located in the lobby of the convention center was especially beneficial in helping them develop personalized education plans—i.e., choosing which sessions would be most valuable and mapping them into their daily schedules.
Also for the convenience of attendees, the Scientific Program was organized according to seven key focus area tracks and four core science tracks. The focus area tracks were as follows: Food Safety and Defense; Food, Health, and Nutrition; Food Processing and Packaging; Product Development and Ingredient Innovations; Sustainability; Public Policy, Food Laws, and Regulations; and Education and Professional Development. The core science track topics were food microbiology, food chemistry, food engineering, and sensory science. More than three-quarters (78%) of attendees said the track structure was easy to navigate.
This year's Scientific Program marked the debut of the Beacon Lecture series. Presentations by inaugural lecturers—Patrick Wall, Associate Professor of Public Health in University College Dublin's School of Public Health and Population Sciences, and U.S. Surgeon General Regina Benjamin—earned rave reviews. In his presentation, "Reform of Food Safety Control in the EU: Are There Lessons for the USA," Wall made the point that outbreaks of foodborne illness are due not to bad luck but rather to bad management.
Benjamin focused on the importance of disease prevention and addressed the role that the food industry can play in ensuring that Americans have more healthful food options.
A series of Sunrise Sessions on Sunday and Tuesday mornings provided bonus educational opportunities for those willing to sacrifice a bit of sleep in order to receive insights into important food science topics. Nearly 100 early risers reaped the benefit of speakers including Ricky Yada of the University of Guelph, who presented a primer on nanoscale science for food on Sunday morning.
Each year, Annual Meeting session organizers work hard to offer attendees up-to-the-minute information in late-breaking sessions. In "Food After Fukushima: Responding to Radioactive Material as a Foodborne Contaminant," speakers including Aurora Saulo of the University of Hawaii and Patricia Hansen of the U.S. Food and Drug Administration's Center for Food Safety and Applied Nutrition provided an update on the way in which pressing food safety concerns were addressed after the nuclear accident that followed the earthquake and tsunami in Japan this past spring.
--- PAGE BREAK ---
What topics within the Scientific Program were the real attention-getters? The list of sessions that drew the largest crowds includes the following: "Lipid Oxidation and Prevention in Real Food Systems," "Nanotechnology-Enabled Food Safety Interventions," "Inflammation: The Next Business Opportunity," "The Taste for Fat: New Discoveries on the Role of Fat in Sensory Perception, Metabolism, Sensory Pleasure, and Beyond," "Using Emotions in Research to Deliver Great Products to Market," and "Reducing Sodium in Foods: Implications for Flavor and Health."
Here's a sampling of some of the other Scientific Program Sessions that kept those in attendance enlightened and informed.
• A symposium titled "Food Colors: Various Aspects Affecting Their Quality and Risk for Adulteration" featured a talk on natural colors by Markus Lipp of U.S. Pharmacopeia.
• In "Snacking: Insights and Perspectives on Contributions to the American Diet," three experts shared insights into the prevalence of snacking among U.S. consumers and what role it has played in the national obesity epidemic.
• Global trends, innovations, and applications in savory flavors were the focus in a session in which Jessica Jones-Dille of WILD Flavors Inc. presented.
• Eric Hentges of the International Life Sciences Institute North America shared thoughts on how to help Americans eat more healthfully in a session titled "Translating the Dietary Guidelines for Americans to Bring About Real Behavioral Changes."
• Even fare for our four-legged friends got some attention in a session titled "Novel Application of Functional Ingredient Technology in Product Development of Pet Foods."
Another traditional highlight of the Scientific Program, the annual New Products & Technologies Showcase on Sunday brought attention to nearly a dozen innovative new products and technologies. Representatives of industry and academia presented tabletop displays at the event.
The session on fat and the one on snacking generated the greatest media attention. All in all, the 2011 Annual Meeting & Food Expo was a high-profile media event. Nearly 100 media professionals were on hand in New Orleans to cover the meeting and expo, and as of July 20, IFT media relations efforts had led to 732 media placements. Combined outreach efforts by IFT and Food Expo exhibitors led to more than 3.3 billion media impressions related to the Annual Meeting & Food Expo.
A Food Industry Extravaganza
From goat cheese grits topped with a wild mushroom Madeira sauce to fried green tomatoes, Food Expo exhibitors offered a taste-tempting menu of product prototypes to those exploring the show floor. Fittingly for an event held in the "City of Chefs," many of the prototypes paid tribute to the flavors of New Orleans, but certainly the products sampled and ingredients showcased at the Food Expo also reflected influences from around the globe.
Enjoying a bit of sustenance was probably a good idea because expo attendees found that there was plenty of ground to cover on the show floor. The expo sprawled across nearly 210,000 square feet in the Morial Convention Center, and the roster of exhibitors included 110 who were new to the event. Besides providing the opportunity to sample some amazing product prototypes, a visit to the floor this year gave attendees the chance to meet celebrity chefs like New Orleans' own John Besh, who made a guest appearance at the Tate & Lyle booth. Here's a look at some of the Food Expo highlights.
--- PAGE BREAK ---
• IFT/RCA Culinology Presentation. As it always is, the relationship between food science and culinology was celebrated in this traditionally popular session on the show floor. This year, Bruce Foods Corporate R&D Chef Nick Landry and Joe Orr, food scientist and Director of R&D for the company, discussed the way in which they work together on product development.
• Innova Pavilion. What's driving consumer behavior in 2011? Experts from Innova Market Insights (www.innovadatabase.com) mapped it out for Food Expo attendees with 27 presentations and hundreds of products from around the globe showcased at the Taste the Trend Pavilion. Innova presented a list of top 10 consumer trends and also highlighted numerous trends in topic areas such as "Processed Perceptions," "10 Ways to Go Green," "Healthy Research Activity," "New Frontiers," and "Performance Strategies."
The year's No. 1 trend, according to the research company, is consumers' tendency to turn away from highly processed foods formulated with long ingredient lists or boasting an overly long shelf life.
"Consumers are looking for products that don't seem as processed," said Lu Ann Williams, Head of Research at Innova Market Insights. "They are looking for products that are recognizable—ingredients they understand and products that they could in theory make themselves."
The next four trends on Innova's list can be summarized as follows.
Offering real value is essential. "Value is vital in this age of austerity," Innova states. Value-driven consumers will respond well to bigger pack sizes, but they're also likely to go for small, affordable luxuries.
Proven is the new buzzword. European regulations governing health claims are stringent, which means that companies that do manage to make it through the health claims maze are eager to tout their status. Increasingly, marketers are making "clinically proven" or other scientific research claims on the front of packages.
There is a return to softer claims. On the other hand, because health claims are so closely scrutinized in Europe, some manufacturers have had to rely on softer claims or tag lines such as "may reduce risk," "sensible solution," or "smart choice." Innova reports that the number of "active" health claims in which a marketer is targeting a product's added benefits was down by 4% in 2010 vs 2009, while the number of "passive" claims, which describe attributes such as reduction of fat or cholesterol, increased by 25% in the same time frame.
It's all about getting connected. Social media is attracting a lot of attention, and, not surprisingly, a growing number of manufacturers are tapping into social media platforms to hype their products.
--- PAGE BREAK ---
• Mintel Pavilion. Food Expo attendees congregated in the Mintel (www.mintel.com) New Products and Consumer Insights Pavilion for presentations highlighting trends in the packaged foods and beverage and foodservice industries. The product and trend insights came courtesy of Mintel new product experts Lynn Dornblaser and David Jago, who presented this year on the topics of portion size, functional foods, and flavor and ingredient predictions for 2011. Pavilion visitors also enjoyed the opportunity to sample a wide variety of new product offerings and were asked to vote on their favorites in each of the three categories.
"As companies respond to the new U.S. nutrition guidelines, it appears that the most important issue is largely ignored by CPG companies—portion size," said Dornblaser. "100-calorie packs helped the U.S. consumer think about easy ways to control consumption," she continued, "but today the packages are less focused on just 100 calories and more focused on providing additional benefits."
In this category, attendees chose Sensible Portions Veggie Snacks Variety Pack, a Canadian product, as their a Canadian product, as their favorite. Emerald Nut and Granola Mix from the U.S. and Krave Chocolate Hazelnut Cereal from Ireland placed second and third, respectively.
Dornblaser and Jago noted that growth in the functional foods market has slowed, although 56% of U.S. consumers purchased a functional food or beverage product within the past three months.
In the functional products segment, Special K Protein Shake, which is available in the U.S., placed first, followed by Nestlé Plus Antioxidants Cereal from Belgium in second place and Special K Savory Herb Crackers from the U.S., which was third.
As for the top flavor and ingredient trends influencing the marketplace, the speakers shared seven of them: seeds, coconut, smoked salt, umami, dark spirits, beets, and high-intensity sweeteners. Stonewell Kitchen Roasted Peach Whiskey Sauce (U.S.), which aligns with Mintel's dark spirits trend, was the favorite among show vote rs. International Delight Almond Joy Creamer, which is representative, which is representative of the coconut trend, placed second, and SunGold Foods Sunflower Seed Spread, an example of the seed ingredient trend, came in third.
• Special Interest Pavilions.Talk about a one-stop-shopping opportunity. That's precisely what the Food Expo's Special Interest Pavilions—where exhibitors related to specific topic areas were gathered on the show floor—delivered. This year's pavilions included Asia-Pac, organic food ingredients, healthy food ingredients, food safety and quality, and sustainability.
--- PAGE BREAK ---
• Special Events Pavilion. A series of scheduled presentations in the Special Events Pavilion added to the action-packed Food Expo agenda. Presenters included Emily Bader of the Zocalo Group, who discussed social media and word-of-mouth marketing, and Karen Graves of Kraft Foods, who talked about some of the ways in which the company has used social media in the product development process.
• IFT Central Booth. Whether Whether the goal was networking, taking a few moments to relax, or seeking out information about IFT products and services, the IFT Central booth was the go to destination on the Food Expo floor.
• Trend & Solution Tours. Fast becoming a Food Expo tradition, the self-guided Trend & Solution tours provided attendees with some excellent options for navigating the show floor. Five themes reflecting important food industry trends were selected, and participating exhibitors were grouped according to the trend with which their products and services fit. The 2011 roster of Trend & Solution Tour participants included 49 companies showcasing 92 products.
More Highlights
• Short Courses. More than 300 attendees participated in nine preannual meeting short courses held on Friday and Saturday. Designed as concentrated educational opportunities, the courses ranged in length from 1/2 day to two days. This year's courses earned high marks from participants; 92% said they were satisfied or very satisfied with overall course quality.
• Board of Directors Meeting. An IFT Board of Directors meeting was held on Friday prior to the Annual Meeting & Food Expo. Members of the 2010-11 Board are pictured in [image 44 in the pdf]. Front row, from left are: Marilyn Schorin, Bob Ross, IFT Executive Vice President Barbara Byrd Keenan, IFT President Robert Gravani, President-Elect Roger Clemens, Treasurer Bruce Stillings, John Finley, and Barbara Blakistone. Second row, from left are: Russell Flowers, IFTSA President-Elect Jennifer Willig, IFTSA Immediate Past President Kelsey Ryan, Barry Swanson, Colin Dennis, Julia Link Ruder, P. Michael Davidson, IFTSA President Andrea Bouma, and Justin Shimek.
• Career Fair and Employment Bureau. The IFT Career Fair on Saturday was full of activity. Representatives from 18 companies were present to speak with job seekers to discuss career options and opportunities—all in an informal environment. Additional companies held formal face-to-face interviews in the Employment Bureau later in the week. A total of 36 companies signed up through the online Career Center, posted 155 job openings, viewed resumes of more than 200 job applicants, and conducted 240 interviews on-site. The Career Fair and Employment Bureau were free to job seekers attending the IFT Annual Meeting & Food Expo.
• Town Hall Meeting. IFT President Gravani and Executive Vice President Keenan briefed those on hand for the Town Hall Meeting on some of the highlights of the past year. Following that presentation, members of the group separated into subgroups to pursue additional discussion in three topic areas: 1) ask the Board of Directors; 2) IFT's certification activities; and 3) section engagement.
--- PAGE BREAK ---
• International Attendance. The 2011 Annual Meeting & Food Expo had a definite international flavor, with attendees converging on New Orleans from 74 countries. Several international delegations and groups were present including representatives from the Chinese Institute of Food Science and Technology (CIFST). From left in [image 47 in the pdf] are Food Technology's Bob Swientek, Shao Wei, IFT Past President Herb Stone, Pingfan Rao, IFT Executive Vice President Barbara Byrd Keenan, Guo Yong, and IFT's Amanda Perl.
• Past Presidents Dinner. The traditional Past Presidents Dinner & Reception on Sunday evening brought a large group of past IFT presidents together with current IFT leadership including President Gravani and Executive Vice President Keenan.
On the Student Scene
IFTSA members attending the Annual Meeting & Food Expo had a full plate of activities to sample and savor.
The Student Association Mixer sponsored by PepsiCo got a busy Monday evening off to a festive start. Along with the opportunity for refreshments and networking, the mixer provided those attending with a chance to check out tabletop displays presented by six student Chapter of the Year finalists.
A variety of student achievements were celebrated at the Welcome Assembly that followed the mixer. IFTSA President Bouma welcomed the crowd. Among those recognized at the mixer were winners of the Excellence in Leadership Awards, Chapter of the Year competition, and the three student product development competitions. In [image 50 in teh pdf] Bouma (right) shares an upbeat moment with IFTSA President-Elect Jennifer Willig (center) and IFTSA Immediate Past President Kelsey Ryan (left).
This year's student agenda included a special session—a presentation and discussion featuring White House Assistant Chef and Senior Health Policy Advisor Sam Kass, who addressed students and fielded questions.
A Chapter Leaders Workshop held on Saturday before the official start of the Annual Meeting & Food Expo offered student leaders like Adriana Soto [image 51 in teh pdf] of Louisiana State University new leadership development tools. In [image 52 in the pdf] Matt Cael, IFTSA President-Elect II, makes a point during the workshop.
Finally, the IFTSA party on Tuesday was the perfect way to wrap up the Annual Meeting & Food Expo experience with some fun and networking.
--- PAGE BREAK ---
Students Tackle Competitive Challenges
There's nothing like a little healthy competition to stimulate creativity and intellectual achievement, and certainly the three product development competitions that played out at the Annual Meeting & Food Expo did just that.
• Developing Solutions for Developing Countries Competition. Competing teams in this event, now in its third year, were invited to come up with a food product or process improvement that employs food science and technology to provide a solution for alleviating iron deficiency in developing countries. The winners were divided into two categories—domestic and international.
The Cornell University team clinched first place in the domestic segment of the competition for Mandimais, a fortified cookie with a superfruit filling. Award-winning team members [image 53 in the pdf] are, from left: Sana Mujahid, Diane Schmitt, and Luciana Ferreira.
The University of Minnesota-Twin Cities earned second place for Nkwa Brodo, a powdered bread mix, and Rutgers University came in third with Galletas Fortaleza, a flavorful sandwich cookie.
In the international arena, first place went to Brawijaya University, Indonesia, for its instant noodles. Team members [image 54 in the pdf] include, from left: Ricki Sulistyo, Meidina Nurfitriani, and Mukti Mukti.
The team from Gadjah Mada University, Indonesia, received second place for its soy rice porridge, and the Institute of Chemical Technology, India, came in third with Ferro-Power, a functional flour.
The Developing Solutions for Developing Countries Competition was sponsored by General Mills.
• Product Development Competition. For this prestigious annual competition, teams comprised of undergraduate and graduate students conceptualized a new product idea and developed a plan for bringing it to market. Each concept was evaluated by a panel of judges from the food industry.
Minute Escape, a microwaveable dessert that combines apple pie and ice cream in a single convenient treat, earned the team from Michigan State University first place in the competition. It comes in the form of a small pie complete with crust, filling, crumble topping, and ice cream positioned in the center in an inverted cup.
Members of the Michigan State team [image 56 in the pdf] are, front row, from left: Rebecca Watts, Natalie Duchene, and Hunter Gartner; back row, from left: Amanda Kaiser, Amanda Geaslin, Patrick Schafer, and Juliana Henriques.
The Cornell University team came in second with Vege3, a healthful snack that team members billed as "veggies … cubed!" It's a lightly seasoned, shelf-stable snack made from real vegetable puree and ranch seasoning and presented in cube form.
--- PAGE BREAK ---
Third place in the competition went to the University of Wisconsin-Madison for Blissful Bites, a shelf-stable vanilla yogurt truffle designed with three unique layers that include a soft and chewy yogurt center surrounded by a yogurt-flavored coating topped with a crunchy blend of oats, flax puffs, and rice crisps.
Other finalists in the Product Development Competition and their entries include Ohio State University with Omega Munch, a fruit and seed snack; Pennsylvania State University with Par-Fections, a shelf-stable snack mix billed as a "portable parfait;" and University of Massachusetts-Amherst with Joe Nuts, a novel breakfast snack described as a doughnut hole with a liquid coffee center.
The Product Development Competition was sponsored by Mars Chocolate North America.
• Nutritious Foods for Kids Competition. Student teams in the Disney-IFTSA Product Development Competition were challenged to create a nutritious, unique food product for children under the age of 12. This year's Grand Prize winner, developed by graduate students from the University of Wisconsin-Madison, is Pixie Dust Fruit Beverage, a combination of raspberry and apple fruit powders in an easy open-and-pour package. Members of the winning team [image 57 in the pdf] include, from left: Tessa Porter, Kellie Grant, Mustafa Ozturk, Rebecca Skolmutch (Disney Consumer Products representative), Jackie Koch, and Maya Warren.
First place in the contest went to the University of Arkansas team for Phenomenal Funchies, a handheld baked snack filled with dried fruits including berries, mango, and banana.
Honorary awards were presented to finalist teams: the University of Nebraska for CarsZone, a microwaveable, stuffed, whole-grain calzone filled with a variety of vegetables and cheese; Rutgers University for Gitchi, Gitchi Goo, a lactose- and gluten-free whole-grain pudding with vitamin C, vegetables, and fruits; Washington State University for Mater's Craters, a carrot-based cracker sandwich made of whole grains and vegetables; and the University of Wisconsin-Madison undergraduate team for Tangerine Dream, a portable, yogurt-based carbonated beverage.
The competition was sponsored by Disney Consumer Products.
• College Bowl Competition. The competition was friendly but intense in the 26th Annual Intercollegiate Food Science and Technology Competition, which put eight finalist teams to the test. The Ohio State University clinched top honors this year. Members of the Ohio State contingent [image 58 in the pdf] are, from left: Mary Kay Polschneider (advisor), Jessica Cooperstone, Ryan Riddle, Allison Atnip, Andrew Barry, Ben Yeap, Bryan Finfrock, Natalie Pendleton, Tess Elking, and John Litchfield (advisor).
Other finalists in the College Bowl Competition were North Carolina State University, Chapman University, the University of Minnesota, Clemson University, University of Maine, Oregon State University, and the University of Arkansas.
In [image 59 in the pdf] student organizers and judges of this year's competition give the competitors their full attention. From left are students Xiaoli Shi, Amanda Draut, and Helen Melito (competition chair), and judges Pam Vaillancourt, Roger Clemens, and Donna Anderson.
The College Bowl Competition was partially sponsored by PepsiCo and Nestlé Purina.
--- PAGE BREAK ---
• Chapter of the Year Competition. Oregon State University clinched top place in the 2011 Chapter of the Year competition sponsored by PepsiCo. In [image 60 in the pdf] Emily Del Bel, Past Chapter President, and Marlin Mueller, Incoming Chapter President, show off the award. The University of Minnesota chapter was recognized as the Most Improved Chapter.
• Undergraduate Research Paper Competition. Abigail Snyder of Ohio State University placed first in this competition in which students who have conducted original research present their findings orally and in a poster presentation. Dominique Sinopoli of Cornell University received second place. Karen Chang of Rutgers University placed third.
Las Vegas Is the Place
Las Vegas, Nev., the nation's No. 1 trade show destination, will be the site of the next IFT Annual Meeting & Food Expo. The dates for the event are June 25–28, 2012. So mark your calendar now. It's a safe bet that you'll be glad you did!
---
IFT Cares Volunteers Make a Difference in New Orleans
IFT's philanthropic initiative, IFT Cares, gave dozens of volunteers an excellent reason to get up early in New Orleans. The program, which IFT organizes annually in cooperation with the national anti-hunger organization Feeding America, let volunteers pitch in on projects operated by the Second Harvest Food Bank of Greater New Orleans and Acadiana, a Feeding America affiliate.
"IFT Cares has allowed me to make a number of new friends, improve my communication and teamwork skills, and give back to the community," said Matthew Cael, IFT Student Association President-Elect II. "The benefits of IFT Cares beat those few extra hours of sleep any day." Cael was among those who boarded a bus at 7:30 a.m. on Saturday to travel to the Plaquemines Parish, where the volunteers worked at a mobile food distribution pantry.
On site, the volunteers unloaded 5,822 pounds of food—the equivalent of 4,657 meals—and packed it up for distribution to clients. On Wednesday, volunteers worked at the food bank sorting and re-packing food and preparing lunch boxes for distribution to summer school students. They packed 7,458 pounds of food—the equivalent of 5,966 meals.
IFT President Bob Gravani, who volunteered on Wednesday, and President-Elect II John Ruff, who helped out on Saturday, were among this year's IFT Cares participants.
"IFT Cares started in New Orleans in 2008," said Ruff. "It was the first time we'd returned to New Orleans since Hurricane Katrina, and it seemed the right thing for IFT to do. I was overwhelmed by the immense need for aid. Since then, I've always made IFT Cares the No. 1 item I've signed up for at the Annual Meeting & Food Expo."
"The event was very rewarding, and I felt a connection with the people we were serving," said Brenda Knapp-Polzin of Cargill, a member of the 2011-2012 IFT Board of Directors and a Saturday volunteer. "The parish we distributed food in had been negatively impacted by the oil spill, resulting in many unemployed residents and the business failure of basic essentials such as grocery stores. Bringing food directly to their area provided urgently needed food for many families."
In addition to the IFT Cares volunteer program, Food Expo exhibitors donated 12,488 pounds of leftover food to the food bank after the close of the event.
--- PAGE BREAK ---
---
Fun Run Continues to Break Records
There's nothing quite like starting the day off with a run in the New Orleans heat and humidity. Still, the heat didn't deter the 575+ people who registered to take part in Feeding Tomorrow's 11th Annual Fun Run (a) on Monday morning at Audubon Park.
In total, sponsorships garnered more than $87,000—once again a record high for Feeding Tomorrow scholarships. As in previous years, Bruce Ferree, California Natural Products, raised the most money for a single person.
In the men's division, David Peters (b) placed first with a time of 16 minutes and 19 seconds, followed by Steven Powell (17:15) and Louis Garay (18:22).
Among the women runners, Julie Wankowski (c) came in first with a time of 19:34, followed by Rachel Prososki (19:53) and Jessica Kennedy (20:34).
The IFT Student Association and Feeding Tomorrow gratefully acknowledge the Fun Run event sponsors.
Platinum: Michael Foods Inc., Roquette America Inc., Chicago Section IFT, D.D. Williamson, Glanbia Nutritionals, Southern California Section IFT, McCormick & Co., and PepsiCo.
Gold: David Michael & Co., Richmond Baking, GNT, Del Monte Foods, Symrise, and Eurofins.
Bronze: Kraft Foods, Coca-Cola, Maryland Section IFT, E.T. Horn Co., IFT Foodservice Division, Oregon Section IFT, Mars Chocolate North America, Western New York Section IFT, and Wisconsin Section IFT.
—Kelly Hensel, Digital Media Editor, IFT
---
White House Chef Challenges Students
Innovative, "outside-the-box" thinking is needed in product development to get more whole grains, fruits, and vegetables into the diets of Americans, said Sam Kass, White House Chef & Senior Policy Advisor for Healthy Food Initiatives, who addressed more than 500 students at the IFT Student Association Welcome Assembly & 26th Annual College Bowl Competition.
Kass acknowledged the role that food science and technology plays in our modern society, delivering safe, affordable, and convenient foods. But the unintended consequences of this abundant food supply have contributed to an obesity epidemic in the United States. About one-third of children are overweight or obese and one in three of these children will develop diabetes in their lifetimes, noted Kass.
"We want to make the healthiest choice the easiest choice," said Kass. But there is no magic bullet. Solving the obesity epidemic requires a collective effort, and everyone must play a part, explained Kass. For food science students, tomorrow's food leaders, the challenge is to create foods with less sodium, sugar, and fat that still taste delicious.
These challenges are not easy. "If I one day reduced sodium 50% in the dishes I prepare at the White House, I would not have a job," Kass remarked. "But you can reduce sodium gradually over time so that the food is acceptable and enjoyable."
--- PAGE BREAK ---
While First Lady Michelle Obama's Let's Move campaign is spearheading the effort to end childhood obesity in a generation, the problem will not be solved in Washington, D.C., declared Kass. "Obesity is a local issue and must be solved block to block and neighborhood to neighborhood," said Kass. "We must ensure that families have access to healthy and affordable foods. We need to connect kids to food at an early age, such as through cooking or planting a vegetable garden. This basic education forms a foundation that will help them make better food choices throughout their lives," said Kass.
—Bob Swientek, Editor-in-Chief of Food Technology
---
Disney Consumer Products Debuts Food Science Video
What's it like to be a food scientist at Disney Consumer Products, the business segment of The Walt Disney Company?
A new video developed by Disney Consumer Products and included within IFT's "Day in the Life of a Food Scientist" series spells it out. The Disney video made its debut during the Keynote Session of the 2011 Annual Meeting & Food Expo, where audience members greeted it enthusiastically.
It's all about mixing food science and fun, explains video narrator, Rebecca Skolmutch, an IFT member and food scientist at Disney Consumer Products. Her day-to-day role there is nothing if not varied, she reports. "I use food science every day in different ways," she says in the video.
On a typical day, Skolmutch explains, her schedule might include a product development meeting to review packaging from Disney licensees, a brainstorming session, and consultation with colleagues on ensuring that licensed products meet the nutritional guidelines to which the company is committed. "My main goal here is making sure that our products meet nutritional guidelines," Skolmutch notes.
The "Day in the Life" video series, which IFT launched in 2010 with a video featuring NASA food scientist Michele Perchonok and her team in Houston, Texas, is designed to educate the public about the value and rewards of a career in the food science and technology profession.
View the video at www.ift.org/dayinthelife .
---
Stay in the Loop with IFT Live
Whether you were on hand in New Orleans for the 2011 Annual Meeting & Food Expo or weren't able to make it this year, you're likely to find IFT Live, the official electronic show daily, a valuable resource. For the four days of the show, Food Technology editors stayed busy attending sessions and events—and writing about them. The 2011 version of IFT Live boasts more than 100 articles as well as a photo gallery and videos taken at the show.
Check it out at http://live.ift.org.
---
Division Competition Winners
The following are the winners of this year's paper competitions sponsored by IFT Divisions.
Am. Assn. of Food Scientists for the Indian Sub.: 1st place ($500), Rockendra Gupta, Ohio State U.; 2nd place ($300), Prashant Prashant, U. of Missouri; 3rd place ($200), Sangeetha Ananda Baskaran, U. of Connecticut.
--- PAGE BREAK ---
Aquatic Food Products Div.: 1st place ($1,000), Stefam Crynen, U. of Florida; 2nd place ($800), Fathima Waheeda Mohideen, Louisiana State U.; 3rd place ($600), Naim Montazeri, U. of Alaska; honorable mention ($300 each), Reza Tahergorabi, West Virginia U. and Dunyu Xi, Oregon State U.
Biotechnology Div.: 1st place ($500), Garima Pande, U. of Georgia; 2nd place ($400), Maria Maldonado-Gomez, U. of Nebraska-Lincoln; 3rd place ($200), Ningjian Lian, U. of Hawaii-Manoa.
Carbohydrate Div.: 1st place ($500), Priyatharini Ambigaipalan, Memorial U. of Newfoundland; 2nd place ($400), Hicran Koc, North Carolina State U.; 3rd place ($300), Vicente Espinosa-Solis, Ctr. de Desarrollo de Productos Bioticos; 4th place ($200), Shin-Joung Rho, Seoul National U.
Dairy Foods Div. (Poster): 1st place ($500), Carlos Mendez Velasco, U. of Guelph.; 2nd place ($250), Samantha White, North Carolina State U.; 3rd place ($150), Ting Wang, Ohio State U.; runners up ($75 each), Rachel Campbell, North Carolina State U. and Qin Li, Virginia Polytechnic Inst. and State U.
Dairy Foods Div. (Oral): 1st place ($750), Raymundo Trejo, U. of Tennessee; 2nd place ($500), Andrea Bouma, Oregon State U.; 3rd place ($250), Qian Wang, U. of Minnesota; runners up ($100 each), Jose Estrada Louisiana State U. and Marvin Moncada Reyes, Louisiana State U.
Food Chemistry Div.: 1st place ($500), Tanushree Tokle, U. of Massachusetts.; 2nd place ($300), Bingcan Chen, U. of Massachusetts.; 3rd place ($200), Inthawoot Suppavorasatit, U. of Illinois at Urbana-Champaign; 4th place ($100), Yucheng Fu, U. of Guelph.
Food Engineering Div.: 1st place ($1,000), Naritchaya Potes, U. College Cork.; 2nd place ($500), Deborah Gwak, U. of California-Berkeley; 3rd place ($250), Sarah Scholl, U. of Illinois at Urbana-Champaign.
Food Microbiology Div. (Poster): 1st place ($400), Emefa Monu, U. of Alberta; 2nd place ($200), Irene Yossa, U. of Maryland.; 3rd place ($100) Yan Ren, Illinois Inst. of Technology; honorable mention ($50 each), Hayriye Cetin-Karaca, U. of Kentucky and Yichen Li, Illinois Inst. of Technology.
Food Microbiology Div. (Oral): 1st place ($500), Anup Kollanoor Johny, U. of Connecticut; 2nd place ($300), Sangeetha Ananda Baskaran, U. of Connecticut; 3rd place ($200), Muhsin Aydin; honorable mention ($100), Alison Lacombe, U. of Maine.
Food Packaging Div.: 1st place ($500), Xi Chen, Rutgers U.; 2nd place ($350), Boce Zhang, U. of Maryland; 3rd place ($100), Aishwarya Balasubramanian, Rutgers U.
Foodservice Div.: 1st place ($1,000), Darryl Holliday, Louisiana State U.; 2nd place ($500), Benjamin Leduc, Université d'Avignon et Pays de Vaucluse.
Fruit & Vegetable Products Div.: 1st place ($400), Passaporn Siricururatana, Cornell U..; 2nd place ($300), Emmanual Nshimiyimana, North Carolina State U.; 3rd place ($200 each), Lemane Delva, U. of Florida and Yvette Pascua Cubides, North Carolina State U.
International Div.: 1st place ($700), Fatoumata Diarrassouba, Université Laval; 2nd place ($500), Leonardo Cornacchia, U. College Cork; 3rd place ($200), Hussein Hassan, McGill U.
Muscle Foods Div.: 1st place ($900), Austin Lowder, Oklahoma State U.; 2nd place ($700), Ashley Clement, U. of Arkansas; 3rd place ($500), Chunqiang Li, Jiangnan U.
Nonthermal Processing Div.: 1st place ($700), Kai Reineke, Technische Universität Berlin; 2nd place ($500), Amrish Chawla, Ohio State U.; 3rd place ($300), Huseyin Ayvaz, Ohio State U.
Nutraceuticals & Functional Foods Div.: 1st place ($500), Jessica Cooperstone, Ohio State U.; 2nd place ($400), Vidya Endraiyani, Rutgers U.; 3rd place ($300), Katherine Maloney, North Carolina State U.
--- PAGE BREAK ---
Nutrition Div.: 1st place ($700), Kom Kamonpatana, Ohio State U.; 2nd place ($500), Gaurav Madiwale, Colorado State U.; 3rd place ($300), Amy Brownschidle, Pennsylvania State U.; 4th place ($100), Laurie Walker, Iowa State U.
Product Development Div: 1st place ($1,000), Brennan Smith, Kansas State U.; 2nd place ($750), Sara Boswell, Texas A&M U.; 3rd place ($500), Damir Torrico, Louisiana State U.; 4th place ($100 each), Jack Lindsay, Texas A&M U. and Sriwiang Tipkanon, Kasetsart U.
Refrigerated & Frozen Foods Div.: 1st place ($300), Luis Espinoza, Louisiana State U.; 2nd place ($200), Roopesh Mohandas Syamaladevi, Washington State U.
Sensory and Consumer Sciences Div. (Oral): 1st place ($1,050), Joseph Kreger, U. of Illinois at Urbana-Champaign; 2nd place ($800), Wannita Jirangrat, Louisiana State U.; 3rd place ($550), Bangde Li, U. of Arkansas.
Toxicology & Safety Evaluation Div.: 1st place ($750), Bin Liu, U. of Missouri; 2nd place ($500), Benjamin Remington, U. of Nebraska-Lincoln; 3rd place ($300), Dinesh Babu, Oklahoma State U.
Mary Ellen Kuhn is Managing Editor of Food Technology ([email protected]).