Stress reduction, relaxation, and mental alertness—all are objectives for many consumers struggling to stay on track—and enjoy life—in today's fast-paced society. Here is a brief look at some of the nutraceutical ingredients believed to improve people's mood and sharpen their attention.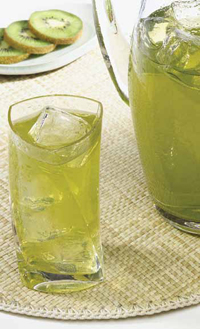 Mood Modifiers
Nutraceuticals that affect mood focus on stress management, calmness, and alleviation of depression. Such ingredients include botanicals, vitamins, omega-3 fatty acids, and even a milk peptide.
Botanicals such as saffron and ashwagandha have been shown to support mood. In November 2011, R-U-VED, a division of Ayush Herbs, Redmond, Wash. (phone: 800-925-1371, www.ruved.net), introduced JoyLift™, a proprietary Ayurvedic dietary supplement featuring saffron and other mood-enhancing herbs. In addition to saffron, JoyLift also includes ashwagandha, gotu kola, mucuna pruriens, and Indian barberry, considered to be brain tonics that rejuvenate the nervous system and promote tranquility.
• Saffron. Noorbala et al. (2005) demonstrated that saffron may be effective for treating mild to moderate mood disorders. Researchers compared the efficacy of hydro-alcoholic extract of Crocus sativus (stigma) with fluoxetine (an active principle of Prozac®) in the treatment of mild to moderate depression in a 6-week trial that included 40 adult outpatients with depression.
Patients were randomly assigned to receive capsules of saffron (30 mg/day) or fluoxetine (20 mg/day). Saffron at this dose was found to be effective similar to fluoxetine in the treatment of mild to moderate depression with no observed side effects. Wang et al. (2010) indicated that antidepressant-like properties of aqueous stigma extracts of C. sativus  may be due to crocin 1, a bioactive compound.
Nutraceuticals International Group, Paramus, N.J. (phone: 201-399-2333, www.nutraintlgroup.com), offers a saffron extract. The company is the exclusive U.S. distributor of Saffr'Activ®, which is derived from saffron stigmas. Titration is used for the active compounds, safranal and crocine.
--- PAGE BREAK ---
• Ashwagandha. This ingredient has been associated with alleviating insomnia and anxiety. It is present in two offerings from NutraGenesis LLC, Brattleboro, Vt. (phone: 802-257-5345, www.nutragenesisnutrition.com). Sensara® is a formulation of multipatented, GRAS affirmed, standardized extracts of ashwagandha (Withania somnifera) and Indian gooseberry (Phyllanthus emblica); Indian gooseberry is also called Amla. Promoted for anti-stress and anti-aging, Sensara® inhibits the damaging effects of cortisol, the hormone secreted at higher levels in response to stress and menopause.
Sensoril®, a dietary supplement, is a multi-patented, standardized extract of ashwagandha. According to the company, in a human clinical trial, subjects taking Sensoril at the recommended dosage of 250 mg per day had a 69.9% reduction in an overall measure of stress-related symptoms.
• L-theanine. Found in green tea, L-theanine is believed to contribute to the tea's calming effects. Taiyo International Inc., Minneapolis, Minn. (phone: 763-398-3003, www.taiyointernational.com), offers Suntheanine®. It is not an extract of green tea, but rather is produced via a patented fermentation process that mimics the natural process in green tea leaves, resulting in a 100% pure L-isomer-theanine.
Clinical research suggests that 50 mg to 200 mg Suntheanine naturally stimulates activity in the brain known as alpha waves, which are associated with a relaxed but alert mental state. In addition to mood, L-theanine also affects attention. Higashiyama et al. (2011) found that L-theanine had a measurable effect on attention and reaction time response in humans.
• Vitamin C. Zhang et al. (2011) demonstrated that treatment of hypovitaminosis C improved the mood state of acutely hospitalized patients. Researchers looked at the effect of vitamin C (500 mg twice daily) on mood. Vitamin C therapy increased plasma and mononuclear leukocyte vitamin C concentrations and was associated with a 34% reduction in mood disturbance.
• Vitamin D. Milaneschi et al. (2010) suggested that hypovitaminosis D is a risk factor for the development of depressive symptoms in older persons. The strength of the prospective association was higher in women than in men. Researchers examined the relationship between 25-hydroxyvitamin D and depressive symptoms over a 6-year follow-up period in a sample of older adults (531 women and 423 men ages 65 and older). Women with low vitamin D (less than 50 nmol/L) also had significantly higher risk of developing depressive mood over the follow-up.
--- PAGE BREAK ---
• Omega-3 fatty acids. Rondanelli et al. (2010) showed that supplementation of n-3 LCPUFA in elderly female patients reduced the occurrence of depressive symptoms and improved phospholipids fatty acids profile and health-related quality of life. In the study, 22 depressed females were included in the intervention (n-3) group that received 2.5 g/day of n-3 LCPUFA, with 1.67 grams of EPA and 0.83 grams of DHA, and 24 patients were included in the placebo group. The primary endpoint was the improvement of depressive symptoms as evaluated by Geriatric Depression Scale (GDS). The mean GDS at 2 months was significantly lowered only for the n-3 group.
• Milk peptide. Lactium® from Pharmachem Laboratories Inc., Kearny, N.J. (phone: 800-526-0609, www.pharmachemlabs.com), is a milk protein hydrolysate containing a bioactive peptide with anti-stress properties. In a double-blind, crossover study with 63 female volunteers, a significantly greater positive evolution of stress symptoms in five different areas was demonstrated in the group taking Lactium (150 mg/day) compared with the one taking the placebo. The five areas monitored were digestive, cardiovascular, intellectual, emotional, and social.
Lactium, at a dose of 150 mg/day, was particularly efficient for subjects who demonstrated the highest initial intensity of symptoms. This was true after a 15- and 30-day treatment.
Mental Alertness
Citicoline is a generic name for supplemental CDP-choline. CDP-choline plays important roles in the formation of cell membranes and in supporting healthy brain function. According to information from Kyowa Hakko USA, New York, N.Y. (phone: 212-319-5353, www.cognizin.com, www.kyowa-usa.com), the primary biochemical roles of citicoline are maintaining brain cell membranes and supporting synthesis of neurotransmitters, the chemical messengers that enable the brain and nerve cells to transmit information from one to another.
Kyowa Hakko USA offers Cognizin® citicoline, which was recently shown to help improve sustained attention by enhancing the brain's capacity to focus on a single task. Research conducted at the University of Utah Brain Institute revealed that individuals receiving Cognizin at a dose of 250 mg showed improved attention and a better ability to produce correct responses in performance testing. Participants who were administered either the 250 mg or the 500 mg dose of Cognizin produced nearly identical results when compared to the placebo group, confirming that 250 mg is an efficacious dose for producing improvements in attention (Kyowa Hakko, 2011).
The findings were presented by Erin McGlade, Ph.D., Research Fellow at the Brain Institute, during a poster session titled "Improved Attentional Performance Following Citicoline Administration" at the 66th Annual Meeting of the Society of Biological Psychiatry in San Francisco. Cognizin has been shown to benefit individuals affected by memory loss, mood/behavioral disorders, mild cognitive impairment, and certain vision disorders.
--- PAGE BREAK ---
Martin Bauer Inc., Secaucus, N.J. (phone 201-659-3100, www.martin-bauer-group.com), offers a product concept it describes as "Be Fit—extracts for body and brain." The concept is based on the performance-enhancing properties of natural tea and herbal extracts and is divided into three subcategories: body vitality, brain, and energy. According to the company, independent scientific studies commissioned by Martin Bauer have demonstrated the positive functional value of ginkgo, ginseng, and green tea extracts on mental performance and cognitive abilities. These ingredients have been found to promote a sense of well-being and help heighten alertness. At Health Ingredients 2010, Martin Bauer showcased a green tea "brain drink" that was very rich in the polyphenolic compound theogallin. According to the company, numerous human studies have demonstrated that consumption of the drink improves cognitive function.
Linda Milo Ohr,
Contributing Editor, Denver, Colo. 
[email protected]
References
Higashiyama, A., Htay, H.H., Ozeki, M., Juneja, L.R., and Kapoor, M.P. 2011. Effects of L-theanine on attention and reaction time response. Journal of Functional Foods 3(3): 171-178.
Kyowa Hakko. 2011. New research confirms Cognizin® citicoline effective for improving attention at a dose of 250 mg. Press release, May 15.
Milaneschi, Y., Shardell, M., Corsi, A.M., Vazzana, R., Bandinelli, S., Guralnik, J.M., and Ferrucci, L. 2010. Serum 25-hydroxyvitamin D and depressive symptoms in older women and men. The Journal of Clinical Endocrinology & Metabolism. 95(7): 3225-3233.
Noorbala, A.A., Akhondzadeh, S., Tahmacebi-Pour, N., and Jamshidi, A.H. 2005. Hydro-alcoholic extract of Crocus sativus L. versus fluoxetine in the treatment of mild to moderate depression: a doubleblind, randomized pilot trial. Journal of Ethnopharmacology 97(2): 281-284.
Rondanelli, M., Giacosa, A., Opizzi, A., Pelucchi, C., La Vecchia, C., Montorfano, G., Negroni, M., Berra, B., Politi, P., and Rizzo, A.M. 2010. Long chain omega-3 polyunsaturated fatty acids supplementation in the treatment of elderly depression: Effects on depressive symptoms, on phospholipids fatty acids profile and on health-related quality of life. J. Am. Coll. Nutr. 29(1): 55-64.
Wang, Y., Han, T., Zhu, Y., Zheng, C.J., Ming, Q.L., Rahman, K., and Qin, L.P. 2010. Antidepressant properties of bioactive fraction from the extract of Crocus sativus L. J. Nat. Med. 64(1): 24-30.
Zhang, M., Robitaille, L., Eintracht, S., and Hoffer, L.J. 2011 Vitamin C provision improves mood in acutely hospitalized patients. Nutrition 27(5): 530-3.