Bread has been a staple for millennia—its consumption has played an important role in the evolution of man and even in his survival as a species. Perhaps it is only fitting then that bread continues to have such significance in our food supply, helping us to face—and even address—many of today's health challenges.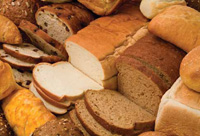 At one time, not too long ago, the bread category was dominated by refined white bread products, but that may be changing. According to Mintel's 2009 bread report, whole grains are the second most influential factor in a bread purchase (after price). And today's bread market, in particular, has benefited from the Whole Grains Council Stamp. Information provider SPINS reports that sales of natural bread loaves bearing the stamp increased 172% (up 7.4 million) in the 12-week period ending August 7, 2010, versus a year ago. The Innova Database notes that in the bread and bakery market, the use of whole grains is fairly widespread with a growing focus on high-fiber and general-health messages.
And the Nielsen Company indicates that wheat bread, for the first time, has surpassed white bread in U.S. dollar sales, although white bread is still leading in terms of volume sold. Various newspapers reported on this story, which I might add, generated some interesting headlines such as "white bread is toast" or "no wonder" wheat is ahead (referring to whole-grain nutritional benefits). However, keep in mind, as we will soon see in this article, that many new ingredient developments are trying to provide whole-grain benefits with the taste, texture, and appearance of white bread, indicating the value that the properties of white bread continue to have for many consumers. Still, this particular news story does suggest the changing directions of the bread category and, in particular, the promising future of whole grains.
In 2010 alone, a number of better-for-you bread products were launched in this changing marketplace. Here are just a few examples.
An omega-3 ingredient, life's DHA from Martek Biosciences Corp., Columbia, Md., found application in Sara Lee® Soft and Smooth Plus Bread made with whole-grain wheat. The ingredient—a vegetarian source of algal DHA (docosahexaenoic acid) omega-3 fatty acid—supports brain, eye, and heart health benefits.
Interstate Bakeries Corp. introduced Wonder® Smartwhite™, a new bread with the taste and soft texture of white bread but with the fiber of 100% whole-wheat bread. The launch extends the brand's existing line of breads for families who prefer the taste of white bread but who are looking to fit more nutrition into their overall diet. In addition to providing 5 g of fiber per serving, the product is a good source of nine vitamins and minerals, has 33% less sodium than regular white bread, and offers only 50 calories per slice.
Nature's Pride has added a new line of Premium Harvest™ hamburger buns and deli rolls available in three varieties. 100% Whole Wheat Bakery Buns provide a good source of fiber, 34g of whole grains in each bun, and 25% less sodium than regular 100% whole-wheat buns. Country White Bakery Buns and Country White Deli Rolls each provide 7 g of protein and have 25% less sodium than regular versions.
--- PAGE BREAK ---
Pepperidge Farms, part of the Campbell Soup Co., announced that by February 2011, 80% of its portfolio of breads, rolls, and bagels will be at least 25% lower in sodium than regular versions without compromising their taste. (Currently, nearly half of the company's sliced breads are at least 25% lower in sodium than regular sliced breads.) The company notes that this is a significant achievement given that salt not only adds flavor to baked goods but also affects texture and color. More than 40 Pepperidge Farm breads also meet standards as good or excellent sources of fiber, or provide at least half a serving of whole grains in one slice. "By building on Campbell's experience in using lower-sodium natural sea salt in recipe development, we have been able to reduce sodium in many products so people can enjoy the whole grains, fiber, and taste they want, but with less sodium," said Pat Callaghan, President of Pepperidge Farms.
As can be seen, ingredient developments are reshaping the bread category so that it offers varied options with better-for-you benefits. The rediscovery of "ancient grains," the introduction of flours that provide whole-grain benefits but duplicate the sensory properties of refined versions; the improvement of gluten-free solutions; the addition of such components as probiotics, omega-3s, and vitamin D into the formulation; the preventing of acrylamide formation; and the advancing of other fresh ideas and approaches are all helping to shape the future of bread as a category, and its subsequent impact on our daily lives. From that perspective, the phrase "our daily bread" can take on all new meanings as products made with these ingredient developments reach the marketplace.
At Health Ingredients Europe 2010, an ingredient system from Denmark-based Danisco (phone +45 32 66 20 00, www.danisco.com), earned an Excellence Award in the digestive health category. The winning technology, Grindsted® Fiberline, has the ability to give 100% rye bread an appealing soft texture and mild taste similar to that of white wheat bread, as preferred by many of today's consumers. For bakers, this is an opportunity to eliminate the dense, dry texture and dominant fiber taste that makes healthier breads unpopular. In addition to developing a rye bread concept, the company incorporated the ingredient system in an oat bread prototype containing sufficient beta-glucans to qualify for a cardiovascular health claim. Processing is easy and efficient, and bakers can apply the ingredient system on a standard wheat bread line with no need to invest in additional equipment.
This month's article will take a much kneaded look at how new breads—and related products such as tortillas and pizza crust—are being reformulated to meet the needs of the consumer. It will focus, in particular, on the ingredients that are transforming this category, helping it to rise to the occasion.
Tuna on High-Fiber White
White breads that are high in fiber are finding their way into the marketplace. Some recent examples include Coborn's Bakery Fiber Rich White Bread and Cash Wise Fiber Rich White Bread, each with an excellent source of fiber claim (5 g per serving). Aunt Millie's Bakery has several varieties of fiber-enriched bread, including its Healthy Goodness Whole Grain White Bread, which also has 5 g of fiber per serving. The photo on page 54 shows a tuna sandwich made with one of these high-fiber white breads.
These bread products are made with Hi-maize resistant starch, available from National Starch Food Innovation, Bridgewater, N.J. (phone 908-685-5555, www.foodinnovation.com). Studies have linked numerous health benefits to natural resistant starch, including weight control, glycemic management, and digestive health. Made with resistant starch, a low-glycemic bread, HEB Extra Thin Glycemic Health Bread, was recently introduced for consumers who need to manage their blood sugar.
The addition of resistant starch to white breads is particularly important because many of these products are being marketed to children. Making these products kid friendly in terms of taste, texture, and appearance can help sneak good nutrition into their diets.
--- PAGE BREAK ---
Other bread varieties can make use of resistant starch as well. For example, at the 2010 IFT Food Expo, National Starch demonstrated a Smokey Peppadew Cornbread prototype, made with Hi-maize resistant starch and Hi-maize whole-grain corn flour, both ingredients reportedly having a significant impact on satiety and reduced caloric intake. The cornbread has an appealing indulgent taste and texture, provides 5 g of whole grains, and is an excellent source of fiber. Making their debut from Aunt Millie's were products such as Healthy Goodness Fiber & Flavor Potato Bread, Hearth 12 Whole Grains Bread, and Healthy Goodness Light 5-Grain Bread, all of which incorporated resistant starch in their formulations.
Fresh Ideas and Approaches
At the 2010 International Baking Industry Exposition (IBIE), Cargill, Wayzata, Minn. (phone 952-742-9246, www.cargill.com), showcased a number of innovations that were applicable in the manufacture of bread and tortilla products. Under the theme, "Fresh ideas to grow your business," these developments were designed to help bakers achieve improvements in the areas of taste, health and wellness, sustainability, and cost management.
For example, a whole-grain pan bread featured WheatSelect®, a white spring whole-wheat flour. The ingredient provides a number of benefits, including optimal granulation size, allowing for versatile baking performance while preserving whole-grain nutrients; sensory attributes that consumers prefer in white flour (a lighter color, soft texture, and mild flavor); and the ability to retain its volume.
A tortilla utilized SaltWise, a sodium-reduction system. The reduced-sodium tortilla maintained a desirable salty flavor and texture even though its sodium levels had been lowered by 25-50%.
The company also launched Horizon Milling's EcoFlour™ Sustainability Solutions—customizable programs utilizing technology that combines satellite imagery and soil samples to identify the best use of fertilizer on the farmer's field, allowing for a more efficient use that reduces energy inputs and improves yields. Cargill claims that these solutions can open exciting opportunities to create more eco-friendly products that help achieve strategic sustainability goals. One product in the marketplace, Sara Lee's EarthGrains bread, reportedly uses wheat produced by such an approach.
A Slice of Probiotics
Breads made with probiotic cultures were introduced under the name True Grains™ by Orlando Baking Co., Cleveland, Ohio (phone 216-361-1872, www.orlandobaking.com). The cultures, supplied by Ganeden Biotech, Mayfield Heights, Ohio (phone 440- 229-5200, www.ganedenlabs.com), are said to contribute good bacteria that promote healthy living into the human digestive system.
Promoted as the first probiotic bread in the United States, the product was launched in the Cleveland metro area in December and will also be available nationally as a frozen dough. The True Grains breads, made with whole wheat flour and containing no trans fats, are available in two varieties. The Seed'licious Wheat Bread is textured with flax seeds, sunflower seeds, chia seeds, and millet. Honey Wheat Bread offers a sweet honey flavor. Both versions carry the Ganeden BC 30 probiotic logo on their packaging. The breads are said to be a good source of fiber and provide 4 g total fat per serving.
--- PAGE BREAK ---
A Quart of Bread?
Vitamin D in bread presents an opportunity for the baking industry, according to Jean Chagnon, CEO of Montreal-based Lallemand Inc. (phone 514-251-3611, www.lallemand.com), a supplier of bakery yeasts. A key ingredient in the production of this staple food, yeast can provide a natural and vegetarian source of vitamin D.
The company offers a line of bakery yeasts (Eagle Yeast®, American Yeast®, and Instaferm®) that can enhance the vitamin D content of baked goods and of bread in particular. During the production process, these yeasts are exposed to a source of light that naturally transforms the sterols present in yeast into vitamin D, he explained.
Chagnon noted that recent findings from a study conducted at the University of Helsinki in Finland found that bread baked with Lallemand's yeast had the same effect on vitamin D serum levels in humans as vitamin D supplements. Yeast can therefore provide bakers with a "head start" in helping meet this important dietary requirement.
"We expect to receive soon a positive response to our FDA petition aiming to amend the current regulations to allow levels of up to 400 IU of vitamin D per 100 g of baked foods using our yeast," Chagnon emphasized. "This will provide bakers with an even greater opportunity to respond to the growing consumer awareness of vitamin D's benefits, allow bread to naturally become the primary dietary source of vitamin D (perhaps ahead of milk), and strengthen bread's health attributes."
Flours for All Breads
Chapati, Roti, Paratha, and Purl. These ethnic flatbreads can utilize a new flour from ConAgra Mills, Omaha, Neb. (phone 402-240-5153, www.conagramills.com). The ingredient, Mumbai Gold Fresh Chakki Atta, is milled from specially selected durum wheat to provide authentic taste, texture, and functionality to a variety of flatbreads. From traditional South Asian cuisines to global fusion, this flour is said to be a suitable foundation for any flatbread application, including sandwiches, pizza, wraps, appetizers, and breakfast foods.
A second flour, Eagle Mills Gluten-Free All-Purpose Multigrain Flour Blend, may be used in breads, including gluten-free versions. Two slices of bread made with the flour delivers 6 g of fiber. A slice of gluten-free bread made with the ingredient has the same fiber as a slice of 100% whole wheat bread. The gluten-free blend—which combines amaranth, millet, quinoa, sorghum, and teff with brown rice flour, corn flour, corn starch, tapioca flour, and rice flour—is said to optimize flavor, color, and texture.
Other flours for use in breads include barley-derived Sustagrain, which can boost fiber content, and Ultragrain, a whole-grain flour that preserves the mild flavor, color, and texture of refined flour.
The Cassava Choice
A new gluten-free flour, derived from the cassava root (commonly used to make tapioca starches, granules, and pearls), may be used as a substitute for wheat flour, reportedly performing well in products such as breads, hamburger buns, tortillas, pizza crust, and other bakery items. The ingredient, King Lion Premium Cassava Flour, was developed by American Key Food Products, Milford, Conn. (phone 203-283-9511, www.americankeyfood.com), and is said to be specially processed to have a particle size distribution that is necessary to achieve most of the functionality of wheat flour in gluten-free applications.
--- PAGE BREAK ---
According to Chef Mark Hetzel, the company's culinary consultant, the flavor of this premium cassava flour is very close to the taste of wheat flour. For gluten-free baking applications, this flour performs nearly as well as wheat flour. It has superior moisture retention properties, with baking performance characteristics that closely mimic wheat flour in the structure, texture, and taste of the finished products. He also noted that in more challenging applications such as gluten-free bread, complementing the flour with an ingredient such as potato starch may be useful and advantageous to enhance further the quality of the baked product.
Seeds of Progress
Flaxseed can provide a variety of functionality and nutritional benefits to bread and related products such as pizza crust.
As a result of its alliance with Enreco Inc., Grain Processing Corp., Muscatine, Iowa (phone 563-264-4265, www.grainprocessing.com) has become the exclusive marketer of Sterling Choice® brand of flaxseed ingredients to the food industry. The company showcased golden flaxseed under this brand in a pizza formulation. The ingredient can be easily added to doughs, adding fiber and omega-3 fatty acids without changing texture and eating quality. In addition to the ground flaxseed, whole wheat flour and oat fiber was incorporated into the deep-dish pizza, giving the popular food added nutrition benefits.
An ingredient system containing natural flax may be used as a moisture management tool to extend shelf life and improve softness of whole wheat bread. According to its supplier, Glanbia Nutritionals, Monroe, Wis. (phone 608-329-2800, www.glanbianutritionals.com), OptiSol 5001 can be incorporated in straight dough, as well as sponge and dough methods, and reportedly gives a softer bread even with half the vital wheat gluten added. Breads made with the ingredient were also said to achieve higher loaf volume than those made without it.
OptiSol products undergo a proprietary milling and manufacturing process to enhance ability of flax hydrocolloid components to hydrate and functionalize in food systems; enhance moisture management in baking/freezing/frying; provide strength and structure in collaboration with protein; and maintain the nutritional benefits of flaxseed components (omega-3s, fiber, and lignin). Their strong hydrocolloid properties allow these products to replace fats, gums, and gluten in the formulation.
Also available in the series is OptiSol 5000, which was developed for tortillas, sheeted dough, pizza crust, and gluten-free applications. For example, a whole-wheat tortilla may be produced using a combination of the ingredient and a cardio health micronutrient premix that delivers phytosterols, vitamins, and minerals. Or a white flour tortilla can be formulated with the ingredient and Select®Grad® cracked LW flax, a rich source of ALA omega-3 in highly bioavailable form with 15% whole seed for appealing visual appearance.
Croissant Utilizes Micronized Grain
A flaky, whole-grain croissant prototype, developed by Watson Inc., West Haven, Conn. (phone 203-932-3000, www.watsoninc.com), utilizes the company's Perfect Grain™, a concentrated blend of micronized wheat germ and wheat bran, in conjunction with an existing flour. Although the ingredient is not a whole-grain flour, it has been micronized so fine (under five microns) that it is indiscernible from flour and will not interfere with the light and flaky texture of this delicate baked good frequently served as a breakfast sandwich.
--- PAGE BREAK ---
The process used to micronize the blend results in an average particle size of about 1.5 microns, which is well below the size that can be detected by the teeth or tongue. According to the company, 18% of the existing flour can be replaced with the ingredient and can help transform a baked good into a whole-grain food. It works with any type of flour use, including all pastry flours, and can find use in breads, rolls, pizza crusts, breadings, and of course, croissants.
The highlighted whole-grain croissant consists of whole-grain flour (wheat flour, wheat bran, wheat germ), water, Perfect Grain, butter, milk powder, sugar, yeast, salt, and sorbic acid. A good source of fiber, it offers 140 calories, 23 g of total carbohydrates, and 3.5 g of total fat.
Covering the Bases
A line of products from Caravan Ingredients, Lenexa, Kansas (phone 800-669-4092, www.caravaningredients.com), encompasses a variety of bases and functional ingredients intended to simplify ingredient statements. This line, called Pristine™, is applicable to most yeast-raised bread products, as well as tortillas, and reportedly allows for superior strengthening without the use of chemical conditioners.
For example, Crack 'N Good Wheat Base is a natural, egg-free cracked wheat base that improves tenderness of baked bread and rolls, enhances eye appeal and flavor, and provides uniformity. This base yields dough with increased extensibility and greater absorption and its superior machinability allows it to be produced with conventional or high-speed equipment. Finished products containing the base have a darker crumb color than typical wheat products, a crunchy crust, and visible grains that contribute to a premium appearance.
Also part of this line is Wheat Ferment Enhancer, an easy-to-use flavorant that eliminates the need for messy wet sours and lengthy fermentation. This functional product is made from a dried, naturally fermented wheat sour and produced under carefully controlled time and temperature conditions. A group of specially selected sour dough organisms aids in producing a special flavor profile, which can be used at low levels for a hint of flavor or at higher levels for a more robust flavor, providing variability for the baker.
The Wheat Ferment Enhancer is also used in the recently developed Artisan Italian Base, to provide an authentic flavor to the finished products. This 4% base is used to produce classic Italian and Ciabatta breads and rolls, as well as baguettes.
'Tweaking' the Gluten Network
A new complex of enzymes and protein fractions, developed by Germany-based Muhlenchemie GmbH & Co. (phone +49 (0) 41 02/202-001; www.muehlenchemie.de), is said to augment the effect of wheat gluten in the mixture. The result is that excellent baking results can be reportedly obtained with no or reduced amounts of added gluten.
In developing its solution, the company looked for ways in which the flour's own gluten network could be "tweaked" to react as well as possible to the baking process. The ingredient, EMCEgluten Plus, combines suitable proteins with cross-linking enzymes. This promotes an interaction between the gluten's polar and non-polar proteins. As a result, additional proteins are taken up and cross-linked.
--- PAGE BREAK ---
According to the company, "Irrespective of whether the gluten is already contained in the flour or added in the form of vital wheat gluten, the covalent cross-linking promoted by the enzymes noticeably improves the rheological properties of the flour." Farinograph tests showed that the use of the ingredient will, for example, result in greater water absorption, producing a dough that is stable for longer and develops in optimum fashion. In many cases, there is then no need to add costly vital wheat gluten. If larger volumes of gluten are still required, it is possible to reduce the quantity added by up to 50% without impairing the baking results in any way.
Defatted Corn Protein in Gluten-Free Bread
A palatable gluten-free bread using defatted corn protein has been produced by Agriculture Research Service chemists in the Grain Quality and Structure Research Unit in Manhattan, Kansas. As reported in the November/December 2010 issue of Agricultural Research, researchers Scott Bean and Tilman Schober found a way to make rolls from corn protein that are not only gluten free but also rise more and resemble wheat rolls.
In previous studies, the researchers found that a corn protein called "zein" could be used to make a more wheat-like dough. However, that dough still didn't meet their standards because it lacked strength and the rolls produced from it were too flat. More recently, the researchers found that by removing additional fat from zein, they were able to produce a dough more similar to wheat dough. This resulted in hearth-type rolls that resemble wheat rolls. "We found that removing more of the fat from the protein's surface allows the proteins to stick to each other much like wheat proteins do—leading to the elastic nature of wheat dough," said researcher Scott Bean.
Acrylamide-Preventing Yeast Developed
A yeast-based solution from Canada-based Functional Technologies Corp. (phone 647-204-4905, www.functionaltechcorp.com) can achieve acrylamide reductions of approximately 90% in breads. This ingredient, Acryleast™, reportedly has been enhanced to speed up the yeast cell's natural ability to assimilate asparagine, the main precursor to acrylamide, thus preventing acrylamide formation while performing fermentation.
Initial tests results for bread made with the ingredient demonstrated these reductions in acrylamide compared to bread made with standard commercial baker's yeast. Additional tests measured the levels of asparagine remaining in bread dough after several industry-applicable time intervals. After three hours, in replicate testing, dough inoculated with Acryleast showed a 99% reduction in asparagines vs an 18.5% reduction for the control dough. This data is said to be consistent with, and supports, the reduction in acrylamide shown in the initial laboratory baking tests. It is well known that yeast consumes asparagines. The company claims that its breakthrough science speeds up this process by rapidly breaking down asparagines into safe compounds prior to acrylamide formation.
New Enzymes Extend Shelf Life of Bread
Enzymes are being developed that can extend the shelf life of breads, improving their quality in terms of softness, freshness, and tenderness.
For example, enzymes for improving bread freshness were launched into the North American market by Denmark-based Danisco (phone +45 3266 20 00, www.danisco.com) at the 2010 International Baking Industry Exposition (IBIE). PowerFresh® enzymes with "G+ technology" are said to maintain the softness, taste, and texture of bread for at least 10 days after baking. They can provide tailored solutions for specific bread applications, including specialties such as ovals, panettone, and brioche. The enzymes are the latest addition to a line of products that include PowerFresh Bun with G4 enzyme for buns and rolls.
A new bread improver, a next-generation maltogenic amylase preparation, was launched by Germany-based AB Enzymes, part of the ABF Ingredients group of companies (phone +49 (0) 61 51-36 80-100, www.abenzymes.com). The enzyme works by breaking down flour starch in a highly effective enzymatic reaction, providing crumb softness over a longer period of time, improved elasticity and freshness, and an extra tender crumb texture compared to previously available maltogenic amylase products in the market.
--- PAGE BREAK ---
Starch-Based Systems for Gluten-free Formulating
An ingredient system, PenTechGF, can be used to create gluten-free breads, rolls, muffins, and pizza crust. The system, developed by Penford Food Ingredients Co., Centennial, Colo. (phone 303-649-1900, www.pentechgf.com), allows manufacturers, processors, and foodservice companies to develop product lines that are gluten-free with the visual, mouthfeel, and flavor properties of wheat-based items.
According to the company, the use of the proper starch can give dough a much-needed elasticity, the right amount of chewiness, and a consistent crumb grain. The system allows for volume to give bread height, textures that aren't too gummy or dry, and a neutral flavor that won't interfere with other ingredients.
The Sorghum Solution
Sorghum flour from ADM, Decatur, Ill. (phone 217-424-5200, www.adm.com), has a light color and neutral flavor, making it suitable for use in foods such as breads and pizza crust. It also has potential in gluten-free applications.
"With sorghum flour, we can offer customers a gluten-free solution that is more economical than most specialty flours," said Brook Carson, the company's technical products and market development manager. Processed in a way similar to wheat flour, white sorghum flour has a bland flavor that can be beneficial because it does not add an unfamiliar or distinctive taste. The whole-grain white sorghum flour, also offered by ADM, can provide nutritional benefits associated with whole grains.
Because sorghum flour does not contain gluten, bakers often incorporate a binder such as xanthan gum or corn starch to add "stretch." In the manufacture of gluten-free buns, for example, a combination of sorghum flour and gluten-free starches may be required to create a desired product.
The Pulse on Breads
Using pulse ingredients such as pea flour can enhance the nutritional quality of products such as breads, pita breads, flatbreads, rolls, buns, and tortillas, as well as increase dough yield, firmness, and texture. According to the Northern Pulse Growers Association, Bismarck, N.D. (phone 701-222-0128, www.northernpulse.com), by adding 30% pea flour to a conventional hamburger bun formula, a product can be created with 4 g of fiber and 7 g of protein while maintaining taste, texture, and appearance. Pea flour is also a good way to add structure and enhance nutrition of products made with other gluten-free ingredients such as rice, tapioca, or potato starches.
A variety of recipes utilizing pea flours are available from the Northern Pulse Growers Association. These include Pea Whole Wheat Hearth Bread, Pea Hamburger Buns, Pea Pan Bread, and Pea Tortillas. In addition to pea flour, other ingredients such as pea fiber, pea protein, and pea starch may be suitable for bakery products.
So What's In Your Oven?
America's Best Raisin Bread Contest, an annual competition held by the California Raisin Marketing Board, Fresno, Calif. (phone 559-248-0287, www.calraisins.org), as well as other recipes found on the organization's website, demonstrate the diverse directions that breads can take in terms of flavor. Some examples might include Sicilian Raisin Bread, Cardamom Pecan Bread, Raisin Walnut Blue Cheese Sour Dough Pave, California Raisin Grapefruit Bread, California Raisin Carrot Bread Topped With Pumpkin Seeds and Cheese, California Raisin Bread with Caraway, Sweet Potato Bread with California Raisins, and so many others—all suggesting the flavorful directions that a traditional product such as raisin bread can take. And I think this same flavorful (and ingredient) evolution can be applied to breads in general.
--- PAGE BREAK ---
For example, an Almond Germ Baguette was developed by research chef John Csukor for the Almond Board of California, Modesta,Calif. (phone 209-549-8262, www.almondboard.com). Because almonds pair so well with dried fruits and grains, they are a natural addition to artisan breads. Ground almonds in any form increase the protein content of a bread, and roasted almonds complement the flavor and texture of whole-grain bread formulas.
In terms of flavor, anything is possible. Imagine a popcorn bread, which I mentioned in a blog post on page 51 of this article. Such a product might make for a tasty bakery item or snack, especially with the addition of a topping like butter or cheese. Or a pizza bread with a light coating of cheese can serve as an alternative to a large pizza, developed especially for individuals interested in managing their weight.
Bread has certainly been around for a long, long time, but its opportunities, in terms of nutritional value and functionality, are still growing. Expanding like yeast, if you will. And hopefully the ingredient developments discussed in this article may just help take a staple food that one step beyond.
So what's in your oven?
Next month's Ingredients section will measure some of the new directions that dairy flavors are taking and examine how they are helping optimize the functionality and nutritional characteristics of the formulation.
---
IngredienTalk:
A reformulated snack. A flour in bread. A topping for salads. Part of a cheesecake crust. These are just a few of the destinies possible for popcorn as an ingredient, as described in my 27th blog. If you care to share some kernels of wisdom about popcorn—and you're an IFT member—visit www.ift.org, type in your name and password, click on the IFT Community button, and go to the blog section. Become part of a discussion popping with new ideas.
Pass the Popcorn … Bread
Imagine sitting in a darkened theater, watching a movie on the not-so-big screen, and you whisper to your companion, "Pass the popcorn… bread." Well, maybe not, at least in that particular situation. Would probably leave too many crumbs on the carpeting anyway.
But apparently there are a variety of bread recipes out there on the web that make use of popcorn. The popcorn flour that is used comes from ground popped corn with little flecks of popcorn hulls adding roughage and a slight nuttiness. And supposedly the aroma of the bread smells like real movie-theater popcorn.
Of course, a product like this excites me. First of all, I like popcorn. Also, I'll be doing an Ingredients section in the near future on breads and some of the directions that this category is taking. It would be interesting if some bread manufacturer considers using popcorn or popcorn flour as an ingredient. Popcorn bread. Hmmm….might just make for a novel bakery item or even a snack product. And imagine adding butter or cheese to such a product—talk about a winning combination. That would indeed take bread formulating one step beyond. Just a suggestion, folks.
Whether popcorn bread becomes a reality in the marketplace someday…well, we can only hope. But in any case, I always wanted to do a blog post about popcorn, which in my opinion is capable of embracing so many exciting trends. Most recently, McCormick released its Flavor Forecast™ 2011, and guess what had a flavor pairing? Popcorn with Herbes de Provence. According to the forecast, Herbes de Provence (an herb blend of rosemary, thyme, marijoram, and other savory components) can find a lighthearted partner in crunchy, nutty popcorn—a perfect blank canvas for other sweet and savory flavors. The combination can find application in a snack mix, as a crispy coating for chicken, and as a whimsical crust for a cheesecake tart with berries. With the last application, we're now entering into the bakery territory and a cheesecake tart with popcorn crust makes the idea of a popcorn bread even more feasible, I might add.
--- PAGE BREAK ---
Popcorn, by itself, makes for an ideal low-fat, whole-grain snack, providing dietary fiber, balancing out spikes in blood sugar, and improving sensitivity to insulin. For these reasons, it is a suitable food for people who have diabetes. Studies have shown that consumption of popcorn can help control hunger, improve feelings of satiety, and help maintain a weight management program. Furthermore, popcorn may be a good source of antioxidants.
Of course, some people like to eat popcorn with a lot of butter or salt, as opposed to plain. But in recent years, new ingredient developments are being introduced that can help enhance this snack, making it an even more viable option.
For example, salt alternatives are being developed that have the look, taste, and texture of regular salt while reducing sodium content and removing bitter, metallic aftertastes that have been previously associated with sodium alternatives. If you must salt your popcorn, these alternatives can be used without compromising the snacking experience.
For those concerned about trans or saturated fats, new popcorn oils are being developed. At the 2010 IFT Annual Meeting and Food Expo, you may remember that Dow AgroSciences introduced a heart-healthy canola oil blend that found application in PopWeaver brand of microwave popcorn. The reformulated popcorn achieves more than a 30% reduction in total fat, including 60% less saturated fat, while delivering the rich buttery flavor of the previous version. Various other better-for-you oils that are suitable for popcorn were also highlighted at the event. A new line of diglycerides, which earned Caravan Ingredients a 2010 IFT Food Expo Innovation Award, can be used to produce a popcorn oil that has 2.5 g of saturated fat vs a palm oil blend that contains 4 g of saturated fat. Using enzyme interesterification, Bunge Oils produced a new line of oils recommended for such snacks as popcorn. And ADM featured a chocolate-coated popcorn popped with a high-oleic canola and palm oil blend and drizzled with the company's chocolate coatings, creating a snack that is suitable for those craving something sweet and savory.
New flavor opportunities for popcorn are being created that may combine well with these alternatives to salt and saturated fats. As mentioned above, ADM paired chocolate with a healthier oil blend in a popcorn formulation. At a media event, Virginia Dare served up popcorn made with vanilla flavor (Indonesian early pick) that has a smoky character that helps push the popcorn flavor through the butter. Wixon Inc. developed a number of flavors that can help turn ordinary popcorn into a gourmet product. These include White Cheddar, Salsa Lime, Cajun BBQ, Pepper Parmesan, Maple Cinnamon, Caramel, and perhaps the most unusual for popcorn, Caramel Sour Apple. Some of these flavors may even be used as an alternative to butter as a topping.
Although popcorn bread may not yet be a reality, one can already see popcorn products appearing in different forms in the marketplace. For example, Medora Snacks recently launched PopCorners, a new air-popped popcorn chip. And Frito-Lay introduced its Smartfood Popcorn Clusters in three flavors—Cranberry Almond, Honey Multigrain, and Chocolate Cookie Caramel Pecan. Providing 120 calories per piece, these clusters are a mix of sweet and salty flavors and won first place in the Baby Boomer category, as voted by IFT attendees at the Mintel presentations and tastings, held at the 2010 IFT Annual Meeting.
Popcorn is no longer eaten just from a bag or bowl. It can be used as a topping for salads for an extra fiber punch or it can be used as an inclusion in soups. Or it can be eaten with a side of fruit to take advantage of a sweet-salty effect. Or it can be used as an ingredient in panna cotta, an Italian dessert. Or it may even be used as a flour in the making of breads. (I know—I'm being redundant here.)
As you see, when it comes to popcorn, things are definitely popping, and the resulting products may give us a good idea of what tomorrow's snacks may look like.
If you have any kernels of wisdom you wish to share about popcorn, the different ways it is being reformulated, and its exciting uses in tomorrow's formulating, let's IngredienTalk.
---
www.ift.org
Members Only: Read more about breads online at www.ift.org. Type the keyword into our search box at the upper right side of our home page.
Donald E. Pszczola,
Senior Editor
[email protected]