Fermentation, at least as it is perceived in this article, is a somewhat loose term, covering a process that can impact the development of a broad range of foods and food ingredients. In a general sense, the term describes "desirable changes" brought about by yeasts, molds, bacteria, or a combination of them, under certain conditions. Typically, these microorganisms convert a carbohydrate into an acid or an alcohol, with requirements for fermentation including media, temperature, salt, acidity, the culture container, and the time involved.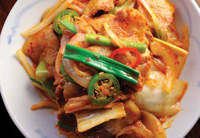 Products that depend on the process of fermentation, such as breads, beer, wine, cheese, yogurt, soy sauce, vinegar, and sauerkraut quickly come to mind. However, the category of fermented foods can also be extended to include those that do not rely on microbial activity. For example, the fermentation of tea is the result of plant enzymes. As can be guessed, fermentation processes can vary (as well as their end results), but there is certainly a wide score of fermented foods and food ingredients that are available, several of which will be discussed in this article.
In fact, this article's focus will not be so much on the process or processes of fermentation (that in and of itself would make for an interesting piece, especially from a microbiological point of view), but rather on its outcomes—that is, fermented products and the benefits they offer, including preservation of food, flavor and texture enhancement, and enhancement of nutritional value.
Of course, humans have been making use of fermentation for thousands of years, although they may not have always understood what it was and what factors were responsible for the changes that occurred. Interestingly, the ancient Greeks' word for fermentation meant 'alchemy.' Today, we are still finding new ways to make use of this special process for transformation. Perhaps that might translate to an alternative way for producing steviol glycosides. Or the creation of new flavors. Or the development of next-generation nutraceutical foods.
Over the next pages, we'll see examples of the role that fermented ingredients play in product formulation.Some of these fermented products include soy sauce, black garlic, kimchi, rice vinegar, improved cocoa beans, yogurt, new aroma substances, and several others. (My IngredienTalk blog post on page 78 will even take a crack at discussing fermented walnuts.) Hopefully, this article will help "ferment" a few other new ideas and approaches, as well.
Advancements in Soy Sauce
Soy sauce, a fermented condiment with a salty taste, is quite familiar in Asian foods. Recent advancements, however, make it also increasingly applicable in a variety of other applications.
For example, Kikkoman Sales USA, San Francisco, Calif. (phone 630-954-1244, www.kikkomanusa.com), developed a new type of soy sauce that has a high umami flavor without the traditional soy sauce taste. The NFE (Natural Flavor Enhancer) line functions as a powerful umami flavor booster, bringing out the "inherent deliciousness" of any cuisine or product category. It is available in liquid (NFE-L) and powdered (NFE-P and NFE-PY) versions.
--- PAGE BREAK ---
Because of its neutral flavor, low level of color, and sodium reduction capability, the NFE line is appropriate for use in a wide range of savory products. Incorporating NFE can allow sodium reduction of 30-50% while providing an alternative to such ingredients as monosodium glutamate, nucleotides, and hydrolyzed vegetable proteins.
The product line is made using the same essential ingredients as traditional soy sauce (wheat, soybeans, water, and salt). The soybeans are gently fermented to release high levels of amino acid responsible for umami, the "fifth taste" that enhances the savory character of food. Also included in the line is powdered NFE-S, made from fermented wheat protein, which has a mild bouillon character.
Another soy sauce development from Kikkoman that may create new opportunities for food application is PTN (Premium Total Nitrogen) Less Sodium Soy Sauce. A tamari-style soy sauce, this product is said to be the lowest-sodium soy sauce in the company's portfolio. It features a high-impact flavor which comes from elevated levels of amino acids, released naturally through gentle fermentation. Its flavor and low salt provides umami and depth for low-sodium formulations. This new soy sauce creates and maintains desirable flavor balance, even in formulations with severe sodium reduction.
A Clove of Darkness
When raw garlic is subjected to a month-long fermentation process, the result is black garlic, an increasingly popular culinary ingredient. With heat only, garlic is transformed into a product that barely resembles its raw counterpart. While the garlic flavor is present, it is very subtle and what is left is a sweet and syrupy clove that has balsamic, molasses, tamarind, and raisin notes. And, unlike the regular version, there is no garlic breath, which, of course, can be a definite plus.
Black garlic, a South Korean export, contains twice the amount of antioxidants as traditional garlic, as well as S-allylcysteine, a compound said to help prevent cancer. Black garlic flavor works well in a number of savory dishes that can take advantage of its umami properties.
At its 2011 Innovation Roadshow, David Michael & Co., Philadelphia, Pa. (phone 215-632-3100, www.dmflavors.com), showcased two products featuring a black garlic flavor. Black Garlic and Mushroom Risotto combines Natural Black Garlic Flavor WONF (#34746) at 1.60% with vegetarian Natural Flavor "Chicken Broth Type" Powder and Natural Mushroom Flavor WONF Powder. For an interesting twist, Natural Black Garlic Flavor WONF at 2.50% was incorporated into a chocolate truffle, creating Black Garlic Flavored Truffle.
According to Erin O'Donnell, the company's Marketing Manager, while black garlic is enjoying culinary notoriety with top restaurant chefs, its health benefits could open up all new markets for the product. With its sweetness and texture, black garlic could work well in snack bars, trail mixes, and even confections.
--- PAGE BREAK ---
Black Garlic Extract EFLA 451 was recently developed by Frutarom USA, Inc., North Bergen, N.J. (phone 201-861-9500, www.frutarom.com). The extract is based on fresh garlic (Allium sativum), which is auto-fermented under warm and humid conditions that favor enzymatic reactions, before being extracted. During fermentation, the white cloves gradually darken to their final black appearance. Through this process, the original compounds are converted into a whole new range of compounds: Black garlic is low in alliin and allicin, both precursors of the substances that are responsible for the undesirable odorous side effects of fresh garlic. Having totally lost its pungency, it even takes on a sweetish, mild taste and smell, similar to that of oven-roasted garlic.
Black garlic can be used in traditional nutraceutical supplements, such as tablet and capsules, but also in liquid applications with a heart-health positioning, instead of or in combination with standard garlic. Because of its mild taste and good water solubility, it is also suitable for a variety of food applications—both savory and sweet. A pure form could also be used at home as a healthy snack or as an ingredient for savory food preparations. Frutarom's extract is presented as a powder.
The Kimchi Koncept
This article has already discussed black garlic. Another sign that Korean cuisine may be at the forefront of culinary ethnic trends is kimchi. A traditional Korean dish, kimchi is reddish fermented cabbage (or radish) made with a mix of garlic, salt, vinegar, chile peppers, and other spices.
In addition to being eaten as a standalone, kimchi may be used as a topping, filling, or condiment for a variety of foods, including pizzas, hamburgers, breakfast burritos and other wraps, baked potatoes, stews, soups, and pancakes. As in the case of fermented foods such as yogurt, kimchi offers health-promoting bacteria that can aid in digestion, as well as compounds that may play a role in preventing cancer. It also contains a high concentration of dietary fiber while being low in fat.
Kimchi seems to be moving beyond its traditional Korean heritage. For example, Chef David Chang (Momofuku, New York City) adapted kimchi in the creation of his own recipes. A quick-casual Mexican restaurant, California Tortilla, recently debuted a Korean BBQ Taco served with kimchi slaw. And perhaps inspired by the "kimchi concept," California Pizza Kitchen offers Korean BBQ Steak Tacos made with grilled marinated Korean steak, fresh shredded Napa cabbage, Romaine, sweet onions, scallions, and fresh cilantro on corn tortillas topped with a spicy chili sauce.
One kimchi product in the marketplace is Mother-in-Law's Kimchi, which is available at Whole Foods Markets serving New York State (Long Island and New York City), Connecticut, and New Jersey. On its web site, www.mikimchi.com, the company offers a variety of recipes that can be made with its fermented product. These include tacos, frittata, and ceviche made with spicy kimchi; Spicy Kimchi Bloody Mary; grilled sandwiches; Sulung Tang Soup; and Cold Sesame Soba Noodle Salad. A number of food pairings with kimchi are also suggested—sauteed kimchi as a topping on scrambled eggs; as an addition to skirt steak or pork belly; as a wrapping for cooked bacon; and as an addition to ramen or soup. Samples of Mother-in-Law's Kimchi were available for tasting at David Michael's 2011 Innovation Roadshow.
At its event, David Michael demonstrated how gourmet condiments can be created using a variety of fermented ingredients, including soy sauce, vinegar, pickled shiso, and, of course, kimchi. These condiments—in the form of sauces, marinades, toppings, or garnishes—can add a tasty flair to traditional formulations. For example, the company showcased Bulgogi (Korean BBQ) Marinade, made with ginger, honey, soy sauce, onion, garlic, brown sugar, cream sherry wine, sriracha hot sauce, and cranberry flavor. It was developed for a beef application, which probably could be accompanied, if you so desired, by a side order of kimchi.
--- PAGE BREAK ---
When Pickling Becomes Epicurean
Rice vinegar is made from fermented rice or rice wine. In McCormick Flavor Forecast 2011, released by McCormick & Co., Hunt Valley, Md. (phone 410-527-8753, www.mccormick.com), the pairing of rice vinegar and pickling spice was identified as a leading culinary trend that can shape the way we eat this year and beyond.
According to the report, this aromatic twosome serves up layers of tang and spice that not only revitalize the art of pickling, but lend its preserved flavor to diverse applications that encompass much more than pickling. With a harmonizing ability to bring out sweetness, saltiness, and umami of other ingredients in a dish, versatile rice vinegar is becoming a popular condiment. The matching of rice vinegar with pickling spice (a blend of cinnamon, allspice, mustard seed, coriander, bay leaves, ginger, chile peppers, cloves, black pepper, mace, and cardamom), provides a classically balanced complexity that moves the pair to the forefront of epicurean exploration.
"The mellow acidity of rice vinegar with the exotic notes of pickling spice, is a natural for pickling Asian root vegetables—and would be great with fruits like cranberries or cherries," noted Diane Morgan, a cookbook author.
Several prototype recipes highlight the effectiveness of this coupling. For example, Asian Refrigerator Pickles demonstrates that pickling is back in vogue but with global flavor influences. The classic pickling spice blend marries with the mellow acidity of Asian rice vinegar to make a quick-pickling brine for vegetables and may help inspire endless varieties of quick pickles.
Another example is Marinated Shrimp with Mango & Radishes. Marinated cooked shrimp or Escabeche is originally from Spain. In this updated version, the shrimp marinade is prepared with pickling spice and rice vinegar. Colorful mango, poblano, chilies, and radishes are marinated in the same piquant mixture.
New Cocoa Fermentation Method Developed
The use of an advanced cocoa fermentation method developed by Switzerland-based Barry Callebaut (phone +41 43 204 04 04) has resulted in the new Terra Cacao chocolate range, said to be a vastly superior chocolate line. Because of the improvements in the fermentation of the raw cocoa beans, the cocoa used to make this product line has virtually zero defects or off flavors.
The innovative technique used in the production of this chocolate is applied after the harvest, during the critical initial fermentation of the cocoa beans at the plantation, explained Nicholas Camu, the company's Fermentation Innovation Manager. According to Camu, years of research into the intricacies of this complex process have yielded important insights into how flavor precursors are developed through fermentation. Based on this research, experimentation, and trial and error, he noted that "the technique developed naturally enhances this process and promotes the growth of the right ferment cultures to awaken even the most delicate and refined flavor precursors in the cocoa beans." The 100% natural chocolate that is generated from this process provides an "unprecedented harmony of pure tastes and rich aromas."
The Terra Cacao range covers several milk and dark chocolate references that vary from 33.5% to 70.5% cocoa mass. The range is available to industrial customers worldwide.
--- PAGE BREAK ---
Valencene via Fermentation
A fermentation process was developed by Dutch biotechnology company Isobionics (phone +31 46 4762317, www.isobionics.com) for production of its Valencene Pure™, an aroma substance for the food, beverage, and flavor industry. Compared to conventional valencene, which is derived from oranges, this new product offers the advantages of high purity and constant quality.
Valencene is traditionally extracted in low amounts from oranges. Therefore, quality, quantity, and price of conventional valencene may vary, depending on harvest conditions. By using a stable fermentation process, the new ingredient overcomes these challenges. Valencene Pure is a natural product with odor and taste similar to valencene from oranges. It comes with a high purity and a constant quality and availability. Because of its benefits, food manufacturers can make use of the ingredient to create natural citrus flavors and fragrances for their products without having to worry about quality issues and availability.
Isobionics claims that it is the only company in the world that offers valencene produced by fermentation. Its fermentation method earned the company a Frost & Sullivan 2010 Global Technology Innovation Award in Food Ingredients.
Natural Antimicrobials Derived from Fermentation
A new range of natural antimicrobials from Purac America Inc., Lincolnshire, Ill. (phone 847-634-6330, www.purac.com), was developed as part of the PuraQ® Verdad line. The products in this line are derived from fermentations which contain blends of organic acids for shelf-life extension (up to 50%) and food safety. Furthermore, they have been demonstrated to enhance the brothy, meaty notes in meats and spicy flavors as well as salt perception (reduction of sodium up to 25%) in other foods.
The line of PuraQ Verdad antimicrobials developed for meat products includes NV10 (labeled as cultured corn sugar) for shelf life extension of fresh meats; NV15 (labeled as cultured corn sugar, vinegar) for Listeria monocytogenes control in cured, ready-to-eat meats; and NV55 (labeled as cultured sugar, vinegar) for L. monocytogenes control in primarily uncured ready-to-eat products.
The line of PuraQ Verdad antimicrobials developed for other products includes RV70 (labeled as cultured sugar) for control of yeasts, molds, and L. monocytogenes in refrigerated foods with a pH between 5 and 6 (including pastas, ready-to-eat meals, and soups); and RV75 (labeled as cultured sugar) for control of yeasts, molds, and L. monocytogenes in refrigerated and acidified foods with a pH around 5 (such as dips, spreads, and dressings).
--- PAGE BREAK ---
Yogurt and Yonder
One of the most popular fermented dairy products is, of course, yogurt, which is produced by the bacterial fermentation of milk. As explained by the Wisconsin Center for Dairy Research, yogurt producers in North America use a blend of Streptococcus salivarius ssp thermophilus (ST) and Lactobacillus delbrueckii spp bulgaricus (LB). These thermophilic organisms convert the milk sugar lactose into lactic acid, which gives yogurt its tart taste and provides an environment unfavorable for pathogen growth. (The texture and viscosity of yogurt are related to the formation of the protein network with its entrapped water—with many factors affecting this protein network formation, including initial heat treatment of the milk, bacterial strains, incubation temperature, amount of solids, and the processing conditions.) Yogurt is generally fermented to a final pH of 4.6 to 4.7 and then chilled to minimize further acid production.
Yogurt is available in a variety of forms, and fruits and other flavors can be added to it. Dana Craig, Marketing Leader for Cargill Texturizing Solutions described the formulation of one such product and the challenges it presented. "After the successful introduction of a new dessert, yogurt with fruit purees, a customer was looking to further extend its range with a yogurt based on a specific flavor combination for the German market, namely chocolate with cherry puree," explained Craig. "The customer turned to Cargill with a detailed briefing: to create a chocolate milk yogurt with a maximum of 10% sucrose and 4% fat, with creamy texture. It was also important that the yogurt had the correct viscosity at the filling stage, with no post-reaction."
There were various issues to overcome, she noted. As all ingredients had to be combined before fermentation, it was key to maintain the homogeneity of the mixture during fermentation. This required the right texturizer to avoid the cocoa particles from falling and the cocoa fat from creaming. In addition, the right chocolate and cocoa powders, as well as the right vanilla flavor, were needed to create a well-balanced flavor and color profile. Finally, post-acidification had to be avoided by using a mild direct vat culture. All this had to result in a quality product for filling the pots in combination with the fruit puree.
As consumers look for ways to improve their eating habits, yogurt is being viewed in a new light as a valued dairy ingredient. Yogurt can be used as a functional ingredient in products for added flavor and nutrition. To demonstrate this, a prototype cucumber/lemon yogurt-based beverage that takes its sweet and salty flavor cues from Middle Eastern beverages was developed by U.S. Dairy Export Council Global Ingredients Program, Arlington, Va. (phone 703-528-3049, www.InnovateWithDairy.com). Beverages prepared from yogurt, such as this one, may suggest the increasingly popular Lassi from India.
Dehydrated yogurt may be used as an ingredient in many snack-type products, particularly coatings or frostings. Once the yogurt is cultured, it is taken through a spray-drying process that removes most of the water. The result is a dry powder with a tart dairy flavor, similar to yogurt but milder. Many of the starter bacteria do not survive the spray-drying process, and their associated health benefits are consequently lost. However, dehydrated yogurt contributes calcium and high-quality protein when used as an ingredient in formulas. It also contains lactose and an assortment of other minerals. A new yogurt powder from Grande Custom Ingredients Group, Lomira, Wis. (phone 920-269-7188, www.grandecig.com), is said to provide a more pronounced yogurt flavor and creamier mouthfeel and texture than current versions in the marketplace. The ingredient is suitable for use in coatings, dips and dressings, candies, snacks, smoothies, frozen desserts, nutrition bars, and cereal inclusions.
--- PAGE BREAK ---
From a functionality perspective, yogurt can enhance flavor, nutrition, and moisture in muffins, quick breads, or yeast breads. Marinating meats or poultry in yogurt improves tenderness. Yogurt can be found in sauces or dips, sandwich fillings, or desserts, and sometimes as a low-calorie substitute for sour cream, cream cheese, or mayonnaise. Using yogurt in heated sauces requires some precautions, since high heat will curdle it. It is possible to minimize problems by bringing the yogurt to room temperature before adding it to a hot sauce or mixing a tablespoon of cornstarch for every cup of yogurt, according to the Wisconsin Center for Dairy Research.
The healthy image of yogurt has led to its widespread use in snack foods for kids, particularly in powdered form. Powdered yogurt can be used in coatings for dried fruit, energy bars, pretzels, or other snacks, although the center cautions that some of these products contain high fat and sugar levels and processing and baking may destroy the live microflora of yogurt. However, despite these considerations, yogurt is presenting an increasing number of new opportunities both as a fermented food and as an ingredient in a number of processed foods.
New Malts Brewing Ahead
New styles of beer providing distinctive flavor experiences can be created using special malts with a high degree of fermentability.
According to Gustavo Strasser, Commercial Manager for Cargill Malt, High RDF Barley Malt is created from 2-row barley with a focus on maximum native enzymes production and high degree of fermentability. "With native starch conversion enzymes nearly double that of typical brewer's malts, and with high levels of free amino nitrogen, this malt allows the creative brewer to develop recipes targeting higher alcohol, and drier or lower-calorie formulas. Significant non-diastatic starch adjuncts can be included into the formula for unique fermentation and flavor experiences." Typical attributes also include low color, making High RDF Barley Malt suitable for dry, light-colored ales and lagers.
Cargill also offers a High RDF Wheat Malt with a focus on maximum native enzymes production and high degree of fermentability. With this malt, brewers can create new styles of wheat beer for unique flavor experiences, Strasser emphasized.
Future Fermentations
This article has discussed some of the innovative ingredient solutions that can be developed through fermentation. But there are many other possibilities that still are untapped and present fascinating potential for this ancient process and the adaptations that are made to it.
Imagine, for example, the possibility for cheaper steviol glycosides produced by fermentation. A Swiss company Evolva (www.evolva.com) has collaborated with San Francisco-based Abunda Nutrition Inc. to develop technology that can make key components of the natural high-intensity sweetener stevia via fermentation in yeast. This process would bypass the complex logistics associated with the traditional cultivation, processing, and refining of stevia plants, and allow pure stevia sweetness components to be produced. By enabling the introduction of new sweetener products with health, taste, and other benefits for consumers, pure fermentation-derived stevia components can potentially take an important part of the overall sweetener market.
--- PAGE BREAK ---
Here is another interesting scenario: Novel flavors and health benefits may be obtained from new or non-conventional yeast varieties. Fermentation expert Lucie Hazelwood of Netherlands-based NIZO Food Research (phone +31 318 659 511, www.nizo.com), explained that NIZO, as part of a four-year European Union consortium called Cornucopia, will be responsible for screening selected yeast species for the formation of novel aroma compounds and investigating their potential for probiotic effects. Such work may lead to the development of new food products, such as alcoholic beverages and cheeses.
Yeast is an important ingredient in the production of various food products, including wine, beer, cheese, and sausage. Until now, only the baker's yeast, Saccharomyces cerevisiae, has been extensively studied. However, in nature, there is a vast potential available in more than 1,500 species that have still to be studied. In industry, there is a growing interest in taking advantage of the diversity of yeast species, as different yeasts can give a different character to drinks and foods.
"Wine- and beer-producing companies are looking for solutions for low-alcohol products," said Hazelwood. "New yeast species may lead to lower alcohol yields while maintaining positive novel aromas. The outcomes of this project may also lead to new cheese products in which yeasts play a role." NIZO will also test selected yeasts for probiotic properties. "Yeasts are already known to have probiotic effects, either directly or through their metabolites. A first screening will focus on survival under gut conditions," added Hazelwood. "The potential of this highly variable group of organisms hold new solutions for foods which we will develop together with our clients."
Norwegian researchers are using lactic acid fermentation to reduce the formation of acrylamide during industrial production of potatoes and coffee. Norwegian research company Zeracryl AS has patented the method developed by Hans Blom and his research team. "Our method is based on lactic acid fermentation," Blom reported. "Acrylamide is formed as a reaction between the amino acid asparagines and simple sugars such as glucose and fructose. Put simply, the lactic acid bacteria remove these compounds and inhibit the formation of acrylamide." The ongoing experiments show that a 10- to 15-minute immersion in lactic acid bacteria culture before cooking reduces acrylamide formation in the final product by approximately 90%. Zeracryl will continue its work in the research project involving lactic acid fermentation as a tool to reduce the formation of acrylamide in fried potato products and roasted coffee in cooperation with the international food conglomerate Nestle, Norwegian producers of potatoes, and the research institute Nofima.
An innovative wine yeast from Canada-based Functional Technologies (phone 647-282-5038) can prevent the formation of hydrogen sulfide during the fermentation of alcoholic beverages including red and white wine, champagne, sherry, sake and other rice wines, and beer. The ingredient, available from the company's subsidiary Phyterra Yeast Inc., recently received from FDA a "No Questions" letter on GRAS status. All Phyterra™ wine yeast strains possess a proprietary attribute that disables the yeast's ability to form hydrogen sulfide during the fermentation phase, making it a suitable preventive solution requiring no changes to existing production processes. (Hydrogen sulfide is a gaseous by-product naturally emitted during fermentation, and is associated with a distinct rotten-egg odor; it can also form other reactive compounds that further add to the undesirable odors and flavors of the wine product.) Importantly, there are no negative impacts to the sensory attributes desired by the winemaker.
--- PAGE BREAK ---
Frutarom Savory Solutions GmbH, a Germany-based business unit of the Frutarom Group (phone +49 7150 2090 0) formed a partnership with the German Institute of Food Technologies to research the field of starter cultures. "During the course of our cooperation, we will systematically explore specific issues in the field of cultures and fermented foods and consequently implement this knowledge," said Dieter Albers, Head of R&D at Frutarom Savory Solutions Europe. "Our aim is to further increase the safety of food products and to make them healthier."
And the fermentation of coconut cream with yeast can produce high quantities of natural flavor compounds for food applications, according to new research. A study published in the International Journal of Food Microbiology suggests products from coconut cream fermentation by the yeast Kluyveromyces lactis can be applied as novel flavoring bio-ingredients in food products.
These examples all demonstrate some very interesting directions that fermentation, an age-old process, can take, and how such an approach can help "ferment" or, more precisely, "foment" new concepts as well as solutions to difficult formulation challenges.
Next month's Ingredients section will provide its annual installment of emerging ingredients and what they suggest awaits up ahead regarding future formulating.
---
IngredienTalk:
Sometimes when writing an article, such as one on fermented ingredients, you come across an ingredient that doesn't seem to readily fit the topic. I mean yogurt, soy sauce, sauerkraut, and beer—all those foods are clearly associated with fermentation. But walnuts? Well, with a little curiosity—and some digging—you find that there may indeed be some interesting opportunities for, yes, fermented walnuts, as is demonstrated in my 38th blog post. If you want to get nutty with me—and you're an IFT member—visit www.ift.org , type in your name and password, click on the IFT Community Button, and go to the blog section. Maybe we'll crack open a few ideas.
Fermented Walnuts: A Nutty Idea?
Recently, I attended the California Walnut Board's 2011 Spring Event, which brought together dietitians and members of the media to learn more about the nutritionaland functionality benefits of walnuts. The event consisted of several culinary demonstrations using walnuts as an ingredient, visits to a walnut orchard and walnut processor, and a variety of presentations, including one on current trends and the role this nut plays in addressing them.
--- PAGE BREAK ---
Since I knew I was writing an article on fermented ingredients, I couldn't resist taking the opportunity to ask the question, "What about fermented walnuts?" In response to my query, Jack Mariani, one of the founders of The Mariani Nut Company, a walnut grower and processor, was kind enough to provide me with an old family recipe for walnut liqueur, consisting of, and I quote, eight green walnuts, one quart vodka, eight lemon leaves, four orange leaves, 1 ½ cups of granulated sugar, and one teaspoon of vanilla. The concoction stands in the sun for 40 days and nights (sounds biblical somehow) and when steeping is complete, the liqueur is strained through a fine mesh sieve, the nuts and leaves are discarded, and the drink is decanted into bottles and sealed.
In an age of interesting recipes, especially those that have ethnic origins, I can't help thinking that such a product might have potential in the marketplace. If nothing else, it might be a great drink to serve at future events by the California Walnut Board.
This particular recipe brought to mind another fermented beverage, kvass—a traditional Russian drink made from fermented rye and barley. A couple of years ago, the Coca Cola Company created for the Russian market Krushka & Bochka Kvass Cola, sort of a cross between a soda and a beer. In the summer of 2010, the company imported the fermented, nonalcoholic drink to the U.S., where it was sold exclusively to Whole Foods Market stores in the New York metro area. I guess if kvass can be dubbed, "From Russia With Love," I see no reason why walnut liqueur can't be similarly promoted, "From California Walnuts With Love."
Upon my return from the media event, I was still curious about fermented walnut products, and while surfing the Internet, I discovered that "catsup" at one time (from around 1750-1850) was a thin, dark sauce made of fermented walnuts. One homemade recipe for Walnut Ketchup consisted of green walnuts pounded into a paste, vinegar, a little salt, cloves, mace, sliced ginger, nutmeg, peppercorns, horseradish, and shallots. Don't know how this all tastes, but as a specialty condiment, couldn't something like this be used on salads or perhaps with ethnic dishes? Just a thought.
And finally some further web searching uncovered an Australian company that sold a fermented walnut product as a nutritious snack. Soaked in a lactic acid/enzyme solution, the nut swells and various beneficial bacteria multiply. The nuts are then dried at very low temperatures, and the end result is a snack food or an ingredient for sweet and savory dishes.
Don't know if any of these concepts would be of interest to the mainstream marketplace, but as I learned at the California Walnut media event, the health and functionality benefits of walnuts can certainly create new opportunities that just might lend themselves to fermentation. Or more precisely, a fomentation of new concepts and approaches.
Then on the other hand, I just might be nutty. If you are also nutty and can provide some input regarding these kinds of concepts, let's IngredienTalk.
---
www.ift.org
Members Only: Read more about fermentation online at www.ift.org. Type the keyword into our search box at the upper right side of our home page.
Donald E. Pszczola,
Senior Editor
[email protected]