This year IFT is in the forefront of discussions surrounding the new Dietary Guidelines for Americans issued by the U.S. Dept. of Health and Human Services (HHS) and the U.S. Dept. of Agriculture (USDA) and the MyPlate initiative issued by the USDA. Officials from the White House, USDA, and IFT all discussed the public roll-out of the MyPlate initiative during a recent press conference at the IFT Annual Meeting and Food Expo® in New Orleans.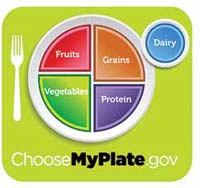 The new program focuses on consumer messaging, with the ultimate goal of helping the public to make healthy food choices. A current example of a message running through the end of the year is, "Make half your plate fruits and vegetables." The new icon, an update to the food pyramid, is based on the Dietary Guidelines and features a plate divided into four sections.
The guidelines offer a significant role for food science to develop products that taste good and are consistent with the recommendations. They place great emphasis on the consumption of fresh vegetables and fruits, legumes, low-fat/non-fat fluid milk, whole grains, and nuts. In addition, the guidelines stress moderate consumption of meat and poultry and significantly reduced consumption of foods with added sodium, sugars, and solid fats.
I had the privilege to serve on the 2010 Dietary Guidelines Advisory Committee. During the 20 months of deliberations, I attempted to provide practical expertise based on my knowledge of the farm-to-fork continuum. Several of the issues the committee discussed relating to our food system were also reflected in IFT's 2010 White Paper, "Feeding the World Today and Tomorrow: The Importance of Food Science and Technology." The report takes a historical look at the food system, the many challenges ahead, and the crucial role of food science and technology in meeting the needs of the growing population.
Overall, what we've learned is that we must expand on our offerings in the United States and beyond. We must enhance existing technologies such as vertical farming, hydroponics, and aeroponics or develop new ones to increase our capacity to grow, harvest, and deliver fresh produce. We must explore technologies associated with aquaculture so that there is sufficient fish in our diets. And we must encourage dairy operations to increase fluid milk in the supply chain.
As a follow-up to the release of the Dietary Guidelines, IFT has recommended that we initiate a multi-disciplinary dialogue among key stakeholders from academia, government, and industry to identify potentially effective interventions to enhance short- and long-term weight management, better understand what drives food behaviors and behavioral economics, and assess the impact of time allocation and constraints as related to food choices, to name a few.
And as part of an agreement recently signed between IFT and the USDA's Center for Nutrition Policy and Promotion, IFT has been asked to serve as a National Strategic Partner on the USDA's Nutrition Communicators Network. In addition to this network, IFT's communications staff members are working with other communications and marketing professionals in industry, nonprofit organizations, and government to amplify the reach of the Dietary Guidelines' consumer themes and nutrition messages.
We will continue to make advancements with food, food packaging, and the food supply, but it's ultimately up to consumers to embrace fundamental changes in their lifestyles—such as exercising and making better food choices. Still, let's continue to do our part to make sure healthier food choices exist by using the Dietary Guidelines and the MyPlate initiative as blueprints for what we are doing and what we need to be doing. And let's continue to remind consumers that these healthy choices are available.
Our collective expertise makes us the best food science professionals to ensure that our food resources are capable of meeting current and future Dietary Guidelines, and that we continue to provide a safe, abundant, and nutritious food supply worldwide.
Roger Clemens, Dr.P.H.,
IFT President, 2011–2012
Chief Scientific Officer, ETHorn, La Mirada, Calif.
[email protected]