The end of the calendar year tends to bring "10 best" or "top 10" reviews and reflections. This year's events have climaxed with a torrent of dramatic technological and "techno-marketing" evolutions that herald change for the remainder of this decade. Infinite graphics, "talking" wine bottles, mini flavor delivery systems, dispenser spouts spouting everywhere, super-slick surfaces, edible coatings, and much more are the launch vehicles.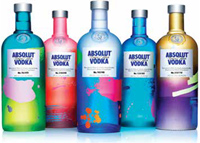 Beyond Mere Graphics
Absolut Unique vodka from Sweden is now offered in a limited edition of a zillion (well, actually four million) different designs. The bottle's manufacturer, Ardagh Group, has developed a technology to change the visual appearance of each glass bottle without altering the iconic brand image. According to the folks in charge of this singular achievement, each bottle projects a vibrant and eye-catching sight through a different color pattern as well as its own individual label number, giving consumers an opportunity to choose a personalized package. Remember the self-autographable beer bottle of earlier this year? Is individualized packaging exactly what vodka drinkers crave? Sales data will provide the answer.
Company spokespersons report that the process of creating the Absolut Unique bottles involves "a computerized valve and control system to automatically and continually change colors and spray multicolor patterns on the bottles." Producing the individualized bottles also includes randomly adding contrasting "color splashes" to the bottles during the coating process."
It's impossible to predict the outcome of this relatively limited program, but it will certainly be a spark that encourages others—beyond those involved in glass decoration—to apply the principles to other packaging media to individualize food packages to consumer groups, and even to single consumers. This will perhaps lead to targeted formulations, possibly even including the ultimate offering: chef-generated recipes to fill the custom packages.
Edible 'Non-packaging'
For more than four decades—or since the first Earth Day—the mantra of the self-proclaimed saviours of our planet has been the abolishment of packaging. Only during the past three years or so has the real issue of massive planetary food waste reached the popular media and been floated as perhaps partially resolved by packaging. But, undeterred by facts, academics not directly related to the food and food packaging community have plied their research efforts into distributing foods with "no packaging."
Folks at a red brick Cambridge, Mass., institution have presented us with WikiCell, a business concept for a magical enclosure that protects and preserves forever or a few days shorter. The structure of an orange or a coconut, they say, is generally a skin that maintains moisture and an outer coat that protects that skin. In the case of a coconut, it is the shell; with an orange it is the peel. Like the coconut or orange, the WikiCell, an edible form of "non-packaging" invented by Harvard University professor David Edwards, provides a double layer of protection around the liquid, foam, or solid food it holds.
The first layer is a soft skin. It is made of tiny natural food particles, like chocolate, fruit, and nuts, bonded by natural adhesives chitosan or alginate. WikiCells consist of a natural food membrane held together by electrostatic forces and containing a liquid, emulsion, foam, or solid food substance, possibly within an edible or biodegradable shell. They can be produced with a WikiCell machine in a practically inexhaustible variety of membranes and forms and with a wide range of food and drinks. WikiCells use special membrane technology that permits the fabrication of thin edible membranes with significant water diffusional resistance and adjoined shells that allow for stability of the WikiCells over long periods. The electrostatic gel formed during the process keeps water inside the food or drink. A second layer, a protective shell around the skin, is like egg carton packaging. Depending on the kind of WikiCell and how it reaches the consumer, that shell may be completely edible (in which case the consumer would wash it like an apple) or completely biodegradable (in which case it can be peeled and discarded).
The edible shell would be made of isomalt, and the biodegradable shell would be made of bagasse residual of sugar cane after sugar extraction or tapioca. It has been reported that non-packaged food products are about to be retailed in France and Cambridge, Mass. How well the edibly encased foods endure the Cambridge winters absent of outer protection commonly called packaging remains an open question. Tune in later to determine if this system has real promise or has quietly disappeared.
--- PAGE BREAK ---
From Wine Bottle to Wine Aficionado
Kasual Business, a Bordeaux, France, company that makes mobile apps for the wine sector has developed a system called Smart Bordeaux for the Bordeaux Wines Council.
The app allows the user to take a photograph of a Bordeaux wine line in order to receive instant information that includes facts about the producer and the vineyard as well as reviews of the wine. Currently, more than 16,000 wine records have been uploaded directly by Bordeaux wine producers. The app is available in 13 languages and has been used in 82 countries by more than 200,000 iPhone and Android users.
Employing analogous systems such as Scan It, consumers are able to input information from the QR code or the two dimensional code to price, check out automatically, and obtain useful facts on nutritional value or quality levels. Not yet accurate for measuring and signaling spoilage (that is definitely in the near future), the systems are obviously a giant step past our passive graphics into interacting directly with individual consumers.
Slick Dispensing
Meanwhile, down river from Cambridge at the Massachusetts Institute of Technology (MIT), plastic bottles with low interior surface friction couple with gravity to deliver fluid food contents with no further human or mechanical intervention. Open a partially emptied bottle of ketchup and one finds that one must squeeze the side panels, tap the neck, or whack the base to get the last dribbles to flow out. The squeezable plastic bottles with dispenser nozzles also work, but toward the end, they tend to splatter.
Researchers at MIT labs have developed LiquiGlide, a nonstick coating for food packaging that will help substances seamlessly flow out of the containers. Considering the viscosity of condiments like mayonnaise, ketchup, and mustard, the new way to make food packaging easier for those substances to glide out may really have an impact on restaurant diners and domestic consumers and how much food and energy they can save.
The LiquiGlide surface is developed with liquid-like lubrication to make thick fluids simply flow, yet maintain a rigid exterior to keep the substance safely inside. The coating can also be applied to surfaces like plastic and glass by spray coverage. LiquiGlide has been patented, and according to its developers, it is made from FDA-accepted materials.
Putting Spouts on Flexible Pouches
Said to be the fastest-growing food package of the 21st century and approaching one billion units in sales for this year, stand-up flexible food pouches with plastic dispenser devices are suddenly permeating all manner of liquid and fluid food packaging. University of Georgia food technology master's degree candidate Meredith Hill ([email protected]) has attempted to capture the complexity of the technologies for fabricating and affixing the injection molded pieces with the pouches. Virtually unknown to adults because most of the packages have been positioned for use by infants and very little children, the enhanced former "Doy Packs" have been widely used in Europe and Japan for their convenience and disposability.
--- PAGE BREAK ---
Laminated barrier plastic or aluminum foil pouches with gusseted bottoms or side walls may be hot filled with high acid fluid foods or retorted for low acid(e.g., meat-containing baby foods) to effect ambient temperature shelf stability. Apple sauce seems to be creeping into the mainstream market, with mayonnaise, honey, ketchup, edible oils, pasta sauce, alcoholic beverages, juices and juice drinks, and almost any flowable or squeezable food a candidate. Bag-in-box wine fits the category with quick release taps for dispensing. But screw, pushpull, snap-open, and even aseptic (www.idcinnovation.com) closures are in commerce. And has anyone noted the interesting one-way valve on Kraft's Mio liquid water enhancer hybrid bottle/pouch? What a wonderful tangle we create when first we tamper with the base package to render it happier for a target consumer—in this instance, the infant.
Parting Thoughts
There is no real conclusion to this recitation. Mio will surely be cloned by other water flavoring concepts. Flavor emitters are already being built into primary package structures for water and other beverages. Single-serve coffee for domestic brewers has moved up from the demographic of early adopters. Home beverage carbonators are pushing into our consciousness and our homes. For those who are nearly cooking challenged, there is liquid omelet or pancake mix ready to pour on the hot griddle. SIG Combi aseptic systems are being applied for particulate-containing soups, and Tetra Pak has debuted a host of new shapes and closures for its aseptic systems.
And, although Campbell's Soup Co. is not necessarily using new technologies, its stand-up flexible retort pouches marketed under the Go™ label are populating the soup and sauce horizons with exotic recipes in microwaveable pouches, leading us to believe that better is yet to come.
Based on our end-of-year observations, food packaging is the technical and marketing driver for innovation in food, food safety, convenience, quality, and information communication. There is no need to wait until next year; it is here today.
Aaron L. Brody, Ph.D., Contributing Editor
President and CEO, Packaging/Brody Inc., Duluth, Ga., and Adjunct Professor, University of Georgia
[email protected]