Caloric-carbohydrate-sweetened beverages—from flavored milk to soft drinks—have been highly scrutinized the past few years as being major contributors to the obesity epidemic spreading through developed countries. Hence, some consumers are concerned about added sugars in their diet. Nearly three-quarters (73%) of Americans say they are making a change regarding intake of carbohydrates, with more than half saying that they are trying to limit sugars, according to the 2011 Food & Health Survey: Consumer Attitudes Toward Food Safety, Nutrition & Health, from the International Food Information Council (IFIC).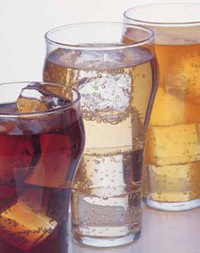 Specifically, 56% of the 1,000 adults queried during a spring 2011 web-based survey said they are trying to limit their intake of sugars. But what is interesting is that 52% agreed with the statement that moderate amounts of sugar can be part of an overall healthful diet. With that said, approximately one-third of Americans agree that low-calorie sweeteners offer potential benefits for health, ranging from being a sweetening option for diabetics to playing a role in weight loss or weight management. It's no wonder that many beverage formulators are increasingly including alternative sweeteners in their beverage formulations, alone, or in combination with sugars.
Big 10 of Alternative Sweeteners
The list of the 10 most common alternative sweeteners with application in beverages begins with saccharin, the oldest high-potency sweetener in the market. It is about 300 times sweeter than sugar and is not broken down by the body. Thus, saccharin is eliminated without providing any calories.
Next comes aspartame, which was approved in the United States for use in beverages in 1983. It is a molecule consisting of two amino acids—phenylalanine and aspartic acid—and like sugar, it contains 4 calories/g. However, because it is approximately 180 times sweeter than sugar, it is used in very small amounts, contributing negligible calories to most food systems.
Acesulfame potassium, also known as ace K, was approved by the U.S. Food & Drug Administration (FDA) in 1998 for use in beverages. Ace K is a combination of an organic acid and potassium and is 200 times sweeter than sugar. Ace K is not broken down by the body, and therefore does not contribute any calories to a product formulation.
That same year, FDA approved sucralose for use in beverages. Six-hundred times sweeter than sugar, sucralose is touted as being the only high-potency sweetener actually made from sugar. During production, the three hydrogen-oxygen groups on the sugar molecule are replaced with three chlorine atoms, changing its molecular structure and rendering it nondigestible.
--- PAGE BREAK ---
Beverage formulators recognize that sucralose is compatible with most nutritive sweeteners and can be used to replace up to 30% of sugar in a formulation with no detectable difference in taste. And according to James Blunt, Vice President Sucralose Product Management, Tate & Lyle, Decatur, Ill., (phone 217-423-4411, www.tateandlyle.com) manufacturers can reduce sugar, calories, and manufacturing costs by blending sweeteners, such as sucralose with sucrose. For example, beverage manufacturers can use Krystar® crystalline fructose, a nutritive sweetener with a relative sweetness of 117 compared to sucrose at 100, in a 50/50 fructose/sucrose blend to provide a relative sweetness of 128 in a 10% solids water solution.
"By custom blending ingredients with a higher sweetness profile, the end result is a product with less sugar, less calories, and 100% of the taste without the risk of increasing manufacturing costs that would occur by using sugar. It's a win-win on all accounts," Blunt says.
Another alternative sweetener that blends well with nutritive sweeteners is neotame, which is a derivative of aspartic acid and phenylalanine and was approved by FDA in July 2002 as a general purpose sweetener. Patented by The NutraSweet Co., Chicago, Ill., (phone 800-323-5321, www.nutrasweet.com) neotame is approximately 7,000–8,000 times sweeter than sugar. It is partially absorbed, rapidly metabolized and excreted from the body, but because so little is used to sweeten beverages, it contributes virtually no calories to a finished product. Research indicates that in some beverages, it is possible to replace 25% of a nutritive or high-potency sweetener with neotame without any formulation adjustments while maintaining a product with similar sensory attributes.
One of the newest high-potency sweeteners making its way into beverages is based on extracts from leaves of the Stevia rebaudiana plant. Numerous ingredient companies are extracting the sweetest compound from the leaves, the steviol glycoside known as rebaudioside A (reb-A), which contains no calories. With reb-A being one of more than 10 sweet-tasting compounds in the stevia plant, suppliers are differentiating themselves by reb-A content. Most of the zero-calorie stevia-based sweeteners are 200–300 times sweeter than sugar and considered natural by marketers.
A different type of stevia-based sweetener comes from Healthco (phone 800-477-3949, www.healthco-intl.com). Stevia FSE™ was self-affirmed GRAS in May 2010 and received a no objection letter from FDA in June 2011. The ingredient is extracted from the whole stevia leaf with natural enzymes to enhance flavor. "This process adds sugar-type molecules to the stevioside and glycoside components of the extract, which helps to reduce the bitter aftertaste and makes for a more palatable product," says Michael Lelah, Technical Director. Stevia FSE is 60–100 times sweeter than sugar and contributes zero calories per serving.
Also considered natural, erythritol is a four-carbon sugar alcohol, or polyol, manufactured by the fermentation of corn. Because of its chemical structure, it is not fully metabolized, resulting in negligible caloric contributions to most applications. However, erythritol is about 60% less sweet than table sugar while having a bulk density similar to sugar in crystalline or powder form. Because of the lower sweetness level, it pairs well with high-potency sweeteners, in particular stevia-based sweeteners, to deliver a well-rounded flavor profile with sugar mouthfeel and functionality. This synergistic combination allows for a lower overall use rate and cost savings. Erythritol also has flavor-masking properties, which helps to round out some of the off flavors and lingering aftertastes associated with some stevia-based sweeteners.
--- PAGE BREAK ---
Another emerging natural option is monk fruit, also known as luo han guo, which FDA recognized as self-affirmed GRAS in 2010. Monk fruit is a small subtropical melon that has been used in Asia for its remarkable sweetness and health-giving properties for hundreds of years. Monk fruit's unique sweetness comes from natural antioxidants in the fruit that are calorie-free. A New Zealand-based company, BioVittoria, developed a simple, natural process that concentrates the calorie-free sweetness of the fresh fruit, which is marketed as a food ingredient by Tate & Lyle under the name of Purefruit™ monk fruit extract.
Monk fruit is 150 times sweetener than sugar and blends well with stevia-based sweeteners without using erythritol. "As the only fruit-based, calorie-free sweetening ingredient available today, natural monk fruit extract is a great-tasting way for formulators to reduce sugar and calories in foods and beverages while providing consumers with great-tasting, reduced-sugar alternatives they can feel good about serving their families," says Dave Tuchler, Vice President of Global Marketing, Tate & Lyle.
At the 2011 IFT Annual Meeting & Food Expo®, the company sampled monk fruit in a number of New Orleans-inspired recipes containing up to 25% less sugar, including Bourbon Basil Lemonade and a Spicy Smoothie.
The monosaccharide fructose, which is also known as fruit sugar, is a component of sucrose and when tasted alone, is 1.7 times sweeter than sucrose. Purified crystalline fructose also allows for a reduction in calories without a reduction in sweetness. It has been shown to work synergistically with other nutritive sweeteners as well as high-potency sweeteners. And it is the high fructose content of agave nectar, which is extracted from the agave cactus plant indigenous to Mexico, which makes this natural sweetener 1.4–1.6 times sweeter than sucrose, allowing for a sugar reduction in many beverages.
The U.S. demand for these 10 alternative sweeteners, as well as some others not often used in beverages, is expected to advance 3.3% annually through 2015 to $1.4 billion, according to a new Alternative Sweetener report from The Freedonia Group Inc. Gains will be led by continuing market penetration of the relatively new entrants to the industry, primarily the stevia-based sweeteners. The more mature segments of the market, such as aspartame and various polyols, will see more restrained, though still healthy, increases in demand. Market trends favoring less processed ingredients will drive well-publicized usage of sweeteners that can be marketed as being "natural." However, continuing consumer preference for reduced-calorie foods and beverages will ensure the ongoing use of ubiquitous sweeteners such as sucralose and ace K.
Despite the drag of a declining soft drink market, high-potency sweeteners will remain the largest product category among alternative sweeteners, with aspartame projected to remain the leader in diet soft drinks. Though presumed to remain a fairly small share of the overall market, newer alternative sweeteners will register by far the fastest growth and generate the most interest among food and beverage processors, as well as among consumers. In particular, expect to see more high-profile introductions of stevia-based products, such as juice beverages, fruit drinks, flavored waters, and soft drinks, many of which have been met with consumer favor. The report also says that monk fruit's potential remains to be seen, but agrees that its natural profile is on trend with current consumer purchasing decisions. And finally, full-calorie agave nectar is gaining traction due to its natural positioning as an alternative to high-fructose corn syrup.
--- PAGE BREAK ---
School Milk Has Limits 
Even with all of these alternative sweetener options, flavored milk sold through the National School Lunch Program and governed by USDA, cannot be formulated with any non-nutritive sweetener. This is because current policy is that non-nutritive sweeteners, such as high-potency sweeteners, are not permitted for use in flavored milk as part of the reimbursable school meal program. All such milk must meet the federal standard for fluid milk, which only permits nutritive sweeteners.
"Currently there is no specific USDA regulation that bans non-nutritive sweeteners," says Cary Frye, Vice President of Regulatory & Scientific Affairs, International Dairy Foods Association (IDFA). "Given the attention to serving more lower-calorie products in the school lunch program, this could change pending modifications to regulations for competitive foods and reimbursable meals."
She explains that for flavored milk sold a la carte, in vending or after school, which is also known as competitive foods, there are currently no federal standards. "USDA is, however, required by the Healthy Hungry Free Kids Act of 2010 to enact nutrition standards for competitive foods," she says. "IDFA expects a draft of USDA's proposed competitive foods standards later this year, which is expected to have details on the use on non-nutritive sweeteners."
A number of dairies have aggressively been pursuing the development of lower-sugar, lower-calorie flavored milks. Some have found success through ingredient manipulation.
For example, this past September, Carlinville, Ill.-based Prairie Farms Dairy, sent students back to school with a new line of fat-free, lower-sugar milk varieties in four kid-friendly flavors: Chocolate, Cookies 'N Cream, Strawberry, and Vanilla. The proprietary recipes do not include high-fructose corn syrup or artificial sweeteners and are based on fat-free milk that does not contain any artificial growth hormones.
"Our customers asked and we delivered," says Rebecca Leinenbach, Sales Program Director. "The new formulation is a direct result of ongoing conversations with school foodservice professionals about the stricter standards for school meals that will take effect in the 2012 to 2013 school year." Available a year ahead of schedule, the new fat-free chocolate milk contains 130 calories/8-oz serving and only 11 g of added sugar compared to the previous 1% milkfat variety with 170 calories and 16 g of added sugar.
The nation's largest dairy, Dallas-based Dean Foods, also rolled out a line of better-for-you flavored milks under the TruMoo brand. Currently there are four varieties—Chocolate, Coffee, Strawberry, and Vanilla—with selection varying by market. TruMoo milk contains 15–20% less sugar than most flavored milks and also does not contain high-fructose corn syrup.
The fat-free TruMoo chocolate milk served in schools contains only 130 calories/serving and 10 g of added sugar, compared to previous chocolate milk formulas made with high-fructose corn syrup and up to 180 calories and 16 g of added sugar.
--- PAGE BREAK ---
Suppliers are working on these efforts, too. For example, Kerry Ingredients & Flavours, Beloit, Wis., (phone 608-363-1200, www.kerry.com), uses its proprietary flavor modulation technology, combined with a customized texture system, to build back flavor and texture in lower-sugar flavored milk designed to meet USDA's stricter nutritional guidelines. The formula does not sacrifice any of the flavor or mouthfeel that encourages children to drink milk.
Wixon Inc., St. Francis, Wis., (phone 414-769-3000, www.wixon.com) offers Mag-nifique™ Sweet Lift, a flavor modifier that enhances the sweetness of any food and beverage containing sugar, which enables a reduction in the amount of added sugar.
"Mag-nifique Sweet Lift is designed to reduce regular sugar in virtually every application, since it potentiates the sweet taste of sugar," says Mariano Gascon, Vice President of Research and Development.
Enhancing with Nutrients
The first priority for many beverage formulators might be to eliminate or reduce caloric sweeteners, but often times it's the addition of nutrients that really sets the beverage apart from the competition, especially in impulse markets. Two macronutrients that come to mind as increasingly showing up in lower-calorie drinks are fiber and protein.
Grande Custom Ingredients Group, Lomira, Wis., (phone 800-772-3210, www.grandecig.com), sampled its new Grande Ultra® whey protein isolate (WPI) in a sugar-free, mixed berry-flavored water at the 2011 IFT Annual Meeting & Food Expo. Designed to be bland in flavor and clear in solution, the WPI allowed for an excellent protein claim (10 g of protein/8-oz serving) for this water that was sweetened with a blend of ace K and sucralose. The whey ingredient, which is also available in an instantized form, contributes only high-quality dairy proteins, which means it contains all the essential amino acids. Grande's proprietary and patented process removes all of the fat and lactose from the ingredient, which allows for the development of a sugar-free water drink where the only calories come from high-quality protein.
The company also recently introduced Grande® Grade A yogurt powder. It can be used in creamy-style beverages such as yogurt drinks and smoothies and functions independent of the sweetener. This shelf-stable, low-fat powder readily dissolves in a liquid base and is ideal for beverage manufacturers who want to formulate with yogurt but are not a dairy processing plant.
For a mildly tart, milky flavor profile, a formulator would choose the Y50 form. For a more tart, robust yogurt profile, there's Y45. Both provide authentic yogurt flavor with the added functionality of water binding and high viscosity in cold systems.
If your aim is cloudy beverages, you may want to explore Purity Gum Ultra emulsifier from National Starch Food Innovation/Corn Products International, Bridgewater, N.J., (phone 866-961-6285, www.foodinnovation.com). The emulsifier delivers exceptional turbidity and stability in soft and alcoholic beverage formulations and reduces recipe costs and lowers manufacturing costs by as much as 50%.
--- PAGE BREAK ---
Many soluble fiber ingredients can be added invisibly to beverages, without impacting the sweetener system. For example, ADM/Matsutani LLC, Itasca, Ill., (phone 217-451-4377, www.fibersol2.com) markets Fibersol-2, a proprietary digestion resistant maltodextrin that is a soluble corn fiber. Its unique characteristics in beverages include having no impact on mouthfeel or texture or any flavor of its own. When used with high-potency sweeteners, Fibersol-2 has been shown to improve the beverages overall flavor. Such lowercalorie beverages can further assist with weight loss and weight management, as shown in a clinical study conducted at Iowa State University.
Results suggest that Fibersol-2 may impact satiety by decreasing hunger, prolonging satiation, or increasing satiety signals from the gut. It has also been studied for health benefits, including affects on regularity, glucose control, and serum lipids. Various studies have shown that adding fiber sources to the diet decreases energy intake and increases production of multiple satiety hormones.
"We are pleased the results of this clinical study confirm that people who consumed Fibersol-2 felt fuller longer than those who did not," says Allan Buck, Director of Research and Development, ADM Food Ingredient Research and Technical Service. "There is increasing demand from product formulators to provide foods for weight management, and Fibersol-2 will make their job easier."
A Better-For-You Halo
Other ingredients that add value to lower-sugar beverages include those that contribute to the beverage's naturalness. For example, beverage developers are increasingly using flowers and herbs, also known as botanicals, in their formulations. These delicately infused drinks are a hit among today's health-conscious consumers and starting to catch on among the mainstream. Artiste, Waldwick, N.J., (phone 201-447-1311, www.artiste.us.com) offers botanical extracts such as Chamomile, Hibiscus, Jasmine, Lavender, Passion Flower, and Rose, all of which are commonly known, yet add a unique twist when added to beverage applications.
Botanicals have proven to be more than a fad and are becoming a significant trend, according to Innova Market Insights, which recently identified some of the key trends that will impact the food and beverage market throughout 2012. The top trends relate to purity, authenticity, and sustainability. In particular, Innova predicts that products labeled as "pure" will increase and products dubbed "natural" will remain steadfast—two terms that easily apply to botanicals.
"Botanicals are the new wave in the healthy beverage movement," says Joe Raimondo, President and Principal Owner of Artiste. "In addition to their good-for-you appeal, using them in such a nontraditional way adds an exciting freshness to the product."
Continuing with the concept of plant extracts, Wild Flavors Inc., Erlanger, Ky., (phone 859-342-3600, www.wildflavors.com) recently introduced Vegeceuticals™. Through groundbreaking proprietary extraction technology, Vegeceuticals deliver the healthy halo of vegetables to a wide range of food and beverages without having to consume the vegetable itself. The ingredient, which is available in liquid and dry form, comes in two blends. The orange extract blend provides beta-carotene from carrot, pumpkin, sweet potato, paprika (from chili peppers), and Reishi mushroom. Red Vegeceuticals is an extract blend providing anthocyanins from purple sweet potato, purple maize, purple carrot, beet, rhubarb, tomato, and red cabbage. Beverage applications include carbonated drinks, smoothies, teas, and waters.
And David Michael & Co., Philadelphia, Pa., (phone 215-632-3100, www.dmflavors.com) sampled at the 2011 David Michael Innovation Roadshow a number of better-for-you beverages made with aloe vera. One example was the Borojo Flavored Rooibos Tea Aloe Beverage, which contained aloe juice with no pulp and was sweetened with a combination of stevia and erythritol.
--- PAGE BREAK ---
Assistance with Off Flavors
Though some functional ingredients have no impact or sometimes even a positive impact on a beverage's flavor, others can either contribute off flavors or even deleteriously interact with other ingredients. Suppliers have developed technologies to assist with making sure that the consumer tastes what the formulator intends. For example, Wild Flavors developed Resolver® Technology for helping with the off notes from functional ingredients. Rather than a formulator using flavors and masking ingredients to camouflage undesirable and unpleasant tastes caused by artificial sweeteners or functional ingredients, this proprietary ingredient overcomes undesirable taste components by selectively influencing the tongue's taste buds. It works through specially designed natural flavors that block the taste receptors' ability to taste bitterness and astringency.
To better understand, one must visualize how a flavor molecule must fit exactly onto a relevant receptor on the tongue. The Resolver blocks the receptor by attaching itself to the receptor but does not trigger the taste sensation, a principle similar to lock and key. In this case, the taste receptor is acting as a lock. The fitting in of the key represents the molecule reception, while the opening of the lock is the taste sensation. The technology does not allow the lock to open. Therefore, undesirable and unpleasant tastes cannot be experienced.
Health and wellness formulation challenges can also easily be overcome by using dairy flavors, which is what Edlong Dairy Flavors, Elk Grove Village, Ill., (phone 847-631-6700, www.edlong.com) showed attendees at the 2011 IFT Annual Meeting & Food Expo. The company featured a Bananas Foster Smoothie that boasted both less sugar and 40% more protein than several popular, high-protein smoothies currently on the market.
Lori Macpherson, Senior Food Scientist, explained that Edlong's dairy flavors were successful in adding indulgence while effectively masking the "cardboard" taste of the whey protein and the bitterness of the stevia-based sweetener. The company offers a wide variety of flavors including milk, cream, butter, and masking flavors that will help to cover the off notes of high-potency sweeteners and functional ingredients.
Adding Back Mouthfeel
One final beverage attribute that should be considered is mouthfeel. When sugar is removed from some beverages, for example, ready-to-drink tea, high-potency sweeteners can replace the sweetness but not the mouthfeel that accompanies dissolved sugar or corn syrup. Without the addition of texture modifiers, the drinks will seem thin and will lack body. Lower viscosity in some beverages means that the liquid will clear the palate very quickly with little flavor remaining in the mouth or on the tongue during or after swallowing.
Food scientists from TIC Gums, White Marsh, Md., (phone 410-273-7300, www.ticgums.com) have developed gum blends that can replace this missing texture and body. In the instance of sugar-free tea, Ticaloid™ Ultrasmooth (usage of 0.1%) or Ticalose™ CMC SF (0.15%) will replace the texture lost when sugar is removed. Each will deliver a somewhat unique texture and thus sensory effect. Recommendations vary depending on the pH and processing of the beverage.
Each lower-sugar beverage will have its own unique challenges. Suppliers have the tools to make them perform like their sugar-sweetened counterpart.
Next month's Ingredients section will focus on ice cream and frozen dessert innovations.
---
www.ift.org
Members Only: Read more about drinks and beverages online at www.ift.org. Type the keyword into our search box at the upper right side of our home page.