Product developers and chefs can find inspiration in something old—the "old world" cuisine of Northern European countries Sweden, Denmark, Norway, Germany, and Belgium. These cuisines offer something for everyone, from seafood, berries, and root vegetables for health-conscious consumers to meat-centric dishes for those looking for a more hearty meal. Some of the foods from these cuisines continue to show potential in convenience packaged goods, as "small bites" on menus, and as hand-held options suitable for street food/food truck vendors.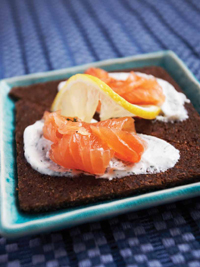 Ethnic Flavor Trends
The popularity of various cuisines of Asia, Mexico, and Central America has escalated in the United States, and the interest in these cuisines is not going to decline anytime soon. For its annual Flavor Forecast, McCormick & Co. features a number of different flavors and ingredients from Asian and Latin American cuisines. Flavor manufacturers like Comax Flavors and Bell Flavors & Fragrances predict that flavors such as jasmine coconut and pickled ginger with wasabi (Comax, 2011), and cinnamon chipotle, roasted coconut, aged cayenne pepper, and kimchi (Bell, 2011) will be among some of the top flavors in 2012. Southeast Asian cuisine ranked fifth in the Ethnic Cuisines and Flavors category in the National Restaurant Association's Chef Survey: What's Hot in 2012 (NRA, 2012). Indian flavors are one of the most popular ethnic flavor types for global product launches, according to Innova Market Insights (Innova, 2011). The cuisines are so popular that noodles, Korean barbecue, tacos, and tamales have become about as ubiquitous as what many think of as the classic American food, the hot dog. That's interesting because the hot dog actually has its culinary origins in the sausage-making traditions of Germany (Kraig, 2009).
Geographically speaking, the old world refers to Europe, Asia, and Africa while the new world refers to the Americas. Culinary experts, product developers, and those analyzing food trends are seeing a renewed interest in the foods of Europe, specifically Northern Europe, that are "rich in tradition," yet not usually "considered sophisticated or trendy, and that are the basis for some American regional fare," according to a report produced by the Center for Culinary Development, San Francisco, Calif., and Packaged Facts, Rockville, Md. (CCD PF, 2011a). Calling it the "new old world cuisine," the report examines the foods of Scandinavian countries, Germany, and Belgium, noting culinary and product development opportunities based on foods, ingredients, and preparation and cooking methods.
--- PAGE BREAK ---
There is a buzz about these cuisines both in their representative countries and overseas, and they are receiving plenty of press coverage. Food and Wine highlighted Scandinavian food, reporting that, "After years of worshipping the Mediterranean, the food world is looking to Scandinavia and discovering everything from salted candies to micro-locavorism" (Snowden, 2011). Certainly, the naming of Noma, a Copenhagen, Denmark–based restaurant specializing entirely in local and seasonal Scandinavian food, as "Best Restaurant of the World" in 2010 and 2011 has helped to boost the popularity of Scandinavian food. An article in The New York Times discussed the critical acclaim that some restaurants in Germany have received, noting "The land of sauerkraut and spätzle, it seems, is finally getting a little culinary respect. ... Chefs young and old are parsing their Teutonic heritage for new flavors, rather than reciting French or Spanish techniques for haute effect. Farms are embracing heirloom vegetables and ancient breeds of livestock. And in Bavaria, Germany's largest state geographically, kitchens are lightening up on cream and butter, and elevating traditional dishes into modern creations" (Williams, 2008). Saveur included an entry in The Daily Fare section of its website about the traditional Belgian dish moules frites (steamed mussels and fried potatoes), which the author compares to England's fish and chips and America's burgers and fries (Malgieri, 2011). The National Restaurant Association ranked pickling and fermenting—two popular preparation methods used in some European cuisines—first and second, respectively, in the preparation methods category on its survey (NRA, 2012).
These cuisines have been in America for centuries in some way, shape, or form so that some foods like hot dogs, pretzels, and waffles have turned into commodities almost to the point that we do not even think of them as having any cultural origins, explains Kara Nielsen, Trendologist, Center for Culinary Development. "As people become more and more conscious of food culture, they are investigating these roots and trying to understand more about them. What people are uncovering are the backgrounds and traditions of some of these foods that have been in America for a really long time." This "celebrating the root of a cuisine" and staying true to the "integrity of regional flavors" is one of six global flavor trends featured in McCormick's 2012 Flavor Forecast (McCormick, 2012).
More than Just the 'Same Old Thing'
The cuisines of these regions are what Brad Barnes, Senior Director of Culinary Education, Culinary Institute of America, Hyde Park, N.Y., calls simplistic and based on straightforward preparation and cooking methods like broiling, smoking, curing, and others. While a restaurant like Noma strives to source ingredients and prepare food in a traditional rather than in a technical sense, there are many examples of how chefs and product developers are reinterpreting popular foods with origins in Northern Europe, cites Nielsen. Hot dogs and sausages have gone gourmet as chefs and home cooks make different kinds of sausages based on recipes and methods from a number of European countries known for sausage making. Artisan pretzels are available at some farmers markets and independent bakeries. Craft beer production, particularly Belgian-style beer, is increasing.
--- PAGE BREAK ---
Additionally, each of the cuisines—Belgian, Scandinavian, and Germanic—has aspects that follow closely with some of the culinary and product development trends such as hand-held food, locally sourced, artisan production, health and wellness, and hearty, rustic food. Waffles are often served from food trucks/carts in Belgium and in other cities around the world; some Scandinavian chefs are emphasizing the quality of Nordic foods and ingredients and encouraging the use of these ingredients as well as eating seasonally; and German cuisine, while seen as simple and basic, has a comfort food and rustic nature about it with foods like schnitzel, spätzle, artisan baked goods (particularly whole-grain breads), and sausages (CCD PF, 2011a).
There is an emerging group of consumers who like to enjoy the true, simplistic nature of well-crafted artisan products, says Barnes. "The world is shrinking when it comes to consumer knowledge of food, and they understand a lot more about origins and authentic development." What is important too is that artisan food production is becoming a more viable business and the products are becoming more widely available to consumers, reports Nielsen. Other experts agree, including Stefan Ryll, Assistant Professor, School of Business, Southern New Hampshire University, Manchester, N.H., who discussed how one company, IREKS GmbH, in his native Germany has developed authentic European-style bread mixes that are sold to bakeries around the world. According to the company, there is variety and regional differences in recipes for and ingredients used in breads and other baked goods. Ryll adds that wheat is not commonly used in breads from Germany and other Northern European countries—other types of flours and grains are used—and using mixes like these allows bakers to produce products that are true to the traditional recipes and have an artisan quality to them.
Barnes believes that while these cuisines may not achieve the mass appeal that Asian and Latin American cuisines have, saying that they are not "bold enough," there are opportunities for chefs and product developers in several areas like artisan, handheld foods, appetizers, and frozen convenience foods, particularly in bakery and dessert applications. Even though the overall cuisines of Asia and Latin America are popular, the desserts from these cuisines are not common, reports Hinnerk von Bargen, Instructor, Culinary Institute of America, San Antonio, Texas. Northern European desserts are much more "user friendly," he says, because they tend to be "rustic" in nature, a growing trend in the culinary world.
Americans have enjoyed strudel and certain pastries from Northern Europe for decades, but product developers can create exciting new versions of these by switching out cherry, raspberry, or apple fillings, which are commonly used in mass baked goods, with any number of berries from the Scandinavian region (known for growing many varieties of berries with differing sweetness and tartness profiles). Berries like cloudberry, lingonberry, bilberry, and more are perfect for inclusion in other foods like pudding and ice cream, say von Bargen and Nielsen.
--- PAGE BREAK ---
Nielsen also notes that waffle bits and cookie bits made from the Belgian cookie speculoos are being used in certain products like Häagen-Dazs Speculoos Caramel Biscuit & Cream, which is sold in some markets overseas. Major grocery store and convenience store chains carry Lotus Bakeries Biscoff speculoos cookies and spreads. The grocery store chain Trader Joe's sells its own version of speculoos cookie spread and has offered frozen æbelskivers (also spelled ebelskiver), puffy pancakes that are filled with sweet or savory ingredients. Specialty store Williams-Sonoma sells ebelskiver pans and mixes, allowing the home cook to make these Danish treats.
The liège waffle, a popular street food offering in Belgium often eaten as a casual snack, is showing up in food trucks and independent shops in large cities in the U.S. Wafels & Dinges food truck serves these waffles to New Yorkers, and it offers several other varieties that showcase how product developers can take a particular food and add unique twists to it. In addition to the liège waffle, which is a yeast-based waffle made with pearl sugar that caramelizes when cooked, the food truck serves Belgian waffles; de throwdown waffle, a liège waffle served with speculoos spread and whipped cream and so named because it won a competition on Food Network's "Throwdown with Bobby Flay;" and savory waffles with barbeque pulled pork and bacon and syrup. As part of what the Center for Culinary Development calls the "food truck-to-retail trend," Julian's Recipe™ offers frozen liège-style waffles in four varieties (vanilla, cinnamon, Belgian chocolate, and maple) available at major retailers like Whole Foods Market and Safeway (CCD PF, 2011b; Julian, 2010). Another opportunity for product developers is liège waffle mixes for foodservice or home use, says Nielsen.
Overall, the experts interviewed for this article believe that while the cuisines of Northern Europe will probably never reach the level of popularity among the general public as Asian and Latin American cuisines have, there is still potential for some of the ingredients and foods to reach certain groups of food enthusiasts. Among the chefs and restaurateurs at cutting-edge restaurants where he consults, von Bargen says that there is a "certain fatigue" about Asian and Latin American cuisines occurring. He points to Scandinavian cuisine as being able to generate some new excitement in high-end dining. What's interesting is that chefs and product developers can take the foods of these cuisines, which in most cases are certainly not unfamiliar to Americans, and present them in more authentic and traditional ways or offer new interpretations of them, explains Nielsen. "These flavor profiles are plain compared to some of the popular world cuisines, but they're very comforting and hearty, and we feel it's time to revisit some of that."
Karen Nachay, a Member of IFT, is Associate Editor of Food Technology magazine
([email protected]).
References
Bell. 2011. 2012 top ten flavor & fragrance trends. Press release, Dec. 15. Bell Flavors & Fragrances, Northbrook, Ill.
CCD PF. 2011a. Culinary trend mapping report: new old world cuisine executive overview. Center for Culinary Development, San Francisco, Calif., www.ccdsf.com. Packaged Facts, Rockville, Md., www.packagedfacts.com.
CCD PF. 2011b. Coming soon to a shelf near you: restaurant-to-retail product trends. Presentation at the NASFT Fancy Food Show, July 10-12.
Comax. 2011. Comax culinary trend exchange sees exhilarating trends for 2012. Press release, Dec. 30. Comax Flavors, Melville, N.Y.
Innova. 2011. Ingredient trends to watch—top 5. Presented at the 2011 Institute of Food Technologists Annual Meeting and Food Expo. Innova Market Insights, Duiven, the Netherlands.
Julian. 2010. Julian's Recipe™ introduces authentic liege-style Belgian waffles to the specialty food trade. Press release, June 27. Julian's Recipe, Montgomery, N.Y.
Kraig, B. 2009. Hot dog: a global history. Reaktion Books Ltd. London, UK.
Malgieri, N. 2011. A national obsession: Belgium's moules frites. Saveur, The Daily Fare, May 18. www.saveur.com/article/Travels/A-National-Obsession-Moules-Frites-Belgium. Accessed Nov. 18, 2011.
McCormick. 2012. 2012 Flavor forecast: the future of global flavor. McCormick & Co., Sparks, Md.
NRA. 2012. Chef survey: what's hot in 2012. National Restaurant Association, Washington, D.C.
Snowden, K. 2011. Trendspotting: scandi craze. Food and Wine, December: 31-36.
Williams, G. 2008. A wellspring of the new German cuisine. The New York Times, Sept. 5.