Many ingredient supplier companies are trying to get closer to their customers and prospects to anticipate their short-term needs and build stronger, long-term business relationships. Collaborating with customers helps suppliers sharpen their priorities and deliver products and solutions to the marketplace faster and more efficiently.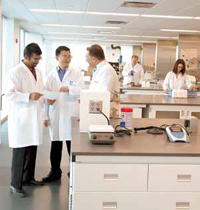 For Tate & Lyle, a global provider of sweeteners, starches, fiber, texturants, and wellness & specialty ingredients, this popular philosophy has culminated in the construction of a 110,000-sq-ft Commercial and Food Innovation Centre near Chicago, Ill. Last month, the company held a grand opening ceremony for customers to showcase the $26 million facility's capabilities.
"Our new Centre demonstrates our commitment to develop distinctive, highquality specialty food ingredients and solutions for our customers across the world," said Olivier Rigaud, President, Specialty Food Ingredients. "The Centre's state-of–the-art facilities together with our highly skilled and experienced teams of scientists, marketers, and product managers provide a unique combination to help meet our customers' functional, formulation, and nutritional needs, and to accelerate the process of bringing new products to market."
The new Centre is the North American headquarters of Tate & Lyle's Specialty Food Ingredients division and serves as the global headquarters of its Innovation and Commercial Development unit. About two-thirds of the work at the Centre will be related to the development of new food ingredients and systems, while one-third will be applications and formulation solutions for customers of the Specialty Food Ingredients group, noted Rigaud.
The new Centre houses food science research and processing laboratories, applications and technical services laboratories, a culinary demonstration kitchen, a full suite of consumer insight and sensory testing facilities, pilot plant and prototype manufacturing facilities, and extensive global communications capabilities. "The new Centre will enable us to collaborate more closely with our customers and deliver the creative solutions they need to stay ahead in today's fast-paced and evolving global marketplace," said Karl Kramer, President, Innovation and Commercial Development.
By employing the full capabilities of the Centre, customers can take concepts from idea to plate. For example, consumer research and insights can assist in the ideation process. Customized ingredients can be created in the ingredients development lab, followed by formulation in the applications lab. Products can then be produced in the pilot plant and/or in the culinary kitchen. Finished products can undergo sensory testing via descriptive analysis panels and focus group testing.
--- PAGE BREAK ---
A Culture of Collaboration
To promote a culture of collaboration and communication among its 160 occupants, the Centre features an open office environment. Scientists, marketers, product managers, nutritionists, regulatory experts, and others work side-by-side in low-walled cubicles with glass partitions. Open floor plans and glass enclosures replace traditional walls and offices. About half of the employees at the new facility joined Tate & Lyle within the past 12 months and most bring a global perspective.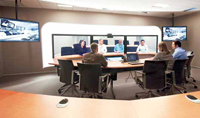 Designed with theater-style seating for more than a dozen personnel and featuring three cameras, three video screens, and two presentation screens, a Telepresence room enables Centre personnel to conduct videoconferences with Tate & Lyle facilities across the globe as well as with customers with compatible telecommunications systems. In addition, the Telepresence room will play a central role in the activities of a Consumer Insights group made up of customers, consumers, and industry influencers and a Customer Advisory Panel.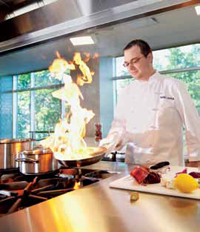 The Centre's communications' capabilities even extend to its culinary kitchen, which is equipped with 14 high-definition cameras and several video screens. During the grand opening, the culinary center demonstrated its communication system by live video streaming the preparation and cooking of fruit-filled crepes to colleagues at Tate & Lyle's European Innovation Centre in Lille, France. Chefs from the two Centres discussed product formulation in real-time.
Health & Wellness
According to Rigaud, the Centre offers an opportunity for customers to take sugar, salt, and fat out of the diet of consumers through a holistic approach involving health, wellness, and taste. "The combination of science, practical applications technology, consumer research, and culinary expertise under one roof can bring innovative products to market faster," said Rigaud.
A global nutrition group supports pre-clinical and clinical research to better understand the physiological benefits of its ingredients. This research is primarily focused in the areas of digestive health, bone health, glycemic response, satiety, and weight management. Results from these studies are communicated to key opinion leaders, such as the medical community, dieticians, regulators, and public policy makers.
--- PAGE BREAK ---
Presented at the 2012 Experimental Biology conference, new research commissioned by Tate & Lyle suggests that soluble corn fiber may play a role in bone health. In a double-blind, randomized-controlled, cross-over study, female and male subjects were fed 600 mg of calcium with either 0 g or 12 g of soluble corn fiber. The participants who consumed soluble corn fiber increased their calcium absorption 12% compared to the control.
To support its customers' diverse needs in product development, Tate & Lyle has developed a set of formulation and application services under the acronym CORE, which stands for Create, Optimize, Rebalance, and Enrich. Create focuses on innovation in shape, structure, taste, and texture, while Optimize reduces formulation costs. Rebalance reformulates existing products to meet reduced fat, reduced sugar, reduced calorie, or high fiber requirements. Enrich enhances the nutritional profile of brands through fortification without sacrificing taste.
During the grand opening, the company demonstrated its CORE approach in several product prototypes in four key categories (bakery and snacks, beverages, convenience foods, and dairy) and three solution platforms (sweeteners, texturizers, and wellness ingredients). Customers sampled and compared CORE prototypes against regular versions of the products as well as tasted commercial products containing Tate & Lyle ingredients.
A Greek-style frozen yogurt made with Purefruit monk fruit extract, Krystar crystalline fructose, and Promitor soluble corn fiber offered reduced sugar and 5 g of fiber per serving. A Create lemon-lime carbonated drink with no added sugar utilized Splenda sucralose for sweetness and polydextrose to add viscosity and mouthfeel. It offered a 93% calorie reduction and double-digit percent cost savings compared with a full-sugar version.
One of Tate & Lyle's newest wellness ingredients is Soda-Lo salt reduction technology, which can reduce salt levels up to 30% in a variety of applications. The company licenses the technology from Eminate Ltd, a subsidiary of The University of Nottingham, UK. This partnership was the result of scouting by Tate & Lyle's Open Innovation team, part of the Innovation and Commercial Development unit.
Bob Swientek,
Editor-in-Chief
[email protected]