Dramatic changes in consumers' eating patterns and preferences, unprecedented cultural, demographic, and economic diversity, and personal passions for healthier, more humane, and planet-friendlier fare are creating a series of fast-emerging, high-potential niche food markets that are worthy of attention today and destined to be a bellwether for the mega-trends of tomorrow.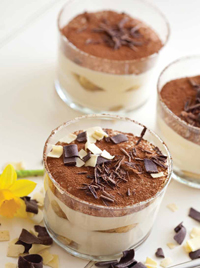 While the economy has caused some consumers to focus solely on the cost of food, many Americans appear willing to spend more of their discretionary food income on products that align with their personal values. One in five consumers (22%) is actively looking for new foods/drinks to try (IRI, 2012a). It is the intent of this article to discuss these values and identify the fastest-growing, high-potential food/beverage subsectors, both large and small.
Hot Spots
Roughly 40% of all adult eating occasions are now characterized by a "savoring" approach to food. It entails a more sophisticated, culinary food experience defined by freshness, distinctive flavors, and foodie narratives. This may well be the initial sweet spot to accelerate packaged food/beverage market growth, according to the Hartman Group (2011a).
Nearly half (44%) of all adults now eat alone; 72% of family eating occasions involve only adults. One-third (35%) of all adults eating alone are savoring their food; 33% of adult snacking occasions involve savoring (Hartman, 2010, 2011b).
Forty-four percent of consumers are continuing to cut back on restaurant visits in 2012, opening new avenues for restaurant-quality meals at home, restaurant-branded foods, and a pool of disposable food income for packaged goods marketers (IRI, 2012b).
One-third of adults are cooking more at home than they did last year; 55% of Millennials are doing so as well as 37% of Gen Xers, 35% of Baby Boomers, and 20% of mature consumers (FMI, 2012). Not surprisingly perhaps, in this environment, cooking skills are upgrading fast; 50% of Millennials describe themselves as very competent cooks, 60% of Gen Xers, 64% of Boomers, and 55% of mature consumers (MSI, 2011).
--- PAGE BREAK ---
Eight in 10 adults (81%) are making a strong effort to eat fresh foods instead of processed, 61% avoid foods with chemical additives/preservatives, and 52% are making dietary changes for food safety reasons (MSI, 2012).
Half (52 %) of U.S. adults watch television cooking shows. Cooking show viewing time averages 4.2 hours per week, and 57% of these consumers have bought a food product as a direct result of a cooking show (Tanner, 2011).
Overall, six in 10 consumers (59%) bought specialty foods in 2011; 71% of those ages 25–34 did so, 65% of those 35–44, and 60% of those 18–24 (Tanner, 2011).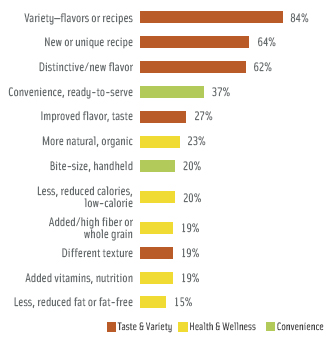 Marketers' efforts to cater to home-based eating and an increasing focus on targeted/niche market innovation drove growth in the food/beverage arena in 2011 (IRI, 2012a). New flavor, variety, or recipe was the most prominent claim found on the top-selling new foods/ beverages of 2011 (IRI, 2012a). One-third of these products touted convenience or ready-to-serve attributes; one in five was bite-sized or handheld (Figure 1).
Four in 10 adults (43%) purchase foods that support charities; 49% of specialty food consumers do so (Tanner, 2011).
New and novel niche distribution channels are emerging at a frenetic pace. American Culinary Federation chefs ranked food trucks as the 13th hottest culinary trend for 2012 (NRA, 2011).
Nielsen notes that the top 10 fastest-growing drug store categories all feature edible products, and six are frozen or refrigerated. They include frozen prepared foods, frozen novelties, refrigerated juice/drinks, frozen pizza, frozen snacks, and milk (Mitchell, 2012).
--- PAGE BREAK ---
The Cold Case
The perishables department, center store, and frozen departments are enjoying unit sales growth at a pace well above the industry average (IRI, 2012b). Fresh remains the most important food attribute: 68% of shoppers look for fresh descriptors; 62% seek out food prepared that day; 53% look for food that was made from scratch; and 51% want food that was never frozen. The vast majority of consumers (70%) think fresh food is healthier than processed (Technomic, 2010a).
Refrigerated entrees were the seventh-fastest-growing consumer packaged goods category in grocery, drug, mass, and convenience stores excluding Wal-mart (FDMxC) in 2011 (IRI, 2012b). Food retailers predict the prepared food/deli section will have the biggest traffic gains in 2012 (Major and McTaggart, 2012).
Prepared foods contributed 53% of deli sales in the year ended (Y/E) 6/25/11, up 6.2% over the previous year (Ingram, 2012). Chicken still dominates prepared food retail dollar sales, with 26.9% share, followed by side salads with 19.8%, sandwiches 12.2%, and entrees 11.8%. Sales of refrigerated deli side dishes grew 4.8% to $214 million in 2011 (Finkel, 2012a).
Health is a key factor for 40% of adults when choosing fresh prepared meals in supermarkets or other retail outlets; 42% look for unique flavors or recipes; children's meals are a major market void (Technomic, 2010b). Refrigerated soup is a small, but very fast-growing sector as shoppers opt for fresh soups at dinner or as toppers for rice or pasta. Sales grew 11.8% to $131 million for Y/E 11/28/2011; sales of private label refrigerated soups climbed 6.8% to $115 million (Facenda, 2012a).
Sales of packaged salads, especially complete grab-and-go versions, reached $2.9 billion for Y/E 12/25/11. Dollar sales and volume jumped 7% in the fourth quarter of 2011 vs 2010 for value-added vegetables; the growth is attributed to the increasing popularity of fresh produce side dishes (Strailey, 2012).
Fresh produce snacks are another hot category, with unit sales up 4.6% for Y/E 7/16/11. Value-added fruit, fruit jars/cups, and vegetables for snacking were strong gainers (Strailey, 2011).
Natural and organic meat/poultry are also fast-growing perishable niches. One-quarter of shoppers bought natural/organic meat in the past three months, up from 20% in 2011; 20% say they'll be buying more (FMI, 2012).
--- PAGE BREAK ---
Sales of heat-and-eat and ready-to-eat meat/poultry are also strong, with 35% and 37% of shoppers, respectively, using these items at least once a week (FMI, 2012). Dinner sausages, artisan bacon, and chicken/seafood breakfast meats are also fast-growing but smaller niches.
Prepared seafood meals are one of the fastest-growing items at the fresh fish counter, with sales up 24% in unit volume in 2011; the prepared seafood category grew 7.7%, and seafood side items were up 4% (Mitchell, 2011a).
Spreads are among the fastest-growing refrigerated items, with sales up 17% to $484 million in 2011 (Wolfe, 2012). Gourmet refrigerated salsa and dip sales have skyrocketed; unit sales are up 26%, and dollar sales reached $660 million (Tanner, 2012). Hummus accounts for half of all deli dip sales (Anon., 2012a).
Sales of gourmet fresh pasta jumped 24% over two years to reach $45 million in 2011 (Tanner, 2012). Supermarket sales of refrigerated pasta hit $227 million, up 2% for Y/E 2/18/12 (Licata, 2012a). Refrigerated dough, although a small category, has also enjoyed strong growth (Mitchell, 2012).
Specialty eggs (i.e., eggs that are enhanced with omega-3s or vitamin E or are from cage-free or vegetarian-fed chickens) are another hot sector, up 21% in unit sales in specialty markets over the past two years (Tanner, 2012). Sales of Eggland's Best eggs reached $357 million, with unit sales up 13.7% (GH, 2012).
Cakes and cupcakes are still the sweet spots in the fresh in-store bakery, with sales up 4% and 18%, respectively, in 2011; cakes contributed 29% of sales revenues in the in-store bakery; decorated cakes were the largest cake segment. Keep your eye on mini-sized cakes, specialty single-serve treats, and ethnic favorites (e.g., panna cotta and tiramisu) (Licata, 2012b).
--- PAGE BREAK ---
Focusing on Fresh Prep
In 2011, 89% of weekday dinners and 83% of weekend dinners were prepared at home (MSI, 2011). Just over half (56%) of dinners were made from scratch in 2011; 24% were made from pre-packaged foods needing some preparation, and 9% were made from frozen/heat n' serve pre-packaged foods. The breakout also includes takeout at 6% and restaurant dining at 4% (MSI, 2011).
The number of meal preparers who say it is very important that dinner is made from food that is "fresh, not processed" rose 6% over the past two years to 44%; 29% say fresh meals are somewhat important. Easy to prepare is very important to 38% of consumers, up 8% from 2009 (MSI, 2011).
With 75% of trendy Millennials and Gen Xers cooking more from scratch in 2011, gourmet versions of baking/cooking ingredients will have high appeal (FMI, 2011).
Sales of specialty vinegar/cooking oils reached $619 million in 2011; sales of gourmet shelf-stable pasta/pizza sauces totaled $488 million, up 10% in unit sales over the past two years (Tanner, 2012). Kraft's Fresh Take is a new blend of natural cheese and seasoned bread crumbs found in the dairy aisle.
One-quarter (24%) of meal preparers are using the oven more than they did five years ago, 23% are making more use of crockpots/slow cookers, and 16% are stir-frying more. Expect less processed "oven-bake" dinners/kits and crockpot/wok-specific meals/ingredients to have high appeal (FMI, 2012).
Sales of gourmet entrees/mixes in specialty stores/aisles reached $386 million, with unit sales up 6.5% over the past two years (Tanner, 2012). Delicae Gourmet offers all-natural shelf-stable International Slow Cooker Meal Kits (e.g., Spanish Hacienda Paella).
With outdoor grilling up 17% and indoor grilling up 11% over the past five years and 92% of grocery shoppers buying less expensive cuts of meats, marinades are another category poised for growth. Eighty-five percent of meal preparers use marinades for meat/poultry, up 10% vs 2010; 36% use their own mix, 58% use a store-bought marinade, and 6% bought pre-marinated meat (FMI, 2012).
--- PAGE BREAK ---
Home ethnic food preparation is at an all-time high; 87% of meal preparers made at least one ethnic meal last month; 63% made six or more (Mintel, 2012a). Seven in 10 prepared Italian dishes, 63% Mexican, 46% Chinese, 29% fusion, 24% Hispanic (not Mexican), 18% Japanese, 16% Greek, and 15% Indian (Mintel, 2012a).
Scratch cooking dominates in-home ethnic cooking: 59% of consumers buy sauces and/or seasonings and make the meal from scratch; 26% use time-saving products/kits requiring some preparation; and 15% use pre-made, shelf-stable, refrigerated, or frozen ethnic meals (Mintel, 2012a).
Ethnic seasonings are found in 75% of households; 70% have ethnic sauces; 58% ethnic noodles/pasta; 43% shelf-stable ethnic foods, soup cups, or bowls; 40% frozen ethnic entrees/meals; and 28% fresh refrigerated ethnic side dishes/entrees bought at a grocery store (Mintel, 2012a). Annie Chun's offers All Natural Ramen House Noodles.
Baking is also on the rise; 28% of consumers are baking more than they did two years ago. More than one-third (38%) prefer to bake from scratch, 36% like to doctor mixes, and 26% opt for using the mix alone (Wilton, 2011).
Gourmet baking mixes, supplies, and flour reached $658 million in sales in 2011 (Tanner, 2012). Village Mixes offers pie crust mix in pecan and walnut; Elizabeth Jean's Apple Pie Kit has all the fresh fixings for a homemade pie. Gourmet foods purveyor Fischer & Wieser sells upscale jarred pie filling (e.g., Harvest Apple & Brandy).
Going Gourmet
Sales of gourmet and specialty foods at retail reached $59.7 billion in 2011, up 19.1% over the past two years (Tanner, 2012). Gourmet offerings increased 25% in specialty food stores, 24% in natural foods supermarkets, and 18% in conventional grocery stores in 2011 (Tanner, 2012).
Kosher, all natural, no additives/preservatives, and ethical/environmental were the top claims on new gourmet foods/beverages in 2011; specialty retailers predict local, all natural, and sustainable will have the strongest gains over the next three years (Tanner, 2012).
--- PAGE BREAK ---
One-third (35%) of specialty marketers are developing more gluten-free items; 32% are offering more convenient/easy to prepare products, 30% indulgent, 26% functional, 23% less indulgent/healthful, and 20% portable (Tanner, 2012).
Nearly half (45%) of specialty food retailers identified Latin, other than Mexican, as a top emerging cuisine, 37% Mediterranean, 31% Indian and Vietnamese, 29% Eastern European, and 25% Spanish (Tanner, 2012).
Over half of specialty shoppers (55%) bought gourmet Italian foods in 2011; 52% bought Mexican, 39% Asian/Chinese, 29% regional American, 28% Vietnamese, Japanese, or Korean, and 20% Spanish or Mediterranean (Tanner, 2011). Looking further out, 31% of food importers cite Eastern European and Indian as hot emerging cuisines, 25% regional Italian and Mediterranean, and 19% Latin other than Mexican (Tanner, 2012).
Although cheese/cheese alternatives is the largest specialty food category with sales of $2.4 billion, it's U.S. farmstead cheese and ethnic specialty cheeses, especially Hispanic, that are enjoying the strongest growth (Tanner, 2012).
Moreover, the buzz at the cheese counter is now as much about the cracker, specialty meats, and marinated vegetables that will accompany the cheese as it is about the cheese itself. Sales of specialty crackers/crisp breads topped $527 million in 2011 (Tanner, 2012). Sweet potato, mushroom, Kalamata olive, chipotle pepper, and sourdough are among the new flavors for gourmet crackers; crackers flavored like specialty cheeses are also trendy. Other trends in the cracker category include the use of alternative flours (e.g., spelt, flax); new sizes, textures, and thicknesses; and the addition of seeds. La Panzanella's offers Croccantini Wine Biscuits.
With American Culinary Federation (ACF) chefs predicting that charcuterie samplers will be among the hot appetizers for 2012 and 38% of consumers entertaining more at home, expect cured meats, exotic sausages, and patés to enjoy explosive growth (NRA, 2011). Sales of specialty meats, poultry, and seafood—the second-largest gourmet food category—topped $1.9 billion in 2011 (Tanner, 2012).
--- PAGE BREAK ---
Specialty chips, pretzels, and snacks jumped 17% in unit sales between 2009 and 2011, posting dollar sales of $1.8 billion in 2011 (Tanner, 2012). One-third (34%) of consumers now say gourmet snacks are worth paying for, up from 18% in 2009 (Wyatt, 2012). Hummus, lentils, beans, rice, falafel, nuts, seeds, fruit, and veggies are among the bases for salty snacks.
Specialty nuts, seeds, dried fruit, and trail mixes reached $710 million in sales in 2011, up a whopping 29% in unit sales over the past two years (Tanner, 2012). The nutritional snacks/trail mix category was the top gainer in the healthy snack sector, with unit volume up 11.1% in FDMxC, followed by hummus +10.5%, dry fruit snacks +3.0%, and natural string cheese +2.4% (Wyatt, 2012). Specialty nut butters grew 36% in unit sales over the past year to $1.53 million, making this a small but high-potential niche (Tanner, 2012).
Specialty cookies and snack bar sales totaled $838 million in 2011 and were up 6% in unit sales (Tanner, 2012). Look for French macaroons, Mexican paletas, and Asian tea cookies to come on strong. Walkers Natural Shortbread Cookies now contain no GMOs, artificial colors, or hydrogenated oils. Cookies & Corks' Sweet and Savory Cookies are flavored with wine.
Specialty soup sales were up 8% in unit sales over the past two years, gourmet condiments were up 6%, and shelf-stable gourmet pasta up 7%. Sales of gourmet dry pasta topped $444 million in 2011. Gourmet hot and cold cereals gained 13% and 8.2%, respectively, in units, albeit from a smaller sales base (Tanner, 2012).
Freezer Burn
Despite frozen food category growth expectations of just about 2–3%, some frozen segments are showing much stronger growth (Levitt, 2012).
P.F. Chang's Home Menu line of frozen entrees/appetizers led the top 10 list of best-selling new foods/beverages in 2011, posting year one sales of $102 million, demonstrating the appeal not only of the Asian meals, but of restaurant-branded meals. With sales of $49 million, Lean Cuisine Market Creations placed eighth (IRI, 2012a).
--- PAGE BREAK ---
Thomas' Bagel Thins ($74 million in sales), Oscar Mayer Selects frankfurters ($69 million), Folgers Gourmet Selections K-Cups ($58 million), M & M's Pretzel Chocolate Candies ($58 million), Sun Drop carbonated drink ($56 million), Kellogg's Special K Cracker Chips ($51 million), Gold Peak Chilled Tea ($44 million), and Baileys Coffee Creamer ($44 million) rounded out the best-seller list (IRI, 2012a).
Frozen seafood dinners and Mexican foods continue to heat up the frozen case (Nielsen, 2012).
Frozen pantry items are another strong sector; nonbreaded frozen fish (sales of $561 million) was the third-biggest gainer in the supermarket frozen food case in 2011, with unit sales up 5.3% (Nielsen, 2012).
Sales of frozen hors d'oeuvres and snacks topped $850 million for Y/E 2/18/12; unit sales were up 6.2% in supermarkets and up 14% in gourmet stores/aisles in 2011 (Nielsen, 2012; Tanner, 2012). ACF chefs ranked bite-sized classic hors d'oeuvres as the fourth-hottest appetizer for 2012 (NRA, 2011). Frozen corn dog sales reached $181 million, with units up 4.2% in supermarkets (Nielsen, 2012).
Specialty frozen fruits/vegetables are on the rise, up 25% in unit sales between 2009 and 2011, to reach $286 million (Tanner, 2011). Frozen fruit jumped 8% in dollar sales and 4% in unit sales in FDMx; frozen prepared vegetables reached $295 million, up 8.7% in dollars (Mitchell, 2011b).
Frozen breakfast waffles, pancakes, and French toast were up 5% in unit sales and totaled $764 million in sales (Nielsen, 2012). Gourmet frozen breakfast foods rose 8.9% in unit sales over the past two years (Tanner, 2012).
Gourmet frozen desserts reached $1 billion in sales in specialty food stores/aisles in 2011, and were up 22% in unit sales (Tanner, 2012). Frozen yogurt topped $149 million in supermarkets for Y/E 2/18/12 (Nielsen, 2012). Dollar sales of frozen novelty ice cream was up 3.5%, making it another "must watch" segment (Levitt, 2012).
--- PAGE BREAK ---
While still a very small category, frozen pizza crust enjoyed the largest percentage sales gains in the supermarket freezer case, with sales of $10.2 million, up 20.2% in unit sales for Y/E 2/18/12 (Nielsen, 2012). IRI reports that sales of frozen cookie dough for Y/E 9/4/11 jumped 62.1% over the previous year (Anon., 2012b). Sales of frozen pies reached $469 million, and were up 9.0% in unit sales in supermarkets for Y/E 9/4/11 (Mitchell, 2011b).
Frozen soup jumped 9.9% in unit sales in supermarkets, reaching total sales of $185 million (Nielsen, 2012). Frozen bread dough was up 1.9% in units, and reached sales of $71 million (Mitchell, 2011b). Frozen baby food, juice, and snacks grew 404% in unit sales but totaled only $1.97 million in dollar sales (Nielsen, 2012).
Health Makes Wealth
Weight control/nutrition liquid/powder topped the list of the fastest-growing food categories in FDMxC in 2011, with unit sales up 17.9%, followed by energy drinks +17.5%, and sports drinks +11.3% (IRI, 2012b).
Nearly one-quarter (23%) of the best-selling new foods and beverages carried a natural/organic claim in 2011. Other popular claims included reduced-calorie (20%), high fiber/whole grain (20%), added vitamins/nutrition (19%), lower-fat/fat-free (15%), 100% real fruit (13%), energy/protein (9%), antioxidants (9%), no trans fat (9%), gluten-free (6%), and lower salt/sodium (4%) (IRI, 2012a).
Eight in 10 consumers (78%) said they are very concerned about the nutritional value of the foods they eat (MSI, 2011). Six in 10 (59%) frequently/occasionally bought food/beverages for individual nutrients last year: 45% for fiber, 43% vitamins/minerals, 37% calcium, 35% antioxidants, 34% protein, 34% omega-3s, 17% probiotics, and 11% superfruits (Packaged Facts, 2012).
Sixty percent of meal preparers say that they/someone in their household is trying to lose/maintain weight; 21% are on a low-fat/fat-free diet (-3% vs 2009); 20% are on a low-sodium diet, +2%; 19% say their diet is low-sugar or low-calorie, the same percentage as in 2009; and 18% are trying to consume a low-cholesterol diet, also the same percentage as in 2009 (MSI, 2011).
--- PAGE BREAK ---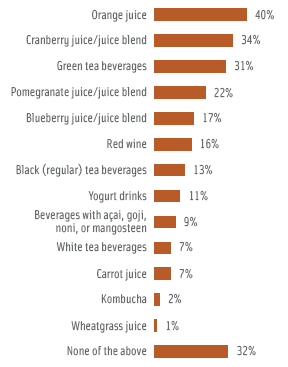 Orange juice tops the list of beverages purchased for health reasons last year, followed by cranberry juice, green tea, and pomegranate juice, or juice blends (Packaged Facts, 2012) (Figure 2). Despite its increasing popularity, 71% of consumers have not tried coconut water, and 66% have not sampled a beverage formulated with açai (Mintel, 2012b).
Among beverages that have increased sales by more than 10% over the past five years, four out of five are single-serve; four out of five feature energy/caffeine; three out of five are natural; three out of five have added convenience; and two out of five are refrigerated (Sprinkle, 2012).
Milk substitutes increased 16% in dollar sales,13% in unit sales, and 13% in pint sales in 2011; growth of almond milk outpaced that of milk substitutes as a whole with increases of 55%, 47%, and 49%, respectively (Sterling Rice Group, 2012).
Nearly six in 10 consumers (56%) very frequently/occasionally bought food for specific health benefits in 2011. One-quarter (24%) bought foods/beverages for cholesterol; 23% for digestive benefits; 16% for immunity; 15% for joints/bones, heart/circulatory issues, or to control blood pressure; 11% for eye health; and 10% for diabetes (Packaged Facts, 2012).
Of those who buy foods that are marketed for a specific health concern, 51% choose oatmeal/hot cereal, 46% yogurt/yogurt drinks, 43% meal replacement drinks, 37% soy-based meals/entrees (e.g., veggies burgers), 37% low glycemic foods, 35% soy beverages, and 32% ready-to-eat cereal (Packaged Facts, 2012). Quaker Real Medleys single-serve, upscale flavored oatmeal is right on target.
Thirteen percent of consumers intentionally purchased gluten-free foods in 2012, up 5% over 2011 (MSI, 2012). Sales of gluten-free frozen lunch and dinner entrees totaled $147 million in 2011 (Facenda, 2012b).
--- PAGE BREAK ---
Targeting Consumer Values
Organic food sales increased more than 9% in 2011 to $29.2 billion. Organic products represent 4.2% of total food sales, and the category is projected to grow by 9% in 2013. Of organic food purchases, fruits/vegetables accounted for 41%, dairy 15%, packaged/prepared 14%, beverages 12%, bread/grains 11%, and snack foods 5%. Although it is the smallest category, sales of organic meat, fish, and poultry grew 18% (OTA, 2012).
In 2012, 44% of consumers will purchase organic food, up 6% vs 2010; 28% will purchase meats, poultry raised without antibiotics/hormones, up 5%. The total for wild-caught fish is 27%, +4%; cage-free eggs 20%, +4%; grass-fed beef 19%, +4%; and Fair Trade products 12%, +3% (MSI, 2012).
In 2011, more than one-quarter (27%) of all U.S. adults were trying to avoid/limit meat in their diet (MSI, 2011). The vegetarian retail foods market reached a total of $1.6 billion in sales in 2011 (Mintel, 2011). ACF chefs cited vegetable/vegetarian as the No.1 hot appetizer trend for 2012, and meatless entrees are 13th among center-of-the-plate trends (NRA, 2011).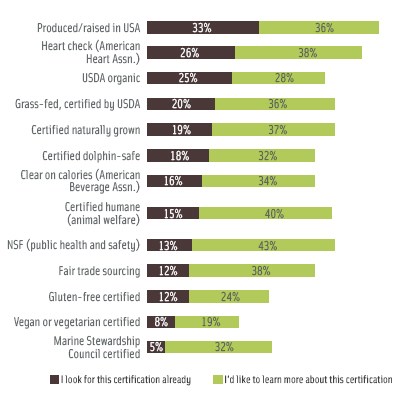 Seven in 10 consumers are interested in learning more about, or look for these certifications: "produced/raised in USA" (69%); the "heart check" program (62%); grass-fed (56%); and USDA organic (53%) (Hartman, 2012) (Figure 3).
Locally sourced meats/seafood, followed by locally grown produce, top the list of ACF hot culinary trends. Hyper-local sourcing (e.g., restaurant gardens) ranks fourth, sustainability is fifth, locally produced wine and beer eighth, and sustainable seafood ninth (NRA, 2011). More than one-quarter (28%) of ACF chefs have a traditional garden at their restaurant, and 3% have a rooftop garden (NRA, 2011).
--- PAGE BREAK ---
Four in 10 consumers are willing to pay more for eco-friendly products. Age and education play an important role; half of those ages 18–34 are willing to do so, and 48% of college graduates are willing (MSI, 2012). Seven in 10 consumers (68%) purchase foods that support cancer research; for children's charities, the figure is 46%, local food banks 44%, and heart disease research 38% (Tanner, 2011).
It is clear that refrigerated space will be the hot spot in the supermarket of the future, especially if price and shrink are more manageable. It is more expensive for retailers to handle refrigerated products, but given consumer interest in fresh fare, it's a segment of the market that deserves the attention of product developers and retailers. Marketers should be diligent about not reinventing categories that are over-processed or reliant on chemicals/additives. Products that are healthful, portable, convenient, and culinarily sophisticated will continue to lead the pack.
A. Elizabeth Sloan, Ph.D., a Professional Member of IFT and Contributing Editor of Food Technology, is President, Sloan Trends Inc., 2958 Sunset Hills, Suite 202, Escondido, CA 92025 ([email protected]).