The sensation of taste can be categorized into five basic groups—sweet, salty, sour, bitter, and umami—with the tongue identifying each type in a distinct way. And keep in mind that it was not really that long ago that taste was perceived four ways with the somewhat mysterious umami the most recent addition to that club known as the Basic Tastes.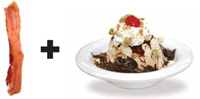 However, even with the addition of umami, I would argue that this group is actually much larger if we were to consider all the taste pairings that are possible, especially the sweet and savory ones, as this article will address. Or if we wish to simplify matters, we might (perhaps with a little tongue in cheek) call this group "swavory." That might open the door to other interesting namings as well. However, the real point here is that I think it is essential that we focus on these pairings if we are to fully comprehend the realm of today's food formulating, which is so influenced by different global tastes that are evolving into the mainstream.
It would be an understatement to say that when sweet and savory tastes are combined or doubled up, they make for a dimension of flavor like no other. And it is precisely because the borders between the different taste sensations are blurring that they become so exciting in the formulation. Does that caramel have a salty taste? Is that ginger I detect? Or pink grapefruit with a spicy kick? With all of the different taste sensations possible, the five basic tastes remind me of the Chicago seasons. While we technically have four seasons (winter, spring, summer, and fall), in reality, every month is a separate season—a combination of the previous month's weather and the next month's. And with these 12 seasons—some of them changing in a matter of days or even hours—living in Chicago may be unpredictable, but it sure is exciting. And the same thing holds true for food formulating with the taste groups. (I might add that it is only fitting that "the Windy City" is the home of so many different ethnic cuisines.)
For consumers who can't really choose between sweet and salty, more products are appearing in the marketplace that can satisfy both moods. For example, Mars Chocolate North America recently launched its M&M's® Brand Snack Mix, which can satisfy consumers' desire for a creamy-crunchy-sweet-and-salty snack all in one bag. The product is available in three options: M&M's Brand Milk Chocolate Candies Snack Mix (M&M's Brand Milk Chocolate Candies, mini chocolate chip cookies, peanuts, and mini pretzel twists), M&M's Brand Dark Chocolate Candies Snack Mix (M&M's Brand Dark Chocolate Candies, raisins, almonds, and mini pretzel twists), and M&M's Brand Peanut Chocolate Candies Snack Mix (M&M's Brand Peanut Chocolate Candies, mini shortbread cookies, almonds, and mini pretzel twists).
Burger King recently launched a "bacon sundae" for the summer; it's made up of vanilla ice cream, chocolate syrup, caramel, bacon crumbles, and a piece of bacon. The dessert shows another way that bacon can be combined with ingredients such as chocolate, caramel, or fruit to provide a formulation with a sweet-savory sensation. Furthermore, bacon's smoky saltiness can help enhance the sweetness and flavor of ingredients such as chocolate. The bacon sundae and the role of bacon in the creation of sweet-savory formulations is the topic for a recent blog post (see sidebar at end of this article).
--- PAGE BREAK ---
Products such as sweet and savory snack mixes and bacon sundaes are only the tip of the iceberg as the potential of sweet-savory combinations continues to grow, especially in restaurants and specialty stores or as the subject of food blogs from around the world. Imagine the distinctive blend of Dijon mustard, horseradish, and garlic in Grey Poupon Bistro Sauce with orange marmalade, orange zest, ginger root, and chervil leaves added to create a sauce with a different kind of sensation. Jellies (usually perceived as a sweet condiment) can be made with figs, guavas, or passion fruits that are then paired with a blend of hot peppers to provide sweet heat to hamburgers, hot dogs, meatloaf, cheeses, and as a marinade or glaze for steak, chicken, salmon, pork, or turkey. And, yes, these special jellies can even help spice up a peanut butter sandwich. Yogurt products can incorporate sweet and savory combinations such as salted caramel, while a tequila cocktail can fuse mango and chile.
Some of the flavors that we will be looking at in this article, such as salted caramel or bacon, have really exploded onto the scene in recent times. Other ingredients have had a longer relationship with an opposite partner in the revolving wheel of taste sensations. Blueberries—and their sweetness in savory formulations—would probably be a good example of this. As noted by the U.S. Highbush Blueberry Council, Folsom, Calif. (phone 650-824-6395, www.blueberry.org), chutneys, barbecue sauces, salsas, and dressings provide interesting opportunities for product development with blueberries. I think this has been true for awhile now, which, if anything, is a tribute to the versatility of this little blue-colored berry that provides so many functionality and nutritional benefits. Especially successful is the contrasting heat of various peppers with blueberries—the ground ancho chilies and seranos in a duck breast dish; the blueberry-jalapeno lime salad dressing; and a red pepperblueberry condiment for steak. When it comes to sauces, blueberries form synergies with cayenne, garlic, mustard, tamarind, wasabi, mint, and many others. Cookies with a sly savory side can pair a traditional ingredient such as the blueberry with caramelized garlic, thyme, salted pistachio, and aji chile peppers. In addition to blueberries, another early example of the sweet-savory partnering probably would be the combining of chocolate and spices to create mole. Actually, this partnership had its roots way back in the time of the Aztecs. So you might say that the modern formulator still has a few things to learn about sweet and savory duos.
Interestingly, recent ingredient developments may also help feed the fire of sweet and savory combos in the marketplace. As we have seen in recent years, many new sweetener alternatives, ranging from stevia to monk fruit, are finding their way into a variety of products, and the sweetness they provide may find its way into the creation of sweet and savory combos. Likewise, a wide range of salt replacers and technologies may satisfy the savory end of these taste duos.
Sweet and savory pairings provide new inspiration, helping formulators to escape the confines of traditional rules and pursue new roads in terms of flavor, texture, and the creating of healthier foods. There are many reasons, I think, why sweet and savory is so popular now, and any discussion will include the number of different kinds of benefits they offer to today's food formulator, ranging from salt reduction strategies to stimulating the consumption of vegetables to satisfying consumers' desire for adventure. This article will look at a variety of sweet and savory prototypes, the ingredients that are used in them, and the opportunities that they are creating in the marketplace to further stimulate the sweet and savory trend. Or should I say provide more fuel for the sweet and savory fire?
Salty Caramel Grows in Popularity
When Bell Flavors & Fragrances Inc., Northbrook, Ill. (phone 847-291-8300, www.bellff.com), released its report of the top 10 flavor trends for 2012, salted caramel topped that list, with the company predicting that this sweet-salty combination would have the biggest impact on the food and beverage industry. And it certainly seems that this prediction held true, as its growing popularity could easily be seen in restaurants and retail stores. Take Starbucks, which offers salted caramel mochas as well as salted caramel squares.
--- PAGE BREAK ---
When I wrote about new developments in ice cream (see the March 2012 Ingredients section), references to salted caramel came up several times. For example, when the Ice Cream Technology Conference of the International Dairy Foods Association honored the top frozen dessert innovations in the dairy industry for 2011, Salted Caramel Chocolate Pretzel ice cream, developed by SensoryEffects Flavor Systems (www.sensoryeffects.com), was selected as the most innovative prototype flavor. The salty sweet treat consisted of a combination of dark chocolate flakes and textured swirls of salty pretzel variegate, added to caramel ice cream in a natural dulce de leche base and egg custard base. The article also mentioned that Ben & Jerry's recently introduced a vanilla ice cream with salted caramel swirl and fudge-covered potato chip clusters, and Kerry Ingredients & Flavors, Beloit, Wis. (phone 608-363-1200, www.kerry.com), highlighted a prototype ice cream, Salty Caramel Toffee (brown sugar base blended with swirls of salty caramel variegate and toffee candy).
PreGel America, Concord, N.C., recently introduced a new beverage concept, Cafettone™, a creamy concoction made with Salted Caramel and a shot of espresso coffee. The shelf-stable, instant ready-to-use powdered mixes require only the addition of water or milk. (Sugar, flavor, stabilizers, and emulsifiers are already blended into the mixes to ensure consistency while maintaining the highest quality standards in taste and texture.)
What makes salted caramel so popular? According to a report, Success with Caramel Flavors: An Essential Guide for Product Developers, released by Synergy Flavors Inc., Wauconda, Ill. (phone 847-487-1011, www.synergytaste.com), caramel is one of the most versatile and widely used confectionery products. Typically, caramel confectionery has a special sweet taste and an appealing brown color. The basic formula is a cooked solution of sugar, corn syrup, milk solids, and fat. The relative ratios of these ingredients and how they are processed determines the consistency, texture, and taste of the finished product.
Caramel has a wide range of properties depending on the type of sugar (white, brown, cane, or corn syrup) and the type of fat (butter, margarine, or vegetable fat) used. Caramel is one of the most popular flavors in the U.S. market. To put this into context, since 2006 approximately 31,000 new food and beverage products have been launched in the U.S. Of these, more than 1,045 (around 3.3%) are flavored with caramel. The vast majority of these are confectionery—others are hot drinks, baked goods, cereals, ice creams, and savory snacks.
Now imagine taking this popular flavor and adding a new dimension to it by giving it a salty taste. In the July 2012 Ingredients section, I wrote about how a condiment such as butter can be infused with different flavors to provide a new twist to a traditional product. Like these twisted butters in the marketplace, salted caramel may achieve that same kind of end. The current popularity of salted caramel suggests how popular a sweet and salty combination can be in the marketplace.
Furthermore, we know what happens when a salty taste is added to caramel, but how about a spicy one? Not too long ago, Chicago-based Dishoom Foods Inc., a specialty/ethnic food manufacturer and wholesaler of snacks and foods, launched Cobra Corn®, a popcorn seasoned with Mumbai Masala (Bombay Spice), a special blend of 10 "mouth-watering" Indian spices and seasonings. Now the company is adding a new popcorn snack to the family. The snack has the flavors of caramel, cardamom, and ginger, which will incorporate the popular tastes of Indian chai tea on every crunchy kernel. Also, to further stimulate creativity, this snack can be added as an inclusion or topping to chocolate ice creams, soups, salads, scrambled eggs, potato salad, and other products. It can also be used as an alternative to croutons.
--- PAGE BREAK ---
And in a kind of a bizarre finish to this story, British food writer Nigella Lawson allowed herself to be slathered in a salted caramel sauce for a cover of Stylist magazine. Lawson described (or should I say "carmelized"?) her latest food obsession—sweet, salty caramel. In her article, "My Love Affair with Salted Caramel," she noted that "salted caramel is the class A drug of the confectionery world." Here is an interesting excerpt from the piece: "And this salted caramel thing has lasted … The history books have yet to be written, but all evidence points to the birth of salted caramel as being in late Seventies Brittany … At this stage, salted caramel existed predominantly as a piece of confectionery. But fast forward a decade, and Pierre Herme, the French patissier known as "The Picasso of Pastry," had created the salted caramel macaroon and there has been a sticky drip-by-drip of salted caramel ever since." She described salted caramel that she experienced in a liquid-centered, wafer-thin chocolate from L'Artisan du Chocolat as "a fierce golden trickle of a substance at once sweet, smoky, salty, and utterly, indescribably beguiling."
Who am I to argue?
What Sweet and Savory Combos Can Do For You
Two new flavors to the Perfect Pinch Salt-Free Seasoning Blend line from McCormick & Co. Inc., Hunt Valley, Md. (phone 410-771-7301, www.mccormick.com), provide sweet and savory combinations that can add a new and more flavorful dimension to salt-free products. Fiesta Citrus is described as a vibrant blend of brown sugar, garlic, cumin, chili pepper, lime, and lemon. Southwest Sweet 'n' Smoky consists of a tangy bold blend of brown sugar, smoked paprika, chipotle chili pepper, and tomato.
Earlier in the year, McCormick's Flavor Forecast 2012 featured (not too surprisingly) a variety of savorysweet combinations, reinforcing the growing popularity of this trend. For example, the use of sweet and savory pairings is one way that chefs are celebrating the heritage of cuisine, honoring its traditional ingredients and techniques. These combinations can preserve these roots by applying a fresh perspective that balances modern tastes and cultural authenticity.
Take this BBQ with a global twist—Korean Pepper Paste (with sesame, Asian pear, and garlic) that provides a combination of sweet, savory, sour, and bitter. Korean Pepper Paste—made from chile powder, glutinous rice powder, fermented soy beans, and salt—has been used to flavor stews, soups, and marinades, or as a condiment at the table. In one Korean barbecue recipe, Galbi, thinly sliced beef short ribs are wrapped in jicama (a sweet root vegetable that looks like a turnip) and topped with refreshing Asian pear slaw (soy sauce, honey, rice vinegar, sesame oil, crystallized ginger, cinnamon, and Asian pear) for a creative take on tacos.
The use of sweet and savory flavors can make eating your veggies a more exciting experience, allowing vegetables to shine through in ways previously not thought of. Eggplant, for instance, can replace meat in dishes because of its substantial texture and hearty flavor. When paired, sweet honey and the fiery North African condiment, harissa, can add a special intensity, elevating eggplant to a starring role in many international cuisines. Honey-Harissa Sauce can add a vibrant color and bold flavor. Potential dishes might include Eggplant & Goat Cheese Torte with Honey-Harissa Sauce or Roasted Eggplant Bisque with Honey-Harissa Sauce and Parmesan Crisps. Or how about sweet-fleshed squash combined with red curry and savory pancetta (unsmoked pork belly cured in salt and spices such as nutmeg, pepper, and fennel). Possible dishes might include Squash Ribbon Salad with Red Curry Vinaigrette and Curried Butternut Squash with Pancetta, Leeks, and Toasted Squash Seeds.
--- PAGE BREAK ---
"Culinary trailblazers are cooking outside the lines by discovering, reinventing, and even playing with food," noted the McCormick report. "We now have the freedom to explore and enjoy whatever foods we want, whenever we want." The use of sweet and savory flavors can offer a "no boundaries approach" where anything goes. Take sweet soy with tamarind and black pepper for a steak sauce with an Asian flair. Sweet soy—a flavoring in its native Indonesia—is a savory-sweet, molasses-like sauce (also known as kecap manis). Together with black pepper and tamarind, these ingredients can help bend the boundaries and bring new inspiration to a condiment culture. A classic breakfast combo of steak and eggs can be elevated out of the ordinary by a drizzle of steak sauce made from sweet soy sauce and tamarind paste. Or sweet soy, tamarind paste, and chile sauce is another way to add excitement to those veggies, as demonstrated by Tofu, Butternut Squash, and Brussels Sprout Skewers.
In this collision of influences, the all-American blueberry meets a staple of Mexican cooking (corn masa) and India's versatile spice (cardamom), transcending meal times and regional borders. Arepas are lightly fried cornmeal rounds served throughout Latin America in both sweet and savory dishes. In Spiced Duck Arepas with Blueberry Port Sauce, Arepas are topped with sliced duck breast and a blueberry and Port Sauce. Blueberry-cardamom flavor can add exotic sweetness to atole, Mexico's traditional warm masa beverage. Or try a dessert tamale (made with authentic tamale flavor) with a scoop of vanilla ice cream and a drizzle of blueberry-cardamom sauce.
Today, culinary explorers are seeking out combinations that can create powerful, harmonic bursts of elemental flavors for the ultimate taste experience. Sweet and savory is one way of doing this. The cooling blend of cucumber and melon gets an invigorating kick from lively dill and mint. The combination of dill and mint adds both an expected savory backbone and a subtle herbal sweetness, according to the report. Imagine these two unusual formulations: Dill-Mint Ice Cubes and Cucumber-Herb Gazpacho with Watermelon Croutons.
Sometimes the most memorable food is often the simplest. Cooks are focusing on highlighting quality ingredients without complex presentations. Sweet and savory combinations can play a role here as well. When vanilla is paired with the creamy richness of butter, the duo elevates baked goods. But new savory applications are bringing the pairing to the forefront, with prototypes such as Vanilla-Butter Shrimp Rolls and Gnocchi in Vanilla Brown Butter Sauce with Baby Spinach and Toasted Hazelnuts.
Swapping spices and herbs for salt and fat can result in flavors that are vibrant enough to stand on their own. Take the pairing of red tea with cinnamon and plum to create Roasted Pork Tenderloin with Cinnamon-Plum Stuffing. The sweet and savory stuffing of plums and sausage gets its deep, earthy aroma from steeped red tea and cinnamon, a perfect counterpoint to roasted pork tenderloin.
Not All Cupcakes Require a Sweet Tooth
At its 2012 Innovation Roadshow, David Michael & Co., Philadelphia, Pa. (phone 215-632-3100, www.dmflavors.com), highlighted several sweet-and-savory combinations, ranging from savory cupcake hors d'oeuvres to vanilla marinades.
--- PAGE BREAK ---
The traditional perception of a cupcake is that of a sugary sweet confection, observed David Michael, but not all cupcakes require a sweet tooth. "The long, winding road of the cupcake trend has been paved with many different stones—wedding cup 'cakes,' cocktail-inspired flavors, miniature, super-expensive adornments, gluten-free, and vegan among them," said Victoria Vayneberger, Marketing and Consumer Insights Manager at David Michael. "There's no doubt about it, the beloved miniature treat is pliable in its acceptance of twists and spins."
To demonstrate this, the company featured mini cupcake hors d'oeuvres, as an embodiment of the savory take on the beloved cupcake. Technically, these prototypes are made with savory flavors, but because they are incorporated into an application that is perceived as traditionally sweet, I thought it appropriate to include it in this article about sweet and savory combinations. For instance, the company married traditionally savory flavors with a complementary "frosting" pairing: savory chicken cupcake with cheddar rosemary frosting, crab cupcake with tomato herb frosting, and filet mignon and fried onion cupcake with bacon frosting. These cupcake hors d'oeuvres lend themselves to other savory possibilities, some of them incorporating sweet ingredients. These might include pork and beans with applesauce (there's a sweet ingredient), pizza with a topping (it comes to my mind that this topping could be a fruit sauce such as blueberry), seafood macaroni and cheese, the traditional BLT, and meatloaf with gravy. Or how about meatloaf with a sweet potato frosting?
Putting aside the cupcakes for a moment (a difficult thing to do), David Michael also featured vanilla marinades. Vanilla is arguably the world's favorite flavor, yet it is rarely, if ever, thought of when it comes to the main course. Challenged by this notion, David Michael took a look at vanilla as part of the flavor experience to determine which vanilla variety best complements a specific meat protein and why. With a marinade as the experimental vehicle, coupled with an accompanying flavor combination, the company tested the contribution of an array of different vanillas to uncover which works best. In working with chicken breast, the company selected a vanilla ginger-lime marinade. "The sweetness and tenacity of the Tahitian vanilla flavor profile in this marinade brings out the subtle nuances of the chicken," said Vayneberger. The use of Supreme®, David Michael's cost-effective vanilla extract, fills in the back notes, helps to maintain the vanilla character, and marries the ginger-lime into one continuous taste experience, she added.
In a similar fashion, the company also tackled pork tenderloin to determine which vanilla flavor combination brings out the best flavor in the protein of pork products. The company chose a vanilla plum-herb marinade as an option for pork. In this marinade, Supreme is the backbone of the vanilla flavor, enhancing the characteristics of the pork while still allowing the vanilla to come through from the onset of the flavor experience. A more delicate bourbon vanilla was used, which lends its top note to the initial flavor and is then balanced with the plum-herb combination.
Aside from meat, vanilla is suitable in a variety of other savory dishes, including sauces, dips, spreads, and dressings.
--- PAGE BREAK ---
Shaping Directions of Sweet and Savory
"Sweet and savory combinations seem to be popping up all over menus of many restaurant formats," noted Jessica R. Jones-Dille, Associate Director of Marketing for Wild Flavors Inc., Erlanger, Ky. (phone 859-342-3548, www.wildflavors.com). "This version of 'flavor fusion' or 'crossover flavors' is also becoming popular on store shelves. Fruit flavors and ingredients are often infused in traditional savory salad dressings, sauces, and meat marinades, while we see spices, herbs, peppers, and even meats such as bacon popping up in confections."
Wild Flavors is no stranger to developing sweet/savory combinations. Some examples of their work include Blackberry BBQ Beef, Ginger Plum Green Tea Vinaigrette, Georgia Peach BBQ Sauce, Cider Molasses Vinaigrette, Apple Pear Honey Mustard, Red Wine Peppercorn Chocolate Truffles, Orange Basil Rooibos Tea, Passionfruit Chile Soda, and Dark Chocolate Vinaigrette. The photo with this section shows the Dark Chocolate Vinaigrette, which has a sweet-savory perception as it is a traditional vinaigrette with a dark chocolate flavor blended in. Because of the fruit the salad contains, as well as the sweeter dressing itself, the prototype is a perfect example of the marriage of sweet and savory. The vegetables in the salad, along with the vinaigrette backbone, provide the savory characteristic.
At the 2012 IFT Food Expo, the company highlighted a range of mini-sandwiches that featured sweet and savory flavors. These included Sundried Tomato & Lemon Marinated Chicken with Parmesan Garlic Aioli on Mediterranean Roll, Smoked Paprika & Stout Turkey Breast with Apple Honey Mustard on Pumpernickel Roll, and Shredded Pork with Georgia Peach BBQ Sauce and Cider Molasses Glazed Onions on Poppy Seed Bun.
Because of the continuing popularity of floral flavors, it would be interesting to speculate whether these flavors might also partner with sweet and savory combinations, providing further dimension to this trend. For example, imagine a rose-flavored salted caramel. Or a chocolate tea beverage with the scent of hibiscus or orange blossom. It certainly seems within the realm of possibility. Wild Flavors has created a variety of floral flavor developments—jasmine, lavender, cherry blossom, orange blossom, chamomile, mimosa, iris, rose, hibiscus, and chrysanthemum. "Previously, marketing of botanicals as a primary flavor contributor was somewhat niche. As ethnic, fresh, and sophisticated flavors have increased in popularity, there has been an increase in floral flavor trends as well," said Jones-Dille. "Wild sees this trend as an opportunity to develop products with floral components married with an array of complementary fruit and spice flavors. When floral flavors are joined with traditional flavors and ingredients such as spices and herbs, products may gain additional health benefits for consumers." A threesome of floral flavors, sweet flavors, and spice flavors could easily develop in such formulations as teas, functional drinks, energy drinks, juices, waters, carbonated soft drinks, confections, desserts, and, of course, culinary applications.
Also available from the Wild portfolio are meat marinades for pork, chicken, and steak made with flavor systems (Farmstand Favorites™) that combine herbs, fruits, and vegetables. In short, these are flavor systems that incorporate sweet and savory ingredients. Creating flavors reminiscent of the country farm stand, prototypes include Peppery Peach Pork, Honeyed Pear & Thyme Chicken, Blackberry BBQ Flank Steak, Nectarine Salsa, Autumn Apple Rosemary, and others.
Another factor that can play a role in the development of sweet and savory combinations is the proliferation of salt replacers and sweetener alternatives. In Wild's portfolio are Taste Modification Solutions for Stevia, which possess the ability to dramatically reduce the negative taste characteristics linked with stevia. The company also offers a variety of versions of Sunwin Stevia (Reb A 95%, 60%, and 80%) that are conveniently blended with the taste modification ingredients. The company customizes the blends for optimal balance and overall sweetness profile. Several sweet and savory combinations could easily incorporate stevia and its taste modification solutions.
--- PAGE BREAK ---
Cool to Combine Sweet and Savory?
"It's become cool to combine savory and sweet," said Rudy Roesken, General Manager/Corporate Vice President for QualiTech, Chaska, Minn. (phone 952-448-5151, www.qualitechco.com), a manufacturer of particulates, inclusions, and savory blends that can be used as delivery systems to provide flavor, functionality, mouthfeel, visual appeal, and healthful properties. (Is that a wry smile I detect in his voice?)
In a recent interview with Food Technology, Roesken shared his thoughts on the sweet-savory trend and his company's participation in developing ingredients that meet this trend.
The reason that sweet and savory combinations are finding their way into a variety of segments is the result of a convergence of multiple food, societal, and demographic trends, he noted. Americans are becoming more adventurous in their eating. They are embracing ethnic foods more than ever before and realizing that they enjoy flavors outside of their time-tested comfort zone. Additionally and not entirely unrelated, the "foodie" community has taken a cue from the celebrity chefs and is embracing new and unexpected flavor profiles, such as sweet and savory combinations.
Roesken discussed several sweet-savory developments that the company has worked on.
"We observed the emergence of caramel sea salt in coffee shops, and worked to translate it into an inclusion that could be used in a muffin," said Roesken. Other types of products that can take advantage of this flavor profile include breads, cakes, bagels, tortilla chips, breading, biscuits, waffles, donuts, cereal, and pretzels. "One application involves a formulation to provide a melted pocket of rich sweet caramel that is complemented by a salty impression," he said. He added that "the caramel flavor in our bits can also be enhanced with smoky notes to provide a three-dimensional flavor profile—sweet, savory, and salt."
Bacon is a way to introduce salt into a sweet perception. According to Roesken, what consumers like is that it adds richness. If you add that fatty, salty characteristic, you're developing a much more complicated food product that is satisfying. Applewood, Hickory Smoked, and Maple Cured Bacon are popular flavor profiles right now. In its portfolio, QualiTech has a kosher parve bacon inclusion with much lower sodium content than the actual thing. Furthermore, it has no trans fat, and the intensity of the flavor can be manipulated, Roesken explained.
"And in baking, we are seeing a big shift toward herbs and spices," he continued. "In conjunction with the rapid growth that the artisan bread market has seen over the past 10 years, herbs and spices are finding their way beyond bread to chips, nutrition bars, and even cakes." This emergence of spices should have a major impact on the further creation of sweet-savory combinations.
--- PAGE BREAK ---
Jazzing Things Up
"Sweet and savory is the current trend in flavors these days," stated Catherine Armstrong, Vice President of Corporate Communications at Comax Flavors, Melville, N.Y. (www.comaxflavors.com). "Consumers continue to seek out interesting and contemporary taste fusions to jazz up their usual menu."
When tastes such as sweet and savory are paired together, it makes for a dimension of flavor like no other, bringing a new excitement to the palate. Here are just a few examples of sweet and savory duos that the company offers that can bring a new dimension to a formulation.
Pink Grapefruit Ginger delivers the bitter sweetness of grapefruit with a ginger kick, for use in alcohol and beverages. Or Ginger Plum provides the ripe taste of plum with a touch of ginger spice, creating an appealing mix for teas. There is also Lemon Ginger, which gives a spiced sweetness with tang that is just right for candies and crème fillings.
And sometimes threesomes are possible. Take, for example, Cucumber Melon Lime, which offers the crisp taste of cucumber with the sweetness of melon and tartness of lime for beverages.
What's the end result? Well, some of these duos are more compatible while others are more contrasting. In either case, the marriage brings a new excitement to the palate.
Sweet and Savory Seasonings
A number of new sweet-savory seasonings from Wixon, St. Francis, Wis. (phone 800-841-5304, www.wixon.com), help deliver a simple way to add a gourmet touch to meat, dips, and sauces. These on-trend seasonings can inspire new products or reinvigorate old classics.
Here are several examples of meat seasonings, rubs, and marinades that provide a distinctive sweet and savory combo. Five Spice Asian Seasoning for wet marinade applications features bold soy, garlic, and umami flavors from natural bonito flakes that are paired with sweet pineapple, ginger, and brown sugar. The teriyaki-style seasoning features top notes of Chinese five spice. Another teriyaki-style seasoning for wet marinades, Lemongrass Satay Garlic Marinade pairs sweet pineapple, ginger, and brown sugar with bold soy and umami flavors. Top notes of lemongrass and garlic are offered by this marinade. Sweet & Smoky Chipotle and Mango Rub combines mango with the zip of chipotle, onion, garlic, and cilantro. Tangy Recado de Arbol Rub features cinnamon, honey, lime, basil, and guajillo chile pepper. And Whiskey Bourbon Salt blends butter and chicken flavors with milk, honey, and maple. This seasoning salt, which includes a hint of whiskey bourbon, is used as a topical rub-on.
--- PAGE BREAK ---
For sauce and dip seasonings, Guajillo Fusion Sour Cream Sauce provides a surprising blend of flavors. It consists of Guajillo chile pepper, roasted garlic, vinegar, and umami with sweet chile and honey.
And for snack seasonings, try Zippy Chinese Mustard (sharp mustard with a touch of honey suitable for pretzels and other crunchy snacks) and Habanero BBQ (a mix of sweetness, mesquite, and heat).
Getting Saucy with Sweet-Savory
Ingredient systems that reduce fat, sugar, calories, and sodium without compromising taste can help stimulate the development of sweet and savory combinations, as demonstrated by Tate & Lyle, Decatur, Ill. (phone 217-421-2331, www.tateandlyle.com), using its innovative formulation services.
A Sweet Chili Sauce, made with Splenda® sucralose and Krystar® crystalline fructose, contains half the sugar and 30% fewer calories compared to its full-sugar counterpart. (Full-sugar Sweet Chili Sauce contains 12 g of sugar and 50 calories per 30 g serving.) With Sta-Lite® polydextrose, this sauce also provides an excellent source of fiber. The prototype was made using the company's Rebalance™ formulation service that helps manufacturers reformulate for less fat, sugar, calories, and sodium without compromising taste.
A second sauce prototype, Korean Barbecue Sauce, delivers a sweet and savory kick to foods. Using the company's Create™ formulation service, which helps manufacturers design products with innovative taste or texture, it incorporates Vico™ SSD Seasoning Granules to give marinades, cooking sauces, or condiments a robust, savory flavor. The granules are said to be easy to work with in a seasoning system.
Almonds Provide a 'Harmonious Medium' for Sweet-Savory
A creamy sweet and savory combination of almond milk, almond butter, toasted diced almonds, blueberries, and tahini formed a cool treat, Almond Blueberry Tahini Freeze, highlighted by the Almond Board of California, Modesto, Calif. (phone 209-549-8262, www.almondboard.com), at the 2012 IFT Food Expo. Tahini, by the way, is a paste made from ground hulled sesame seeds used in North African, Greek, Turkish, and Middle Eastern cuisines.
"When putting sweet and savory together, almonds make for a harmonious medium for an eternal selection of flavors," noted Chef John Csukor, culinary expert for the Almond Board of California. Certain cultures such as Southeast Asian, Indian, and Latin American do this kind of pairing particularly well, and these creative pairings have stimulated the presence of "street foods." Some examples might include a sweet and savory empanada from Chile that had dried fruits, nuts, and savory meat fillings; an exotic nut and fruit "mojo" often presented with grilled savory meats throughout Caribbean-influenced Latin cultures of Puerto Rico and Cuba; savory cracked pepper Papadum with sweet-spicy chutney; and nut- and seafood- filled summer rolls with sweet chili dipping sauce.
Csukor has developed a number of sweet-savory recipes, including Barbacoa Mini Tacos with Almond Mojo and Vietnamese Almond Clusters. A Beer and Bacon Glazed Almond Snack Mix was also created by chef Cory Barrett, the pastry chef for Iron Chef Michael Simon.
--- PAGE BREAK ---
Sweet and Savory Shines
At the 2012 IFT Food Expo, sweetsavory combinations had several shining moments. As these developments and prototypes may provide a further stimulus to this trend, I thought it would be appropriate, in closing, to review a few of them.
Pass the fried peas. Gold Coast Ingredients Inc., Commerce, Calif. (phone 323-724-8935, www.goldcoastinc.com), had attendees try fried peas seasoned with such combinations as honey mustard flavor, chili lime lemongrass flavor, smokey maple bacon flavor, and wasabi ponzu flavor. Wasabi ponzu combines such flavors as soy sauce, citrus, spices, and wasabi, which is similar to a hot mustard.
Several flavor profiles from various regions such as India, Indonesia, Madagascar, Mexico, and Tahiti were showcased by Sensient Flavors, Indianapolis, Ind. (phone 800-445-0073, www.sensientflavors.com). These included a number of sweet-savory combinations—Slow Cooked Beef Pot Roast with Bacon, Roasted Poblano, and Honeycrisp Apple Jam, Slow Cooked Chicken with Pineapple Aji Amarillo Glaze, and Lemon Pink Peppercorn Chocolate Truffle.
Coating walnut halves with sugar, orange zest, salt, and natural orange flavor produced a sweet-and-savory snack, Orange Glazed Walnuts, from California Walnut Board, Folsom, Calif. (phone 916-932-7070, www.walnuts.org). Walnuts add taste, texture, functionality, and important nutrients.
Flavor combo surprises were presented in treat form by Spicetec Flavors & Seasonings, a business of ConAgra Foods Inc., Omaha, Neb. (phone 800-921-7502, www.spicetec.com). Coconut Lemongrass Rice Crispy Treats with Chili Chocolate Raspberry Jam combined flavors from Southeast Asian cuisine with popular dessert flavors.
An exciting menu of food and beverage prototypes showcasing the best of Asian and Hispanic cuisines was featured by Symrise, Teterboro, N.J. (phone 201-288-3200, www.symrise.com). Several of these were of a sweet-savory nature. These included Asian Mint Pesto Chicken with ume plum vinaigrette, Lemongrass Poached Tiger Prawns with soy wasabi cocktail sauce, Vanilla and Blood Orange Layered Panacotta enhanced with mango tarragon chutney, Lime Basil Gelee with Coconut Cream (a dessert that includes tangy citrus, fresh green basil, and sweet young coconut), Guacamole with Roasted Jalapeno-Infused Tequila and Grilled Pineapple, and Mayan Chocolate Cake—a sweet chocolate cake made with cocoa and accentuated with a hint of cayenne and cinnamon spice.
A well-known Japanese chef once remarked, "I don't like the word 'fusion,' because it's like I always say, 'fusion is confusion!' My food isn't really fusion, but more of my interpretation of global cuisine." In the same sense, sweet-savory (like all the other taste combinations emerging today) can be considered an interpretation of our global cuisine.
--- PAGE BREAK ---
And it's my bet—although I'm no linguist—that these combinations, as they continue to expand into different product categories, will speak the language of many consumers, in and out of the mainstream.
---
IngredienTalk:
Sweet and savory combinations have become very popular in the marketplace. At one time, bacon would have been found with your eggs, but today it can be found in sweet applications such as ice cream. One of the most recent examples of this is Burger King's "bacon sundae." But when you think about it, is bacon's expanding use really that unusual—the stuff that only dreams are made of? I don't think so. Bacon's ability to put new twists on traditional applications is the subject of this month's blog, which fits appropriately within the context of the September Ingredients article on sweet and savory combinations. And bacon is not the only savory ingredient that pairs well with a sweet partner. And vice versa, I might add. If you have thoughts, dreams, or visions on how to further promote a sweet-savory sensation in food formulating—and you're an IFT member—visit www.ift.org, type in your name and password, click on the IFT Community button, and go to the blog section. You'll find that sweet-savory is a partnership that works!
Pigging Out on Ice Cream
The other night I had a dream. I was passing by an ice cream parlor that had a sign in front that caught my attention. Most signs in front of ice cream shops usually show a smiling cow—after all, what better symbol for ice cream than that particular animal. But this one depicted the face of a pig. I probably would have mistaken this place to be some kind of sausage store if I hadn't seen the words "Oinks—Best Bacon Ice Cream Around." Curious, I decided to go in.
A little bell squealed as I entered, and once inside I saw a variety of ice cream and frozen dessert products that looked familiar and yet seemed different. (How like a dream.) For example, I came across a "pigsicle"—a strip of bacon that was encased in a frozen ice on a stick. Then I saw something called "baconana." This product was a frozen banana covered in chocolate studded with bacon pieces. There were many other products in this store such as a scoop of ice cream wrapped in bacon in place of a waffle cone. Or a milk shake with pieces of bacon floating inside. (Didn't the bacon get soggy?) Or a banana split with bacon shavings on top. There was also a vat of vanilla ice cream below a sign that read: "Flavor of the Month—Bacon." Someone sure had a sense of humor here. I mean what wasn't bacon?
I was about to sample a product when I heard cows mooing angrily, and through the window, I saw them picketing outside the store. They were carrying large signs that said, "Pigs go home. Leave ice cream alone." Or "Save your bacon. Stay where you belong." Or "It's the end of the world. Stop your bacon blaspheming."
I looked nervously at the cows. One of them threw their cud at the window.
"Oh, don't mind them," said the owner. "That's what happens when they're out to pasture too long." Then he turned to the cows. "Go get jobs, you bovines."
I figured when the pigs showed up, there might be trouble so I quickly ordered one of the bacon-ice cream products and was about to sample it when my alarm clock went off, proving that it was all indeed just a dream.
I remembered thinking as I showered that morning, I suppose there was a chance that some of these products might reach the marketplace. I mean when pigs fly. I laughed a little sarcastically and put the dream behind me.
--- PAGE BREAK ---
That afternoon, I had a taste for a Whopper with Cheese and Bacon so I went to Burger King. Imagine my surprise—or was it horror?—when I saw being advertised there, a bacon sundae, made up of vanilla ice cream, chocolate syrup, caramel, and bacon crumbles and a piece of bacon. At first, I thought I was still dreaming—I mean dreams can play those kinds of mental games with you, making you question what is reality. I was going to ask one of the workers to pinch me, but I figured she might get the wrong idea. The slogan, "Have it Your Way," probably can be taken only so far, and she might even "crown" me in a way that I wouldn't like. Besides, I didn't see any cows picketing, and so I figured that this must really be happening.
After a minute or two (the time it takes to get your fries fresh), I began to realize that I shouldn't really be that surprised. I mean this "bacon sundae" was just another sign of the growing presence of bacon in non-savory applications. Think about it. Today, bacon can be found in chocolate, cookies, maple bacon pudding, butter blends, waffles with jalapeno bacon, baconwrapped plums, pancake and bacon cupcakes, and, of course, now in ice cream at Burger King. So anything is possible. It made me realize that reality can be stranger than any dream you come up with today. I mean, a few years ago, who would ever imagine a bacon flavor in a cookie or an ice cream? I wouldn't have been that shocked to see a bacon-flavored dog biscuit—everybody loves bacon, including our fourlegged friends (well, maybe not disgruntled cows), but that approach clearly has extended to sweet human foods as well. And there's no need to ask Freud why. Combining bacon with ingredients such as chocolate, caramel, or fruit can provide a formulation with a sweet-savory sensation. Furthermore, bacon's smoky saltiness can help enhance the sweetness and flavor of ingredients such as chocolate.
The use of bacon can also serve another purpose—it can help put a new twist on ice cream. When you think about it, ice cream has a pretty basic ingredient listing. In addition to milk solids and milkfat, a formula can contain components such as sweeteners, flavorings, emulsifiers, and stabilizers. In the cold light of standard of identity, it all sounds pretty simple, and one might not expect a great deal of innovation in this category. But ice cream (and other frozen desserts) keeps evolving—frequently taking nontraditional directions as it reinvents itself to provide new opportunities in flavor, texture, stability, and health. Bacon then can be one way to reinvent this product. There are many other ways as well. In Germany, Wild Flavors developed an innovative concept that provides a new taste sensation through the combination of a creamy ice cream and a liquid core. According to the company, "a change in the freezing point keeps the filling in the core liquid, while the outer shell is frozen." The filling, which is more liquid than a traditional topping, has a viscosity comparable to honey. The liquid core, or center filling, is available in brown and fruity preparations. (Now all they have to do is add bacon to the formula.)
So, when you think about it, is the use of bacon in ice cream really that crazy after all?
There is one aspect of Burger King's "bacon sundae" that is somewhat troubling, especially if you think in terms of health. The new dessert has 510 calories, 18 grams of fat, and 61 grams of sugar. (That is enough to give you a case of the cold sweats in the middle of the night.) Consumption of four of these sundaes would be the equivalent of all the calories you would be allowed in a day. In an age of obesity (and related problems such as diabetes and heart disease), I'm not sure this is the kind of product you would want to tout. However, there is always the possibility that these health reasons could prompt the use of some innovative ingredients to reinvent the bacon sundae. For example, you can use bacon-flavored ice cream instead of strips of bacon. Or you can develop a similar product with new sweetener blends that can help reduce the amount of sugar.
Anyway, if you do this, you can have such a product in a more healthy way. In fact, it might be a good idea for Burger King to amend its "Have It Your Way" to "Have It in a Healthy Way." Otherwise, this may not be the kind of ice cream you want the masses to pig out on.
--- PAGE BREAK ---
Oh, by the way, did I mention that BK might also have a chili cheeseburger ice cream sundae as well?
If you have any thoughts on bacon and ice cream as a sweet and savory combination—and you're not afraid of picketing cows, let's IngredienTalk.
---
www.ift.org
Members Only: Read more about Sweet and Savory online at www.ift.org. Type the keyword into our search box at the upper right side of our home page.
Donald E. Pszczola,
Senior Editor
[email protected]