As U.S. children return to school this fall they will begin seeing changes to the foods and beverages served in school cafeterias thanks to a provision in the Healthy, Hunger-Free Kids Act of 2010. The Act, which President Obama signed into law on Dec. 10, 2010, sets standards for the National School Lunch Program and National School Breakfast Program and increases funding and training to schools to provide healthier meals to students. The last update to the standards was more than 15 years ago, and the new rules will affect about 32 million students who participate in the lunch program and almost 13 million students who participate in the breakfast program (USDA, 2012a; USDA, 2012b). This article will provide general information about the new school feeding program standards, which were established with the intention of addressing the nutritional needs of children, and other approaches to encourage children to make healthful food choices.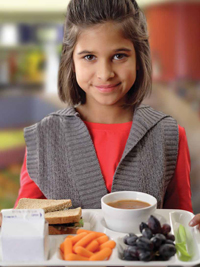 Are School Lunches Making Kids Fat?
The final rule that updates the meal patterns and nutrition standards for the lunch and breakfast programs was issued on Jan. 25, 2012, and it requires schools to make significant changes to what they serve students. These include increasing the availability of fruits, vegetables, whole grains, and fat-free and low-fat milk and reducing the levels of sodium, saturated fat, and trans fat in meals, all while meeting the nutritional needs of children (Federal Register, 2012).
The U.S. Dept. of Agriculture developed the requirements based on the 2010 Dietary Guidelines and recommendations from scientific experts at the Institute of Medicine of the National Academies with expectations to improve the diet and health of children and help reduce the numbers of overweight and obese children (Federal Register, 2012). About 17% of U.S. children and adolescents aged 2–19 years (12.5 million) are obese, and the prevalence of obesity among this group has almost tripled since 1980, according to the Centers for Disease Control and Prevention (CDC, 2012).
Everything from children's lack of physical activity to aggressive advertising by food marketers has been blamed on the rise of childhood overweight and obesity. In recent years, school meals have come under attack as well; there is concern about the nutritional integrity of school meals, and debate continues as to whether or not school meals contribute to obesity and if so, by how much. One of the more recent studies conducted on the issue concluded that a number of factors, including consuming school lunches, may contribute to childhood obesity (Eagle et al., 2010; University of Michigan, 2011).
--- PAGE BREAK ---
Others have different conclusions. Research presented at the Obesity Society's Obesity 2011 conference showed that in some cases school lunches provided more fruits, vegetables, and dairy than lunches brought from home, which were more likely to contain snacks high in sugar and fat and non-100% fruit juice/fruit drink (Palcic et al., 2011). A survey of school foodservice directors conducted by the School Nutrition Association found that nationwide, 98% of school districts offered fresh fruits and vegetables, 98% provided fat-free or 1% milk, 97% offered whole-grain foods, 89% had salad bars or used pre-packaged salads, and 63% featured vegetarian meals (SNA, 2011).
Modifying the Menus
As the number of childhood obesity cases rises, any changes to improve nutrition and lifestyle, including beefing up the nutritional quality of food served as part of school feeding programs, may help to level off or reduce the numbers. So what can children expect as they return to school? They will be served more fruits and vegetables for a start. The new standards for the school lunches, which became effective July 1, 2012, with a few exceptions, require students in kindergarten to grade 12 to receive 3/4–1 cup of vegetables/day and 1/2–1 cup of fruit/day (Federal Register, 2012; USDA, 2012a; USDA, 2012c). The vegetable serving must include dark leafy greens, red/orange vegetables, legumes, starchy vegetables like potatoes and corn, or others as defined by the 2010 Dietary Guidelines. Fresh fruit, frozen fruit without sugar, canned fruit in light syrup, water, or fruit juice, and whole dried fruit or fruit pieces are allowed. The previous standards required 1/2–3/4 cup of fruits and vegetables combined/day.
The new minimum daily and maximum weekly allowances for meat and meat alternates (other proteins sources like fish, soy products, nuts, beans, cheese, yogurt, and eggs) are 1 oz/day and 8–10 oz/week (grades K–5), 1 oz/day and 9–10 oz/week (grades 6–8), and 2 oz/day and 10–12 oz/week (grades 9–12). In the past, all children were served 1.5–2 oz of meat or meat alternate/day. The minimum daily amounts and maximum weekly amounts of grains are 1 oz/day and 8–9 oz/week (grades K–5), 1 oz/day and 8–10 oz/week (grades 6–8), and 2 oz/day and 10–12 oz/week (grades 9–12). At least half of the grains must be whole grains as of July 1, 2012, and all of the grains must be whole grain by July 1, 2014. Prior to these new requirements, children were provided with 8 servings of grains/week with a minimum of 1 serving of grains/day, and whole grains were "encouraged" but not required. Finally, all children will receive 1 cup of milk, which must be unflavored or flavored fat-free milk or unflavored 1% milk.
Some of the requirements for the breakfast program will take effect on July 1, 2013, with others becoming effective July 1, 2014 (Federal Register, 2012; USDA, 2012a; USDA, 2012c). The amount of fruit (vegetables can be substituted) is 1 cup/day. The minimum daily amounts and maximum weekly amounts of grains are 1 oz/day and 7–10 oz/week (grades K–5), 1 oz/day and 8–10 oz/week (grades 6–8), and 1 oz/day and 10–12 oz/week (grades 9–12). Schools may substitute meat or meat alternate for grains after the minimum daily grains amount is reached. The requirements for whole grains and milk are the same as those for the lunch program.
--- PAGE BREAK ---
The new standards set limits for calories and nutrients like sodium and fat. School nutrition directors must follow minimum and maximum calorie levels for each age and grade group on average over the school week (Federal Register, 2012). The maximum calorie levels should encourage officials to include nutrient-dense foods on menus and to exclude foods that are high in fats and added sugars, according to the USDA. Regarding fat, food products and ingredients must contain 0 g of trans fat/serving, and lunches and breakfasts must have less than 10% of total calories from saturated fat on average over the school week. The USDA will continue to provide technical expertise to help school officials and food vendors understand the best ways to reduce saturated fat in meals, such as using skinless chicken, trimming excess fat from meat, and cooking with oils that are low in saturates (Federal Register, 2012). Sodium levels for both the breakfast and lunch programs will be reduced twice (July 1, 2014, and July 1, 2017) before reaching final levels on July 1, 2022 (Federal Register, 2012; USDA, 2012d), representing a reduction of about 25–50%. There are different maximum sodium levels for each age and grade group.
Even though the federal government will reimburse schools an additional $0.06 for each lunch served that meets the standards, achieving all that is required will remain a challenge, according to Clare Keating, Executive Director of Account Management for Preferred Meal Systems Inc. Keating, who spoke to attendees of the Institute of Food Technologists' Wellness 12 Conference, March 28–29, 2012, in Rosemont, Ill., about trends and opportunities in school feeding programs, said that within the cost of a typical lunch under the lunch program, much of it goes toward covering labor and "other" expenses. As the USDA noted in School Lunch and Breakfast Cost Study II, school feeding directors have reported that it is difficult to adhere to the lunch and breakfast program standards using the subsidies from the federal government (meal reimbursements and donated commodities) due to increasing labor costs and other costs such as those for utilities and equipment (USDA, 2008).
To illustrate how tight the margins are, Keating presented a breakdown of the food costs for a typical reimbursed lunch. The cost of food is $1.02, or 37% of the total cost of the meal ($2.77), and she said of this, $0.38 is spent on protein (35–40% of food costs), $0.13 is spent on fruits (10–15% of food costs), $0.15 is spent on vegetables (15–18% of food costs), $0.11 is spent on grains (10–14% of food costs), and $0.25 is spent on dairy (milk) (24–27% of food costs).
Formulating Healthy, Kid-Friendly Fare
Staying on budget will continue to challenge schools, as will encouraging students to eat more fruits and vegetables and healthier alternatives to cafeteria favorites like pizza and hamburgers. "Our biggest concern is that we can't have more nutritious garbage cans," notes Gary Vonck, Vice President of Education Division, KeyImpact Sales & Systems, who spoke along with Keating at the Wellness 12 Conference. "If a product is not flavorful and tasty, the kids may take it, but that doesn't mean they'll eat it."
--- PAGE BREAK ---
This is why some ingredient companies and food formulators are developing ingredients and products that are both kid-friendly and help schools meet the new lunch and breakfast standards. Other schools are taking more control over what foods and beverages the children have access to in schools and exploring other creative ways to make healthier foods available to students.
The new requirements present a number of opportunities for manufacturers of ingredients like sodium–mineral blends, sweetener alternatives, low-saturates oils, and whole-grain flours to help develop foods and beverages that contain less sodium, sugar, fat, and calories, contain more fiber and whole grains, and have improved flavor and texture. Many of these types of ingredients and more were featured in a variety of food and beverage product prototypes at the 2012 IFT Annual Meeting & Food Expo in Las Vegas, Nev. For example, Cargill Inc. specifically focused on showcasing ingredients in several "kid-friendly" prototypes that meet the new nutrition standards for the school feeding programs. Two such prototypes were chicken quesadillas and mini burgers. Ingredients like SodiumSense™ blend of potassium chloride and natural flavors and Horizon Milling's WheatSelect® white whole-wheat flour helped reduce sodium by 25% and added whole grains to chicken quesadillas. Mini burgers were formulated with Prosante® textured soy flour and Prolia® soy flour for increased protein and MaizeWise® whole-grain corn and WheatSelect to provide 7 g of whole grain/28 g bun, a milder flavor, and softer texture. In addition to Cargill, other ingredient suppliers like ADM, Ingredion, Grain Processing Corp., and more highlighted ingredients that can be used to add protein and fiber, reduce added sweeteners, and improve texture, among other benefits.
As product developers reformulate recipes for foods sold to the school feeding programs, chefs are taking their skills and expertise directly to the school cafeterias and class-rooms as part of the Chefs Move to School program. The program, which is part of First Lady Michelle Obama's Let's Move! initiative to encourage healthy eating habits and exercise, pairs chef volunteers with their local schools to teach students about healthful food choices, introduce them to school gardens, and help them develop culinary skills. The chefs work closely with the children, teachers, parents, and school nutrition directors to improve nutrition education and develop healthier school meals.
Encouraging children to eat healthier foods is difficult because so many foods are unfamiliar to them, states Sarah Elizabeth Ippel, Founder & Executive Director of Academy for Global Citizenship, a charter school with the Chicago Public Schools. Speaking at FamilyFarmed.org's Good Food Festival and Conference, March 15–17, 2012, in Chicago, Ippel explained how her school's garden is used to introduce students, many of whom come from low-income families, to healthful foods and encourage lifelong healthful eating habits. "Most of the students do not have access to positive foods in their community and that in and of itself is a challenge because it takes several times of introducing food before they may even be interested in tasting the food," she said. "What has contributed to the success in terms of the participation among our students is really the way in which we integrate the food program into the culture, curriculum, and school day." This, she says, includes utilizing the school garden as a learning tool for subjects like science and history, meeting farmers and taking field trips, and having a staff that is encouraged and prepared to discuss the benefits of healthy food and good nutrition with the students.
--- PAGE BREAK ---
Sometimes, though, it actually is the students themselves who want more variety and additional healthy food options. Take, for example, the high school student from Niles, Ill., who collected nearly 1,000 signatures from fellow classmates on a petition asking for a change in the food served in the high school's cafeteria, says Paul O'Malley, Assistant Superintendent for Business Services for Niles Township High School District 219. O'Malley, who spoke about the topic of introducing healthier food to school meal programs at FamilyFarmed. org's Good Food Festival and Conference, explained how the student's efforts eventually convinced officials to incorporate more healthful items on school lunch menus, which feature Greek, Middle Eastern, Mexican, and Asian foods to reflect the multicultural population the school district serves.
Feeding the nation's schoolchildren is a complex job and involves many more layers of responsibilities than discussed in this article. As shown by the few examples mentioned, school officials, leaders of charter schools, the food industry, and even students are exploring ways to improve school meals. Time will tell, though, if the new nutrition standards of the school feeding programs and additional approaches can stop and maybe even reverse the childhood over-weight and obesity trend.
Karen Nachay, a Member of IFT, is Associate Editor of Food Technology magazine
([email protected]).
References
CDC. 2012. Overweight and obesity— data and statistics—obesity rates among all children in the United States. Centers for Disease Control and Prevention, Atlanta, Ga. www.cdc.gov/obesity/data/childhood.html. Accessed Aug. 14, 2012.
Eagle, T.F., Gurm, R., Goldberg, C.S., DuRussel-Weston, J., Kline-Rogers, E., Palma-Davis, L., Aaronson, S., Fitzgerald, C.M., Mitchell, L.R., Rogers, B., Bruenger, P., Jackson, E.A., and Eagle, K.A. 2010. Health status and behavior among middle-school children in a Midwest community: what are the underpinnings of childhood obesity? Am. Heart J. 160(6): 1185-1189.
Federal Register. 2012. Nutrition standards in the National School Lunch and School Breakfast Programs, final rule. U.S. Dept. of Agriculture's Food and Nutrition Service. 7 CFR Parts 210 and 220. Jan. 26. Vol. 77, No. 17.
Palcic, J., El-Mubasher, A.A., Johnston, C.A., Papaioannou, M.A., Holmes, C.E., Woehler, D.L., and Foreyt, J.P. 2011. Packed lunches compared to school lunches. Abstract presented at Obesity Society's Obesity 2011 conference. www.obesity.org/images/pdf/Obesity2011/Online_Abstracts/2011_poster_abstracts_monday.pdf. Accessed Aug. 9, 2012.
SNA. 2011. School Nutrition Association releases "state of school nutrition 2011." Press release, Aug. 18. School Nutrition Association, National Harbor, Md.
University of Michigan. 2011. Childhood obesity linked to habits, not heredity U-M study: University of Michigan Cardiovascular Center study shows obese children eat more school meals, watch more TV, exercise less than normal weight peers. Press release, Jan. 31. University of Michigan, Ann Arbor, Mich.
USDA. 2008. School lunch and breakfast cost study II—final report. U.S. Dept. of Agriculture's Food & Nutrition Service, Alexandria, Va. Report no. CN-08-MCII. April. www.fns.usda.gov/ora/MENU/Published/CNP/FILES/MealCostStudy.pdf.
USDA. 2012a. Final rule "nutrition standards in the National School Lunch and School Breakfast Programs"–questions & answers for program operators–revised 7/13/12. www.fns.usda.gov/cnd/Governance/Policy-Memos/2012/SP10-2012osr3.pdf.
USDA. 2012b. USDA to Provide Additional Funds for Nation's School Meals. Press release No. FNA-1.12, April 27.
USDA. 2012c. Comparison of current and new regulatory requirements under final rule "nutrition standards in the national school lunch and school breakfast programs" Jan. 2012. Technical assistance and guidance materials. www.fns.usda.gov/cnd/Governance/Legislation/nutritionstandards.htm, www.fns.usda.gov/cnd/Governance/Legislation/comparison.pdf.
USDA. 2012d. Sodium reduction: timeline and amount. Technical assistance and guidance materials. www.fns.usda.gov/cnd/Governance/Legislation/sodium.pdf.