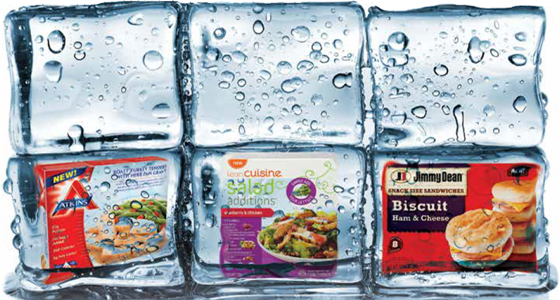 A persistent cold front has blown into the frozen foods section of the grocery store. Sales volume has been flat or down over the course of the past several years thanks to consumers' preference for fresh offerings, lack of product innovation, the economic downturn, and a less-than-ideal retail environment, among other factors. For frozen foods market leaders like Nestlé, ConAgra, and H.J. Heinz, lackluster category performance has been a concern.
Now, however, key industry players including a leading trade association, frozen food manufacturers, and progressive retailers are poised to reinvigorate the category. Their tool kit includes everything from a major consumer campaign spearheaded by the National Frozen & Refrigerated Foods Assn. (NFRA), some creative new product concepts, and efforts by forward-thinking retailers who are working with manufacturers to change the way frozen foods are merchandised. Here's a look at what's in store for the frozen foods category.
The Cold, Hard Facts and Figures
Frozen foods are a $51.5 billion category across retail channels including supermarkets, drugstores, mass merchandisers, military commissaries, and select club and dollar store chains, according to SymphonyIRI data for the year ending (Y/E) 11/4/12. Sales for that period were up 1.9%, largely due to price increases and inflation, but unit sales declined by 2.3% (SymphonyIRI, 2012; AMG, 2012). In 2011, unit sales of frozen foods were at 2008 levels (AMG, 2012), and unit sales for the March 2012 "Frozen Foods Month" were the lowest they have been in six years, down 6% vs the prior year (AMG, 2012).
The good news is that the sales volume downturn appears to be slowing, but the frozen foods business still has its fair share of challenges. "We're not seeing any turnaround in the category yet," says Colin Stewart, Senior Vice President, AMG Strategic Advisors Group, a division of Jacksonville, Fla.-based Acosta, a consumer packaged goods broker.
For one thing, shoppers ages 44 and younger are gravitating away from the frozen food aisle, with a significant downturn between 2007 and 2011, according Nielsen data cited by AMG (AMG, 2012).
Certainly economic factors have played a role in the hard times that have befallen frozen foods. Speaking to financial analysts in a conference call last spring, H.J. Heinz Chief Executive Officer Bill Johnson described frozen meals as "the most cyclical of the major food categories that we compete in—strong in good times and weak in recessionary times" (Heinz, 2012).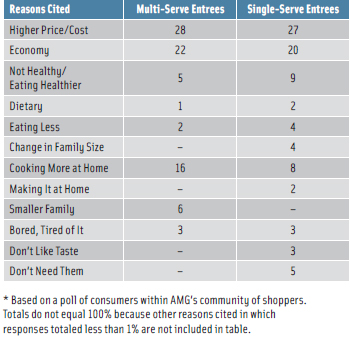 Preference for fresh foods was the No. 1 reason consumers surveyed by research firm Packaged Facts, Rockville, Md., cited for not purchasing frozen foods within the prior three-month period (Packaged Facts, 2012.) AMG consumer research shows that concerns about product cost and the economy were the top reasons that consumers were buying fewer multi-serve and single-serve frozen entrees (Table 1).
Stewart explains that companies that had been holding the line on prices during the height of the recession took price increases in 2011, which led to sales volume declines. On average, in 2012, frozen food prices were up 7% over the prior year (AMG, 2012).
Taking a Fresh Approach to Frozen
It's clear that frozen foods have an image problem, and this year NFRA will make what the organization's President and Chief Executive Officer Skip Shaw describes as a "significant" investment to polish up that image by helping consumers to better understand their nutritional and taste benefits. "We need to change the conversation about frozen foods and to start to talk about frozen food as food," says Shaw. "It is real food [that is] frozen."
March is traditionally NFRA's "Frozen Foods Month," and to herald it this year, the association's agency, Edelman, is launching a public relations initiative. Shaw says that the campaign will rely heavily on social media and will employ "storytellers" like chefs, dietitians, and bloggers to communicate positive messages about the nutritional value, freshness, and ethnic flavor that frozen foods deliver. NFRA and Edelman will target three consumer segments in particular—baby boomers, millennials (broadly defined as those born in the 1980s and 1990s), and Hispanic and other multicultural consumers.
--- PAGE BREAK ---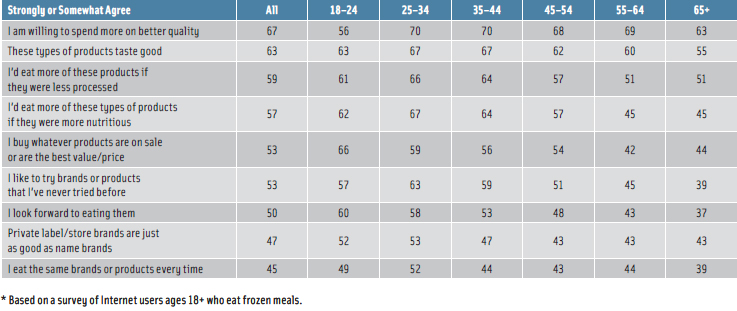 Offering a strong assortment of better-for-you products is critical to success in the frozen food category, particularly in terms of appealing to younger consumers, says John Frank, Category Manager, CPG Food and Drink, with the research firm Mintel, Chicago, Ill. Frank points out that consumer research commissioned by Mintel in 2012 showed that 57% of frozen meal users say they would buy more of these products if they were more nutritious. And this attitude is more prevalent among those ages 18–44. (See Table 2 for more insights into consumer perceptions, according to age.)
Pinnacle Foods, Parsippany, N.J., marketer of Birds Eye frozen vegetables, found a way to effectively target young kids and their parents by partnering with Nickelodeon television network's "iCarly" series last summer. The "iCarly iCook with Birds Eye" campaign, which ran from July 9 to Sept. 9, invited kids to submit recipes that featured Birds Eye vegetables and to participate in a sweepstakes.
"Based on syndicated data, during the promotional period, Birds Eye contributed to more than one-third of the category growth," says Brandi Unchester, Senior Brand Manager for Birds Eye Steamfresh Vegetables.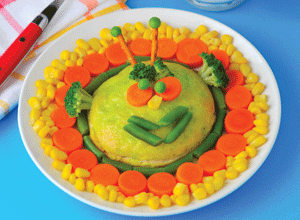 The effort also provided Birds Eye product developers with new insights into the kinds of products that appeal to kids. The majority of the recipes kids submitted featured a variety of "vegetable blends," and more than half of them were easily portable and allowed kids to eat with their hands. These findings will be used to help shape the development of new Birds Eye offerings targeted to children, Unchester reports. Watch for the new products in the back-to-school time frame this year.
The marketing program was part of a larger Birds Eye initiative, its three-year commitment to the nonprofit Partnership for a Healthier America campaign chaired by First Lady Michelle Obama. As part of that effort, the brand has pledged that some of its advertising will be focused on lower-income households and that it will distribute 50 million coupons (PHA/Birds Eye, 2012).
One of the biggest challenges facing the category is the fact that the frozen food aisles are located in the center of the store—and not in the higher-profile, more well-traveled perimeter. Today's shoppers are making fewer stock-up trips and more quick visits in which they are less likely to visit the center of the store (WD Partners/ConAgra Foods, 2012).
Certainly the center store gets a bad rap from celebrity health professionals like Dr. Sanjay Gupta and Dr. Mehmet Oz, who urge consumers to steer clear of it and fill their shopping carts with fresh produce from the perimeter. "It's a fundamentally critical part of the grocery store, and Sanjay and Dr. Oz are saying 'stay out of that section of the store,'" observes Andrew Elliot, Vice President, Consumer Packaged Goods with Dublin, Ohio-based WD Partners, a firm with expertise in retailing strategy and customer experiences that has worked with ConAgra on a frozen food strategy report.
It's not just consumers and health professionals who are fixated on the perimeter. Elliot's colleague Randy Friedlander, Vice President of Client Services for WD Partners, notes that retailers themselves are focused—perhaps overly so—on the perimeter because it's the first thing that shoppers see when they enter the store. "Grocery stores are hoping to differentiate themselves from other channels, other retailers," by investing in the perimeter, he says.
But retailers have a powerful incentive to turn more of their attention toward the center of the store because it's highly profitable retail real estate; Elliot says that it typically generates more than 70% of a retailer's profits. Meanwhile, the perimeter is an expensive area to operate because of costs associated with labor and perishables spoilage, says consultant Stewart.
Once shoppers do arrive in the frozen food aisles, the problems persist. Of 20 consumer packaged goods categories consumers polled by AMG were asked to evaluate, only personal care products and candy were rated as more difficult to shop (AMG, 2012).
Even some of the retailers who have gotten creative in the frozen food aisle are falling short, Friedlander says, because they haven't applied a consistent communications strategy, which means that signage can be confusing. "It's just visual clutter," which shoppers tend to tune out, he says.
"There is no inspiration, there is no exploration," Friedlander continues. "Shoppers go into the frozen food aisle on a rote mission, looking for the packages that they usually buy, and they ignore everything else."
--- PAGE BREAK ---
Currently, most stores are laid out for the convenience of the retailer, rather than the shopper, and that needs to change. Friedlander would like retailers to "create destinations in the aisle that combine products or the components of a meal to satisfy the need state of the shopper." A small freezer case filled with frozen garlic bread might be positioned in an aisle with jarred pasta sauce and dry pasta or near the refrigerated pasta section, for example. Or frozen desserts and side dishes could be merchandised together with fresh protein to make it easier for the shopper to plan a full meal and to stimulate impulse sales.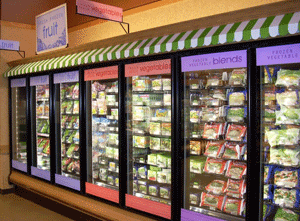 Fortunately, some retailers are starting to get it right. Stewart cites East Coast grocery chain Wegmans as an example. Wegmans has introduced changes to signage and fixtures that call to mind the fresh produce department. For example, there's a colorful green and white striped awning atop the freezer case and large, clear signage that calls out products using simple, appealing descriptors like "fresh frozen fruit" and "frozen vegetable blends."
AMG teamed with Meijer, a Grand Rapids, Mich.-based chain of supercenters and supermarkets, plus frozen food makers Heinz, Pinnacle Foods, and ConAgra, to develop a strategy to help heat up frozen food sales. The retailer experimented with product category adjacencies and introduced signage that focused on meal occasions in an appetizing way.
Retailers can't change up the frozen foods aisle overnight, of course; it's simply too expensive. Changes will be incremental, says WD Partners' Friedlander. He notes that one of the things that WD Partners and ConAgra is testing with a major retailer is reorganizing the presentation of meals in the freezer case according to number of people served, i.e., breaking them out to include single-serving entrees/dinners, meals for larger households, and finally frozen party fare for groups of 10 or more.
Retailers would also be well advised to do more sampling of frozen foods, suggests Susan Porjes, Senior Market Analyst for Packaged Facts and author of the research firm's 2012 report on frozen foods. "I think that's what consumers need to find out: that the quality of frozen foods has gone up—that it's not just a meal in a little tray," says Porjes.
Recipes for Frozen Food Success
Of course, reinvigorating the frozen foods category isn't just about retailing. Reports from Mintel (Mintel, 2012a) and AMG Strategic Advisors (AMG, 2012) cite a lack of innovation in frozen food product development as a factor in sluggish category performance.
There are exceptions, of course. The frozen breakfast category has been a bright spot in the frozen foods landscape, with sales growth of nearly 20% between 2007 and 2011 (Mintel, 2012b). Sales of frozen breakfast food climbed 4.9% to nearly $2.8 billion for Y/E 11/4/12 (SymphonyIRI, 2012).
Household penetration of frozen breakfast entrees/sandwiches gained 3 percentage points between 2008 and 2012, and is now at 27% (Packaged Facts, 2012). Mintel predicts 22.1% growth for frozen breakfast entrees between 2012 and 2017, provided companies continue to innovate with healthful offerings and products that boast taste appeal equal to that of foodservice breakfast fare (Mintel, 2012b).
Hillshire Brands, Chicago, Ill., market leader in frozen breakfast entrees and handheld frozen breakfast offerings, has taken a number of steps to build on its position of strength. This fall, the company's Jimmy Dean brand unveiled a full packaging refresh, including new graphics, product images, and logo. The packaging revamp also included the addition of a new seal to emphasize product quality. Shoppers spend little time in the frozen food aisle, and quickly grabbing their attention and driving purchase are critical, says Amy Grabow, Vice President of Marketing, Jimmy Dean.
This month, Jimmy Dean is expanding its presence in the healthful segment of the frozen breakfast market with the rollout of Jimmy Dean Delights Flatbread Sandwiches. Grabow notes that the new sandwich variety not only extends the popular lineup of Delights frozen breakfast products under 300 calories, but also introduces the first meatless option to the line. (It features egg whites with spinach and cheese on honey wheat flatbread.)
--- PAGE BREAK ---
The potential for frozen breakfast market development has apparently not escaped ConAgra either. In May 2012, the company acquired Odom's Tennessee Pride, Madison, Tenn., the second-largest producer of frozen breakfast sandwiches in the United States.
Multi-serve frozen meals are another segment with growth potential. Sales of multi-serve frozen meals declined in 2011 and 2012, but the category was performing nicely prior to that with four consecutive years of growth, and Mintel is forecasting "notable" annual growth for the 2013–2016 time period (Mintel, 2012a; SymphonyIRI, 2012).
Pinnacle Foods extended its Birds Eye Voila! skillet meals line with the rollout of 42-oz family-size frozen bagged meals in 2011 and updated the family-size options with new varieties in January 2012, reports Senior Brand Manager Kristen Thompson. Thompson says she is optimistic about the potential for the multi-serve category thanks to consumer trends pointing toward families eating at home together more frequently.
Both Nestlé and ConAgra have worked to give their frozen meals a culinary halo. ConAgra teamed with Bravo television in 2011 for a line of Café Steamers entrees inspired by the popular "Top Chef" show. Nestlé tapped into the expertise of chefs from high profile, award-winning restaurants, inviting them to the Nestlé Culinary Center in Solon, Ohio, to work with its product development team on creating new entrees.
Another example of frozen food innovation comes from Schwan's Consumer Products, Bloomington, Minn. The company is test marketing a line of upscale Bon Appétit Steam-Baked Meals designed for oven preparation, according to company spokesman Chuck Blomberg. The meals, which carry a suggested retail price of $8.99, serve two and were inspired by a classic French cooking technique in which food is wrapped in a parchment paper pouch and steam baked, thus sealing in flavor (Schwan's, 2012).
Kellogg-owned Kashi Co., La Jolla, Calif., last year introduced a line of single-serve frozen Kashi Steam Meals in stand-up bag packaging for microwave preparation (Kashi, 2012). Earlier this year, Kashi expanded the line to include two-serving Steam Meals. In keeping with the Kashi heritage as "the seven whole grain company," each variety provides at least 35 g of whole grain per serving.
For 2013, frozen category leader Nestlé appears poised to capitalize on the traditional post-New Year's diet season with the rollout of a brand new concept for the frozen aisle—four varieties of Lean Cuisine Salad Additions, which include everything needed for a value-added salad experience except the lettuce. The Asian-Style Chicken Salad kit, for example, includes grilled white meat chicken, edamame, pineapple, broccoli, yellow and orange carrots, sesame ginger vinaigrette, and crispy noodles.
Atkins Nutritionals, Denver, Colo., unveiled a nine-item menu of frozen low-carb meals (including two breakfast items) in January. The rollout moves Atkins beyond the shelf-stable bar and shake category into the frozen aisle. "We did look at other categories," says Christine Lukkes, Director of Marketing for the company, "but frozen was the best way to deliver high-quality meals." In keeping with the Atkins Diet regime, the meals contain 7 g or less of net carbs and are made without added sugars or preservatives.
Technology and Formulation Innovation
Advances in packaging technology and product formulation may have helped frozen foods do a better job of addressing consumer expectations for products that deliver on freshness and health.
ConAgra brought microwave steaming technology to the frozen meal category in 2007 with the rollout of its Healthy Choice Café Steamers, and last year it again put technology to effective use with the launch of Healthy Choice Baked Entrees in MicroRite™ trays from Graphic Packaging, Marietta, Ga. (ConAgra Foods, 2007; ConAgra Foods, 2012). The trays use what the packaging company describes as "strategically placed susceptors" to focus microwave energy, thus heating products more evenly in the microwave and delivering oven-baked taste.
Products with shorter ingredient lists and more natural ingredients appear to be another priority for frozen food product developers. For ingredient supplier Ingredion Inc., Westchester, Ill., for example, frozen foods are among the product categories the company is targeting with its new Novation Endura series of process tolerant clean label starches. "Last year we saw declining volume there [in the frozen food aisle] so we do see interest for products that are matching up to what consumers are looking for," says Leaslie Carr, Marketing Manager, Wholesome, for Ingredion. What consumers seek, she continues, are products that are simpler in their positioning, with shorter ingredient statements. Endura may appear in ingredient listings simply as starch or corn starch. The NOVATION Prima line of clean label starches are specifically designed to function in frozen foods because of their ability to provide superior freeze/thaw stability as well as process tolerance. Endura starch also works well in frozen foods because it can withstand the heat and shear used in processing, and thanks to its ability to effectively bind moisture during the freezing process, it helps to extend shelf life and maintain product texture by minimizing ice crystal formation.
Birds Eye will be eliminating artificial flavors and colors in many of its products, says Thompson. And Nestlé's Lean Cuisine website states that it has more than 90 dishes made with no preservatives. Alexia Foods, an Eagle, Idaho-based purveyor of premium, natural side dishes that is owned by ConAgra, is touting the fact that its House-Cut Julienne Fries introduced this fall are made with just five natural ingredients—potatoes with the skin on, canola oil, sea salt, apple juice concentrate, and citric acid (Alexia Foods, 2012).
More healthful formulations are also in the works from many companies. Packaged Facts analyst Porjes says she sees frozen food makers adding more vegetables and whole grains to their formulations, sometimes without calling attention to it on the label.
--- PAGE BREAK ---
With health and public policy groups strongly focused on reducing sodium in the American diet, more and more manufacturers are lowering sodium content. According to Packaged Facts, Ruiz Foods, Dinuba, Calif., reduced the sodium levels of its El Monterey meals and snacks to meet the 2012 guidelines of the National Sodium Reduction Initiative. The Nestlé USA website states that Nestlé "has been steadily reducing sodium levels across brands" and will cut sodium by another 10% for brands including Stouffer's, Lean Cuisine, Hot Pockets, and Lean Pockets by 2015.
Time for a Turnaround?
Can frozen food manufacturers and retailers halt the big chill in the frozen food category? AMG's Stewart is cautiously optimistic, noting that the sluggish sales of recent years have functioned as a wake-up call for both retailers and manufacturers. Based on what he's seen from food companies, he expects 2013 to be a big year for product innovation.
"Most of the manufacturers we've talked to are pretty excited about their innovation pipelines," says Stewart. He notes that some of the new offerings are designed to deliver health and wellness benefits and some appear to be positioned to reach younger shoppers. He also sees opportunities for frozen products positioned as meal components.
On the retail front, industry experts emphasize that it's all about taking a fresh look at the center of the store, thinking beyond operational efficiencies, and working harder to create a shopping destination that addresses consumers' meal planning needs. "Once retailers and frozen food producers can shed the baggage of the past and create frozen food experiences that are tailored to their customers and their customers' trip mission, I think they will see a lot of opportunities," says Friedlander of WD Partners.
There are also options for category-building beyond the supermarket. Mintel's Frank suggests that frozen food makers move outside traditional channels of distribution and experiment with options like vending machines. He notes that Mintel survey data show that 27% of consumers say they would buy entrees from vending machines if they could. College campuses, workplaces, and hotels are all potentially optimal vending venues.
What is clear is that the companies that succeed in this category will be those that can continue to reinvent frozen foods and help retailers merchandise them in ways that deliver solutions for shoppers seeking freshness, flavor, health and wellness, and, as always, convenience.
Mary Ellen Kuhn is Executive Editor of Food Technology magazine ([email protected]).