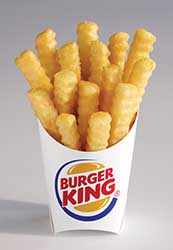 Fries with Fewer Calories
Burger King, Miami, Fla., has introduced a new crinkle-cut French fry product called Satisfries, which boasts 40% less fat and 30% fewer calories than the leading French fries. A value size serving has 190 calories, 8 g of fat, and 210 mg of sodium. A thin batter of coating on the outside of the potato reduces the amount of oil absorbed into the product. The suggested retail price of the new product is $1.29 (value), $1.89 (small), $2.09 (medium), and $2.29 (large).
"One out of every two Burger King guests orders our classic French fries and we know our guests are hungry for options that are better for them, but don't want to compromise on taste," said Alex Macedo, President North America, Burger King Worldwide, Inc. "When it comes to what we eat, we know that small changes can have a big impact. We see Satisfries as one of the biggest fast food launches and are excited to bring this great tasting French fry to our guests."
---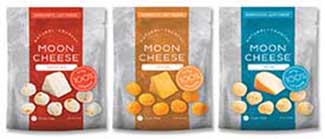 Dried Cheese Snack
NutraDried LLP, a joint venture between EnWave Corp. and Lucid Capital Management, has launched Moon Cheese®, a dried, crunchy, 100% natural cheese snack. Three varieties of Moon Cheese (American Cheddar, Pepper Jack, and Gouda) are available in up to 200 stores throughout two grocery chains, Fred Meyer and Quality Food Centers, in the Pacific Northwest. The shelf-stable product consists of 100% cheese, is gluten-free, high in calcium, and a good source of protein. A single serving of Moon Cheese offers 5 g of protein and 13% of the recommended daily calcium intake.
If retail sales are successful, NutraDried plans to pursue further shelf space at additional store locations in preparation for the expected delivery of a 100 kW nutraREV machine (based on vacuum microwave dehydration technology) in the first quarter of 2014, which would increase production capacity by approximately five times.
---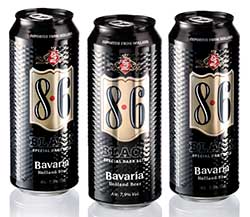 Beer Can with Touch Points
Bavaria Brewery, Lieshout, Netherlands, is rolling out 8.6 Black, a dark version of its classic Bavaria 8.6 beer on the African market. The 50 cl cans feature an innovative embossed touch process from Ball Packaging Europe, Zurich, Switzerland. The new beer is brewed on the basis of the classic 8.6 Original and features an identical alcohol content of 7.9%. It hits the shelves first in Africa and Asia, where the stout beers segment is currently seeing enormous growth. Catering to African consumer tastes in packaging, Ball Packaging Europe has created a very special can. While the 8.6 logo stands out in high-gloss gold, the remainder of the 50 cl aluminum can is embossed for an exclusive haptic experience. "The far more pronounced embossing achieved with embossed touch projects the sense of masculinity characterizing our target group," explained Benjamin Kaempf, Global Marketing Manager at Bavaria. "The design also enhances product differentiation and point-of-sale visibility."