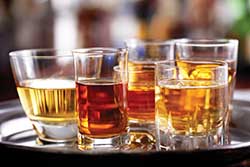 Analyzing the chemical character of whiskey
The emerging chemistry of profiling American whiskeys is providing new insights into how a number of factors affect the distinct chemical makeup of these beverages and may even help investigators combat fraud.
Thomas Collins, research director at the University of California-Davis Food Safety and Measurement Facility, presented research about the chemical fingerprinting of 60 American whiskeys during the 246th National Meeting & Exposition of the American Chemical Society. A number of factors affect the final whiskey, from the type of wood barrel used to age the whiskey and how the barrel is treated (toasted, charred) to ingredients, environmental factors like temperature, humidity, and air pressure, and how long the spirits age. Collins' team found that a sample of whiskey can contain hundreds of nonvolatile compounds, and of these about 50–100, including fatty acids, alcohols, and tannins, make up a chemical signature that differentiates a Tennessee whiskey from a bourbon. But it is not always an exact science. Collins reported on "a distillery fingerprint," meaning that bourbons and rye whiskeys made in the same distillery had similar chemical signatures compared to bourbons and rye whiskeys from another distillery.
Chemical profiles of whiskey could help distillers better manage quality assurance or process improvement, speed up production, and possibly foil counterfeiters, Collins explained, as this last point is quite an issue for expensive scotches exported from Scotland.
Understanding mRNA's role in bitter taste
Why do some people enjoy bitter foods while others do not? Previous research found that bitter taste genes help determine how sensitive a person is to bitter foods and beverages, but scientists with Monell Chemical Senses Center learned that there is more to it. The amount of messenger RNA that taste cells make may also affect sensitivity to bitterness.
The messenger RNA (mRNA) in taste genes instructs the taste cell to build a specific receptor. Taste receptor cells that make more mRNA for a given gene make more of the encoded receptor. The results of a study showed that subjects with the same moderate-taster genotype for the bitter taste receptor gave widely varying responses when rating the intensity of bitter solutions like broccoli juice, and the researchers found that there was a direct relationship between mRNA expression and bitterness ratings, with subjects having the most mRNA rating the juice as the most bitter.
"The next step involves learning more about what causes these individual differences in mRNA expression. Does diet drive expression or is it the reverse?" asked Julie Mennella, a developmental psychobiologist at Monell. "And can differences in expression explain why children are more sensitive to bitter than adults with the same genotype?"
The study, "Human Bitter Perception Correlates with Bitter Receptor Messenger RNA Expression in Taste Cells," appeared online early in American Journal of Clinical Nutrition, doi: 10.3945/ ajcn.113.066688.
Genistein may exhibit anti-cancer benefit
A component in soy foods shows promise in protecting against colon cancer by repressing a signal that leads to abnormal cell growth and malignant tumors, according to a study published in Carcinogenesis.
The changes that result from diets rich in the soy isoflavone genistein show that colon cancer is an epigenetic disease where diet and environmental factors can influence gene expression, leading to changes in how susceptible a person will be to the disease, reported Hong Chen, a professor of food science and human nutrition at the University of Illinois– Urbana. She added that there are rising levels of colon cancer in Asian immigrants who adopt the eating habits of Western nations where they now live. In certain Asian countries, residents eat diets rich in soy products throughout their lives. This is in stark contrast to many Western nations where soy product consumption is very low.
"The genetic information you inherit from your parents is not the whole story," said Chen. "Our dietary choices, our exposure to environmental toxins, even our stress levels, affect the expression of those genes."
The study, "DNA Methylation and Histone Modifications of Wnt Genes by Genistein during Colon Cancer Development," was published online early in Carcinogenesis, doi: 10.1093/ carcin/bgt129.
--- PAGE BREAK ---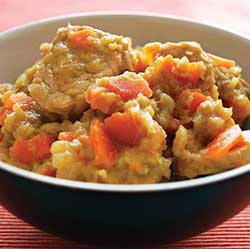 Non-vegetarians choose meat alternatives
It is not always the case that consumers who consider themselves vegetarians use foods like tofu, tempeh, and seitan. Market research firm Mintel found that while 7% of consumers say they are vegetarian, 36% of consumers reported using meat alternatives.
Digging deeper into the research shows that less than half of consumers who use meat alternatives are using the products in place of meat, and 16% of consumers use the products at the same time with meat. This means that consumers are using meat alternative beyond necessity, and this becomes an opportunity for future growth around areas such as health, alternative protein source, cost, and variety in meals, said Beth Bloom, a food and drink analyst at Mintel. But many consumers may not be giving up their hamburgers for veggie burgers anytime soon; Mintel's research found that 67% of non-meat alternative users say they prefer real meat, 34% report they do not like the taste of meat alternatives, and 20% say that they do not like the texture.
Coating uses stickiness of polyphenols
A particular quality of polyphenols helped researchers develop an antibacterial coating with incredible sticking potential.
Polyphenols are sticky and can leave behind a colorless film on containers to which they were exposed. Northwestern University researchers built upon this to create a method for producing multifunctional coatings by dissolving the polyphenols tannic acid and pyrogallol in a saline solution. Immersing objects to be coated in the solution resulted in immediate coating formation on the objects.
The researchers reported that the coatings can be used on most materials in a range of consumer, industrial, and medical products, are colorless, provide antibacterial and antioxidant properties, are between 20 and 100 nanometers thick, and are less expensive than other coatings.
The study, "Colorless Multifunctional Coatings Inspired by Polyphenols Found in Tea, Chocolate and Wine," appeared online early in Angewandte Chemie, doi: 10.1002/anie.201304922.
Finding key fat replacers for bakery
While removing some of the fat from baked goods may result in low-fat products, it often produces products with less-than-desirable sensory characteristics. New research published in Journal of Food Science found that two ingredients show promise in producing cakes with less fat but with the texture and other qualities consumers expect.
The researchers tested a number of fat replacers at various fat replacement levels ranging from 35% to 100%. When fat was replaced with any of the fat replacers at a level more than 65%, the cakes had a statistically significant increase in hardness and elasticity and a decrease of volume development. The results showed that the most effective fat replacers were pectin and inulin, and that these could be used at fat replacement levels of up to 65%.
The study, "The Effect of Fat Replacers on Batter and Cake Properties," appeared online early in Journal of Food Science, doi: 10.1111/1750-3841.12235.
---
What's new with food companies
• Bell Flavors & Fragrances has acquired Iceberg Industries flavor division in Sao Paulo, Brazil.
• The Global Food Safety Initiative has certified D.D. Williamson's natural coloring manufacturing site in Port Washington, Wis.
• EnWave Corp. and NDH Retail have signed an agreement to develop healthy cheese snack products for potential distribution in several European nations.
• The National Association for Business Resources recently named FONA International one of Chicago's "101 Best and Brightest Companies to Work For" for the eighth year in a row. It was also named to the Inc. 5000 list of fastest-growing private companies in the United States.
• Ganeden Biotech has debuted a new website, www.GanedenBC30.com, to help consumers understand probiotics and GanedenBC30.
• Nuseed Americas and ADM will collaborate to bring sorghum flour ingredients to food companies to meet the needs of gluten-intolerant consumers.
• Tate & Lyle has received approval from Health Canada for the use of its Promitor® Soluble Corn Fiber 70 and 85 as sources of dietary fiber in Canada.
• Thermo Fisher Scientific has opened its Pesticide Analysis Center of Excellence in Runcorn, UK.
• WILD Flavors has become a shareholder in Amazon Flavors.

Karen Nachay,
Senior Associate Editor
[email protected]